Ultimate Borneo Backpacking Guide to Sabah, East Malaysia
How much does it cost to backpack Borneo, Southeast Asia? How should I plan my trip? What kind of gear should I bring? These questions will undoubtedly cross your mind before you backpack Sabah, Malaysia. This Borneo backpacking guide will help you prepare for your trip to Malaysian Borneo so that you have an incredible journey. 
Borneo Backpacking Guide Contents
This post contains affiliate links. If you purchase anything through these links I may earn a commission, but this is at no extra cost to you. Thank you for supporting my site.
Where is Borneo, Malaysia? 
Borneo is the world's third-largest island located between Malaysia and Indonesia. The island has some of the most beautiful natural landscapes in the world. It also offers excellent adventure activities such as trekking, rafting, mountain climbing, diving, and snorkeling.
Many people don't know that Borneo comprises three countries (Indonesia, Malaysia, and Brunei Darussalam). One of the most popular regions to backpack in Malaysian Borneo is Sabah, divided into East and West districts. Most people will cover just one of the regions (typically East Sabah), but you could cover more ground if you have a Sabah 2 week Itinerary.
When to Visit Borneo, Malaysia
The best time to visit Borneo is during the high season of May to September. However, due to the vast rainforest terrain, temperatures are usually around 32c with 80% humidity throughout the year. I travelled around Borneo in September, and the weather was perfect, with little to no rain. The rainy season is January / December, and if you're planning treks, hikes, or wildlife observation, it would be best to avoid these months. 
How Safe is it to travel Borneo, Malaysia, 
Most Borneo Backpacker guides will say the same thing: Borneo is very safe to travel. Whether you backpack Sabah with friends or travelling around Borneo solo, the country has low instances of crime and great hostels and shared accommodation where you will meet fellow travelers. 
How to reach Borneo, Malaysia 
If you're wondering how to reach Borneo, the most common way is by connecting to Kuala Lumpur or Penang airport and flying to Kotu Kinabalu or Kuching airport. International flights may include this connection already, but this Boneo Backpacking Guide advises pricing up separate journeys' as you can get cheap flights via Air Asia.
How much money to take to Borneo
People often ask "is Borneo is cheap" and "how much money to take to Borneo". In general, travelling around Borneo is a very affordable. The average daily wage for a worker in Malaysia is about $2 per hour, so Borneo is cheap for most tourists. It is wise to budget around $1000 – $1500 for your trip, but you can save a lot of money by staying in hostels or cheaper hotels. You should be able to find accommodation for about $30 per night.
Before you set yourself a budget, consider how long you plan to stay in Borneo, as well as what activities you want to do while you're there. Of course, the most considerable cost will be the activities, but these are the most incredible part, and it is worth budgeting them in. 
You can, of course, spend much more; however, this is a Borneo backpacking guide, and the costs above reflect this type of trip. 
Where to stay in Borneo, Malaysia 
Borneo doesn't have the same backpacking scene as South East Asia. However, it does entice people far and wide with ecotourism. The positive of this is that a visit to Sabah is more of a culture trip and a chance to immerse yourself in nature. Don't expect a late-night party scene outside of the capital city. 
The limited nightlife can make it harder to meet people, but great hostels and sociable hotels/resorts are available. You can also use the meetup.com website to find locally-hosted activities and experiences, which is great to get to know local people and culture. 
---
Borneo Backpacking Guide to Where to Visit/Stay: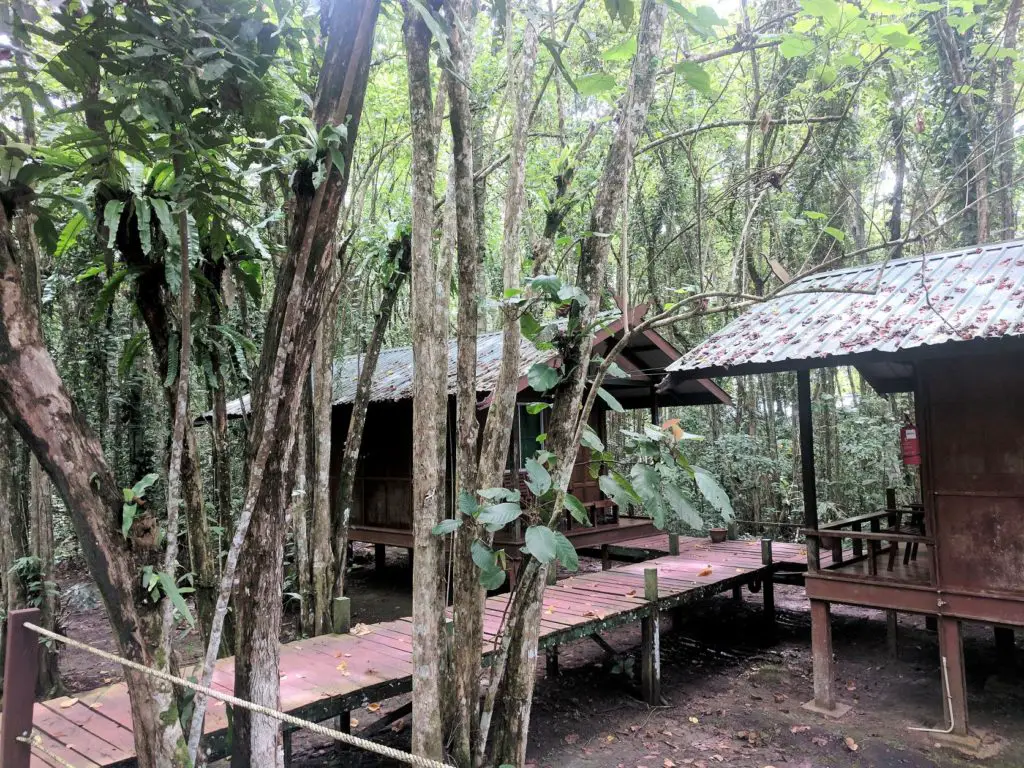 Kuching – home of the beautiful Sarawak river, there are many lovely places to stay, some of which include a pool to relax by. Kuching is also an excellent location for a day trip to Bako National Park by bus or taxi. 
Baku National Park – if you want to stay longer in Baku, you have the advantage of early or late wildlife safaris and beautiful sunsets. 
Kota Kinabalu – the capital of Sabah, has many accommodation options. Of course, staying near the riverside will mean you're close to the market, restaurant, and bars, but there are also plenty of hotels and hostels further back that are only a short walk away from the promenade. 
Kinabatangan River – the best place to stay in this area is the nature lodge as it offers meals, river cruises, guided hikes, and transfers included within the price. 
---
How to Get Around Borneo, Malaysia
Backpacking around Borneo is surprisingly easy as the majority of Malaysians speak English. Public buses are easy to catch between cities, and there are even night buses if you're traveling long distances and looking to save money on accommodation. However, while travelling around Borneo is straightforward, it will be slow due to the tropical terrain and underdeveloped roads. You will also be likely to catch a boat or two when you backpack Sabah.
In bigger cities like Kota Kinabalu, you can also catch taxis and even Uber. However, if you're traveling from Miri to the Gunung Mulu National Park (an immense cave system), you will need to get a short domestic flight from Kota Kinabalu. Use the Kiwi search engine to help you find suitable flights.
---
Borneo Tips on What to Pack
What to pack depends on whether you're backpacking one week in Borneo or have a Sabah 2 week Itinerary. However, regardless of the duration of your trip, see the following Borneo Travel Tips for packing essentials below. 
Lightweight Walking or Hiking Shoes 
Having comfortable shoes with a good grip is essential for walking around the national parks, caves, beaches, and major cities. If you're planning on hiking the island's highest peak, Mount Kinabalu, then one of my Borneo invest in hiking boots with good ankle support. 
---
Breathable Clothing
Like West Malaysia, Islam is the most common region, followed by Buddhism and Hinduism. Therefore it is best to pack t-shirts, shirts, longer skirts/shorts, etc., to respect the culture. The weather is hot and humid so ensure you have breathable, lightweight clothes to remain comfortable. Also, ensure you pack more than enough. If you hit rain, you will want dry spare clothes to change into. You will also need lots of long trousers / high socks if you're trekking through jungle terrain to deter those pesky leeches. 
---
Torch
Even in the capital city, some roads at night can be dark, so a small torch is advised. You can, of course, use your phone, but this relies on you having charge and runs the risk of advertising your valuables. 
---
Insect repellant / Antimalarials
If you're backpacking off the beaten track, you will likely stay in jungle or mountainous locations with a higher number of mosquitos and other bugs. Insect repellent is a must, but your local health service may also recommend antimalarials that you should purchase in advance. 
---
Night Vision Binoculars 
It would be amiss if a Borneo backpacking guide didn't advise you to take binoculars on your trip. One of the most incredible things about Borneo is the diverse wildlife within this beautiful natural habitat. Whether wild orangutans in the trees or wild elephants along the river cruise, you will want to see these fantastic animals up close and personal. There are many night jungle treks you can do, too, so one of my Borneo travel tips is to buy a pair with night vision!
---
Hiking Backpack
It would help if you had a decent backpack for backpacking Borneo. However, the same goes for your day-pack. Buy something spacious, supportive, and ideally, gear with hydration tubes so you can hike or walk and quench your thirst hands-free. 
Tip: my backpack didn't arrive, and I had no clothes for two days. Ensure you keep some essential items and clothing in your hand luggage just in case.  
---
Borneo Backpacking Guide Summary 
There are many must-see things to do in Borneo, from climbing Mount Kinabalu to a safari down the Kinabatangan River. The pace of life in Sabah is relaxed and welcoming, and you'll experience nature and tranquility throughout your journey. Visit the many national parks, dive around Mabul Island or enjoy the city living in Kota Kinabalu.
I hope that this Borneo Backpacking Guide helps you plan an unforgettable trip. Be sure to check out my pick of the best travel resources online to get quick and easy access to the links you will need for booking all aspects of your trip. 
After reading my Borneo tips, you might consider a group tour. I highly recommend G Adventures for organised tours. Check the different Sabah backpack tours available which will help you get the full experience without the stress.
Beyond Borneo Malaysia travel, you might also like to read these posts:
Pin Borneo Backpacking Guide for Later 
Sharing is caring, so please pin or share via other social media channels to help more people. Please also ask any questions or give me your feedback in the comments section below. Happy travels!