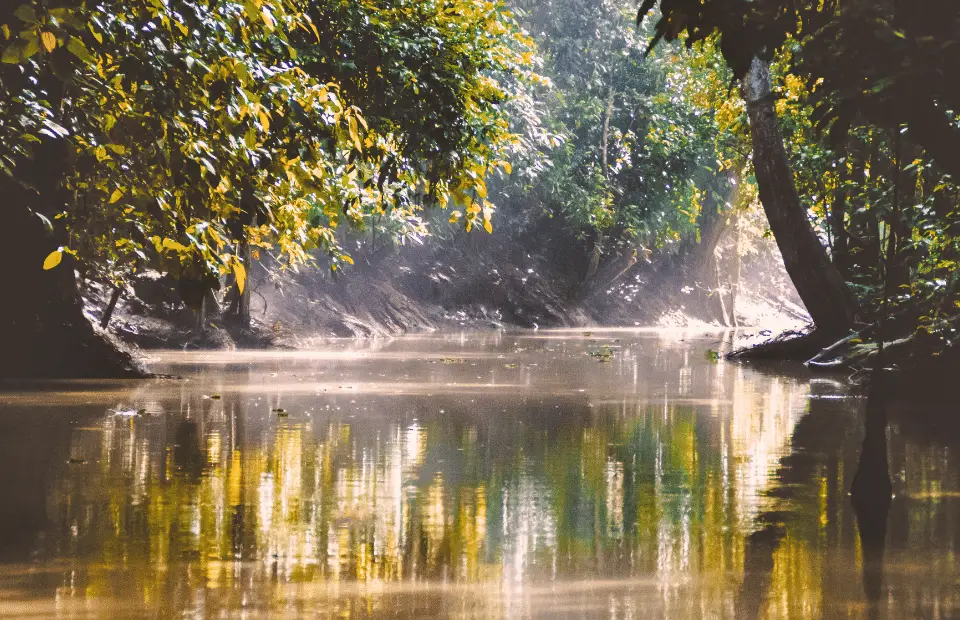 Kinabatangan River Blog | The Ultimate Guide to the Wildlife District of Sabah, Borneo
Kinabatangan River is a beautiful destination in Malaysian Borneo, Southeast Asia. A true nature lovers haven, many wildlife tours, and experiences will make you forget what technology looks like! This Kinabatangan River Blog will help you discover everything you need to know about travelling to the area and how you can immerse yourself in its surroundings. 
Kinabatangan River Blog Contents
This post contains affiliate links, so if you buy anything from going through these links I may earn a commission at no extra cost to you. Thank you for supporting my site.
Where is Kinabatangan River?
The Kinabatangan River is located in Sabah, Malaysia. At 560 kilometres long, it is notably the second-longest river in Malaysia. Flowing from Mount Kinabalu through the Kinabatangan Valley, it empties into the South China Sea at Sandakan. 
How to Get To the Kinabatangan River, Sabah
Getting to Sabah, Borneo:
To get to Borneo in the first place, you can catch flights from Kuala Lumpur to Kota Kinabalu or Sandakan. I strongly advise that you check out flights on Air Asia as these are much more affordable than if you travel all the way with your national airline. Check out my picks of the best travel resources online to help you plan your journey. 
---
---
Getting to the Kinabatangan River
If you're backpacking Borneo, the best way to reach the Kinabatangan river is by taking a bus to Sandakan from Kota Kinabalu city. However, this will take 5 or so hours, so you will need to build the travel time into your itinerary and arrive the day before any adventures.
It is a further 2 hours if you choose the overland journey to Kinabatangan River. If you prefer the speed boat cruise, this will take 30 minutes longer, but the views of the Sukau river are incredible. It almost feels like a Kinabatangan River safari itself.  
Local bus companies include Bunga Raya Express, Sida Express or Tung Ma Express. 
You can find bus timetables and buy tickets in advance on easibook or busonlineticket. 
Many of the organised tours throughout Sabah will also stop off at this location. I personally experienced the Kinabatangan River on the G Adventures Borneo East Sabah Adventure. However, there are also day tours available from Sandakan. More on these tours later.  
---
---
Best Time to Visit the Kinabatangan River, Sabah
The best time to visit the river is between April and October. This is the dry season, and the water level is lower than during the rainy months. I visited during September, and the weather was terrific. You will get humidity year-round, but if you want to enjoy the wildlife in the jungle or on the Kinabatangan River Safari, it is best to avoid the rain if you can. 
Kinabatangan River Accommodation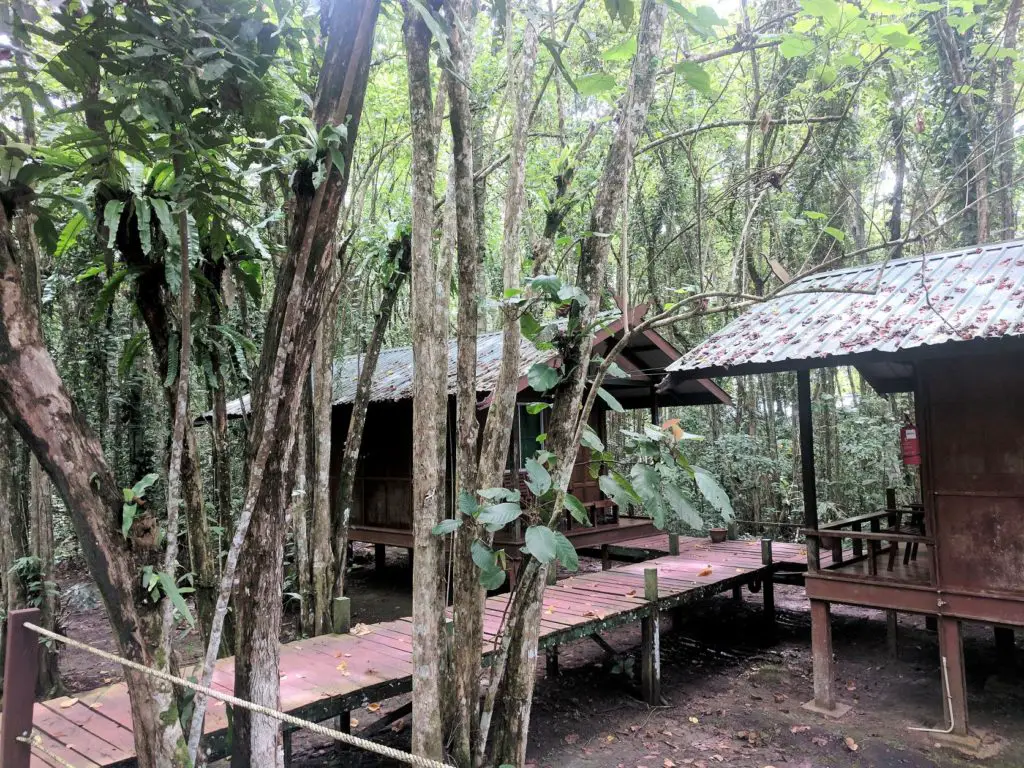 If you're wondering where to stay in close by Kinabatangan River, Sabah, then there are a few accommodation options to consider: 
Sukau Rainforest Lodge
Located on the river basin, Sukau Rainforest Lodge is an award-winning eco-lodge and one of the most popular places to stay in the region. Supporting environmental conservation and sustainability is paramount to the Sukau Rainforest lodge.
Best of all, though, staying at Sukau eco-lodge provides several tours that include pick up / transport to the river. You will be sure to have a great experience at this Kinabatangan River accommodation.
Tanjung Bulat Jungle Camp 
The Tanjung Bulat Jungle Camp provides basic and affordable Kinabatangan River accommodation. This eco-lodge would be particular suitable for backpackers or those on a budget and not concerned with minimal facilities. There is a fantastic tour with Viator that includes a stay at this lodge, 4 of the river safaris as well as meals, tea and coffee. Check it out below:
---
Borneo Rainforest Lodge
If you're in search of upmarket accommodation, then the Borneo Rainforest Lodge is a perfect choice. The beautiful villas and chalets are built to such a high standard, you might even think you're in a city apartment. The lodge is built within Danum Valley Conservation Area, Sabah's largest Lowland Rainforest. You've guessed it, it means plenty of species of animals, birds and biodiversity. If you're thinking of a honeymoon in Borneo, then this is the place you'd choose to stay at. 
Nature Lodge Kinabatangan
If you're looking for an affordable, simple Nature Lodge in the jungle, then this will give you everything that you need and still provide excellent access to tours and activities. 
There are many more Kinabatangan River accommodation options available. You can find homestays, b&bs, hotels and other lodges and retreats for your Borneo adventure. 
---
---
Kinabatangan River Safari & Tours
Kinabatangan Wildlife Sanctuary provides an immersive wonderland of native birds, mammals, and everything in between. Orangutan sightings are one of the main attractions to the river cruise, but wild orangutans are very difficult to find in the wild. I didn't see any during my Sukau Kinabatangan River Cruise, but I was unbelievably fortunate to see a herd of wild Pygmy Elephants!
The Bornean Pygmy Elephant is different to other elephants due to its long tail. However, when they're in the area, it does mean that other things such as night jungle trekking will get cancelled due to the potential danger and disturbance to wildlife.  
---
---
There are several different river tours and other experiences available: 
1) Morning river cruise – early tours mean you're on the river banks by first light in the hope of seeing animals go about their morning business. The chance of sightings is more likely on a morning cruise, as this is when animals are the most active. 
---
2) Afternoon boat tours – occurring after lunch will still provide an excellent opportunity to discover animals. On one of these tours, I came across beautiful Proboscus monkeys playing high in the treetops. 
3) Night cruise – there are many animals you have a higher chance of seeing at night. For example, Bornean Gibbon Flying squirrels, Otters Tarsiers and Slow loris. Night cruises also offer unique experiences to encounter nocturnal birdlife, such as owls. 
---
4) Night tours – ever navigated through a jungle in the pitch black with only a torch for visibility? Night walks are certainly a different experience. If you're not a fan of insects or amphibians, then you might want to skip this part. The noises on night hikes alone can be somewhat eerie. However, I also saw beautiful coloured birds and Leaf monkeys on my tour and plenty of intimidating but harmless bugs. 
5) Conservation – if you're an eco-conscious tourist, then you'll already be well aware that Borneo has lost so much forestry to colossal palm oil plantations. I'm vegetarian but hadn't realised how much of a devastating impact palm plantations has on biodiversity until I saw it with my own eyes. That's why it is good to give something back and volunteer to plant a sapling in the rainforest. The cost is minimal, 10-15 USD, to buy the sapling and everything else is provided. Providing a little bit towards conservation and getting your hands dirty is truly is a rewarding experience. 
---
6) Kampung Billet – a Kinabatangan River Blog is not complete without a culture trip to a traditional Malayan village. The 150-180 people that live in Kampung Billet are mostly craftsmen or fishermen, and a visit here will enrich you with an authentic understanding of the Orang Sungai, the River People. If you choose to take a tour here, please dress conservatively regarding the predominantly Islamic community. 
This is not a comprehensive list but covers the majority of tours and activities available in this wonderful wildlife district.
---
---
Kinabatangan River Blog Summary
The immersive experience of wild animals natural habitat is out of this world. However, your journey with wildlife doesn't stop here. Many people head to Lahad Datu and onto Semporna to visit the Sepilok Orangutan Rehabilitation Center. Perfect if you didn't manage to see a wild orangutang. 
While you might feel somewhat isolated on the river, it is brilliant to escape from the hustle and bustle of everyday life and enjoy the tranquillity of nature in this fantastic jungle retreat. Don't forget to read my Borneo Backpacking guide for useful tips on what to pack, how to get around and useful information to know before you travel.
I hope that you have found this Kinabatangan River Blog helpful. I'd love to know whether you have any questions or feedback, so please reach out to me in the comments or connect with me on social media. 
---
Pin the Kinabatangan River Blog for later
Sharing is caring, please pin this post so that more people can benefit from this guide.