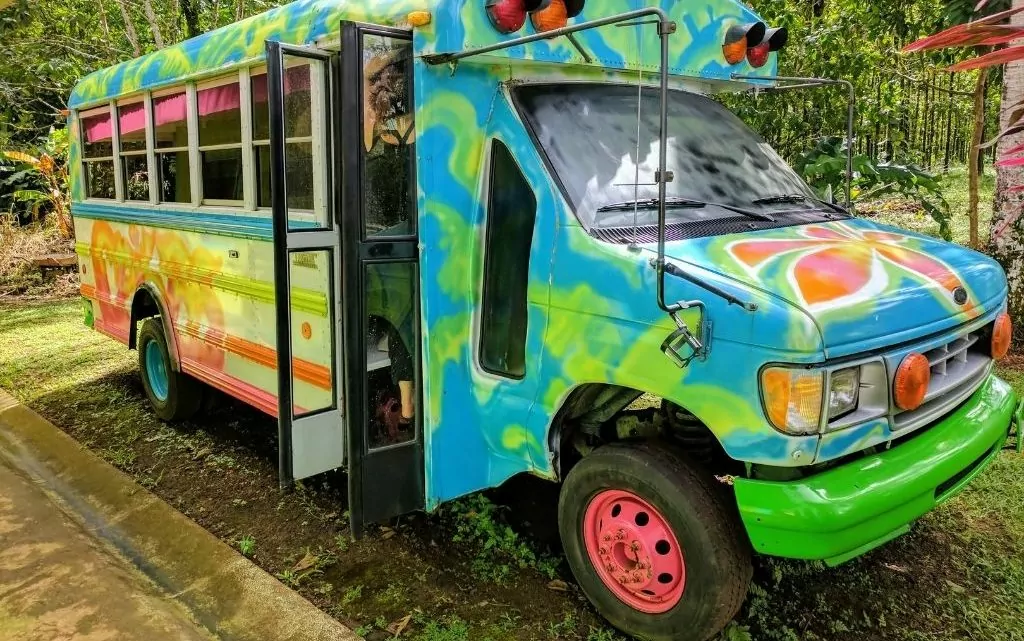 10 Day Costa Rica Itinerary | Ultimate Trip Planner & Guide
Costa Rica has the perfect balance of nature, wildlife, beaches, and adventurous activities to make an unforgettable vacation. Whether you want to hike a volcano or see sloths and turtles in their natural habitat, you will find it in this beautiful country. There's so much to see and do, and this ultimate 10 Day Costa Rica Itinerary will help you plan an unforgettable trip.
Don't worry if you're not spending 10 days in Costa Rica; you can adapt this itinerary to suit your needs. So get ready for a brilliant vacation in this exciting adventure destination.
This post contains affiliate links which means I may earn a small commission if you choose to buy anything from them. This is at no extra cost to you and In doing so you help to keep this site running, so thank you in advance.
---
Costa Rica Itinerary – Quick Reference Guide
I haven't been everywhere but it's on my list
---
---
Planning your 10 Day Costa Rica Itinerary
People often ask whether Costa Rica is safe. The answer is yes, but like with all foreign countries, keep your wits about yourself and don't attract unnecessary attention. If you're not traveling with friends or a partner, you can explore this Central American gem through a group tour to ease the worry. However, you can also have a lot of fun backpacking as Costa Rica is great for solo female travelers and you can do this safely.
---
Group Tours
I discovered most of what to see in Costa Rica in 10 days on a group tour with G Adventures.
Booking an organized group tour helps to create a hassle-free trip so you can make the most of the experience. Taken under the wing of a highly knowledgeable local Costa Rican guide, you can sit back and relax while you learn about the history and culture.
With a Costa Rica 10 day tour, your travel, accommodation, and many meals are taken care of for you. However, you also have the flexibility to choose additional activities and optional tours that suit you. Better still, you will meet other like-minded travelers that may become friends for life.
I have copied below some of the most popular Costa Rica tours available, but there are many more to suit all budgets and interests:
---
---
Backpacking Costa Rica & Solo Travel
Costa Rica is also perfect for solo travelers or backpackers. Many hostels are available, and it is generally safe and easy to travel around. If you're backpacking Costa Rica on a shoestring, look at the best travel resources online that will help you plan and budget for your Costa Rica vacation.
If you're still unsure how to complete your 10 days in Costa Rica, take a look at the pros and cons of group travel which will help inform your choice.
---
---
Day 1 – Start your 10 days in Costa Rica in San Jose
Where to stay in San José Costa Rica
There are great hotels, b&bs, Airbnb, and hostels throughout San José. Costa Rica will suit all travelers.
If you want to be in the heart of the action, then look at downtown San Jose. Moreover, staying downtown will give you a central location to get to the various museums, restaurants, markets, and shopping centers.
You can also stay slightly further out but close enough to the center in the Barrio Amón or Los Yoses areas. However, if you're looking for peace, quiet, and perhaps more luxury, you can try the suburban regions in Escazu, Rohrmoser, San Pedro, or San Antonio de Belen. You can find these areas on the map of San José below.
---
---
Things to do in San-José Costa Rica
There are many things to do in San José, from museums and parks to markets and shopping centers. A couple of things to look out for:
Simón Bolivar Zoo. This not-for-profit zoo has rescued the majority of animals from terrible conditions. While it has an honorable mission, be prepared for gloomy animals.
National Museum of Costa Rica. This museum is situated in an old city fortress initially used as a military barracks. You can find plenty of displays about Costa Rica's history and culture.
Plaza de la Cultura is in the city's center, with many excellent shops and bars nearby.
---
---
San José Day Trips
There are also many day trips from San José that you can add to your Costa Rica trip planner.
My personal favorites are:
Monteverde Hanging Bridges Day Trip: walk across the famous suspension bridge set within the dense rainforest.
Irazu Volcano:  spend the day hiking Vulcan Irazu, which is about an hour away and easy to get to by public bus or Uber. Irazu is the highest active volcano in Costa Rica, and it provides incredible views above the clouds.
---
---
San José to La Fortuna | Days 2 – 5 of your 10 day Costa Rica Itinerary
---
La Fortuna is located in the northern highlands of San José and is the adventure capital of Costa Rica. La Fortuna is known for the Arenal Volcano National Park and other thrilling, adrenaline-pumping activities. Therefore, depending on how adventurous you are, you should allow 2-3 days of your Costa Rica itinerary to experience everything La Fortuna offers.
If you're driving to La Fortuna in a hire car, it will take approx. 3-5 hours. Catching public transport in Costa Rica is cheap and easy (£4/$6), but the public buses only run early in the morning once a day. Therefore, driving yourself, or as part of a group, transport will be much faster.
Another option is to choose an activity that collects you from your hotel and drops you off elsewhere. This option is not available to all companies, but it is worth exploring.
Things to do in La Fortuna Costa Rica
Arenal National Park in La Fortuna is crowned the adventure capital. There are so many adventurous activities.
Some of what to see in Costa Rica in 10 days in La Fortuna are below:
Whitewater Rafting. If you're looking for extreme thrills and exhilarating class III to IV rapids, head to the scenic river Rio Pacuare. Better still, you can book packages that include both rafting and rappel experience
Mountain biking to Catarata Rio Fortuna. If you enjoy nature, hiking, and tremendous waterfalls, then it's time to explore Catarata Rio Fortuna.
Arenal Hot Springs. A trip to Arenal would not be complete without a relaxing soak from a natural hot spring in the sublime waters. So be prepared for total relaxation in tranquil surroundings.
Arenal Volcano. Take one of the trails to hike the Arenal volcano. Consider tailoring an activity package suited to you that includes several fun experiences. See the below options for ideas:
Lake Arenal. Discover the many species of birds and absorb yourself in nature and outdoor activities at Lake Arenal.
Related reads:
---
Where to Stay in La Fortuna Costa Rica
There are some fantastic budget options in La Fortuna. The accommodation on offer suits backpackers, solo travelers, and groups of friends (old and new).
If you want to be close to the center, where it is bustling, fellow travelers will stay downtown. This location is also handy if you haven't hired a car. 
Many accommodation choices, even hostels, have pools and cool places to relax and socialize. In addition, there are many bars, restaurants, and cafes in the area, so it is a nosier area and very convenient.
---
---
Things are spread out in La Fortuna, so you can look for more luxurious hotels slightly further out if you are driving in Costa Rica yourself. Some of them even have hot springs on site. La Fortuna even has one of the most unique places to stay in Costa Rica if you're looking for something different.
---
La Fortuna to Sarapiqui | Day 5 – 6 of this Costa Rica Itinerary
One of my favorite destinations to spend 10 days in Costa Rica is Sarapiqui, perfect for nature-loving, eco-conscious tourists. As Sarapiqui is a rural area with many homestays, this will provide a more immersive and memorable experience that will give a taste of Rican culture.
Getting to Sarapiqui from La Fortuna
If you are driving in Costa Rica, head west on route 142, turn onto Route 4 and go direct to Sarapiqui. However, consider the scheduled time and price if you're using public transport. There is likely to be a changeover, so factor that into your transfer time. You can also get a transfer for approximately $90, which is pretty cheap if you're traveling with a group.
Sarapiqui is vast, so if you don't have a hire car, look into hotel options with on-site activities or pick-up/drop-offs.
You can also look for tours that start in La Fortuna and end in Sarapiqui. This way, you will get some of your transport covered by the trip. Bonus right?
---
Things to do in Sarapiqui
There are many things to do in Sarapiqui on your 10 day Costa Rica Itinerary that will give you a heavy dose of nature and wildlife.
Some of the best activities are listed below.
Kayaking. What better way to explore Costa Rica than to combine wildlife watching with an exciting kayak trip down the beautiful Rio Sarapiqui river?
White water rafting. The Sarapuiqi river has the infamous 'jungle run' white water rafting experience to enjoy class III to IV rapids. Above all, you will be in for an exciting adventure.
Nature parks. You can visit several nature parks in Sarapiqui; a) Dave & Dave's Nature Reserve, b) Tirimbina Biological Reserve, and c) Frogs Heaven. These nature parks contribute to preserving Costa Rica's natural forests, and each has its beautiful appeal.
---
---
Our G Adventure tour used Cinco Ceibas for our accommodation and kayaking experience. We were able to walk the wooden paths through the forest and enjoy the scenic river view during our stay. Moreover, the rooms we stayed in were quirky, adding color, charm, and a Costa Rican feel.
Where to eat and drink in Sarapiqui
Sarapiqui is a wide area, with most bars and restaurants spread out. Barrio Arrepentidos has a selection of restaurants and a few bars if you want to wander around.
Are you looking for vegetarian, vegan, or gluten-free cuisine? Then I recommend Mantras Veggie Café and Tea House as they believe in healthy, organic foods.
Sarapiqui to Tortuguero | Day 6  – 8 of this Costa Rica Itinerary
Tortuguero is a river-based village in the Limón Province on Costa Rica's Caribbean coast. Because of its beautiful beaches and nature-rich location, it appeals to different travelers:
Those who love water experiences such as boat trips or kayaking down big rivers and narrow canals.
People who want to experience a taste of traditional village life.
Wildlife lovers who wish to discover the nesting areas of the fantastic green sea turtles on the beach and many other animal species.
If that sounds like you, then you see why it is included in this 10 day Costa Rica Itinerary.
How to get to Tortuguero from Sarapiqui
Tortuguero national park is a remote region that is only accessible from Sarapiqui by road and boat. Therefore, getting to Tortuguero from Sarapiqui is easiest by hire car or taxi. However, if you drive, you must leave your rental car to take a small public water taxi to Tortuguero.
The boat taxi is a scenic adventure in itself; before you know it, you'll be in La Pavona mainland.
Where to stay in Tortuguero
There are many hotel resorts and affordable accommodation in Tortuguero. The peak turtle season (July & August) is the prime time to visit, although this coastal region is popular year-round. Most people will choose somewhere within the Tortuguero national park to enjoy the activities around the village and river.
If you stay on the opposite side of the river to the main village, your resort will likely offer transport at certain times, or you can grab a water taxi. For instance, our G Adventures tour stayed at the La Baula Lodge, which was in a great location next to the river, with amazing BYGOF cocktails!
---
---
Things to do in Tortuguero
Tortuguero is partly in a national park famed as a nesting spot for the vast green sea turtles. Therefore, you can expect activities around here to be wildlife and nature-focused. Much like the rest of this 10 day Costa Rica Itinerary!
Kayak the canals of Tortuguero. Tortuguero provided my favorite kayaking experience so far. Starting on a wide river, you will navigate to stunning narrow canals that divide up the lush green rainforest. Above all, you will see so much wildlife!
---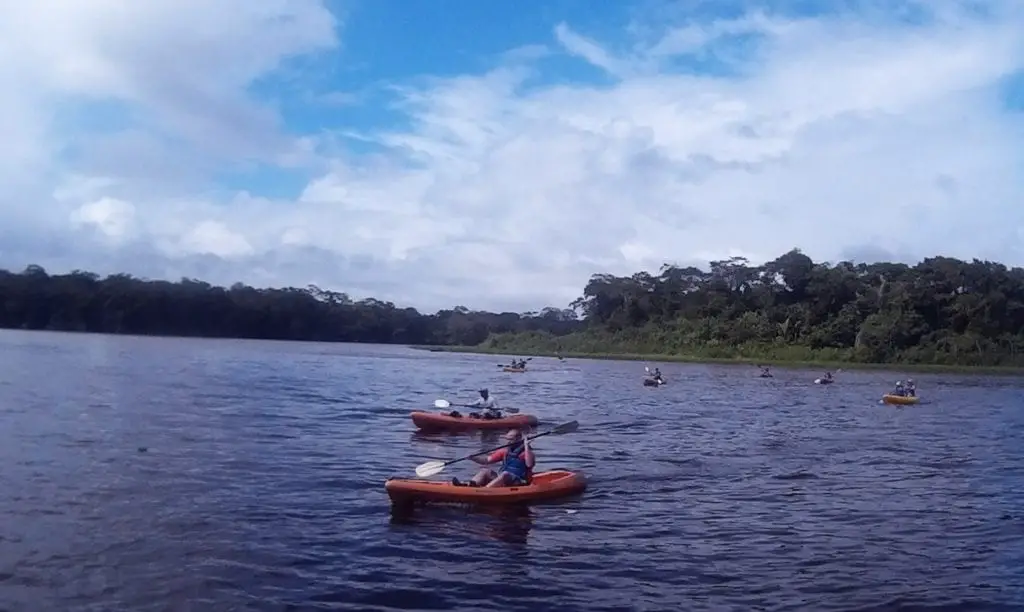 ---
Sea Turtle Conservancy. To learn more about sea turtle research and support the conversation efforts, visit the Sea Turtle Conservancy. 
Boat Wildlife safari. If you don't fancy doing the hard work, take a boat trip around the river where a guide can point out wildlife as you sit back and enjoy the ride.
---
---
Explore the local village. Tortuguero Village was a remote fishing village among coconut and cocoa plantations. However, today the town is central to sea turtle conservation and research. Moreover, you can spend countless hours perusing the local stalls or eating and drinking at the many restaurants.
Visit Tortuguero beach. Depending on when you go, you might be able to do turtle walks to watch the turtles lay their nests. The sands are black, the winds are strong, and the waves are challenging, so Tortuguero beach is unsuitable for swimming.
---
Tortuguero to San José | Day 9-10 of this Costa Rica Itinerary
You've made it through the main highlights of your 10 days in Costa Rica! It's now the final hurdle before finishing your epic adventure back to where you started.
Getting to San José from Tortuguero
After you've got a public water taxi back to where you started, there are a couple of travel options from Tortuguero to San José.
You can catch a flight from Tortuguero from domestic airlines. The flight will only take 30 minutes and beat a 6.5-hour drive. Of course, if you have a hire car, you might have no choice but to drive, but you will have many scenic stop-offs to break up the journey.
If you're traveling Costa Rica on public transport, then a shared shuttle would be the best option as private transfers would be costly over this distance.
---
---
Final days of this 10 Day Costa Rica Itinerary
You'll likely want a relaxing evening after this adventurous Costa Rica Itinerary of 10 days. You could even have an early flight the next day. However, if you've got more time, recap what to do and where to stay in San José.
You might even want a complete day trip to Manuel Antonio National Park. The park is on the Pacific Coast and has many things to see and do. At 82 miles from San Jose, the easiest option to visit Manuel Antonio park is a combo tour with transport and multiple stops on route to see all the area has to offer. You can also easily travel from La Fortuna to Manual Antonio if you want to add this to your itinerary.
---
---
Tips to make the most of your 10 days in Costa Rica
---
Consider renting a car – driving in Costa Rica is generally considered safe and much more convenient. Take a look at the license requirements for your country and book your car in advance.
Research international and domestic flights. Use travel agents or comparison sites to get the best deals to reduce the costs of your trip.
Now you have an idea of what you want to do, look into different group tour options. G Adventures or Contiki are leaders in this field and will cater to your specific needs.
Take a dry bag – a lot of the activities will provide these. However, Costa Rica rains a lot, and it's always good to have your own for when you need it.
Take extra clothes – it sounds obvious, but you must change several times a day to do these activities. Don't find yourself short on dry, clean clothes.
Invest in a go-pro – while you can buy photos/videos of your adventurous activities, the costs soon increase. Make your memories with your own kit.
---
---
What do you think of this 10 day Costa Rica Itinerary?
Costa Rica is such an exciting destination that I covered La Fortuna (Arenal) and the top adventurous activities such as kayaking and white water rafting in more detail:
Costa Rica Itinerary 10 day, is a fun and adventurous experience. Did you find this trip planner helpful? If so please let me know in the comments.
---
Want your independence but still want someone else to take care of the planning for you?
Do you like to travel but hate spending hours online researching holidays and trying to find the best deals? Here's why I come in. VeggTravel is an independent travel agent that does the hard work for you. I do the research, compare the prices and build the itinerary for your dream holiday, cruise, city break, or activity. Plus, my agent connections often mean exclusive offers on hotels and flights that you can't find anywhere else.
Rest assured that any holiday booked through me will give you the relevant ABTA, CILA or ATOL protection you need. Not only that, but I'll provide you with bespoke service tailored to your needs, and I'll be there every step of the way, ensuring that things go smoothly or being your single point of contact if things don't.
Ready to take your vacation to the next level? I don't charge a fee, so if you're based in the UK, drop me a mail and see what I can do for you.

---
---
Pin this 10 Day Costa Rica Itinerary for Later
Want to stay in touch? Then subscribe to my blogs below or connect with me on social media