Awesome Things to do in Arenal Costa Rica
Arenal, Costa Rica, is located in the La Fortuna region, infamous for being an adventure seekers' hot spot. Some even go so far as to call Arenal the adventure capital of Costa Rica. However, while the attractions in Arenal make it a popular tourist area, it still has the vibe of a bustling local town full of Tico's living Pura Vida (pure life).
With the plethora of adventure activities available, it is no surprise that La Fortuna features high on travel itineraries when visiting Costa Rica. This essential travel guide will help you discover the best things to do in Arenal, Costa Rica. 
This post contains affiliate links which means I may earn a small commission if you choose to buy anything from them. This is at no extra cost to you and In doing so you help to keep this site running, so thank you in advance.
Things to do in Arenal Costa Rica – Quick Links
---
---
Adventurous Things to do in Arenal Costa Rica
If you're looking for action, adventure, and plenty of excitement, then you're probably going to enjoy several of the excellent activities in Costa Rica's Arenal area.
La Fortuna, Costa Rica, is a popular vacation destination with stunning natural surroundings. Numerous activities are available, and the natural landscape abounds with opportunities for exploration. If you are lucky, you can see the local wildlife in its natural habitat.
Many of the attractions in Arenal will require at least half a day, so planning to spend 2-3 days in the area will allow you to benefit from them entirely. The dry season runs from January to May, and the rainy season is at its most torrential during September and October.  
If you're looking for somewhere to stay nearby, check out the Arenal Costa Rica hotels. 
---
---
1) Take a Mountain bike ride to Catarata Rio Fortuna waterfalls
Cataratas Arenal, Costa Rica, is a stunning waterfall you must visit! Located within the La Fortuna national park, rent a mountain bike and cycle to it if you like cycling or don't want to walk. The ride to Catarata waterfall is uphill, so you can, of course, grab a taxi or walk. However, you'd miss out on an exhilarating ride back down.
Catarata Rio Fortuna waterfall (also known as La Fortuna waterfall) is beautifully immersed within the rainforest. On a clear day, you will see the striking view from the top of the waterfall. Unfortunately, you can't ride mountain bikes in the area, so take a short hike down to the bottom of the waterfall. Alternatively, you can take this trip by horseback ride or include a visit to this waterfall in a broader tour package. You can even zip line over the La Fortuna waterfall if you dare!
---
---
2) Rappel La Fortuna Waterfalls with a Canyoning / Canyoneering experience
Costa Rica Canyoning in Arenal is a thrilling experience you must add to your bucket list. The diverse rainforest in La Fortuna creates the perfect ingredients for natural canyons and waterfalls and is one of the more unique things to do in Arenal, Costa Rica.
Canyoneering is an adventurous twist on abseiling and is a thrilling experience that needs to be on your bucket list. What better way to get your kicks than repelling down a waterfall into the freshwater below? Check out the Gravity Falls Waterfall Jumping Extreme Canyoning tour if you want to try this Arenal activity out for yourself.
---
---
3) Zipline and Swing Like Tarzan in the Arenal Rainforest
Ziplining in Costa Rica has to be done. There are no two ways about it; one of the fun things to do in La Fortuna, Costa Rica, is soaring the jungle zip lines. If you've always wondered what it is like to feel like Tarzan, I highly recommend this outdoor activity!
Ecoglide Arenal Park has 12 zip lining cables, 13 platforms, and the option of a Tarzan swing. Better still, this experience is in the heart of the lush rainforest of the Arenal Volcano. What better way to see the rainforest than gliding through it like a gibbon? Ecoglide is the only tour provider where you can get a rush from ziplining at night!
---
---
4) Brave the Hanging bridges of Arenal Park
If you're good with bridges or want to conquer your fear, head to one of the popular Arenal tourist attractions, the Mistico hanging bridges in Arenal Park. The hanging bridges are located within a vast natural park, so you will see plenty of wildlife and fauna while crossing nine fixed and six suspension bridges across the forest canopy.  
I don't know about you, but I find these activities terrifying and so fun! A certified naturist guide leads the Arenal hanging bridges group tour with Get My Guide, so you will be sure to learn about the native animals of the area.
Don't hang about; grab your tickets for a self-guided tour of Mistico Park. 
---
---
5) Bath in the natural Hot Springs in La Fortuna
If you're wondering what to do in Arenal La Fortuna, the Hot Springs must be on your list. The Costa Rica Hot Springs provides the perfect way to take a relaxing soak in the sublime waters from the thermal pools. Heated by the natural thermal energy from the Arenal volcano, there are many hot spring resorts to consider. 
I visited the Baldi Hot Springs Resort and Spa, which has several hot and cold water pools, slides, and pool bars. The Baldi Hot Springs also has a beautiful garden and stunning natural scenery. Better still, the hot springs are one of the few options that save a rainy day. Imagine floating in beautifully warm water with a drink in your hand as the cold rain hits your face. Devine.
Please look at the different hot springs resorts in Costa Rica as each has other spa and catering options. Of course, you can book the hot springs separately and enjoy the day in hot water bliss. But, you can also include the hot springs in a package tour if your action-packed itinerary means you can only spare a few hours.
---
---
6) Discover the Wildlife and Beauty of Lake Arenal Costa Rica
Lake Arenal Costa Rica is the largest lake in the country. At over 33 square miles, there are many things to do in Lake Arenal, Costa Rica, so that you can make a full day of it.
Complemented by the spring-like climate, the beautiful landscape provides plenty of fun Arenal lake activities. So why not try your luck at spotting exotic wildlife? You can expect to see a variety of colorful birds, hear the chorus of the jungle frogs, and see many exciting animals.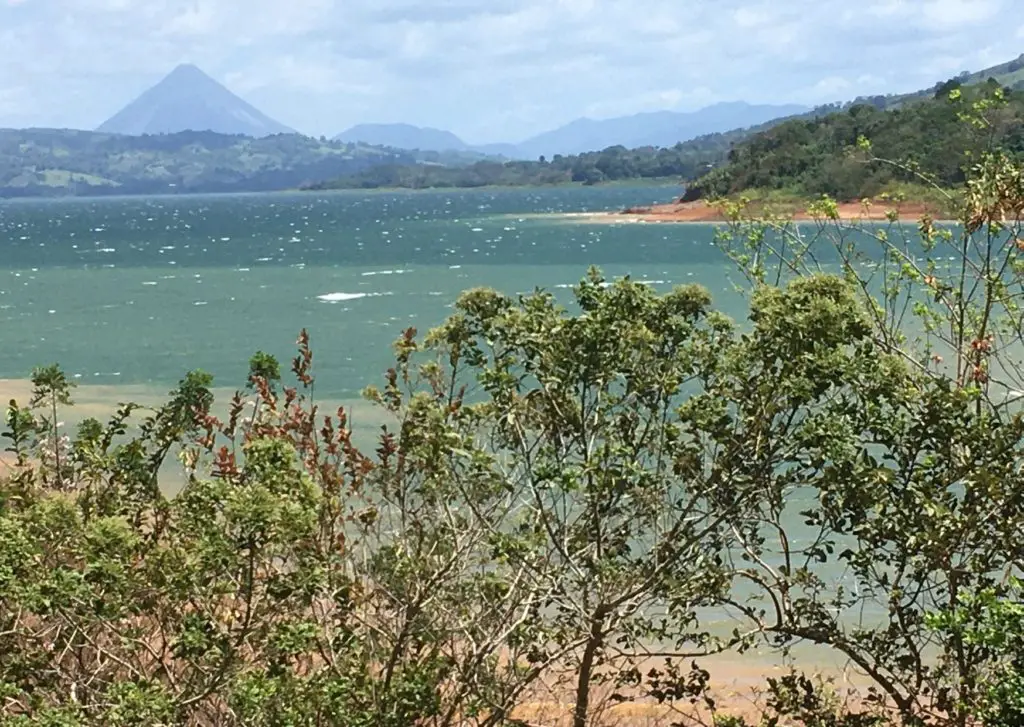 If you'd like to keep active on your visit to Lake Arenal, you can also do a kayaking and mountain biking tour. Another fun Lake Arenal activity is paddle boarding. It's not often you get to do water activities like this with the backdrop of a beautiful volcano!
---
---
7) Take a Hike up the Arenal Volcano
The Arenal Volcano is the centerpiece of all the best things to do in La Fortuna, Costa Rica. If you visit Arenal Costa Rica in the dry season, the spectacular views atop Arenal volcano will set a mesmerizing backdrop to this beautiful city. Standing at over 1,600 meters, the Arenal Volcano will undoubtedly grab your attention. However, if you'd like to get up close and personal, there are two main Arenal Volcano hiking trails available:
Arenal volcano national park
Arenal 1968 trail
The green lagoon in the center of Arenal volcano is not to be missed. Bring your swimsuit as you can swim and jump in the water! If you'd like to hike to a vantage point that gives you one of the best views of the volcano, visit the Arenal Observatory lodge. Or you could go off the beaten path and follow your unique trail.
While you can book each of these things separately, you can combine these experiences and have your transport, lunch, and guide covered. In addition, many trips conclude with a visit to a hot spring to relax those aching muscles. Check them out here.
---
---
Things to do in Arenal Costa Rica at Night
La Fortuna is a popular place for tourists on an adventurous getaway, so there is no shortage of bars and restaurants to relax in after you've had an action-packed day. You can expect smaller restaurants that are a favorite for the locals and bigger establishments that cater more to tourists. Try both as you will get the authenticity from the local eateries and meet like-minded travelers from the more prominent restaurants.
Most bars and restaurants in Arenal are close to the Parque de La Fortuna, so this is an excellent place to start and work outwards. If you're looking for great vegetarian options, try Chifa La Familia Feliz, which is Chinese/Peruvian. However, most places will have veggie options, and it will be amiss not to try some authentic Costa Rican food; Gallo Pinto and Cassardo.
There are many different bars in Arenal, Costa Rica. Still, my favorite is the La Fortuna pub, which played good music, had friendly local staff, and served some delicious cocktails. There's a backpacker vibe around this area, and you can choose from chilled, relaxing bars to the more rowdy ones, depending on your mood.
---
---

Things to do in Arenal Costa Rica in summary
The Arenal Area in La Fortuna is a fantastic destination. It has excellent public transport links to and from San Jose and the rest of Costa Rica, so you can easily include Arenal in your itinerary. The most challenging part will be deciding what to do in Arenal La Fortuna! Does a dip in the natural hot pools take your fancy, or would you instead hike or mountain bike? If you're adventurous or outdoorsy, I advise you to save up and do as much of it as possible.
Now I've whetted your appetite for a day of adventure, take a look at the tour options that await you.
If you're not ready to book, looking at the packages will still help you plan your Costa Rica itinerary. You can gauge the prices and make some of those tough decisions. In addition, doing some research into the Arenal activities now will help you customize your perfect experience.
Do you have a more extensive trip planned? If so, read about the 10 top adventurous things to do in Costa Rica. This travel blog will give you a broader idea of activities you can do across Costa Rica, which will help you plan your ultimate Costa Rica itinerary.
---
---
Love the sound of all this adventure but want someone else to plan it all for you?
Do you like to travel but hate spending hours online researching holidays and trying to find the best deals? Here's why I come in. VeggTravel is an independent travel agent that does the hard work for you. I do the research, compare the prices and build the itinerary for your dream holiday, cruise, city break, or activity. Plus, my agent connections often mean exclusive offers on hotels and flights that you can't find anywhere else.
Rest assured that any holiday booked through me will give you the relevant ABTA, CILA or ATOL protection you need. Not only that, but I'll provide you with bespoke service tailored to your needs, and I'll be there every step of the way, ensuring that things go smoothly or being your single point of contact if things don't.
Ready to take your vacation to the next level? I don't charge a fee, so if you're based in the UK, drop me a mail and see what I can do for you.

---
---
Pin the best things to do in La Fortuna Costa Rica for later