Top 10 Things to Do in Kota Kinabalu, Sabah, Borneo
When you travel to Sabah, Malaysian Borneo, you will typically arrive in the international hub of Kota Kinabalu (known as KK). But, even if you're traveling far and wide, don't skip a day or two of exploring the area. From the mountain peaks and waterfront to the markets and architecture in Kota Kinabalu City, there are plenty of things to do in Kota Kinabalu and great day trips in the surrounding areas. 
Things to do in Kota Kinabalu Contents
This post contains affiliate links. If you buy anything from these links I may earn a commission but this is at no extra cost to you. Thank you for supporting the effort that goes into creating my site.
How to get to Kota Kinabalu 
If you've not got your tickets to Kota Kinabalu yet, then check out Air Asia for the best flight deals from Kuala Lumpur and Singapore. If you're traveling further afield, consider just flying into KL and then getting a separate cheaper flight from there. 
Related read: Borneo backpacking guide 
---
---
Where to stay in Kota Kinabalu 
Kota Kinabalu is a small city, and therefore, most districts within the center provide easy walking access to the key attractions. However, one of the most popular areas to stay in is close to the riverside promenade. Not only does the Kota Kinabalu Waterfront have views across the river, but it also is where the main bars, restaurants, and nightlife is. Therefore, this area is often considered one of the best things to do in Kota Kinabalu in itself. 
If you're backpacking or just looking for budget accommodation or hostels, then you can stay a few blocks back from the waterfront. Most sightseeing attractions are still within walking distance, and public buses are available. First, however, consider using Grab, which is a similar company to Uber. You can download the app on IOS and Android, and it is super cheap and easy to get around. 
---
---
1. Climb Mount Kinabalu
You don't travel to Borneo if you're not a lover of nature or the outdoors. Of course, whether you're geared up for hiking or not is a different story, but there are notable mountains in Borneo that are worth conquering. As the tallest mountain in Southeast Asia, Mount Kinabalu is not a mountain you can or should climb without a tour guide. While experienced hikers can climb Mount Kinabalu in a day, most adventurers spread the effort over 2 – 3 days. 
The number of hikers on Mt. Kinabalu is restricted, so booking in advance is highly recommended. A guided hike will typically start from RM 300, but additional costs for hiring equipment and food and drinks may apply. While this experience is one of the best things to do in Kota Kinabalu, you can choose to just visit the park instead.
When is best to climb Mount Kinabalu: You don't want to be stuck climbing a mountain in terrible conditions so generally March to September, the dry season, is best to embark on your adventure.
---
---
2. Explore Kinabalu National Park 
If you don't want to spend three days of your trip hiking, you can still take a day trip to Kinabalu National Park and explore the trails at the mountain base. Kinabalu Park is unique as it is the first UNESCO World Heritage site in Malaysia. It has beautiful botanical gardens to explore, various nature walks, an abundance of butterflies, frogs, varied orchids, and the chance to spot wildlife. 
However, for the adventure lovers out there, one of the big attractions of Kinabalu Park is white water rafting the scenic Kiulu River. With only class I and II rapids, it isn't the most thrilling river ever; however, it is perfect for beginners or adventurous families. Your tour will typically include pick up and drop off at your hotel, and lunch is included. Expect to spend about 90 minutes or so on the river. 
How to get there: Grab a minivan from the bus station near the night market for about RM15 each way. The journey takes 1.5 hours.
---
---
3. Visit the Atkinson Clock Tower & Signal Hill Observatory Platform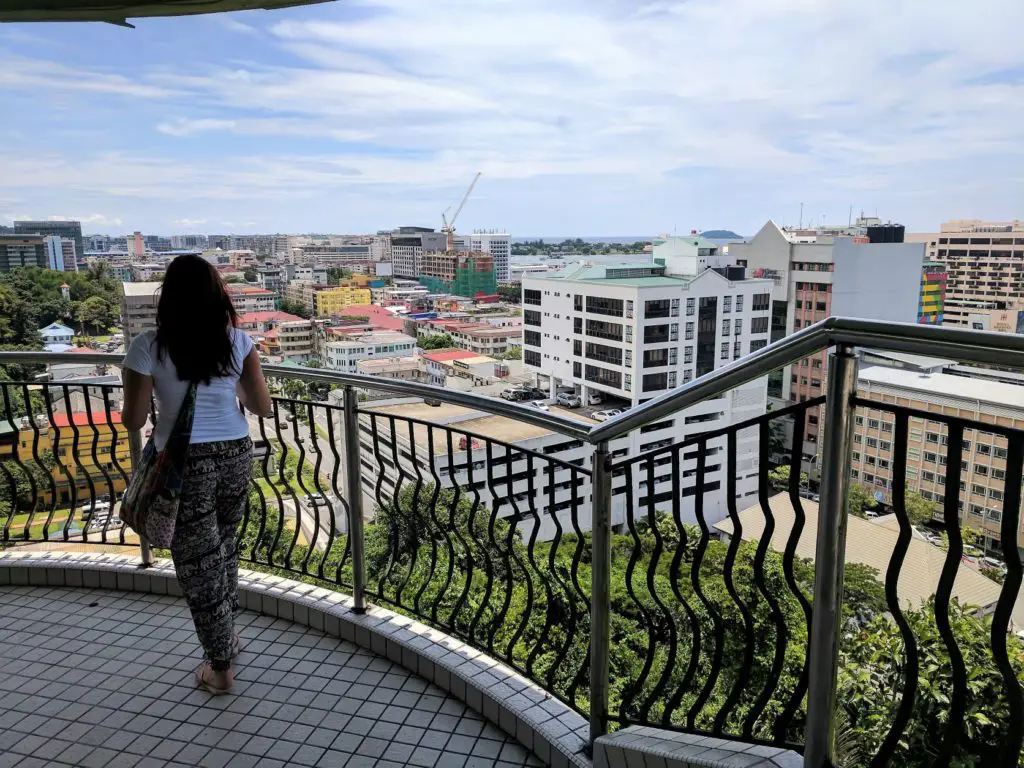 The Atkinson clock tower has stood tall since 1902, even surviving the allied bombings. Founded by Francis George Atkinson, the clock tower is the oldest building in Kota Kinabalu and therefore has special local significance. 
Just a short walk away is the Signal Hill Observatory platform, where you have a scenic platform to view the city center from. Be prepared to walk as it will take you 10 minutes or climb wooden steps to reach the viewpoint. I assure you it is worth the panoramic view, and it's a great spot to stop for a snack or, in my case, an ice cream. 
Address: 78, Jalan Asrama, signal hills, 88400 Kota Kinabalu, Sabah, Malaysia
When to visit: the opening times for the Signal Hill Observatory Platform are between 0800 and 0000.
---
---
4. Shop at Kota Kinabalu Handicraft Market
The Kota Kinabalu handicraft market (Pasar Kraftangan) is on the waterfront, filled with colorful handmade wares and souvenirs. From hand-carved wooden statues to bright yoga pants, dresses, and jewelry. There is just about every gift or souvenir you could wish for from Borneo. As this market is under cover, this is also one of the best things to do in Kota Kinabalu if it rains.
Just a few steps away, you will also be at the open-air food market, where you can grab some delicious fresh fruit or coconut water or Milo Ping (local chocolate drink). 
When to visit the Pasar Kraftangan: open every day 1000 – 1800.
---
---
5. Take a Day Trip to Tunku Abdul Rahman Marine Park
Kota Kinabalu has beautifully clear seas that provide an underwater haven for ocean lovers. The Tunku Abdul Rahman Marine Park is a mere 20 minutes speed boat ride away and has several islands to explore. 
Most Tunku Abdul Rahman National Park tours focus on the Gaya island, and Manukan island as these provide fun activities and are the best developed for tourists. You can even grab the Coral Flyer Zipline, the longest zipline in Borneo, and glide with your friend or companion between Gaya and Sapi island. 
If you're on a dive or snorkeling tour, you may have the luxury of hopping around the various dive spots to see the best of the islands. Pulau Mamutik, in particular, is known to have some of the best coral reefs. However, if you'd like to stay for longer, there is accommodation on the islands so you can easily arrange your transfers and relax at one of the beautiful resorts. If you're considering this, check out the interactive accommodation map below. 
How to get to Tunku Abdul Rahman Marine Park: if you're not going on an organised tour, head to Jesselton Ferry Terminal in the north of Kota Kinabalu and purchase your ticket from any of the tour agencies, approximately RM 17, running between 0730 – 1630.
Note, there are also tariff fees and conservation fees to pay which will be around RM 17 (this applies to each island you visit).
---
---
6. Take a moment to relax on Tanjung Aru Beach.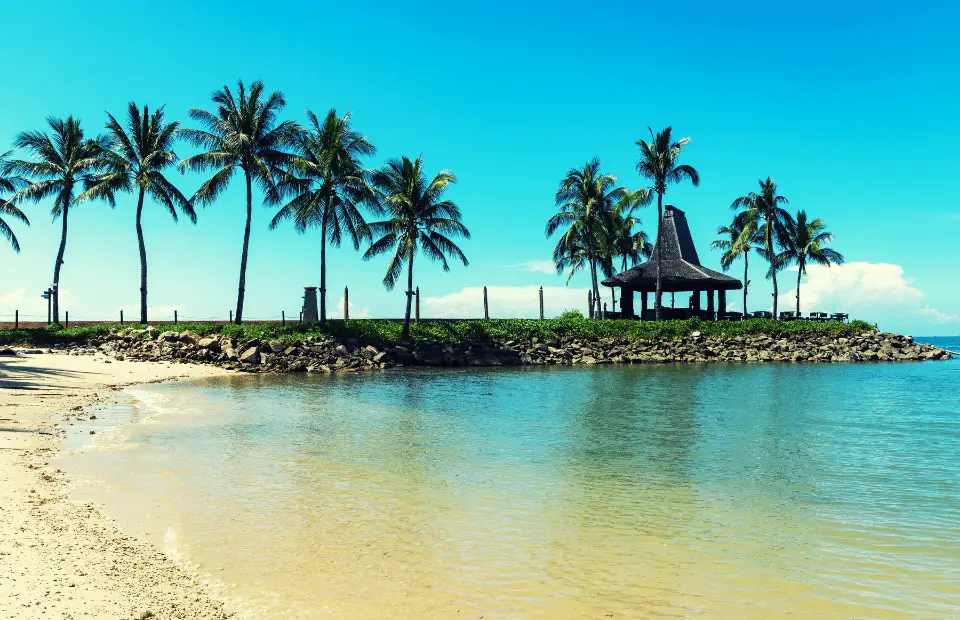 Whether you're looking for a spot on the sand to watch the sunset or just looking for somewhere to soak up the sun, Tanjung Aru beach is one of the best things to do in Kota Kinabalu. If lazy beach days don't tick your boxes, you can also step up a gear by renting a sea kayak to get a better glimpse of the idyllic islands off the coast. 
Top tip: if you're arriving or departing from Kota Kinabalu international airport, plan a trip to this beach around your flight times. There are plenty of bars and food stalls in the area so you can relax all day if that takes your fancy.
When to visit: If you can, stick around for sunset as it's one of the best spots in town to watch it. 
How to get to Tanjung Aru beach: Take a taxi or catch the number 16 bus from either City Hall or Wawasan Plaza in the southern part of Kota Kinabalu which will take approximately 20 minutes.
---
---
7. Lok Kawai Wildlife Park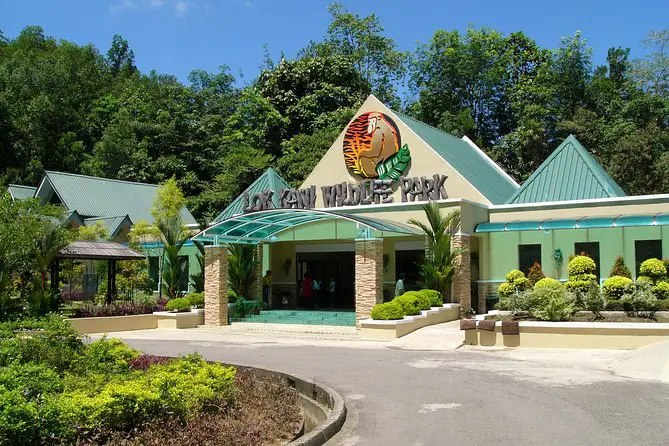 One of the most popular attractions in Kota Kinabalu is the Lok Kawai Wildlife Park, although it does require quite a bit of effort to get there. It is located near the Kota Kinabalu International Airport, convenient for travelers, but it is still a good hour's drive from central Kota Kinabalu. 
The park is home to over 300 animals, including elephants, birds, reptiles, and hibiscus monkeys. Many different activities are available here, such as feeding the animals or exploring nature on the walking trails through the botanical gardens. 
It is recommended that you visit this place as it is fascinating and educational. However, if you only have limited time, consider visiting the zoo first before heading to the wildlife park.
How to get there: Take a taxi / grab to Lok kawi Putatan, 88200 Kota Kinabalu, Sabah, Malaysia. Try and organize a time with your taxi to return; otherwise, you may be waiting a while. 
When to visit Lok Kawai Wildlife Park: open every day between 09:30 – 17:30, but get there early if you want to see the staff feeding the animals. 
---
---
8. Dine-in Chinatown | Gaya Street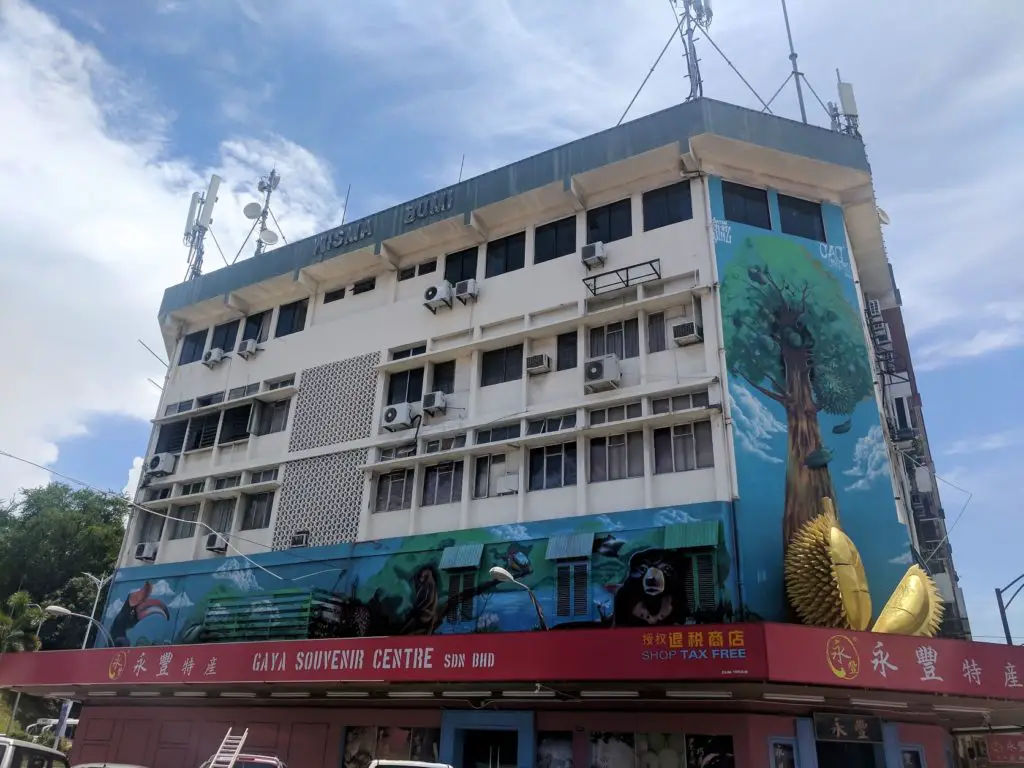 If you're backpacking or looking for some cheap eats, you will indeed find them in the affordable Chinatown district on Gaya Street. However, if you're not interested in Chinese food, then time your visit with the weekly market that draws in locals and tourists alike, all looking for a bargain. 
Where is Gaya Street: Gaya Street, Pusat Bandar Kota Kinabalu
When to visit: The best time to go to Gaya Street is Sunday when there is a souvenir market. However, it closes at 1 pm, so make sure to get there early in the morning. 
---
---
9. Immerse in the Local Ways at Mari Mari Cultural Village
One of the best things to do in Kota Kinabalu is to take a step into the local culture and traditions of the Mari Mari village. First, discover the rich history of Sabah and the indigenous tribes, their ways of living, and traditional houses. Then, sit back and watch a traditional dance and learn more about the culture of the Malaysian people. 
The traditional homes within the village operate as somewhat of a museum that preserves the ethnic culture. Set away from the central city, you will also get to enjoy a day out in nature. The Mari Mari village is undoubtedly a great way to support the country and help to keep their traditions alive. 
When to visit Mari Mari village: Saturday and Sunday are the only days you can go, and entrance will cost RM100. You can contact the guides directly to arrange transport from the hotel. 
---
---
10. Visit Kota Kinabalu City Mosque
About 10-15 minutes from the city center, you will find the 'floating' Kota Kinabalu City Mosque. Not only is this mosque the biggest in the city, but it is also the most beautiful place in Kota Kinabalu for sightseeing. The mosque gets its nickname from the illusion of it floating above the surface of the nearby lagoon. Its striking blue roof and architecture are even more beautiful at night when the glow of the street lights reflects off the surrounding water. 
As a place of worship, don't forget to dress appropriately. Alternatively you can rent clothing to coverup (knees and shoulders) while you're there. Don't confuse this with the Sabah State Mosque, the other main religious building in the city, but not quite as enchanting. However, you can always plan a visit to the two when planning your things to do in Kota Kinabalu. 
How to get there: Take the 5A bus towards UMS. It is also often included on city tours of Kota Kinabalu.
When to go: If you're an early riser, consider heading to the mosque for sunrise for a beautiful display of color. Admission is RM5 for tourists, and the only day you cannot explore the complex is Friday. Note, there may be covid restrictions preventing entry but you can still see the beautiful architecture outside.
---
---
Things to do in Kota Kinabalu in Summary 
While KK may not be somewhere you will spend a lot of time in; you should certainly factor in some of your trips to explore the city. The accommodation and other travel costs are affordable, so once you've exhausted all of the best things to do in Kota Kinabalu, it is easy to travel to different destinations for day trips. 
You might also like to read:
---
---
Pin Things To Do in Kota Kinabalu For Later
Sharing is caring, please pin for later or share on social media so more people can see my content. If you have any questions or feedback, please let me know in the comments. Adventure awaits.