Welcome to my dedicated page to the best travel resources online that will help you plan and prepare for your next trip, vacation, or holiday.
There are so many different travel resources online, it is sometimes difficult to know which company provides the best deals or delivers the greatest quality. I have extensively travelled the world and I've picked up some travel tips and travel hacks along the way. I also worked for an airline for 4 years so I know a thing or two about the travel industry, both as an insider, but most importantly as a traveller like you.
My travel resources online provide you an easy to navigate list of all the travel links you need.
This post contains affiliate links which means I may earn a small commission if you choose to buy anything from them. This is at no extra cost to you and In doing so you help to keep this site running, so thank you in advance.
Quick Links to the Best Travel Resources Online
So, let's get to the good stuff! I have created quick links to all the best travel resources online below. Some of these online travel resources provide several services but I have categorised them for what I typically use them for the most.
Keep scrolling if you want to find out more about why these are some of the best travel resources online and their pros and cons.
---
Below I provide my honest opinion in what makes some of my favourites the best travel resources online, but also the potential drawbacks.
Best flight and holiday package providers
There are so many different airlines and holiday package providers and I'm sure a lot of them are excellent. It also really depends on where you're travelling to, departing from and when you're travelling. However, with those variables in mind, I have listed what I consider to be the best travel resources online for flights and holiday packages below:
Kiwi – Flight & Hotel Search Engine
What is good about it? Kiwi is a great as it gives you the ability to search for anywhere, without having to specify dates. If you want to be inspired and find a cheap flight to somewhere new, it is one of the best travel resources online.
Drawbacks? Kiwi's flexible search only applies to flights. You need to add dates and a location when looking for hotels or cars. That's to be expected though right?
Tui Group (Tui & First Choice) Package Holiday Provider
What is good about it? Tui is a UK package holiday provider that has its own fleet of aircraft, holiday reps and deals. First Choice is a sister company within the same group. Everything is taken care of from the flights, transfers, accommodation and potentially food and activities, depending on what you book.
You can book in branch, via the travel resources online, or by phone. You're not limited to package holidays either, you can also book things separately to create your own trip. Best of all, a lot of the flights are direct! No more long stop overs when flying long-haul.
Drawbacks? Online is the cheapest option as you do pay a subsidy if booking in person or on the phone. All the more reason to check out their travel resources online!
Secret Escapes – Luxury Holidays in the UK & Abroad
What is good about it? Secret Escapes is a free membership only company providing "luxury travel at affordable prices". You can pick up fantastic deals for luxury holidays that you would pay more for if you book direct. That's because Secret Escapes gets deals to help hotel companies and holiday providers fill their otherwise empty rooms.
Drawbacks? You never know quite what you're going to get as the deals are often specific and time limited. However, if you like hunting for bargains then it's worth a scroll through the Secret Escapes latest offers.
easyJet & easyJet Hotels
What is good about it? easyJet is the biggest short-haul airline in the UK. As a low cost carrier the prices are generally competitive and they fly to prime airports throughout Europe. With the addition of easyJet Holidays you can also benefit from affordable package holiday deals. The app is one of the best out there, making it easy to search and manage your bookings and you can travel confidentially knowing that they have one of the best 'on time' records in the business.
Drawbacks? As with all low cost carriers (and now most legacy airlines) there are additional charges for seat selection, hold luggage and refreshments on board. Unlike Ryanair however, easyjet will try and seat families/friends together, so the earlier you check-in online, the better.
Love Holidays & On the Beach
What is good about it? While Love Holidays and On the Beach are separate companies there is very little setting them apart. Both have some of the most competitive package holiday prices around. The search engine looks different on both but has the same options and is generally easy to use. If you're planning a holiday in advance, you can take advantage of the low deposits and repayment plan options.
Drawbacks? While both companies are ATOL protected, neither are registered with ABTA (the Association of British Travel Agents). This limits the consumer protection offered as you're unable to pursue a claim under ABTA if anything goes wrong with your trip, meaning what they offer consumers in these unfortunate events is very much at their own discretion and may fall short of expectations.
Jet2Holidays
What is good about it? Jet2Holidays provides package holiday deals linked to their flights. The offers are generally very competitive and help families who like to book everything all in one place and take advantage of child-free places. If you're not sure where you want to go, visit the 'get inspired' page for ideas.
Drawbacks? Jet2 is a UK based airline but the majority of its routes are from the Midlands and North of England. Therefore unless you're prepared to travel to the airport, this restricts who can take advantage of these offers.
Best hotel booking providers and chains
Expedia – Travel Provider
What is good about it? Expedia is a UK travel company catering for flights, hotels, car rental, package holidays and things to do. Expedia offers reward points that you can save up or use against new bookings, with no minimum spend. Expedia is my preferred company for hotels and I find that they often have the best prices, even after shopping around.  
Drawbacks? Expedia is an online travel booking system and is fairly limited in terms of search parameters. If you have exact dates and locations then this won't be an issue, but if you're open to new ideas, then this isn't the best tool to use, until you're ready to book at least.
Booking.com
What is good about it? Booking.com tends to be everyone's go-to company to book hotels, from 5* resorts, to shared accommodation and hostels. If you're a member, you often also get 'genius' discounts and offers which can be very enticing! Booking.com is easy to use, easy to amend and cancel and customer service is usually really good.
Drawbacks? Booking.com will not always be the cheapest hotel provider or there are other companies that will include breakfast etc. for the same price. I always check on booking.com first, but I then check other companies to see what offers they have.
Hotels.com
What is good about it? Hotels.com is one of the well known travel resources online that offers the ability to book different hotels. Their key selling point is that for each hotel stay, you earn a reward point and when you reach 10 stays, you receive a free hotel reward night. There are also secret prices and offers for members, in a similar way to what booking.com does with its 'genius' platform.
Drawbacks? Similar to booking.com, the price you get on hotels.com is the price you pay. Therefore, it is useful to look around before you finally book as you could find the same hotel cheaper… but you wouldn't then clock up the rewards.
Best Travel Activity and Experience Providers
Group Tours
The thing that got me into travel in a big way was a 6 months solo backpacking trip I did around South East Asia in 2010. Since then, I now fit travel around work and although I'll still find time for a solo trip, I've also enjoyed the benefit of group travel. There are pros and cons of group tours but they are a good way to meet like-minded travellers and see a lot of things in a country that you wouldn't necessary do with your friends or on your own. I have always been satisfied with the quality, knowledge and experiences with the group tour providers below:
G Adventures
What is good about it? G Adventures is one of the biggest organised small group tour operators that cover worldwide destinations. G Adventures tend to be reasonably priced and have a good choice of additional activities you can do while you're away. They cater for all age groups and even do family group tours to certain destinations.
Drawbacks? If you're joining a group tour and do not want to share a room with a random person, then you may have to pay a single supplement for the privacy of your own room.
Contiki
What is good about it? Contiki is one of the most well-known group travel organisations in the world. They offer a variety of adventure travel experiences, durations and specifications to meet the needs of all travellers. You have the added benefit of transport, accommodation and several activities being included while you sit back and enjoy discovering the world.
Drawbacks? Contiki is an 18-35 travel provider so if you're outside of this age range then this tour provider isn't for you. With that in mind, if you're old at heart but are within the age range you might want to think twice whether the facilities and group ethos will gel with what you're looking for.
Activity Providers
Adventure activities are my favourite part of travel and therefore I'm passionate about ensuring I book with a reputable company that has good reviews. It's easy to just walk into a travel tour company when you're on holiday but how do you know whether the activity is any good or not? All you have to go on is the sales persons word for it. It might be fantastic, then again it might not. That's why it is so useful to have travel resources online because you can find out what there is to do in your destination, the cost and also whether people recommend it!
My favourite travel resources online for activities are listed below.
Get Your Guide
What is good about it? Get Your Guide provides travel resources online that caters to different activities, from private tours to adrenaline experiences. The site is really easy to navigate, you can read the reviews and the activities are usually high quality and reasonably priced. Best of all theirs a free and easy cancellation policy.
Drawbacks? Some locations have several of similar activities and not as much variety, but worth looking here first to get an idea of what they do have as there are still lots of options.
Viator (Tripadvisor)
What is good about it? Viator is Tripadvisors activity booking service so it is one of those travel resources online you may have encountered without even knowing it. There are usually a lot more options than Get my Guide as people can apply to have their experience featured which is a different model to Get my Guide.
Drawbacks? There is sometimes too many things to trawl through, but that's not an issue if you have a clear idea of what you want to do. Some of the people offering the tours are writing them up themselves and you can tell in the different quality of the photos/text that accompanies them. This doesn't necessarily impact the quality of the tour, but it feels less professional than Get my Guide.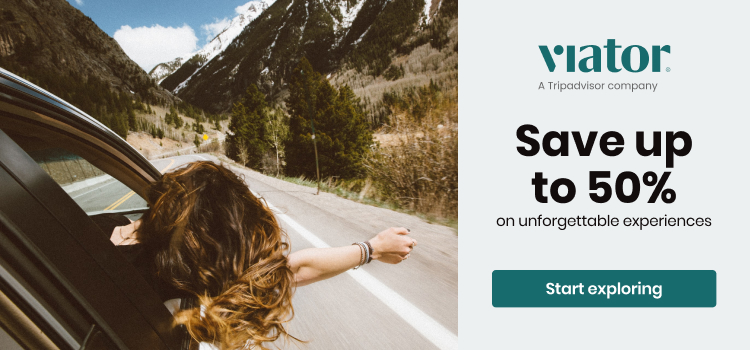 Buy a Gift
What is good about it? Buyagift.com is a great company for buying experience gifts, or even just for buying yourself an experience at an often discounted rate. There are many types of activities on offer, as well as gift cards and packages where the recipient can select their experience from many. I have found that some experiences such as the zip world karts are cheaper when you buy through a provider like this, than if you buy from the company direct.
Drawbacks? If like me, you use this company to look for cheaper deals, it adds another step in terms of booking/activating the code. Worth it though to save some hard earned money!

Red Letter Days
What is good about it? Red Letter Days are very similar to Buyagift.com in that they offer experience gifts or packages. It is really easy to navigate the site and find the right experience, location etc. and the gift cards come well presented.
Drawbacks? Same draw backs as buyagift.com in the redemption step, plus there is an expiry on the gifts of usually within a year.

Piqniq
What is good about it? Picniq is a family-oriented activity provider offering deals for various attractions in the UK. From safaris to theme parks, there are many different options for you to browse. One of the benefits of using Picniq rather than booking tickets directly is that there are usually discounts, bundle offers and they offer a price match guarantee so you can be sure you're getting the best deal.
Drawbacks? You're booking through a middle-man rather than direct with the attraction which means you have to go through them if there are any challenges or changes that need addressing.
Retailers for your Travel Needs
eBay
What is good about it? eBay is my favourite retailer for pretty much all things. Not only can you find some real second hand bargains, but the platform has really stepped up for brand new items. I find that most things on eBay are cheaper than Amazon and the speed of delivery has really picked up.
Drawbacks? There are a lot of items for sale from international countries so you need to double check delivery details before booking to make sure the items are going to arrive when you need them. While there is great buyer protection, if you have a dispute, you may have a long waiting time for a resolution while eBay give the individual sellers time to resolve the issues.
Use Bounce – Luggage Storage
What is good about it: find somewhere to store your luggage in all major towns and cities worldwide, and it comes with insurance protection.
Drawbacks: Factor in the booking fee for using bounce but even still, for 24 hour storage it is still great value.
Pin the Best Travel Resources Online for Later
I hope that my reviews of the best travel resources online have helped you with where to go for all your travel needs. While the list isn't exclusive it will help you navigate the web quickly and easily. Please pin or share this post for quick reference in future and so that other travellers have the same advantage as you have.
---