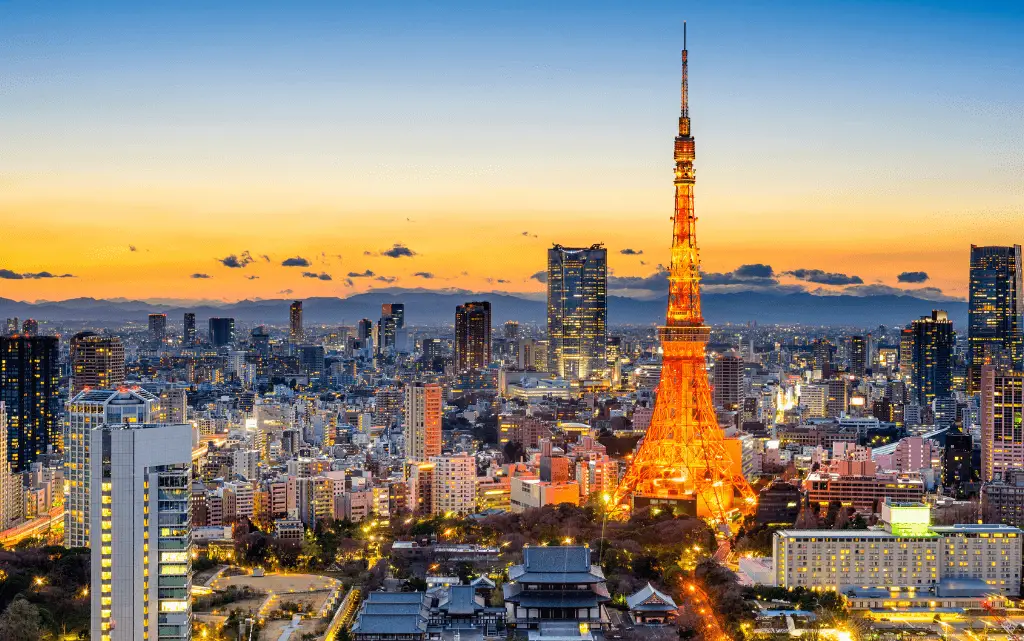 Ultimate Japan Itinerary 10 Days for First Time Visitors
Have you ever dreamed of visiting a place with a rich culture, mesmerizing traditions, and an unrivaled energy? Then Japan is the ultimate destination for your bucket list! From the vibrant, chaotic streets of Tokyo to Kyoto's tranquil, traditional atmosphere, Japan's top destinations are sure to excite and captivate you. Make the most of your first trip by taking the ultimate journey through Japan – a unique experience that will remain in your memories for years to come! Read on to discover everything you need to know in this travel itinerary for 10 days in Japan.
This post contains some affiliate links. I may earn a small commission if you purchase through them, but this is at no extra cost to you. Thank you for your support.
Japan Itinerary 10 Days of Content
Getting Around Japan
Japan has an extensive, well-connected, and punctual transportation system. The key ways to get around are below:
Taxi – download the Japantaxi app to pre-book taxis that operate on a meter. Unusually, if you see a cab with a red light, it is free, whereas green indicates it is occupied. However, Uber and similar apps do not exist in most places, so it's best to stick to the local companies.
Subway – the subway operates in most cities and is a convenient and easy way to get around. Destination names are posted in English, and journeys cost about ¥160 to ¥200. You can buy an IC Card (an unlimited pre-paid travel card) if you plan a lot of travel but make sure it is worth your while to do so.
Train – this Japan 10 day itinerary covers a lot of Japan, and so you will need to consider whether a JR Rail Pass is worth the cost. If you're planning on catching the Shinkansen Bullet train, then this is a serious contender.  Bookmark the Hyperdia site or download their app for up to date train schedules and route planning.
Buses – there are lots of buses throughout Japan although as a tourist you will likely not use them very often as other transport options are easier and more efficient.
Japan Travel Itinerary 10 Days
Due to the international airport links, most Japan 10 day Itineraries will start and end in Tokyo. However, there are two different airports to start your journey:
From Narita airport, grab the Narita express to Tokyo station, and it will only take one hour direct.
If you have the option, choose to fly into Haneda airport instead. Then, simply grab the Tokyo Monorail, which will take less than 30 minutes, although you will need to change in either Hamamatsucho or Shinagawa. 
Whatever your starting point, you will end up in Tokyo station which you will come to love as it is a major transport hub to all the main cities across Japan. 
Day 1: Tokyo Shinjuku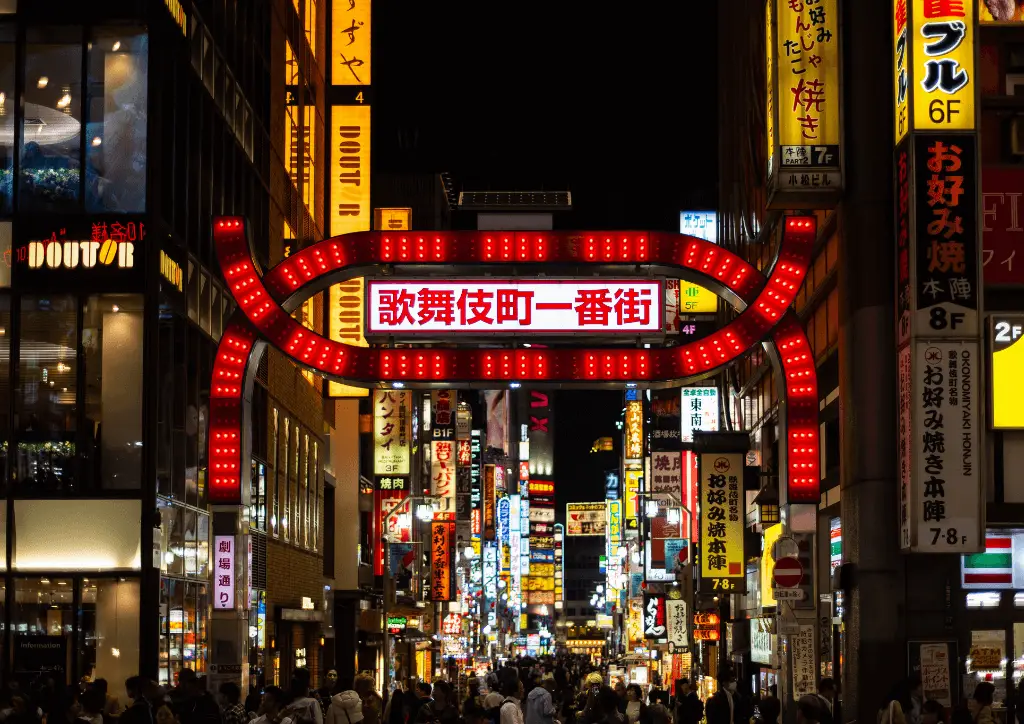 The first day of this itinerary for 10 days in Japan will give you a sensory overload with a stay in the vibrant, crazy bustling district of Shinjuku. Within mere moments, you will be hooked on the thriving Japanese culture.
Getting from Tokyo Station to Shinjuku Station, just grab the pink metro line towards Ogikubo. It will only take 18 minutes to get to the main station.
Check out the map below for accommodation options in the area. I stayed at the Keio Plaza Hotel in the Nishi-Shinjuku district which is well connected and close to the key attractions.
Best Things to do in Shinjuku, Tokyo
Shinjuku will certainly keep you on your toes from dusk til' dawn. Some of the best things to do are below:
Robot restaurant – be prepared for an authentic, fast-paced Japanese cabaret show full of colorful characters, costumes, dancers, and laughs! While you can choose to eat here before the show, this is separate from the show itself and unnecessary for entry. 
Dine-in Piss Alley – while this might sound off-putting (particularly if you're from England), Piss Alley (Omoide Yokocho) is a series of alleyways that run along the tracks of Shinjuku station with a variety of places to dine. It's a trendy area that provides a good selection of sushi and ramen.
Explore the Shinjuku Gyoen – this is one of Tokyo's largest parks and is incredibly popular in the springtime due to the beautiful cherry blossoms. It is still pretty at other times of the year, but it is only open Tuesday – Sunday out of cherry blossom season and costs 200 yen to enter (approx. $2). 
Take in the panoramic views from the Tokyo Metropolitan Observation deck. Best of all, access to the 45th floor of this government building is completely free!  
Go for a drink on Golden Gai Street in the Kabukicho area of Shinjuku. This series of alleyways has a variety of drinking dens that are great for a taste of Japanese nightlife. You might even spot Godzilla!
Read More: Weird Things To Do In Shinjuku, Tokyo
Day 2 – 3: Conquer Mount Fuji
Mount Fuji is a venture to tick off your Japan bucket list and is one of the best mountains to climb in the world. Standing 3,776 meters high, Mt. Fuji is Japan's highest mountain. 
If you're traveling to Japan in the summer months and plan to hike Mount Fuji, then take advantage of the Takkyubin luggage delivery service. No longer do you need to drag your bags around with you on long journeys! Seriously, more countries need to adopt this service. Instead, organize directly with your hotel for approximately $20 and just give them the time/destination, and your luggage will be waiting for you when you arrive. 
If you're visiting Japan outside of summer, then you may want to stay around Lake Kawaguchiko, which is stunning all year round. This way, you can still visit the 5th station and see the magnificent mountain but save your energy for the rest of your Japan Itinerary 10 days. 
Getting to Mount Fuji from Tokyo
The best way to get to Mount Fuji from Tokyo is to take the Shinkansen bullet train, which is included in your JR Rail Pass. The journey takes about three hours, and there are two options; either go via Nagoya or Osaka. If you want to see Kyoto, Kansai International Airport offers flights to both these destinations. You can also take a bus directly from Shinjuku station, but this will take much longer. 
Hiking Mount Fuji
There are several routes up Mount Fuji, depending on how to fit you feel. The most popular is the Yoshida trail which has 70% of hikers. Other more challenging options are the Fujinomiya Trail, Subashiri Trail, and Gotemba Trail. 
Most hikers will start at the Subaru Line 5th station. It feels like a ski resort with a few shops, restaurants, and facilities. If you haven't got hiking poles, then opt to buy the wooden sticks. Not only will this help your hike, but you can get them stamped (at a charge) at each station you pass. 
Where to stay when climbing Mount Fuji
I recommend that you start early and then stay at one of the mountain huts for some rest. This way, you will be able to continue in the dark and make it to the summit for sunrise. There are several mountain huts to choose from, and each provides similar dorm-style accommodation, dinner, and a carryout breakfast. Don't expect much from the cabins but somewhere to rest. They are reasonably expensive (approx $90) for what they are, but it would be one exhausting hike otherwise. 
Conquering the summit at sunrise
Whether you stay at the 7th or 8th station will depend on how long is left of the hike. You will typically reach the summit just before sunrise and enjoy the views with a celebratory drink and a walk around the crater.
I hiked the Yoshida trail up and took the Fujinomiya trail down. This route is slightly quicker as the Yoshida trail is longer in length. It will take approximately 4-5 hours to get back down to the 5th station.
Day 3-5: Fuji to Kyoto
When you arrive back at the 5th station, you have a few options: 
If you already have a JR Rail Pass or are paying as you go, then grab the JR Tokaido Local line towards Toyohashi and change onto the Shinkansen at the Shizouka train station. 
However, if you intended to activate your JR Rail Pass to get to Kyoto (like I did), you can only do this at a large JR station. This means you will have to catch a bus to Gotemba station, a train to Numazu, another train to Mishima where you can finally exchange the pass. This was a lot of unnecessary hassle, so avoid this if you can. 
If you skipped Mount Fuji and went to the five lakes instead, then search trains from Kawaguchiko to Kyoto station, and it will give you options of what JRs to take. 
If you want to be close to the restaurants and nightlight then stay in downtown Kawaramachi. Other popular areas to stay are Gion and in and around Kyoto Station and Central Kyoto.
Best things to do in Kyoto
Kyoto is the cultural anchor of Japan, and you will see many people wearing traditional Kimonos. The architecture is quintessentially Japanese, and there are several restaurants along the riverfront that entice you in with their pretty lanterns, floor cushions, paper walls, and serene designs. Plus, the food is fantastic! 
My all-time favorite bar in Kyoto is Beer Bar Jive. It is a micro bar, but the bar owners are fantastic. There are several different cocktails and offers, and you can easily spend all night here. 
Some of the best things to do in Kyoto are: 
Visiting Kyoto Imperial Palace. It's free entry and well worth seeing.
Go to Nishiki Market during lunchtime. It's a food market full of delicious Japanese foods and snacks. You'll find everything here, including sushi!
Head to the Fushimi Inari Shrine, Gion District, and Nijo Castle, a UNESCO World Heritage site. All of these landmarks are within walking distance of each other.
Take a boat across the Kamogawa river and enjoy the beautiful scenery along the banks.
Enjoy a traditional tea ceremony and learn about the rich history and culture of the Geisha. You might even be lucky enough to spot one in the Gion District. 
Explore local spots such as Daitokuji Temple and Ryoanji temple. These temples are located near each other and offer great photo opportunities.
Immerse yourself in the tall wilderness that is the Arashiyama Bamboo Grove. This bamboo forest is striking and a wonderful place to enjoy nature. 
Take a stroll down the Sagano shopping district (towards the bridge) and pick up some unique and exciting items. 
Day 5 – 7: Kyoto to Osaka
Osaka is a city in Japan known for its vibrant nightlife, delicious cuisine, and beautiful scenery.
The easiest way to get to Osaka from Kyoto is to get the train from Karasuma station to Osaka-Umeda(Hankyu). The journey will only take 40 minutes. 
One of the most popular places to stay in Osaka is in the Umeda district. There are several high-quality hotels in this neighborhood, or if you're looking for budget hotels, check out the Honmachi neighborhood. If you want to be close to the nightlife of the trendy areas, then consider Namba (Minami) or near Osaka Castle. 
Best Things to Do in Osaka 
Osaka is a foodies paradise. As a vegetarian or vegan traveler, you will find plenty of choices in this city, more so than in other parts of Japan. The Dotonburi district is vibrant, with many colorful restaurants, street food, and buildings. The nightlife is also fantastic, albeit somewhat difficult to navigate without speaking Japanese.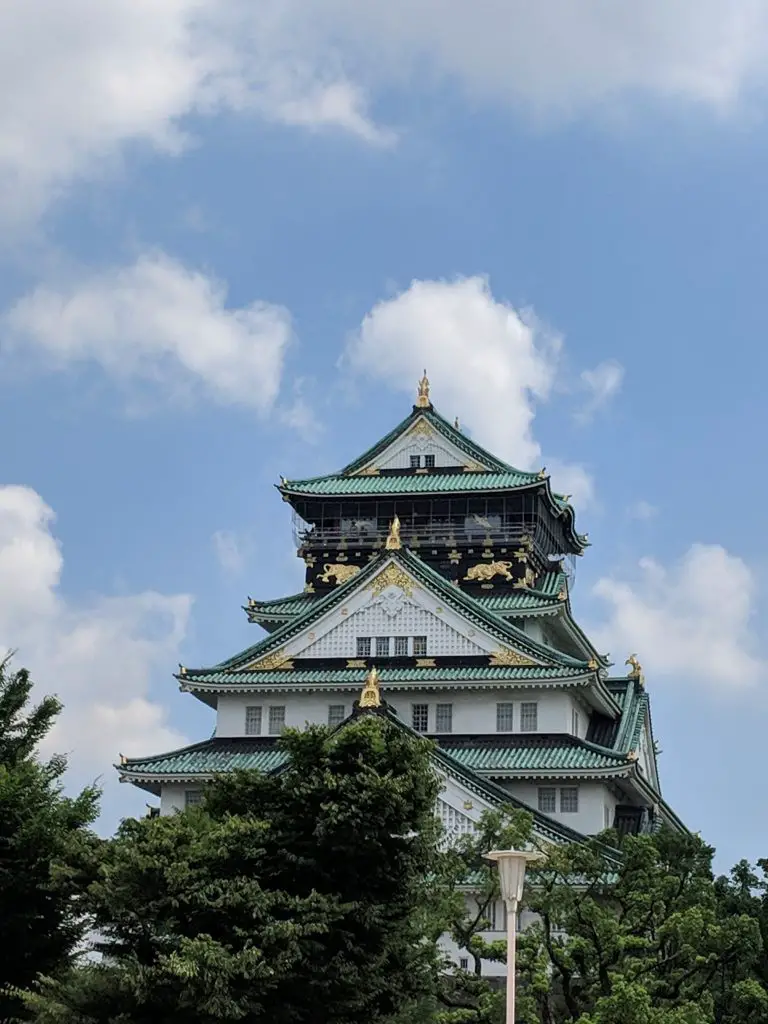 Visit the 16th-century medieval Osaka Castle, which had survived WWII bombs when the surrounding town perished. If visiting during spring, you will also see the beautiful cherry blossoms. 
Check out the Umeda Sky Building and floating garden, an iconic building designed by Zaha Hadid. Its unique shape makes it stand out amongst its neighbors.
Go shopping in Nakano Broadway, a street lined with shops selling clothing, cosmetics, and accessories.
Another must-see attraction is Meiji no Mori Park. It features a vast forest filled with cherry blossoms every spring.
Spot the rare animals like pandas and bears at Tennoji Park Zoo.
Visit the Namba Yosaka Shrine, a huge giant lion head tribute to its guardian deity of the town.
Take a day trip to visit the infamous Nara park and have a close encounter with the majestic bowing deers. Make sure to stop Nara's most famous temple, Todaiji. 
Day 7 – 10: Osaka – Tokyo
The long-distance traveling part of this Itinerary for Japan in 10 days is ending with a return to Tokyo. Shinjuku just scratched the surface, and there is so much more to explore in this mesmerizing capital city. 
Getting to Tokyo from Osaka: Grab the Osaka Metro from the Yodoyabashi subway towards Shin-Osaka. This 10-minute journey is not covered in the Japan Rail Pass but the Shinkansen to Tokyo. It will take 2 hours and 27 minutes.  
As you have a bit longer in Tokyo, it would be helpful to stay near the JR Yamanote train line or close access to the subway, so you have easy access to Tokyo tourist sites. Other popular areas outside are Ginza, Tokyo station, Asakusa, or Shibuya.  
Things to do during your 3 days in Tokyo: 
There are so many cool and unique places in Tokyo that I've divided them up by each key districts best things to do. You have all the options to tailor your Japan Itinerary as you wish. Best of all, many of these experiences provide free things to do in Tokyo.
Tokyo Chiyoda
Explore the Imperial Palace where the Emperor of Japan lives. Free tours must be arranged in advance if you want to see the inside. 
Tuck into some delicious ramen on ramen street beneath Tokyo Station. You will also be enticed by the colours and characters of the cute and fun cartoon alley.
Catch 'em all at the Nihonbashi Pokemon cafe. Make sure you reserve a table in advance. 
Tokyo Roppongi
Get up close and personal with the cute little critters at the hedgehog cafe. 
Adore the modern art and check out the skies at the Mori Art Museum and Observatory
Tokyo Harajuku 
Explore the park surrounding the Meiji Jingu, a Shinto Shrine within a beautiful Japanese garden. 
Takeshita Street, if you're into cosplay, then you will be in your element here. Themed bars and cafes like the maid cafe and the ninja cafe are just examples of the many different escapes from reality you can experience. 
Have lunch and the colorful and quirky-themed restaurant, Kawaii monster cafe. Be sure to stay long enough to see one of the fun and frantic shows to truly get the experience. 
Take a moment to relax at Yoyogi Park, a vast strip of nature in the center of this thriving metropolis and forest of skyscrapers.
Tokyo Shibuya
Talk a walk on the "world's busiest pedestrian crossing." The Shibuya crossing is a scramble from all angles. Grab a coffee or snack from the McDonalds on the corner to get good snaps of the chaos in action.
Wander around Miyashita park 
Tokyo Ueno
Shop for bargains at the Ameya-Yokocho open-air market that you can get directly from the Tokyo Ueno station.
End your day in Ueno Park. While this is a beautiful spot at any time of the year, this is particularly beautiful in cherry blossom season. 
Tokyo Sumeda
Take the lift to the top of the Tokyo sky tree for amazing panoramic views of Japan. The sky tree is the tallest structure in the city. 
Visit the oldest temple in Tokyo city, the Senso-Ji temple. The Buddhist temples, sculpted gardens, and Shinto shrines are an incredible sight to see. 
Odaiba
Play with the gadgets at the various superstores geared towards technology lovers. Discover the latest tech and some far-reaching innovations from big brands like Fuji TV, Toyota, and Panasonic. 
Quench your first for science at the science museum 
Have a fun-filled day of entertainment with a pass to the attractions and rides. 
Grab a spot on the balcony of one of Odaiba's restaurants and watch the sun go down across the rainbow bridge and Tokyo Bay.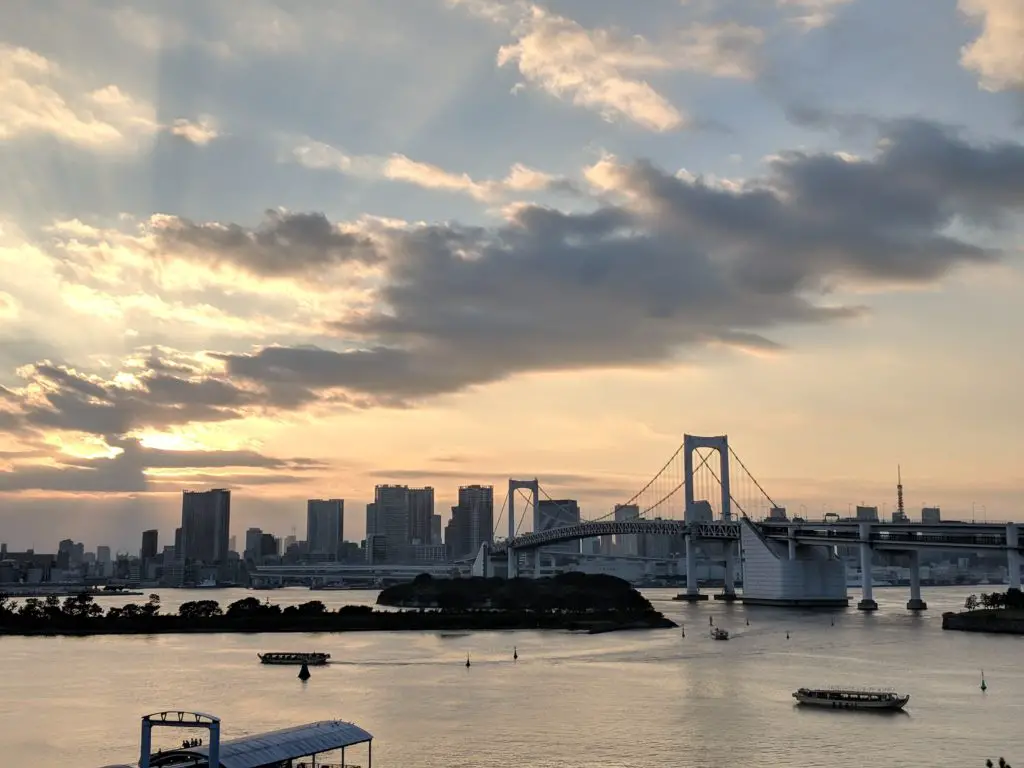 10 Days in Japan Itinerary Summary
Almost half of this 10 day Japan Itinerary is spent in Tokyo, and it honestly deserves it. However, if you had longer or wanted to skip Mount Fuji or the nearby lakes, then another popular destination to visit in Hakone, the home of the stunning steaming hot springs with great views of Mt Fuji. 
One thing that is for sure is that you will have the time of your life on this 10-day trip. Of course, if you opt to climb Mount Fuji, then be warned, your legs will be very achy for the rest of the journey, but that won't stop you from having a good time. 
Don't forget to check out the following related guides:
If you visit Japan or have any questions or suggestions of your own, then let me know in the comments. 
---
Here's why you should consider using an experienced travel agent to help you with your trip
Do you like to travel but hate spending hours online researching holidays and trying to find the best deals? Here's why I come in. VeggTravel is an independent travel agent that does the hard work for you. I do the research, compare the prices and build the itinerary for your dream holiday, cruise, city break, or activity. Plus, my agent connections often mean exclusive offers on hotels and flights that you can't find anywhere else.
Rest assured that any holiday booked through me will give you the relevant ABTA, CILA or ATOL protection you need. Not only that, but I'll provide you with bespoke service tailored to your needs, and I'll be there every step of the way, ensuring that things go smoothly or being your single point of contact if things don't.
Ready to take your vacation to the next level? I don't charge a fee, so if you're based in the UK, drop me a mail and see what I can do for you.

---
Pin this Japan Travel Itinerary 10 Days for Later