Top 10 Things to do in Kyoto, Japan for First Timers
Kyoto, Japan, is an ancient city and cultural center located in Japan's Kansai region. Kyoto is known as "the place where the sun rises" as it is at the northernmost point of Honshu Island in the Sea of Japan. Such a beautiful name for a truly incredible city. Kyoto is also home to many Buddhist temples, shrines, museums, gardens, parks, castles, festivals, cuisine, and arts. In fact, there are so many things to see and do in Kyoto that it can be hard to decide where to begin.
I've put together a shortlist of the top 10 things to do in Kyoto which will give you ideas for things to add to your itinerary.
Top 10 Things to do in Kyoto, Japan Contents
This post contains affiliate links which means I may earn a small commission if you choose to buy anything from them. This is at no extra cost to you and In doing so you help to keep this site running, so thank you in advance.
Where to stay in Kyoto
If you're staying in the ancient capital for the first time and want to be close to the best things to do in Kyoto, you will want to stay near the riverside and close by Kyoto station. Check out the map below to discover some of the best areas:
People often ask how long to stay in Kyoto. Of course, you need 2-3 days to truly get the most out of Kyoto, but it is such an enchanting place that you could easily stay longer and still enjoy your time there. 
---
List of Top 10 Things to do In Kyoto
1) Visit Kinkakuji Temple – the Golden Pavilion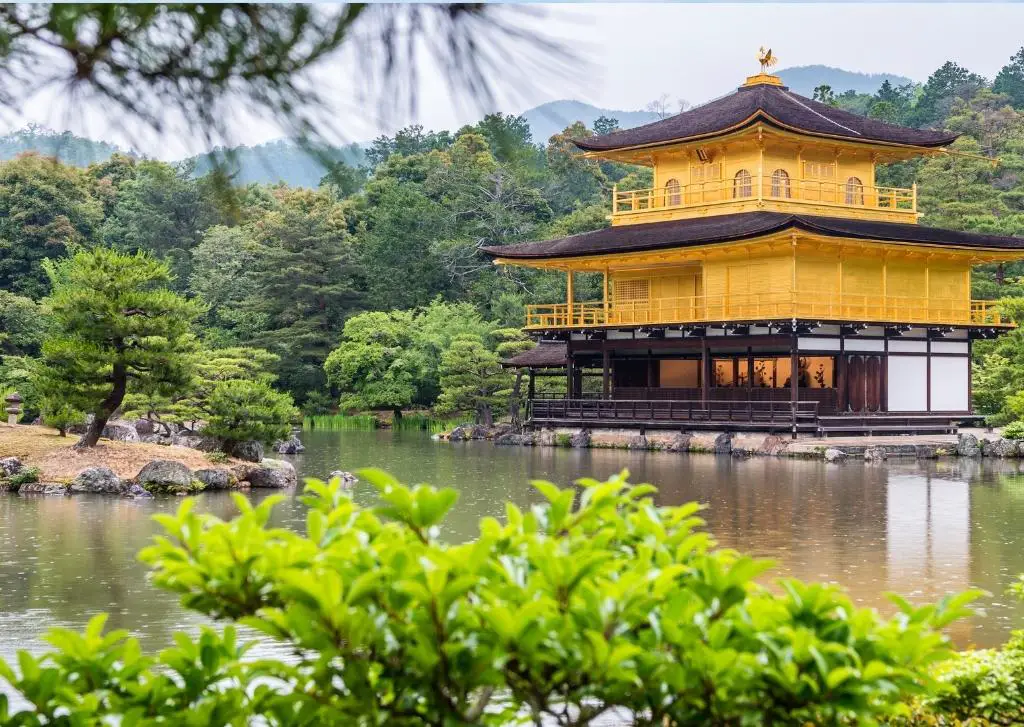 Located at Higashiyama, a district of Kyoto, this three-story temple complex boasts an imposing gold screen gate and an exquisite garden. Its image is often used for commercial purposes, so you've likely already seen it.
Known as the Temple of the Golden Pavilion, its official name is Rokuon-Ji which means Deer Garden Temple. The ornate gold leaf decoration and the beautiful Japanese garden surrounding the complex are just a few of the reasons this is one of the best things to do in Kyoto and something you should not miss. 
How to get there: 1, Kinkakujicho, Kita-Ku Kyoto-shi, Kyoto, 603-8361, Japan – the easiest way to get here is by bus #205, which leaves from Stand B3 in the center of the bus terminal.
Entrance price: 400 yen
Opening Hours: 0900 – 1700
2) Explore Kiyomizu-Dera Temple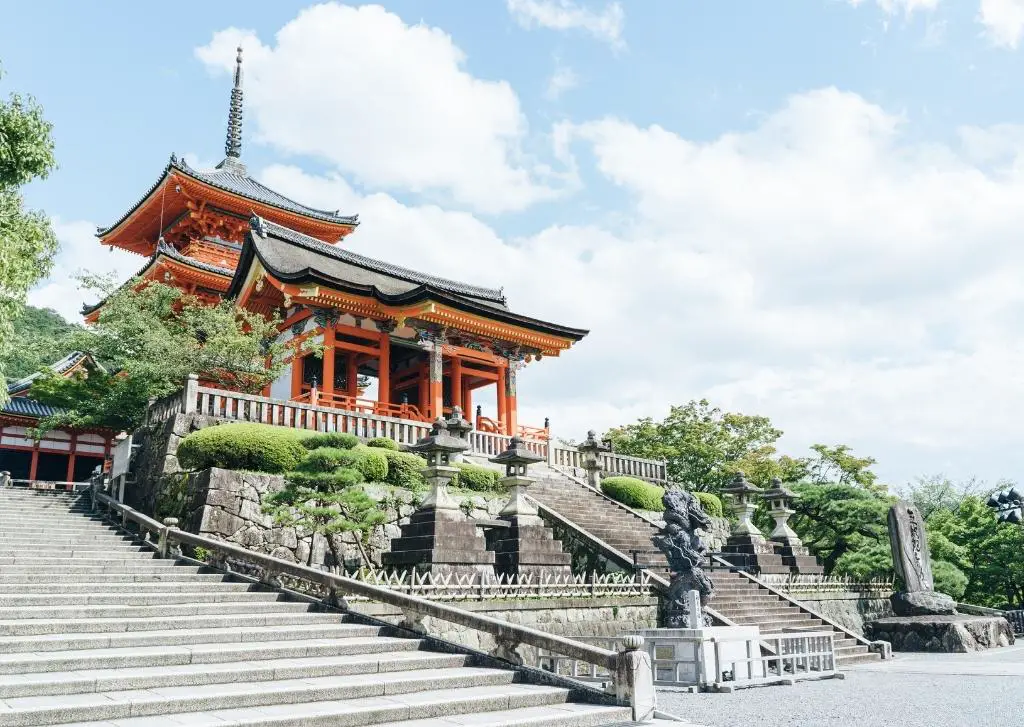 Kiyomizu-Dera Temple is one of the most famous Buddhist temples in Kyoto, and it also makes a brilliant sightseeing spot within the Southern Higashiyama. Founded in 778 AD, this important UNESCO World Heritage Site is halfway up Mount Ottawa and has excellent views across the city. If you visit in spring, you will see the beautiful cherry blossoms in bloom. 
How to get there: grab the train to Gion-Shijo or Kiyomizu-Gojō on the Keihan Main Line. 
Opening hours: 0600 – 1800. It is best to visit early to have uninterrupted peace. 
Entrance price: 400 yen
---
3) Relax in Maruyama Park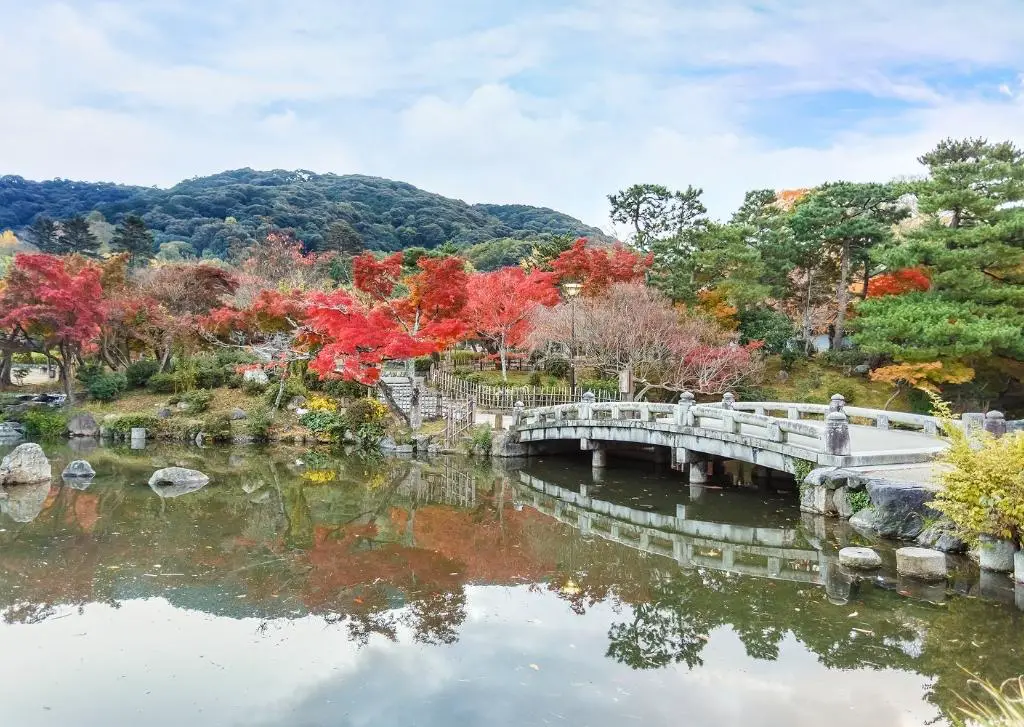 A visit to Maruyama Park is one of the best things to do in Kyoto in Spring. The cherry blossom season is in full bloom, the trees are blushing pink, and the famous weeping cherry tree looks its most fabulous, especially when it is illuminated at night. However, if you visit Autumn, this park is also rich with the deep colors of the season.
Take a scenic walk from the Southern Higashiyama, and you will also encounter the Yasaka Shrine nearby. The area is beautifully lit at night, and this is one of the most popular times to visit. 
How to get there: Take the number 100 or 206 bus from Kyoto station and get off at Gion bus stop. It will take about 20 minutes. 
4) Learn About Kyoto Imperial Palace
Once the ruling palace of the Emperor of Japan, now the Kyoto Imperial Palace is open to the public. Explore the wonderfully preserved grounds and the beautiful Kyoto Gyoen National garden that surrounds the palace.
Despite its impressive resume, the Imperial Palace is often overlooked for things to do in Kyoto. If you want to tour the inside, you must make an advanced booking on a guided tour. Book early as this is one of Japan's most visited landmarks and valued historical sites and one of Kyoto's top 10 things to do.
Temple Trail tours also include visiting other great attractions such as Kinkaku-Ji Temple and the Nijo Castle. 
How to get there: Take the subway from Kyoto Station along the Karasuma Subway Line. The Marutamachi is faster (7 minutes) but a longer walk than Imadegawa Station (10 minutes. 
Entrance fee: Free to enter the grounds and eastern garden
Opening Hours: 0845 – 1600
5) Hike to the Famous Fushimi Inari Shrine
The Fushimi Inari-Taisha Shrine is one of Kyoto's most prominent and iconic features and renowned UNESCO World Heritage Site. Imagine a flurry of deep red in the shape of what seems to be an infinite tunnel of torii gates (10,000 to be specific). Atop this colorful hiking trail up Mount Inari, you will find the Fushimi Shrine, which honors the Shinto God of Rice, Inari. The Fushimi Inari Taisha shine is significant to Japanese people. There are 108 fox statues around the shrine, which symbolize the protection of rice cultivation. See if you can count them. 
The best time to visit the Fushimi Inari Shrine is at night. It can get swamped during the day, whereas it is still pretty at night, and you will have a much more peaceful and spiritual experience. Although the Fushimi Inari Shrine is a prominent feature of this ancient city, it is one of the best free things in Kyoto. 
How to get there: You can grab the JR Nara Line to Momoyama Station. This is only a 12-minute ride and then a 20-minute walk to Fushimi. 
Opening hours: Open 24/7
Entrance cost: Free
6) Revel in the Arashiyama Bamboo Grove & Monkey Park
Urashima is an area that has several must-see things to do in Kyoto. However, one of the ultimate things to do here is to explore the vast bamboo shoots that line Arashiyama Bamboo Grove at the foot of the 'Storm Mountains.' 
While your encounter with the bamboo forest is enjoyable in itself, more treats await. First, stop by Tenryuji Temple, a major Rinzai Zen temple complex devoted to Zen Buddhism. At the end of the line.
Also, in the area, you will be able to visit the Iwatayama Monkey Park. Located atop Mt Arashiyama, the viewpoints at Monkey park are incredible. Just be prepared for a 20 minute or so hike. Watching the Japanese Macaque Monkeys (snow monkeys) is definitely one of the best things to see and do in Kyoto. 
How to get there: Take the JR train from Kyoto Station to Saga-Arashiyma on the JR Sagano/San-in Line. Then it's just a short 10-minute walk to the grove. Or, get off at the Hankyu Arashiyama Station for the Monkey Park if you want to start there first. 
Entrance Fee: Free for Arashiyama Bamboo Forest and 550 yen for Monkey forest. 
Opening hours: The bamboo forest is open 24/7
7) Explore the Traditional Gion District 
Gion is one of the most beautiful parts of Kyoto and what you imagine when you book. This traditional district is where you will find delightful wooden houses that have delicate paper screens. But, most importantly of all, this is where you may spot a Geisha (also called a Geiko). 
On my trip, I wandered these streets for what seemed like hours in the hope to spot one, and I finally did. Technically, I saw a Meiko, an apprentice, distinctively different with their colorful floral dress, opposed to If you want to take it to the next level, then make sure to book yourself a traditional tea ceremony. 
How to get there: From Kyoto Station either grab bus 100 or 206 to Gion bus stop or the train to Gion-Shijo Station on the Keihan Line and Kyoto-Kawaramachi Station on the Hankyu Line.
8) Take the Philosophers' Walk to Nanzen-Ji Temple
If you're searching for beautiful temples, head to the Nanzen-Ji Zen Buddhist temple at the foot of the Higashiyama mountain. You'll be blessed with several temples within this complex and blossom trees in spring. 
Nearby the area, you also can visit the zoo, which has some of the big animals, such as hippopotamus, elephants, and giraffes. Nanzenji Temple is one of the best things to do in Kyoto as you also get to experience the Philosopher's Walk at the same time. 
The Philosophers' Walk is a small pathway lined with some of Kyoto's oldest and most historic buildings. Here, you'll find the former residence and museum dedicated to the philosopher Nishida Kitaro and his school of thought. 
How to get there: Take the Tozai line to Keage station. A short walk later, you will arrive at the Nanzenji temple, and the Philosophers path and zoo are sign-posted from there. 
Opening hours: 0845 – 1700
Entrance fee: 500 yen
9) Nishiki Market – 'Kyoto's Kitchen.'
The best thing to do in the Nishiki market is to eat Japanese street food. There are also many restaurants where you can try different kinds of sushi, ramen, udon noodles, tempura, yakitori, etc. Furthermore, suppose you want to go shopping. In that case, you can find some interesting items such as kimono, yukata, obi, and other accessories for women, as well as delicious Japanese sweets to enjoy. 
With over 100 stalls, you can spend countless hours here just exploring. It could be too much to handle if you're vegetarian like me, but it immerses you into the Japanese culture, so it is worth a visit, even if you don't eat the food. 
How to get there: head to Shijo Station on the Karasuma Subway Line and walk one block north of Shijo Avenue
Opening hours: 1000 – 1800
10) Take in the Views from the Kyoto Tower
There is no better way to see Kyoto than the panoramic views from atop Kyoto Tower. This iconic landmark stands over 100 meters above ground, and you can experience the modern-feeling tower, contrasted against the views of the ancient city. 
The Kyoto Tower is not only the tallest structure in Kyoto, but it also has a great observation deck. Due to the opening hours, you can time it right to head up at dusk and capture the cityscape as night falls. 
How to get there: you can see the tower from Kyoto Station, so just head towards Karasuma Central Gate to reach the entrance. 
Opening hours: 1100 – 1900
Entrance fee: 770 yen
Top 10 Things to do in Kyoto in Summary 
As the cultural capital of Japan, there is no wonder that a lot of the top 10 things to do in Kyoto are popular temples, rivers, and green spaces. However, within all the splendor of the ancient capital, there is the modern city hub and vibrant nightlife of the Gion district and Kyoto City. This guide to Kyoto has balanced some of the serene with a splash of the contemporary, and I am sure you will love it when you're there. 
If you'd like to discover more exciting places in Japan, then read the following posts. 
How did you find the things to see and do in Kyoto? I'd love to know your experiences or any questions you have. Just let me know in the comments. 
---
Here's why an experienced and professional travel agent can help you with your trip
Do you like to travel but hate spending hours online researching holidays and trying to find the best deals? Here's why I come in. VeggTravel is an independent travel agent that does the hard work for you. I do the research, compare the prices and build the itinerary for your dream holiday, cruise, city break, or activity. Plus, my agent connections often mean exclusive offers on hotels and flights that you can't find anywhere else.
Rest assured that any holiday booked through me will give you the relevant ABTA, CILA or ATOL protection you need. Not only that, but I'll provide you with bespoke service tailored to your needs, and I'll be there every step of the way, ensuring that things go smoothly or being your single point of contact if things don't.
Ready to take your vacation to the next level? I don't charge a fee, so if you're based in the UK, drop me a mail and see what I can do for you.

---
Pin the Top 10 Things to Do in Kyoto for Later