Feeding Deer in Nara, Japan | A Unique Wildlife Encounter
Nara, Japan, is famous for its deer park, which is home to around 10,000 deer. The park was established in 1872 and has been open to the public since then. But this is no ordinary deer park! Discover all you need to know about feeding deer in Nara, Japan and their unique behaviours. Plus, detailed guidance on how to get there and what to do in the area.
Feeding Deer in Nara, Japan Contents
This post contains affiliate links which means I may earn a small commission if you choose to buy anything from them. This is at no extra cost to you and In doing so you help to keep this site running, so thank you in advance.
Where is Nara Park, Japan?
Nara Park is a city located in the Chiba Prefecture of Japan that makes a simple and easy day trip from Kyoto or Osaka. It is a popular area to visit due to the unique Japan deer that live there.
To get from Kyoto to Nara: Travel 45 minutes on the Nara Line from Kyoto Station to Kintetsu Nara Station. Then take a 20 minutes walk to the deer park, or catch a bus. If you catch the local train to the JR Nara station, this will take longer, and there will be an additional 10 minutes of walking. However, this route is a bonus if you have a JR Rail pass. 
To get from Osaka to Nara: Travel 35 minutes on the limited rapid express from Osaka-Namba to Kintetsu Nara Station (the regular express train is cheaper and only takes 5 minutes longer). 
You also have the option to visit the deer park by organised tour if you want to just sit back and relax and have everything taken care of for you.
---
---
Where to Stay in Nara?
Nara is only a small Japanese city, but it was once the ancient capital of Japan. So if you want to limit how much you travel in a day, an overnight stay will mean you can see what the city has to offer beyond the deer in Japan. There are many places to stay and the prices are much more affordable than other cities. Check out the map below.
---
---
What kind of deer are in Nara, Japan?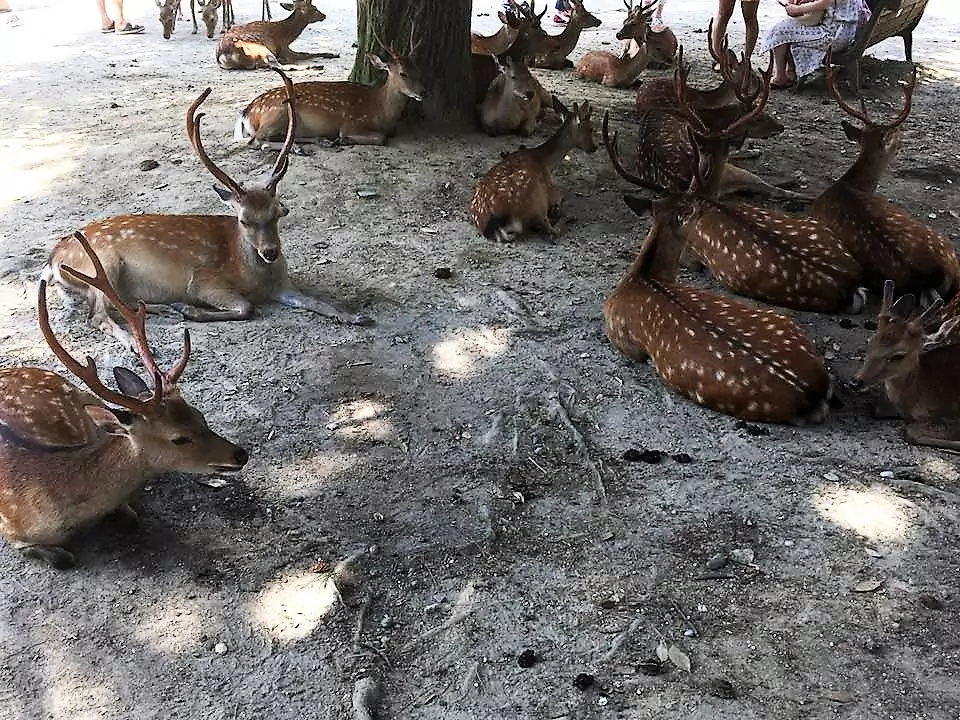 Deer are native to Asia and Europe, and the Deer park in Japan is now home to them in abundance.
There are two types of Nara deer in the Park: fallow deer and sika deer.
Sika deer, in particular, are now more common in Japan than in Vietnam, where they originated. They're even now commonly called Japanese deer. You can identify them with their spotted backs. Both species are herbivores and feed on grasses and plants.
People often wonder whether 'Nara' means deer in Japanese. It doesn't; it means "the land of the rising sun," so there is no formal correlation.
---
---
When is feeding deer in Japan possible? 
In Japan, feeding deer is a tradition that dates back centuries. Japanese people consider Deer as sacred animals, and people often feed them during festivals or when they visit temples.
That being said, you don't have to wait for a special event to see the deer in Japan as Nara deer is free to enter all year round. If you plan to travel during the Fall, don't forget your packing list for Autumn in Japan.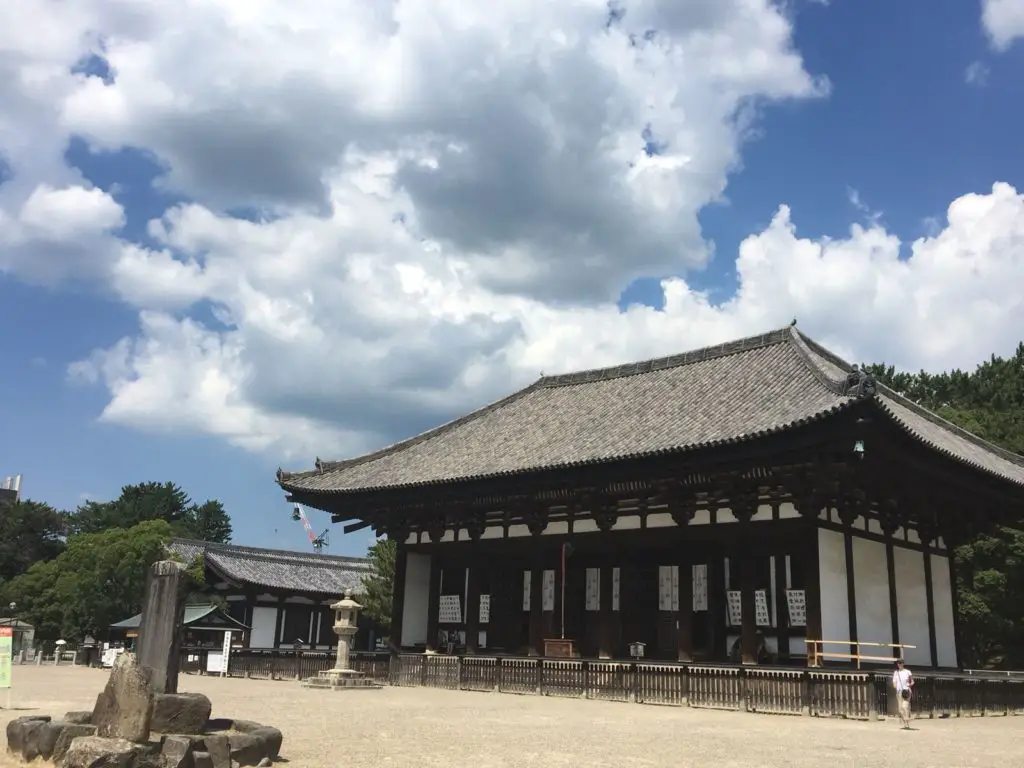 Once you've seen the sacred bowing deer, you can also explore other beautiful places. 
Just a short walk east in the park is the Todaiji Temple complex, which houses several marvelous Buddhist temples. The temple is open during the following hours: 
7:30 am to 5:30 pm between April and October
8:00 am to 4:30 pm from November through March
Todaiji Temple is a UNESCO World Heritage site, and admission costs 500 yen.
You can also elect to see the great sites through a walking tour from an experienced local guide.
---
---
---
What to expect when feeding deer in Nara Japan
The sacred deer of Nara Park is a national treasure of Japan. However, it is also important to remember that the Nara deer are wild animals and practice an air of caution around them. 
To get the proper 'bowing deer of Japan' experience, you will likely purchase deer crackers (Shika senbei) during your visit. These special crackers are a registered trademark of the Foundation for the Protection of Deer in Nara. Therefore when handing over your 200 yen to buy them, you can be happy that some of the profits go towards deer conservation. You can buy them in the stores that you pass by or from street vendors at the park itself.
Despite many tourists feeding deer in Nara Park Japan, there will always be hungry deer ready and waiting for you. Please do not feed them human food as this is not part of their natural diet. 
If you buy the rice crackers, then open them away from the deer. Speaking from experience, it can be intimidating when you have such large, magnificent creatures suddenly surround you because they know you've got delicious food. Also, while the Japan deer are tame, they have big antlers, and you don't want to be on the receiving end of a nudge with those. 
If you're with other people, share the deer crackers amongst yourselves and approach no more than a couple of deer. Before offering the cracker, take a bow and watch with delight as the deer bow back. 
---
---
Feeding deer in Nara Japan in Summary 
A trip to Japan isn't complete without an experience with the famous deer in Nara city. The deer in Japan are like no other I have ever encountered, and they are truly majestic. In addition, Nara city itself is a great town with a fantastic selection of stores, street food and souvenirs.
Have you been to Nara park Japan? What was your experience? I'd love to know how you found the deer and if there is anything else you would recommend? Let me know in the comments.
You might also like to read:
---
---
Do you want to explore Japan but feel overwhelmed with the extensive planning involved?
Do you like to travel but hate spending hours online researching holidays and trying to find the best deals? Here's why I come in. VeggTravel is an independent travel agent that does the hard work for you. I do the research, compare the prices and build the itinerary for your dream holiday, cruise, city break, or activity. Plus, my agent connections often mean exclusive offers on hotels and flights that you can't find anywhere else.
Rest assured that any holiday booked through me will give you the relevant ABTA, CILA or ATOL protection you need. Not only that, but I'll provide you with bespoke service tailored to your needs, and I'll be there every step of the way, ensuring that things go smoothly or being your single point of contact if things don't.
Ready to take your vacation to the next level? I don't charge a fee, so if you're based in the UK, drop me a mail and see what I can do for you.

---
---
Pin For Later
Sharing is caring so please like, comment, and share.