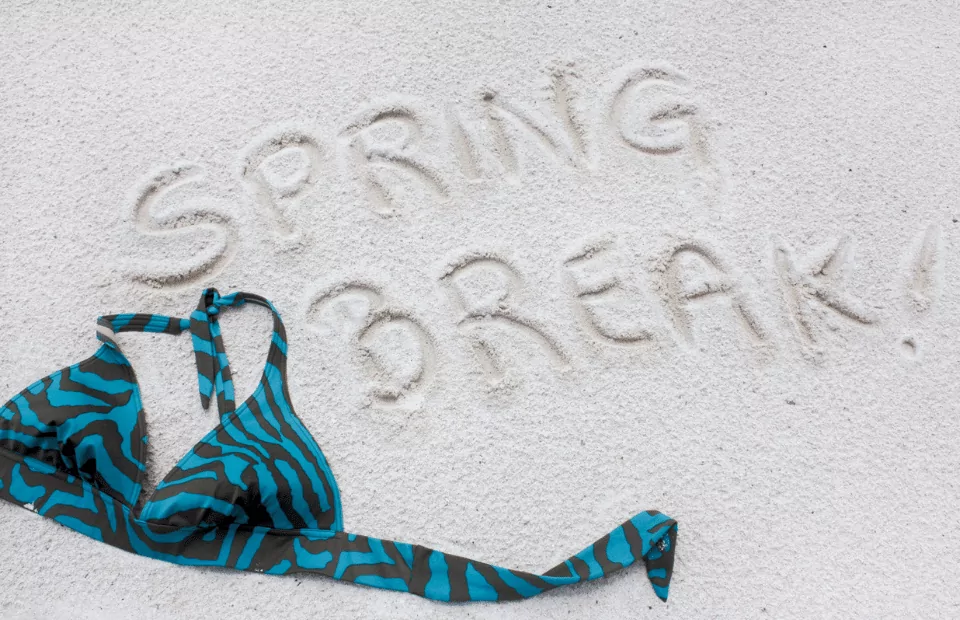 Spring Break Cancun Mexico | Everything You Need to Know
When you hear "Mexico Spring Break", the first thing that comes to mind is the party destination Cancun. Picture sun, sand, surf, and where the crazy parties never stop! So whether you've seen it in the movies, heard about it from your friends or just found out about it on google, Spring Break Cancun Mexico makes one intense party-filled vacation. Find out everything you need to know before you go so you can make the most of your time.
Cancun Spring Break Guide – Table of Contents
This post contains affiliate links which means I may earn a small commission if you choose to buy anything from them. This is at no extra cost to you and In doing so you help to keep this site running, so thank you in advance.
How to plan a Cancun Mexico Spring Break 
When is Spring Break Cancun?
First, you need to ask when is Spring Break in Cancun. This question is easy if you're a college student planning to visit during your half-term. But what about the people who want the crazy experience but aren't college students? I was that person. Due to the different college vacation periods, spring break in Cancun can range from mid-February to Easter in April, and the prices will peak within this time. But don't worry, there are plenty of events all month round so there really is no best time to go to Cancun for spring break.
Best place to stay in Cancun for Spring Break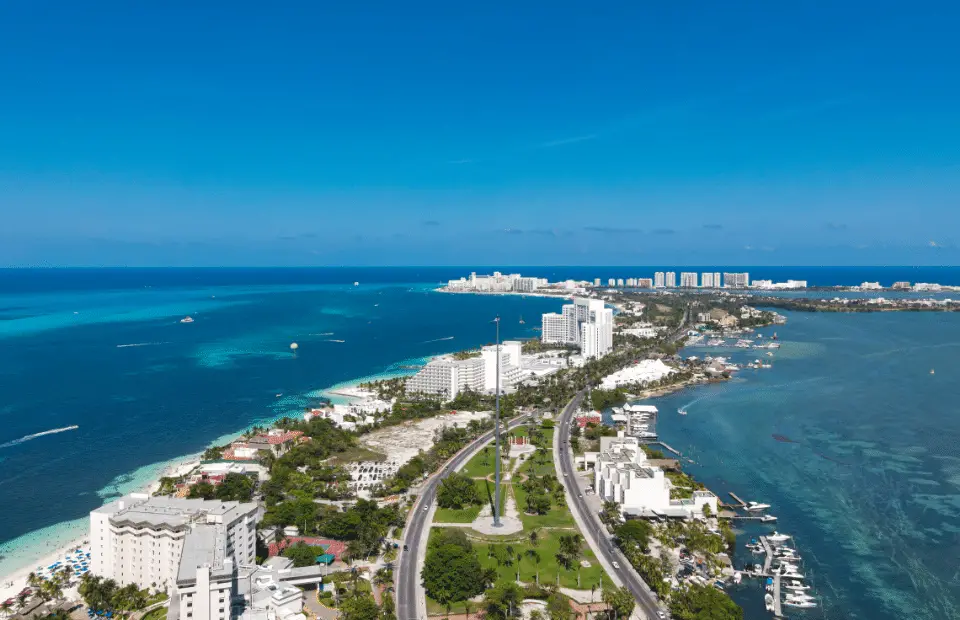 If you're looking for the best place to stay in Cancun for Spring Break then you'll be spoilt for choice. There are some fantastic Cancun Mexico Spring Break deals, but you can also choose to do it cheap and cheerful. The first thing to know is there are two main districts.
The Hotel Zone is where you want to be if you want to be close to the nightlife, parties and beaches. The closer you stay to Kulkukan Road, the crazier your spring break.
Downtown (Ciudad Cancun / Cancun Island), on the other hand, is better if you like to experience local culture, taste the street food or escape from the crazy spring breakers. 
When considering where to stay in Cancun, here are the key options to consider:  
Cancun All-inclusive Spring Break Resorts 
Sure, they're more expensive, but take it from experience, when you see everyone wearing their all-inclusive wristbands living life to the full, you will feel twangs of regret. For me, it wasn't the food, unlimited drinks or gorgeous beaches; it was the atmosphere and facilities at the resort. So if you want the full experience, do it in style.
Check out some of the best Cancun Spring Break All-inclusive Resorts below:  
Grand Oasis Cancun Resort – the StudentCity's Headquarters Hotel which is a haven for beach and pool parties around the largest pool in Cancun located a short bus away from the Hotel district. 
Sun Palace – a luxurious beach front hotel in the heart of Cancun with world class in house entertainment.
Crown Paradise Club – budget friendly without losing the party vibes. There's even a quirky British themed pub with it's own nightclub included.
These all-inclusive hotels are popular with college students as the drinks and parties at these resorts help reduce the cost of the events.
Hotels
If you're travelling with a group of people, a hotel is a great option, and you will be able to find a hotel or motel within your price range. So whether you're looking for high-end Cancun Mexico hotels for spring break or something a bit further that will be much more affordable, you will find excellent options for your Spring break.
Independent Accommodation
We live in the age of Airbnb, couch surfing, and generally having independent accommodation options. If you're looking for cheap spring break trips to Cancun, then this might be a viable option for you. Look further out of town but on a bus route. The buses into the central zones are part of the experience, and you will undoubtedly meet people.
Hostels
If you're travelling to Cancun during spring break solo or with a small group of friends, a hostel is an excellent place for you to meet people quickly. Some of the best hostels in Cancun are:
Traveling around Cancun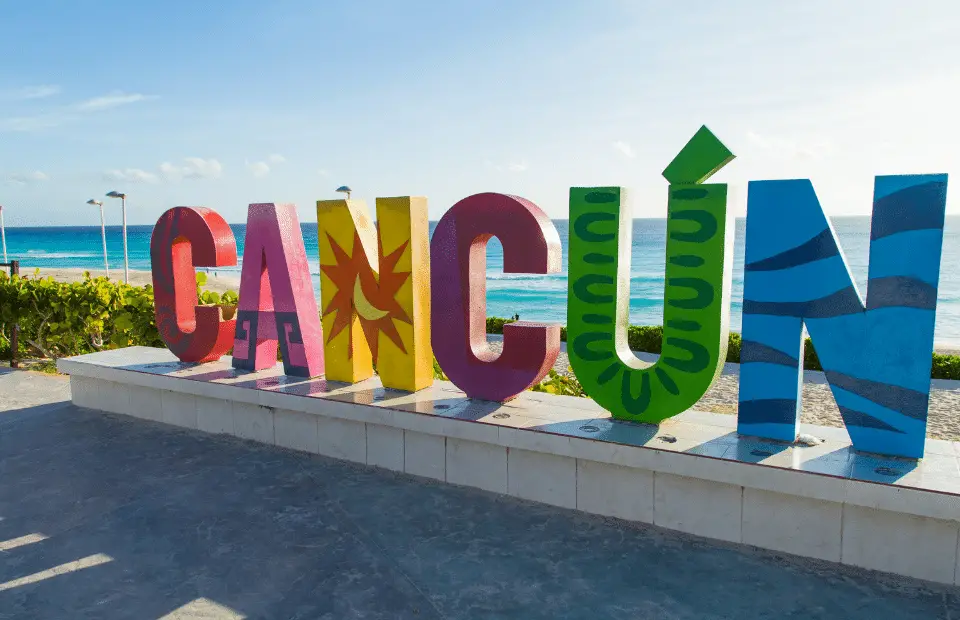 Traveling around Cancun is easy but can stack up if you're on a budget. For example, a taxi from the airport into Cancun Hotel Zone will cost approximately $60, so try and agree on the price in advance or book a hotel transfer ahead.
Instead, consider a public bus which runs every 30 minutes and only cost approximately $4. In addition, the bus only runs downtown, so you can easily take another bus if you're staying in the hotel zone. The local bus is also the best way to get around and is less expensive than taxis in the evening. 
Useful tips
The Mexican Peso is the local currency, but most places accept US Dollars. 
Tipping is customary for most things, so take some dollar bills with you. 
The local language is Spanish, but you will usually meet people with good English in the tourist areas. 
Best Cancun Spring Break Hot Spots:
If you're looking for a spring break bucket list, here's just a few of the activities and hot spots you should plan for:
Take an excursion to a Cenote, and swim in the stunning blue waters. There are hundreds in the area, so you will not be short of options, and many other day trips include a visit to one of them. Some of the hot spots are
Spend some time relaxing, recovering and parting on the white sand beaches. Playa Chac Mool and Playa Delfines are the most relaxing, beautiful beaches. However, if you'd prefer to be somewhere more lively most people flock to Playa Forum, just behind Coco Bongos. 
Take a catamaran tour and go snorkeling on Isla Mujeres, explore the beautiful beaches, go paddleboarding or enjoy the remnants of the old fishing villages. 
Take a day trip to Xcaret Park in Playa del Carmen, a playground for adventurists looking for adrenaline, beauty and relaxation packed into one. 
It's the perfect time to grab the Spring Break deals of Xcaret! Get a 2-park package and have 15% + $5 USD off
for Xcaret Parks.
What are the Best Events for Spring Breakers? 
You will not be short of events or parties in Cancun; the hardest part will be deciding which to prioritise. I've listed some of the best clubs/parties below. You will find these within the Party Zone, which connects to the Hotel Zone. 
Just be sure you know the Legal drinking age in Mexico before you get started.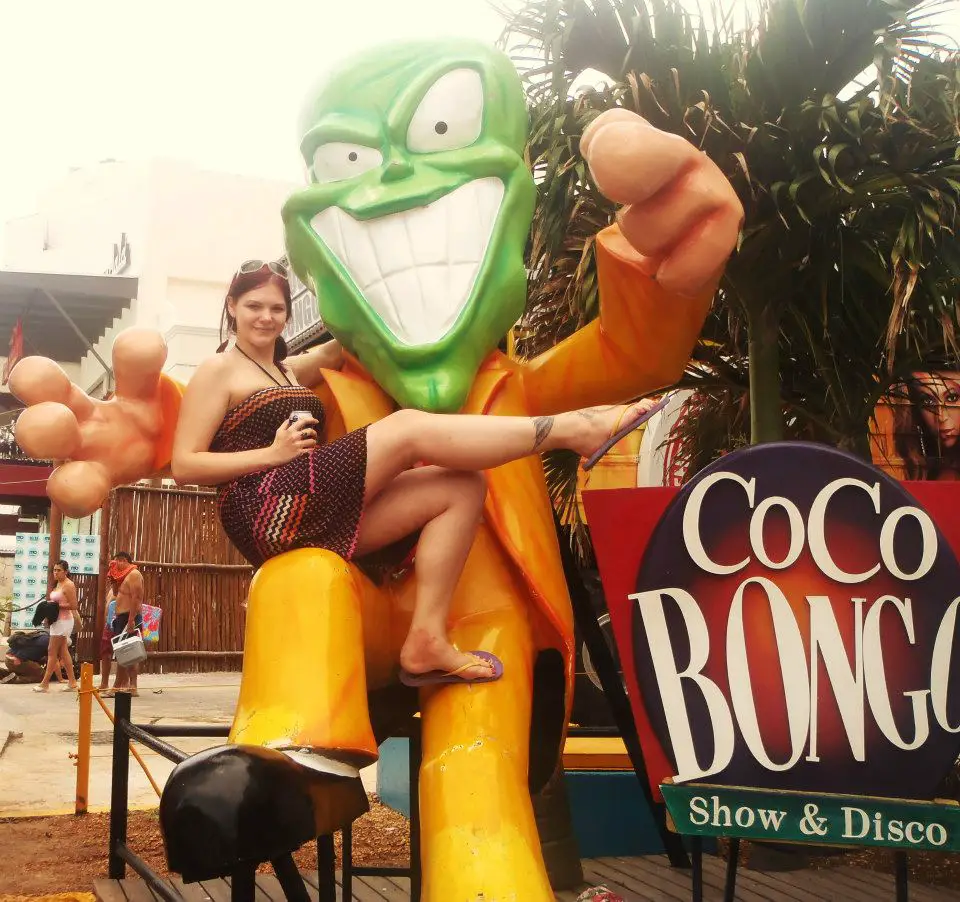 Coco Bongo's – the high energy, crazy cabaret come party night in the centre of Cancun. Ticket prices usually start from $80 but include all-inclusive drinks and snacks.
City Club – one of Cancun's most notorious nightclubs with a long list of high profile celebrity artist performances on its books.  
Head to a Mandala beach party often hosted by famous international DJs. Tickets to these events usually include free drinks or VIP upgrades, and it's certainly one way to party in style. 
Senor Frogs is a restaurant by day and party location by night. Expect themed nights like paint parties to spice things up. 
La Vaquita is a random, crazy nightclub that provides a free bar for $30. Great to start in or for an affordable night. 
Spring Break Cancun in Summary 
Cancun is one of the best spring break destinations that provides a fantastic party scene, pristine beaches, local culture, nature, adventure, and great food. You need to search hard to find a reason not to go to Cancun. Whether you choose an all-inclusive resort or you save money downtown, above all, have fun and stay safe. 
You might also like to read:
---
Want all the fun of spring break without the hassle or organising it?
Do you like to travel but hate spending hours online researching holidays and trying to find the best deals? Here's why I come in. VeggTravel is an independent travel agent that does the hard work for you. I do the research, compare the prices and build the itinerary for your dream holiday, cruise, city break, or activity. Plus, my agent connections often mean exclusive offers on hotels and flights that you can't find anywhere else.
Rest assured that any holiday booked through me will give you the relevant ABTA, CILA or ATOL protection you need. Not only that, but I'll provide you with bespoke service tailored to your needs, and I'll be there every step of the way, ensuring that things go smoothly or being your single point of contact if things don't.
Ready to take your vacation to the next level? I don't charge a fee, so if you're based in the UK, drop me a mail and see what I can do for you.

---
---
Pin Spring Break Cancun Mexico For Later
Sharing is caring. Please pin this Cancun spring break guide for later or share on social media. If you have any questions or queries, leave me a comment and I will get back to you.