Best Playa Del Carmen Excursions & Activities
Playa del Carmen and the surrounding Riviera Maya have become one of Mexico's top vacation destinations, with more than 6 million visitors each year. It offers various activities, including scuba diving, snorkeling, horseback riding, ziplining, other water sports, and an incredible array of cultural discoveries. Read on for the best Playa del Carmen Excursions and activities, come rain or shine, for an incredible holiday.
This post contains affiliate links which means I may earn a small commission if you choose to buy anything from them. This is at no extra cost to you and In doing so you help to keep this site running, so thank you in advance.
Full day Playa del Carmen excursions
If you're happy to spend a full day of your Mexico vacation on an excursion, many great adventures await. Playa del Carmen is conveniently located between Cancun and Tulum, providing vast tours and excursions at your fingertips. With that in mind, some of the best Playa del Carmen excursions for the entire day are below:
Explore the Ancient Mayan Ruins of Chichen Itza 
Chichen Itza is the most famous landmark in Mexico and the most visited of all the Mayan ruins. This notoriety makes a visit here one of the best tours in Playa del Carmen. You will learn about the fascinating history of the fall equinox and the story of the serpent inbuilt into the magnificent temple. As one of the world's seven wonders and a UNESCO World Heritage site, a trip to Chichen Itza is worth the time.
Many different Chichen Itza tours are available, each very similar but with various stops or additions. Some of the best are below:
How far from Playa del Carmen is it? Playa del Carmen is the last pick up / first drop off before heading inland for approximately 2.5 hours to Chichen Itza. Stop-offs in different locations (mine included a ceramic store and tequila factory) will break up this journey. 
How much does it cost? This completely depends on which option you go for but expect to pay upwards of £35 / $50.
Navigate the historical Tulum Ruins
Several Playa del Carmen tours you can take include stops at the Tulum Ruins, which have famous views over the turquoise waters. This archeological site is the second most visited historical area in the region. Not only will you get to appreciate the ruins, but you will also spend some free time in Tulum itself and nearby Akumal. The viewpoints across the palm tree-lined beach as you look out from the ruins are truly spectacular.
How far from Playa del Carmen is it? A straight drive to the Tulum ruins will take about an hour.
How much does it cost? Upwards from £30 / $45, which usually includes a trip to a cenote, time in the center, and beach time.
Visit the Colonial Town of Valladolid
Close by Chichen Itza on Mexico's Yucatán Peninsula is the colonial town of Valladolid. Learn all about the history of this town and the importance it gave to the Mayan civilization with some of the best cultural tours of Mexico. Its colonial buildings include the 16th-century Convent of San Bernardino of Siena and the beautiful San Gervasio Cathedral. 
Many Playa del Carmen tours to Chichen Itza include Valladolid so that you can see this charming village during those excursions. You can also uncover stunning underground cenotes in this area, the most notorious being the Cenote Suytun, a vast cave with a turquoise sinkhole dominating the center.
How far is it from Playa del Carmen? Approximately 2 hours without stop-offs.
How much does it cost? As it is part of many other Playa del Carmen excursions, you can expect it to cost at least £35 – $50
Spend an action-packed day of adventure at Xcaret Park Eco-Park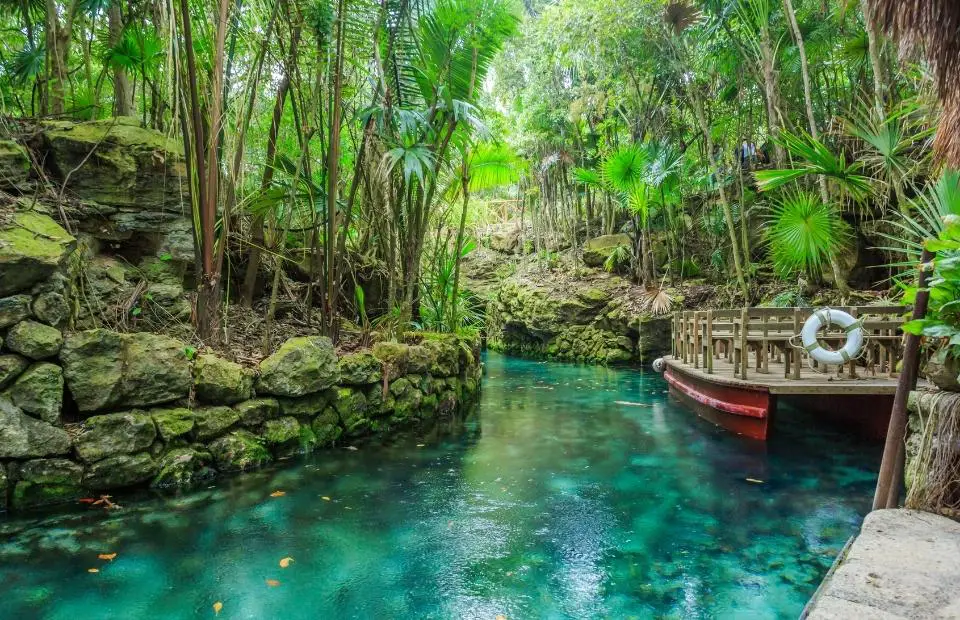 Xcaret Eco Theme Park is a unique and impressive eco-park with adventurous experiences and activities. Imagine a location that half resembles a culture-rich theme park mixed with the stunning beauty of natural rivers, jungles, and cenotes. 
The Xcaret Experiencias Group runs several different adventure parks that each provide day trips with something different to offer:
Xenses Park is an unusual park that focuses your imagination on new territories.
Xplor Adventure Park – an adventure park where one minute you'll be driving an amphibious vehicle, and the next you'll be rafting on an underground river, ziplining, or trekking through the tree-tops. 
Xel-Ha Park – Riviera Maya's amazing natural aquarium is a true paradise where you can float, swim and snorkel amongst varied sea life. 
How far from Playa del Carmen is it? Without stops, the drive to Xcaret park should take 10-15 minutes 
How much does it cost? Prices vary depending on optional extras; however, expect to spend $99 upwards. 
Buy tickets in advance to avoid the crowds and queues when you arrive and have the benefit of hotel pick up and drop off.  
Half Day Playa del Carmen excursions
If you're just looking for something to do to break up your day (or perhaps escape the rain), then there are many half-day Playa del Carmen excursions to take advantage of: 
Explore the subterranean world of Rio Secreto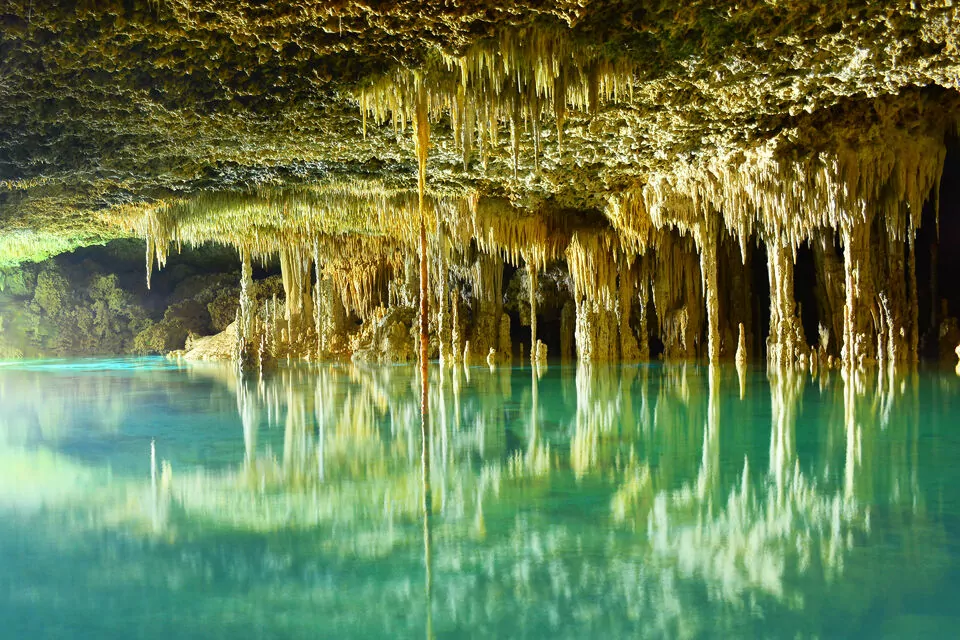 Rio Secreto is a maze of stunning underwater rivers and cenotes. These natural wonders are so otherworldly that the ancient Mayans believed them to be portals to the netherworld.
This ecological Playa del Carmen excursion will typically take the entire day, but as it is one of the most spectacular underwater caves in Mexico, it is well worth it. Different Rio Secreto tours are available; some even allow you to fully immerse in the crystal clear water and scuba dive or snorkel the tropical reefs. 
How far from Playa del Carmen is it? It will take approximately 15 minutes to get to Rio Secreto by car. 
Ride the waves with a jet-ski 
If you're wondering what to do in Playa del Carmen when it rains, Jet skiing should be on your list; you'll get wet anyway! Follow experienced guides racing through the Caribbean sea before stopping for deep-sea snorkeling. There are many jetskiing options in Playa del Carmen, but some take you to locations where you're likely to see sea turtles.
How far from Playa del Carmen is it? On the doorstep. You may also be able to do this from your hotel or certainly a nearby beach. 
How much does it cost? You can share a jetski for approximately £57 / $75, or it will cost $100 or so. Hiring one at a beach may be cheaper, but you won't go exploring and snorkeling.
Shop 'til you Drop on 5th Avenue.
5th Avenue is a long shopping street that provides a great day trip from Playa del Carmen. There are many unique and exciting bars and restaurants, perfect if you're looking for a break from the resort food! If you're a vegetarian or vegan in Mexico, there will be plenty of choices available but you might need to hunt around a little. If you're looking to buy souvenirs then you've come to the right place! Shopping here is much cheaper than at your resort, so stock up on those gifts and mementos. 
You can book a cheap shopping tour (which I did); however, you're obliged to spend time at a jewelry shop and tequila shop before you get a few hours of free time in the center. If you're staying in a resort out of the way, this can save you a lot of money in taxis, but you will sacrifice time in travel and sales pitches. 
Tip: there are only private ATMs that massively rip you off. Most places take cards, so only use the ATM if you need to and are happy to part with an extortionate fee. 
Party at Coco Bongo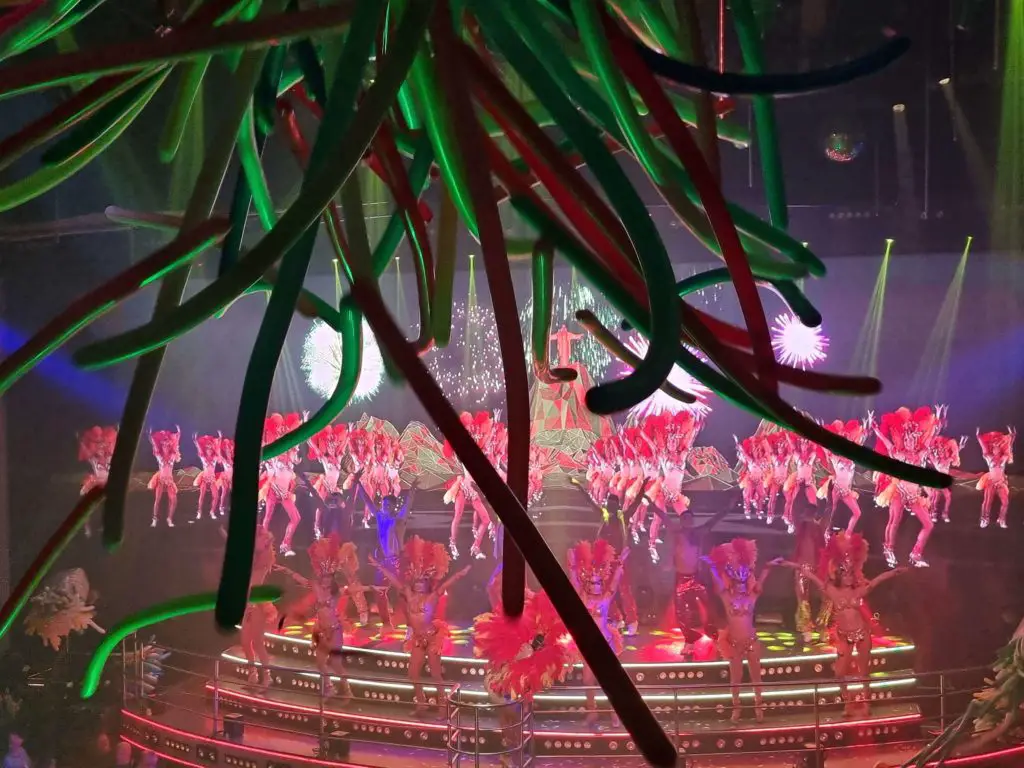 Everyone who has ever been to Mexico or spoken about it to their friends will have heard of Coco Bongo. Free drinks, cabaret shows, music, and dancing await in this crazy Vegas-style showground. It certainly makes an exciting difference to the entertainment at your resort.
Coco Bongo is in the heart of the city making this one of the best Playa del Carmen activities, especially if you don't want to travel far. If you plan a night at Coco Bongo, get your tickets in advance.
How far from Playa del Carmen is it: central, so walkable if you're staying in the town or a 20-minute drive from the outskirts. 
How much does it cost? Standard tickets are $89, and there are options to choose silver or gold options that include balcony views or seating and premium drinks for a bit more. I did this, and the only advantage I found was the queue jump (the queues were insane) and the table service. Be aware that these options give you privacy or space once you're willing to pay for the VIP table packages. 
Take a tour to Isla Mujeres & Contoy Island
Why visit one island when you can enjoy two? Excursions from Playa del Carmen to Isla Mujeres and Contoy island offers time to explore the stunning beaches on your own or guided tours to the museum, observatory, or lagoon.
On route, you will also get to snorkel at the Ixlache Reef, part of the Mesoamerican Barrier Reef, the second-largest n the world. I saw sea turtles here, which was terrific, although the water was a little foggy. Choose a catamaran tour for the most fun.
How far from Playa del Carmen is it: these tours depart from Punta Sam Ferry Terminal, north of Cancun so expect to spend at least 1 hour 30 traveling to the location and a 30-minute ferry to the islands.  
How much does it cost? expect to pay about £82 / $108 + $15 docking fee
Fuel your adrenaline with Playa del Carmen zip lines, Cenote & ATV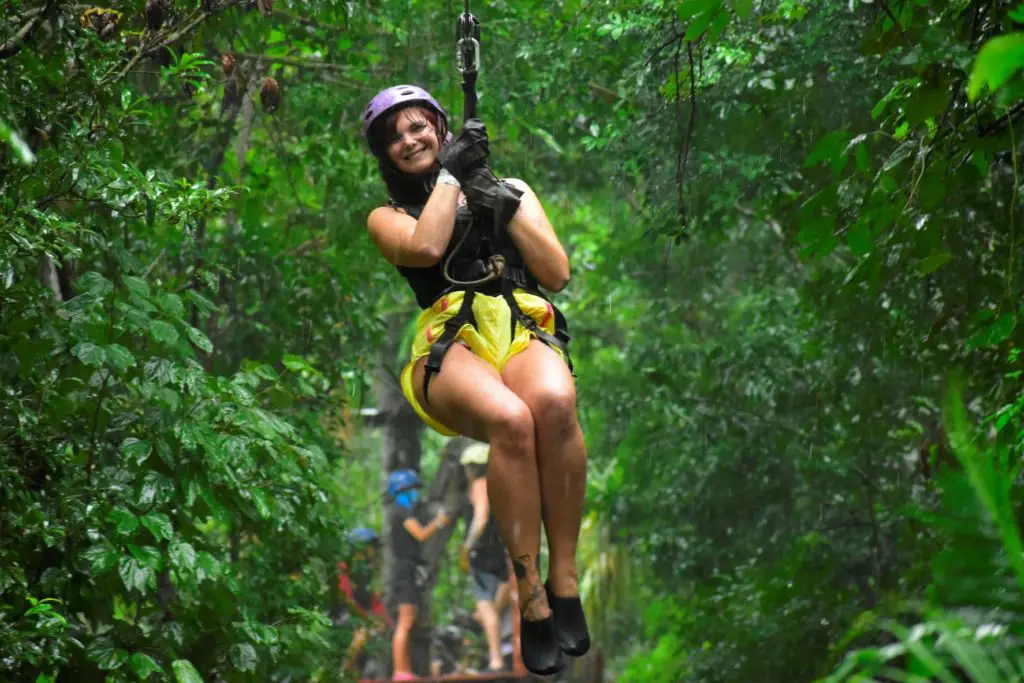 One of the best things to do in Playa del Carmen when it rains, is to have fun with some adventure activities. Rip up the muddy, wet Mayan jungle trails with an ATV Quad Bike experience. Take a double loop around the tropical terrain before taking to the trees to walk the hanging bridges and glide to the different platforms.
Learn about tequila with a tasting session that provides knowledgeable insight into what makes authentic tequila. Best of all though is the visit to a beautiful cenote. Choose to walk, dive or zipline into the fresh waters below. 
How far is it from Playa del Carmen? Expect to spend between 30 minutes to an hour traveling to the location. 
How much does it cost? From £53 / $70 if you share an ATV (you can swap halfway) or an additional £20 / $30 to have your own. 
Best Playa del Carmen Excursions in Summary
If you plan to do several excursions in Playa del Carmen, then be prepared to have several tequila tastings throughout your trip; perfect if you're a drinker, right? Mexico strikes a beautiful balance between exciting activities, ancient history and culture, beautiful beaches, and vibrant nightlife.
Most tours and places accept American Dollars for payment, and tipping is very much expected (but not always warranted). Expect to spend a minimum of $50 – $150 for excursions and add 1-2 hours on the advertised tour duration time to get a realistic estimation of how long you'll be away from your resort.
If you're looking for somewhere to stay in the area, then check out my review of the hotel I stayed at:
You might also like to read:
---
Want to travel without the added time, stress and inconvenience to plan it all?
Do you like to travel but hate spending hours online researching holidays and trying to find the best deals? Here's why I come in. VeggTravel is an independent travel agent that does the hard work for you. I do the research, compare the prices and build the itinerary for your dream holiday, cruise, city break, or activity. Plus, my agent connections often mean exclusive offers on hotels and flights that you can't find anywhere else.
Rest assured that any holiday booked through me will give you the relevant ABTA, CILA or ATOL protection you need. Not only that, but I'll provide you with bespoke service tailored to your needs, and I'll be there every step of the way, ensuring that things go smoothly or being your single point of contact if things don't.
Ready to take your vacation to the next level? I don't charge a fee, so if you're based in the UK, drop me a mail and see what I can do for you.

---
---
Pin The Best Playa del Carmen Excursions for Later
Sharing is caring. Please share this post on social media and if you have any feedback or questions, leave me a comment below.