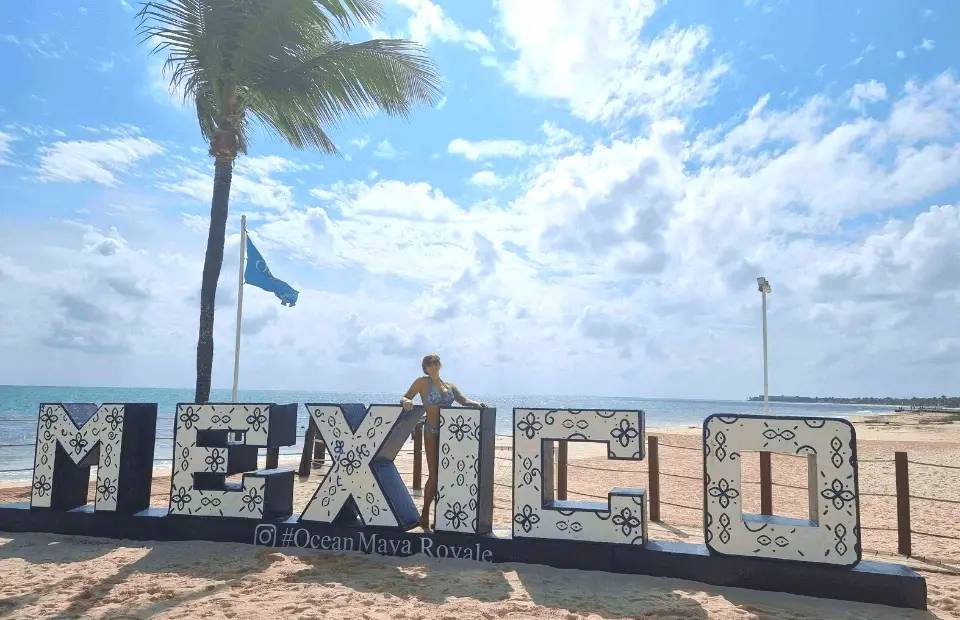 Honest Ocean Maya Royale Reviews | Mexico, Riviera Maya
Are you looking for an all-inclusive resort on the coast of the Riviera Maya and Playa del Carmen, Mexico? Look no further than the H10 Ocean Maya Royale – Adults Only Hotel! But is this resort as good as it seems? Read on for a comprehensive Ocean Maya Royale reviews so you can decide for yourself. I'll cover the good, the bad, and the ugly – no stone will be left unturned!
This post provides honest Ocean Maya Royale Reviews based on my experiences and are in way sponsored by the hotel. However, there may be some affiliate links throughout this post which mean that I may earn a commission if you purchase through these links.
Ocean Maya Royale Reviews | Content
Where is the Ocean Maya Royale Resort? 
Tucked away from the hustle and bustle of Playa Del Carmen and Cancun, Ocean Maya Royale All Inclusive Hotel sits peacefully on a stunning white beach. With its convenient location between two of the best places to visit in Mexico, getting around could not be easier. On days when you are taking part in tours, you will be among the first to arrive and the last to leave, while still being able to take advantage of this prime spot in between.
Accommodation at the H10 Ocean Maya Royale
There are two main classes of accommodation at the H10 Riviera Maya: standard villas and privilege, which come with an additional charge. We had a standard king-size villa.
If you're looking for a luxurious stay, the privilege access may be the right choice for you. Offering bigger rooms than the standard ones, these are mostly located in a row adjacent to the lobby, great for evening entertainment. However, you may have to walk a bit to reach the swimming pool or beach area. If being close to the beach is your preference, make sure to book one of the lower numbers like 11 or 10 – this zone also offers ocean views from select suites.
The room interiors are modern and well-equipped with some basic amenities such as an ironing board, hairdryer and toiletries provided for your convenience. You'll also find a minibar offering complimentary soft drinks and canned beers along with water and a safe box. There's also a spacious balcony or patio associated with each room. If you have requested double beds when making your booking, you will be allocated one twin room with two double beds – so make sure that you request a king size bed if you want a bigger bed.
Ocean Maya Royale reviews of the room:
Restaurants at the Ocean Maya Royale
At the hotel Ocean Maya Royale, you can choose from four al a carte restaurants: two Italian, one Mexican, and a Japanese restaurant (although unfortunately it was closed during my visit without prior notice). Additionally, there is a buffet restaurant that serves breakfast, lunch, and dinner. The Mexican restaurant also offers a buffet lunchtime option.
As a vegetarian, there was plenty of choice for me. Both Italian restaurants were great – warm and inviting atmosphere, coupled with tasteful décor.
Sadly, the Mexican restaurant didn't provide an authentic experience; all we had were vegetable fajitas which were far from satisfactory, to say the least.
For those looking for a sweet treat, there is an ice cream stall in the pool area that opens at random times – but don't let that put you off because it serves up some seriously good stuff!
If you get peckish after 4 pm, you can always head to the sports bar where they have snacks on offer. Or if cakes are your thing, then pop into the coffee shop and take your pick. And of course, there's always room service to fall back on.
Ocean Maya Royale reviews of the food:
Pool and Beachside Facilities at the Ocean Maya Royale
If you're looking for a place to relax and unwind, then look no further than the two outdoor pools and private beach area. You'll receive a token for a fresh towel each day that you can exchange when needed.
For those seeking a little more excitement, be sure to grab one of the sun loungers at the smaller pool – this is where all the music and entertainment will be taking place! Alternatively, if you are after some peace and quiet, why not spend your time on the beach or around the larger pool? Privilege members also have access to day beds and specific spots on the private beach.
The beach at the Riviera Maya Royale resort is a sight to behold with its giant 'MEXICO' letters, beach swing seat and hammocks. Despite the beauty of the area, there is a lot of seaweed and the waters can be murky and unappetizing, making snorkeling not worth the effort.
The area is clean and well-maintained but when it gets busy, there are simply not enough sun loungers for all the guests. Despite rules prohibiting reserving lounge chairs, it's a common practice; if you don't snag one early on in the day, you're likely to be left lounging on the sand in the afternoon.
There is also a water sports activity center that organizes excursions and tours. The jet ski and snorkeling tour was terrific fun, and I highly recommend it. 
There are many other Riviera Maya excursions to choose from, such as tours to Tulum or the Cenotes. However, we booked these outside the hotel as the deals were cheaper. 
Ocean Maya Royale beach reviews & pool facilities:
Entertainment at the Ocean Maya Royale
The Ocean Maya Royale reviews for entertainment are split into daytime and evening.
Day Time Entertainment
Experience endless activities around the smaller pool, each offering something new and exciting every day. Craft friendship bracelets, tie-dye t-shirts and let your wild side out at the foam party! Get active with a game of beach volleyball or take it to the pool if you don't want to get sandy. There's something for everyone here!
Ocean Maya Royale review of day entertainment:
Evening Entertainment
Every evening in the resort was incredible, with a different show or performance of the highest quality. Take, for instance, the fire show which I have seen many times and was still the best I'd ever witnessed! Not to mention the amazing dancers, singers and musicians who also graced us with their presence every night. Entertainment usually starts around 9 pm and lasts for an hour before the entertainment staff take over to keep us all entertained until late.
Despite having terrible weather, the lobby area of our destination was used a lot for entertainment. Unfortunately, it wasn't really equipped to handle such activity and after the main acts were done, the evenings felt quite dull and uneventful. The lack of seating and shelter from the rain didn't help with socializing either which has affected the overall ocean maya royale reviews for entertainment. For a more lively night, I'd suggest you visit Coco Bongo's in Playa del Carmen at least once during your stay.
Ocean Maya Royale reviews of the evening entertainment:
Ocean Maya Royale Bars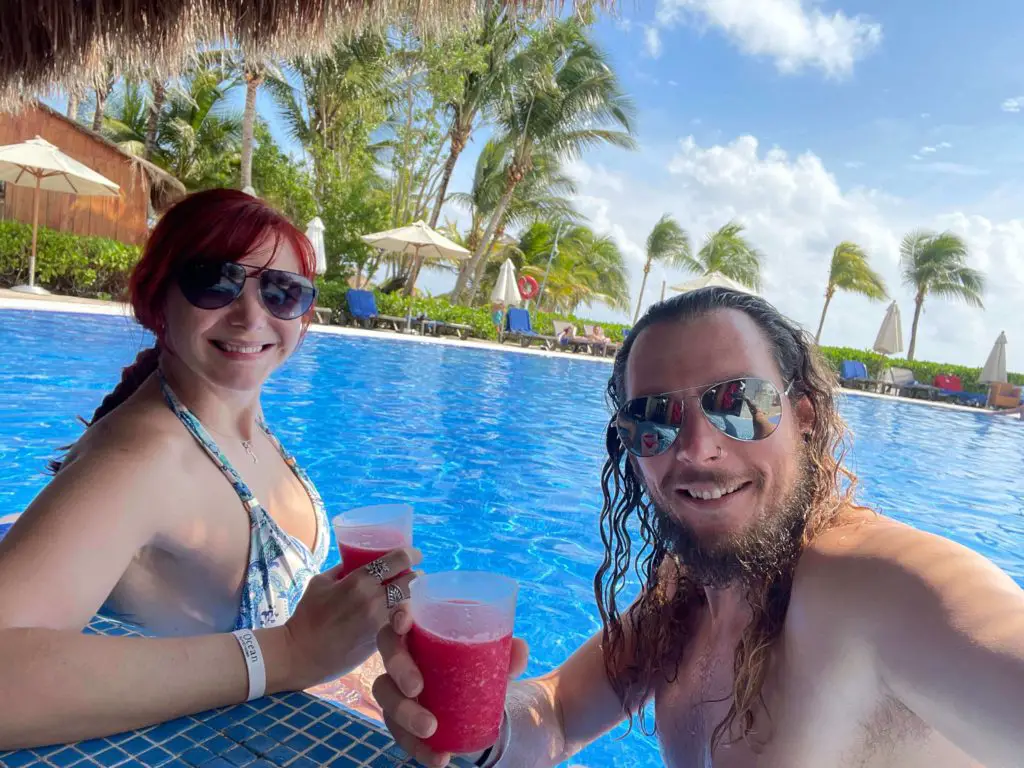 If you're looking for a perfect spot to socialize, the lobby bar at our hotel is the place to be. Open 24/7, it offers comfortable seating and a great selection of drinks.
The sports bar is also a great option; open from 6 pm until the early hours, it's a great spot to drop by if you're coming back from a night out in Playa del Carmen. But if you really want to make an impression on your friends, then head straight for our amazing swim-up pool bar.
Open from 9 am – 6 pm, our friendly staff will provide you with everything you need to make your day that much more enjoyable. So come and enjoy all we have to offer here at our hotel!
Note: Privilege members have the option of premium spirits across all bars.
Ocean Maya Royale review of the bars:
Other Facilities at the Ocean Maya Royale Adults Only Hotel
We opted not to visit the on-site spa, since the cost for a massage was quite expensive – over $100. Though the fitness center seemed well-equipped, we decided not to use it either.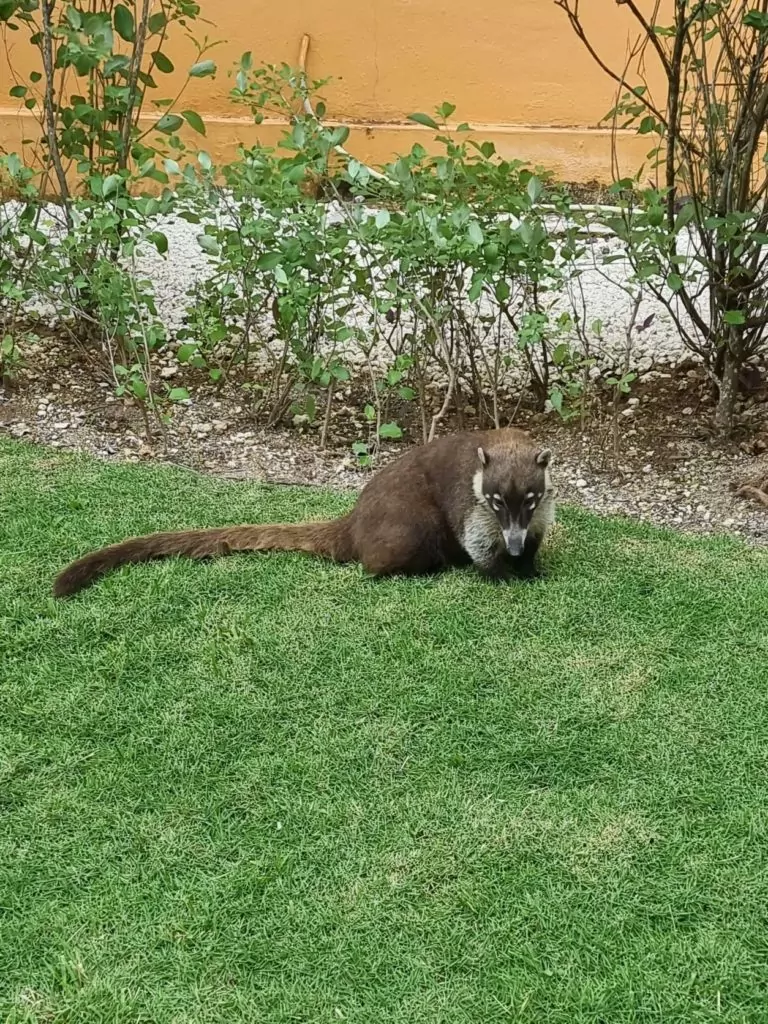 The grounds are beautiful, and you will undoubtedly be entertained by the wildlife around. 
Ocean Maya Royale Adults Only Hotel Reviews in Summary
Ocean Maya Royale Reviews Overall:
Despite the few issues we experienced during our stay, overall, we were pleased with our stay at the H10 Ocean Maya Royale in Riviera Maya. The staff were incredibly friendly and hospitable and we got to know some wonderful people there. Despite this, we would likely try a different resort on our next visit. If the evening entertainment and resulting atmosphere improve, however, it may entice us to come back. During our excursions, we encountered many other guests who highly praised their nearby hotels. We suggest taking a look at the links below so you can make an educated decision about where to stay.
You might also be interested in the following posts:
Pin These Ocean Maya Royale Reviews for Later
Sharing is caring and I appreciate every share, comment and engagement on my posts. If you have any questions or would like to provide your own feedback, please reach out to me in the comments below.
Want help booking the perfect holiday from someone who will support you from start to finish?
Do you like to travel but hate spending hours online researching holidays and trying to find the best deals? Here's why I come in. VeggTravel is an independent travel agent that does the hard work for you. I do the research, compare the prices and build the itinerary for your dream holiday, cruise, city break, or activity. Plus, my agent connections often mean exclusive offers on hotels and flights that you can't find anywhere else.
Rest assured that any holiday booked through me will give you the relevant ABTA, CILA or ATOL protection you need. Not only that, but I'll provide you with bespoke service tailored to your needs, and I'll be there every step of the way, ensuring that things go smoothly or being your single point of contact if things don't.
Ready to take your vacation to the next level? I don't charge a fee, so if you're based in the UK, drop me a mail and see what I can do for you.

---