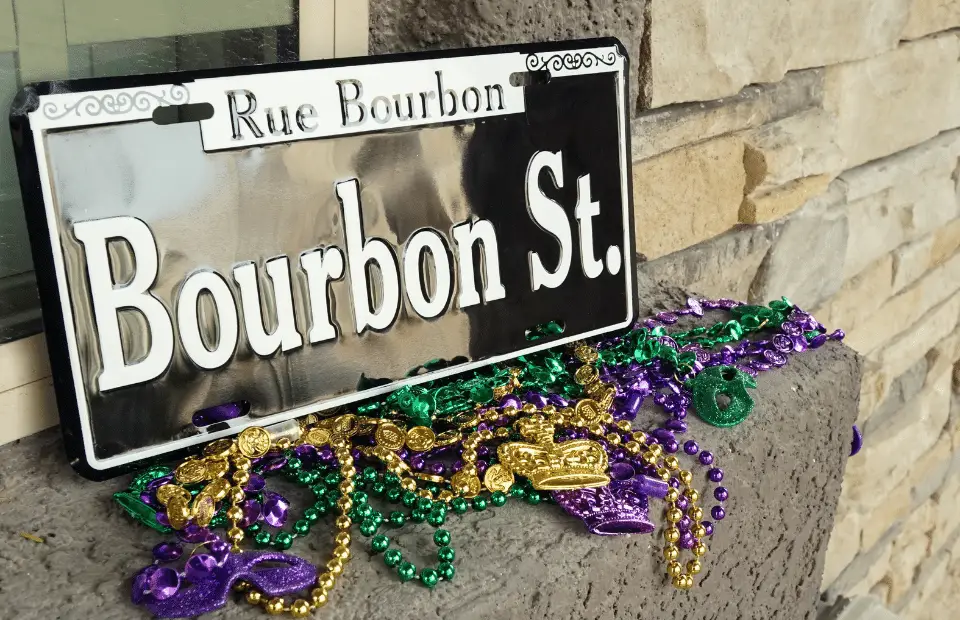 What to Pack for New Orleans Mardi Gras Parade
Mardi Gras is one of the biggest celebrations in New Orleans. The city hosts over 300 parades during Mardi Gras week, and thousands of visitors come from around the globe to experience the festivities. If you're planning to visit, here's some information on what to pack for New Orleans Mardi Gras. 
What to Pack for Mardi Gras Contents
New Orleans is famous for its food, music, and culture. During carnival season, the city becomes even more colorful and lively. Visitors can enjoy the Mardi Gras Indian parades, parties, and other events throughout the city. But before you go crazy with all that is green, purple, and gold, here are some things to consider before packing for your trip to New Orleans: 
List of Things to Pack for Mardi Gras
1) To Costume or Not to Costume 
While costumes certainly aren't mandatory, if you're thinking about what to wear during Mardi Gras then they sure are a lot of fun! If you're planning on taking part in the smaller, local parades, then a costume will have you feeling right at home in the procession. For example, I went to the red bean parade with many varied and elaborate costumes featuring kidney beans, so this is a cheap and cheerful way to participate. 
There are also street parties on the harbor front on Fat Tuesday, and many people have vibrant costumes. You can choose to take your Mardi Gras costume or buy one in New Orleans; Fifi Mahony's in the French Quarter is a must-visit. On the other hand, Amazon has some good choices and will certainly be cheaper! 
There are costume competitions all over the city so if you go for it, go all out! Wear a ridiculous wig a feather mask, accessorize with beads, get creative with make-up, go all out with glitter and truly embrace the festival spirit. 
2) Layers! 
If you're wondering what to wear for Mardi Gras in New Orleans, think layers. Lots of layers. Mardi Gras occurs in the preceding weeks to Fat Tuesday (Shrove Tuesday), and New Orleans is typically around 19c / 45f in the day, dropping much lower in the evenings. Of course, you will be outside a lot so make sure you've got some layers to keep you warm when you need them, but that won't cramp your festival style.
---

---
3) Comfortable Shoes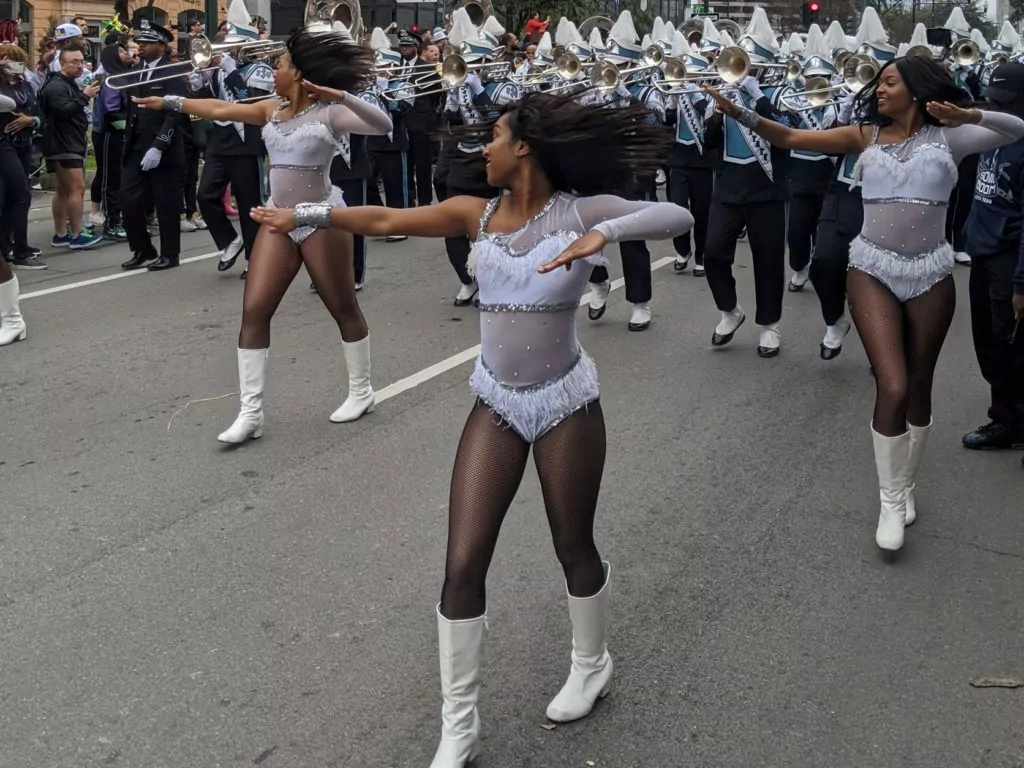 This kind of goes without saying, but comfortable shoes are a must when packing for Mardi Gras. In truth, I don't know how some of the dancers in the big krewes wear heels and dance for miles. But, even in comfy shoes, my feet ached every day from all the walking, standing, and frantic jumping I was doing!
A pair of shoes is one thing, but it's also worth packing some comfy inner soles. This will give you the added comfort you will be oh so grateful for. 
4) How seriously do you want to take it? 
When I was packing for Mardi Gras, I never knew grab nets were a thing!? Nor did I expect to see people fully kitted out along the top spots of the parade routes with just about every amenity you can imagine; foldable chairs, ice coolers, duffel bags, everything. In hindsight, I wish I was one of those people. But, they had the prime spots and were Mardi Gras festival in style. 
If you're traveling far, this might not be practical, but if you're serious about catching beads, make sure you take a decent bag to carry all your swag. 
5) Think about your security
You will probably enjoy the Mardi Gras festival without issue. However, like with any big event, not everyone has good intentions, so be sure to have a safe place to keep your valuables, particularly when you're in crowded areas or on Bourbon Street, where pickpocketing is more likely. 
When thinking what to bring to Mardi Gras parade, consider taking a money wallet or wrist strap to keep your valuables secure. 
6) Drinks & Snacks
You can buy plenty of food and drinks along the parade route, but if you bag a good spot, you might not want to leave it! So, make sure you bring a few snacks and water to the Mardi Gras parade. You can also take alcohol and see many people doing so, particularly at the night parades. The only issue with this is toilets can be few and far between! It's worth scoping out roads near the parade route that have bars. Not only can you grab a much-needed drink, but you can also use their facilities while you're there.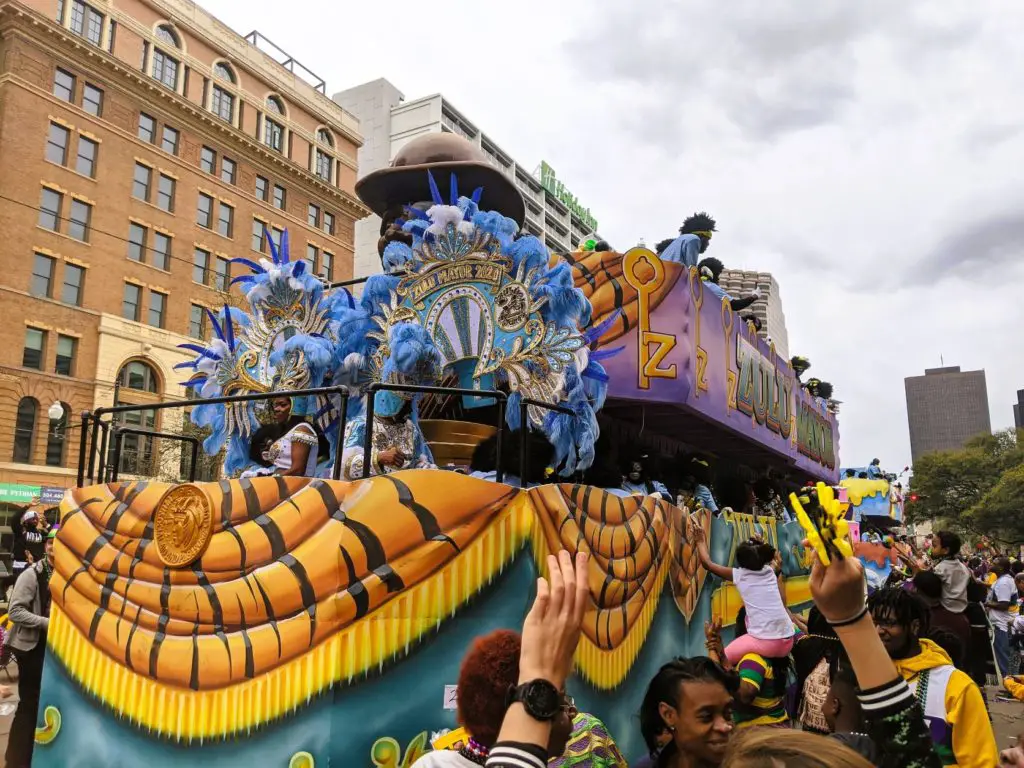 7) Power Bank
I feel like a power bank has long become a staple of anyone's packing list, never mind things to bring to Mardi Gras. You will be taking pictures and videos all day long, and you don't want to lose charge when you need to find your friends or family. So if you've got one already, it might be time to upgrade to a lightweight, ultra-fast battery charger when packing for Mardi Gras. Trust me; you'll thank me later. 
8) Raincoat, poncho, or umbrella 
I was fortunate that it didn't rain much when I went to Mardi Gras, but dry weather is never guaranteed. So make sure you have a poncho or raincoat to hand just in case the heavens open. Believe me, if you're at a parade and it gets wet, not only will you end up miserable, but you will be with the thousands of other people fleeing to find cover, and that's not an easy feat! Have that visual in mind when you're packing for Mardi Gras.
9) Evening outfits 
While you might want to be comfortable during the day, you might want to be a little more glamourous in the evenings. What you need to pack for Mardi Gras at night all depends on what you have planned. 
If you're going to a formal event or a "costume de rigueur," then you will need to dress accordingly; a man wears a white tie and tails, and a woman wears a floor-length gown. Unfortunately, tickets to Mardi Gras balls are hard to come by and typically reserved for the Krewe leaders, sponsors, and families, but you never know. 
If you revel in the clubs on Bourbon Street or the Jazz clubs on Frenchmen Street, you might want to dress up. Plenty of people do, but equally, many people attend bars and clubs in smart casual clothing, making tackling the crowded streets easier to overcome. If you have any particular clubs in mind, check a dress code in advance so you know what to pack for Mardi Gras evening events.
10) Last but not least, the parade schedule
So technically, this is not something you pack, but certainly one of those things to bring to Mardi Gras to have a smooth fun-filled day. The easiest thing to do is download the Mardi Gras Parade Tracker app, so you know the routes, timetable, and where the closest facilities are at all times.  
Mardi Gras Packing List Conclusion
So now you know what to pack for New Orleans Mardi Gras, you will be more prepared than I was for sure! Whether you're catching throws on Canal Street or partying in the French Quarter, you will have all those key essentials that will make Mardi Gras all the more fun. 
If you're wondering where to stay, where to party, or just more about Mardi Gras krewes and traditions, then be sure to read my Guide to Mardi Gras Carnival, New Orleans.
Mardi Gras Tips
Get to the parades early – Some people take the parades seriously and set up chairs, coolers, and nets to catch the throws. If you want to get a good spot, go early.
Scope out where the nearest toilet is. We tended to set up near a bar to occasionally grab a quick drink, some bar food, and use the facilities.
Keep your wits about you – Have fun at the parades and Bourbon or Frenchmen Street, but always be aware of your surroundings. It is extremely crowded, and drunken tourists can target easy crime.
Leave space in your luggage – you will catch so many throws, and there will be some you will want to keep as souvenirs. For any you don't want, you will find many recycling points, or you can have fun throwing them back at people on Bourbon Street.
Whatever you do, don't skip Frenchmen street. Even if jazz music or live bands don't sound like your type of thing, you won't be disappointed!
Recycle – if you don't plan to keep your beads and throws, either throw them to other people on Bourbon Street or use the many recycling bins throughout the city to dispose of them responsibly.
---
Looking for help to build the perfect trip for you or your family?
Do you like to travel but hate spending hours online researching holidays and trying to find the best deals? Here's why I come in. VeggTravel is an independent travel agent that does the hard work for you. I do the research, compare the prices and build the itinerary for your dream holiday, cruise, city break, or activity. Plus, my agent connections often mean exclusive offers on hotels and flights that you can't find anywhere else.
Rest assured that any holiday booked through me will give you the relevant ABTA, CILA or ATOL protection you need. Not only that, but I'll provide you with bespoke service tailored to your needs, and I'll be there every step of the way, ensuring that things go smoothly or being your single point of contact if things don't.
Ready to take your vacation to the next level? I don't charge a fee, so if you're based in the UK, drop me a mail and see what I can do for you.

---
Pin This Mardi Gras Packing List for Later