The Ultimate Guide to Mardi Gras Carnival New Orleans 2024
Mardi Gras carnival New Orleans (NOLA) really does have something for everyone! Adults and children alike will wonder at the spectacular colors and costumes of the krewes, floats, and parades. Everyone, young and old, will be holding their hands high to try and catch as many Mardi Gras beads and throws as possible! There are so many fun activities you can understand why the Mardi Gras Festival is at the top of many travelers' bucket lists.
But, as the night turns over, a whole different experience awaits! The sound of jazz fills the air, and party-goers flock to Bourbon Street or the French Quarter to celebrate by partying until the early hours. So, if you happen to be in NOLA for Fat Tuesday, expect things to get crazy! But one thing is for sure, whether you're going for family fun or to Mardi Gras alone, read my guide for everything you need to know about Mardi Gras New Orleans 2024.
Mardi Gras Carnival New Orleans | Quick links
This post contains affiliate links which means I may earn a small commission if you purchase anything through those links. Thank you for supporting my site.
What is Mardi Gras Carnival New Orleans
Mardi Gras festival is a 2-week celebration in New Orleans, Louisiana. The festival originates from the French rule of the 18th century, but it is now firmly established in American Culture.
During carnival season, the streets are colorfully decorated with the traditional Mardi Gras Carnival colors of purple (justice), green (faith), and gold (power), and the city is lively with the buzz of this popular event.
When is Mardi Gras? Fat Tuesday New Orleans Experience
NOLA Mardi Gras changes dates each year as the event coincides with Christian holidays but is typically in March. However, the event finale is always the date of Fat Tuesday (Shrove Tuesday or pancake day as it might be known to others), and this is when you will see the best floats and jazz bands in the street, everyone going wild.
Fat Tuesday in 2024 is the 13th of February so the event will start at the end of March. If you're heading to Mardi Gras New Orleans 2024, I recommend you go for the full experience and ensure you're around the weekend before Fat Tuesday. The celebrations over this period can be so wild that NOLA locals have a public holiday on Ash Wednesday to recover!
Related Reads:
The Best Krewes and Parades at Mardi Gras Carnival New Orleans
One of the most obvious things to do in NOLA during Mardi Gras is to watch the parades.
Several Mardi Gras Krewes privately fund the floats, bands, dancers, and costumes, and there are many different parades you can attend every day. However, the most spectacular floats and parades are saved until the 3 or so days running up to Lundi Gras (Monday) and Fat Tuesday, so be sure to plan those into your parade schedule.
Mardi Gras Guide to Super Krewes
There are too many Mardi Gras super krewes to list, so I've provided some of the best krewes and parades below. Interestingly, all float riders on these super krewes are male.
Zulu is a major parade with fantastic colorful costumes, exaggerated by large feather headdresses. This Krewe represents African Americans and is the only one that throws wonderful hand-painted coconuts!
Bacchus is one of the most popular Krewes that hosts one of the largest parades in the evening with over 32 animated elaborate floats. The Bacchus Krewe also has a different celebrity, 'king,' who leads the parade yearly!
Endymion is another Krewe that hosts one of the infamous night parades that runs in the evening with animated floats and the celebrity 'Grand Marshall.' Day & Night Parades from Super Krewes
Smaller Krewes at Mardi Gras Carnival New Orleans
One of the things you should do in NOLA during Mardi Gras is checking out the smaller krewes. Unlike the larger parades, some float riders are women and children.
Some of the best smaller krewes are:
Athena is an all-female Krewe with high energy, and you have a much greater chance of catching great throws!
Iris is the first and largest all-female Krewe known for its unique throws. I caught so much from these ladies.
Morpheus is an inclusive Krewe with male and female riders, with an old-school vibe.
You should also look out for one of the 37+ Mardi Gras Indian tribes. The Mardi Gras Indians wear elaborate, enormous hand-made costumes to symbolize the Native American history of this festival. Each Mardi Gras Indian tribe's Big Chief decides which parade they will walk in, and it is different every time, so keep an eye out for Mardi Gras 2024.
Mardi Gras Guide to Local Parades
If you want to experience what the locals do for Mardi Gras day, there are smaller parades that you can join in with. If, like me, you're going to Mardi Gras alone, you will love this! The parade route is typically further out of the main city, but parade-goers party amongst the beautiful French-inspired houses with the locals.
I went to the red bean parade where NOLA locals made costumes with… you've guessed it, red beans. Although the atmosphere was different from the super krewes, it was so welcoming and enjoyable that I had no issue joining the Mardi Gras Carnival procession with the locals.
Mardi Gras Guide to Bourbon Street & the French Quarter
There are a lot of stories about the New Orleans French Quarter during Mardi Gras and how crazy it can be. Well, a lot of what you hear is true. Bourbon Street is known for its lively party atmosphere, street decorations, and reputation for 'flashing' plastic beads. Bourbon Street is as crazy as they say, but it's also a lot of fun!
Bourbon Street is within the center of the French Quarter, the most popular street in New Orleans. It has a long strip of bars, souvenir shops, and eating places. Many bars have balconies that you can use to watch or get involved in throwing beads. Balcony spots in the French Quarter are prime locations, and numbers are controlled. So, if you want to be on a balcony, you might have a wait, so go early.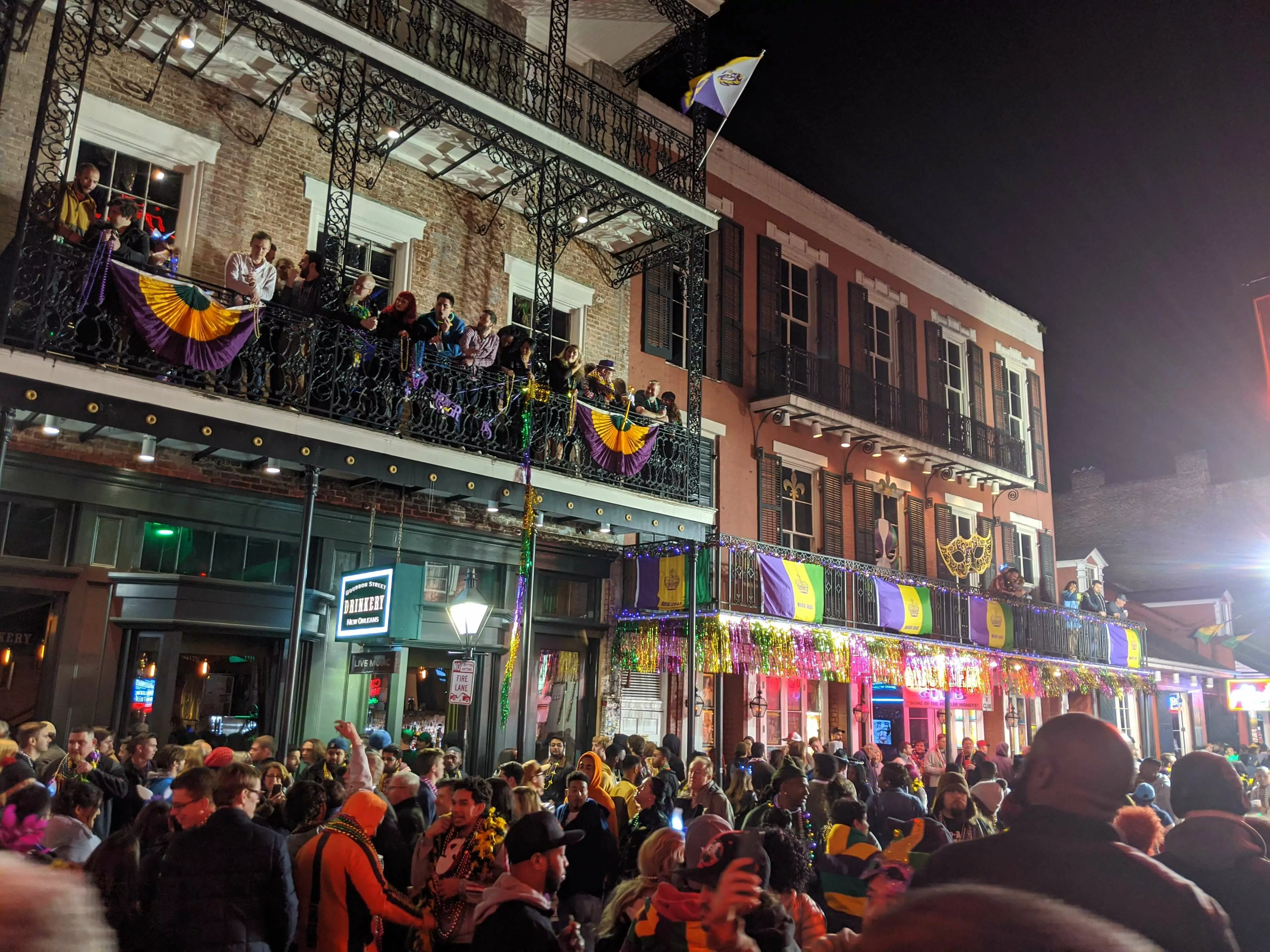 Bourbon Street Tips – Things to do in NOLA During Mardi Gras
1) Catch beads on Bourbon Street
Many people associate catching beads at Mardi Gras Carnival New Orleans with women flashing their assets. While you will see the occasional person flashing for beads on Bourbon Street, you do not need to, and I guarantee you will catch many! That being said, the most interesting, unique, or flashing beads will usually only be thrown to the people who flash (or at least do something crazy).
2) Try NOLA's signature cocktails!
Hand Grenade – for about $11, you can get a tasty but lethal cocktail. Grab it at one of the 5 Tropical Isle bars, which are lively venues hosting a fun party.
Hurricane – looks more upmarket and a bit more expensive, but a trip to Bourbon Street wouldn't be the same without it. Grab it at Pat O'Brien's pub.
3) Enjoy the nightlife, but get in the bars early
Most bars in Bourbon Street are free until 10 pm, but after that, there is typically a $10 + cover charge. Partying goes well into the early hours, so you will be sure to get your money's worth.
4) Head to the LBGT district of Bourbon Street for the Gay Carnival
If you're from the LGBT community or would like a fabulous experience, head to the intersection of Bourbon Street and St. Ann Street. The music tends to be more dance/electro, which differs from the hip-hop / R&B that blasts out of the other bars on Bourbon Street.
Gay carnival is a glitz and glam experience in itself. So why not check out Lafitte-In-Exile, the oldest gay bar in Louisiana, when you visit?
5) Get a balcony view of the police sweep of Bourbon Street on Fat Tuesday
On Fat Tuesday, at around 10 pm or so, get onto a balcony on one of the Bourbon Street bars so you can be ready for the police sweep that officially 'closes' the Fat Tuesday celebration. A large procession of Police marching, police cars, and police on horses will walk down Bourbon Street to signify the end of Mardi Gras New Orleans.
The police demonstration makes it look like they're closing Bourbon Street down, but once they clear off, the party continues for the final time late into the night.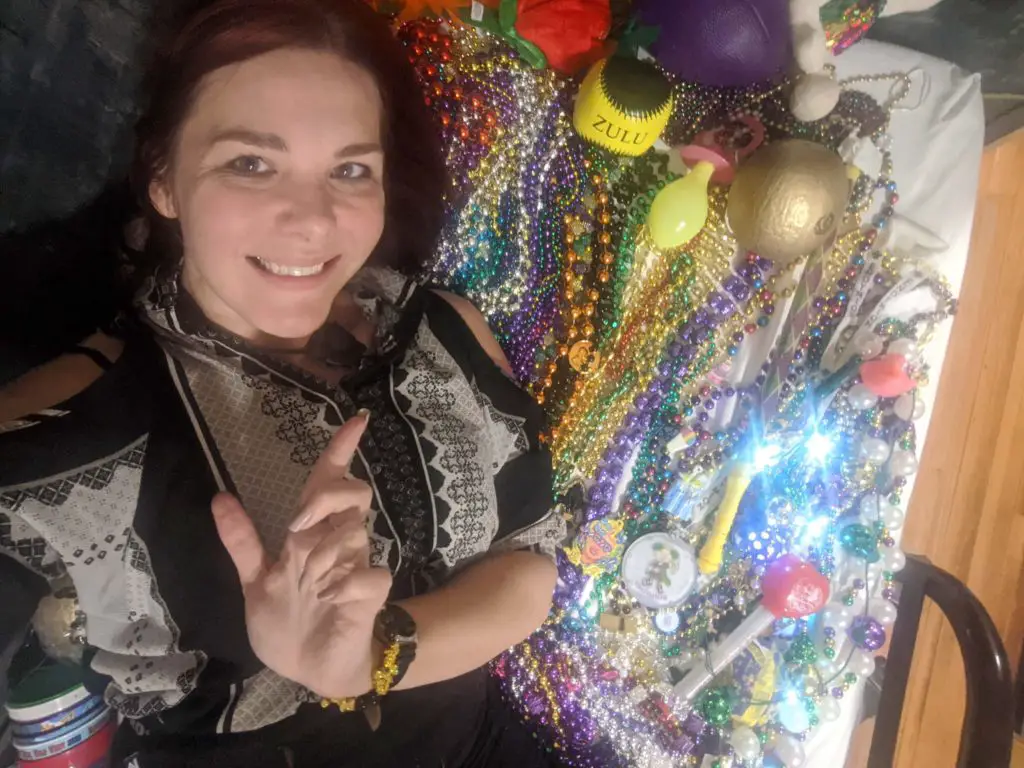 What to eat During Mardi Gras Carnival
One of the things you need to do during the Mardi Gras Carnival New Orleans is try the local cuisine. If you eat meat, there are some fantastic-looking restaurants all over the French Quarter, and New Orleans is known for its seafood gumbo and Po'Boys. If you have a sweet tooth, then be sure to try the famous Beignet, a fried dough covered with powdered sugar. Grab these from Cafe du Monde as you explore the port.
As a vegetarian, finding a good food selection is challenging. Unless you do research upfront, most places you pass by will only have bread or egg-based options like margarita pizza, omelets, or Veggie Po'Boys. However, I found an amazing Thai restaurant, Sukhothai, with a vegan menu at random! I had the red tofu curry, and it was delicious.
Plan in advance if you want to eat more than bread, potato, and egg-based foods.
Related Read: Best vegetarian dishes in the world
Where to stay for Mardi Gras Festival for Solo Travellers 
Mardi Gras 2024 is a full bucket list experience and attracts many solo travelers. If you're going to Mardi Gras alone, it is important to stay close to the French Quarter so you can meet other people and not miss any action.
I stayed in the Hi New Orleans Hostel on Canal Street, a top location on the parade route and close proximity to the nightlife. I stayed in an 8-bed mixed dorm and met some awesome people who made my carnival experience. The rooms were clean, I had privacy and power in my own bunk, and free breakfast.
Meeting people is made easy. The common areas are well decorated and provide cool spots to shoot pool games and drink with your new friends. Plus, Bourbon Street is less than 10 minutes away! In fact, it's so convenient that every day I met someone from another hostel, changing to this one!
Hi Hostel Common Areas & Dorm Room However, there are great hostels and hotel options available so take a look at the interactive map below to understand the area, location, and prices. If you want to stay outside of the French Quarter, a recommended area is St Charles Street. This is a leafy, affluent suburb with many iconic French-inspired mansions and prestigious hotels on offer.
Jazz on Frenchmen Street
No visit to New Orleans is complete without enjoying the jazz scene. Even if you're not that into Jazz, you will find yourself loving it by the time you leave.
Although you can find Jazz all over New Orleans, Frenchman Street is the live music hot spot. Only 20 minutes walk from Bourbon Street, this is a smaller area that is more sophisticated and laid back. That being said, you can't help but be pulled into all the various bars. There are so many excellent bands and fabulous singers that you can't help but get carried away.
I finished Fat Tuesday on Frenchmen Street, and it was amazing. The roads were alive with street parties, and everyone was having a fantastic time. Live jazz bands popped up on the street corner. There were also people peddling mobile sound systems. Hundreds of revelers littered the streets and followed wherever the music was, dancing the night away.
Before we even got there, we discovered a random street party on the harbor. Local people had designed their own fantastic Mardi Gras costumes and made their own carnival parade. Speaking to the locals, they do this because membership to the krewes is expensive and difficult to obtain. So they make their own version of Mardi Gras, and I can't say I blame them!
Some of the most popular jazz bars include:
Cafe Negril – live music options with cool décor and vibe.
Blue Nile Live – this was really busy when I went. However, it still felt like there was room to dance and enjoy the atmosphere.
The Spotted Cat – one of my favourites, purely for the quality of the music I saw while I was there.
Interested in other fun trips?
Had your fill of Mardi Gras Carnival New Orleans? Take a look at what you can do in New Orleans for a 3 day trip.
If you're looking for more travel inspiration, take a look at some of my other posts below for more travel ideas.
---
Looking for a fun Mardi Gras experience but could do without the added stress of planning it?
Do you like to travel but hate spending hours online researching holidays and trying to find the best deals? Here's why I come in. VeggTravel is an independent travel agent that does the hard work for you. I do the research, compare the prices and build the itinerary for your dream holiday, cruise, city break, or activity. Plus, my agent connections often mean exclusive offers on hotels and flights that you can't find anywhere else.
Rest assured that any holiday booked through me will give you the relevant ABTA, CILA or ATOL protection you need. Not only that, but I'll provide you with bespoke service tailored to your needs, and I'll be there every step of the way, ensuring that things go smoothly or being your single point of contact if things don't.
Ready to take your vacation to the next level? I don't charge a fee, so if you're based in the UK, drop me a mail and see what I can do for you.

---
Pin this Mardi Gras Carnival Guide for Later
Sharing is caring. Please share this post on social media and if you have any feedback or questions, leave me a comment below.
Connect via social media or sign up to receive my latest blogs
I'd love to know what you think to this Mardi Gras Guide, or if you have any questions. Let me know in the comments.