The Ultimate Guide to the Famous Bali Swing Ubud
Are you looking for something new to try out in Bali? The Bali Swing Ubud is a fun way to get some exercise and enjoy the beauty of nature at the same time. Bali has become very popular over recent years.
Many tourists visit the island to experience its unique culture and natural beauty. However, there there is also some adventure to be had! If you want to take part in one of the most fun activities in the region, then read on for the ultimate guide to the Bali swing in Ubud. 
This post contains affiliate links which means I may earn a small commission if you choose to buy anything from them. This is at no extra cost to you and In doing so you help to keep this site running, so thank you in advance.
Bali Swing Ubud – Table of Contents
Where is the Bali Swing Ubud, and how can you get there?
The famous Bali swing is located 4km from central Ubud; booking your tour in advance usually includes a pick-up and drop-off to your hotel accommodation or the Ubud Palace.
If you've hired your own scooter, moped or car, you can drive here easily. You can find them everywhere for around $5 per day, and parking is free!
The address for your satnav is Jl. Dewi Saraswati No.7, Bongkasa Pertiwi, Kec. Abiansemal, Kabupaten Badung, Bali 80352, Indonesia.
What you can expect from the Bali Swing Ubud
Firstly, let's talk about cost. The Aloha Swing Ubud price is approximately $35, with additional costs for hotel pick-up or photo packages. However, when you're booking a combi tour with other sightseeing activities, then you will find the package price to be reasonable value for money overall.
Located amongst the world's greatest backdrop, the lush greenery of the Indonesian rainforest, the Bali swing is one of the top things to do in Bali, and it attracts tourists far and wide.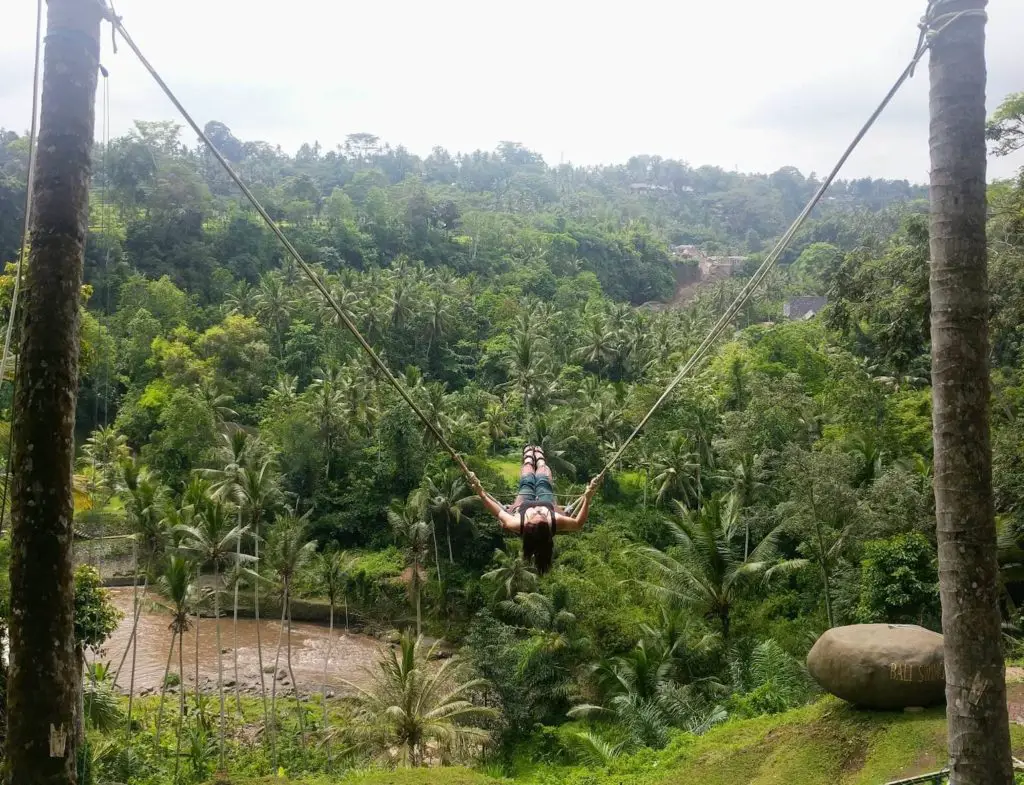 If you're looking for an instagrammable location, look no further. This attraction is a true tourist trap due to the stunning views of the terraced rice fields. 
Some of the key attractions you can expect are:
Jungle Swings
The best thing about this place is that there are over 18 different jungle swings to choose from, and they will take you from 10m to 78 meters above the ground:
There are 3 tandem swings which are perfect for couples or good friends.
Take one of the 12 single swings where you can enjoy the view on your own
There are 3 "bed swings"; one for all of the family, one best suited for couples and the others for those flying solo.
If you're wondering whether the Bali swing is safe, rest assured that all swings have a safety line that staff will check. In addition, the giant swing that takes you to the highest heights is operated by trained staff, and you're harnessed safely.
Bali Nests
Dotted around the jungle are small nests that you can take photos in. Some are high in the trees and need a ladder to get up and down (thankfully, they hide the ladder, so this doesn't ruin your photos!). Others are designed like bird nests that you can simply step into.
In addition to your time exploring the venue, you will receive a complimentary meal at the nearby restaurant overlooking a mini waterfall. You can even book an escorted site tour with an English-speaking guide in advance. 
Bali Rock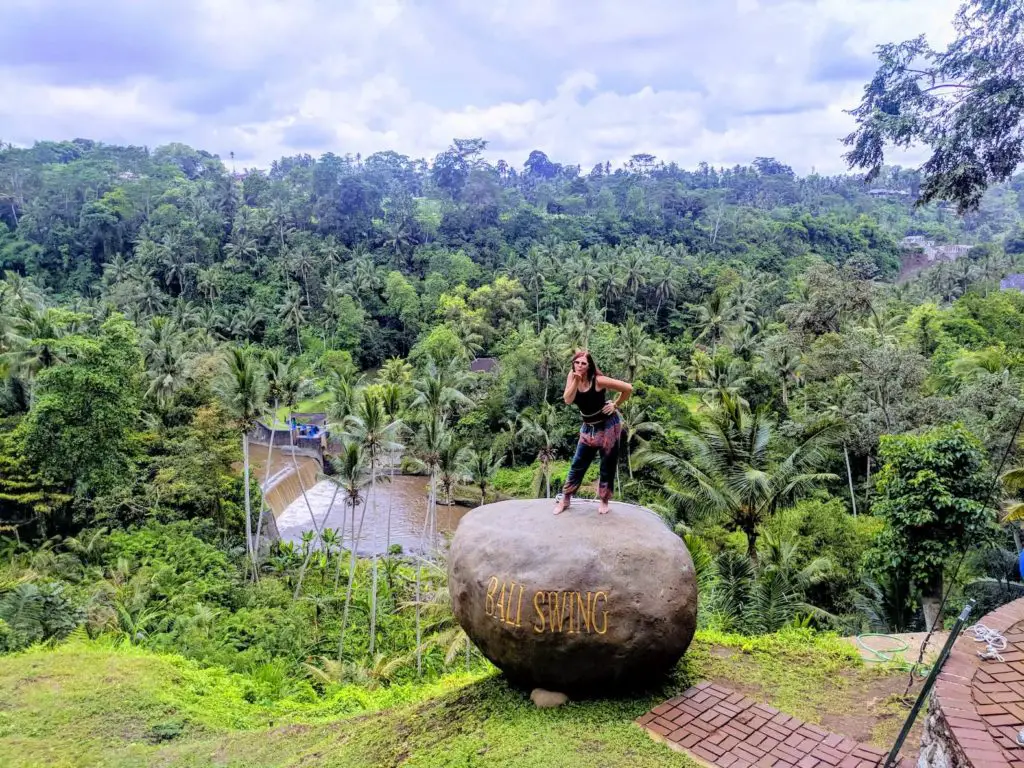 You can climb the Bali rock for more great snaps. You will wear a rope harness around your waist to make sure your safe from falling off.
Combination tours: 
Why stop at the Ubud Bali swing when you can also see many other top attractions? Various packages are available, including visits to Ubud Monkey Forest, a coffee plantation, or the Zen Hideaway or the Tegalalang Rice Terrace. Some of the best packages are below:
Check out the following providers to see whether any have any special promotions:
How to maximise your experience at the Aloha Ubud Swing
The Aloha Swing in Bali is a fun day out but before you go ahead and book it, read my top tips below, which will help you have the most enjoyable experience:
Plan a visit to this famous swing early in the morning (between 8am – 10am) when it is less busy. Ubud is in the rainforest, and afternoons can often be rainy. If you plan a trip to the swing early, then you also have more chance of a dry experience or at least time to wait for the rain to die off.
Many professional photographers will try to sell you the 'perfect photo' package. Unless this is something, you really want, just politely and persistently decline. This also applies if someone offers to take a group photo of you unless you can see they're a tourist, of course.
If you're there for the photos, dress to impress and wear something colourful, so it pops against the green scenery. Many people wear floaty dresses, fancy shirts, or traditional costumes. You don't need to take your own as you can rent one; otherwise, just dress comfortably for the activity.
Pack water to keep yourself hydrated and sun cream to protect your skin from the heat; it can be a long day.
For the smaller swings, you can face forwards or backwards, which gives you more great photos of the green forest. 
Summary of my honest review of Bali Swing Ubud
My Ubud Bali Swing experience was great; I didn't find the queues too bad, I enjoyed the beautiful views and returned with some great photos and memories. However, if you're after an adrenaline rush, then you might leave feeling a little disappointed. The swings are exciting, but if you're not bothered about great photos, you can probably give this one a miss and not regret it. 
If you've got this far and thought that this is not the Bali swing you thought it was, then you're probably thinking of these other swings in Bali:
The Balinese Swing at Diamond beach is located at Nusa Penida Island. You will swing over the beach with fantastic ocean views. 
The small (but free) swing at Tegalalang Rice Terrace.
Alas Harum is slightly further from central Ubud (20 minutes) and features three levels of swings for adrenaline junkies; Extreme swing, couples swing or the super extreme swing. 
If you like this post, check out:
---
Want an epic adventure but need help planning it?
Do you like to travel but hate spending hours online researching holidays and trying to find the best deals? Here's why I come in. VeggTravel is an independent travel agent that does the hard work for you. I do the research, compare the prices and build the itinerary for your dream holiday, cruise, city break, or activity. Plus, my agent connections often mean exclusive offers on hotels and flights that you can't find anywhere else.
Rest assured that any holiday booked through me will give you the relevant ABTA, CILA or ATOL protection you need. Not only that, but I'll provide you with bespoke service tailored to your needs, and I'll be there every step of the way, ensuring that things go smoothly or being your single point of contact if things don't.
Ready to take your vacation to the next level? I don't charge a fee, so if you're based in the UK, drop me a mail and see what I can do for you.

---
---
Pin This Guide to the Bali Swing Ubud for Later
Sharing is caring, please pin this post or share on social media so more people can discover it.