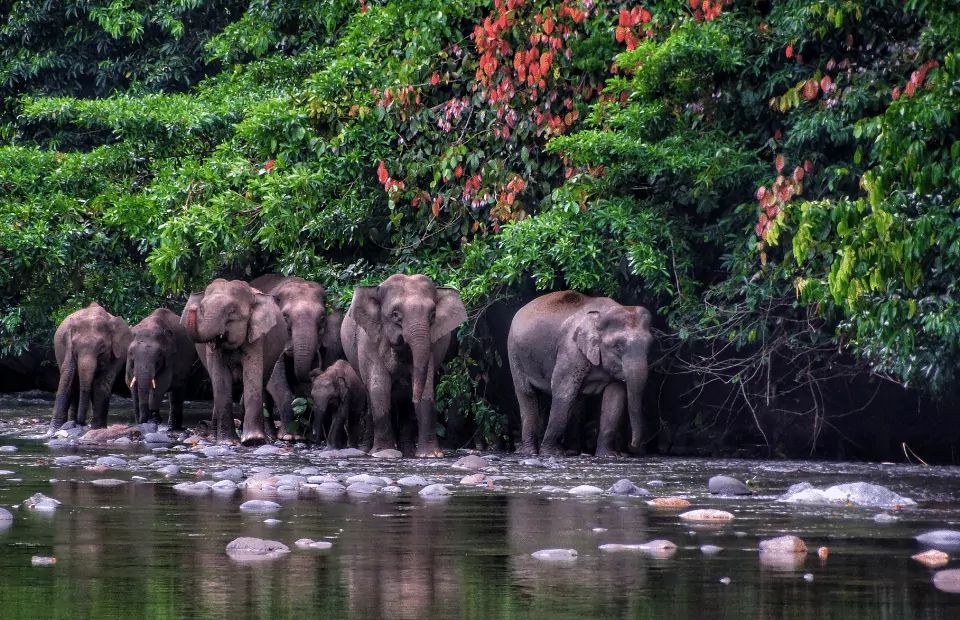 Best Places to Travel in Asia in March
If you're looking for brilliant Southeast Asia destinations in spring, then you've come to the right place. Nature, culture, wildlife, and varied history and traditions, South Asia destinations have it all. March is the perfect time as it is the beginning of the hot season in many regions. So, discover the best places to travel in Asia in March and be inspired for your next holiday, vacation, or even an extensive backpacking trip.
This post contains affiliate links which means I may earn a small commission if you choose to buy anything from them. This is at no extra cost to you and In doing so you help to keep this site running, so thank you in advance.
Best Places to visit in Asia Table of Contents
Singapore
By Kriszti from She Wanders Abroad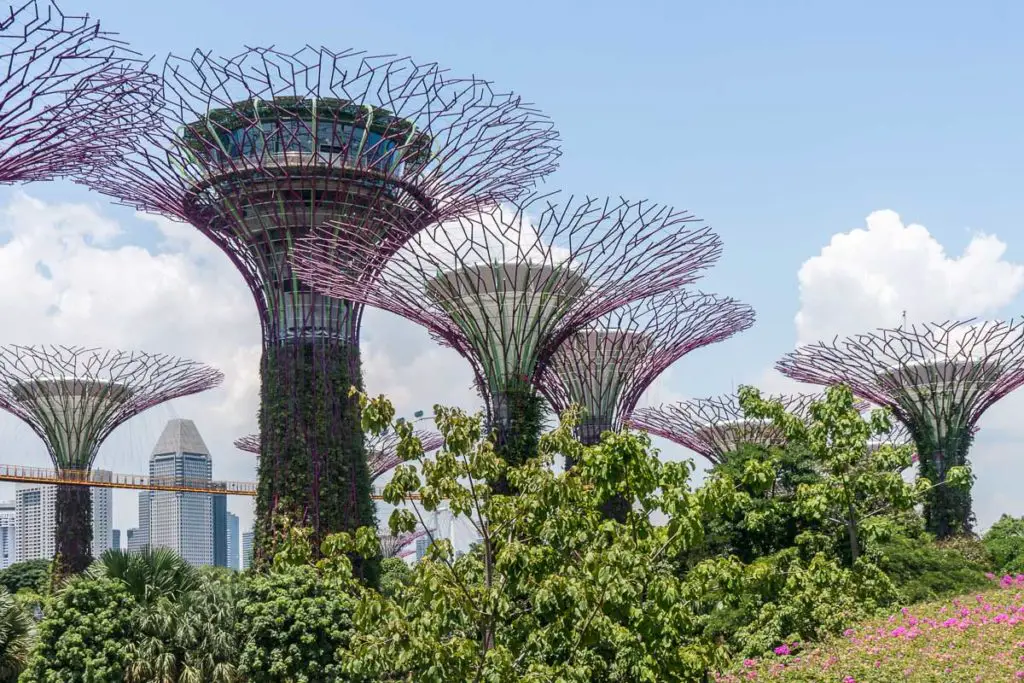 Singapore is a major international travel destination and offers something for everyone. From the glitzy nightlife and shopping districts of Orchard Road and Clarke Quay to the natural beauty of Gardens by the Bay and the Singapore Zoo, there are so many reasons to visit this vibrant city-state.
Changi Airport is one of the biggest hubs in Southeast Asia and a great place for connecting flights. Due to this, many people only spend one day in Singapore on a layover, but the city can keep you busy for at least a few more days.
There is no shortage of things to do in Singapore. Some of the top attractions include: 
The Gardens by the Bay is a massive park with gardens, a conservatory, and huge "supertrees" that light up at night. 
The Singapore Zoo is one of the best zoos globally and features animals from all over Asia. 
Marina Bay Sands, a massive hotel and casino complex with an incredible infinity pool on the roof.
Generally, Singapore has hot and humid weather, with occasional rainfalls. However, Singapore experiences the least rain from February to April, making it one of the best places to travel in Asia in March.
Maldives
By Disha Smith from Disha Discovers
The Maldives is one of the best Asian destinations in March. Known for its luxurious resorts and stunning beaches, the islands that make up the Maldives are truly paradise on Earth. 
The weather in March is perfect. The temperature usually hovers around 87 degrees Fahrenheit, making it ideal for dipping into the ocean and cooling off. Plus, there's a low chance of rain in March. If it does rain, it only lasts a few minutes and then it's sunny again. As such, March can be a busy time to visit. It's a small price to pay for the perfect weather, though. 
The Maldives has white powdery sugar sand and crystal clear blue water, and the ocean is teeming with so much marine life. The visibility is excellent in March, so you'll be able to see plenty of the exciting underwater world while snorkeling or diving.
You'll fly into Male International Airport in Hulhumale, the capital city. From there, you'll take a seaplane or a ferry to your resort if it's on a private island. You can get to Male via ferry, car, or bus.
If you're staying in Male, immerse yourself in the culture. There are beautiful mosques and museums to see and delicious restaurants around the city. If you're staying on a private island, you can keep yourself busy by swimming, going to the spa, biking around the island, and more.
Although there aren't any festivals or events happening in the Maldives it should still be on the top of your list of where to go in Asia in March. You'll have plenty of activities to do on these gorgeous islands.
Related Reads:
Luang Prabang, Laos
By Roshni from TopTreehouses.com
If you're wondering where to go in Asia in March, the most visited city in Laos begins exiting the dry season making March a much more pleasant time to visit with fewer crowds and heat compared to the summer months.
There are plenty of things to do in Luang Prabang, including visiting the ancient Buddhist temples, experiencing the spectacular sunset views along the Mekong River, stopping at the famous Night Market, exploring the stunning Kuang Si Falls, or getting a traditional Laos massage. But, if you want to try something a little different, visit Big Brother Mouse and give up a few hours of your time talking to the locals and helping them practice and improve their English.
There are also many affordable food options, such as the Luang Prabang Spirit House, Utopia, Indigo Cafe, and the food market that runs every evening at the Night Market – the fresh coconut pancakes are a must!
The easiest way to reach Luang Prabang is by plane, but if you have more time, take the slow riverboat from Thailand or drive just a few hours to the adventure capital of the country, Vang Vieng.
Perhentian Islands
By Sharon from Dive into Malaysia
Perhentian Islands are located off the northern part of the east coast of peninsular Malaysia. They are gorgeous and have great beaches and underwater environments for divers. They are the perfect place to unwind and be as active or inactive as you like.
There are two main islands – Besar (big in Malay) and Kecil (small). Both are fun and fabulous to explore with hiking opportunities through the jungle interior, hidden beaches, and lots of snorkeling and diving.
To get here, you need to get to Kota Bharu by bus, train, or flight from the capital of Malaysia, Kuala Lumpur. Once you have made it to Kota Bharu, take a taxi or bus to nearby Kuala Besut. From here, it's a 40-minute boat ride from the islands. There is no airport on the Perhentians, which helps keep mass tourism away.
March is a great time to visit if you want these beauties without crowds and lower prices. The islands shut down for the monsoon season, which finishes in March, and they don't get busy until the summer months. This quiet season makes the Perhentian Islands one of the best Asian destinations in March. There's nothing like hiking through the jungle to arrive at your own private beach.
Kinabatangan River, Borneo,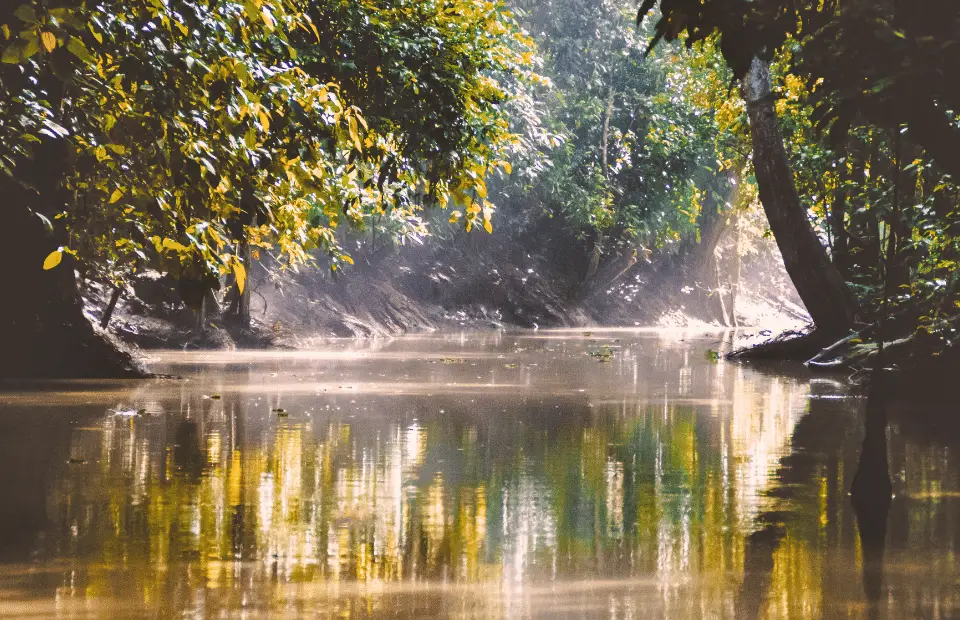 One of the best places to visit in Asia in March is the vast, natural wonderland of the Kinabatangan River in Sabah, Malaysian Borneo. Picture the tall, green trees of the rainforest, wooden cabins set within beautiful surroundings, and the echos of wildlife all around.
The eco-lodges range from high-end luxury to basic backpacking accommodation, and there are many options. Most lodges offer a selection of excursions centered around river safari cruises, jungle treks, or eco-tourism such as planting trees. The Kinabatangan River is most renowned for wild Pygmy elephants herds that wander the jungle and the hope to see wild Orangutans. However, many different monkey species, crocodiles, and birds will keep you occupied for hours.
Kinabatangan River in spring is a great time to visit as March signifies the beginning of the dry season. You can expect dry weather around 28°C and the monthly rainfall to be 155mm; less rain equals more animals on the river. The best way to get here is via Sandakan and take a boat taxi to your accommodation.
Related Reads: 
Chang Mai, Thailand
By Sam from My Flying Leap
Chiang Mai is a popular city for tourists and digital nomads located in northern Thailand. It's a city people fall in love with—costs are lower in Chiang Mai than in Bangkok, and there's also a charming historic old town worth exploring.
If you're wondering where to visit in Asia in March, it is a great time to visit Chiang Mai. Though it's starting to heat up towards the end of the month, it's a very dry month. As a result, the weather in early March is cool and pleasant, and later in March, it can get quite hot, over 90°F.
The peak tourist season runs from October to April, with the most popular months in December and January. So, in March you'll find great weather and fewer tourists than in the earlier months of the year. And, you can find some great hotel deals.
Chiang Mai has an international airport (CNX). Most of the countries with direct flights are in Southeast Asia, though there are frequent in-country flights from Bangkok that are pretty affordable. There are also train and bus options from popular destinations in Thailand like Phuket and Bangkok.
 There are a lot of fun things to do in Chiang Mai. Explore the Old City and the 24 temples housed within it. Get a massage, take a Thai cooking class, shop in the night bazaar, or one of the outdoor markets. If you're up for an adventure, try a tok sen massage! You'll never forget it.
Siem Reap, Cambodia
By Kat Butler from Worldwide Honeymoon
Siem Reap is one of the best places to visit in Asia in March. Many people likely recognize this smaller Cambodian city for the famous temples of Angkor Wat. This notoriety certainly draws in most tourists to this town, but while the busiest time is around December and January, the crowds taper off around March. 
Siem Reap is also in the dry season in March. However, Siem Reap is ridiculously hot year-round. March is no exception, with an average high temperature of 94ºF during the day and an average low of 77ºF at night. 
The best way to spend a couple of days in Siem Reap is by visiting the stunning temples. Be sure to catch the sunrise at Angkor Wat before exploring the several temples nearby. 
Then, the following day, you'll want to make your way up to Beng Melea and Banteay Srei, which are further away and far less crowded. So definitely build in time to visit the town of Siem Reap, explore Pub Street, and have relaxation time at your hotel pool during the mid-afternoon when the sun is hottest. 
The easiest way to get to Siem Reap is to fly directly to the airport. For a luxurious hotel at a great price, definitely stay at Mane Boutique Hotel & Spa! 
Siem Reap is a fabulous place to visit to see the incredible temples, especially in March!
Hanoi, Vietnam
By Lavina Dsouza from Country Hop
One of the best places to travel in Asia in March is Hanoi. In March, Hanoi is still in winter, however as it is in Asia, temperatures in winter tend to be quite pleasant. The average temperature is around a maximum of 23 and a minimum of 18 degrees centigrade in March. 
The easiest way to get to Hanoi is to fly to Hanoi international airport, as the airport is well-connected to most destinations worldwide. You could also take a connected flight from Bangkok to get here. 
It tends to be busy in March; however, it isn't too congested as most visitors prefer December/January to visit Hanoi. There are many things to do here, and you should plan to spend at least a minimum of 2 days in Hanoi. Some of the attractions you should not miss are:
Temple of Literature
Hoan Kiem Lake
Hanoi Old quarter
Ho Chi Minh mausoleum
Huong Pagoda
While you're here, don't miss out on the street food in Hanoi! The dishes are not only delicious but also budget-friendly and traditional! In addition, the Pho is unlike any you've ever had around the world! There is also the Thay Pagoda festival in Hanoi in March to enjoy. 
Ubud, Bali
By David & Intan at The World Travel Guy
The town of Ubud has become famous as Bali's cultural and artistic capital. It's easy to reach Ubud from any area of Bali (you can get there with a taxi from the airport in less than an hour), and it's loaded with good hotels and restaurants to make you want to stay! Once you arrive in Ubud, you can get around by renting a scooter or hiring a private car and driver.
There's a lot to experience in this part of the island. Some of the best things to do in Ubud Bali include visiting the temples, hiking to waterfalls & rice terraces, getting massages, shopping at the traditional markets, and of course, playing with semi-wild monkeys at the Ubud monkey forest.
Technically the month of March is part of the rainy season in Ubud, but it's near the tail end of the season, so there's not as much rain as December to February. March is also a less busy month in Ubud, so it can be a great time to visit if you're looking for fewer crowds and better hotel options!
Baguio City, Philippines
By Dea from Jea Wanders
A beautiful mountain town in Northern Luzon, Baguio City, is a popular summer destination due to its unusually cooler weather. As the summer season in the Philippines begins in March, people go up to the mountains to escape the summer heat. Baguio City is dubbed the Summer Capital of the country, where travelers could enjoy the weather, beautiful landscapes, gastronomic finds, quality local products, and fresh mountain breeze. It's also given the nickname "City of Pines" because of the abundance of pine trees across the city. And as the country's strawberry capital, you cannot leave the town without enjoying strawberries freshly picked from the farm!
Getting around the city is pretty convenient. You can ride a jeepney together with other locals and travelers or take a taxi for a more private tour. And if you're used to getting around places at your own pace, you can explore Baguio on a motorcycle and visit as many sites as you can without having to spend too much money. It is convenient, enjoyable, and budget-friendly! 
To get to Baguio City from Manila, take a direct bus trip. Travel time is usually 7 to 8 hours, but you can take a sleeper bus and reach Baguio less than 4 hours.
You see that the Philippines is beyond beach and island destinations. It is loaded with natural landscapes, beautiful cities, and mesmerizing mountains. So if you ever find yourself traveling across Asia, don't forget to visit Baguio City in the Philippines!
Goa, India
By Soujanya Rai from TheSpicyJourney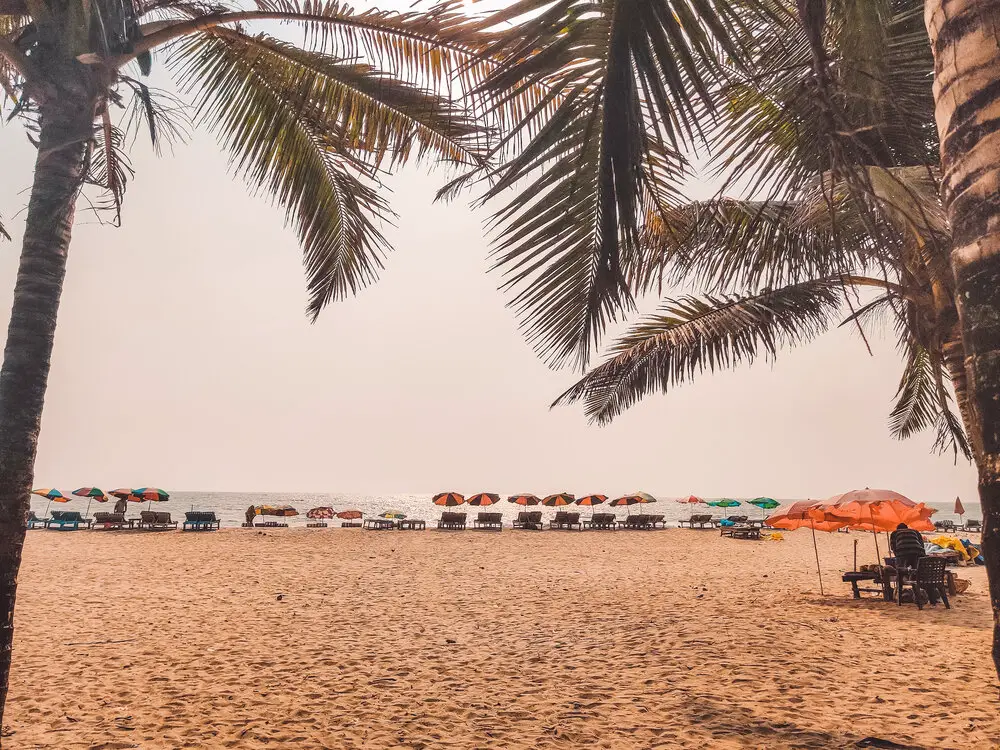 Goa is the most popular destination in India, known for its sandy beaches, lush greenery, music festivals, and hippie culture. The weather in Goa in March is hot and humid – which is the perfect excuse to be in the water all day! If you're looking for pristine beaches, head over to the South Goa beaches like Palolem beach, Patnem beach, Cola beach, etc., that have beautiful beach huts where you can stay and dine in freshwater lagoons, cliff views, and lots of natural beauty. On the other hand, if you're a party-goer, then hop over to North Goa, where there are tons of parties held regularly, which explains why this area is so crowded and commercialized.
For those seeking the hippie vibes, head over to Arambol. Some of the best things to do in Arambol beach include taking up yoga classes, trying the vegan cafes in the area, meditating, and exploring nearby beaches like Ashwem and Mandrem.
Keep in mind that Goa is everybody's go-to place in India, so it can get crowded, although it is one of the best places to travel in Asia in March as it is still the shoulder season. You can arrive directly at the Goa International Airport and take a cab from there. There are hundreds of hotels, resorts, and hostels here for every budget but try to book your stay at least a month in advance.
Hiroshima, Japan
By Pam Drager from Directionally Challenged Traveller
Asia is a beautiful destination to embrace the beauty of the warmer season. Hiroshima is in the southern part of Japan, so the weather is starting to warm up, and the flowers are beginning to bloom. 
The weather in March is typically low to mid 50's Fahrenheit (10-15 degrees Celcius). So be sure to pack layers to be comfortable. Towards the end of March, the cherry blossoms are in full bloom in the Hiroshima prefecture, making everything a little brighter. As a result, crowds tend to visit in April, meaning you'll have more time to explore and less time waiting.
There are plenty of things to do in Hiroshima to appease any traveler. However, one of the highlights of the city is Hiroshima Peace Park. This park documents the atomic bomb drop on August 6, 1945, remembers those lost and looks forward to a peaceful future. Walk from the Atomic Bomb Dome, one of the last buildings remaining from that day, past the Eternal Flame, through the Children's Memorial, explore the museum, and walk through the Gates of Hope. These are powerful reminders of what can happen if we don't learn from our mistakes. 
You can't miss the impressive Hiroshima Castle. Rebuilt after the war, it gives visitors a chance to experience Hiroshima before the bombing. The city as a whole is an ode to humans' resilience and ability to hope. The modern-day structures, incredible food, and hustle make it one of the most exciting cities in Japan and one of the best places to visit in Asia in March. 
Related reads:
Seoul, South Korea 
By Shannon of Adventuring With Shannon
One of the best places to travel in Asia in March is Seoul, South Korea. Seoul is the capital of South Korea and a thriving city full of cultural and historic sites. March is a beautiful time to visit the city because it is still cold enough to explore without worrying about the summer heat. Spring is an excellent time of year to get out and explore all that the city has to offer.
While you are in Seoul, there are so many things to do and see. You can visit one of the five amazing palaces located within the city, try the incredible street food in Myeongdong, or you can do something unique like go to a raccoon cafe. South Korea is famous for its Korean Barbeque, K-pop, and unique cafes. Seoul offers you a chance to try it all. 
Seoul is home to some fantastic hiking in and out of the city. It is cool enough to hike in March without getting overheated. Seoul is partially surrounded by a wall you can trek along called the Bukhansanseong Fortress Course. It includes walks along the walls and upon the hills that surround Seoul. You can see the entire city from the overlooks. 
If you have at least two days in Seoul, it is worth it to take a trip to the DMZ (demilitarized zone) on the border of North and South Korea. There is so much military history there, and you can even see North Korea from the lookout points. Visiting the DMZ is a great way to get a look at the secretive country of North Korea, and it's an easy half-day or full-day trip from Seoul. 
Everest Base Camp, Nepal
By Campbell and Alya from Stingynomads.com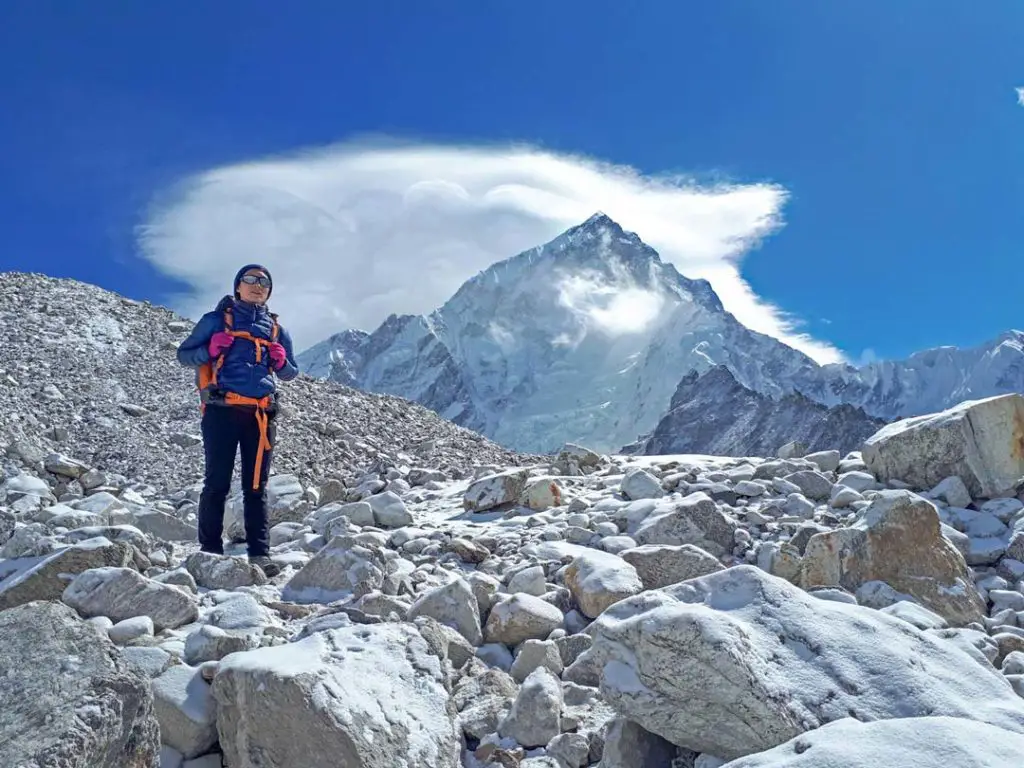 Everest Base Camp (EBC) in Nepal is one of the best destinations to visit in Asia in March during the spring season. The climb to the summit of Mount Everest, the highest mountain on Earth at an altitude of 8848m, starts at Everest Base Camp (EBC). Getting to EBC by doing the Everest Base Camp trek is in itself an accomplishment. The pre or post-monsoon seasons are the best times to trek this popular route.
The pre-monsoon season is during March, April, and May, and the post-monsoon season is from late September, October, November. March is shoulder season, skies are generally clear, temperatures start picking up, but it is not very crowded yet. This beautiful trek is a bucket list item for most serious hiking enthusiasts. The hike takes about two weeks of tough trekking in the mountains surrounded by the highest peaks in the world. 
The 120 km hiking trail is from the small mountain village Lukla in the Himalayas to Everest Base Camp and back. This trail is a tea house trek passing through small villages with local guesthouses that offer accommodation and food. You can go Trekking to EBC independently with good facilities on the trail or as a guided hike. The whole route is at high altitude, and altitude sickness is very common; therefore, good acclimatization is essential. 
Best places to travel in Asia in March
By now, you've discovered several of the best places to travel in Asia in March. From the famous cherry trees of Japan to the beaches of Goa. Spring is a fantastic season in Southeast Asia and is on the fringe of the dry season in most regions, making it an ideal time to visit while not as expensive as the peak season. Of course, the hardest part is deciding on your end destination. That's why you should look at travelling southeast Asia longer term.
So whether you're traveling for a holiday or an extended vacation, if you can, visit a few of the best Asia destinations in March and fall in love with the continent.
If you're travelling around, be sure to check out my Best Travel Resources Online | Useful Links All in One Place to find some Asia specific travel providers like Air Asia, Easybook, or Bus online tickets.
---
Want to go travelling but don't need the hassle of planning it?
I am an accredited independent travel agent specializing in helping people plan extraordinary getaways. I strive to make the travel process as easy and convenient as possible for my clients by
providing various services, such as customized travel itineraries, hotel reservations, package or group
holidays and more.
My goal is to help you have the best possible experience while travelling, and I will
strive to offer you something new and exciting to explore every time you take a trip.
Best of all, booking through me doesn't cost you any more, and you often will get access to the agent only deals. So what are you waiting for? Contact me for a no-obligation discussion about your dream holiday.

Pin 'Where to go in Asia in March' for Later
Sharing is caring, please save this post for later reference or share on social media. Your support, comments and feedback is welcome. Happy travels.