10 Reasons Why You Should Visit the Sepilok Orangutan Rehabilitation Centre in Borneo
Sepilok is an Indonesian island off the coast of Borneo that is home to the world's largest population of orangutans. The animals have been here since the 1900s and are in danger of extinction because of the illegal animal trade. The shocking reality of deforestation of orangutans coupled with animal exploitation means that the Borneo Orangutan sanctuary is more important than ever. Read on to discover more about the conservation effort and the top 10 reasons you should visit Sepilok Orangutan Rehabilitation Centre. 
This post contains affiliate links which means I may earn a small commission if you choose to buy anything from them. This is at no extra cost to you and In doing so you help to keep this site running, so thank you in advance.
What is Sepilok Orangutan Rehabilitation Centre, and why is it crucial for orangutan conservation?
The Sepilok Orangutan Rehabilitation Centre is an orangutan conservation centre in the Malaysian state of Sabah. It was established in 1985 and is the only facility in Malaysia dedicated to rehabilitating wild orangutans found in and around Sepilok.
As of April 2018, it has successfully rehabilitated over 1,200 orangutans, with a further 600 orangutans released into the wild. The centre also researches the effects of deforestation and poaching on orangutan populations and conducts education programmes for local communities about preserving their natural resources.
The collective efforts against the illegal pet trade have been made by many organisations such as World Animal Protection, World Wildlife Fund (WWF), International Union for Conservation of Nature (IUCN), and International Animal Rescue (IAR) and International Fund for Animal Welfare (IFAW).In response to the increasing cases of large scale illegal trade in endangered species, the World Animal Protection established a programme called Project Noah. This project aims to track and arrest unlawful wildlife traders and raise awareness among governments and society.
---
How to get to the Sepilok Orangutan Rehabilitation Centre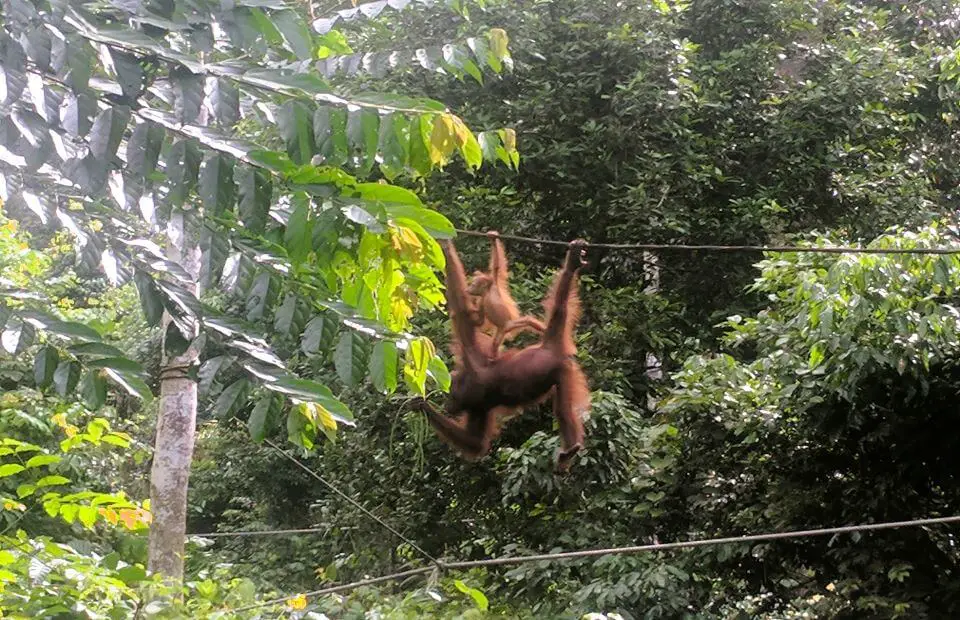 Sepilok Orangutan Rehabilitation Centre is located in the heart of the Sepilok rainforest, in the municipality of Sandakan, Sabah, Malaysia. 
The Borneo Orangutan Sanctuary is about a 6 hour drive from Kota Kinabalu, the capital of Sabah, in Malaysia. Travelling by road is the best way to get there, as flights from Kota Kinabalu are not always available. The journey can be done via public bus or car or is often included in organised tours from other popular locations. You will also find organised group tours operated by popular companies like Contiki or G Adventures will usually include itineraries that stop at this location.
---
---
The nearest airport to the Orangutan Sanctuary is Sandakan Airport. As a small airport, you can only get here via Kota Kinabalu, Kuala Lumpur, Tawau, Lahad Datu or Kudat. 
Click here to check out cheap Air Aisa tickets to the region. 
From Sandakan, you can reach the Sepilok Nature Resort by public bus (4 RM), which will take 40 minutes, or a comfortable taxi usually arranged at nearby hotels. 
If you're looking for a hotel nearby, I stayed at the Sepilok Jungle Resort and would stay here again in a heartbeat. The rooms and facilities were great, but the crowning feature was the large pool set within the rainforest.
Check out rates at the Sepilok Jungle Resort on Booking.com
---
How much does the Borneo Orangutan Sanctuary cost? 
Tourists will pay 30 RM for entrance to the nature reserve, plus an additional 10RM to take photography. 
---
---
Top 10 Reasons to Visit the Sepilok Orangutan Rehabilitation Centre
The Sabah Orangutan Rehabilitation Centre is the only facility in Borneo dedicated to the rehabilitation of orangutans. The rescue centre offers visitors a unique opportunity to see these magnificent creatures up close and learn about their conservation. Here, you can watch orangutans learn to live in human-created habitats and participate in educational programs to protect their endangered species.
---
---
If this isn't compelling enough, here are the 10 top reasons to visit the Sepilok Orangutan Rehabilitation Centre
Get up close and personal with some of the world's most endangered animals at the Sepilok Orangutan Rehabilitation Centre.
Spot gibbons, orangutans, and other rare creatures in their natural habitats while touring the centre.
Learn about the centre's conservation efforts and how you can help support them.
Enjoy superb views of the dense jungle's surroundings that feel entirely natural and nurturing, with only a wooden platform to separate you from the tropical terrain. 
Take the opportunity to see the animals at night during an evening tour of the Borneo Orangutan Centre. See what nocturnal animals get up to at night and spot other wild animals, including tree snakes and other creatures. 
Spot juvenile orangutans, adolescents and adults casually enjoying a feast at the feeding platforms. Feeding time happens twice a day; morning feedings at 10 am and afternoon feedings at 3 pm, so head there a little in advance to get a great photo spot. You will likely also see other cheeky monkeys stealing the food! 
Head to the outdoor nursery to see baby orangutans in their final stages of rehabilitation in 'forest school' before they're released into the wild. Sadly, many of these babies or juveniles are orphaned orangutans rescued from deforested palm oil plantations or the illegal pet trade. 
Your admission price alone helps provide health care and support to the animals that need it the most. 
Spend time exploring the nature trails that cover Mangrove swamps and tropical highlands. You can spend as much or as little time on these walks as the trails stretch from 5km to 250km. 
Have the benefit of an experienced Liaison officer and park rangers to help answer your questions and provide more information about the different orangutans seen at the feeding platforms. 
---
---
How you can support the Borneo Orangutan Sanctuary
There are a few ways you can support the great work done at the Sepilok Orangutan Sanctuary. 
Donate or sponsor an orangutan. 
In the reception area, you can read all about the history and personality traits of the different Orangutans in the rehabilitation program. You can choose to make a one-off donation, sponsor a specific orangutan or make a regular contribution towards their efforts. 
If you're inspired to donate now, you can do so on the Orangutan Appeal UK website.
Shop palm-oil free
The demand for palm oil across the globe has accelerated the plight of these beautiful animals. Check the ingredients of your regular shopping and make a conscious effort to reduce or eliminate the use of palm oil in your household.  
Buy a souvenir or two
A proportion of the sales in the onsite canteen and gift shop will be invested back into the running of the rehabilitation centre. Plus, you also get to take home a souvenir or gift for your friends or family.
Can you volunteer at the Borneo Orangutan rehabilitation centre? 
Unfortunately, volunteer placements are not possible to arrange directly through Sepilok; however, you may be able to find other opportunities with the Sabah Wildlife Department. 
Why you should visit the Sepilok Orangutan Sanctuary in Summary 
This ethical animal encounter should be on everyone's bucket list, especially if you're a wildlife lover. The opportunity to see a Bornean Orangutan or two in their natural habitat while supporting such a worthy cause is a win-win.
Consider stopping by the Sun Bear sanctuary next door if you have the time. We're all too aware of bears being captured and enslaved as performing animals, and many of these sun bears have been saved from eyewatering conditions. 
If you're travelling more of Borneo or Southeast Asia, then you might also like the following posts:
---
Do you like to travel but hate spending hours online researching holidays and trying to find the best deals? Here's why I come in. VeggTravel is an independent travel agent that does the hard work for you. I do the research, compare the prices and build the itinerary for your dream holiday, cruise, city break, or activity. Plus, my agent connections often mean exclusive offers on hotels and flights that you can't find anywhere else.
Rest assured that any holiday booked through me will give you the relevant ABTA, CILA or ATOL protection you need. Not only that, but I'll provide you with bespoke service tailored to your needs, and I'll be there every step of the way, ensuring that things go smoothly or being your single point of contact if things don't.
Ready to take your vacation to the next level? I don't charge a fee, so if you're based in the UK, drop me a mail and see what I can do for you.
---

---
---