Zip World Karts | Fun Go Karting in Snowdonia, North Wales
If you're an adrenaline junkie searching for adventure, you will love the Zip World Karts in Snowdonia, North Wales.
Do you want to rally down the welsh slate mountain tops taking in incredible views? Do you want to race your friends or family in a friendly competition (or rivalry!)? Have you wondered what it feels like to tackle corners in a go-kart propelled downhill by gravity? Of course, you have!
The Zip World Quarry Karts make a fantastic day out for the family. But instead of just taking Zip World's word for it, read on to find out what go-karting in Snowdonia is really like from the adventure seekers who have done it.
Go Karts North Wales – Quick Links
This post contains affiliate links which means I may earn a small commission if you choose to buy anything from them. This is at no extra cost to you and In doing so you help to keep this site running, so thank you in advance.
---
Where is the Zip World Quarry Karts?  
The Go Karts in North Wales are carved into the mountains surrounding the Penrhyn Slate Quarry in Snowdonia National Park, North Wales. The location for your satnav is Penrhyn Quarry, Bethesda, LL57 4YG. Traveling around Wales by train is also really easy; check out the routes and ticket options via Transport for Wales.
The Penrhyn Quarry Mountains are a sight to behold, let alone the Zip World Karts adventure that awaits you! Lush green mountain tops, sheep (who'd have guessed), and shards upon shards of beautiful welsh slate. Best of all, a mesmerizing crystal blue lake is in the middle of the quarry. It's so spectacular it's hard to take your eyes off it!
If you still need to book your accommodation, check out Booking.com. Bets-y-Coed is close by and is a great village to base yourself from.
---
Everything you need to know about Zip World Karts
If you're looking for adrenaline quarry go-karting, you've come to the right place. The Zip World Quarry Karts will get your heart racing with gravity-fuelled adventure! My review provides all the necessary details so you can plan your trip and know what to expect from your go-karting North Wales experience.
The Zip World Karts are the only mountain go-karts in the UK, and the North Wales scenery is worth the trip. So, prepare for the ride of your life.
Go Karting North Wales Prices
The adrenaline quarry prices typically start at £49, giving you two runs down the mountain. If you want to buy action camera footage of your ride, this will cost an additional £12. This cost includes a video of your first run and captures the views you see as you race down the track. It also includes some photos.
Tickets for the Zip World Quarry Karts should be booked in advance to guarantee availability. Before booking directly through zip world, I recommend searching for the best deals. There are often adventure gift voucher offers you can find or discounted tickets from retailers Red Letter Days or BuyaGift.com.
Zip World Karts Ticket Deals for One
Zip World Quarry Karts Ticket Deals for Two
---
---
Are there any restrictions on who can drive the Zip World Karts?
The Zipworld go karts require good control and carry a little risk, as with all adventurous experiences. For that reason, you must be 15 or over to ride, and anyone under 18 will need to be accompanied by a participating adult. The maximum weight limit is 120kg, and the maximum height is up to 2.1 meters.
Check the details in advance, particularly if you have any existing health conditions. Also, as with all extreme sports, you will need to sign a waiver in advance, so read this thoroughly before you take part.
---
What can I expect from Zip World Karting?  
So you're intrigued about what the Zip World Karts are actually like? Look no further; the full Snowdonia go karting experience is detailed below.
Arriving at the Zip World Karts
It takes roughly 15 minutes to walk from the main Zip World reception to the Quarry Kart entrance, and it's a very scenic journey. Some of it is uphill.
You typically must arrive at the go-karting location 10 minutes before your scheduled booking. Early arrival will give you time to get a helmet, shoulder pads, balaclava, and gloves. You can also purchase the video camera of your experience here if you choose to.
---
---
Getting to the Quarry Karting track
The Quarry Karts at Zip world experience takes place in a group of 12. Once everyone has arrived, you will take a cosy ride to the top of Penrhyn Quarry in the back of a truck.
The views will take your mind off it, and you'll start to see people go-karting down the track as you ascend. The journey is very bumpy and will take about 15 minutes.
Once you arrive, the staff will put the quarry carts into position before letting you off the bus. Stay seated, as it will take a few minutes.
Take a moment to enjoy the stunning views of the track and the beautiful scenery of the quarry before your mountain cart experience.
---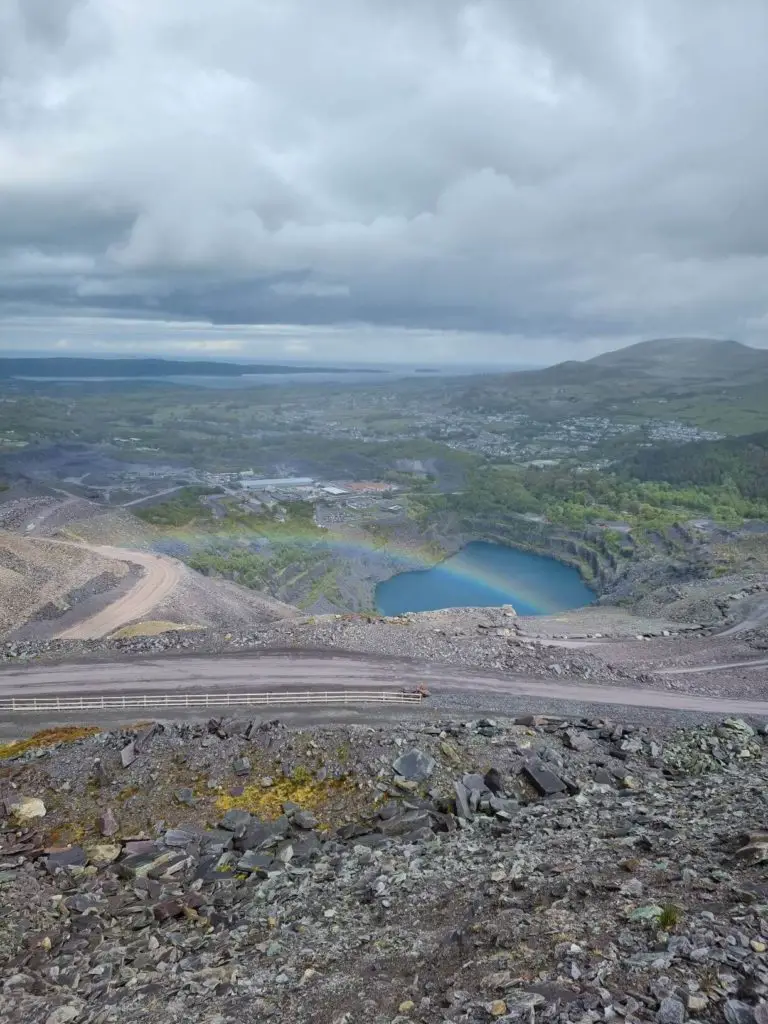 ---
Safety briefing for Go Karting Snowdonia
After a few minutes, you will receive a safety briefing. They reinforce that you are responsible for your safety and that of others. There have been some terrible accidents here (as with all similar experiences), and they typically happen on the second run when adventurers tend to drive that little bit faster.
Just listen carefully and take it slow, particularly around the bends. The corners are clearly marked, so you know they're coming. However, be careful not to go too slow, as this can be a hazard in itself, as you could slow down to a stop or create an issue for the people behind you.
---
Ready, Set, GO!
After familiarizing yourself with the quarry kart (there's nothing to it aside from the steering wheel), you will form a line. The team releases people down the dirt track once the driver in front reaches the first corner.
Overtaking is allowed on the karting tracks, provided it's done safely. At the end of your first run, you will need to wait to be taken back to the top to finish your final run.
The zip kart track length is 3km, and there are various fun obstacles for you to navigate. Imagine zipping through chicanes, tunnels, and bank corners. Go Karting in Snowdonia is a thrilling experience. You can expect 1.5 hours in total for your experience duration.
---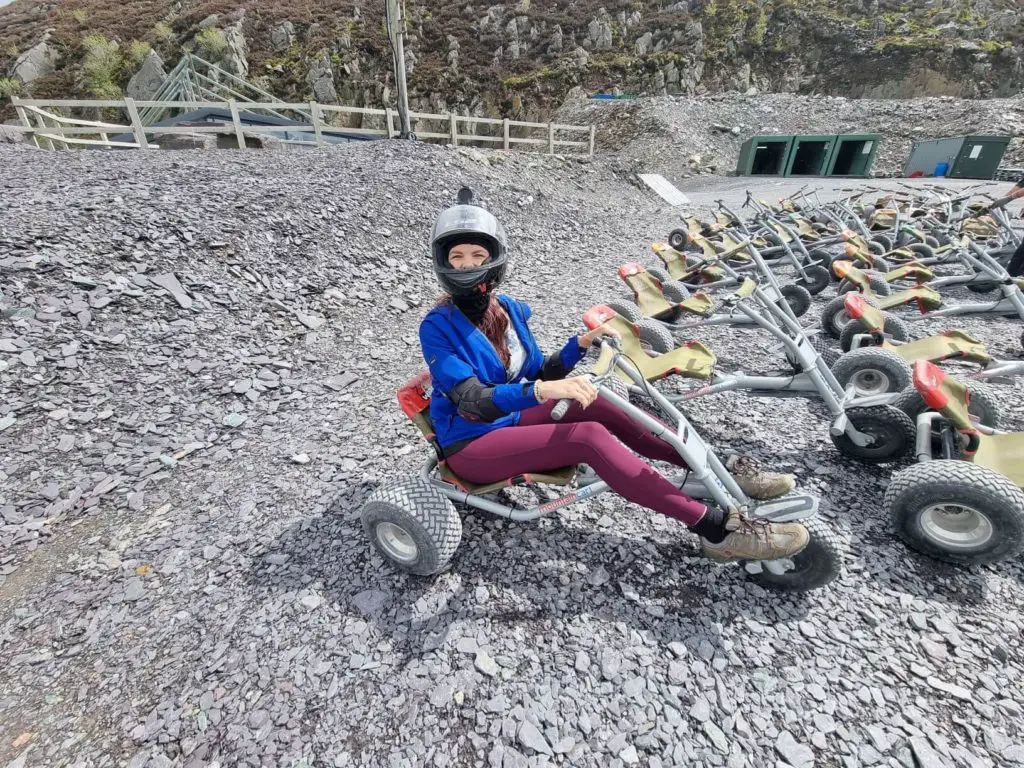 ---
---
What are the facilities like at Zip World Karts
Zipworld karting is a great day out, and there is ample outdoor seating for dining and drinking outside. Take your lunch or make use of the food hut on the grounds. The prices are reasonable, and there are some excellent options; if you like pizzas, sandwiches, soft drinks, and beers.
Zip world also has an upstairs terrace that houses the Blondin restaurant. Eating here will give you excellent views of the people zip-lining on Little Zipper and Velocity 2, which are also activities I highly recommend. The décor is modern and caters to a bistro-style menu of locally sourced food.
---
Top tips while you're at the Zip World Karts:
Unfortunately, accidents happen, so wear something durable just in case you overturn—long sleeves, jeans, whatever. You can make it work.
Prepare for rain. The Penrhyn quarry karts will still go ahead in most weather conditions, so ensure you're prepared with adequate footwear and waterproofs if needed.
While Zip World generally doesn't support taking action cameras, you can get away with a camera attached to your chest. Wear something with zip pockets so you can put it away if necessary, or use them for stashing your phone.
---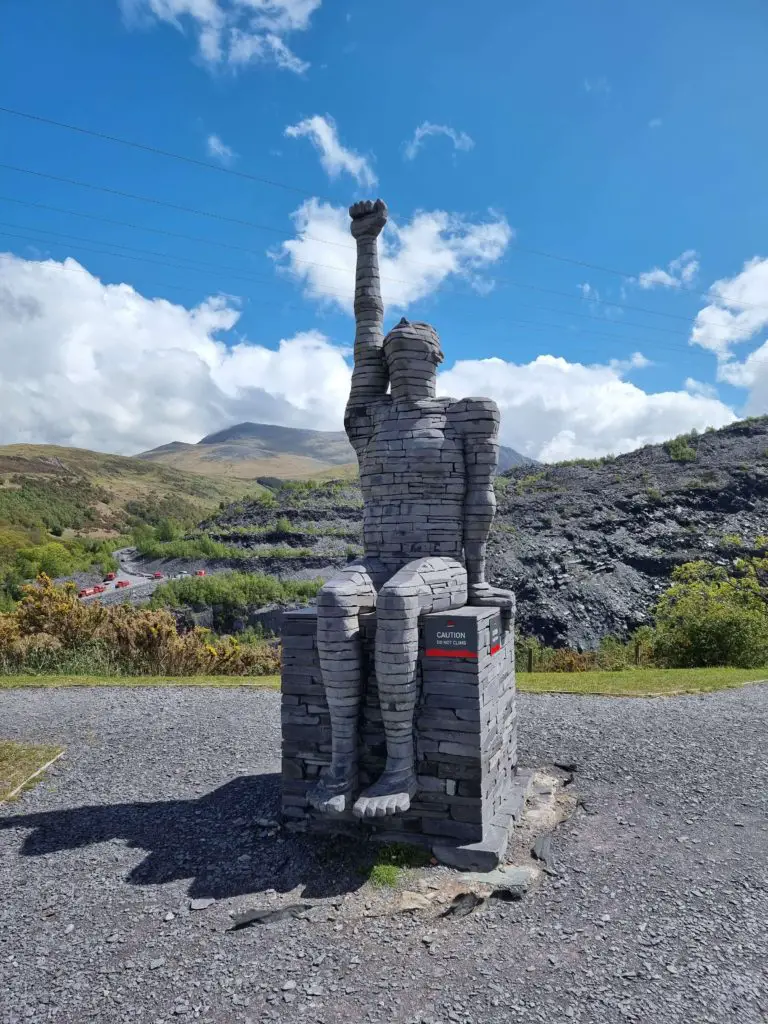 ---
---
Looking for more adventure travel ideas?
If you've got this far, you're an adventurer that enjoys adrenaline-filled activities. Am I right? I do, too, and I write about exciting destinations for adventure travel regularly. If you want to keep up to date with the latest posts so that you can keep your adventure bucket-list growing, then subscribe to my post or connect with me on social media.
Other posts on adventurous visitor attractions that you might be interested in:
---
Need help booking your next adventure?
Do you like to travel but hate spending hours online researching holidays and trying to find the best deals? Here's why I come in. VeggTravel is an independent travel agent that does the hard work for you. I do the research, compare the prices and build the itinerary for your dream holiday, cruise, city break, or activity. Plus, my agent connections often mean exclusive offers on hotels and flights that you can't find anywhere else.
Rest assured that any holiday booked through me will give you the relevant ABTA, CILA or ATOL protection you need. Not only that, but I'll provide you with bespoke service tailored to your needs, and I'll be there every step of the way, ensuring that things go smoothly or being your single point of contact if things don't.
Ready to take your vacation to the next level? I don't charge a fee, so if you're based in the UK, drop me a mail and see what I can do for you.

Pin for later
Sharing is caring. Please share this post on social media and if you have any feedback or questions, leave me a comment below.