Top 10 Best Theme Parks in the UK for Thrills & Family Fun
Everyone loves a good theme park, and why wouldn't they? Fun, thrills and everything in-between! So whether you're in love with extreme rides or looking for something more family-friendly, there are many great choices in the United Kingdom. From indoor roller coasters to log flumes and animals, read on to discover the very best theme parks in the UK. 
Best Theme Parks in the UK | Quick Links
This post contains affiliate links. If you purchase anything from these links it may mean that I earn a small commission.
---
1) Thorpe Park, Surrey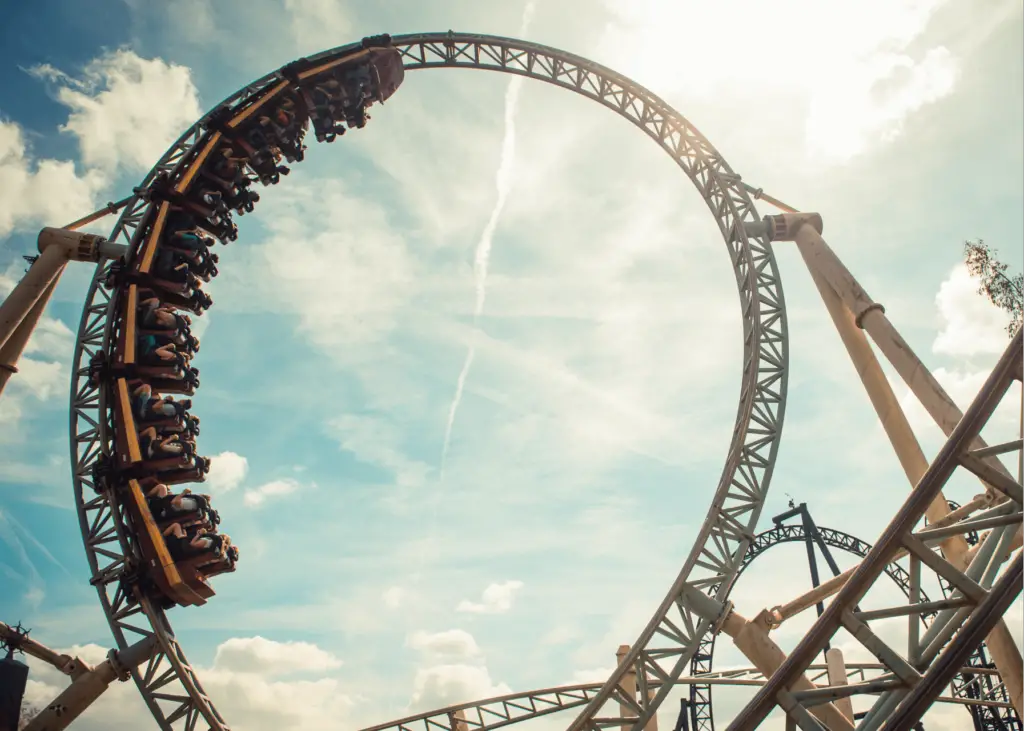 Thorpe Park is a top contender for one of the best theme parks in the UK. Second in size only to Alton Towers, Thorpe Park has many thrilling attractions and rides and has previously won awards for the best theme park for thrills. 
Notable thrill rides include:
The Nemesis Inferno roller coaster features on the British sitcom The Inbetweeners.
Stealth is a must-do for speed-freaks
Saw a thrilling roller coaster that genuinely is a jigsaw, darting you into the dark depths of the inside one moment and the vertical drop of the 'saw' the next.
Swarm spins and turns as if a wasp is swarming with chaotic fury.
While Thorpe Park is a top theme park for thrill rides, it is also great for families, with many rides suitable for all ages.
There is also the option to book with Thorpe Breaks and stay in one of the themed shark chalets. Best of all, you get to stay in the Park until late and get free, early access the following day.
Where is Thorpe Park Resort? Staines Road, Chertsey, Surrey, England, KT16 8PN
How much does Thorpe Park Cost? From £35
---
---
---
2) Alton Towers Resort & Water Parks, Staffordshire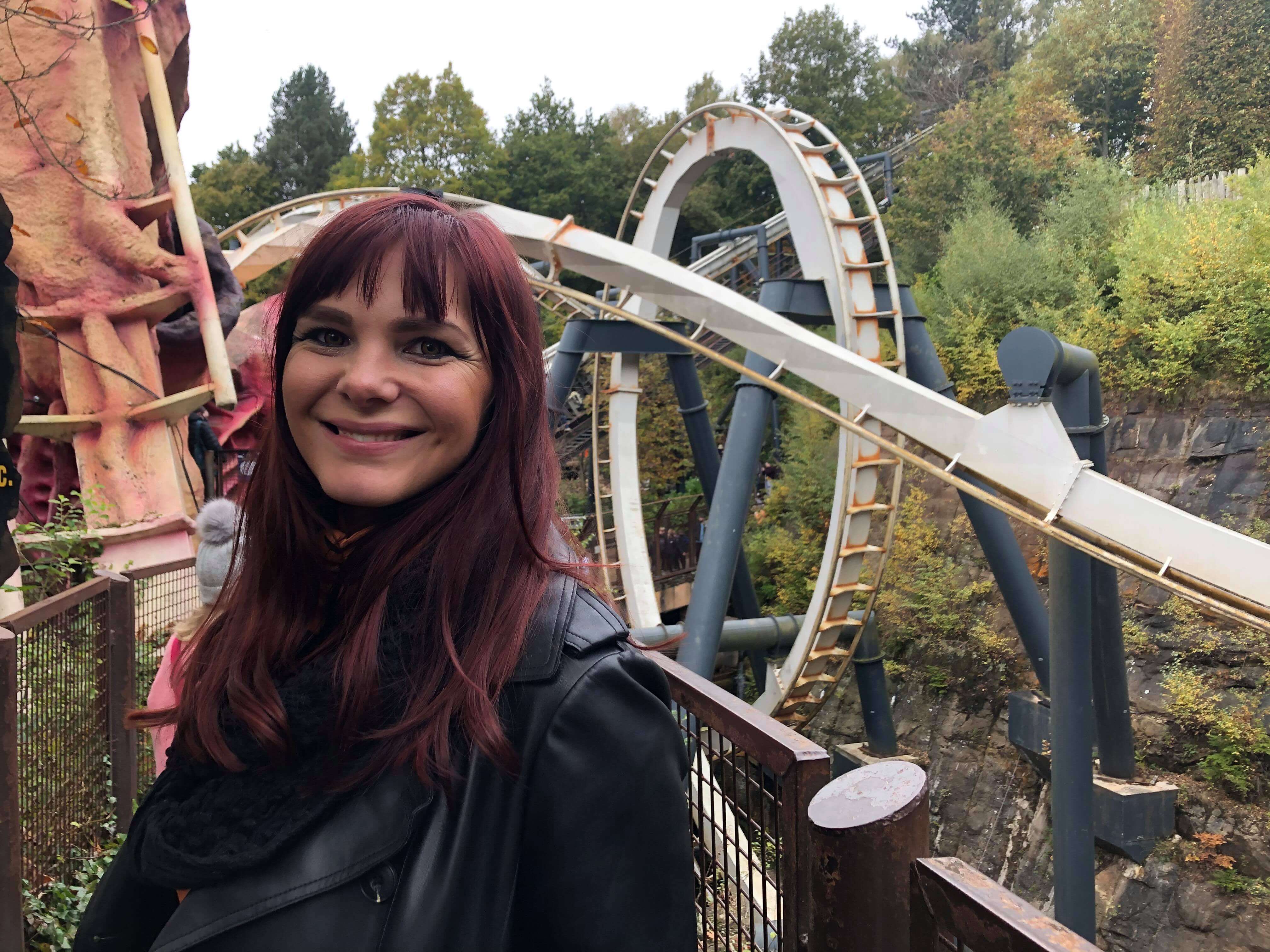 ---
Many ask whether Alton Towers is the best theme park in the UK. Of course, the answer will depend on what you are looking for, but as the largest theme park in the UK and the most diverse, it certainly will be the best for many.
So why is Alton Towers so good? Its iconic features are the infamous castle and vast grounds, forests, and lakes. It's beautiful to explore, let alone get your adrenaline kicks. It also comes with the added benefit of having a waterpark! Several thrill rides were the first to be offered anywhere, and several parks have copied them since. 
The Park has themed zones, each with at least one thrilling ride that is sure to satisfy the most avid adrenaline-seekers:
Smiler, rising to fame due to a horrific accident, this ride is so thrilling it still attracts the biggest crowds, despite its torrid history.
Nemesis is one of the original thrill rides and typically attracts lesser queues but still packs a punch.
Rita Queen of Speed, feel the force of gravity as you catapult at high speed towards a near-vertical drop fall.
Sev7rn, this indoor and outdoor coaster will frighten you and put your senses into overdrive.
Oblivion, 'don't look down into the steamy abyss of impending doom.
The Wicker Man, a wooden coaster turned runaway train that is ablaze.
If you're looking for a memorable experience, stay at the Alton towers resort in one of the themed rooms or a wooden hut. In addition to the fantastic array of rides, Alton Towers is acclaimed for having the best family area; CBeebies land. Being awarded the best theme park for families, it truly is a park that can suit everyone. 
Where is Alton Towers Resort? Farley Ln, Alton, West Midlands, ST10 4DB
How much does Alton Towers Resort Cost? From £34
Check out Alton Towers Holiday deals
---
---
Related Posts:
 Top Adrenaline Activities in the UK
Thorpe Park versus Alton Towers
3) Blackpool Pleasure Beach, Lancashire 
---
Blackpool pleasure beach is among the best theme parks in the UK for thrill rides. In a prime location on the seafront, this amusement park brings in crowds year long, but even more so around Blackpool illuminations and Halloween.
There are family-orientated rides and attractions such as paw patrol, sponge-bob square pants, and Nickelodeon Land. However, Blackpool pleasure beach also packs a punch for thrill-seekers despite its small size.
Notable rides at Blackpool pleasure beach include: 
ICON is one of the best roller coasters in the UK, with a unique double launch feature. 
Valhalla is an epic Viking-themed water ride hidden within a building enveloped by an enormous waterfall. 
Avalanche simulates an adrenaline-packed bob-sleighing experience with this unique coaster. 
Infusion is the world's first looping roller coaster where you ride suspended with your legs dangling over the water.
Ice Blast, feel your stomach drop as you plummet on this thrilling vertical drop ride.
Where is Blackpool Pleasure Beach? South Beach area of Blackpool. Address: Ocean Boulevard, Blackpool, FY4 1EZ.
How much does Blackpool Pleasure Beach Cost? From £35 when booked in advance
---
---
4) LEGOLAND Windsor Resort, Berkshire
---
LEGOLAND Windsor might not be the most stomach-clenching Park, but it still attracts millions of visitors annually. Another family-friendly theme park, especially for lego lovers!
What is excellent about LEGOLAND is that it is an immersive experience where children and adults can build, create and fully enjoy the experience. It certainly is one of the best theme parks in the UK for families.
Notable attractions: 
Flight of the Sky Lion, a new immersive attraction and the UK's first EVER flying theatre ride encountering mythical lego creatures.
The Dragon is a family-friendly coaster that flies through the castle and past animated lego models.
Where is LEGOLAND Windsor? Winkfield Rd, Windsor SL4 4AY
How much does LEGOLAND Windsor Cost? From
When is LEGOLAND Windsor Open? From the 12 April until 31 October 2021
Check out LEGOLAND Ticket Deals
---
---
5) Chessington World of Adventures
---
Chessington's world of adventures is more suited for families with young children than a day out for adventurous adults. While it can proudly boast that it is home to the only CBeebies Land in the UK, there are limited thrill rides on offer:
Dragon's fury tackles vertical turns on this fun spinning coaster. 
Vampire, let your legs dangle on this family-friendly coaster.
Croc drop plunge 25meter below in this vertical drop ride that is new for 2021.
This UK adventure park offers a combined visit to the neighbouring Chessington zoo, which cares for over 1,000 animals. Like most theme parks, you can stay at the resort in one of its many wildlife-themed rooms. This combination gives you more than what you typically get at the best theme parks in the UK and gives you a bang for your buck.
Where is Chessington's world of adventures? Leatherhead Rd, Chessington KT9 2NE
How much does Chessington's world of adventures cost? From £30
When is Chessington's world of adventures open? March to October with limited attractions in other months
Check out the latest deals for Chessington's World of Adventures
---
---
6) Flamingo Land, North Yorkshire
---
Flamingo Land is probably most famous for its in-house zoo, home to many exotic animals, including penguins, polar bears, tigers, lions, giraffes, and zebras. The 375 acres of parkland and the animal inhabitants provide a somewhat natural feel to the Park. However, there are also great rides, with their branding dubbing themselves as having "Wild animals, wilder rides." Flamingo land doesn't often appear at the top of the awards for the best theme parks in the UK, but it is still a good day for families.
Some of the best rides at Flamingo Land are:
Kumali, a looping suspended inverted coaster, is perfect for adrenaline junkies. 
Mumbo Jumbo is the world's steepest drop coaster. 
Velocity, the only motorbike launch coaster in the UK, will take you on an epic ride. 
Hero, feel the sensation of free flight in this inverted rollercoaster. 
Where is Flamingo Land? Kirby Misperton, Malton YO17 6UX
How much does Flamingo Land Resort Cost? From £20, booked 7 days in advance
---
---
7) Drayton Manor Park, Staffordshire England
This family-friendly theme park and zoo are located on an old manor estate. If the kids are fans of Thomas and Friends, you may want to look into the themed hotel rooms available or head to Thomas Land to meet the characters. See for yourself why Drayton Manor is voted one of the best theme parks in the UK for toddlers. 
Some of the most popular rides and attractions at Drayton Manor are: 
Shockwave Europe's only stand-up roller coaster.
Stormforce 10 is a three-drop white-knuckle water ride through a wet and wild 'storm.'
Air Race is a coaster with individual spinning planes to add an extra dimension to the rush.
Maelstrom, rotate 360 degrees as you twist and fall on this gyro swing.
Apocalypse is a five-sided 54-meter drop tower that once earned an award as the best thrill ride in the UK. 
Where is Drayton Manor? Drayton Bassett, Tamworth, Staffordshire, England
How much does Drayton Manor cost? From £32 when pre-booked.
---
---
8) Gulliver's Resorts, Various Locations
One of the best adventure parks for families and children is the Gulliver's chain which comprises four parks. 
Gulliver's Kingdom in Matlock Bath 
Gulliver's Land in Milton Keynes 
Gulliver's World in Warrington
Gulliver's Dinosaur and Farm Park in Milton Keynes
Geared towards the little ones, you can expect water rides, mini coasters, and lots of fun attractions that the kids will love. 
---
---
9) Paultons Park, Hampshire
Paultons Park is the best theme park in the UK for children and families. Amongst its various themed lands, one of its most popular features is Peppa Pig World which has nine themed attractions that the kids will love. However, don't let the fact that this is a family-focused theme park fool you into thinking that adults can't have fun too!
There are several notable thrill rides, including: 
Cyclonator is a giant gyro swing that will fill you with gut-wrenching excitement.
The Flight of the Pterosaur, soar around the track in this suspended coaster-come-dino-ride
Storm Chaser is a fun coaster that spins, shakes, and twists you around in small carts.
The Edge, imagine being rotated through the air on a coaster that resembles a giant disk.
How much does Paultons Park cost? From £23.75 when booked in advance
Where is Paultons Park? Ower, Romsey SO51 6AL
---
---
10) Oakwood Theme Park, Pembrokeshire, Wales 
Oakwood is the biggest theme park in Wales and boasts some gut-wrenching rides. Oakwood is great for locals, families, or wooden coaster enthusiasts, but you might be a little underwhelmed if you're searching for thrills. However, there is more to a fun day than roller coasters, and you'll have a good time exploring the park. Due to its beautiful location near the Welsh coast, you can also make a brilliant holiday of it and venture into the neighbouring towns and villages.
Some of the top adventure rides include: 
Megafobia is an award-winning wooden coaster that is notoriously intense in wet weather! 
Speed, race around the track on the fastest roller coaster in Wales. 
When is Oakwood Theme Park Open? From 30 April to 31st October
Where is Oakwood Theme Park? Canaston Bridge, Narberth SA67 8DE
How much does Oakwood Theme Park cost? From £23 when booked online
---
---
Best theme parks in the UK in Summary 
You have discovered the big contenders for the ultimate trophy of being the best theme park in the UK. Whether visiting for yourself or taking your children, many top amusement parks are worthy of a day off work or a weekend away. All the parks listed often feature in the UK Theme Park Awards, with the crown going to Alton Towers, with more than 15 awards in 2021. So, there you have it. Plan a fantastic trip to one of these theme parks and have a tremendous adventure.
If you enjoyed this post, then you will also like to read:
Which do you think is the best theme park in the UK? I'd love your thoughts and opinions, so please let me know in the comments.
---
---
Looking to have fun without having to build your own Itinerary?
Here's where I come in, an independent travel agent that does the hard work for you. I compare prices from all the top travel sites so you can easily find the top deals. Plus, my exclusive agent connections often mean exclusive offers on hotels and flights that you can't find anywhere else. Ready to take your vacation to the next level? Drop me a mail, and I'll help you every step of the way.
---
---
Pin the Best Theme Parks in the UK for later