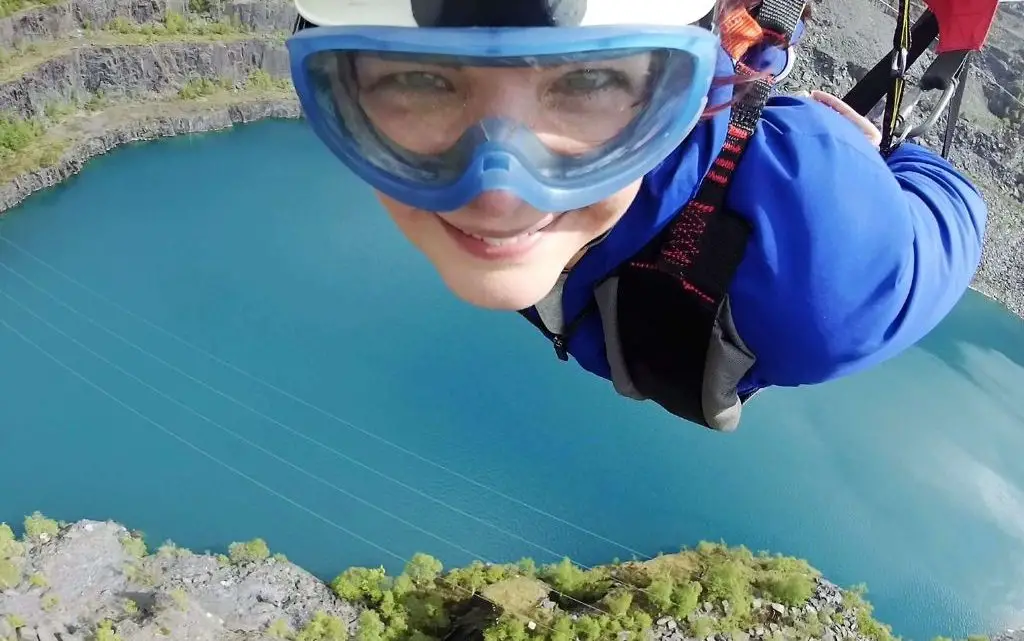 Penrhyn Zip Wire | Try the World's Fastest Zipline
Are you an adventure lover in search of the next big thrill? Do you want to soar over the welsh mountain tops at the speed of superman? Have you wondered what it feels like to experience the fastest zip line in the world? Well, look no further! Find everything you need to know about what it's like to fly down the Penrhyn zip wire in Snowdonia, North Wales.
Penrhyn Zip Wire Quick Links
This post contains affiliate links. This means I may earn a small commission should you choose to make a purchase using my link, but this is at no extra cost to you. I love all of these companies and only recommend things I would use/do myself. Thanks for your support .
Where is Penrhyn Zip Wire?
The Penrhyn zip wire has been expertly crafted into the historic Slate Quarry mountains in Snowdonia, North Wales. Located in the heart of Snowdonia national park, the address for the Wales Zip Wire is Penrhyn Quarry, Bethesda, LL57 4YG.
Not only is the Quarry a spectacular adventure playground, but it's also an outdoor enthusiasts' dream. On the one hand, you have got the lush green mountain tops. But on the other, you have the deep colours of the striking welsh slate. You will see the many houses built out of the Penrhyn slate as you drive through Snowdonia and up to Zip World Penrhyn Quarry. It truly is a beautiful journey.
---
---
Everything you need to know about Wales zip wire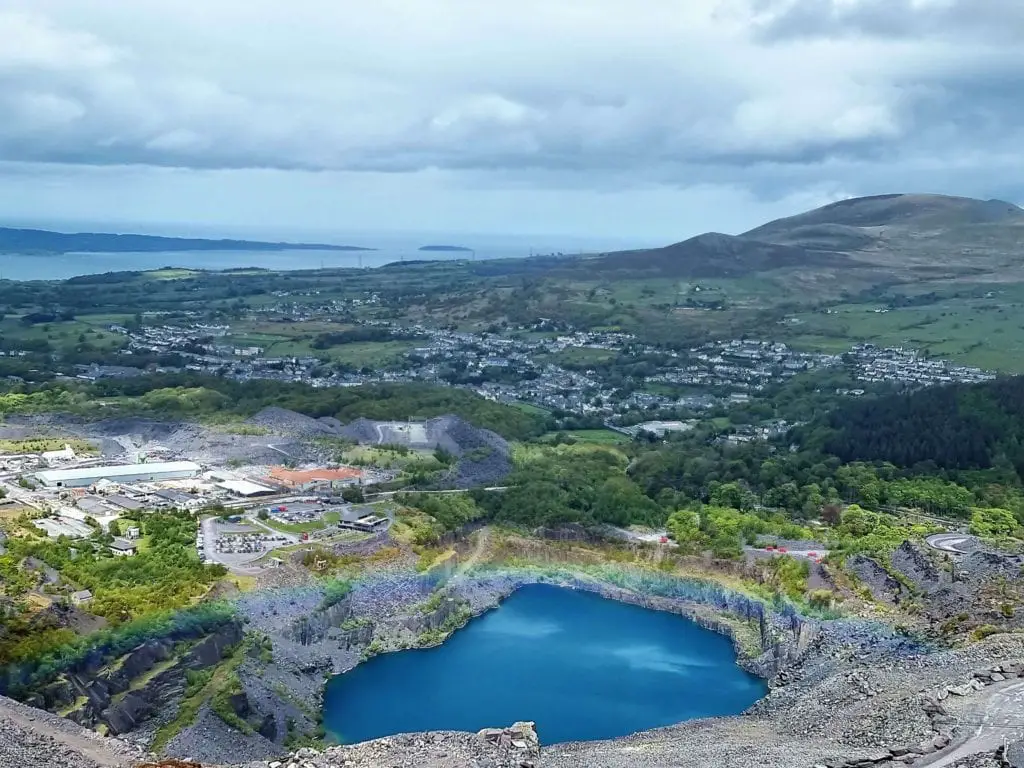 Zip World Penrhyn Quarry is the organisation that runs this adventure park and there are two Snowdonia zip line activities included in your admission fee:
Zip World Velocity 2, the fastest zipline in the world
Little zipper, a smaller zip line that you do first (helping you get your bearings!)
---
---
How much is the Zip Wire in Snowdonia?
If you are taking a holiday in North Wales, then the best time to visit the Snowdonia zip wire would be mid-week as the price is the cheapest. Weekend and holidays are the peak times and most expensive to do the Wales zip wire. Fridays and Mondays are in-between, perfect if you're visiting in the school holidays or on a bank holiday.
Zip World Price List
Tuesday, Wed & Thursday:
From £75
Monday & Friday:
From £75
Weekends and holidays:
From £99
Pre – Booking the Zip World experience is necessary to guarantee availability. 
Experience providers like 'Red Letter Days or Buy a Gift' provide special discounted offers and adventure gift vouchers that usually beat the direct booking cost.
---
Are there any restrictions on who can enjoy the velocity zip wire?
Zip World Penrhyn Quarry is fun for all the family as ten-year-olds and above can participate. Anyone under 17 will need a supervising adult, though. The weight limit for the Wales zip wire is Min 30kg Max 120kg.
Make sure to check the details in advance, particularly if you have any existing health conditions. As with all extreme sports, you will need to sign a waiver in advance, so read this thoroughly before participating.
---
What is the Penrhyn zip wire like?
Groups of four people will soar over Penrhyn slate quarry at speeds of up to 100 mph for a distance of 1555 meters. Imagine being hogtied, because that is now it will feel! However, this exhilarating experience will be sure to give you an adrenaline rush.
Plan about 2 hours for your adventure experience, but if you plan to do the Quarry Karts too, then plan half a day.
Little Zipper
After getting weighed and kitted up, you will walk 5 minutes to the first zip line, the little zipper. To get you ready for flight, you will lay flat on your stomach while the crew safely harness you to the zip wire. The next thing you know, you will glide across the bright blue lake in the centre of the Quarry.
The line will break automatically, which brings you to a relatively jerky stop. This zip line isn't that fast, and even if you're a little anxious, it is nothing to be scared about.
Velocity 2
Once you've caught your breath, you'll join a few more people and be taken to the top of Penrhyn quarry by a truck. Be prepared for a bumpy ride that takes about 15 minutes to reach the top. But, this is all part of the adventure experience.
You'll repeat the same process to be strapped up with your hands behind your back. This time, the zip world crew will adjust the resistance to try and enable all four people to fly down the fastest zip wire at the same speed. The weight balance didn't work for our group as one person was significantly quicker than everyone else. Although the faster, the better right?
At the end of the Velocity 2 zip line, you will have 10 min or so to walk back to the reception area.
---
---
What are the facilities like at Penrhyn zip wire
Zip World has ample outdoor seating and picnic benches for dining outside. In addition, there is a traditional food hut serving pizzas, sandwiches, and beers. You can place an order for a specific time if you want it ready for when you finish zip lining. You can also grab a beer to congratulate yourself on conquering your fear.
Zip world also has an upstairs terrace which is more akin to a restaurant than the outside food shack.
Do you have a four-legged companion and worry about pet care while you have fun? If you haven't got any other options, then there is onsite doggy day care. I didn't see inside, but it was small, windowless, and I could hear the dogs barking as I walked past. I don't know what it is like, but I would suggest finding alternative options if you can.
---
---
Top tips to make the most of Zip World Velocity:
Remember the moment with a video. Zip World does not allow you to take your go-pro, but they sell videos of you enjoying the Wales zip line. The camera points at your face but captures some of the scenery, and they edit the film to make it cooler. I bought mine in reception, but you can ask for the camera and preview the (unedited) video before buying it. I would suggest this option so that you can make a choice when you see it.
Prepare for rain. Penrhyn Quarry is in the peaks of the mountains in north Wales, and accordingly, the area gets a lot of rainfall. Pack hiking boots and waterproofs just in case.
Wear a jacket with zip pockets. You can keep small valuables like your phone or wallet on you if you have zip-up pockets. This is at your own risk, but you can also pay £1 for a locker for peace of mind.
---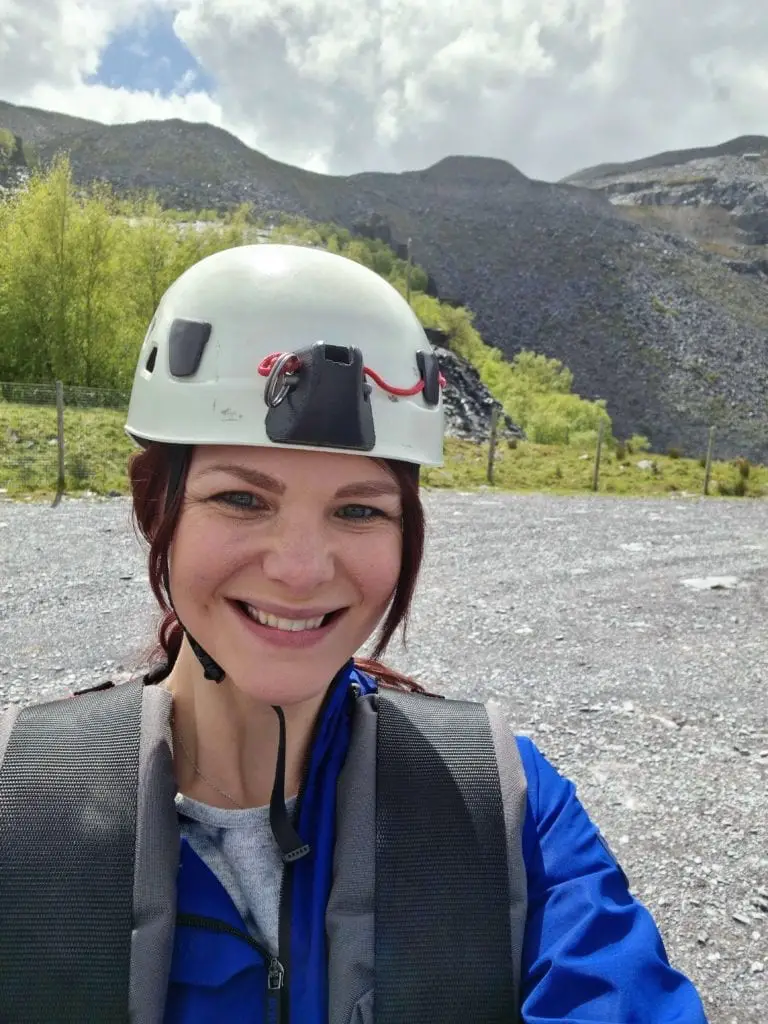 ---
---
Looking for more adventure travel ideas?
If you've got this far, you're an adventurer that enjoys adrenaline-filled activities. Am I right? I do, too, and I write about exciting destinations for adventure travel regularly. So, if you want to keep up to date with the latest posts so that you can keep your adventure bucket list growing, then subscribe to my post or connect with me on social media.
Other posts on adventurous visitor attractions that you might be interested in:
---
Want to take the hassle out of planning your travel and activities?
Do you like to travel but hate spending hours online researching holidays and trying to find the best deals? Here's why I come in. VeggTravel is an independent travel agent that does the hard work for you. I do the research, compare the prices and build the itinerary for your dream holiday, cruise, city break, or activity. Plus, my agent connections often mean exclusive offers on hotels and flights that you can't find anywhere else.
Rest assured that any holiday booked through me will give you the relevant ABTA, CILA or ATOL protection you need. Not only that, but I'll provide you with bespoke service tailored to your needs, and I'll be there every step of the way, ensuring that things go smoothly or being your single point of contact if things don't.
Ready to take your vacation to the next level? I don't charge a fee, so if you're based in the UK, drop me a mail and see what I can do for you.

---
---
Pin for later
Sharing is caring so if you liked this post, please share on social media or save to Pinterest.
If you have any other questions or feedback, I'd love to hear from you in the comments below.