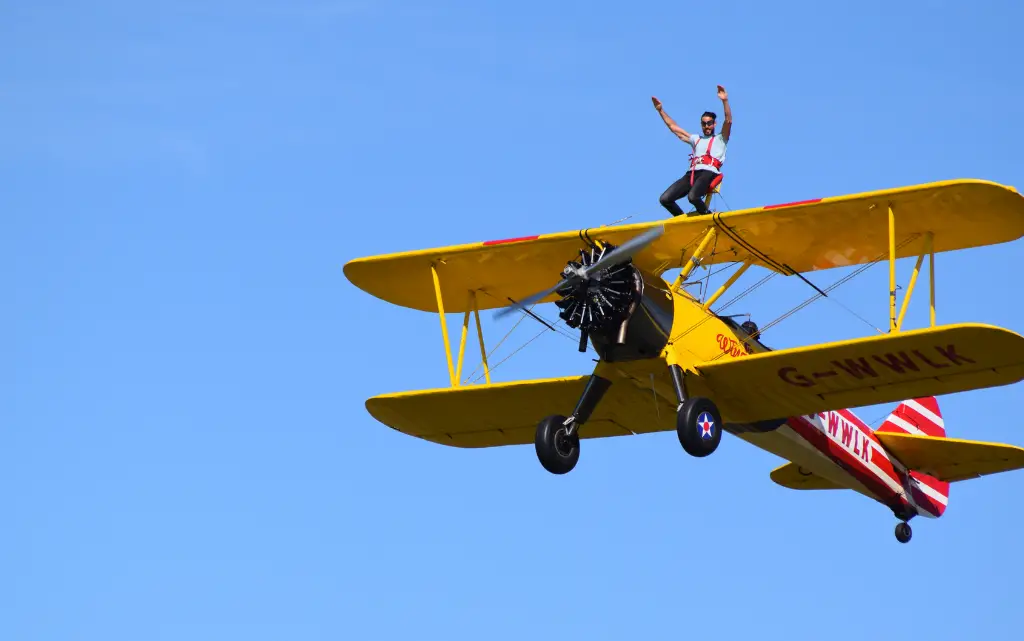 Top Adrenaline Activities UK for Thrill Seekers
If you're looking for an adrenaline rush, you've come to the right place. Discover the top adrenaline activities UK that will make your heart race. How do zip lining, wing walking, or mountain karts sound? These are just a few of the fun outdoor activities in the UK that we'll cover.
Read on to learn everything you need about the best adventure activities in Wales, Scotland, and England. So get your pen ready, as you'll be sure to want to write these on your bucket list!
Top Adrenaline Activities UK | Quick Links
This post contains affiliate links which means I may earn a small commission if you choose to buy anything from them. This is at no extra cost to you and In doing so you help to keep this site running, so thank you in advance.
What is an Adrenaline Activity?
Simply put, an adrenaline activity is something that makes you feel alive. From a scientific standpoint, adrenaline is released when you encounter 'danger' to survive it better. In these situations, adrenaline increases the heart rate and redirects blood toward the muscles. This reaction creates a surge in energy or shaking limbs, and your airways are relaxed to give your muscles more oxygen.
Why would anyone want to do adrenaline junkie activities? Because it is fun! While all extreme activities carry risk, these experiences are carried out as safely as possible, and it sure beats receiving an adrenaline rush when you're in real danger!
While many adventure activities listed in this guide are for adults, some of these experiences will be great for all families.
---
---
How to get tickets for the Top Adrenaline Activities UK?
You can get tickets direct from each of the UK adrenaline activities listed. However, as with most things, you can get cheaper tickets if you hunt around a little! I've done the hard work for you and found some of the best deals on these experiences. However, if you're searching for yourself, try the following providers:
Look out for the hyperlinks throughout this article, as they will take you to the best deals I've found.
Top Activities for Adrenaline Junkies in Wales
Want to discover where to find adrenaline junkie activities in Wales? Well, North Wales is the adventure capital of the UK! Not only are there many outdoor adventure activities in the Snowdonia National Park, but Wales also has some of the top adrenaline activities UK. Check out Transport for Wales for great deals if you're using transport to get around.
---
1) Zip World Velocity, Wales
Where can you do it: Penrhyn Quarry, Snowdonia, Wales
Approximate cost: £75-£99 (if you book direct, depending on whether you go on a week day or not)
Approximate duration of activity: 1 hour
---
If you're a speed freak and love the adrenaline rush of zip lining, then the Velocity 2 zip wire in North Wales is perfect! Velocity 2 is the fastest zipline in the world and one of the most beautiful locations, so this certainly makes it one of the best adrenaline rush experiences in the UK: 
The Wales zip line will fly you across a beautiful blue lake atop the Welsh slate quarry at speeds of up to 100mph.
You get not one but two zip line activities. Starting with the little zipper, a fun adrenaline activity in itself, and then ending with the biggy, Velocity 2.
This zip wire suspends you and hurtles you face-first at a crazy speed! There are a few zip wires where you experience a true superhero flight, but you can in North Wales!
Read Also – Penrhyn Zip Wire Wales – Everything you need to know.
Advance booking is necessary and the links above will typically save you at least £10 than booking direct.
---
---
2) Zip World Mountain Quarry Karts
Where can you do it: Penryhn Quarry, Snowdonia, Wales
Approximate cost: £45
Approximate duration of activity: 1 hour
---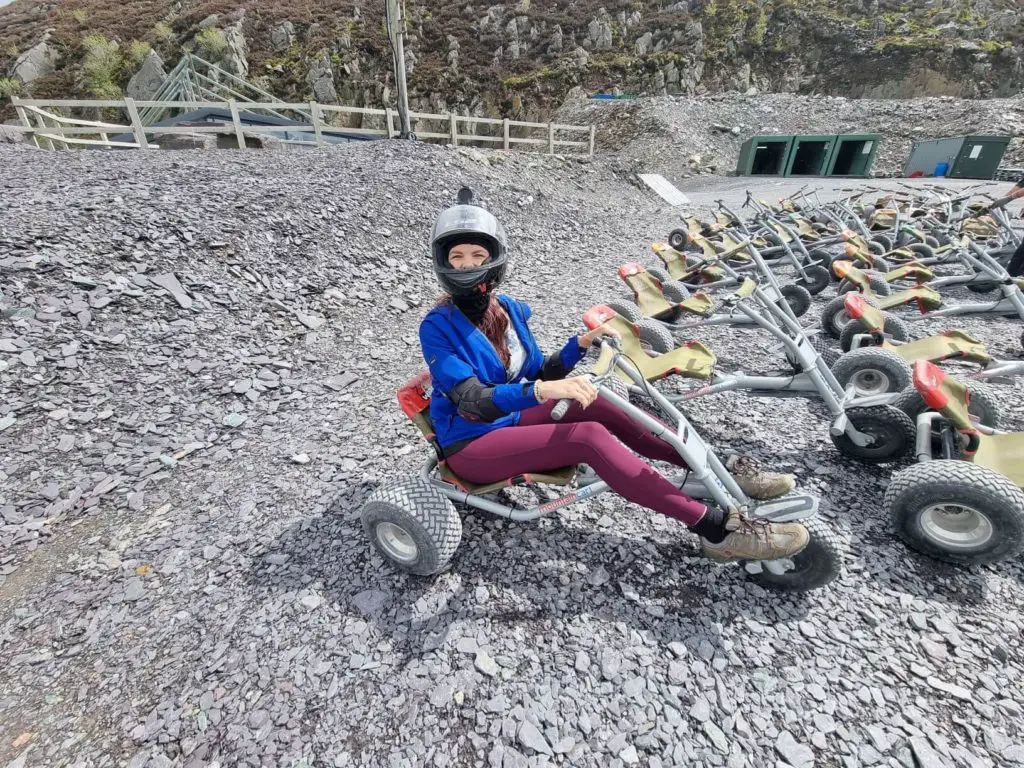 ---
While go-karting is a fantastic experience you can do in many different places, Penrhyn Quarry is the only mountain kart track in the whole of the UK. Located in the same place as the Velocity zip wire, you can also experience quarry karts in one fun activity day out.
The go-kart track is in a perfect location at the top of the quarry mountain. You will be taken there by a truck that tackles the winding, rocky roads. Then race down the mountain, zip through tunnels, around chicanes, and several corners. The go-karts are only powered by gravity, which in itself is pretty cool.
You get two runs around the track, which is excellent as you'll likely go faster the second time! Another fun lap is undoubtedly worth the second truck ride up the mountain.
Zip world karts will make your heart race, and it deserves to be on your adrenaline junkie bucket list.
Related Read: Zip World Karts – Everything you need to know about this Wales Adrenaline Activity.
---
3) White Water Rafting in Snowdonia National Park
Where can you do it: Snowdonia National Park, Wales
Approximate cost: £90-£150 (for 2, depending on the experience chosen)
Approximate duration of activity: 2-3 hours
---
---
White water rafting is an extreme sport and one of the top adrenaline activities UK. Plus, there are a few places you can do it! The National Water Centre in Snowdonia national park is one of the best white water rafting locations in the UK as you experience the natural rapids of the Upper Tryweryn's Welsh mountain river.
A selling point of this white water rafting activity in Wales is that you can pay per person (shared experience) or per raft, if you'd like to do it privately with adventurous friends. The mountain river is a mile long, which goes fast when tackling the curves and bends of the rapids, and, depending on the adrenaline experience booked, you will get 2-4 runs of this thrilling downward ride.
If you're a complete adrenaline junkie keen to make a whole adventure-packed day, you can also go canyoning and gorge walking in the same place. Have 10-11-year-olds with you? They would love the rafting safari experience, which is slightly tamer. Either way, you'll enjoy this Welsh adventure activity.
---
England's Top Adrenaline Activities UK
As you can expect from the largest country covered in this post, England has many of the top adrenaline activities UK. However, the best thing about the adventure activities covered in this section is that you can do many of them in several locations. This means you don't need to travel too far in England to get your adrenaline rush.
---
4) Add Wing Walking to your Adrenaline Junkie Bucket List
Where can you do it: various locations across the UK
Approximate cost: £420 – £449
Approximate duration of activity: up to 2 hours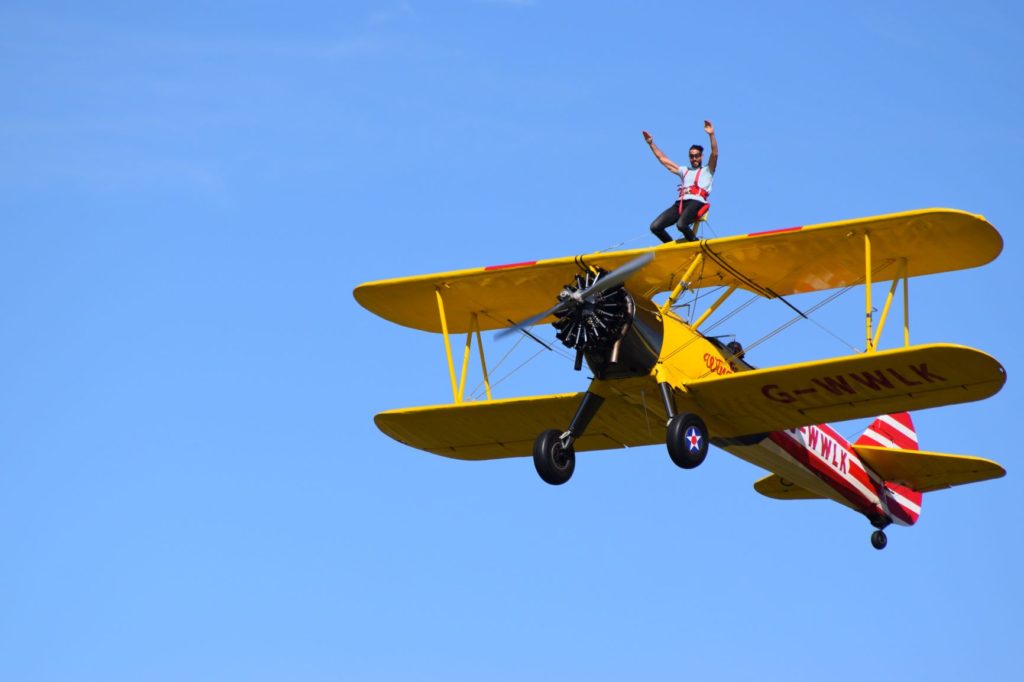 ---
Wing walking is an extreme activity for the adrenaline junkie who wants to feel like they're flying unaided. You will be strapped to the wings of a biplane, given a pair of goggles, and the pilot will take you for the flight of your life. It's like being on a high-speed roller-coaster but without seeing tracks or the carriage below or in front of you. The name is slightly misleading as you won't be walking on the plane's wings as you fly. Instead, there is a stool you lean against to which you are firmly attached.
Aerodromes across the UK offer wing walk experiences. As with most flying experiences, you'll want to go on a bright, clear day with not too much wind. Flights usually last around 10 minutes, but factor in time for the safety briefing and some waiting around. You could spend two hours in total at the airfield. Wing walkers must weigh under 85kg and officially be between 18 and 80 years old.
Having said that, when we wing walked at Headcorn Aerodrome in Kent, we saw an 84-year-old man go up – so there must be some flexibility in the age range. However, wing walking is most certainly one of the top adrenaline activities UK.
Recommended by Rachel from Mum With Wanderlust
---
---
5) Water Rafting, Hydrospeeding and Hot Dogs!
Where can you do it: Lee Valley White Water Centre,
Approximate cost: £10-£50 depending on activity
Approximate duration of activity: up to 2 hours
---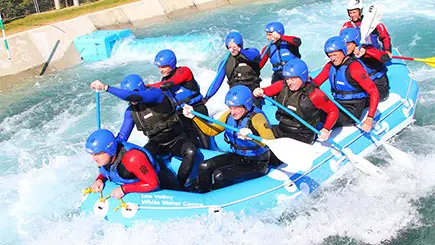 ---
The Lee Valley White Water Centre does what it says on the tin; it provides a place for white water rafting experiences.
While you might not find Lea Valley in a London Travel Guide, it makes a brilliant day trip away from central London. The many different outdoor water adrenaline activities make Lee Valley so good. You can try the following:
Hydrospeeding
Hot Dog Kayaking sessions (inflatable two-person kayaks to tackle the rapids)
Paddleboarding
Water Wipeout (water obstacle course)
The water sports at Lee Valley White Water Centre are all on-site in their Olympic standard activity centre. This location does mean that the rapids are artificial, but this doesn't take away from the thrill of tackling them head-on. All of the activities at Lee Valley are fun and will make a great day out for the family.
Best of all, if you want to make a weekend of it, you can go glamping in one of Lee Valley White Water Centre's many campsites.
---
---
6) Sky Diving
Where can you do it: Various Locations across the UK
Approximate cost: approx. £250
Approximate duration of activity: half day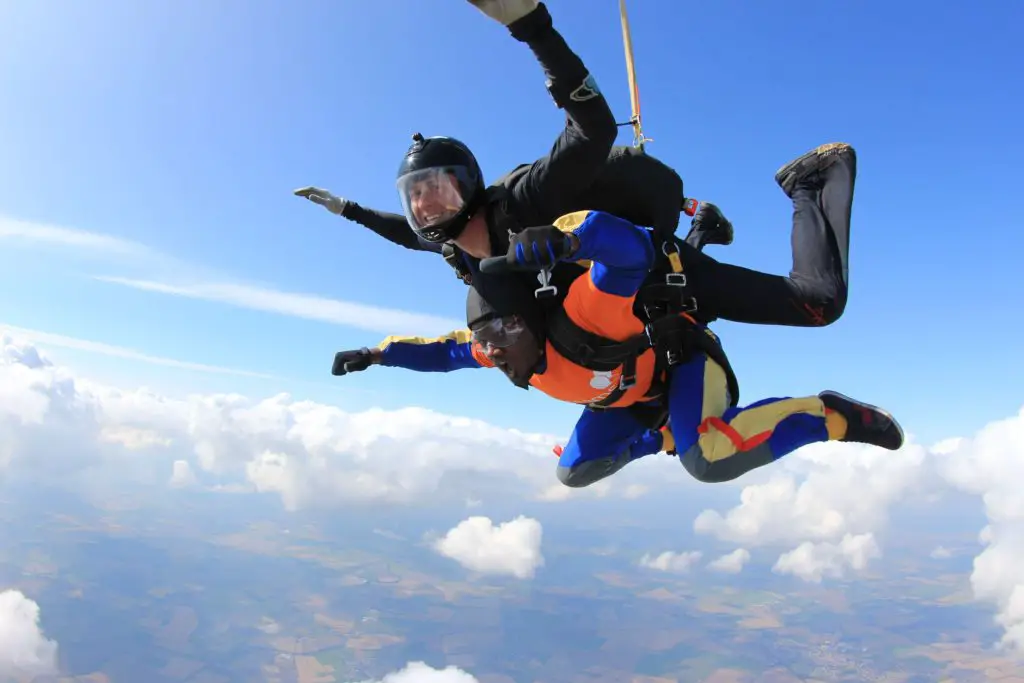 ---
It doesn't get any better than a skydive if you're looking for exhilarating activities.
Tandem skydives are great for beginners who have never skydived before. Strapped to the front of a qualified instructor, you will be positioned over the edge of the plane, and then you jump! You will free fall for 200 feet per second, lasting between 30-60 seconds, depending on the height at which you jump. Then, feel the G force hit your face as you gaze at the beautiful landscape views as you sail back down to earth.
I don't know about you, but my heart is racing just thinking about it! Consider indoor sky diving instead if you need more time to prepare for a proper skydive. Grab your tickets for various locations below.
---
---
7) Scuba Diving with Sharks
Where can you do it: Bear Grylls Adventure Centre, Birmingham
Approximate cost: £150
Approximate duration of activity: 2 hours
---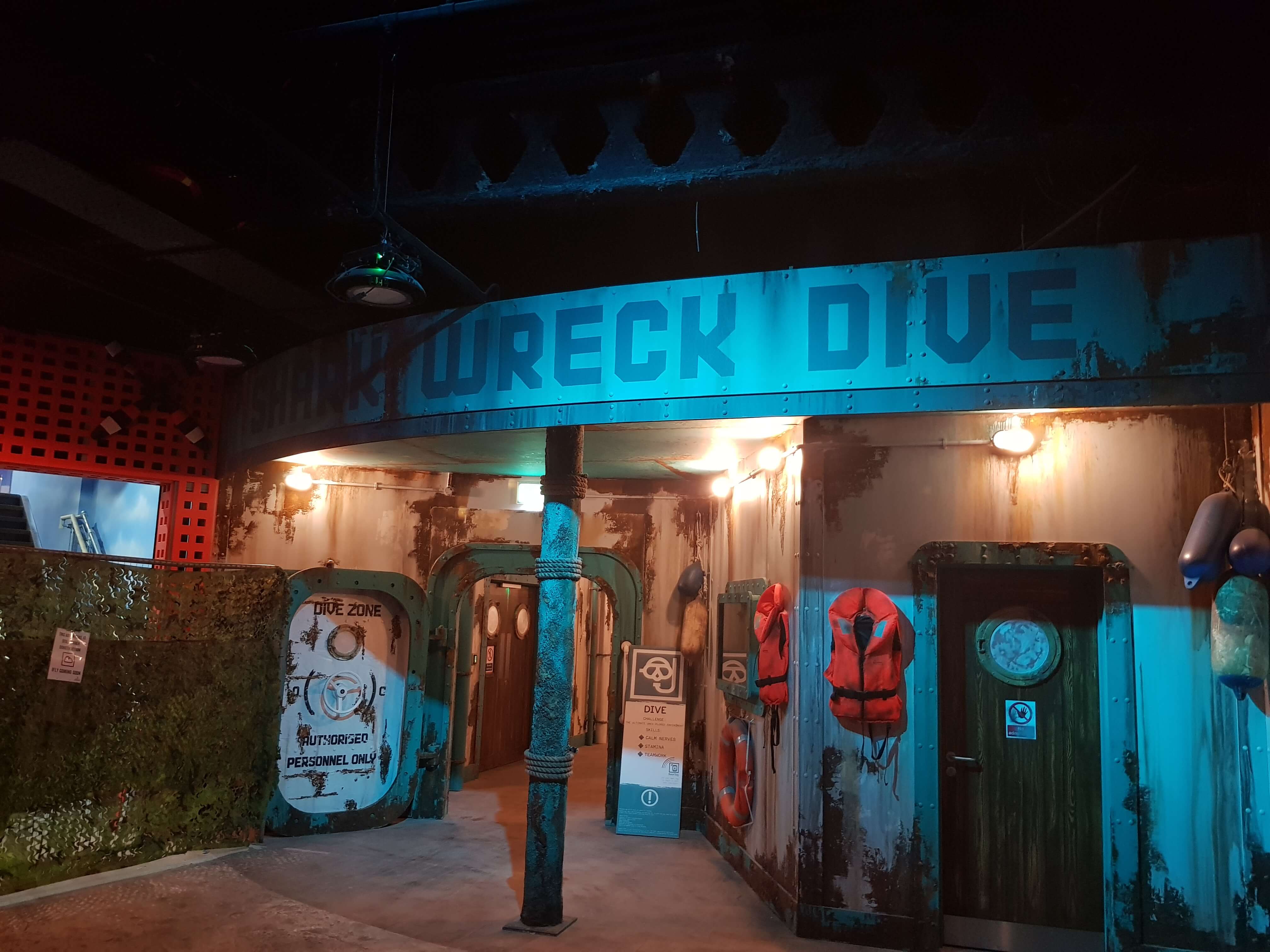 ---
One of the best places in the UK for adrenaline junkies (or those just starting) is the Bear Grylls Adventure in Birmingham. This experience is one of the top adrenaline activities in the UK because there are several activities you can take part in, such as rock climbing, indoor skydiving, archery, and an outdoor high ropes course. Still, my personal favourite thing to do there is scuba diving with sharks.
This activity is a great way to start if you've never tried scuba diving. The Bear Grylls Adventure takes care of all the necessary equipment and gives a short training course at the beginning of each session to ensure everything runs smoothly. You even get a beginner PADI scuba certificate which you can use towards an open water certification if you want to continue scuba diving further.
The activity takes about 120 minutes, including a safety briefing, scuba skills training, and time to get in and out of all your gear which leaves roughly half an hour in the shark tank. There are over 1,000 creatures in the aquarium, including Cow Nose Rays and Blacktip Reef Sharks. While these may not be the most aggressive species of shark in the world, reef sharks can grow up to 7 feet in length, so it's a real thrill to meet them up close and personal!
Recommended by Amy from The Travel Fairies Blog
---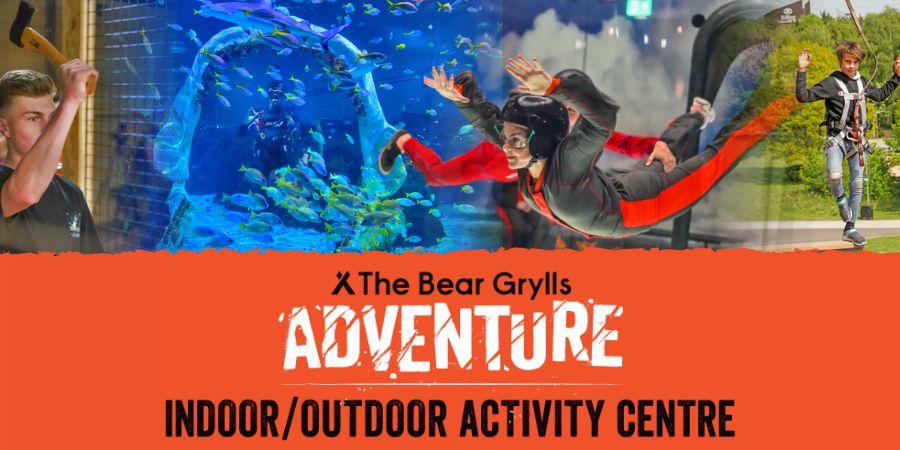 ---
8) Alton Towers Theme Park
Where can you do it: Alton Towers, Staffordshire, England
Approximate cost: £45
Approximate duration of activity: all day
It wouldn't be a post about the top adrenaline activities UK without a mention of England's biggest and best theme park, Alton Towers.
While people of all ages can visit Alton Towers, the big adrenaline rides are reserved for adults or children over 11 who are taller than 1.4 meters. Alton Towers theme park opens from March to November. There are special events later in the year, such as scarefest or bonfire night, with additional attractions like horror mazes and longer opening hours.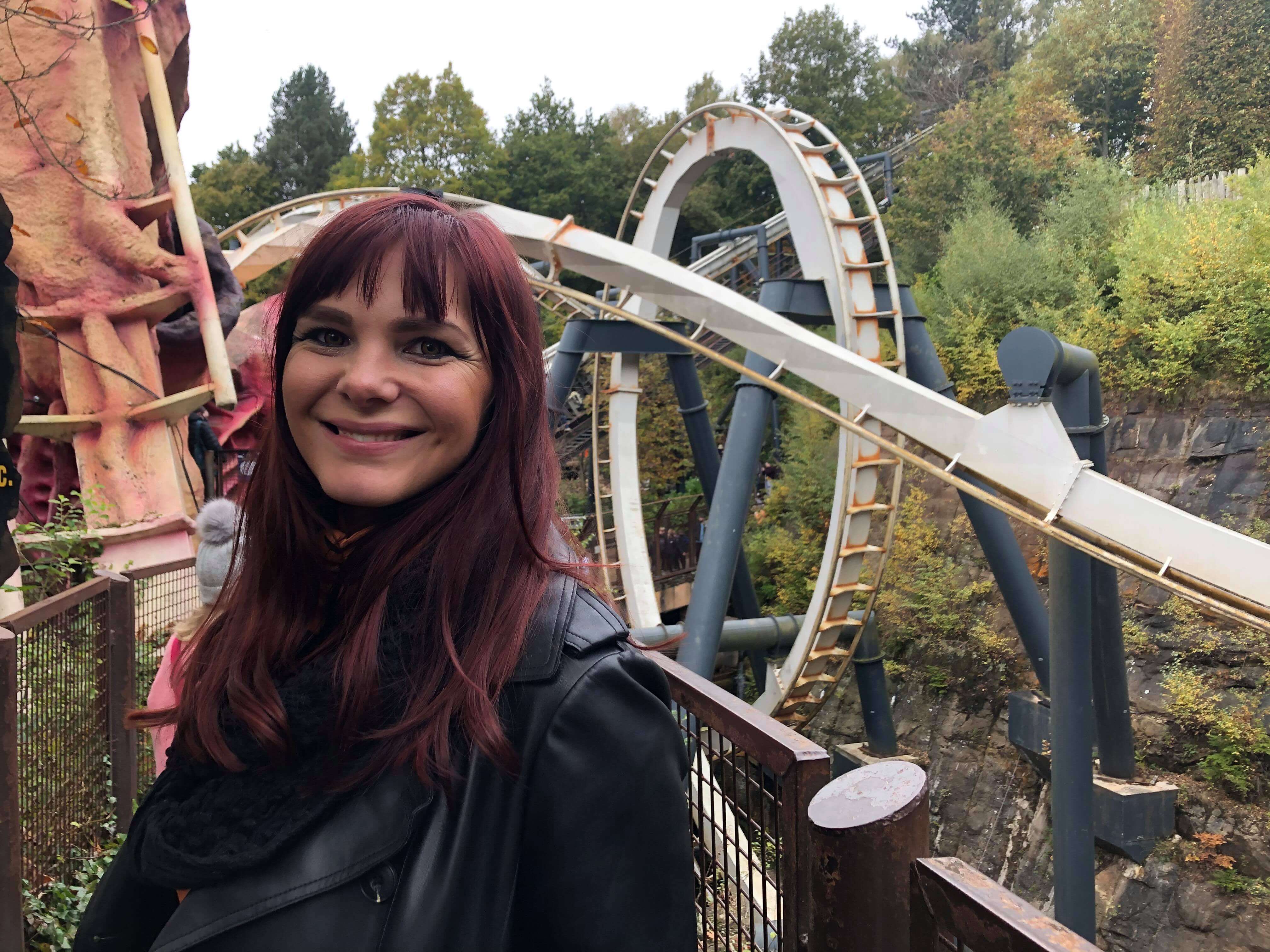 The Alton Towers resort has different themed areas, with the majority of them all having at least one thrilling ride for the adrenaline junkies. Discover the best Alton Towers rides below:
Mutiny Bay – Ride the modern wooden Wicker Man roller coaster with inbuilt special fire effects (best in the dark).
Forbidden Valley – Nemesis is one of the parks oldest thrill roller coaster rides, and the inverted twists, turns and loops still pulls the crowds after all these years. Galactica is another roller coaster in this sector where you glide face first like a superhero flying through incredible obstacles.
X-Sector – Smiler is one of the most popular rides in the theme park, and being the worlds first 14 loop roller coaster gives it a good reason. Oblivion, the worlds first vertical drop roller coaster, is also in this sector and usually has fewer crowds than the other rides. Don't let that put you off though, plummeting straight down through the mist is an exhilarating adrenaline experience.
Dark Forest – Th13teen is the worlds first vertical free fall roller coaster and another ride best to experience in the dark. Rita, the queen of speed, is a roller coaster that will hurtle you at 100mph in just 2.5 seconds.
Related Reads:
---
---
---
9) Get your Adrenaline Kicks at Thorpe Park Theme Park
Where can you do it: Thorpe Park, Stains, England
Approximate cost: £35
Approximate duration of activity: All day
Thorpe Park theme park advertises itself as "The UK's most thrilling theme park" so it has to make the top adrenaline activities the UK! The benefit of being smaller than Alton Towers is that you can navigate around Thorpe Park quickly and easily, although you will still have long queues for rides! Thorpe Park also splits its rides and attractions into different themed areas.
The best thing about it is that you can easily get to Thorpe Park as a day trip from London.
Amity – Stealth will shoot you 205m high in 0-80mph in under 2 seconds. You will feel like your heart has been left behind when you return to the starting point.
Swarm Island – The swarm is the UK's only winged roller coaster, and you'll be thrown around at the force of 4.5g.
The Dock Yard – Derren Brown's Ghost Train combines live-action, horror and some amazing effects. Don't be scared.
Old Town – Saw, based on the hit film series, this thrilling ride will give you a vertical drop of 100 degrees.
The Jungle – Nemesis Inferno, the ride made famous by the sitcom 'The Inbetweeners', is one of the great traditional twisted loop roller coasters.
Lost City – Colossus once was the first ten loop roller coaster, so prepare yourself for an adrenalin fix and some dizziness.
Best of all, you can also make a weekend of it with a Thorpe Break at the unique Shark Hotel. Not only will you get an extra day of free rides, but often you will benefit from later park times.
Related Read: Alton Towers vs Thorpe Park – Which UK Theme Park Wins?
---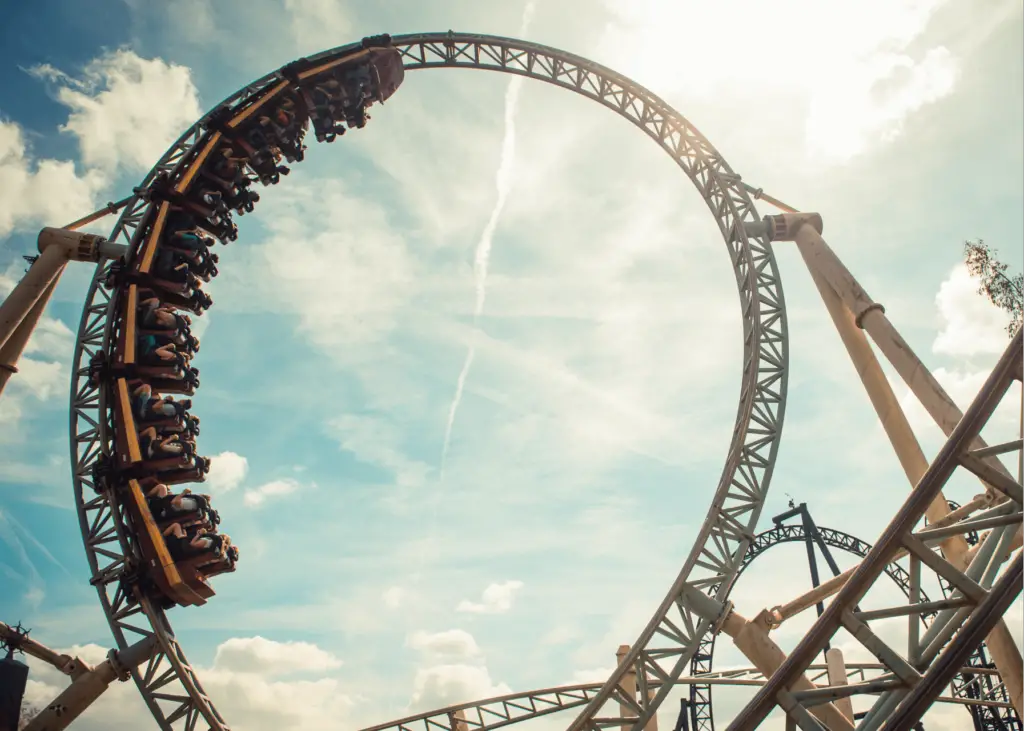 ---
---
10) ArcelorMittal Orbit – Slide or Abseil Down the Unusual Structure
Where can you do it: Olympic Park, London
Approximate cost: £35
Approximate duration of activity: All day
Sliding down the ArcelorMittal Orbit at the Olympic Park is one of the top adrenaline activities UK that you can do without leaving London.
The Orbit was built for the 2012 London Olympics as an enormous piece of public sculpture. While it was already a big tourist attraction – you can see for miles from the viewing platform at the top, in 2016, it got an adrenaline-packed boost – the Orbit Slide. The Orbit Slide is the world's longest, tallest, fastest tunnel slide, a slim shiny silver tube that snakes around the Orbit, twisting and turning all the way down to the bottom.
Sliding the Orbit is an incredible experience. When it's your turn to slide, you'll put on a soft protective helmet and elbow and knee pads, lie down on a mat at the top of the tube, and wait for the green light.
The slide feels a lot like you've been through a washing machine. The tube turns you up, down, and back on yourself, and you're always trying to figure out which way you're facing. Occasional clear panels give you glimpses of the view, and you're off again. Finally, after 40 seconds, you emerge at the bottom screaming – and ready for another ride.
If you'd like to take your adrenaline kicks to the next level, you can also abseil down the Orbit.
---
---
11) Get a head rush by Bungee Jumping
Where can you do it: Various throughout UK
Approximate cost: £69 single, or £129 for tandem
Approximate duration of activity: 2 hours
I don't know about you, but bungee jumping was something I never wanted to do, as it terrified me. However, in true adrenaline junkie style, whatever doesn't kill you makes you stronger, right? Bungee jumping is one of the top adrenaline activities UK because it really will get your heart pumping. Whether you go for a single bungee jump or a tandem jump (strapped to another person), it will be an exhilarating experience.
I did the bungee jump at the Gratham Water Centre in Huntingdon, just outside London. Perfect if you're spending time in the Capital. This location was a good choice because many bungee jumps in the UK are just over concrete or grass, while this one is next to a large river with other water sports and adventure activities you can choose to do while you're there.
The bungee itself was fun; provided you can control your shaking legs, you will be fine! One of the most daunting elements of doing a tandem jump is that one of you goes backward, and the other faces forwards and then rocks you back and forth before they let you go. My adrenaline levels went through the roof! Give it a try.
---
---
Scotland, Top Adrenaline Activities UK
While I haven't featured that many of Scotland's top adrenaline activities UK, it doesn't mean that there aren't any. Several of the fun adrenaline activities featured can be enjoyed in Scotland, too, with some of the specific experiences detailed below.
12) Canyoning Down a Beautiful Scottish Gorge
Where can you do it: Aberfeldy – Perth and Kinross, Scotland
Approximate cost: £100
Approximate duration of activity: 3 hours
If you're not familiar with canyoning as an adrenaline experience, it is when you abseil down a waterfall rock face. Prepare for the soaking of a lifetime as you navigate the vast canyons running with natural water. Canyoning in Scotland occurs in Perthshire, which is central to the country.
Following an extensive safety briefing, training, and being kitted up to the masses, you will participate in this awesome experience. Throw yourself into water pools, slide down water flumes, and bounce down the waterfalls. Some of the experience will involve using rope and equipment to get you down, but this will all be carefully controlled by your canyoning instructor. This fun adventure is certainly one of the top adrenaline activities UK.
Not everything will get you wet, though. You will also get to walk around the beautiful Allt' a Bhealaich Gorge, taking in the stunning surroundings of the Scottish landscape.
---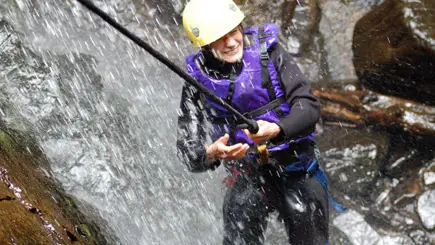 ---
What do you think to the Top Adrenaline Activities UK?
One thing is for sure: I've given you some of the best adrenaline rush activities in the UK to consider for your next trip. I hope your heart is racing at the thought of all the thrilling adventures you will have. Are there other adrenaline experiences worthy of the top adrenaline activity UK list? I'd love you to let me know in the comments, or if you've tried any of these activities, let me know what you think of them.
---
Want to experience the fun of travel but prefer to let someone else take care of the details?
Do you like to travel but hate spending hours online researching holidays and trying to find the best deals? Here's why I come in. VeggTravel is an independent travel agent that does the hard work for you. I do the research, compare the prices and build the itinerary for your dream holiday, cruise, city break, or activity. Plus, my agent connections often mean exclusive offers on hotels and flights that you can't find anywhere else.
Rest assured that any holiday booked through me will give you the relevant ABTA, CILA or ATOL protection you need. Not only that, but I'll provide you with bespoke service tailored to your needs, and I'll be there every step of the way, ensuring that things go smoothly or being your single point of contact if things don't.
Ready to take your vacation to the next level? I don't charge a fee, so if you're based in the UK, drop me a mail and see what I can do for you.

---
Pin the Top Adrenaline Activities UK later
Sharing is caring. Please share this post on social media and if you have any feedback or questions, leave me a comment below.