12 Best Water Parks in Europe for Thrill Seeking Adults
Whether you're looking for a relaxing day trip away from your resort or searching for exhilarating water activities, you've come to the right place! While many of these aqua parks are great for kids, adults love holidays abroad with water slides too! I've picked out the best water parks in Europe so that you can plan a fun, splash-filled trip away this summer.
This post contains affiliate links which means I may earn a small commission if you purchase anything through those links. Thank you for supporting my site.
List of Water Parks in Europe 
1. Siam Park, Tenerife
By Victoria from Guide Your Travel
How to get to Siam Park: There are free buses from several locations in Tenerife, whereas  buses from Los Gigantes or the North need to be paid for and booked in advance.
Address: Av. Siam, s/n, 38660 Costa Adeje, Santa Cruz de Tenerife, Spain
Siam Park is the biggest water park in Europe, located in Tenerife, Spain. It has a Thailand theme with incredible features, including several pools and slides. Siam Park has been named one of the best water parks in the world and one of the island's most popular tourist attractions.
Tickets cost 35 euros for adults and 26 euros for children, which is expensive but worth it for all the attractions in the Park. The Park has interesting features such as floating markets, exhilarating slides, wave pools, and plenty of restaurants to choose from. You can easily spend an entire day at Siam Park, which is excellent for couples and singles. However, this Park is certainly not just for kids, and adults will particularly enjoy the exciting attractions and slides, such as the Tower of Power.
You can easily spend an entire day at Siam Park, which is excellent for couples and singles. However, this Park is certainly not just for kids, and adults will particularly enjoy the exciting attractions and slides, such as the Tower of Power.
---
2. Aqualagon, Paris
By Lena from Salut from Paris
How to get to Aqualagon: located at the Villages Nature® Paris, you can easily drive (parking costs 10 euro) or Peps 47 bus from Disneyland Paris direct to the park.
Address: 20 rue du pré des merlans – 77700 Bailly Romainvilliers
Suppose you are visiting France's capital and are up for a day trip from Paris, head over to Aqualagon! This amazing waterpark belongs to a Center Park just next to Disneyland, but luckily they are also selling day passes. It's a good spot for families, but adults will have as much fun, especially if you are on the sportive side: Aquagym courses, water polo matches, rock climbing, and thrilling slides. 
The best and most unique slide is the Aqua Slide, where you race down the waters on a bodyboard. Don't forget your helmet!
Suppose you are looking to relax a bit, head over to the lagoon, the highlight of Aqualagon. The heated outdoor pool is geothermal at 30°C, perfect for floating around and viewing the closeby lake.
---
3. Aqualandia, Benidorm (Spain)
 By Martina from Places of Juma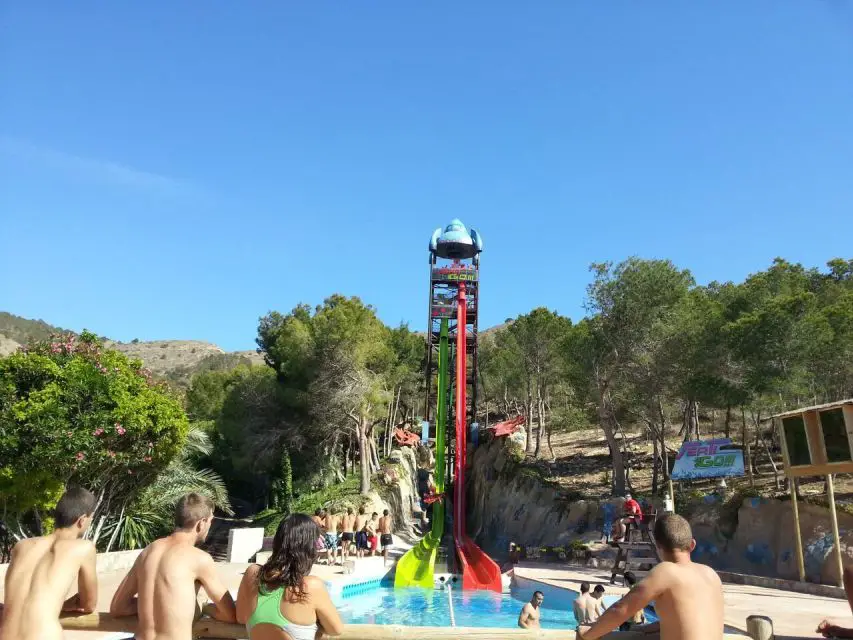 How to get to Aqualandia: If you're travelling from Benidorm grab a line 1 city bus straight to the park, or simply drive.
Address: Parque Natural Sierra Helada, 03503 – Benidorm, Alicante (Spain)
One of the best water parks in Europe is definitely in Benidorm: The Aqualandia! Here you'll find slides, pools, and attractions for every adrenaline level, perfectly tailored for adults.
If you're looking for the extreme, you must go on the Big Bang, an awesome free-fall slide! Or take a ride on the Black Hole, where you slide through pitch darkness. A real highlight is the Verti-Go, with 33 meters, the highest slide in Europe and the tallest slide capsule in the world.
For those who prefer a quieter experience, there are many more attractions not that crazy. For example, you can make a race with friends and families on the Smooth Slides or a relaxing ride on the inflatable boat. 
---
---
4. Area47 Waterpark, Ötztal (Austria)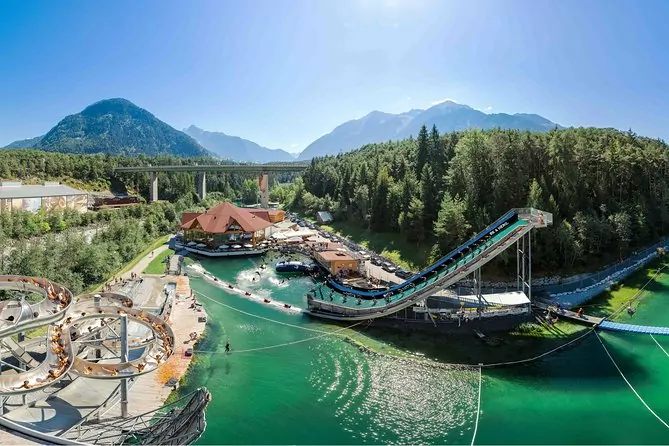 How to get to Area47 water park: located a 30 minute drive from Innsbrook, or you can also catch a train to Oetztal and take a short walk to the Park.
Address: AREA 47 Betrieb, Ötztaler Achstraße 1, 6430 Ötztal-Bahnhof, Austria
Have an action-packed day at the unique Area 47 adult water park and try its numerous exhilarating activities. Ever tried wakeboarding? Give it a go at Area47. Alternatively, try out Europe's fastest water slide, cliff diving, or jumping on a huge blogging bag, a giant catapult that launches you through the air.
Area 47 is an outdoor adventure playground that deserves a top spot as one of the best water parks in Europe. Unlike all other parks listed, Area 47 is within a beautiful nature park with many attractions and breathtaking rides. Additionally, you can also stay in the Park and take advantage of the free water activities when booked.
This Park has many extreme rides that will pack lots of excitement. Relax after a day of water activities at the Beach Bar with a cold beverage, or laze out on the grass. Finish the day with a game of beach ball or soccer.
---
---
5. Aqualand Torremolinos, Costa del Sol (Spain)
Where is Aqualand Torremolinos? 10 minutes from the centre of Torremolinos.
Address: C/ Cuba, 10 29620 TORREMOLINOS (MALAGA)
Aqualand is the largest and most preferred water park in the Costa del Sol. Take pleasure in 19 fun water attractions sure to please the whole household. If you dare, try the highest waterslide in Europe, "Kamikaze." At over 22meters, this will be one exhilarating ride.
At over 70,000 square meters, the park hosts various attractions ideal for adults and youngsters. Explore the incredible oasis, wallow in swimming pools, and have fun in artificial surf areas.
Numerous terraced environment-friendly areas are ideal for sunbathing and unwinding in the Costa del Sol heat.
---
---
6. Lido Water Park, Kos (Greece)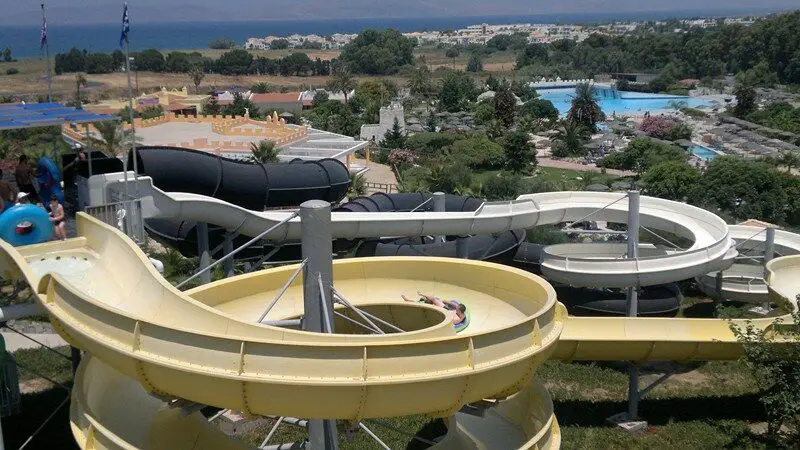 How to get to Lido Water Park? Located on the popular island of Kos in the Mastichari area, The Park is 18km away from Kos Town, but you can easily get a local 'LIDO bus' which will stop outside the Park.
Address: Greece, Irakleides 853 02, Greece
Spend a refreshing and exciting day at Lido Water Park in Kos. Jump over the waves in the wave pool, slide down the giant slide, or compete with your friends or family in racing down the multi-lane water slide. Try the Kamikaze slide or a whirl in the Black Hole if you're looking for an adrenaline rush.
If you're trying to find something quieter, enjoy the relaxing Lazy River or unwind and soak up the Jacuzzi's rays. If you're hungry, grab food or drink at one of the cafés.
Lido Theme park is also terrific for kids, as it includes an Interactive Children's Area, which has slides, a rotating water pail, six water handguns, and waterfalls.
---
---
7. Aquacolors Waterpark, Poreč (Croatia)
How to get to Aquacolors Waterpark: Located just a 10 minute drive from Porec with free customer parking. If you stay at the Zelena Laguna, it is only a 10 minute walk.
Address: MOLINDRIO 18, 52440, Poreč, Croatia
Check out the greatest variety of water tourist attractions in this Croatian water park in Istria. Whether you like fast water slides, relaxing pools, or a 500-meter-long lazy river, the Aquacolors Waterpark supplies something for everyone.
There are several fun water slides and three exterior pools; one even has a pebble coastline and waves. The Aquacolors water park offers free beach umbrellas and sunbeds. If you want to escape the warm summer sun, there are various areas in the shade so you can kick back and stay cool.
After a day of slides, take it easy on one of the 140 massage therapy water benches that you can find in the chill-out area. A great touch is the Lounge Bar which has an artificial beach to create the illusion that you're sipping tasty cocktails next to the sea. There are also several local food options for when you get hungry.
---
---
8. PortAventura Aquatic Park, Salou (Spain)
Where is PortAventura Park: Just 45 mins from Barcelona, situated in the heart of the Daurada. PortAventura World has its own train stop if you're travelling from within Catalonia.
Address: Avinguda del Batlle Pere Molas, Km. 2, 43480, Tarragona, Spain.
This outstanding water park will plunge you into stimulating activities where you raft, surf the wave machine, glide down water slides, float down the lazy river, or kick back on a sun lounger.
This family-friendly park will entertain kids with the Caribbean theme playground while the adults can relax listening to the reggae music playing throughout the park.
Tropical plants and palm trees beautifully frame the 50,000 square meters of the aquatic park, and there are great bars and restaurants. These small details make PortAventura Aquatic park one of the best water parks in Europe.
---
---
9. Hydropark, Mallorca
Where is Hydropark Mallorca: this park is ideally situated for those staying in the resorts of Alcúdia, Ca 'n Picafort, and Puerto Pollença. The park has a bus station, so it is easy to get to.
Address: Av. Tucà, s/n, 07400 Port d'Alcúdia, Illes Balears, Spain
Enjoy a day splashing around on the various water slides and swimming pools at the Mallorca Hidropark. 
Transform your summer memories with fun slides such as the spiral and the super slalom. Then, test your balance by walking across huge water balls or making a splash in the pools. 
Kids will also have loads of fun with the float boats, bouncy castles, and super jumpers that will keep them entertained for hours. 
Note: if you're staying on the opposite side of Mallorca (Palma), then head to Aqualand El Arenal instead. This park is the largest water park on the island and has great rides perfect for adults.
---
10. Aquatic Park Le Caravelle, Ceriale (Italy)
How to get to Le Caravelle Aqua park: Parco Acquatico Le Caravelle is a water park in Liguria that is close by Ceriale.
Address:  Via S. Eugenio, 51, 17023, Ceriale
Enjoy your time at the 80,000 square meters La Caravelle Aquapark. While this park is not the biggest, it is well-designed and has great slides, pools, and deck chairs to hire for relaxation.
If the 15 slides and wave pool get boring, you can try your hand at the beach volleyball courts. If you'd prefer to relax, there is also a wellness location to ease into the sunny afternoon.
If you're hungry, visit the self-service sandwich shop to get everyday Ligurian items, such as Ligurian focaccia. Make sure not to miss out on the "aquadance," the only nightclub on the water in Italy
---
11. Aquashow Park, Algarve (Portugal)
How to get to the Aquashow Park: located in Vilamoura, it is easiest to drive and park for free. If you're staying in Faro, you can also get a short train to Loule but it is then either a 35 minute walk or a taxi/bus fare to the park.
Address: 1, Semino, EN 396, 8125-303 Quarteira
The Aquashow Park is Portugal's largest and most popular water and thematic park. Get your thrills by braving the 32-meter-high Free Fall/Kamikaze or experience the sensation of surfing on a big wave.
Tackle the biggest Water Coaster in Europe, reaching a maximum speed of 70 kilometers per hour. The Air Race is a thematic ride with you sitting inside a airplane doing aerobatics and stunts. Alternatively, Top Swing is one of the favourite thematic attractions, offering a new and unique experience. There are also opportunities to see animal shows featuring exotic birds and reptiles.
There are a Jacuzzi and green areas with sunbeds for those looking for a chilled-out space to relax. When you finally realize that you're hungry, you'll find some good meal choices at one of the snack bars or BBQs. You can also find a small souvenir shop, changing rooms, lockers, and other facilities.
---
12. Paphos Aphrodite Waterpark, Cyprus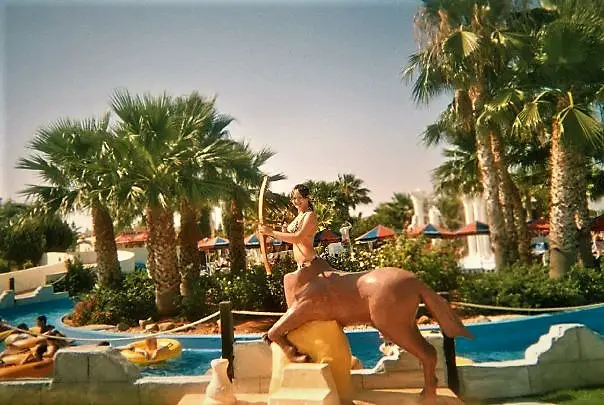 How to get to the Paphos Aphrodite Waterpark: drivers can use the free parking. Otherwise, take bus 611 at the harbor directly to the Park.
Address: Off Poseidonos Avenue, Kato Paphos, 8133 Paphos
The Paphos Aphrodite Waterpark is the largest aqua park in the region and one of the best water parks in Europe. Enjoy the large selection of slides, pools, and water attractions.
Buddy up and chute down the "Gravity" racer slides or speed down the "Kamikaze" body slide curves. If you're an adrenaline junkie, dare to take a thrilling ride down the "Free Fall." Plummet down this near-vertical drop slide and finish with a splash that will take your breath away.
The Paphos Aphrodite park also has several unique attractions. For example, you can take a scuba diving lesson or bounce on the titan "Damp Bubble," a massive air-filled bubble crossed between a trampoline and a sprinkler.
Children will also enjoy the pirate ship, climbing the mini-volcano, and jumping on the mini-bubble. After a day of exploring, bask in the Jacuzzi or grab a delicious meal at the food court.
---
---
Best Water Parks in Europe in Summary
You started this search by asking where the best water parks in Europe are. Well, now you know! Unsurprisingly, most of these European aqua parks are in Mediterranean countries where the weather is hot. So, now you know where to go, which ones will be on the top of your list? Let me know in the comments.
If you liked this post, you might also like to read about the best theme parks in Europe or the best theme parks in the UK.
Do you want to have a fun holiday without the stress of booking it all?
Do you like to travel but hate spending hours online researching holidays and trying to find the best deals? Here's why I come in. VeggTravel is an independent travel agent that does the hard work for you. I do the research, compare the prices and build the itinerary for your dream holiday, cruise, city break, or activity. Plus, my agent connections often mean exclusive offers on hotels and flights that you can't find anywhere else.
Rest assured that any holiday booked through me will give you the relevant ABTA, CILA or ATOL protection you need. Not only that, but I'll provide you with bespoke service tailored to your needs, and I'll be there every step of the way, ensuring that things go smoothly or being your single point of contact if things don't.
Ready to take your vacation to the next level? I don't charge a fee, so if you're based in the UK, drop me a mail and see what I can do for you.

---
---
Pin the Best Water Parks in Europe for Later