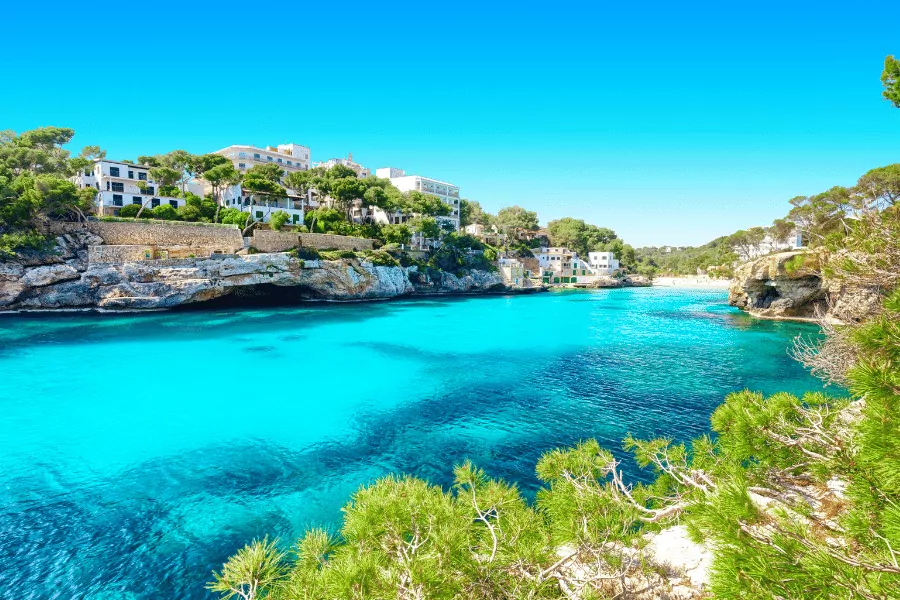 Honeymoon in Spain | Discover What Makes it the Perfect Place for Newlyweds
Honeymooners are often overwhelmed with the choices available to them regarding where they should go on their honeymoon. However, one destination consistently tops the best honeymoon places in Europe: Spain.
Why is Spain such a popular honeymoon destination? For starters, it's a beautiful country with stunning landscapes and amazing beaches. The people are also friendly and hospitable, making for an unforgettable experience. Discover why a honeymoon in Spain is the perfect place for newlyweds.
Spain Honeymoon Destinations
This post contains affiliate links which may mean I earn a commission if you purchase through them. Thank you for your understanding and support in keeping this site going.
Seville, Spain
The Spanish city of Seville is one of the best places to honeymoon in Spain. With the beautiful cathedral La Giralda and the Alcazar palace, it is a city that is steeped in history and oozes romance. The charming streets, lively restaurant scene and romantic attractions make Seville a great choice for newlyweds.
Seville is one of the most beautiful cities in Europe. The city is famous for its Moorish architecture, reflected in the beautiful Royal Palace, the Alcazar, and other attractions like the cathedral with its La Giralda tower. The Royal Palace is a highlight not to miss – you can score a free ticket for Monday afternoons online if you're travelling on a budget – as it is one of the best Moorish buildings in Spain. Make sure to add enough time to explore its lush green gardens.
Another famous Seville attraction is the Plaza de Espana. It was built for a world exhibition, like the Eiffel Tower in Paris. The structure represents Spain – you can see all its provinces depicted in mosaics – and is one of the most romantic places in Seville. You can enjoy a short boat ride in the moats for the most romantic honeymoon experience.
Sevilla is in Andalusia, in the southern part of Spain. It is easy to get to Sevilla, as it has an international airport. It is a great place to visit, though summers can be quite hot. Winters are mild, but you might enjoy Seville in Spring and autumn at its best.
Whether you are looking for a luxury hotel, a budget hotel or a hostel, there is something for everyone. But newlyweds will enjoy the luxurious and historic Alfonso XIII hotel, located in the historic centre and with the stunning architectural style of the famous Plaza de Espana.
By Maartje & Sebastiaan – The Orange Backpack
Barcelona, Spain
While Barcelona is a large, bustling European city that may not be the first that comes to mind for a romantic getaway, this destination by the sea might be just what you're looking for in a honeymoon to Spain. Combining history, food, and culture, this city has it all and is easily accessible for the perfect quick escape.
There is a wide array of incredible places to stay in Barcelona for a romantic stay, including luxury spots worth the splurge like the incomparable Hotel 1898, complete with a spa and indoor swimming pool. Or check out one of the boutique hotels located in the historic Gothic Quarter or El Born neighbourhood for an unforgettable stay.
Barcelona is full of romantic date ideas perfect for a mini-moon, including exploring the historic neighbourhoods in the city, ideally in the evening as you sample tapas and wine. If you're looking to get an even more in-depth experience with Spanish cuisine, try a cooking class where you'll learn to make paella with a local chef. You can also take advantage of the city's waterfront location with a sunset catamaran ride – many ships offer live music and tapas on board!
By Carley from Home to Havana
Marbella, Costa del Sol
Marbella, located in Costa del Sol, is one of the best mini moon ideas in Europe. This beautiful town is one of the most romantic places in Spain and it will make you want to come back again and again.
There is no visit to Marbella without exploring its whitewashed Old Town, where you can get lost in the narrow alleys or enjoy a meal with your loved one in Plaza de Los Naranjos.
For couples who love a bit of luxury, walking in Puerto Banus is a must activity. The port has some of the most luxurious clothes and jewellery shops and yachts and an excellent selection of restaurants with a view. Watching the sunset at the beach is also magical. 
The best time to visit Marbella is in late Spring or early summer to avoid the crowds, find better hotel deals and have a relaxing experience. The nearest airport to Marbella is Malaga Airport, from where you can get a bus or rent a car. 
You will love The Pearl Bed and Breakfast for a short stay, a luxury boutique hotel that offers a tranquil and romantic stay outside Marbella Old Town."
By Cristina Reina from My Little World of Travelling 
San Sebastian, Basque Country
White tropical beaches and palm trees are often envisioned when one thinks of a honeymoon. However, sometimes places you don't imminently think of will surprise you the most. One of the places to give you Spain honeymoon ideas is San Sebastian. Located in the mountainous Basque Country, this is one of the best honeymoon destinations you can find in Spain.
San Sebastian has beautiful historic buildings, crescent-shaped beaches, picturesque islands, and narrow streets that you can walk through endlessly. San Sebastian is also known for its very good restaurants where you can dine together.
In addition, you can visit Monte Igueldo, which is the highest mountain in the bay of La Concha, where you have a beautiful panoramic view over the bay of Donostia. Rent a Catamaran to explore the bay further! You can also visit the historic centre to see beautiful historic buildings and shops. In the evening, the historic centre is where to taste Pintxos and visit the different bars. If you want to go a little more luxurious, visit one of the many Michelin-starred restaurants. Complete your day with a romantic walk on the beach, enjoying a beautiful sunset that you can see from the bay.
If you are looking for a great place to stay for your Spain honeymoon, Mercure Monte Igueldo is recommended. You can enjoy a magnificent view of the sea and mountains from the terrace.
Because San Sebastian is located by the sea, it has a moderate maritime climate. As a result, the temperatures in the city are never extremely high or low. The best time to go to San Sebastian is from July to September. During this period, you have the most pleasant temperatures and the least chance of rain.
The easiest, fastest and cheapest way to visit San Sebastian is to fly to the capital of the Basque Country Bilbao, and from there take a bus or rent a car to San Sebastian.
By Alexander from Travel Your Memories 
Granada, Spain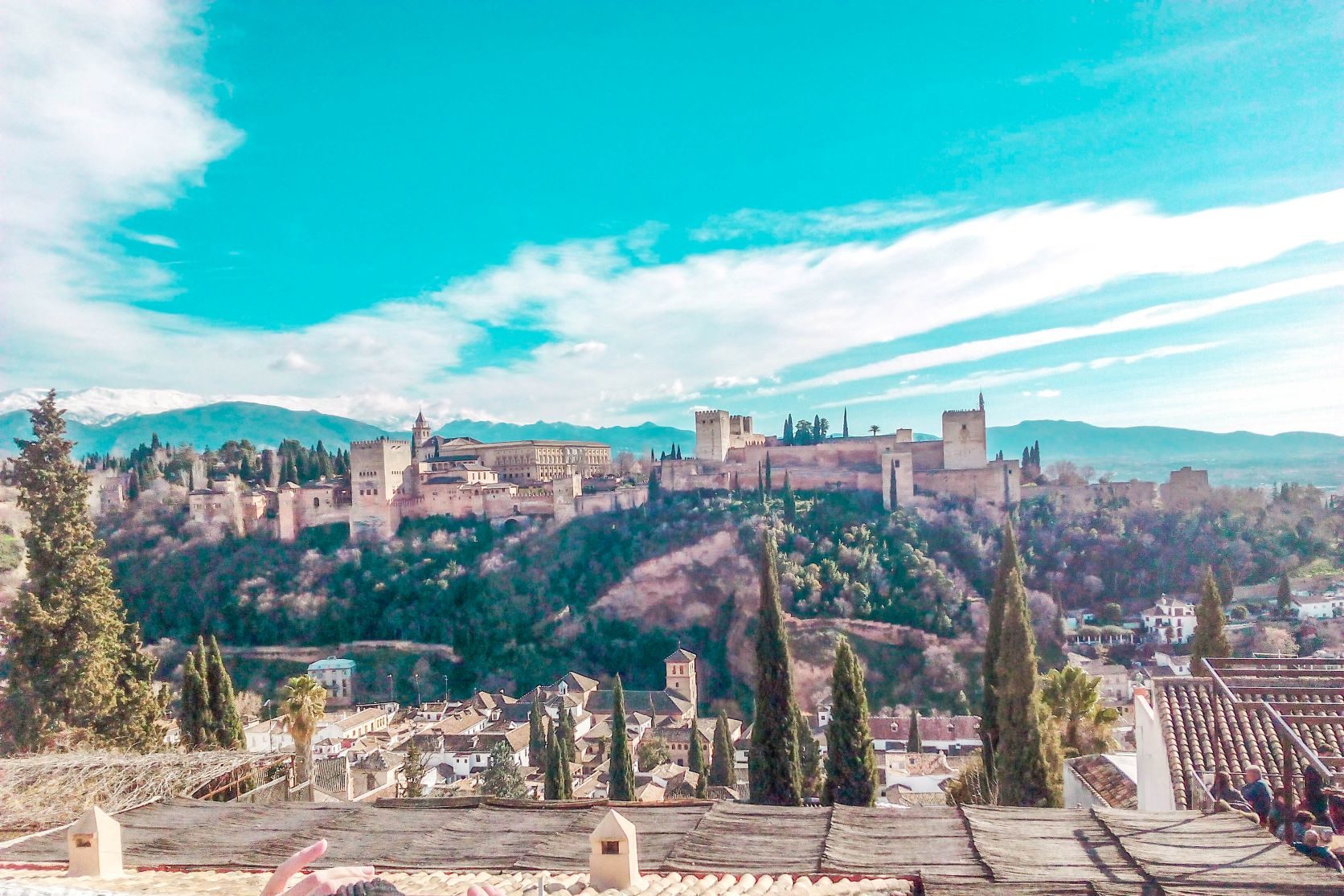 Granada is genuinely one of the most beautiful destinations in Europe and romantic places in Spain. With its picturesque downtown and extraordinary sights, Andalusia's city provides perfect mini moon ideas for lovers and couples. Trust me, after just one day in Granada, you and your partner will already be entirely captivated by this enchanting city.
During your stay in Granada, you should plan to visit the Alhambra. This impressive structure is considered one of the most important sights in Spain. You feel like you've been transported to a fairy tale from 1001 Nights when you visit. Afterwards, you should not miss the neighbouring gardens of the Generalife.
But also the city centre of Granada is perfect for a romantic walk through the narrow streets and let yourself be enchanted by the Arab-Spanish charm of Granada. For this, a walk through the Albazyn neighbourhood is incredibly worthwhile.
Moreover, Granada offers excellent food. Andalusia has a large selection of delicious dishes, especially tapas. In most restaurants, you pay only for your drink and get a delicious tapa served free of charge.
A visit to Granada for your honeymoon in Spain is especially worthwhile during Spring and Autumn. At that time, it is not too hot and not too cold. 
By Vicky Franz from Vickiviaja
Puerto de la Cruz, Tenerife 
Puerto de la Cruz is one of the best Tenerife resorts for couples and is an excellent place for a short and affordable honeymoon. 
This is one of the best places to honeymoon in Spain because you can come here at any time of the year because the weather is always pleasantly warm. Another advantage is the availability of many cheap flights from any major European city to Tenerife. While the most expensive hotels are in the island's south, Puerto de la Cruz in the north is a relatively budget-friendly place. 
Puerto de la Cruz is the oldest resort settlement on the island. Couples have plenty to do here: sunbathe on its unique black sand beaches, stroll through the city's colourful streets, sample Canarian cuisine in cafes and restaurants, and watch the ocean and magnificent sunsets. 
In addition, lovebirds can visit the Jardin Botanico, one of Spain's oldest and second-largest botanical gardens (the first being the Royal Garden in Madrid). A day in this botanical garden is a real trip to the tropics. It's nice to walk here, holding hands and inhaling the smell of tropical flowers and plants. 
Another place that will suit couples is the Lago Martianez swimming pools Complex. The total area of this aqua complex is 100 thousand m2, 33 thousand m2 is occupied by a lake with islands. Here you can spend the whole day swimming and sunbathe with your loved one.
In Puerto de la Cruz, several hotels are ideal for a short honeymoon in Spain. One such hotel is the Hotel Tigaiga, where you can stay in a room overlooking Volcano Teide or the ocean. This hotel is modern, beautiful, and immersed in tropical greenery. 
By Alejandra from Tenerife-Is.com 
Ronda
Ronda, Spain
The best of the famous pueblos blancos (white villages) of Andalusia, spectacular Ronda is the ideal honeymoon destination in Spain for people looking for a unique, manageable town with unbelievable viewpoints. Filled with Moorish homes, Christian churches and ancient architecture galore, what really sets Ronda apart is the massive, dramatic El Tajo gorge that splits the town in two.
Stunning Puente Nuevo (New Bridge) is unbelievably photogenic and serves as the main focus of the city, with visitors roaming the cliffs and valleys in search of ever more impressive angles. The ultimate place to stay on honeymoon is at the luxurious Parador Ronda, located right next to Puente Nuevo with rooms overlooking the gorge.
Ronda is also considered the birthplace of modern bullfighting, featuring the oldest and largest bullring in Spain. Ernest Hemingway famously spent a lot of time in Ronda both during and after the Spanish Civil War, becoming a major bullfighting fan and including Ronda in several of his novels.
Located deep in southern Spain, it is possible to visit Ronda any time of year, although it can get quite hot in summer (17/32C high/low) and cold in winter (4/13C in January). The best weather in Ronda is during the shoulder seasons of April-May and October-November.
Ronda is very centrally located, just 1.5-2 hours by car from Malaga, Gibraltar, Cadiz, Seville or Granada. There are also buses to all of these cities and Ronda is on the main train line between Granada and Algeciras.
From Dean and Laynni at Routinely Nomadic
Summary of the Best Places to Honeymoon in Spain
In conclusion, Spain is the perfect honeymoon destination for newlyweds. Whether you're looking at ideas within the cultural centre or searching for beautiful destinations in Southern Spain, there is something for everyone. With its stunning scenery, delicious food, and passionate culture, what are you waiting for? Start planning your Spanish honeymoon today!
If you enjoyed discovering ideas for your honeymoon in Spain, you might also like to read the following:
---
Want an amazing honeymoon without the added hassle of planning it yourself?
Do you like to travel but hate spending hours online researching holidays and trying to find the best deals? Here's why I come in. VeggTravel is an independent travel agent that does the hard work for you. I do the research, compare the prices and build the itinerary for your dream holiday, cruise, city break, or activity. Plus, my agent connections often mean exclusive offers on hotels and flights that you can't find anywhere else.
Rest assured that any holiday booked through me will give you the relevant ABTA, CILA or ATOL protection you need. Not only that, but I'll provide you with bespoke service tailored to your needs, and I'll be there every step of the way, ensuring that things go smoothly or being your single point of contact if things don't.
Ready to take your vacation to the next level? I don't charge a fee, so if you're based in the UK, drop me a mail and see what I can do for you.
---

---
Pin the Best Places to Honeymoon in Spain for Later
Sharing is caring. Please share this post on social media and if you have any feedback or questions, leave me a comment below.