Complete Malta Travel Guide For First Time Visitors
Do you ever feel wanderlust when looking at travel photos and dreaming of exotic places? Malta is an ideal destination for travellers who wish to explore the Mediterranean Sea while soaking in culture and history. Whether you're looking for sun-soaked beaches, adventure activities or a relaxed vacation spot, Malta offers something unique.
This Malta Travel Guide aims to give first-time visitors an overview of the islands' most remarkable destinations and attractions – from natural beauty spots to architectural wonders – as well as advice on accommodation, transport and activities on this beautiful Maltese island.
Malta Travel Guide | Quick Links
This post contains affiliate links which means I may earn a small commission if you choose to buy anything from them. This is at no extra cost to you and In doing so you help to keep this site running, so thank you in advance.
The History & Culture of Malta
History
The Maltese Archipelago is located in the Mediterranean Sea and has been occupied by many civilisations throughout its history. 
Malta has a rich history of defensive architecture from the turbulent times when it repeatedly had to defend its country against various invaders. One of the most influential was from 1530 when the Order of St John arrived in Malta and began a 268-year rule that saw the islands flourish.
This long and varied history can be seen in impressing fortifications and watchtowers. Notable areas for immersing yourself in Malta's history include Valletta, Mdina and Victoria.
---
Maltese Culture
Malta is a unique European destination with a mix of cultures from the Romans, Arabs, and Brits. You will notice a Middle Eastern look in the cities, whereas churches are Roman and Greek-inspired. The British influence is in the form of driving on the left side and scattering red phone booths around Valletta.
The Maltese language combines Italian and Arabic, while the food has an Italian influence. So, if you're looking for variety, you've come to the right place! During your visit to Malta, you will experience all the cultural delights the country has to offer.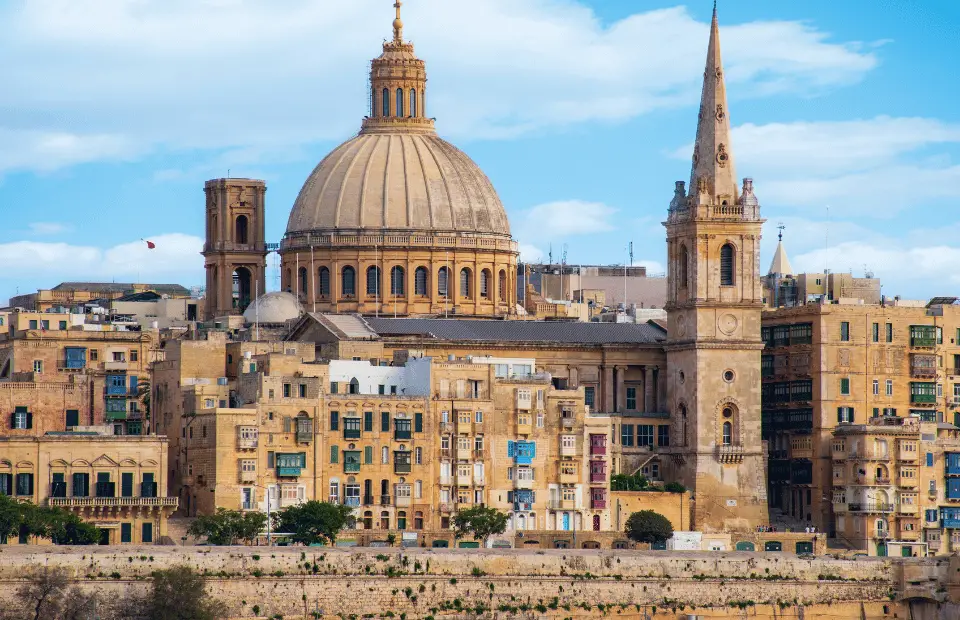 Best time to visit Malta
Unsurprisingly Summer is the best time to visit, and you can spend long days at one of the many beaches of this archipelago. However, Spring and autumn are ideal for sightseeing as the crowds will be smaller, and you won't have the Maltese heat bearing down on you.
Winter, on the other hand, offers comfortable temperatures and competitive prices. While the weather is more temperamental, with higher chances of wind and rain, you are still likely to get much better weather than at home (especially if you're from the UK). 
How long to stay in Malta 
The time you should stay in Malta depends on your interests and how quickly you want to explore the island. Generally, if all you want is to soak up the sun, one week may be enough or even a long weekend.
However, if your goal is to discover Malta's many charming villages and hidden gems, two weeks would be a better option. If you are looking for a truly immersive experience, there's no limit to how long you can stay!
Malta Tips on Travel
Getting to Malta
The Malta international airport connects Malta with many European destinations. As it isn't a large Island, driving around Malta is easy, and taxis are affordable. It is also possible to catch a ferry to Malta from other ports. 
If you haven't booked your travel yet, be sure to check out my pick of the best travel resources online for quick and easy links you will need for your trip. 
Getting Around Malta
Taxis are an affordable and common way to get around Malta. That said, Public transport is reliable and can be used with a 12-trip card for 15 euros. There are ample public bus options to travel cheaply and easily around Malta. There are over 80 public bus routes available, and the buses run from the early hours until late at night. You can find out more about the bus stops and schedule on the official Maltese transport site.
However, hiring a car is the best option if you want to take your Malta Trip at your own pace and to your itinerary. Parking is easy to find in most places along the coast, although built-up areas may be more challenging. The bonus part is that many parking bays are free; check before you leave your car or moped. Car rental also gives you more freedom and the option to pack food for your road-trip to save costs from eating out. If you are travelling with the family, plan some road trip activities for kids in advance.
Ferry services are available from Cirkewwa port to Comino and Gozo, with round-trip fares of 10 euros or less. You can also take a boat trip to the Blue Lagoon, typically including snorkelling or other added extras. 
Where to Stay in Malta
Where to stay in Malta depends on what you want to get out of your holiday. There are many popular areas to stay, and this Malta Travel Guide recommends the following: 
St Julian's & Paceville – Perfect for nightlife
If you're looking for a good choice of restaurants and bars within easy reach on foot, then St Julian's might be for you. St Julian's is a famous, modern, lively town located west of Sliema. It has the distinct features of an old seaside town contrasted with a thriving nightlife known as Paceville.
---
---
Whether you're looking for budget accommodation or a luxury 5-star resort, there are many places to stay in St Julian's. However, the closest beach, St George's Bay, is artificial and undesirable, so it isn't somewhere I'd recommend for beach lovers.
---
Locations close to the best beaches in Malta
Buġibba, Qawra and St. Paul's Bay. These three villages border each other across the Maltese coastline. Each beach is different. You have rocks at Qawra, artificial sand at Buġibba and everything at St. Paul's Bay. These are popular tourist places that are well connected to the island. You can take a catamaran tour from here to see all the stunning beaches and bays.
Mellieħa.This village is located north of the island with easy access to Mellieħa Bay, Malta's largest sandy beach. Known for its iconic castle on the top of the mountain, it is a less touristy village than other places. It is well connected with other beaches of Malta but not a place known for its nightlife, so it is excellent for a family beach holiday.
Sliema. This village is a popular tourist place, close to the capital city. However, Sliema only has rocky beaches, and the nearest sandy beaches are a fair distance away. It caters more for budget travellers due to its good public transport connections to the rest of the island.
Looking to stay away from tourist areas?
If you'd prefer to spend your weekend break in Malta away from the busy tourist areas, consider staying in Valletta, the Maltese capital. Valletta has an excellent choice of restaurants and bars and is well connected by a ferry ride and public transport.
---
---
Malta Nightlife
No travel guide to Malta is complete without mentioning the nightlife. As mentioned already, Paceville in St Julians is the place to be for any revellers. 
The city boasts a vibrant club scene, with venues like the famous Vibe Club offering a mix of house, techno, and hip-hop. In this area, you will find many of Malta's bars and nightclubs within a short walk. The nightlife isn't as crazy as you see in other European holiday destinations, but you're likely to encounter many people on a pub crawl on Friday and Saturday nights.
The city's grid system creates distinct nightlife realities, such as Republic Street with its cafes and restaurants, Merchant Street for laid-back vibes, and Straight Street for bar-hopping.
For something more relaxed, head to one of Valletta's many bars and pubs for a night of conversation and drinks.
---
Fun Things to Do in Malta
Peter's Pool 
St Peter's Pool features sparkling azure waters and is popular with tourists and locals alike. If you're adventurous, this is a must-do, as you can dive beneath the crystal clear waters. You will also see many people lounging on the flat slab of interesting rocks surrounding it. 
Spend a day in tranquil Gozo
Gozo is a tranquil island off the coast of Malta, with its capital Victoria (also known as Rabat), featuring a Citadel dating back to 1500 BC.
Grab a ferry to Gozo and spend a day touring this beautiful island. Visit one of the beautiful Gozo Beaches, or spend an afternoon trekking the coastal trails and traditional salt pans. One of the most popular routes is from Marsalforn to the Azure Window. This makes for fantastic Instagram-worthy photos. 
'Silent City' of Mdina. 
Malta's ancient walled former capital, Mdina, dates back to 4000 years and is a famous filming location for movies and TV shows such as Game of Thrones. While this post provides a Malta travel guide, leave the itinerary at home on this visit. Exploring without purpose is recommended for the best experience here, and you'll likely uncover much more. If you're pressed for time, take a two-hour walking tour to learn more about the city for 15 EUR.
Popular lunch spots in Mdina include Fontanella Tea Garden and Coogi's Restaurant, with stunning views of inland Malta.
Explore the Blue Lagoon of Comino
Comino is a small, remote island located in the Mediterranean Sea. Despite its small size, there are plenty of things to do on Comino Island!
Take a boat trip from Gozo or Malta to visit the Blue Grotto caves, explore the blue lagoon or take a trip scuba diving around the isle of Comino. If you have the time, you can also go hiking the breathtaking trails or spot rare species of birds. 
St Julian's and Spinola Bay
St Julian's is a popular tourist destination in Malta, known for its Spinola Bay. It is best to come here at dusk to enjoy beautiful views and delicious food with friendly service at the Italian restaurant Piccolo Padre.
St John's Co-Cathedral
Visit St. John's Co-Cathedral to see its stunning Baroque architecture and artworks by Caravaggio to soak up the city's historical influence. 
Popeye Village 
Spend an afternoon at Popeye Village, a movie set from the 1980 film Popeye that has been turned into a tourist attraction.
Valletta
Valletta, the capital city, was built by the Knights of St John and is now a hub for contemporary design and architecture.
Valletta is now a hub for contemporary design and architecture following its stint as the European Capital of Culture in 2018.
Malta Travel Guide in Summary 
-Malta is an excellent destination for travellers to explore the Mediterranean Sea and experience culture and history. The country has something for everyone, from sun-soaked beaches to adventure activities. This Malta travel guide provides an overview of attractions, activities and advice for accommodation, and I hope it has helped you to plan your trip. 
If you enjoyed this you might also like to read:
---
Want the enjoyment of travel without the time and stress of booking it yourself?
Do you like to travel but hate spending hours online researching holidays and trying to find the best deals? Here's why I come in. VeggTravel is an independent travel agent that does the hard work for you. I do the research, compare the prices and build the itinerary for your dream holiday, cruise, city break, or activity. Plus, my agent connections often mean exclusive offers on hotels and flights that you can't find anywhere else.
Rest assured that any holiday booked through me will give you the relevant ABTA, CILA or ATOL protection you need. Not only that, but I'll provide you with bespoke service tailored to your needs, and I'll be there every step of the way, ensuring that things go smoothly or being your single point of contact if things don't.
Ready to take your vacation to the next level? I don't charge a fee, so if you're based in the UK, drop me a mail and see what I can do for you.

---
Pin this Travel Guide to Malta for Later
Sharing is caring. Please share this post on social media and if you have any feedback or questions, leave me a comment below.