Mini Moon Ideas in Europe for Adventure Lovers
You've only gone and done it; Congratulations! The planning doesn't stop yet, although the honeymoon is one of the best parts! If you're looking for inspiration on where to celebrate your newfound nuptials, then look no further! Read on for the best mini moon ideas in Europe that cover affordability, luxury and adventure, so you start your married life with a bang. 
Mini Moon Ideas in Europe | Contents
Reykjavík, Iceland
Reykjavík is one of the best places to go for a mini moon in Europe, with its quaint, nordic aesthetic and rugged, verdant landscape. Many couples jet off to this arctic island searching for a quiet, romantic place to spend their first days as a married couple. Once you touch down, you're only a shuttle bus away from Iceland's capital, where your romantic escape can begin. You can thoroughly explore Reykjavík in a few days and even venture into the beautiful nearby Golden Circle!
You can go for a scenic walk around Tjörnin, a small lake in the heart of downtown where swans glide along the glassy surface. After a day of strolling around the town, you can rest your feet in the Kvika Footbath, a miniature geothermal pool located right off the coast in the far northwest corner of Reykjavík. Hallgrímskirkja and the Perlan are must-sees during your visit as well!
Icelandic culture doesn't shy away from sexuality or nudity. If you're looking to get in the "honey-mood" (or just an afternoon of laughs), stop by the Icelandic Phallological Museum and stroll among the various…members. While you're in the area, try a hot dog from the nationally-renowned hot dog stand, or if you want to experience local cuisine a bit more, step into one of the downtown pubs for a delicious char or lamb dish. And if you're feeling adventurous, try a nibble of hákarl (fermented shark)!
You can find popular honeymoon rooms at either the cozy Reykjavík Residence Hotel or the Hotel Borg for a more regal feel. The best time to take this mini moon break is during the summer months for Iceland's most temperate weather and the chance to witness the midnight sun – where the sun never sets – so you can spend more of your precious time exploring!
Recommended by Kaidon Nickel from Planes, Trains and Karcz
Ljubljana, Slovenia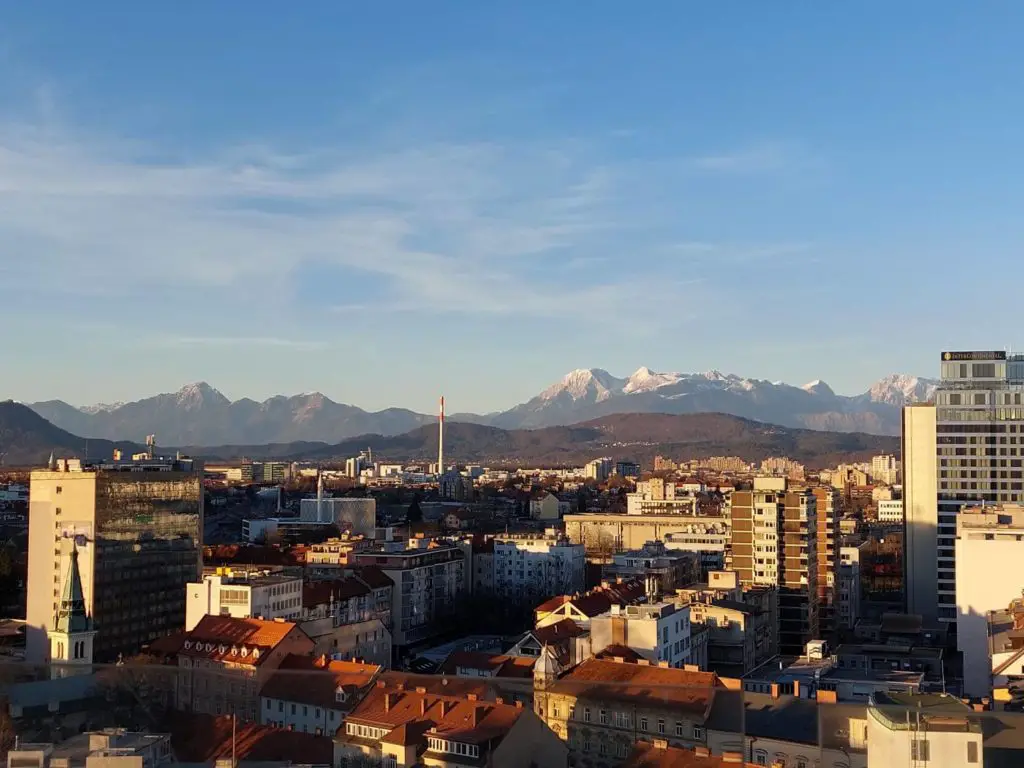 Ljubljana is one of the best mini moon breaks in Europe during December when there is Christmas spirit in the city or even better in summer when it is warm and sunny. Your visit should start in the old town. There were three squares and a castle on top of the hill in medieval times.
While the city is compact, you can do most activities on foot. So, after walking narrow and cobbled streets, you should go to the castle for great views. On the second run, you should walk by river Ljubljanica or check it from a boat ride and admire Plečnik architecture, UNESCO protected. When you have enough of the buildings, you take a walk in Tivoli park or even climb Rožnik hill. You will have many options to seat for a drink or a meal on all your paths.
Arriving at Slovenia's capital Ljubljana is possible from many cities in Central Europe by car; Zagreb (1h), Trieste (1h), Venice (2,5h), Vienna (4h), Salzburg (4h), Munich (5h), Budapest (5h), Milano (5h). You can also fly to the international airport Brnik – Jože Pučnik, less than half an hour ride.
For accommodation, I recommend an only 5-star hotel in the city, Intercontinental. You can get modest prices for this luxurious hotel with good food and great views.
By Džangir Kolar from Dr Jam Travels Blog
Tallinn, Estonia
Tallinn is the perfect European city packed full of mini moon ideas. It's extremely affordable, full of amazing sights, and there are many romantic restaurants and places to explore. 
Tallinn's old town has narrow winding streets you can stroll through with your partner and pop into small shops and cafés throughout the day. To experience how romantic Tallinn can be, consider visiting the Kohtutsa Viewing Platform at sunset.
It's important to get outside the old town and experience another side of Tallinn. Toompea Castle is a short bus ride away from the old town and is one of the best things to do in Tallinn. You can also take a romantic walk nearby Kadriorg Park. If you have an extra day, consider taking a day trip to Pärnu and exploring the popular beach destination. 
There is hardly a bad time to visit Tallinn, but the best times to visit are in July when the weather is nice or in December to experience their Christmas markets. 
Rixwell Viru Square Hotel is one of the most romantic hotels in Tallinn. It's just steps away from the old town, and you can enjoy your morning coffee with an unbeatable view. 
By Erica Riley of Travels with Erica
Warsaw, Poland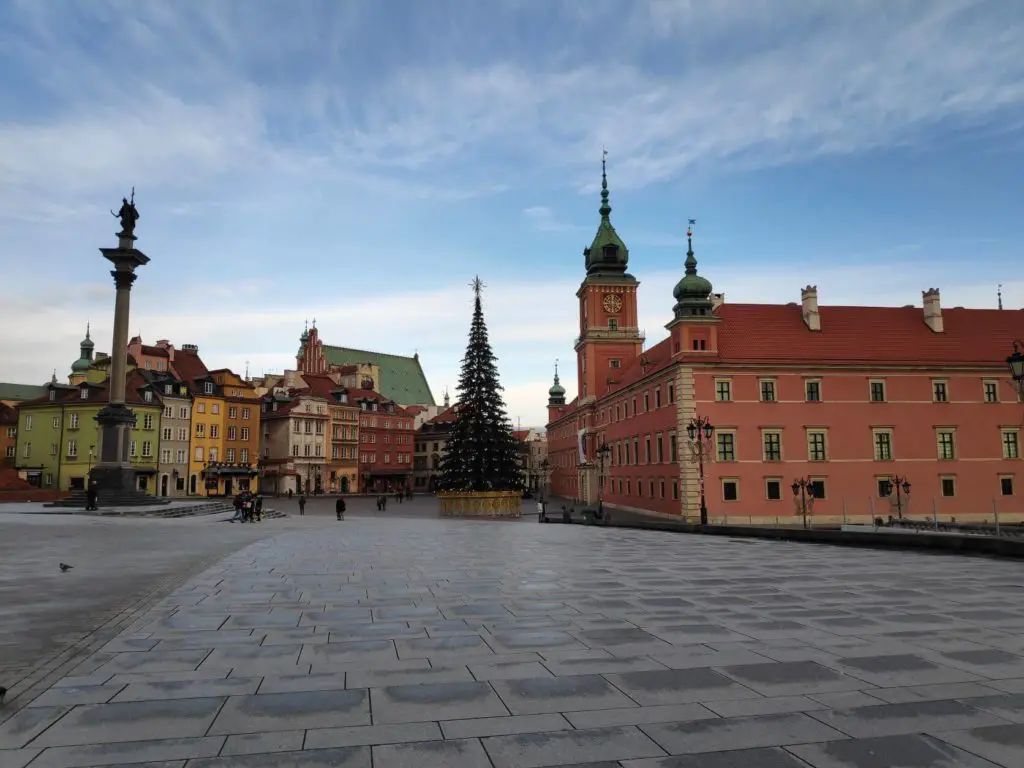 Many people look for epic mini-moon breaks to end an amazing few days. Some people splurge, and some look for a budget destination with various things for both people. Warsaw, Poland is one of the top short breaks in Europe and is a brilliant place to celebrate the start of your marriage!
If you only have a couple of days in Warsaw, then you can easily fill them with music, delicious food, royal palaces and historic sites that are Instagram worthy. You can find yourself a beautiful hotel in the Old Town where all the most beautiful squares and buildings are in the heart of Warsaw.
It is hard to believe as you wander the stunning streets that most of the Old Town had to be rebuilt after WWII. One of the best ways to see and experience the Old Town is to go on a walking tour. Your guide will show you the Barbican, Sigismund's Column, The Royal Palace (which you can tour later in your stay) and Plac Zamkowy. 
Just off Plac Zamkowy or The Royal Palace Square, you will find some brilliant shops for you to try some wonderful Polish food. There is E.Wedel's chocolate store that sells delicious hot chocolate and coffee that will warm you in the winter or iced drinks in the summer. Zapicek is a great place to sample some traditional Polish Pierogi. These little dumplings are amazing and come in both savoury and fruit flavours. Snacking on the run is easy, too, with a Zapikanka, a pizza sub that you can't get enough of!
Suppose you prefer to stay in the Warsaw City Centre, the newer part of the city. Here you will find the majority of the world-famous hotels. This area has great access to the museums such as the Warsaw Uprising Museum, The Poln Museum and the Neon Museum. 
 The Palace of Culture and Science dominates the Warsaw skyline and has wonderful views all over the city. There is also a small restaurant in the basement that serves homemade traditional Polish food known as a milk bar. 
Visiting a Palace is easy from Warsaw with a trip to The Palace of Wilanow and its stunning gardens. In winter, the palace grounds are decorated with thousands of lights and other parts of the city for the annual Warsaw Christmas Event. There are also regular Chopin concerts held at the Palace, and there are plenty of concert halls throughout the city where you can experience a show for yourself.
Poland is still an emerging holiday destination in Europe, and many people are stunned that it is one of the best places to go for a mini moon. With the Zloty's national currency, your budget stretches a little further in Poland.
By Bec from Poland Travel Expert
Dubrovnik, Croatia
Nestled on the beautiful blue waters of the Adriatic Sea in Croatia, Dubrovnik is the one of the best places to go for a mini moon in Europe. This city is full of history and culture, and its stunning architecture and beautiful scenery make it a romantic getaway.
There are plenty of things to see and do in Dubrovnik, so you'll never be bored. And, since it's not as popular as some of the other European destinations, Dubrovnik makes an affordable honeymoon destination.
This picturesque city is also walled, so you can explore the ancient fortifications and walk along the stunning coastline. It features a pedestrian-only Old Town full of charming cafes, restaurants, and shops.
Nicknamed the "Pearl of the Adriatic," Dubrovnik has been a UNESCO World Heritage Site since 1979, and it was a very popular filming location for the hit TV series Game of Thrones.
The best time to visit Dubrovnik is from April to June or September to October when the weather is a little cooler, and the crowds are smaller. In all honesty, there's isn't a bad time to visit this gorgeous city.
Getting to Dubrovnik is easy. You can fly into Dubrovnik Airport or take a ferry from one nearby island. Another option is to fly into Zagreb and take a bus to Dubrovnik.
The top thing to do in Dubrovnik is to explore the city walls. The walls date back to the 13th century and are some of the most well-preserved in Europe. You can walk along the walls or hop aboard a cable car to get an aerial view of them.
Other must-see attractions in Dubrovnik include the Clock Tower, Stradun, Franciscan Monastery, Dubrovnik's old town, St. Blaise's Church, Dubrovnik Cathedral. You can also explore the city's many beaches, such as Banje Beach and Copacabana Beach.
 A romantic place to stay is Hotel Bellevue Dubrovnik. All of the rooms have a sea view, and the rooms are luxurious and comfortable.
By Disha Smith from Disha Discovers
Cappadocia, Turkey 
It may not be the first place that comes to mind for a European honeymoon. However, the historical area of Cappadocia Turkey is still a bit of a hidden gem, and it's perfect for an affordable romantic getaway with all the comfort and scenery you need.
More than half of the world's hot air balloon trips happen in Cappadocia, and it's also famous for good food, luxurious cave hotels, and peaceful hiking trails. A great honeymoon-style hotel is the Mithra Cave Hotel, which features a buffet breakfast and a terrace with beautiful views of the surrounding villages and valleys. You can even watch the hot air balloons from the terrace!
Any month is good for a visit to Cappadocia, although Spring or fall can be especially nice since the weather is at its best. There are regular domestic flights to Cappadocia from Istanbul offered by several airlines, with very cheap fares and a flight time of only 1 hour. Overall, it's budget-friendly and easy to visit for an ideal mini-moon!
By David & Intan at The World Travel Guy
Kotor, Montenegro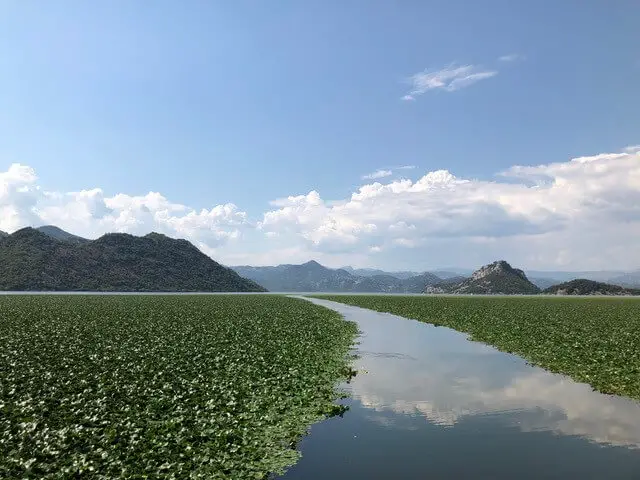 Kotor Old Town in Montenegro would be an affordable and beautiful place in Europe to celebrate a short honeymoon. It is a stunning medieval coastal town located on the Bay of Kotor. It was built between the 12th and 14th centuries with a fortified wall. In addition, it is a Unesco World Heritage Site. 
The Kotor Old Town is fairytale-like. There are winding cobblestone paths, pretty buildings, and historic monuments everywhere. You are tucked below a mountain and perched next to the Adriatic Sea. Inside the Old Town, a Pedestrian-only zone with hotels, restaurants, and stores tucked around every corner. It is small, but you can spend a few days exploring all the nooks and crannies, finding cute outdoor plazas with fantastic patios.
Summer is hot and busy with tourists, especially the cruising crowd. However, it does cool down in the evening, and the cruise ships depart, thus leaving the Old Town empty for those who stay there. Ideally, come in the late Spring and early Fall to enjoy beautiful weather and fewer crowds. 
Fly into Tivat International Airport and arrange for transport to Kotor, only 8 km away. However, it is a mountainous country with often only one-lane roads. Depending on the year you arrive, the 8 km distance could take longer than expected. 
Other than exploring Kotor Old Town, take a boat to visit Our Lady of the Rocks, an artificial island created around 1452, and its church. Then, boat to Perast and explore the small, pretty, medieval town. Take a day trip to the stunning Lake Skadar National Park for more adventure. Spend the day on a boat gliding through thousands of lily pads by islands and strips of land below towering mountains. 
For a well-priced boutique hotel in Kotor Old Town, consider the Hotel Vardar. It is placed in the action centre with a fantastic patio to have cocktails and people watch. However, retreat deep into the hotel for a large, quiet, and comfortable room when you have had enough.
By Nicole from Go Far Grow Close
Budapest, Hungary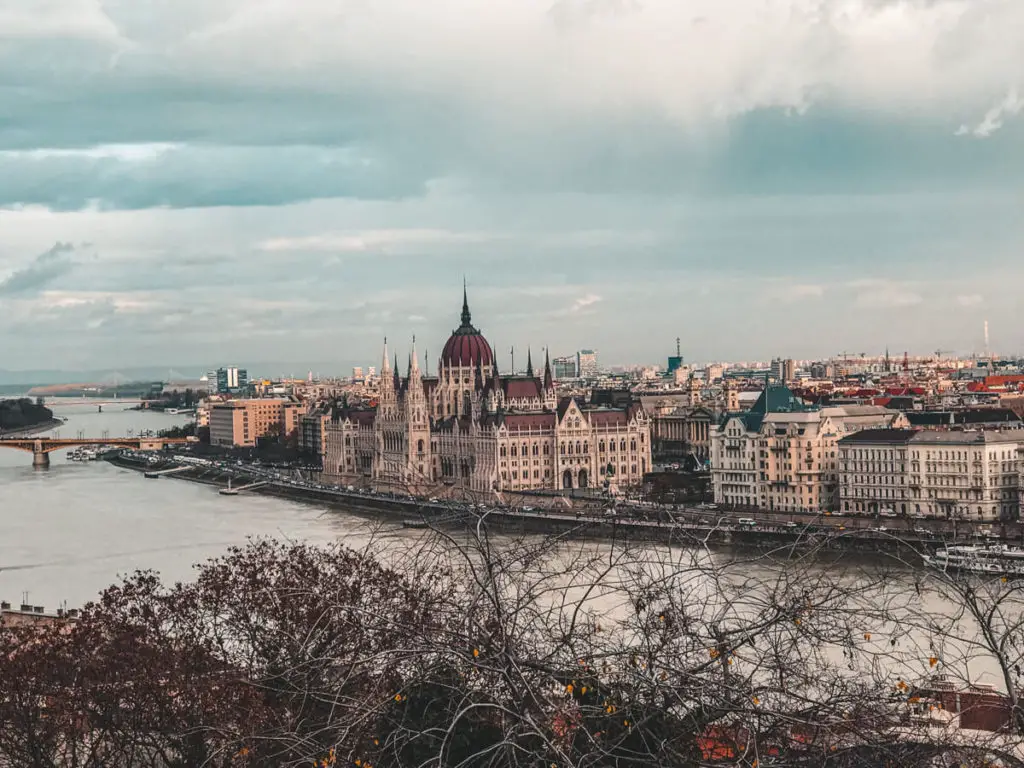 Budapest is hands-down one of the best, most affordable mini-moon destinations in Europe! 
With just four short days in Budapest, you can certainly see a lot. There are quirky ruin pubs to explore like Mazel Tov or Szimpla Kert, iconic sites like the Hungarian Parliament Building, Fisherman's Bastion, Buda Castle, City Park, and, of course,,, those amazing bathhouses. 
For a super romantic place to catch a sunset, go to Rudas Baths and sip a cocktail in the rooftop bath while you take in the sunset over the Danube. It is stunning! 
Budapest is incredibly affordable, making a mini-moon here luxurious without the high costs. You could stay in a lovely hotel like the Continental Hotel Budapest, complete with a rooftop pool, sauna, and bar/lounge and spend around $125 per night! 
The best time to visit Budapest is typically late Spring or early autumn to avoid the crazy summer crowds and beat the heat. However, visiting during the Christmas market season is also super dreamy as you stroll along with various markets, sampling Hungary's best comfort foods together. 
To get to Budapest, you can fly to the Budapest airport, or there are many trains from nearby cities like Vienna or Prague. 
Budapest is full of incredible things to see and do. And with such great prices, you cannot go wrong with romantic mini-moon ideas for this gorgeous city. 
By Kat Weiss Butler from World Wide Honeymoon
Ambroise, France 
Amboise, nestled in France's Loire Valley, is the perfect choice for mini-moon ideas in Europe. It is only a two and a half-hour drive southwest of Paris, and it's an excellent destination for a long weekend romantic escape. Local wines, picturesque villages, gorgeous landscapes, and fabulous châteaux – the Loire Valley has it all!
A big benefit of staying in a smaller town is getting much more value for your money. Enjoy an upscale room at Amboise's first five-star hotel, Hôtel Le Manoir Les Minimes – for a lot less than a five-star hotel in Paris. This beautiful hotel sits on the banks of the Loire River and boasts amazing views of the adjacent Château Royal d'Amboise. 
There are many great things to do in Amboise during your stay. Sample some local vintages and take a wine tour visiting regional vineyards. Take a romantic stroll hand in hand along the banks of the Loire. Visit the local markets and enjoy a picnic in a quiet park for two.  
Spend a day exploring nearby châteaux: Château du Clos Lucé, home to Leonardo da Vinci; Château de Villandry with its spectacular gardens; or Château de Chambord for its fabulous French Renaissance architecture.
Are you looking to splash out on your mini-moon? Splurge on an amazing experience and create memories that will last you a lifetime. Take a hot-air balloon ride over châteaux – the panoramic views of the châteaux and their gardens are breathtakingly beautiful, as seen from the balloon's gondola.  
The best time to visit the Loire Valley is from April through October. July and August are the busiest months due to the French summer holidays, so aim for the shoulder months if you're looking to avoid the crowds.  
By Lisa of Waves and Cobblestones
Paris, France
One of the best cities in Europe for affordable mini moon ideas is the city of Paris. Paris is a very romantic destination because of the city's sights and atmosphere. For example, it is very romantic to see the Eiffel Tower with your partner. Besides that, it is great to see the area of Montmartre and go for a stroll there.
Also, the city has lots of cafes and restaurants that are perfect for a romantic date. Some other date ideas in Paris include doing a dinner cruise on the Seine River, seeing an opera at Palais Garnier, and trying macarons together.
The best time to visit Paris for a honeymoon is Spring. That's because there are beautiful cherry blossoms then. Also, the hotels are more affordable during this time of the year. Getting to Paris is easy to do as there are two airports and good international train connections. Furthermore, a good hotel for a honeymoon is Pullman Paris Tour Eiffel.
By Dymphe from Dymabroad
Edinburgh, Scotland
If you want affordable mini moon ideas in Europe, go to Scotland! The capital city, Edinburgh, is a hill-filled beautiful city with plenty to see. Edinburgh has a rich history entwined with the grace of Mother Nature to make it one of the best honeymoon destinations in the UK.
You can fly into Edinburgh directly or travel by bus or train from London. Edinburgh is often overlooked for London, making it less crowded and affordable. No matter what time of the year you visit, chances are a festival is happening. Edinburgh is a leading festival city globally – from music to history festivals, you're bound to find something you love. 
You can find most of the city's highlights in the heart of the city. There are so many things to do on the Royal Mile, making it the perfect place to start exploring. You can walk from Edinburgh Castle at the top, past various historical spots and museums, down to the Palace of Holyroodhouse. 
If you need a break from the city hustle, a romantic picnic in Prices Street Garden or a stroll in the Royal Botanic Gardens are idyllic. Be sure to catch a stunning sunset at Calton Hill.
For a truly Scottish-royalty experience, stay at The Witchery. It's near Edinburgh Castle and a great place to explore the Royal Mile from.
By Pamela from The Directionally Challenged Traveler
Bruges, Belgium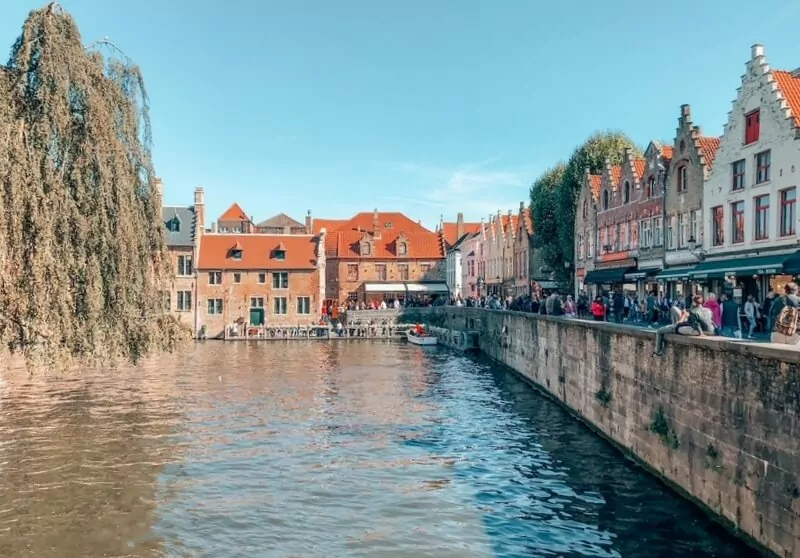 Bruges is a small city in northwest Belgium, and it's one of the most beautiful cities in the country. It's famous for its canals and medieval architecture, and it's a popular tourist destination. 
There's a lot to see and do in Bruges, from visiting museums to exploring the city's winding streets. And if you're looking for a little bit of romance, Bruges is a must add to your Belgium itinerary as it is packed full of mini-moon ideas.
Something about Bruges' old-world charm will make you fall in love with it. One popular activity is to take a romantic boat ride on the canals. There are also plenty of charming restaurants and cafes to enjoy and beautiful churches and museums. 
And of course, no visit to Bruges would be complete without a visit to the infamous Market Square. Bruges is also a great place for shopping. There are plenty of charming boutiques and souvenir shops to explore. And, if you're looking for something a bit more high-end, the city has no shortage of luxury stores.
The best time to visit Bruges is when hotel rates are not super high or crowded in the fall season. A nice accommodation recommendation is Die Swaene Hotel, with nice views and stunning suites. It is possible to score a room here under $150 for two during the off-season! Bruges is sure to provide a romantic and charming getaway for couples. It is the perfect place to spend a romantic weekend with your partner. 
By Mayuri from ToSomePlaceNew
Venice, Italy
It is no secret that Venice is one of the most beautiful cities globally. A mini honeymoon in this city of romance and canals is the perfect way to celebrate your new marriage. However, when is the best time to visit?
 The high season in Venice is from April to October, when the weather is warm, and the city is bustling with tourists. If you are looking for a quieter, more romantic experience, visit during the low season from November to March. However, keep in mind that the weather can be colder and there will be fewer tourists. 
 There are a few different ways to get to Venice, Italy. The first way is to fly into Venice Marco Polo Airport. The airport is about 15km from Venice. Many flights go into Venice. Once you land in Venice, you can take a bus, taxi, boat, or train into the city. The second way to get to Venice is to fly into Milan and take a train to Venice. The train station in Milan is Milano Centrale, and it is about a two-hour train ride to Venice. Many trains go from Milan to Venice every day. 
There are so many things to do in Venice, Italy, and it can be hard to know where to start. The city is a labyrinth of narrow streets and canals, so the best way to explore is on foot or by Vaporetto (water bus). Start with St. Mark's Square, the heart of Venice. Here you'll find the Basilica of St. Mark, the Doge's Palace and the Campanile (bell tower).
Take a stroll down the Grand Canal, lined with Venetian palaces, and stop for a gelato at one of the many cafes. If you're feeling adventurous, wander through the maze of streets in Venice's old city and discover hidden gems like bridges and gardens. Whatever you do, don't leave without tasting the local cuisine.
We will recommend Hotel Concordia for its location and romantic view if you think of where to stay!
By Don from themoneysavingdaddy.com 
Val d'Orcia, Italy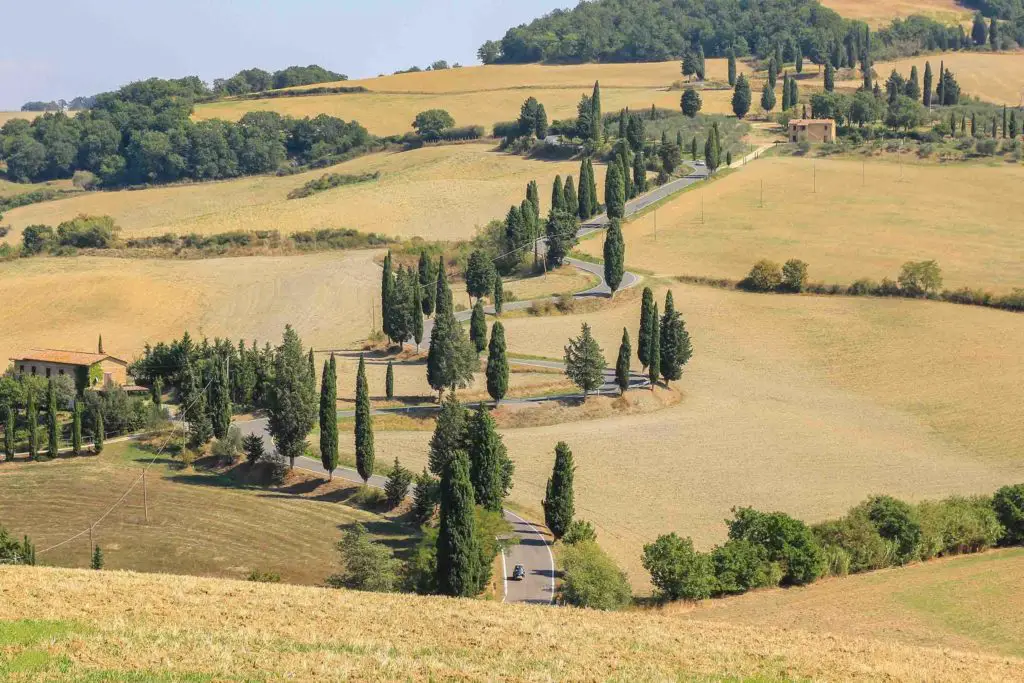 The charming Val d'Orcia in Italy is a real insider's tip for a short honeymoon. This picturesque region is located in the heart of Tuscany, and connoisseurs count this area among the most romantic landscapes in the country. Here you will enjoy the Tuscany you see on all those postcards! 
Especially beautiful are the endless hilly landscapes, the breathtaking viewpoints along the panoramic roads and the typical cypress avenues, all of which create a true postcard panorama. During a honeymoon, you will also be amazed by the numerous small, charming villages in Renaissance style, where you can stroll through medieval alleys and get to know Tuscany from one of its most romantic sides. 
Fantastic are also the many good restaurants, fine wines and fabulous hotels that make a trip an unforgettable experience. But also the sunsets in the evening, when the sky turns pink and makes the Val d'Orcia shine, are spectacular!
The entire Val d'Orcia region, with its many medieval towns and unique landscape, has been on the UNESCO World Heritage List since 2004. On a honeymoon, you should also visit the small town of Pienza, which is considered the cradle of the Renaissance. 
Val d'Orcia, you can find numerous fabulous options for a perfect mini-moon! For example, Agriturismo II Macchione is wonderful with a lovely pool and delicious breakfast.
By PlacesofJuma
Faro, Portugal
Faro is among the widely known places for its beauty, situated in the famous Algarve region. The city's culture and beauty make it the perfect destination for couples looking for mini moon ideas in Europe. If you are visiting Faro with your better half, the best time to visit there is during Spring and summer. The city offers a calm and peaceful atmosphere for couples. Additionally, it is also easy to reach there. Faro airport connects to various places worldwide, including the UK, Europe, Ireland, and Canada. You can take a flight to Faro airport and rent a taxi to reach your destination. 
Faro offers a bunch of things for couples to enjoy. You can enjoy walking around the historic Old Quarter surrounded by medieval walls. The historic centre also offers views of Ria Formosa. Following the exploration, you can stroll around the narrow cobbled streets of Faro with your partner. There are many inviting cafes and shops that you and your partner would love to visit. Do not miss out to witness buildings dating back to the 13th century. 
 You can book a beautiful Airbnb in Algarve like Dunas Douradas for a peaceful and private stay with your partner.  
By Paulina from Paula on the Road 
Algarve, Portugal
A lovely place to go for a mini-moon in Europe is the enchanting town of Tavira on Portugal's eastern Algarve coast. There are plenty of romantic things to do in Tavira, from wandering hand in hand through the cobblestoned streets in the fisherman's quarter to enjoying a nice local meal at one of the outdoor tables.
Worth seeing are the Tavira Castle remains and gardens, the Camara Obscura, where you can see the town from a different perspective, and the Roman Bridge that connects Tavira's two sides of the Gilao river. Head into nature once you have discovered everything that hides around the corners of the traditional whitewashed tiled houses.
Tavira is one of Algarve's gateways to Ria Formosa Natural Park, a wasteland of saltwater rivers, salt marshes, dunes, and a wide variety of birdlife. Take the boat to Tavira island, where you can laze at the long, wild beaches and have a nice lunch at one of the old fisherman's shacks turned into restaurants.
There is one spot on the island connected to the mainland with a footbridge. You can take a mini-train 1.3 kilometres to Barril Beach, where you will be met with Algarve's most quirky attraction, an anchor cemetery. Rusty, old anchors, line the dunes in front of the beach and are a reminder of the once flourishing tuna fishing industry that was so important for Tavira's economy before it ceased.
For a romantic stay, check-in at the Tavira Home. Rooms are comfortable, and there is a beautiful rooftop terrace for relaxing.
By Linn Haglund of Amused by Algarve
Paphos, Cyprus
Paphos, the capital of Cyprus, is one of the warmest cities in Europe, even in winter, making it perfect for a mini-moon idea, especially for couples.
The sea here is quite calm and the waters pleasant for most of the year. There are also numerous resorts to suit all budgets that help make a mini-moon accessible and pocket-friendly for all types of travellers. 
Paphos in Cyprus is great to visit all year round. However, it can get a little chilly, and summers can get quite hot, so it's best to get appropriate clothing for the evenings. The easiest way to get here is to fly to Paphos airport as it is well connected to most airports worldwide.
There's lots one can do here like visit Aphrodite's rock, archaeological sites like the Tombs of the Kings, enjoy traditional Cyprus food and explore the beaches. Elysium hotel is a good resort for couples with many amenities!
By Lavina Dsouza from Continent Hop 
Summary of the best Mini Moon Ideas in Europe
You've discovered some of the best mini moon ideas in Europe. From affordable honeymoon destinations to more luxurious locations that will make your friends and family green with envy. Whether you decide to go off the beaten track or celebrate your married life in a popular city, there are many beautiful places to consider. There are so many ideas that you should save this post, so you have inspiration for your future anniversaries. 
If you're still hungry for travel ideas, you might want to read the following posts:
Pin The Best Mini Moon Ideas in Europe for Later
Sharing is caring so please pin this post or share on social media so more people can be inspired. If you like what you see, please also subscribe and grab your free travel planner.
---