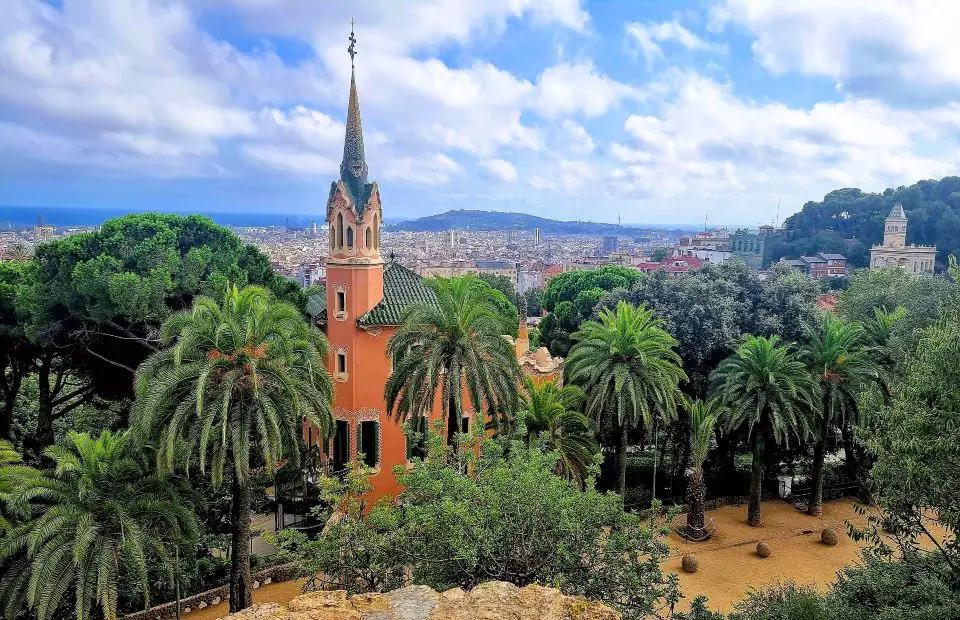 10 of the Most Romantic Things to Do in Barcelona
Barcelona, the Catalan Capital, has become a popular tourist destination over the past few years. However, it's not just because of its beautiful beaches, fantastic architecture, and delicious food; it's because it is a romantic city. In fact, there are tons of romantic things to do in Barcelona.
Barcelona is a city full of culture, history, and romance. So whether you're looking for something fun to do with your significant other or something special to do with your family, there's always something unique to experience in Barcelona.
Read on for a list of 10 great places to visit in Barcelona that will make any trip memorable.
---
This post contains affiliate links which means I may earn a small commission if you choose to buy anything from them. This is at no extra cost to you and In doing so you help to keep this site running, so thank you in advance.
Getting around Barcelona
Before we get started, let's talk about transport. Barcelona has easy-to-use public transport, but if you're only visiting for a weekend or short trip, I recommend getting a Barcelona Bus Turistic Pass so you can easily get to each of these areas and all other key points of interest. I have provided the nearest tourist bus stop for each romantic things to do in Barcelona for your convenience.
If you'd prefer to make your own way around Barcelona, then consider a Hola Barcelona Travel Card. This travel card provides unlimited use of the cities transport network, including metro, bus and tram.
A Go City Pass also lets you get tickets in advance at cheaper rates than on the gate. You can select which attractions you want, as well as get broader cards that cover most major attractions.
Top 10 Romantic Things to do in Barcelona
1) Marvel at the Magic Fountains
Nothing screams romance more than walking arm in arm and watching the magnificent magic fountain show. Imagine bright lights, music and a spectacular water display that will surely mesmerise you.
Known locally as the Font Magica, the magic fountain show in Barcelona runs every night from 9 pm – 10 pm on Avinguda de la Reina Maria Cristina. When the show finishes, take a lovely walk along the promenade, following the mini fountains guiding your way.
How to get there: Pobel Sec station is a 7 minute walk away from the fountains.
Closest Barcelona Bus Turistic stop: Pobel Espanol on the red route.
2) Explore Parc Guell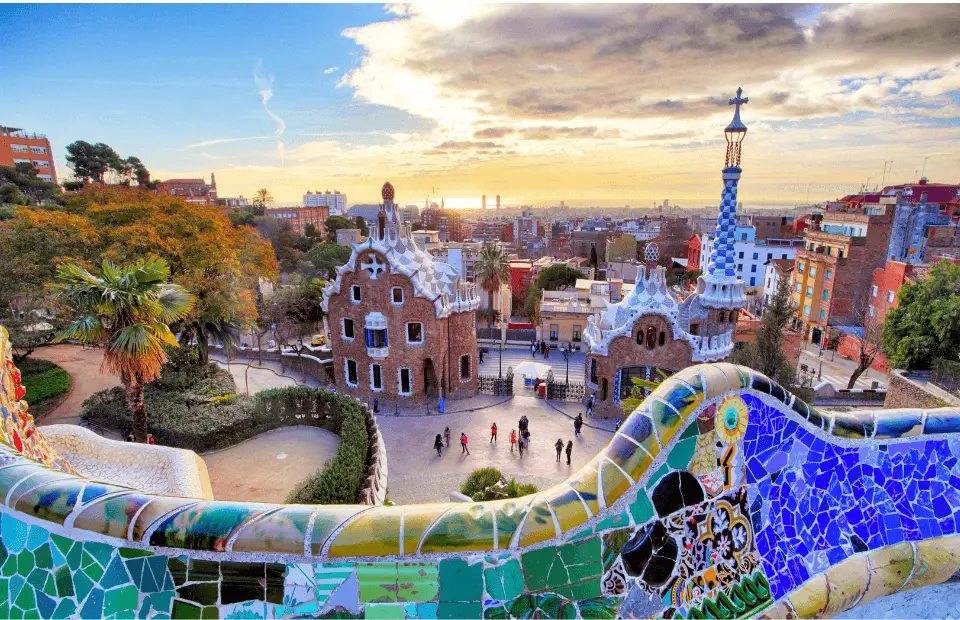 One of the most affordable but romantic things to do in Barcelona is to visit Parc Guell. For a small admission, you have the whole park at your disposal. Stroll around the 17 hectares of stunning gardens and enjoy the panoramic views from the stone balconies. Marvel at the colourful mosaic by the legendary Antoni Gaudí that wraps around the intricate benches and unique towers and admire the city views. 
If the scenery isn't enough, Park Guell provides inspirational architecture to discover. One of the most eye-catching and notable structures is Gaudi's home. While you can admire the beauty of its coral walls and gardens from the outside, you can pay a small admission to see how he lived inside.
How to get there: The easiest way is by bus no H6 or D40 to the Travessera de Dalt bus stop. Expect a 10 minute walk uphill to get to Park Guell
Park Güell Admission Price: 10 Euro + additional costs for entrance into Gaudi House
Opening Hours: 09:30 – 19:30
Closest Barcelona Bus Turistic stop: Park Guell – blue route.
---
3) Grab tapas at a romantic restaurant on La Rambla
It is no secret that Spanish Tapas is a delicious dish and many places in Barcelona also offer Vegetarian or Vegan options. While you can find Tapas bars all over the city, one of the best places to try them is on the infamous La Rambla strip.
Whether you visit during the day or the evening, this long road provides shops, stalls, restaurants, bars and plenty of street entertainment. Grab a great spot on an outdoor terrace to enjoy the vibrant atmosphere, or take a detour down one of the sideroads for a more intimate dining experience.
How to get there: L3 Metro to Liceu station.
Closest Barcelona Bus Turistic stop: Placa de Catalalunya – red or blue route
Opening hours: Most restaurants on La Rambla close or stop serving food at 11pm. If it is the weekend, you may find a few that open longer.
4) Catch some rays at Barceloneta Beach
If golden sands and blue waters tickle you're fancy, then enjoy some romantic time on Barceloneta Beach.
Stroll hand-in-hand along the 1100m long beach, feeling the sand in your toes. Sun loungers are available to rent, but many people soak up the sun with their towels on the sand.
Had enough time on the beach? Don't worry; you're in an upmarket part of the city with many luxurious hotels and restaurants nearby where you can grab lunch or explore.
How to get there: Barceloneta stop on the metro or bus L19
Closest Barcelona Bus Turistic stop: Port Olympic Zoo on the red route
5) Explore Ciutadella park
The Parc de la Ciutadella is another beautiful location with stunning gardens that will surely add a touch of romance to your day. Once Barcelona's only green space, the Citadel Park now houses the Parliament of Catalonia, the Barcelona Zoo and the Museu d'Art Modern.
Additionally, eye-catching statues throughout the grounds will provide great talking points on your romantic walk through the beautiful green oasis. From a loving boat trip along the lake or a picnic on the lush green grass, the park is one of the most romantic things to do in Barcelona. 
How to get there. Take the metro to Ciutadella-Vila Olímpica, on L4.
Closest Barcelona Bus Turistic stop: Port Olympic-Zoo
Admission: Free entry to the park. The boat hire is 6 euros.
Opening hours: 10 am until sunset
6) Erotic Museum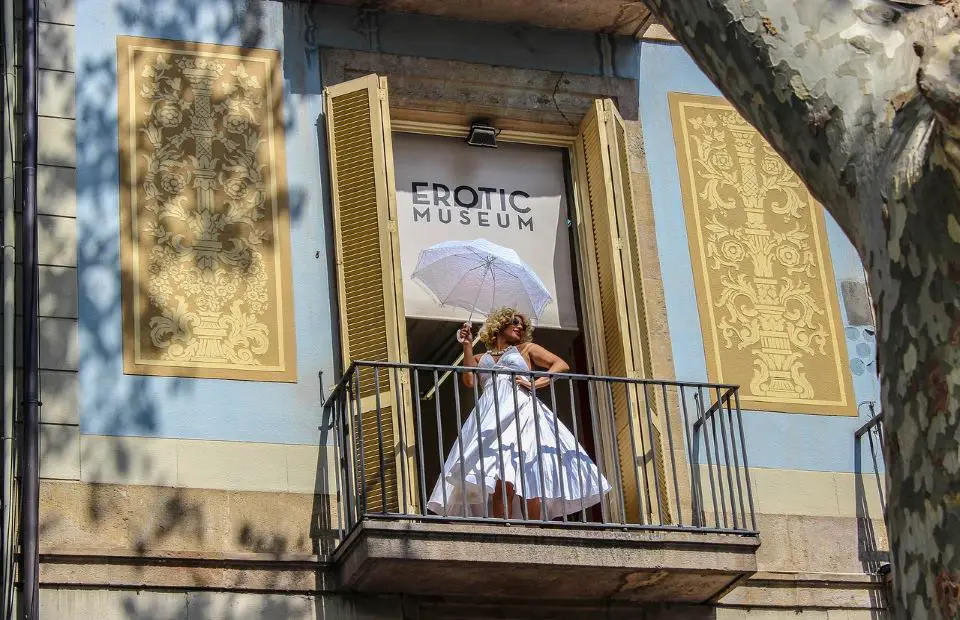 Whether this is one of the most romantic things to do in Barcelona or just a bit of fun, a visit to the erotic museum will give you something to talk about. From historical insights to quirky photo opportunities, If you're looking for an experience that is both unique and fun for couples, then here you have it.
When you're done smiling, laughing and maybe even flirting, there is a gift shop at the end with a selection of things to enhance your evening, if you get my drift.
Admission: 10 euro: Get your tickets in advance to receive a free gift.
Opening Hours: Mon-Fri 12:00 to 23:00, Sat-Sun 10:00 to 23:00
How to get there: Located on La Rambla, 96 Bis; Metro L3 to station Liceu
Closest Barcelona Bus Turistic stop: Colum-Museu Marartim on the red route.
---
7) Take a romantic stroll through Barrio Gótico
If you're looking for a romantic vibe, nothing beats a walk through the stunningly beautiful Gothic Quarter—picture narrow cobbled streets lining charming buildings that tell the tales of the old Roman rule.
You may visit in the day for the specialist stalls and artisan shops and be so enticed that you will return in the evening when the bars, nightclubs and restaurants start to get lively. Treat yourselves to a glass of cava in one of the most romantic spots in Barcelona.
Where is it: The neighbourhood stretches from the start and end of La Rambla to C/de Pau Claris.
Closest Barcelona Bus Turistic stop: Placa de Catalunya or Colom-museu Maratim on the red route
---
8) Visit the Museu Picasso. 
Are you a couple who enjoys art and culture? If so, Museu Picasso can spark many deep and interesting conversations that stimulate the mind. 
This world-famous museum is full of beautiful artworks by the world's most famous artists. It's a great place to visit if you're looking to experience some of the best art in Barcelona. 
Entrance: Guided tours start from 12.50 euros and are available In various languages and at different times. 
If you're in Barcelona on Thursdays or the first Sunday of the month, you can bag free admission online. However, tickets are limited, so book as far as possible.
Getting there: c/ Montcada, 15-23 – 08003 Barcelona. Take the Metro L4 Jaume I and L1 Arc de Triom
Closest Barcelona Bus Turistic stop: Museu d'Historia de Catalunya on the red route.
Opening hours: 10:00 – 19:00 each day except Monday when the museum is closed.
9) Explore Passeig de Gracia
Take a loving evening stroll with your partner down Passeig de Garcia. As a primary avenue in Barcelona, the evening is quieter than the day and beautifully lit up, creating a wonderfully romantic backdrop. Several notable pieces of architecture include the iconic Casa Amatller, Casa Batllo, and Casa Mila. These buildings are striking from the outside but even more breathtaking on the inside. 
Ticket costs can soon mount up, so consider a combi ticket bundle to see many Barcelona attractions at a reduced price. 
How to get there: Passeig de Garcia station on the yellow or purple train line, or L3 on the metro.
Opening hours: opening hours vary depending on what you're visiting, however typical hours are from 10:00 to 20:00 for the museums, landmarks and shops.
Closest Barcelona Bus Turistic stop: PG D-Gracia on the blue route or La Pedrera on the red route.
10) Get lost in Parc del Laberint d'Horta
Parc del Laberint d'Horta is a historical garden or 'labyrinth' due to the extensive hedge maze in which couples can get lost.
The romantic gardens provide a beautiful spot to walk hand-in-hand through the flower beds and sweeping trees towards the quaint waterfall.
In contrast, the neoclassical gardens house the labyrinth of Cyprus trees, Italian-style pavilions and sculptures. Couples can spend hours in this romantic spot of the Catalonian Capital.
Opening Hours: 10 am – 8 pm (from November – March the closing time is at 6 pm).
Admission Price: 2.23 Euro, or free on Sundays and Wednesdays
How to get there: Catch the L3 Metro to Mundet station. It is then a 5 minute uphill walk towards Velòdrom d'Horta.
Closest Barcelona Bus Turistic stop: Tramvia blau-tibidago on the blue route is the closest but this is not walkable, and a taxi would be needed for the 4.5km journey.
---
Romantic things to do in Barcelona in Summary 
By now, you've discovered some of the most romantic things to do in Barcelona, and I hope you're both looking forward to your trip. First, however, if you want to turn up the butterflies, then visit during Sant Jordi, a celebration of Barcelona's patron saint held on April 23rd. Sant Jordi is Catalan's version of Valentine's day, and you'll find many stalls selling long-stemmed red roses in an ode to tradition stemming from a red rose that grew in the blood of the dragon St George had saved the princess from.
What do you think to Barcelona? I'd love to hear your questions or if you visit, you're own personal recommendations. Let me know in the comments below or check out the detailed information on the official Barcelona tourism site.
If you liked this post, you may also like:
---
---
Want the enjoyment of travel without the stress of arranging it all yourself?
Do you like to travel but hate spending hours online researching holidays and trying to find the best deals? Here's why I come in. VeggTravel is an independent travel agent that does the hard work for you. I do the research, compare the prices and build the itinerary for your dream holiday, cruise, city break, or activity. Plus, my agent connections often mean exclusive offers on hotels and flights that you can't find anywhere else.
Rest assured that any holiday booked through me will give you the relevant ABTA, CILA or ATOL protection you need. Not only that, but I'll provide you with bespoke service tailored to your needs, and I'll be there every step of the way, ensuring that things go smoothly or being your single point of contact if things don't.
Ready to take your vacation to the next level? I don't charge a fee, so if you're based in the UK, drop me a mail and see what I can do for you.
---

---
Pin Romantic Things to do in Barcelona for Later