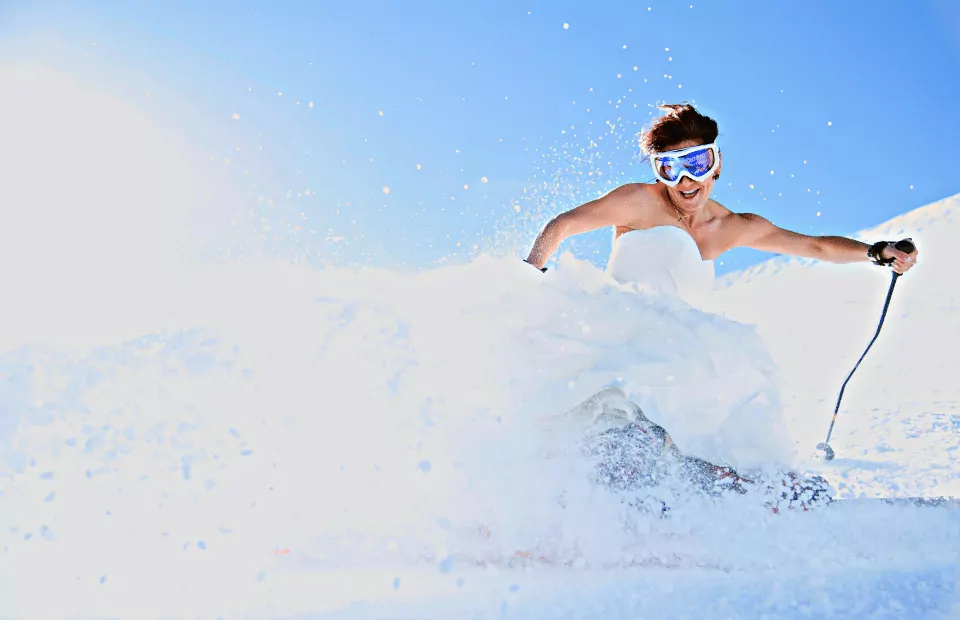 21 Best Adventure Honeymoon Destinations for Outdoorsy Couples
Firstly, congratulations on your engagement or recent wedding! One of the many things you have to look forward to is your honeymoon. But with so many amazing locations, where do you start? That's where I come in! Behold the best adventure honeymoon destinations worldwide. Whether you're looking for honeymoon destinations for outdoorsy couples or something with a balance of fun and relaxation, get your imagination flowing and plan an unforgettable vacation.
This post contains affiliate links which means I may earn a small commission if you choose to buy anything from them. This is at no extra cost to you and In doing so you help to keep this site running, so thank you in advance.
Honeymoon destinations for beach lovers
Fiji
By Corinne Vail of Grannies go Digital
Fiji. The name itself evokes romance and adventure. An island in the middle of the Pacific Ocean, it's all there for those who want to both have a lot of fun and then to be pampered. The best thing to do is find one or two hotels near the activities you are interested in doing and make sure they have a little luxury built-in. 
The number one adventurous thing to do in Fiji is swimming with sharks…with no cage! That's right! You are picked up at your hotel in a small boat, one easy to jump over the side and commune with nature.
---
---
After the sharks are located, the boat is anchored, you look down to see if you can see the sharks. There is a pretty good-sized group. Next, you jump into the water, trying to keep your eyes where all the sharks are. 
The swim lasts quite a long enough time to feel that you pushed your limits, and it's time to go back to the hotel and swim in the pool, maybe get a massage, and then eat a wonderful dinner.  
---
---
Other fun things to do in the water are jet-skiing, snorkeling, or scuba diving. On land, you can zipline or go water rafting. There are a lot of choices. Fiji is a pretty expensive place to go for airline tickets and luxury hotels, but it's one of the best adventure honeymoon destinations with luxury and relaxation built-in. 
Palawan, Philippines
Recommended by Elizabeth of Three Week Traveller
Palawan is one of the most popular destinations in the Philippines for biodiverse coral reefs and marine life and is a perfect destination to spend your 3-weeks holiday or adventure honeymoon.
Located in the southwest, Palawan is a narrow group of islands that provides a great place for water activities. You can choose from snorkeling, diving, boat hopping, fishing, or simply enjoying the sunset while sipping a fresh coconut. Travel is easy as there are plenty of direct flights from the capital city of Manila.
---
---
For snorkeling, you may want to visit El Nido and Coron. These two areas are separated by water and take about a 3.5-hour ferry ride. You will also find the most beautiful resorts in these two places. Coron is more popular for diving, and if you are not certified, you can do it here at a much more affordable price. There are also many boat tours and island hopping that you can book.
Suppose you are looking for backpacking honeymoon ideas, head South of El Nido to Port Barton. There aren't many tourists here or fancy resorts, but plenty of hotels to choose from. Without spending too much, I highly recommend you hire a boat that will have a few local crews who will prepare everything for you and take you to snorkeling spots. They will also cook a nice abundant lunch while enjoying it on a serene island.
If you are heading to El Nido, I recommend Cadlao Resort, it's not far from the city centre but still tucked away in a quiet area with a beachfront. You can enjoy the outdoor pool and in-hour restaurant. Rooms costs between $150-$300 per night. For Coron, Bacau Resort offers a serene atmosphere with fully-equipped facilities like a gym, restaurant, and outdoor pool. The Deluxe room is about $100 and the premier suit is about $150 per night
Maui, Hawaii
By Jess from, I'm Jess Traveling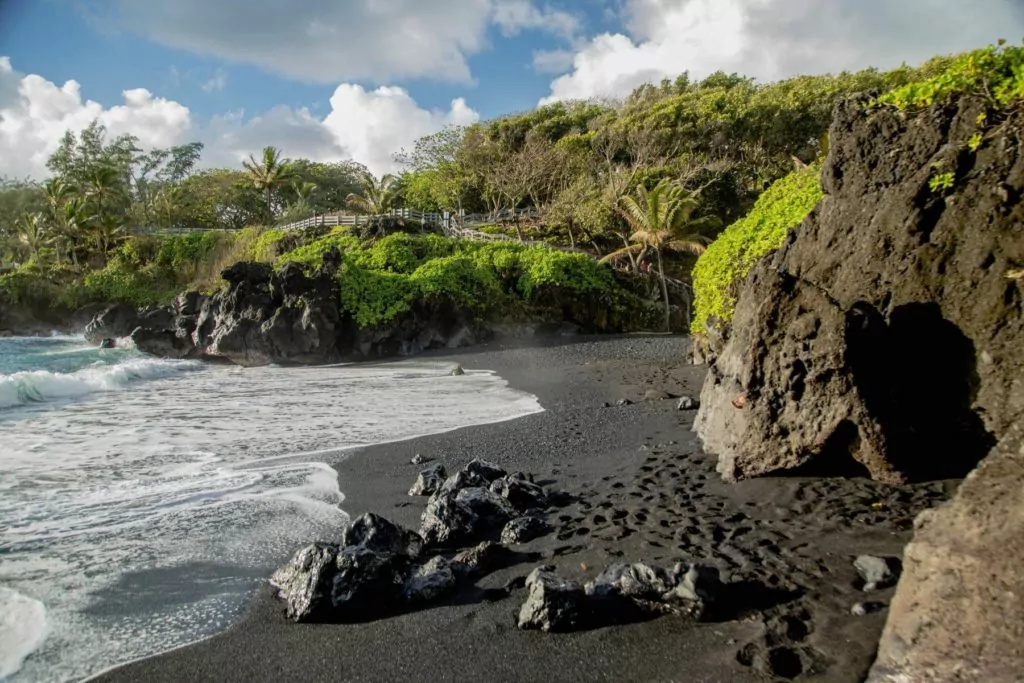 The Hawaiian Islands are one of the best adventure honeymoon destinations in the world. All the islands are wonderful to visit, but Maui takes the cake for adventure honeymoon destinations. Maui is romance, luxury, and adventure all wrapped into one, filled with secluded beaches, hidden waterfalls, and world-class resorts. 
The average honeymooner stays in Maui for a week, giving you time to explore the island, ample beach time, and a day to get pampered in the spa.
Spend your days adventuring through the rainforest, driving the iconic road to Hana, or exploring a pristine black sand beach. The best part is that all these activities only cost your time and the price of gas.  
---
---
Get romantic above the clouds as you watch the sunrise atop Haleakala, where the sun emerges from below the clouds setting fire to the crater floor. If you are visiting Maui between January and March, be sure to go on a whale watch to see the humpback whales in their natural habitat. These excursions cost anywhere from $30 to $80 per couple, which is extremely affordable for Hawaii standards.
For the ultimate romantic rendezvous, make sure to book a night or two at the secluded Hana-Maui Resort on the eastern part of the island, one of the best honeymoon resorts in Maui.
Kaua'i, Hawaii
By Emma from Go All Over The Place
There's no place quite like Kaua'i when it comes to an adventure honeymoon. From the awe-inspiring jagged cliffs of the Na Pali Coastline to the pristine sandy beaches of Po'ipu, Kaua'i's abundant natural beauty and laid-back vibe make for the perfect romantic nature escape. 
When visiting Kaua'i, it's essential to rent a car to be best able to access all the remote attractions on the island. Depending on the season and availability, car rentals can range from around $100 – $300 a day (so be sure to book early!). 
---
---
For accommodations, there are a variety of different resort and rental options. If luxurious seaside suites are more your vibe, the Grand Hyatt Hotel provides honeymoon packages starting at $1000 a night, including a variety of local activities. For those looking for more budget-friendly or private accommodations, there are plenty of worthwhile ocean view vacation rentals in the towns of Po'ipu and Princeville. 
Kaua'i is the holy grail for outdoor and nature adventures in terms of activities. You can get a bird's eye view of the island from a helicopter or sail around the coastline from a catamaran or zodiac boat. If your idea of romance involves getting down in the mud, Kaua'i ATV offers off-roading ATV tours and high-soaring zipline adventures through Kaua'i's lush tropical jungle. You can also take kayaking tours up many of the island's rivers. To top it off, Kaua'i is home to some incredible hiking trails leading to waterfalls, beaches, canyons, and more!
Puerto Escondido, Mexico
By Daria Bachmann from the Discovery Nut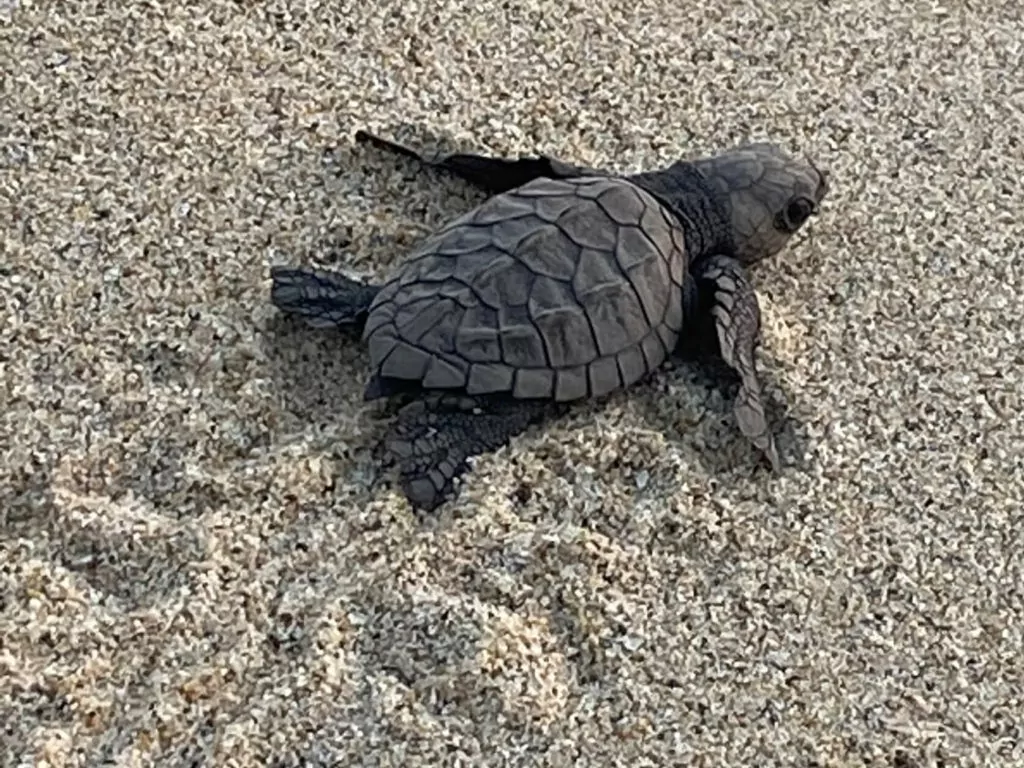 Located along the coast of Oaxaca, Puerto Escondido is a small town known for its surfing, pristine golden sand beaches, and turtle conservation projects and great honeymoon backpacking ideas.
While Puerto Escondido sits somewhat off the beaten tourist track and doesn't have swanky resorts and luxury hotels, it's been getting more popular in recent years thanks to its outdoor opportunities and mild year-round climate.
---
---
Spending an adventure honeymoon in Puerto Escondido is a great idea for those looking to spend time in nature and see a less touristy side of Mexico. For example, coastal areas of Oaxaca have many turtle conservation programs with volunteer groups patrolling local beaches and protecting nesting turtles from poaching. Visitors can learn about these efforts by paying a small fee (100-300 pesos depending on a program) and releasing one of the hundreds of newborn baby turtles into the Pacific Ocean during one of the daily events.
Other popular activities in Puerto Escondido include whale watching during winter months, snorkeling with dolphins, and swimming in the bioluminescent lagoon, all of which can be done with an organized tour. You can do most of these activities on a day or half-day tour from Puerto Escondido, so you never have to drive too far.
Casa UMI is a beautiful centrally located villa that offers close access to most things to do in Puerto Escondido.
---
You might also like to read:
Sao Tome and Principe
By Heather Cole from Conversant Traveller
Known as the 'Chocolate Islands' thanks to the abundant cacao plantations and tropical climate, Sao Tome and Principe is a romantic destination for adventurous travellers. The islands are in the Gulf of Guinea, off the coast of west Africa, so it takes a while to get there, flying via Lisbon and Ghana. However, once you land, the islands are so tiny that you'll spend your time exploring rather than travelling.
The remote location means that this tiny country is well off the beaten track, and you'll rarely bump into another tourist. Some of the luxury hotels like Bom Bom Resort and Sundy Praia Lodge are right on the beach, with infinity pools and rainforests on your doorstep. Often, the only footprints left in the sand will be yours. Expect to pay from £440 a night for higher end accommodation.
---
---
There are plenty of adventurous things to do in Sao Tome and Principe. You can go hiking and quad biking in the jungle, snorkelling or scuba diving in hidden bays, and canoeing in secret mangrove rivers. Keep your eyes peeled for whales and turtles too! For a dose of culture, head inland and discover the crumbling plantation ruins that have been taken back by the forest.
At night, head down to the beach for a romantic candlelit dinner beside the gently lapping waves, and tuck into local delicacies foraged locally from land and sea. There's no light pollution here, so finish your day with a spot of stargazing.
Mauritius
By Iris Veldwijk from Mind of a Hitchhiker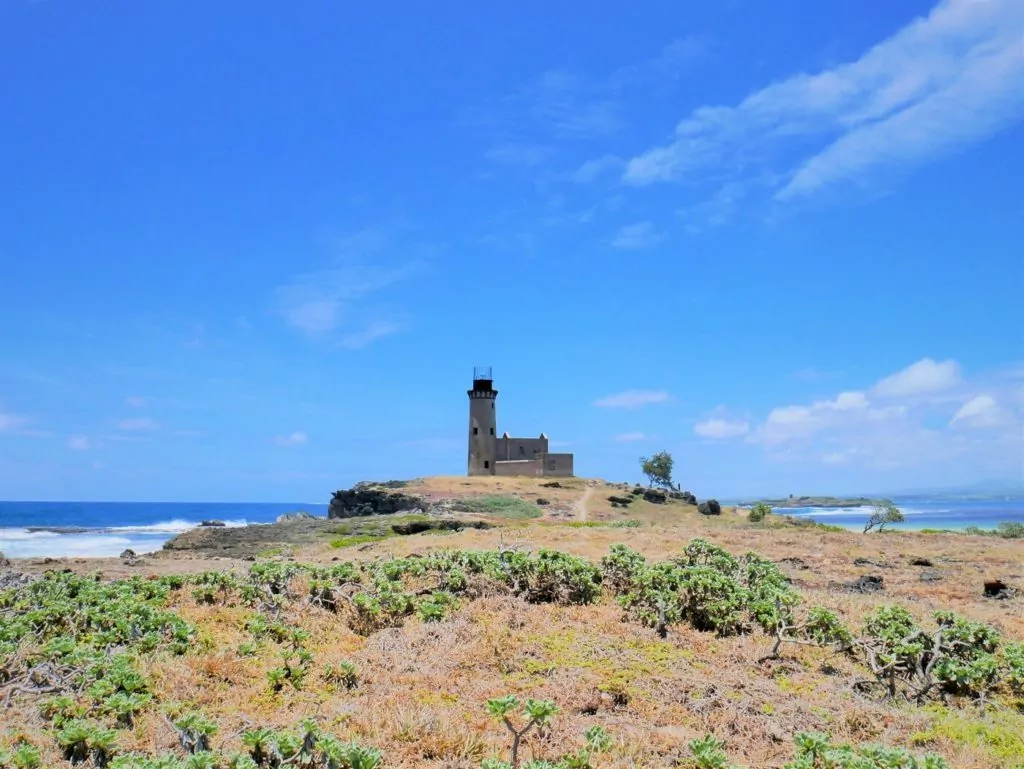 This small archipelago nation in the Indian Ocean is already on the radar of regular honeymooners who just want an all-inclusive resort. But there are plenty of adventures in Mauritius if you want to undertake activities that you and your spouse will pat each other on the back for.
Self-guided activities include hikes to the local peaks and waterfalls, mangrove kayak trips, scooter adventures, and exploring urban sites. You can also visit uninhabited islands such as Îlot Fourneau by walking through the crystal-clear lagoon water at low tide. These tours are all affordable, costing you €30 or less.
---
---
Additionally, you can pay for guided activities and visit hidden spots. For example, take a sailing class in a local boat called a pirogue, do a kayak tour upriver to a Hindu temple in Mahébourg, or make a snorkeling day trip to Île aux Fouquet's with its magnificent abandoned lighthouse.
Though it will take many classes to learn to kitesurf, there are also schools in Mauritius that will teach the two of you. The main season for kitesurfing runs from April till early December. You can also take a scenic flight on a seaplane or go paragliding. These activities cost upwards of €100.
Accommodation in a honeymoon-style resort at Le Morne will set you back upwards of €350 per night. But Mauritius is a country that you can also experience on a budget to stretch that adventure honeymoon from weeks into months with their generous visa policy and cheap vegetarian munchies.
Guadeloupe, French Antilles
By Elisa from France Bucket List
If you expect more than just romantic restaurants and sunset drinks for your honeymoon, the island of Guadeloupe won't disappoint. Guadeloupe is one of the islands parts of the French Antilles, bathed by the Atlantic Ocean and the Caribbean Sea. It is one of France's overseas departments, which means that French is the official language, EURO is the official currency, and EU citizens only need their ID card to visit.
Guadeloupe offers the perfect combination of stunning landscapes, adventurous activities, excellent rum, and delicious local cuisine with French, Indian and Creole influences. Being in the Caribbean Sea, you can also expect beautiful seaside resorts with individual bungalows, perfect for a romantic holiday or adventure honeymoon, and postcard-perfect beaches with golden sand and coconut trees.
---
---
The accommodation, meals, and activities costs are like mainland France. Public transportation in Guadeloupe is scarce, so the best way to tour the island is by car. Consider at least one week to get the most out of the island, more if you want to visit other neighboring islands (we recommend Les Saintes, famous for its stunning bay).
Adventurous couples will find a range of fun outdoor honeymoon ideas from volcano climbing to various hikes in the forest, kayak in the Sea or through the mangroves, and all sorts of water activities: snorkeling, scuba diving, or sailing on a catamaran.
---
---
Road Trip to Tofino, Canada
By Cecily from Groovy Mashed Potatoes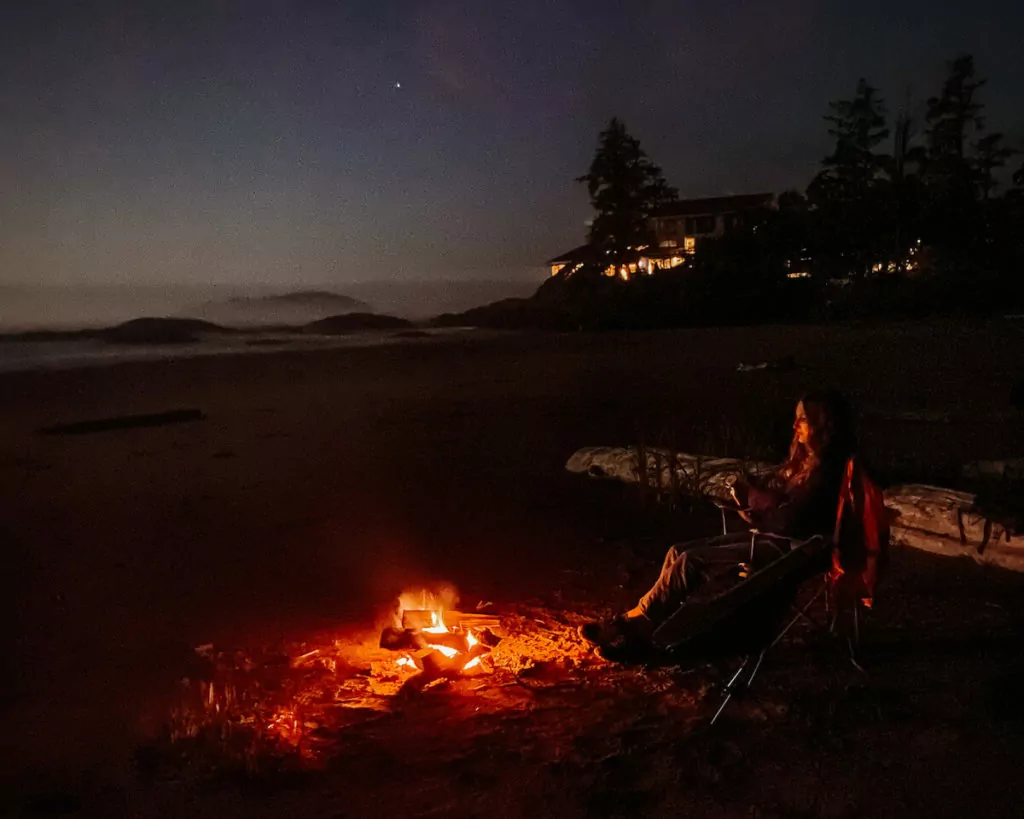 Take a scenic road trip through Vancouver Island to the wild west coast of Canada for an adventure honeymoon. Your end destination is Tofino, a free-spirited town known for its surf culture, old-growth forests, and boutique resorts overlooking the Pacific Ocean. 
From Vancouver, pick up your rental car and take the ferry from Horseshoe Bay to Departure Bay in Nanaimo. Departure Bay is a scenic 3-hour drive across mountainous Vancouver Island to Tofino. 
Stay at the luxurious Wickaninnish Inn or Pacific Sands Beach Resort for wonderful views of the Pacific Ocean from your room. Both resorts have walking access to the beach where you can surf. At Chesterman Beach, bonfires are permitted in the evening. It's magical having a campfire under the stars and hearing the waves crash in front of you. 
There are many adventurous things to do in Tofino for your honeymoon. For example, take a water taxi to Meares Island for an awe-inspiring walk among giant old-growth trees or go on a thrilling bear watching or whale watching tour. Another exciting spot to visit is Hot Springs Cove, which can only be reached by boat or floatplane. 
Tofino is certainly one of the best honeymoon destinations for outdoorsy couples. If the weather is stormy, relax in your room by the fireplace and watch the rough waves from your window. Eat Pacific-Northwest cuisine at the trendy Wolf in the Fog or enjoy fine dining at The Pointe.
Costs: budget around $500 CAD per week for car rental, $250 CAD – $350 CAD per night for a hotel (depending on the season), and $156 CAD for roundtrip ferry tickets. Save additional budget for dining and activities.
Honeymoon destinations for outdoorsy couples
If you enjoy staying active and don't mind getting a little dirty, you will love the below honeymoon destinations for outdoorsy couples. Get up close and personal with nature, whether that's climbing mountains or trekking jungles. Make your first holiday as a married couple one to remember, just don't forget to plan some relaxation time to recover.
Andalucia
by Linn Haglund of Brainy Backpackers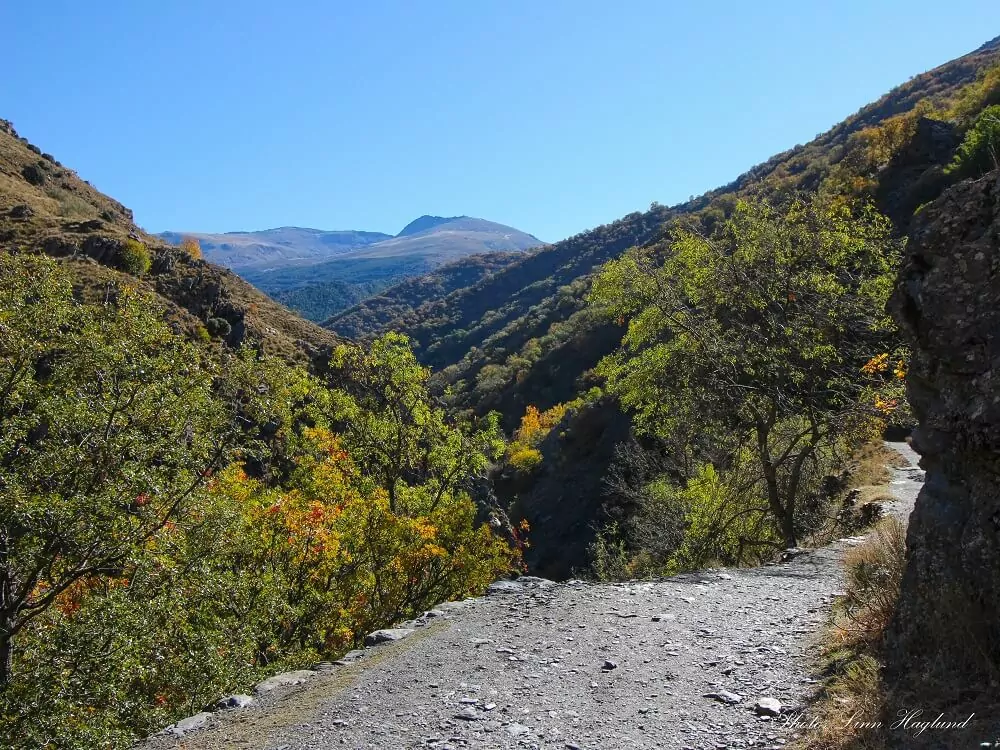 Andalucia is one of the most underrated destinations for active tourism, and it makes a wonderful honeymoon destination for outdoorsy couples. Go for an Andalucia road trip, visit the white pueblos, and have wine and tapas with mesmerizing views after active days filled with ferratas, rock climbing, or hiking. You can hike to the highest peak in the Iberian Peninsula, Mulhacen, in the summer months.
Depending on your fitness level, you can make it an easy/medium day hike, or you can go all in, bring a tent, request a permit to spend the night under the stars, and wake up to a magical sunrise before continuing your hike. It is hard to imagine anything more romantic than that for hiking enthusiasts. You can make it a strenuous 2-3 day trekking adventure covering a few of the 3000-meters peaks.
---
---
Granada or Malaga are perfect cities to base yourself on if any of the above activities are for you. Both cities give you plenty of opportunities to indulge in luxurious spa hotels with sweeping rooftop views for anything between 100 and 250 Euros a night – like Gran Hotel Miramar GL.
If you are more of a water sports couple, there are plenty of exciting adventures along the coast too.
Go whale watching and dolphin watching in Tarifa or try surfing, kitesurfing, or windsurfing in any coastal villages like Tarifa or Conil de la Frontera. Cadiz city is also a great place to base yourself for water adventures.
Suppose you want to go scuba diving or snorkeling. In that case, the area around Nerja and Maro in Malaga province is amazing with underwater caves and unique biodiversity with creatures you normally find in much deeper water.
Grand Canyon, Las Vegas
By James Ian from Parks Collecting
Consider the perfect honeymoon adventure trip in Las Vegas and the Grand Canyon. Fly into Las Vegas and spend a couple of days seeing all the crazy-themed casinos, relaxing by the pool, enjoying romantic dinners, and taking in a show. 
Then head to Grand Canyon National Park for adventure! There are so many amazing outdoor honeymoon ideas for couples to do together. For example, you can take a multi-day rafting trip down the Colorado River through the canyon, traversing numerous whitewater rapids, hiking into secret side canyons, and sleeping on sandy beaches, surrounded by the canyon walls. 
---
---
The South Rim of the national park is about four hours away. Suppose you like hiking, head down either the Bright Angel Trail or South Kaibab Trail for a day together of incredible canyon views. You can also soak in gorgeous sunrises and sunsets from any of the incredible viewpoints along the South Rim. And, for a different perspective, take a scenic flight over the canyon from nearby Tusayan Airport. 
In between all the adventure, celebrate your recent nuptials with a special dinner at the dramatic Dining Room at the El Tovar hotel, one of the gems of the national park historic inns and lodges. 
A perfect honeymoon hotel in Las Vegas is the Palazzo at the Venetian. Rooms start at about $120/ night. Take a gondola ride together before dinner! At the Grand Canyon's South Rim, splurge on the El Tovar. Rooms are around $350/ night, but it's perched right on the canyon's rim and is the premier lodging in the national park.
Outer Hebrides, Scotland
By Kristin from Adventure with Ensuite
With stunning scenery and luxurious holiday cottages, the Outer Hebrides is one of the best adventure honeymoon destinations.
There are 12 inhabited islands, but the Isles of Harris and Lewis have the most to offer in terms of picturesque hikes, white sandy beaches, and other activities such as boat trips to see puffins and seals, kayaking, open water swimming, and surfing.
Rainy day options are also better here if you can pry yourself away from your cozy cottage. Some of the best places to stay are Blue Reef Cottages on Harris or Eagle Bay and Beach Bay cottages on the Isle of Lewis. They book up early, so plan well ahead.
---
---
Outside of the capital, Stornoway, dining options are limited, and many are mediocre. One exception is Uig Sands Restaurant, which makes a trip this far north worth it with its fantastic views and delicious food.
Located north of mainland Scotland getting to the Outer Hebrides is exciting in itself. It is possible to fly from Glasgow or Inverness. Alternatively, ferries leave from many places along the coast, meaning you can combine a week here with some of the other must-see areas of Scotland, such as the Isle of Skye and Fort William.
Most of the activities to do are free such hiking and exploring the stunning beaches. Luxury cottages will cost around £2000 for a week depending on time of year. Spring and summer months have the highest chance of sunshine but expect variable weather at any time of year.
Georgia
By Emily from Wander-Lush
If you like your adventure with a side of romance, consider the Republic of Georgia for your honeymoon. This small nation in the South Caucasus is not only home to some of the region's most stunning landscapes and thrilling adventure travel opportunities but also relatively 'undiscovered,' meaning you'll often have that hiking trail or wild camping spot all to yourselves.
Georgia has 12 climatic zones and caters to every adventure appetite. In spring and summer, you'll find pristine mountain hiking and whitewater river activities, and in winter, there's backcountry skiing and snowboarding. Paragliding, rock climbing, and off-roading are available year-round in landscapes as diverse as the Greater Caucasus mountains to Vashlovani National Park, an arid semi-desert with mud volcanoes. In between, you'll find lots of opportunities to relax in nature at the country's many hot springs and mineral pools.
---
---
Georgia is relatively compact and easy to get around, making it possible to experience various locations and activities in a relatively short period. In addition, there is no shortage of special accommodations in nature and the cities, from boutique hotels such as Rooms Kazbegi to glamping tents such as Glamping Tago and secluded mountain cabins. All are available for under 150 USD/night.
Georgia's off-the-beaten-track feel makes it a perfect honeymoon destination for outdoorsy couples: you can have as much privacy as you desire, especially if you travel during shoulder season. The country's world-renowned winemaking traditions also add to its charm. Be sure to experience a few of the vineyards and wineries along the way.
Garden Route, South Africa
By Alya of Stingy Nomads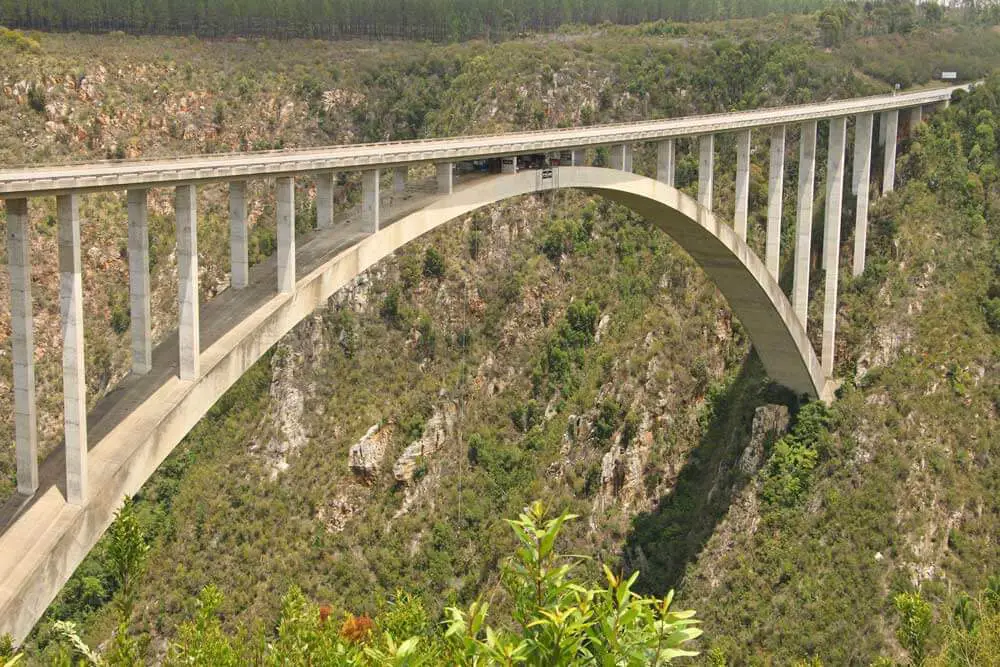 Garden Route is a stunning area on the East Coast of South Africa. The scenery is spectacular, with white sandy beaches, rugged coastline, lush green forests, charming towns, and impressive lookout points. A 5-7-day road trip with multiple stops is best to explore. The route starts in the beach town of Mossel Bay and finishes 300 km later in Storms River. Because of its natural beauty, the Garden Route has become one of the most popular honeymoon destinations in the country.
There are many fantastic accommodation options on the Garden Route, from rustic bungalows in the forest to luxurious spa resorts at the beach. Tamodi Lodge in the Crags and Teniqua Treetops in Knysna are couples' favorite places.
---
---
The area offers great honeymoon ideas for adventurous couples, ranging from scuba diving with sharks and snorkeling with seals to canyoning, hiking, bungee jumping, and skydiving. Plettenberg Bay and Mossel Bay are the best places for diving, snorkeling, and boat safaris. You can see whales, sharks, dolphins, seals, and otters there. Prices vary from US$30 for a kayak sea tour to US$60 for a seal snorkeling experience.
For adrenaline junkies, a bungee jump from Bloukrans Bridge is a not-to-miss activity on the Garden Route. The bridge's height is 216 m; it's the highest bridge jump in the world. The cost of the jump is US$95. Storms River Mouth National Park and Robberg Island offer hiking trails of different lengths with breathtaking views. The Otter Trail, a 4-day trek, is considered one of the most beautiful hiking routes in the world. 
Cappadocia, Turkey
By Haley of HaleyBlackall.com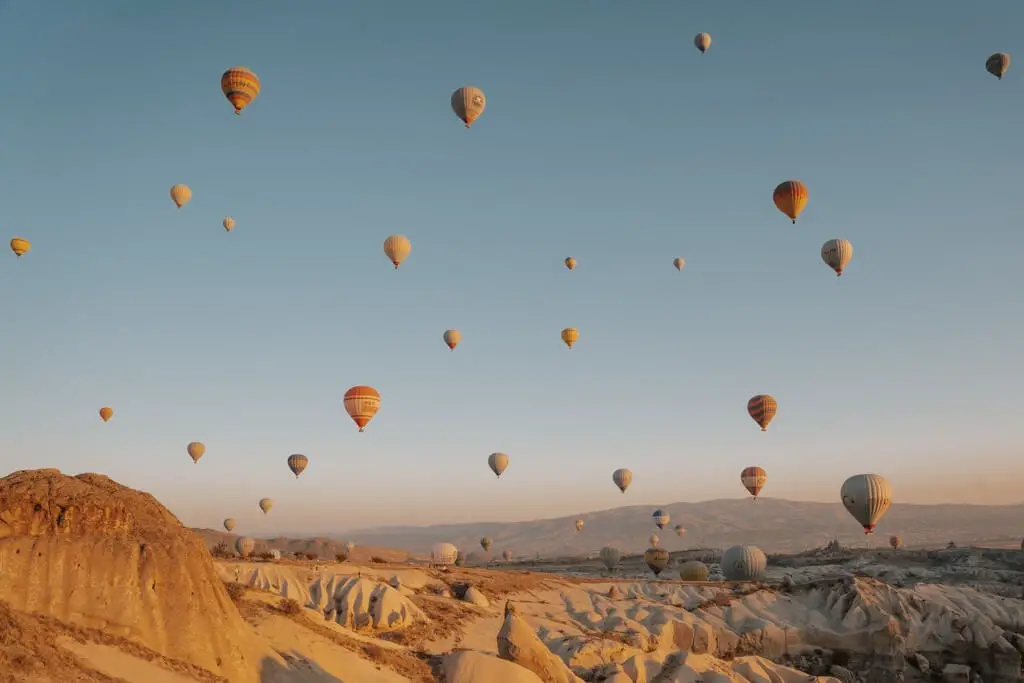 Cappadocia, the bucket list destination in central Turkey, is ideal for an adventurous honeymoon. With an otherworldly landscape created by centuries of volcanic activity, Cappadocia's picturesque valleys, interesting rock formations, and epic viewpoints provide plenty of honeymoon adventure trips. 
One of the most romantic experiences in the world calls Cappadocia home. Soar above the hills and valleys in a private hot air balloon ride at sunrise. Watch the sun depart the horizon with your loved one. You can expect to be in the air for 75 minutes with a cost of approximately $600USD for a private flight. 
---
---
For something more adrenaline-pumping, take a sunset ATV tour that will have you whipping through valleys like Love, Pigeon, and Sword. End your tour at the panoramic viewpoint at Red Valley and watch the sun go down on the day while sipping a glass of red wine. Or opt for a calmer horseback ride meandering through the volcanic landscape. 
You can't visit Cappadocia and not stay in a once-in-a-lifetime cave hotel. Sultan Cave Suites is the epitome of honeymoon accommodation. Cozy up together at sunrise to enjoy an authentic Turkish breakfast on the main terrace and watch the balloons fly overhead. 
Cappadocia is one of the most romantic destinations in the world; with a combination of adventure, swoon-worthy and memorable experiences, and picture-perfect places to stay, you will never want to go home.
Costa Rica
Costa Rica is one of the best adventure honeymoon destinations you can dream of. One of its top regions, La Fortuna, is the self-proclaimed adventure capital of the world. This city is overlooked by Costa Rica's largest mountain, Arenal, which provides several hiking trails for outdoorsy couples.
If swinging from the trees is more your thing, take on the Tarzan swing, hanging bridges and zipline, or go canyoning for an adrenaline-packed day. Consider staying at the Bali Hot springs resort for a touch of luxury and access on tap to the natural thermal hot springs and swim-up bars.
If you're looking for backpacking honeymoon ideas, consider 10 days in Costa Rica and visit several cities. From the culture-rich San Jose to the depths of nature in Sarapiqui. Take a kayaking trip through the winding jungle rivers or go one step further and go whitewater rafting in one of the several rafting hotspots throughout the country.
Costa Rica isn't particularly expensive, so that you can bag a lot for your money. However, expect to spend between $50-&100 for activities, and the world is your oyster when it comes to accommodation affordability.
Related Reads:
Peru
Kat from World Wide Honeymoon
If you're searching for the best adventure honeymoon destinations, look no further than Peru. With the Amazon Rainforest, Incan ruins, including Machu Picchu and those in the Sacred Valley, exciting cities, and plenty of mountains to climb, a visit to Peru can be exciting and romantic at the same time! 
For a 10-day trip to Peru, start with the culinary city of Lima, where you can partake in a delicious food tour and learn how to make an iconic Peruvian dish together. Then, you could spend a few days in the Amazon Rainforest, particularly at Tambopata Research Center, where you can relax, get massages, and explore the depths of the rainforest at one of the most remote lodges. Oh, and this lodge is 3-walled, meaning you'll get a front-row seat to the sights and sounds of the rainforest from your bed! 
---
---
After that, spend some time exploring the delights of Cusco and staying at the historic and romantic Rumi Wasi hotel before wandering the Sacred Valley and Machu Picchu for a couple of days. Some points of interest in the Sacred Valley include the Maras Salt Mines, Ollantaytambo ruins, and the Moray agricultural ruins. 
Then, end your trip on a high note by hiking up Rainbow Mountain for incredible views of the surrounding mountains and the stunning multi-colored hue of Rainbow Mountain itself. 
Between wildlife watching and relaxing in the Amazon, visiting a historic city, and admiring beautiful ancient ruins, a honeymoon in Peru is easily a romantic and adventurous getaway packed full of backpacking honeymoon ideas. 
The cost for a honeymoon like this would be around $5,000.  
Blue Mountains, Australia
By Emma Caldwell from Emma Jane Explores 
Australia's UNESCO World Heritage Listed Blue Mountains region is located just over an hour's drive from Sydney and is the perfect destination for an adventure honeymoon outdoors.  
This incredible part of the world is an expanse of craggy sandstone rock formations, lush green valleys, and hidden waterfalls. It makes it perfect for honeymooners looking to get their hiking boots dirty.  
The Blue Mountains region is unparalleled for walking trails, with tramps ranging from an easy hour's walk to the mighty three-day trek of 46-kilometre Six Foot Track which runs through the national park from Katoomba to the Jenolan Caves. The best part about hiking for your adventure honeymoon? It's free! 
---
---
Though it is technically just a little further on from the official Blue Mountains region, the Jenolan Cave complex is a must-do on a honeymoon to the area. The regular cave tours are all easily accessible, but for a real challenge, the team there does run a selection of small group adventure caving tours that will have you squeezing through tight spaces and abseiling down rocks.  
The Blue Mountains also happen to be one of the most romantic destinations for honeymooners, with lots of lovely bed and breakfast accommodation to keep you cozy in between your adventures. Expect to spend around $250 a night for a high-quality bed and breakfast style accommodation. 
The Pyrenees
By Cynthia and Alexander from Travel your Memories.
Between Spain and France, you find the imposing mountains of the Pyrenees. The Pyrenees are popular among travelers who like to be active in the mountains. If you are a couple looking for some quality time, this is one of the best adventure honeymoon destinations to travel to.
Ordesa National Park is one of the national parks found in this area. Ordesa is the greenest area and therefore the most popular area. You can find great villages and various accommodations that are beautiful to stay. It is recommended to stay in or close to Broto because you can make some beautiful hikes in Ordesa National Park from this village.
A honeymoon in Ordesa National Park is affordable because you only need to spend money on food and a place to stay. You can do most things independently without any guide. Depending on your wishes, a budget of €70 per person per day is probably enough. Staying in the Pyrenees is not expensive because this area is not visited by a lot of people. Only during high season prices rise but you can still stay at amazing places for affordable prices. If you would like to stay in a hotel where you can relax after a day of hiking Edelweiss hotel is recommended.
---
---
The best hike in Ordesa National Park is called the Cola de Caballo hike. During this 8 hour walk, you will pass a couple of impressive waterfalls, climb over the mountains in a dense forest and eventually come to a huge waterfall that drains into a spectacular valley. This walk is also known as Spain and France's most beautiful waterfall hike, definitely worth walking yourself.
Ordesa National Park is recommended for couples who like to be active outdoors, who love adventure. Besides hiking, you can also make road trips in this area, visit mountain villages, go horseback riding, climb mountains, raft, zipline, and more!
Alaska
By Paula Pins the Planet
What can be more romantic and adventurous at the same time as a road trip in Alaska? The last frontier state is enormous, but with some pre-planning and prioritization on what you want to see and do in Alaska, you will be able to accomplish a lot in one trip. Alaska offers plenty of opportunities to explore the breathtaking landscapes, enjoy the rich wildlife, explore stunning hiking trails, and drive the most scenic roads in the United States and even in the world! 
Denali National Park is one of the highlights of any Alaska Itinerary and home to the tallest mountain in North America – Mt. McKinley. There are lots of wildlife and vast, unspoiled wilderness with glacier rivers within the park. This park is surrounded by mesmerizing peaks, with plenty of adventures such as fantastic hiking trails to explore or even an overnight camping opportunity. 
---
---
Fairbanks is an excellent stop if you are looking for more romantic things to do in Alaska. Here you can soak on the hot springs at the Chena Springs Resort and have the opportunity to see the Northern Lights, as Fairbanks is one of the best places to see the Aurora borealis in the USA and one of the best in the world. 
Alaska is not a cheap and budget-friendly destination, and how much a trip to Alaska will vary a lot. It depends on your travel style and the season that you visit Alaska, with lodging average prices being between $200-$400 per night, but you will find plenty of adventurous and romantic things to do for a trip of a lifetime. 
---
Best Cold Weather Honeymoon Destinations
Iceland
By Victoria J. Yore from Iceland Trippers
If you are looking for the best cold weather honeymoon destination in the world, look no further than Iceland! There is so much to see and do when planning your Iceland honeymoon that you may not even know where to start! If you love adventure, then Iceland is for you.
One of the best things to do is snorkeling or scuba diving in the Silfra Fissure, between two tectonic plates in Iceland. The water is pristinely clear, and you wear a dry suit, so you aren't as cold! You can choose any activity you want, from horseback riding through lava fields, helicopter rides, hiking on glaciers, and more. And the best part? At the end of a day of adventure, relax in one of the many natural hot springs and relax!
---
---
If you are looking for an epic place to stay, consider Volcano Huts located inside Thorsmork in the Icelandic Highlands! Perfect for the adventurous couple! You can do Iceland as a backpacking honeymoon on a budget if you want to camp or rent a campervan, all the way up to a luxury experience staying in 5-star lodges and guesthouses. There is no wrong way to visit Iceland on your honeymoon.
---
---
Antarctica
By Pam from the Directionally Challenged Traveller
Your honeymoon is a once-in-a-lifetime experience, so making it a once-in-a-lifetime destination is truly fitting. What better place to visit than Antarctica? 
Visiting Antarctica is a bucket list experience unlike anywhere else on the planet. The pristine landscape untouched by humans is breathtaking. Penguins, seals, and whales breaching through the water are reminders that life is bustling all around you. 
Tourists can only visit Antarctica between November and early March (in the southern hemisphere). Therefore, most travelers cruise from either Buenos Aires or Ushuaia, Argentina. 
Small cruise ships, like Hurtigruten, provide all the comforts of cruises while being small enough so everyone can go on land. The number of people on land at any time is limited to protect the wildlife, so a smaller cruise ship allows you more time on land. Unfortunately, this can also mean a higher price tag. Cruises to Antarctica typically run between $6,000-$10,000, depending on the ship's length, destinations, and size. 
There are a surprisingly large number of outdoor honeymoon ideas in Antarctica. You can go kayaking with seals and penguins, go camping on the ice for a night, brave the water in a polar plunge, or learn about the unique geography of the continent – there's something for you to brag about when you go home! 
The memories made in Antarctica will last a lifetime, just like your marriage, making it the perfect adventure honeymoon destination. 
Lofonen islands, Norway
By Ela & Beata from Stunning Outdoors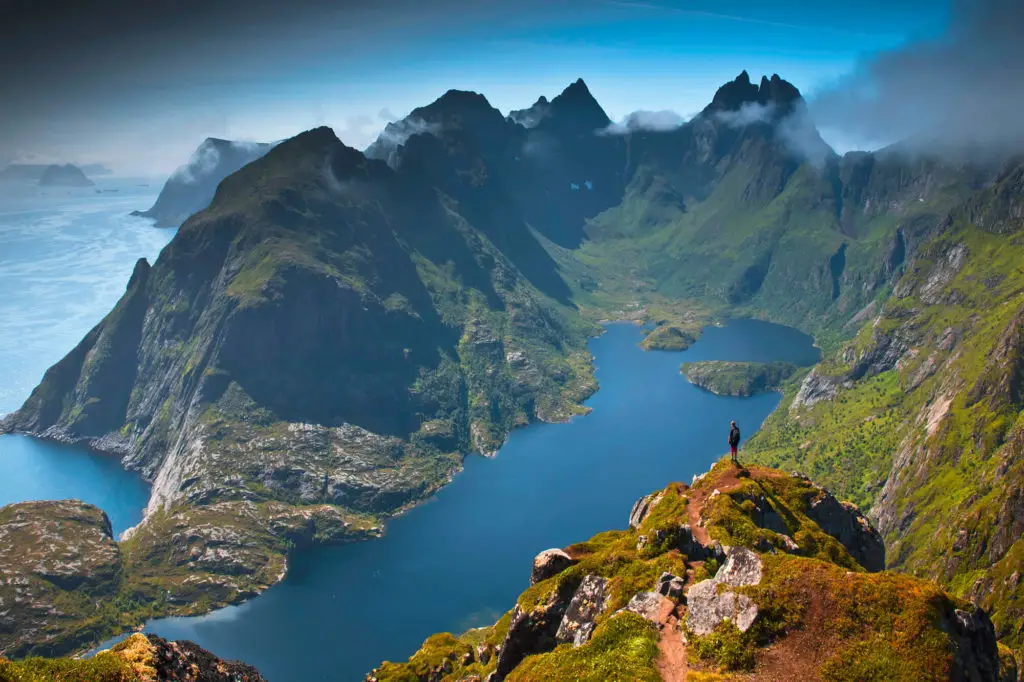 For any adventure lover, the Lofoten islands do not need much introduction. Scattered across turbulent waters of the Norwegian Sea, far above Arctic Circle, the archipelago is a haven for honeymoon adventure trips.
The Lofoten Islands are not easy to get to, and the journey often involves international and domestic flights or train/car travel. However, you can move easily from place to place by car once there.
One obvious and free activity is hiking. The rugged mountains rising from the Sea can be tough going, but the views are second to none. There is no boring trail on Lofoten, so do not be afraid to walk the lesser-known trails. If you love water sports, try sea kayaking on Reinefjord or Stand Up Paddle Boarding and surfing at the famous Unstad beach.
---
---
For midnight sun, visit Uttakkiev beach or walk up to Viggen. If you visit late August, early September, you may already chase the Northern Lights! On rainy days visit stunning fisherman villages and museums located in various villages across the archipelago. The list goes on, and there is more to do; remember to book no less than a week to appreciate the islands fully,
Staying in Lofoten is not cheap; unfortunately, accommodation is on the expensive side, but you would like it memorable for your honeymoon, so stay in one of the traditional rorbuer like the famous Eliasen Rorbuer in Hamnoy.
Banff, Canada
By Jessica Schmit from Uprooted Traveler
Suppose you're looking for a honeymoon full of majestic mountains, world-class hikes, and endless outdoor adventures. Banff, Canada, may be the perfect getaway for you. The small mountain town, located an hour and 20 minutes west of Calgary, is tucked in the dramatic Rocky Mountains. Due to the mountains' glacial run-off, Banff is home to dozens of vibrantly colored lakes- take your pick of any of these beauties, rent a canoe with your new spouse, and glide across its impossibly colorful waters. 
If you two are looking to turn up the intensity, try out some of Banff's amazing hiking trails, like Johnston Canyon to Lower Falls, which is perfect for beginners, or Helen Lake and Cirque Peak, if you want to kick off your marriage by bagging a challenging summit. Looking for something even more adventurous? Consider booking a via Ferrata tour, where you'll scale metal rungs and cross suspension bridges- while thousands of feet in the air on a sheer mountain cliffside (it's not too adventurous, though- you'll be wearing a harness that's securely strapped to a cable pathway bolted into the mountainside). 
During your adventure honeymoon, the Mount Royal Hotel is a wonderful home base, with an awesome location in downtown Banff and romantic hot tubs on the roof overlooking the incredible mountains surrounding the town.
Banff can be a surprisingly pricey destination- at least with respect to accommodations, attractions, and dining out- but you can certainly cut costs by focusing on free outdoor adventures, like hiking or taking scenic drives. For a couple, you can expect to spend anywhere between $1,500 and $2,500 (and up!) for a week in Banff. So whether you want your honeymoon to be full of lowkey outdoor adventure or once-in-a-lifetime experiences, Banff's stunning landscape may be one of the best adventure honeymoon destinations for you.
The Best adventure Honeymoon Destinations in Summary
By now, you've discovered some of the best adventure honeymoon destinations for outdoorsy couples, as well as stunning locations that provide sun, Sea, and lots of water activities. The hard part is deciding what you want from your adventure honeymoon and deciding which to choose. Perhaps you've been inspired by the backpacking honeymoon ideas or are considering a honeymoon in a cold climate, hiking a mountain or swimming with sharks? The decision is up to you.
Whichever destination you choose, you will have an amazing vacation that you will remember for the rest of your lives.
If you enjoyed this post you might also like:
Want to take the stress out of planning an amazing honeymoon?
Do you like to travel but hate spending hours online researching holidays and trying to find the best deals? Here's why I come in. VeggTravel is an independent travel agent that does the hard work for you. I do the research, compare the prices and build the itinerary for your dream holiday, cruise, city break, or activity. Plus, my agent connections often mean exclusive offers on hotels and flights that you can't find anywhere else.
Rest assured that any holiday booked through me will give you the relevant ABTA, CILA or ATOL protection you need. Not only that, but I'll provide you with bespoke service tailored to your needs, and I'll be there every step of the way, ensuring that things go smoothly or being your single point of contact if things don't.
Ready to take your vacation to the next level? I don't charge a fee, so if you're based in the UK, drop me a mail and see what I can do for you.

---
---
Pin the Best Adventure Honeymoon Destinations for Later
Sharing is caring so please pin for later, share on social media, or ask questions and give feedback in the comment fields below. Adventure awaits.