Weird Things To Do In Shinjuku, Tokyo
Japan is a bucket list destination that will take you on an immersive journey from the cultured to the crazy. From the delightful traditions and politeness to the downright strange and unusual. But, one place above all holds the crown jewels of Japanese pop culture, and that's Shinjuku in Tokyo. Uncover the weird things to do in Shinjuku, as well as some of the best things to see. You will soon discover why this district is the busiest and most popular area in the whole of Tokyo.
This post contains some affiliate links. I may earn a small commission if you purchase through them, but this is at no extra cost to you. Thank you for your support.
Things to do in Shinjuku – Contents
How to get to Shinjuku?
Getting from Tokyo Station to Shinjuku Station is really easy. Look for the orange line "Chuo-line" and then catch the train from platform 1 or 2. It will only take about 18 minutes to arrive.
Alternatively, you can also head to the subway station and grab the Marunouchi Line (red) to the Shinjuku-sanchome station.
Shinjuku station is the world's busiest train station, so it might feel chaotic. Factor in at least 10 minutes of travel time to navigate your way around the stations on either side. However, once you're there, you can walk to most places easily. 
If you're exploring further afield, then really do consider whether a Japanese Rail Pass can save you money. I used it for my 10-day trip, and it made my trip really cost-effective. So just activate it for the days when you're making the furthest journeys and watch the savings grow.
---
---
Where to stay in Shinjuku?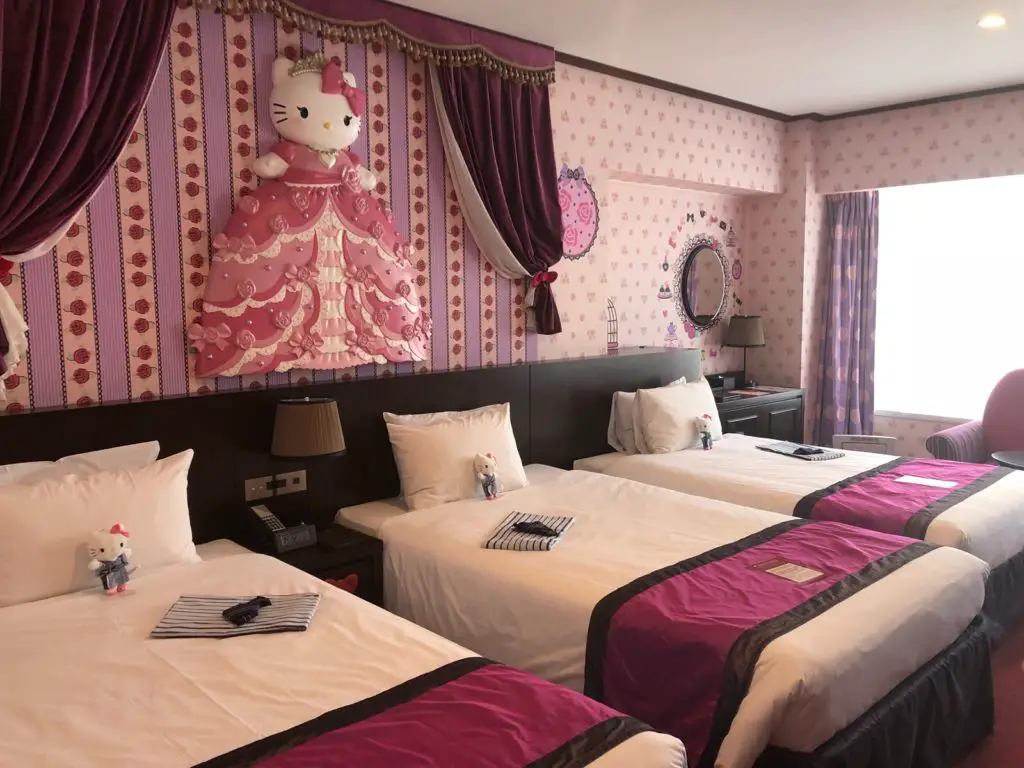 When I visited, I stayed at the Keio Plaza Hotel in the heart of Shinjuku. Why here? It is the only place in Tokyo that has a suite dedicated to the lovable Hello Kitty character. Aside from this quirk, the hotel had great cityscape views and was very sleek and modern, with easy access to this vibrant part of the city.
Consider staying in:
Golden Gai if you want to be close to the bustling Tokyo nightlife
Shinjuku Ni-chōme if you want to experience an LGBT friendly and inclusive evening
Kabukichō if you don't mind staying in the heart of the red-light district
Nishi-Shinjuku if you want to be nearer the skyscrapers, landmarks and points of interest. This area has the iconic three tier skyscraper hotel, Park Hyatt, complete with stunning views.
The transport connections make it easy to get around, so don't worry too much about location. 
Take a look at the map of Shinjuku below to discover the different districts and prices in the area.
---
---
Weird Things to do in Shinjuku, Tokyo
1) Enjoy the Cabaret at the Tokyo Robot restaurant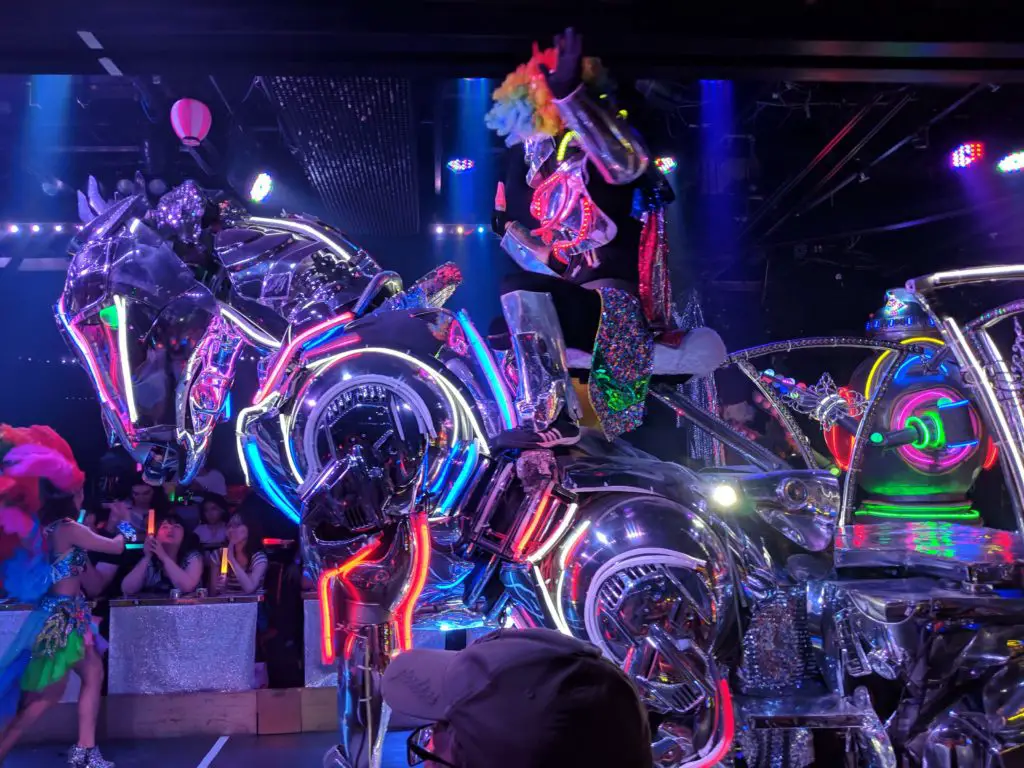 Somewhat misleadingly, you might think that this is a show you'll enjoy over a meal. Well, you'll be wrong. Instead, be prepared for an authentic, fast paced Japanese cabaret show full of colourful characters, crazy costumes, neon lights and loud music. Have you ever watched a Japanese show on late night TV? The Tokyo Robot restaurant probably doesn't even come close. It is Japanese entertainment at its finest; insane! Enjoy the show with flashing beverages, foam lights and the option to buy popcorn and snacks in intervals. 
Where is it: Kabukicho (the red light district) Japan, 〒160-0021 Tokyo, Shinjuku City, Kabukicho, 1 Chome−7−7 新宿ロボットビル B2F
How much does it cost: 8000 yen on the door, 7500 yen online  
How long does it last: 90 minutes 
Opening Hours: Daily 3pm-11pm
---
---
2) Dine-in Piss Alley (also known as Omoide Yokocho, or Memory Lane)
While Piss Alley might sound off-putting (particularly if you're from England), it is actually a series of cool alleyways that run along the tracks of Shinjuku station. There are many cool and trendy places to dine with a fantastic selection of sushi, yakitori and ramen. It is only a tiny area that inherited its name from the uneven quantity of beer to toilet ratio back in the day. Things have moved on this then, so don't let that put you off a take a walk down memory lane! 
Where is it: West of Shinjuku station 
Opening Hours: Bars and restaurants are open until late
---
---
3) Experience the nightlife on Golden Gai Street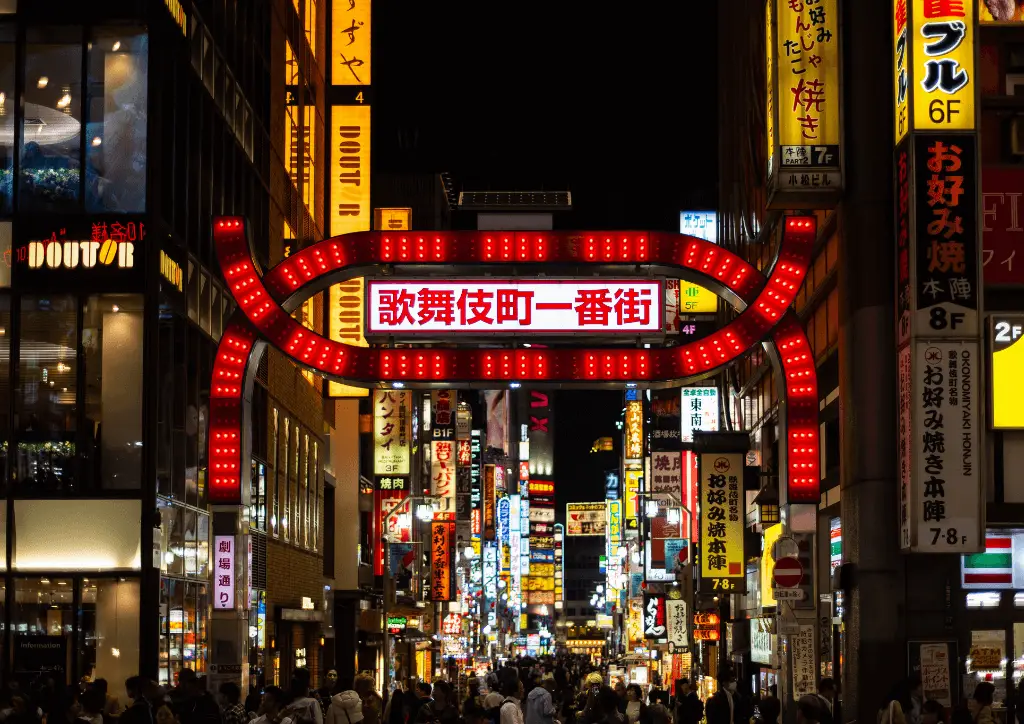 Shinjuku Golden Gai street is a series of narrow alleyways with various drinking dens that are great for a taste of Japanese nightlife. There are hundreds of miniature bars over several floors around the area and hoards of people, but thankfully no traffic. The bars really are tiny; some of them you'd be lucky to squeeze in 6 people. 
One of the popular bars to visit on Golden Gai Street is the Bitter Orange due to its excellent cocktail list. 
Where is it? 5-minute walking distance from Shinjuku station; 1-chōme-1-6 Kabukichō, Shinjuku City, Tokyo 160-0021, Japan
---
---
4) Taste the terror with your meal at themed restaurant Lock Up 
The Lock-Up is one of Japan's many themed restaurants. Expect ghoulish 'monsters', dark rooms, scary gimmicks and horror themed food. The restaurant is loosely themed around a prison, and you get locked up! They often have gimmicky food choices available, such as an hour of decorating doughnuts. Don't expect fine dining, but do expect it as one of the weird things to do in Shinjuku; you should definitely try it.  
Where is it: 3-minute walk from the east exit of Shinjuku: Japan, 〒160-0021 Tokyo, Shinjuku City, Kabukicho, 1 Chome−16−3 6F・7F 新宿スクエアビ
Opening Hours: Monster shows are usually 18:30, 20:30, and 22:30, but the restaurant opens from 12 on Saturdays and Sundays. 
Cost: entry is 500 yen + the cost of food / drinks
---
---
Spot Godzilla in Kabukichō
Head to Kabukichō to spot the iconic landmark of Godzilla's head atop the Shinjuku Toho Building. If you catch it at the right time, you will see it glare at you with its demon red eyes and even breathe smoke. Nestled within the bright neon lights of this lively district, you can't help but miss Godzilla's head. If you're looking for an exciting place to stay, try the Hotel Gracey, where you can see Godzilla up close and personal on the 8th floor. 
Where is it: 1-chōme-18-8 Kabukichō, Shinjuku City, Tokyo 160-0021, Japan
---
---
Other Top Things To Do in Shinjuku
1) Explore the Shinjuku Gyoen National Park
The Shinjuku Gyoen National Park is one of the best things to do in Shinjuku, especially in Spring. As one of Tokyo's largest parks, the landscape comes alive with vibrant pinks from the beautiful cherry blossoms. This vast, green open space is great for escaping the bustling city life and taking a break amongst nature. Explore the traditional features such as the Japanese Garden, ponds and stone bridges. Shinjuku Gyoen National Garden certainty is one of the more relaxing things to do in Tokyo. 
Where is it: 11 Naitomachi, Shinjuku City, Tokyo 160-0014, Japan
Opening Hours: Outside of cherry blossom season, it is only open Tuesday – Sunday 0900-1600
How much does it cost: 200 yen
Another green space that is free to enter is Shinjuku central park, located in the west of the city. 
---
---
2) Take in Panoramic views from the Tokyo Metropolitan Observation Deck
The Tokyo Metropolitan Observation Deck (also known as Tocho) is a well-known secret in that you will have fantastic views over Tokyo… for free! Head there in the day to try and spot some of the famous Japanese landmarks, such as the Tokyo Dome, Meiji Shrine, Tokyo Tower, Tokyo Skytree and even Mount Fuji. Or, head there at night to see the neon signs paint the sky with colours and illuminate the city. The Tokyo Metropolitan Government building is also the world's tallest city hall at over 202 meters. 
Where is it? 45th floor: 2 Chome-8-1 Nishishinjuku, Shinjuku City, Tokyo 163-8001, Japan
Opening hours: 08:30am – 5pm – Monday to Friday
How much does it cost: FREE  
---
---
3) Appreciate Classic Art With a View 
Not only can you enjoy masterpieces from famous artists such as Van Gogh, but you also have spectacular views of Tokyo to discover too. Japan Sompo Nipponkoa Museum of Art is a small venue located high atop a skyscraper. It was actually Japan's first high-rise art gallery. So kill two birds with one stone and see impressive cityscapes of Tokyo while enjoying fine art from local and European artists.
Where is it: 5-minute walk from the west exit of Shinjuku station; located on the 42nd floor, 1-26-1, Nishi-shinjuku, Shinjuku-ku, Tokyo 160-8338
Opening Hours: 10:00 – 18:00 except Mondays.
How much does it cost: 1200 yen in advance, 1500 yen on the door.
---
---
4) Dress up as a Samurai at the Samurai Museum
The Samurai Museum will give you a taste of Japanese history, tradition, and culture. Explore the intricate Japanese swords, ancient antiques, and Samurai armour. Learn about Japanese life over the years and get a deeper understanding of what it takes to be a Samurai. You can even dress up as one yourself or take home some lethal souvenirs (assuming you can get it through customs!).
Honour above life
Where is it? 8 minute walk from Shinjuku Station – Eiwa 6 building 1F 2-25-6 Kabukicho Shinjuku,Tokyo 160-0021,Japan
Opening hours: Monday – Friday 10:30-18:30 – there are also free sword fights every hour between 1400-1700.
How much does it cost: 1,900 yen – 5000 yen, depending on if you want a sword course or calligraphy class.
---
---
5) Be Proud in Shinjuku Ni-chōme
Ni-chōme is a district in Shinjuku where you will find the world's most extensive collection of gay bars. Expect a colourful parade of micro-bars that are LGBT friendly and inclusive and some weird and wonderful specialist bars, clubs and stores that will undoubtedly raise some eyebrows.
For local people, the 'scene' in Ni-chome can be particular and specialised, and it is not unusual for some of the more unique bars to charge different prices for gay men, lesbian women and "everyone else". If you want to check it out, the big clubs to look for are Advanti and Advocates, amongst many others! Don't skip a drink or three in Ni-chrome, its certainty one of the top things to do in Shinjuku.
Where is it: Japan, 〒160-0022 Tokyo, Shinjuku City, Shinjuku, 2 Chome−11−7 第33宮庭ビル 2階
Best Things To Do In Shinjuku Toyko In Summary
We've explored the beautiful and the outright weird things to do in Shinjuku and probably only scratched the surface. This busy, thriving metropolis can keep you exploring for days with new things to discover and enjoy. Whether you're enticed by the bright lights and shows or the micropubs and eateries. One thing that is for sure is that you should certainly plan a stay in Shinjuku during your trip to Japan.
If you liked this article, also read:
If it is your first visit make sure to do some research to help you prepare for your trip to Japan. I'd love how you find Shinjuku or Tokyo more generally. Let me know your experiences or questions in the comments.
---
---
Pin The Weird Things To Do in Tokyo For Later