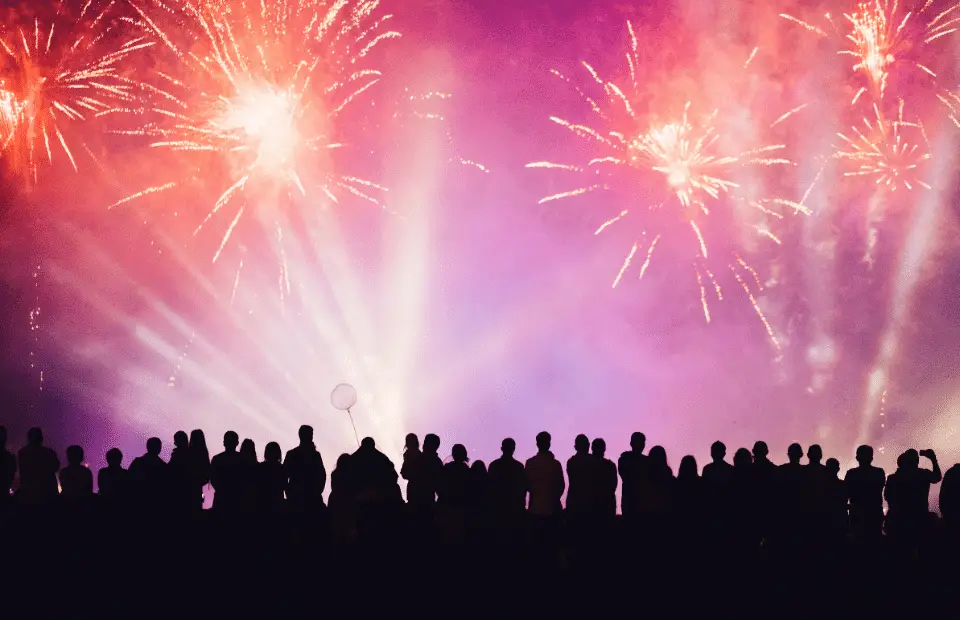 Best Places to Spend New Years in Europe
New years eve is one of the most anticipated nights of the year, for a good reason. There's a wide range of street parties, private parties, and lively special events. You even have the pleasure of seeing the sky illuminated with fireworks at midnight. But are you tired of doing the same old things for NYE and seeing the same faces? Of course, you are; that's why you're here. So discover the best places in Europe for New Year's Eve and mix it up this year.
Best Places to Spend New Years in Europe | Contents
This post contains affiliate links which means I may earn a small commission if you choose to buy anything from them. This is at no extra cost to you and In doing so you help to keep this site running, so thank you in advance.
1. Amsterdam, Netherlands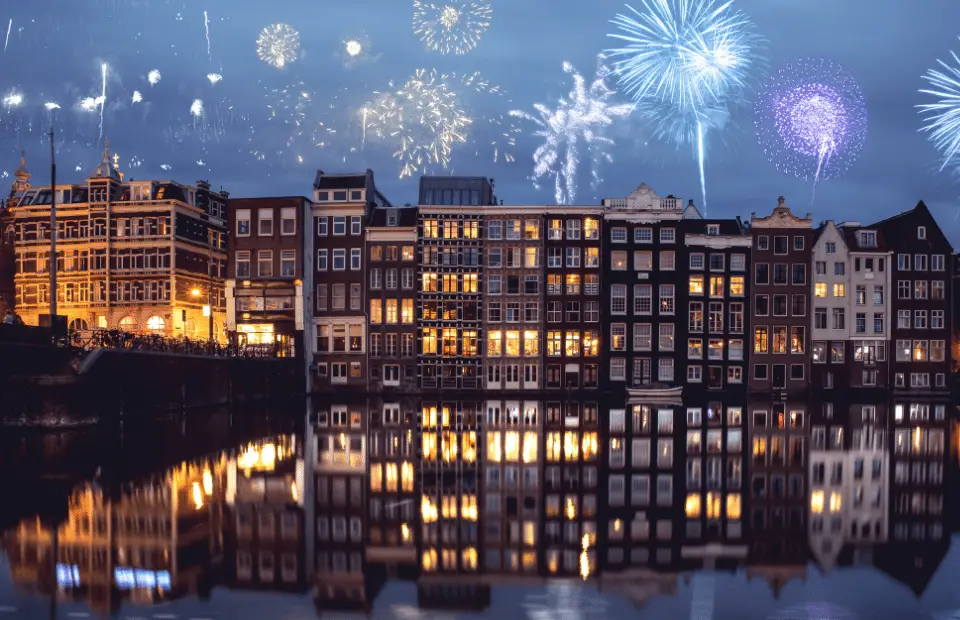 Amsterdam is a European City with some of the most iconic cultures and architecture. But above all, there is one thing the Dutch know how to do: throw some of the best new years events in Europe! Many world-famous DJs and festivals originate from Holland, and there are some truly spectacular events throughout the city for NYE.
Whether you want to party hard at a hardstyle music event at a filled-out stadium or take a dinner cruise down the famous canals, there is something for everyone in Amsterdam. However, if you want to experience the party atmosphere in the streets, then Dam Square is the place to be for the biggest street party.
If you want to be in the heart of the centre, stay near Damrak which is within walking distance of all the main attractions. A highly rated hotel in this area is the Grand Hotel Krasknapolski which is part of the NH Collection. However, even basic accommodation can be pricey so staying further out is an option; just be sure to consider expensive taxi costs or rent a bicycle.
Amsterdam is a beautiful city that truly is one of the best places for New years in Europe
2. Scotland, Hogmany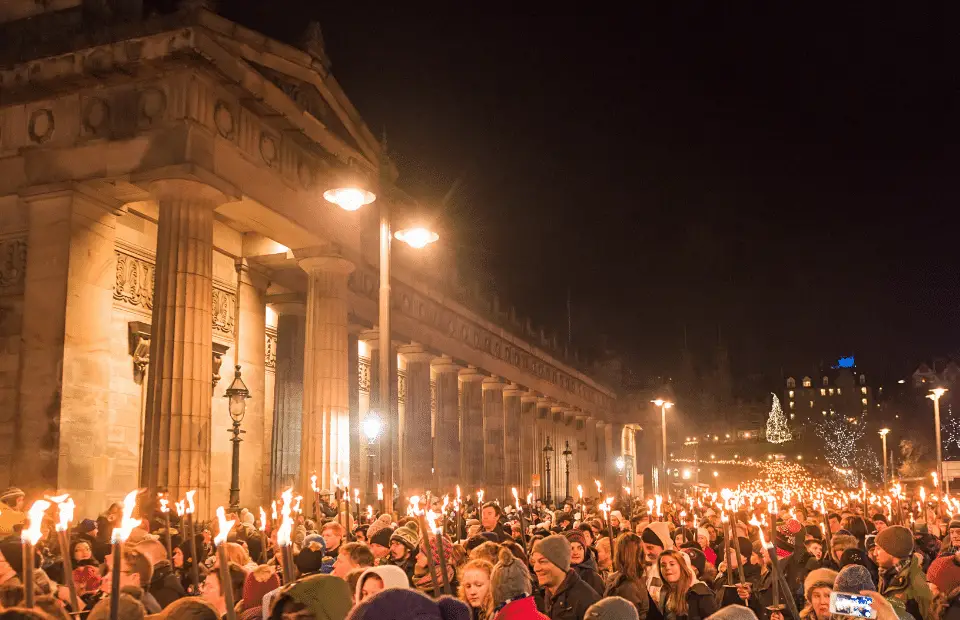 One of the best places to spend new years in the Europe is Edinburgh for the world-famous Hogmanay festival, celebrating the coming year. Not only does the traditional NYE song of Auld Lang Syne originate in Scotland, so do some of the biggest parties. So whilst the entire city may be buzzing with drinking, singing and generally being merry, there are some great traditions to be aware of.
One Scottish NYE Tradition is first-footing; after the clock strikes midnight, locals will race to their home to be the first across their threshold for the new year. Another tradition is to take to the freezing winter waters of the Looney Dock in the early hours of New Years Day. What better way to sober up or fight off a hangover, right?
Celebrations for Hogmanay typically last for three days, ending on the 2nd of January, so it certainly isn't one of the faint-hearted.
All the action is centred around the concert in Princes Street Gardens and the toe-tapping ceilidh fun. Check out the Edinburgh castle apartments and suites for a great, affordable stay in the thick of the fun.
3. London, England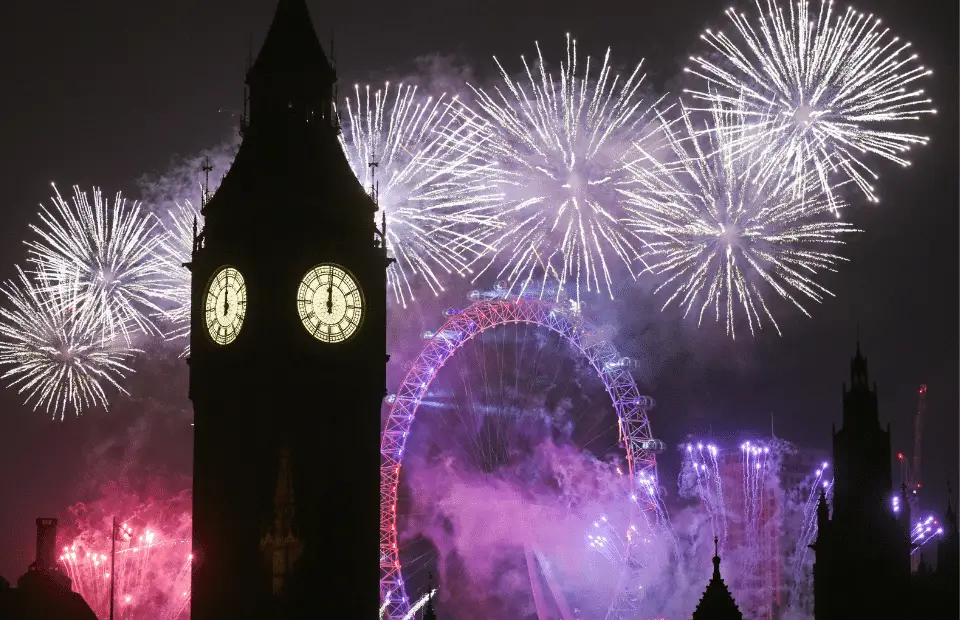 One of the best places for New Years Eve in Europe is undoubtedly London, England. From the buzzing nightlife around trendy areas like Camden Town, Shoreditch, or Soho to the more sophisticated affairs in Mayfair, Notting Hill, and Chelsea. But the big crowd-pleaser in London for New Year is the official fireworks display at Victoria Embankment.
Spreading from Westminster Bridge, you will see the sky alight with colorful sparks. If you book early enough in advance, you can even get tickets to rooftop bars or skyscrapers and see them sparkle at eye level. Alternatively, take a trip on the Thames to see the fireworks adorn London and Tower bridge.
London is a prominent place, and many great hotels to choose from. But for an affordable option close to the new year's festivities, try the Tower Hotel.
Related Reads:
4. Dublin, Ireland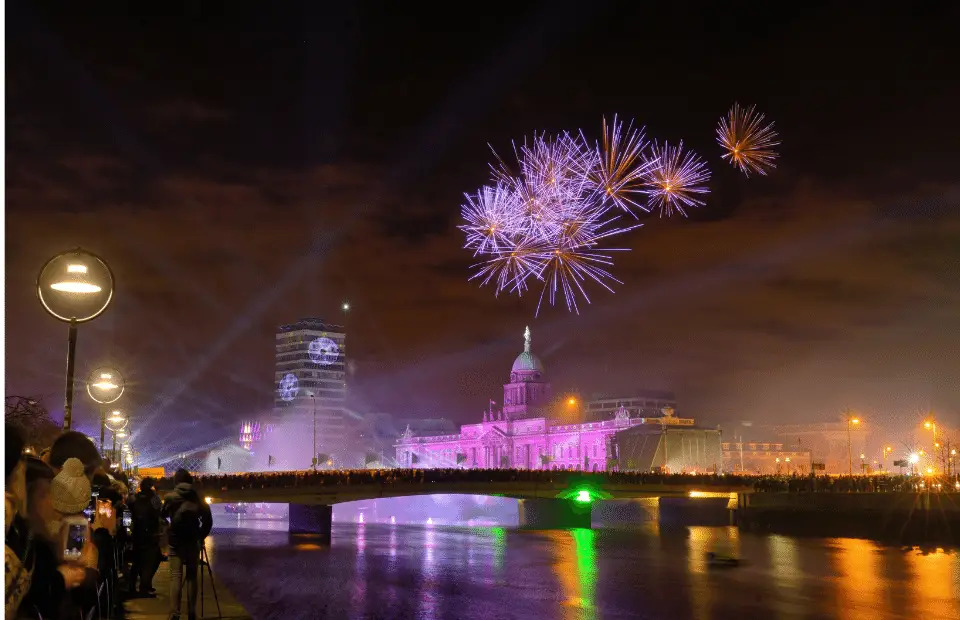 Dublin, Ireland makes holds great new years events in Europe. The Irish sure know how to party; why do you think there are so many Irish bars worldwide? New Year is no different. From the lively Temple Bar Street to masquerade balls, the capital is thriving this time of year. 
However, if you're looking to leave Ireland with great memories (or maybe even some regrets), then complete the Dublin Forty Foot challenge before you go. This sandy cove is a former nude beach that was immortalised in Ulysses. At New Year, revellers brave the icy dip to end their celebrations. 
If this is just one step too far for you, then take to the Dublin New Years' festival to watch live music outdoors. Alternatively, join in the procession of light with your lantern or enjoy the luminosity light show instead. 
A great place to stay which is walkable to the main areas but still quiet and affordable is the StayCity Apartments. 
5. Nice, France
By Elena Pappalardo from The Carry-On Chronicles
There are many wonderful things to do in Nice year-round, but the French Riviera capital is especially magical on New Year's Eve. This special time offers fun for all ages, from daytime children's shows to festive bars around the city. Visitors can start the New Years Eve festivities with a concert at the Acropolis Convention Center, followed by a visit to Place Masséna. Here, a vibrant street party will kick off the NYE countdown. In addition, many bars and restaurants host festivities of their own, consisting of live music and gourmet French dishes. Night owls, in particular, may wish to join the Riviera Bar Crawl and toast the new year with speciality drinks at Nice's top bars.
However, the star of the show is the iconic Promenade des Anglais. Here, visitors can watch – for free – as spectacular fireworks launched from harbour boats light up the night sky as the clock strikes midnight.
Alternatively, those who prefer to enjoy a quiet celebration can watch the festivities from the comfort of their own spaces on one of Nice's live-streaming webcams. Nice's Hôtel Monsigny is a lovely place for travellers to base themselves for the celebrations, offering guests a spectacular rooftop to celebrate.
6. Paris, France
By Dymphe from Dymabroad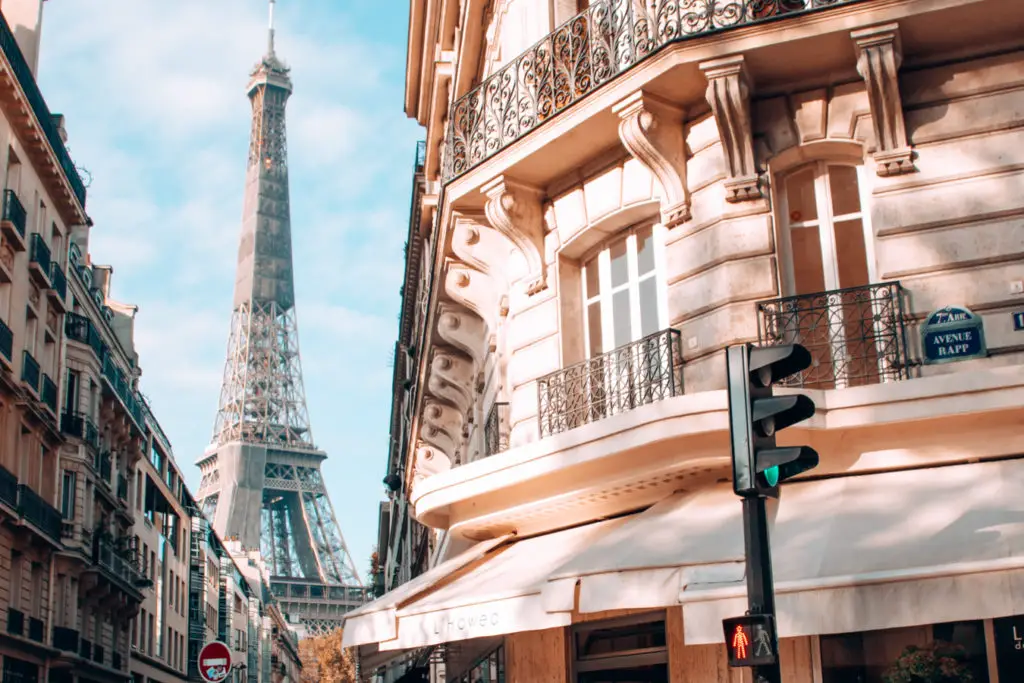 One of the best places for New Years in Europe is the city of Paris. The city that is famous for its sights, culture, and romantic atmosphere is amazing during this time. Throughout the capital, you can find all kinds of festivities. One of the best places to be at during New Year's Eve is the Champs-Élysées. That's because lots of people gather here before midnight, and they look at the light show and projected countdown clock on the Arc de Triomphe. At midnight, there is an amazing fireworks show.
Also, you can go ice skating during New Year's Eve at one of the ice skating rinks in the city. For example, you can go ice skating underneath the Eiffel Tower, which is also one of the best date ideas in Paris. Another great place to visit during New Year's Eve is the Sacré-Coeur. That's because, from the hill that this famous landmark is located on, you can take in an amazing view of the city and its fireworks displays. What's great to do during New Year's Eve in Paris as well is to go partying. There are lots of clubs throughout the city with special New Year's Eve celebration parties.
7. Munich, Germany
By Melinda Medley from Mel on the Go
Known for Oktoberfest, Munich is an excellent city for a party and is one of the best places to spend new years in Europe. In Munich, New Year's is called Silvester, and Tollwood is Munich's biggest Silvester celebration, held at the same fairgrounds as Oktoberfest.
If you want one event with multiple choices for music, food, and drinks, then Tollwood New Year's Eve in Munich is perfect! Wander the art-filled grounds and visit the different tents to experience the variety at this party. Each tent has a different theme: some have live bands, other DJs, and dancing. So spend New Year's Eve Bavarian style.
The party starts early, and you must stay past midnight for the obligatory singing and fireworks. Germans of all ages come to Tollwood for Silvester, and some even dress in traditional lederhosen and dirndls if you want to dress the part!
Stay at Hotel Monaco, a budget-friendly hotel a 15-minute walk from the fairgrounds, with free breakfast and Wi-Fi. Stay beyond New Year's because there are lots to see and do in Munich.
Related Read: Munich Beer Festival | A Guide to Surviving Oktoberfest
8. Berlin, Germany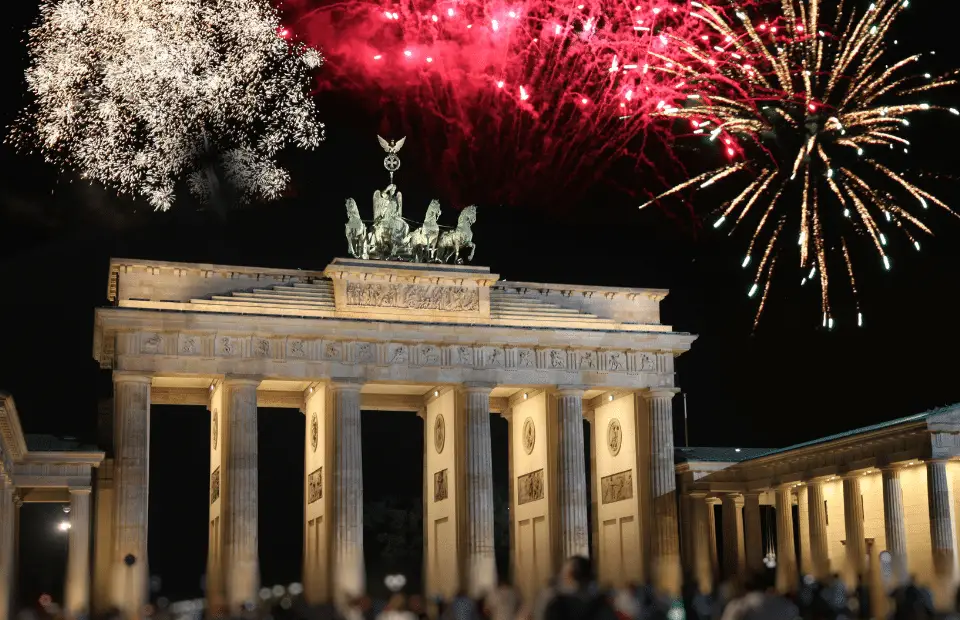 Berlin is one of the best places to celebrate the New Year as it is alive with parties and events. Head to the famous festival at the Brandenburg Gate, one of the world's largest New Year's Eve open-air events. As a country known for its Christmas markets and festive food, you can expect it all in the capital.
This festive atmosphere on this famous street will bring an enormous smile to your face and the stunning fireworks at midnight is something to behold. There are food stalls and plenty of places to buy drinks, but you can also take your own provided they're not glass. 
If you'd prefer to avoid the crowds, there are several club nights you can attend or even board the historical restaurant ship "Heinrich Zille" for a unique experience. 
Stay at the Hotel Adlon Kempinski Berlin if you want to be close to all the historical sights in the city while still being close to the NYE festivities. 
9. Rome, Italy
By Jiayi of The Diary of a Nomad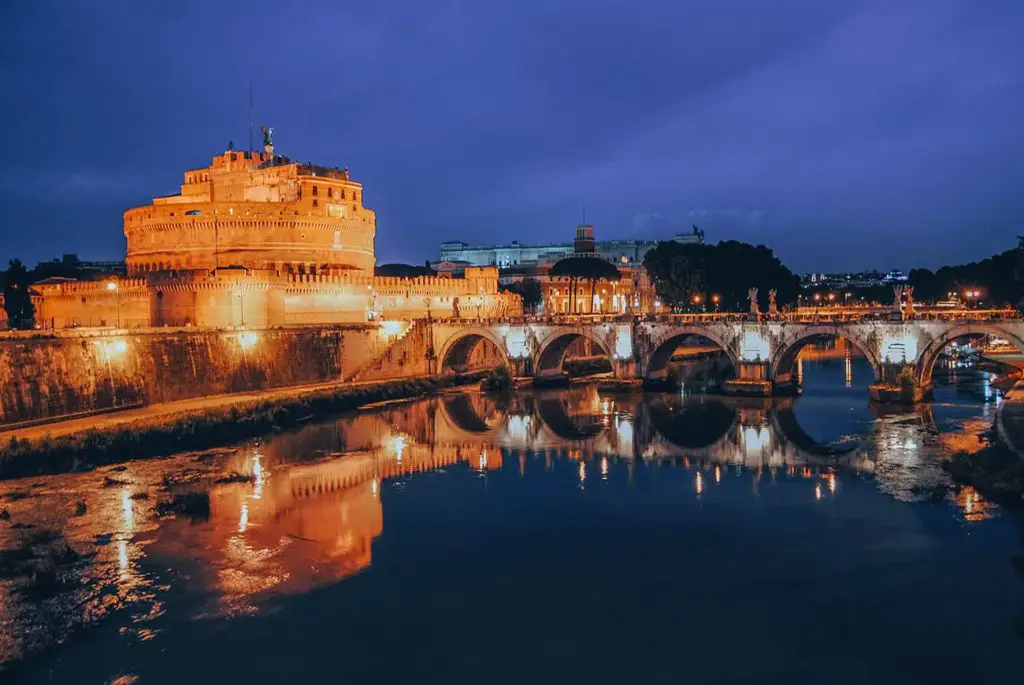 Rome is undoubtedly one of the best new year destinations in Europe. From concerts to majestic fireworks, there are plenty of festivities in the Eternal City to keep you busy throughout New Year's Eve. 
There are many places to watch fireworks in Rome on New Year's Eve. Some of the best spots include the Pincio terrace, the Gianicolo (where you can see a 360-degree view of the city), and the Sant'Angelo Bridge. 
If you enjoy opera and Christmas songs, you can also catch a New Year's Eve concert at the Caravita Church at 9 PM on December 31.
Rome sees a lot of tourists no matter when you visit. If you want to enjoy popular spots like the Trevi Fountain and Spanish Steps without the crowds, stay at a hotel nearby, such as Relais Fontana Di Trevi, and wake up at sunrise to admire those sites in peace and quiet. It's very much worth it.
Are you travelling on a budget? Try some of the delicious local pizza al taglio. They are cheap, delicious, and different from the pizza you might have been used to before. You can spend as little as €3-7 per meal on a pizza to go.
Related Read: The 10 Best Places in Italy for Couples Looking for Love
10. Madrid, Spain
By Victoria from Guide Your Travel
Madrid is known for being a party city that is great for budget travel and has one of the world's highest densities of bars and pubs. This city comes alive on New Year's Eve with people in the streets wanting to celebrate the new year. Then, of course, there is the Spanish tradition of eating twelve grapes at the stroke of midnight for good luck, which you need to do if you're in Madrid during this time of the year.
The biggest celebrations occur on the Puerta del Sol, which is the centre of the city and is often reserved for parties. However, it gets incredibly crowded, so be prepared to be pushed around a bit. The event is worth it, though. Hundreds of thousands of people gather and celebrate together with the backdrop of the beautiful Christmas lights. Afterwards, head to a bar or even a club if you're up for it. The lines are long during this special evening, though pre-booking is highly recommended.
The Generator Hostel is a great choice since it has both budget-friendly hotel rooms and also hostel accommodation if needed. It has a great rooftop terrace and fantastic location.
11. Barcelona, Spain
By Vickie Franz from Vicki Viaja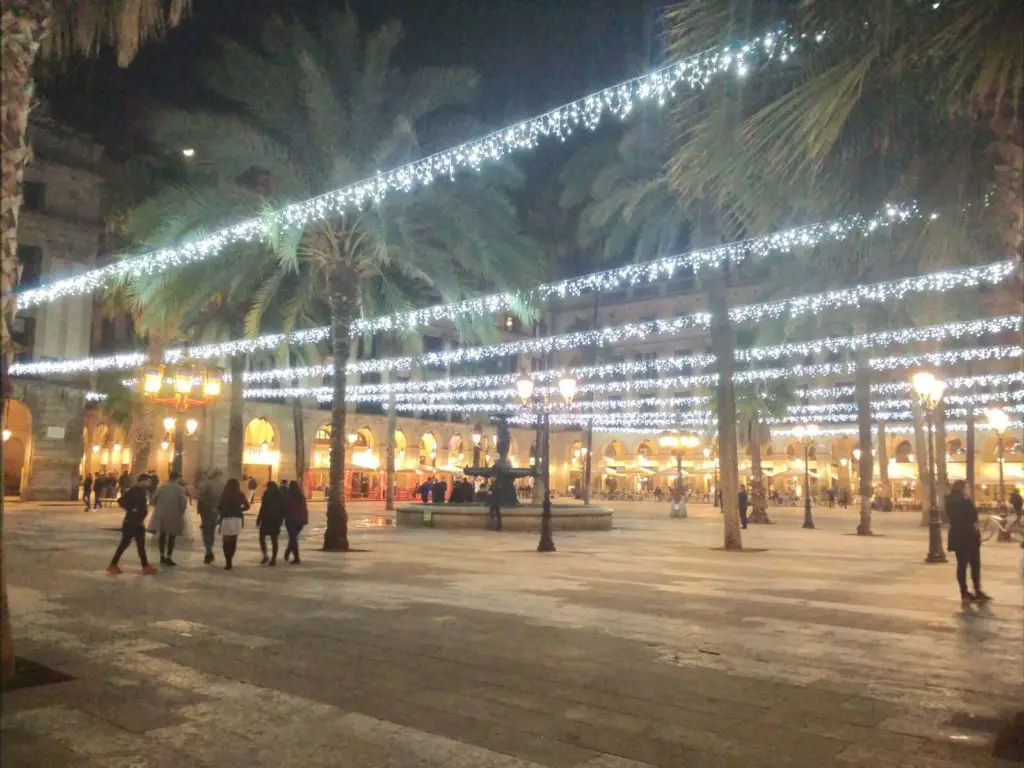 If you name the European nightlife capitals, you certainly can't help but include Barcelona on that list. New Year's Eve is no exception, of course. That's because the Catalan capital is home to some of the best parties in the country.
Whether it's a fancy restaurant, upscale New Year's gala, various events, or simply partying with friends or family, all options are yours in Barcelona.
Although the fireworks in Barcelona might not be as big and impressive as in other metropolises, it is still exceptional to watch the fireworks from the beach or other Barcelona viewpoints.
Also, the temperatures at this time of year, especially during the day, are usually a lot warmer than in other European cities. In addition, there are plenty of sunny hours waiting for you.
In any case, you should take part in the grape tradition that is common throughout Spain. There are usually 12 chimes before midnight, each involving eating one grape. If you manage to eat the grapes before midnight, good luck awaits you in the new year.
Related Read – 10 of the Most Romantic Things to Do in Barcelona
12. Poland
By Bec Wyld from Wyld Family Travel
For an epic New Years' Eve that you will never forget, a trip to Poland should be top of your list. Cities like Warsaw and Krakow are just coming down from the fantastic Christmas Market season that people from all around the world visit to see, but for many Polish people, Sylvester (New Year's Eve) is what they are excited about.  
The main cities are decorated lavishly with twinkle lights dotted through the larger town squares. In some, you may find a stage set up where local bands play from early in the afternoon through to the big moment. Restaurants are packed to the brim, with people having that last celebratory dinner with friends and family before heading out for the night. The day is even more special for anyone called Sylvester, and they are doubly celebrated too. New Year's Eve falls of the patron Saint of Sylvesters Day, so that is why many refer to it as Sylvester.
If you are lucky enough to visit some of the regional areas in Poland, then the celebrations are fabulous, although maybe a little lower key than in the cities. You will find families getting supplies at the supermarkets and local shops to make sure their night is filled with fun. You will also find small tents dotted in car parks that sell fireworks! 
Wisla is a small ski village where many locals and tourists go to spend time on the slopes, but it is also a wonderful place to spend New Year's Eve in Poland. With small family-owned ski chalets dotted on the mountains and in the valleys, you will find that come midnight; the sky is entirely alight with colour from all the families letting off their fireworks. It is a wonderful, unforgettable sight.
13. Prague, Czechia
By Samantha from The Wandering Wanderluster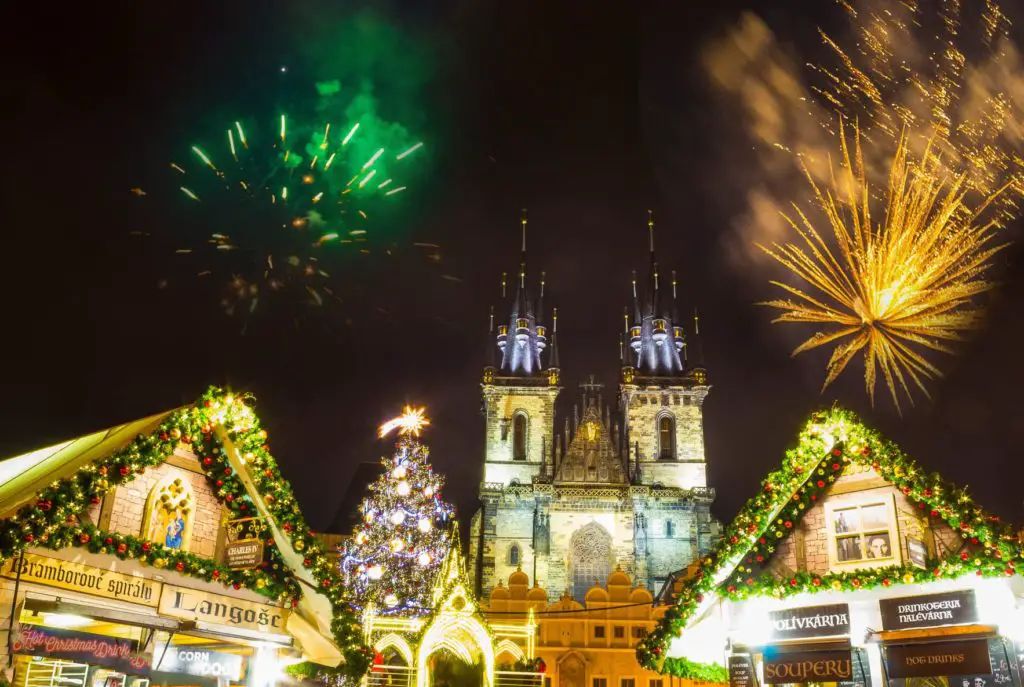 Prague has a long-lasting reputation for having one of the best party scenes in Europe, offering cheap beer and a lively nightlife scene. With this said, New Year's Eve in Prague never disappoints, making it one of the best places in Europe to celebrate the New Year. 
Whether you want to dance the night away at an exclusive club, tuck into an expensive 5-course meal in a grand hotel or restaurant, or enjoy a romantic cruise along the Vltava listening to live bands, Prague has something for everyone and every budget. Want to keep things low-key? Set up camp on Petrin Hill with blankets and a bottle of Champagne for a panoramic view of the fireworks at midnight or head to Charles Bridge and simply take in the euphoric atmosphere as the bells chime in the New Year. 
However, you choose to celebrate, be prepared to book 2 months in advance for parties and restaurants and book your hotel 3 or 4 months in advance for the best deals over the New Year period. Want to stay in the heart of the New year action? Book a stay at the Hilton Hotel which hosts an incredible New Year's Eve Party Show followed by drinks and dancing until the early hours in its Cloud 9 Rooftop Bar. 
14. Budapest, Hungary
By Emma Schneck from Go All Over the Place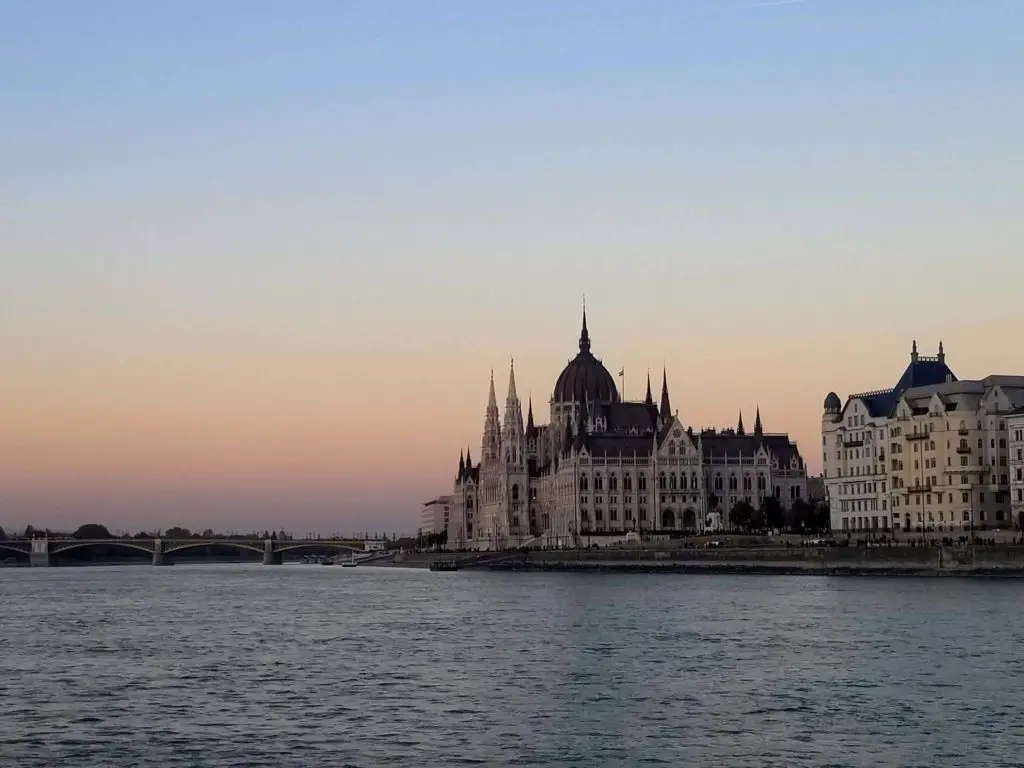 An affordable, vibrant, and charming capital city in the heart of Europe, Budapest, Hungary, is the place to be on New Year's Eve. For those who love to party the night away, the Jewish Quarter (7th District) is the hub for nightlife in Budapest. The famous and funky Szimpla Kert ruin bar hosts lively parties nightly and is a must for any Budapest itinerary. Other nearby clubs and bars like Vicky Barcelona and Akvarium are also known for their festive events.

Budapest has other activities for the evening for those who aren't as keen on clubbing into the New Year. Sunset and nighttime boat cruises down the Danube are a fantastic way to see the skyline of Budapest on any budget. The city is also known for its growing and affordable restaurant scene that boasts local and international cuisines. For accommodation, the Jewish Quarter is also home to many great hotels, hostels, and Airbnbs that won't break the bank. The Hostel One Budapest is an excellent choice for those who love social hostels!
15. Bruges, Belgium
By Mal from Raw Mal Roams 
Bruges is one of the best destinations to visit during the festive month of December, including the celebration of New Year's Eve. Bruges at Christmas time turns into a winter wonderland with plenty to do and experience! 
Many restaurants in the city offer New Year's Eve packages that include a multi-course dinner, drinks, and entertainment with music and dancing. The city has a vast selection of excellent restaurants serving Belgian and French cuisine, some of the best include De Gastro and The Park Restaurant.
Another option is to spend the evening hanging around the Bruges' primary Christmas market situated on the iconic Grote Markt surrounded by a colourful townhouse with stepped-gable roofs. The Christmas Fair has a great selection of food options and a glass dome if it's cold or rainy. Closer to midnight, head to t'Zand Square, where the city usually organises open-air events with concerts and fireworks displays. 
Choose a hotel in the historic centre to stay close to evening action. Hotel Bourgoensch Hof or a budget, private room at St Christopher's Inn Hostel is a good midrange option. 
Summary of the Best Places to Spend New Years in Europe
Now that you've seen some of the best new years events in Europe, have you picked your favourite destination? Whether you're in search of the party scene or the largest fireworks displays, one thing for sure is that you will see the New Year in style. I hope these lively, festive cities give you some inspiration and you find your perfect destination for A New Year break in Europe. Just be sure to book in advance if you want to go to the big events or secure accommodation close to the fun!
If you're looking for flights, hotels and everything in between, check out the best travel resources online for links and recommendations, all in one place.
---
Want to book an epic new year away but don't know where to start?
Do you like to travel but hate spending hours online researching holidays and trying to find the best deals? Here's why I come in. VeggTravel is an independent travel agent that does the hard work for you. I do the research, compare the prices and build the itinerary for your dream holiday, cruise, city break, or activity. Plus, my agent connections often mean exclusive offers on hotels and flights that you can't find anywhere else.
Rest assured that any holiday booked through me will give you the relevant ABTA, CILA or ATOL protection you need. Not only that, but I'll provide you with bespoke service tailored to your needs, and I'll be there every step of the way, ensuring that things go smoothly or being your single point of contact if things don't.
Ready to take your vacation to the next level? I don't charge a fee, so if you're based in the UK, drop me a mail and see what I can do for you.

---
---
Pin the Best Places to Spend New Years in Europe for Later
Sharing is caring. Please share this post on social media and if you have any feedback or questions, leave me a comment below.