Munich Beer Festival | A Guide to Surviving Oktoberfest
If you're looking for the Munich Beer Festival, I imagine what you're looking for is Oktoberfest Munchen, the largest beer festival in the world. Find out everything you need to know about this legendary annual event so that you can arrive well-prepared and leave drunk and smiling. 
Contents of This Munich Beer Festival Guide
This post may contain affiliate links. This means that I may receive a small commission if you buy something from these links. This is at no additional cost to you and it helps keep the site running. Thanks for your support.
History of Oktoberfest in Munich 
Many people automatically think of the Munich Beer festival for well… it's beer. However, Oktoberfest Weisn is an 18-day folk festival that originated as a public event in the 19th century. 
If you're in Munich for the opening weekend, then be sure to attend the traditional costume parade. This parade runs from Munich city center to the Oktoberfest grounds and is one of the highlights of Weisn. You can watch from the streets, but buy a ticket to a spectator stand if you want a better view. 
When is Oktoberfest, the Munich Beer Festival 
Misleadingly, the 2-week Oktoberfest beer festival actually begins on the second to last Saturday in September at noon. This opening weekend is the busiest and popular time as people flock to see the mayor of Munich taps the first barrel at the Schottenhamel Tent, declaring "O'zapft is" (It's open). 
Oktoberdfest 2022 takes place from Saturday 17th September to Monday 3rd October. However, the beer tents and accommodation get booked up quickly so don't delay in planning for Oktoberfest 2023!
Where is the Munich Beer Festival
Oktoberfest is located close to Munich Old Town and is easy to get to by bus or metro; destination Theresienwiese. 
Don't worry if it is your first time catching trains in Germany, it is easy to get about.
Planning for the Munich Beer Festival 
Here is the important part, Oktoberfest is extremely busy and therefore, proper planning is important to make your experience as smooth as possible. 
What to Budget 
Everyone is different regarding how much they drink or what they spend on food, accommodation and other fun activities. Remember that entry into the festival is free! But it's the costs of everything else that stack up.
Beer Tent Reservation: €360+ for a whole table for the day. Tickets are hard to come by and sell out quickly, but you can find more information about reservations here. 
Carnival Ride: €4 – €5 for most rides 
Food: €11+ for a small meal. I found the food delicious, though and well worth it. 
Stein: (one-liter mug of beer): €11-€15 
Hotel accommodation: €120 + per person per night. Rates during the Munich beer festival are high, especially if you want to stay in Old Town. However, travel links are great to and from the Beerfest, so it is worth staying a bit further out to reduce costs. 
Public Transport: €5 per day
Where to Stay 
Let's face it; if you're just going to Munich for the Beerfest, then it doesn't matter where you stay, provided it has easy access to the metro. 
If you plan to see the beautiful city itself, the Old Town is the prime place to be, and during Oktoberfest, the centre is thriving. 
If you want to be as close as possible to the festival itself, then stay within a mile or two of Theresienwiese. Although buses and metros are easily accessible to all major parts of the city.
What to wear 
There is no dress code for Oktoberfest, although the traditional costumes from the Bavaria region are commonly worn by German nationals and tourists alike. 
For men, this traditional outfit is Lederhosen which are short or knee-length leather breeches typically worn with a chequered shirt and often a hat. 
For women, the traditional outfit is a Dirndl, a flowy dress, an apron and a white blouse bodice that comes in many different elegant and beautiful designs. 
Buying authentic Bavarian wear is extremely expensive, but if you'd like to dress up for the Munich Beer Festival, affordable options are available.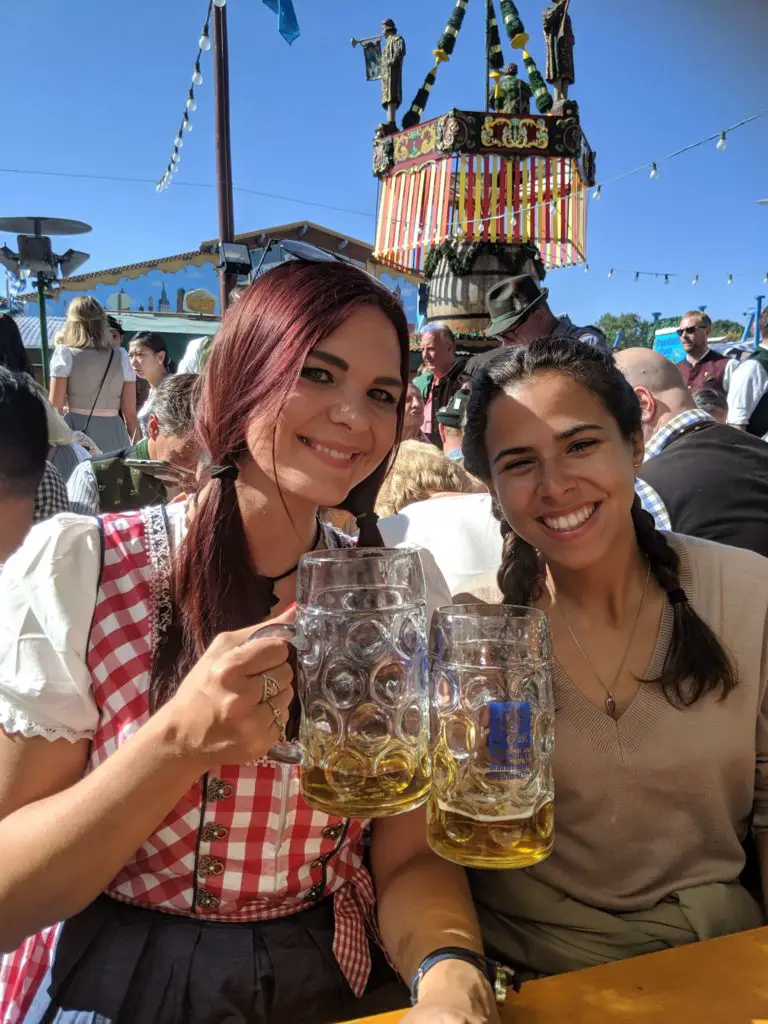 Beer Tents at Oktoberfest Munich Beer Festival 
While there are fun rides, shopping stalls and great food, let's face it, the reason you're going to Munich Beer Festival, and that's to get drunk! 
Well, you're in luck. If you left Oktoberfest sober, I'd be worried about you. However, you have a couple of choices about how to go about it. 
1) Pre-book your table at one of the larger beer tents
When you book a table, you have the whole indoor beer tent experience, which is a sight to behold. Inside the tents is where you will hear traditional music, singing and people dancing (and falling) on tables. Of course, you are somewhat constrained to the one tent, but I doubt that will matter. I had massive tent envy when I managed to get on top of a bench at a beer hall at the end of the night. 
It's too late to pre-book a table for Oktoberfest 2022 now but not for next year. Book early to avoid disappointment.
2) Turn up and try and find space on a table 
This is what I did, mainly because I went solo for the most part, and this gave me a great opportunity to meet different people. Boy did I! While I got to table hop around the different tents I was also able to enjoy all the different beer brands. However, being able to get a table is a risk and not advisable unless you're going on a weekday or in a small group. But that can be half the fun!
Don't forget with all that delicious ale, you will certainly get hungry! So, be sure to find some delicious German food to try.
Beers & Breweries
If you're somewhat of a beer connoisseur, then I recommend that you explore Munich Old Town before you head to the annual festival. Many of the big breweries have beer halls (Bierpalast, Bierstube) in the centre where you can taste the beers before committing to a tent. 
Some of the biggest and most popular beer tents: 
Augustiner Festhalle, this family-friendly tent, serves beer from wooden barrels. The Augustiner beer is also sold at many other tents, proving the popularity of this beer.
Hacker-Festzelt; want to be inside but feel like you're outside? This tent has intricately decorated ceilings that create the illusion of a bright summer sky.
Armbrustschützenzelt; if you book this tent for a Wednesday, you will also be treated by a traditional Bavarian performance from costume groups like Schuhplattlers or whip crackers.
Fischer-Vroni, a popular time to visit this tent is on the second Wiesn Monday for the pink party, when the LGBT community comes out in force, transforming this 'fish on a stick' tent into a vibrant party.
Don't just stop at the beer tents, be sure to taste the best vegan food in Munich, or everything in between.
Is Munich Oktoberfest worth it? 
Munich Oktoberfest is definitely worth it and should be added to your bucket list. Even if you're not normally a beer lover, the experience will make up for it, and you could always drink wine, cider or soft drinks. 
Take a ride on at least one amusement ride, devour delicious German food, enjoy the fabulous beer gardens, dance, sing, and meet many different people from across the world! If, like me, you're vegetarian, then take a look at these classic German veggie dishes before you go so you know what to expect.
Don't forget about exploring Munich in itself. This stunning German city will have you hooked and there are many fun things to do.
Oktoberfest Guide in Summary
After visiting the largest beer festival in the world and sampling the delights of German steins, I doubt normal beer will ever taste the same again. That is unless you also go to Stuttgart Beer Festival, Germany's other large Oktoberfest event. 
If you're travelling through Germany, you might also like the following posts:
Pin or Share for Munich Beer Festival 2022
I'd love to know how you have found this Oktoberfest guide, or whether you have any questions or feedback when you enjoy the celebrations yourself. Let me know in the comments or on social media.
Need help booking your trip so you can just enjoy yourself?
Do you like to travel but hate spending hours online researching holidays and trying to find the best deals? Here's why I come in. VeggTravel is an independent travel agent that does the hard work for you. I do the research, compare the prices and build the itinerary for your dream holiday, cruise, city break, or activity. Plus, my agent connections often mean exclusive offers on hotels and flights that you can't find anywhere else.
Rest assured that any holiday booked through me will give you the relevant ABTA, CILA or ATOL protection you need. Not only that, but I'll provide you with bespoke service tailored to your needs, and I'll be there every step of the way, ensuring that things go smoothly or being your single point of contact if things don't.
Ready to take your vacation to the next level? I don't charge a fee, so if you're based in the UK, drop me a mail and see what I can do for you.

---
---