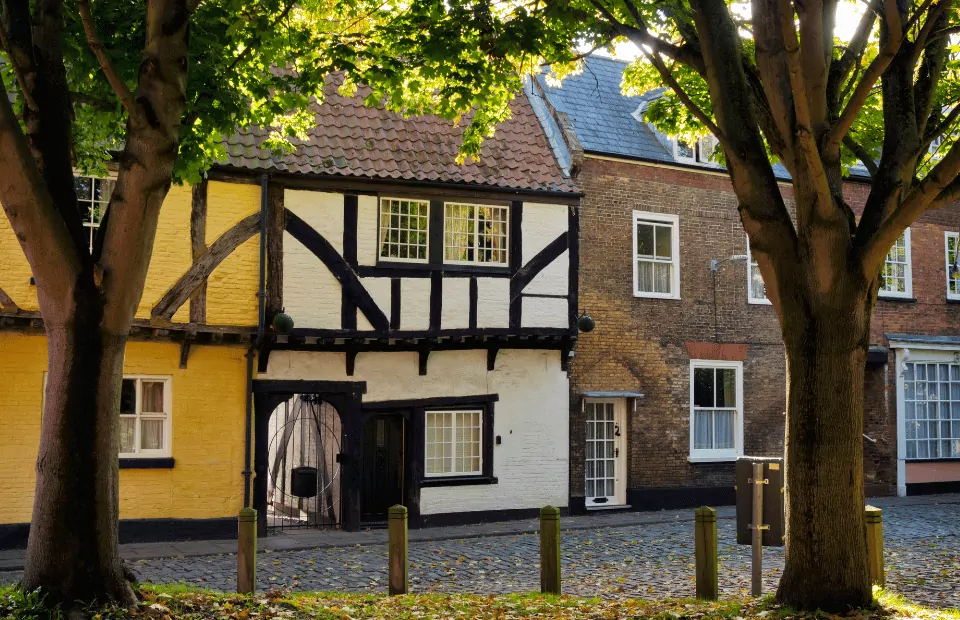 Discover the Best Things to Do in Kings Lynn
Are you planning a trip to Kings Lynn in England? The town has all kinds of interesting activities suitable for travellers, from tourists looking to explore the area's rich history and culture to outdoor adventurers looking for exciting activities and scenery.
No matter your interests or travel style, there are many things to do in Kings Lynn. Here are some of the best things first-time visitors should check out during their stay.
Things to do in Kings Lynn Contents
This post contains affiliate links which means I may earn a small commission if you choose to buy anything from them. This is at no extra cost to you and In doing so you help to keep this site running, so thank you in advance.
Where is King's Lynn
King's Lynn is a small port town located at the mouth of the River Great Ouse in Norfolk, East Anglia, England. Its historical importance goes back centuries, making it a great destination for visitors interested in British culture and architecture. Also known as the Gateway to West Norfolk, there are plenty of things to do in Kings Lynn that will suit all sorts of travellers, from families to couples. 
If you're wondering whether Kings Lynn is worth visiting, it is. The quaint village-like town has plenty of things to do, from markets to castles. Take a stroll down the river or catch some rays on the beach. There are many fun things to do in Kings Lynn that makes a worthwhile visit to Norfolk. 
Things to Do in King's Lynn
Lynn Museum
Lynn Museum is a great place to visit for first-timers in Kings Lynn. Located in the heart of the town, this nineteenth-century museum offers a fascinating insight into the history and culture of this vibrant Norfolk market town. The museum houses an impressive collection of artefacts, from archaeological finds to fine art and costume collections. Drop by to explore the displays of local history, the interesting story of Sea Henge, or the collection of early coins. Many of the exhibitions are interactive and great for entertaining children.
Best of all, visiting the Lynn museum is free from the start of October until the end of March. Even outside the winter, entrance will only cost you just over £5, making this one of the best things to do in King's Lynn.
Sandringham House and Gardens
Sandringham House and Gardens is a must-see for first-time visitors to Kings Lynn. Located in the heart of Norfolk, this royal estate has been the private home of four generations of British monarchs since 1862. The house is a stunning example of 19th-century architecture, with its grand façade and beautiful gardens over 600 acres of land. 
The grounds are an Outstanding National Beauty area and are one of the best things to do in Kings Lynn for families. Enjoy a stroll through one of the two woodland and forestry trails around the Royal Parkland and stop at the children's play area. Sandringham House or Gardens are open from April onwards, but there are special winter gardens, walks or afternoon tea events at other times of the year. 
Snettisham Park
Snettisham Park is a great place to visit for people who love the outdoors. Located just outside of the town centre, Snettisham Park is the perfect place to visit when looking for things to do in Kings Lynn. A beautiful country park that offers visitors plenty of activities and attractions.
The park has a large lake, home to many species of birds and wildlife, making it perfect for birdwatchers and nature lovers. As a working farm, there is also the opportunity to bottle feed lambs, collect fresh eggs or take a countryside walk—factor in a stop by the delightful tea room for a refreshing end to your visit. 
From February onwards, the park also offers a deer safari. Ensure to book tickets in advance to avoid disappointment. During my visit I saved money by buying combination farm entry and deer safari tickets on Buyagift.com.
Castle Rising 
One of the most popular attractions is the grounds at Castle Rising. This 12th-century castle is a great place to explore and learn about the history of Kings Lynn. 
The castle is surrounded by a large moat and has a great view of the surrounding countryside. Inside, visitors can explore the Great Hall, Chapel, and other rooms that were once used by royalty. There are also many artefacts from the castle's past on display.
The grounds are open to the public from April through October, so it's a great way to spend an afternoon or evening. Visitors can also take part in guided tours of the grounds and learn about the history of Castle Rising. 
Explore Lynn Minster
Lynn Minster is a great place to explore for first-time visitors to Kings Lynn. Located in the heart of the town, it is a historic landmark that dates back to the 12th century. Being so centrally located has the added perk of being able to stop by for a visit as you're shopping at the Saturday market. 
The site includes St Margaret's Church, which was built in 1101 and is one of the oldest churches in England. It also has a museum, which houses artefacts from the area. 
Visit the King's Lynn Town Hall
This impressive building dates back to 1520 and is one of the oldest civic buildings in England. It houses a museum, art gallery, and theatre, making it a great place for first-time visitors to King's Lynn. The Town Hall is located in the center of the town and is a Grade I listed building. Inside you can explore the history of King's Lynn through its many exhibits, including artefacts from the medieval period and more recent times. There are also regular art exhibitions and performances at the theatre. 
Shop at the Hunstanton Market 
You can also find Huntanston markets in the Southend car park on the seafront during summer. Hunstanton is a seaside larger, so these markets tend to be a summer thing. They're open on Sundays and Bank holidays Mondays. You can also visit the Hunstanton indoor market during early winter at Hunstanton Town Hall. 
If you're looking for things to do in King's Lynn itself, be aware of heading to Tuesday or Saturday market street expecting to shop a selection of wares. Misleadingly, there are no markets on these streets, as the local tourism office grumpily explained to me when I asked!  
Explore Castle Acre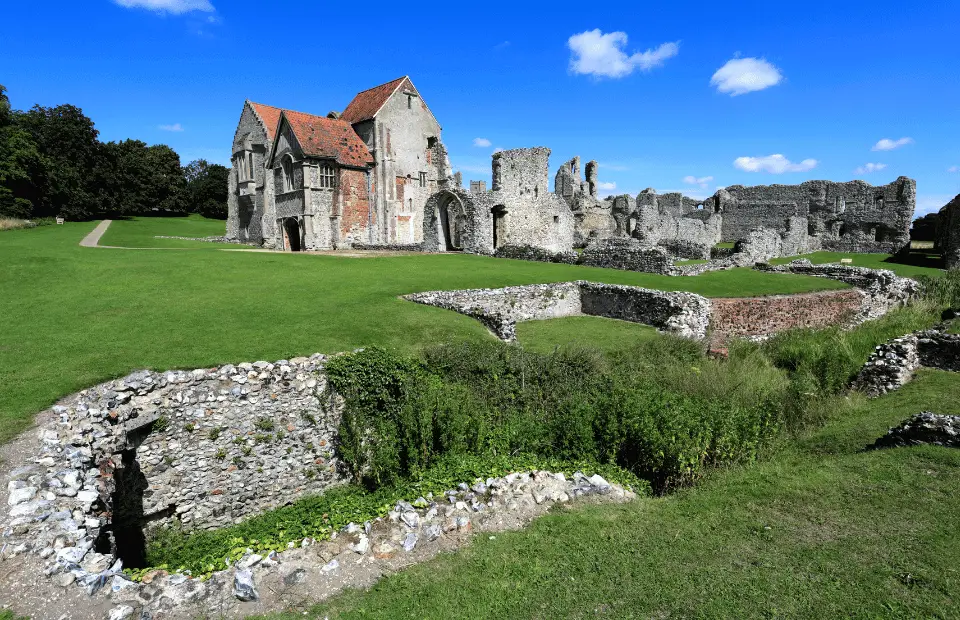 If you're a first-time visitor to Kings Lynn, exploring Castle Acre is a must. Located just outside the town, this 11th-century castle and its surrounding village are steeped in history. The castle was built by William de Warenne, the first Earl of Surrey, and it is one of England's best-preserved Norman castles.
The castle grounds are also home to several other historical sites, including the ruins of St. James' Church and the remains of a medieval priory. The village is full of quaint cottages and cobbled streets, making it an ideal spot for a stroll.
Venture the historical sightseeing walk
If you're looking for the best things to do in Kings Lynn then grab a tourist map and follow the red trail throughout the town. Not only will this short walk help you to see all of the major historical buildings and landmarks in King's Lynn, but it will also get your step count up for the weekend! Highlights include the Greyfriars Tower, Tower Gardens and a walk along the river bank.
Best beaches near Kings Lynn
Kings Lynn is a great destination for beach lovers, with plenty of stunning beaches to explore. Whether you're looking for a relaxing day by the sea or an adventure-filled day of swimming and sunbathing, Kings Lynn has something for everyone. Here are some of the best beaches near Kings Lynn that first-timers should check out:
Hunstanton Beach
This stunning beach is just a short drive away from Kings Lynn and is perfect for those looking to relax and enjoy the sun. With its golden sand and clear blue waters, Hunstanton Beach is the ideal spot for swimming, sunbathing, or simply taking in the views. 
Hunstanton beach is unusual in that it has eye-catching cliffs framed with smaller rocks and boulders. The cliff formations, rock pools and shipwreck make for an interesting stroll. However, if you're looking to relax, you will enjoy the long length of golden sand. This beach is also great for watching the sunset on clear days. 
Dogs are also welcome all year round on the strip of beach running south from the slipway at The Boat House Café. However, the main beach has dog restrictions during the summer months. 
Cromer Beach
This popular beach is just a few miles from Kings Lynn and offers plenty of activities for first-time visitors. Cromer Beach is a great spot for swimming, sunbathing, and beachcombing, with many people stopping by the pier to see the Royal National Lifeguard launch. During the peak season, you can also visit the Lifeboat station and museum. 
The pebble-sand mix is great to walk across, and pretty colourful chalets are used during the summer. This beach also welcomes dogs out of season (1st May – 30th September), so you can take your furry friend. 
There are places to shower and bathrooms along Cromer beach, so you can easily set up for an enjoyable day. There are also plenty of places to eat and drink along the promenade and throughout the town. 
Wells-by-the-SEA
Wells by the Sea is a great destination for first-time visitors to King's Lynn. Located 45 minutes from King's Lynn, this picturesque beach offers plenty of activities and attractions. From looking for gifts and decor on the shopping street to a ride on the light railway, there are plenty of things to do in the town. 
Take a walk across the sandy beach, admire the colourful stilted chalets, or watch the royal lifeguards head out from the dock. Many people also catch crabs from the dockside, although this is not an activity I recommend or support. You can also continue your walk alongside the pathway with views of the surrounding marshes. 
Dogs are not permitted on the first 200 yards of the eastern entrance to Wells beach. However, you can freely walk your dog to the west end of the car park. During summer, you will be restricted to walking your dog before 8 am or after 6 pm, and you will need to keep them on a lead. 
How Long Should You Spend in King's Lynn?
If you're a first-time visitor to King's Lynn, you may wonder how long you should stay in the area. The answer depends on the activities and attractions you're interested in.
If you're looking for a relaxing break, two or three days is plenty of time to explore the town and its surroundings. 
Where to Stay in King's Lynn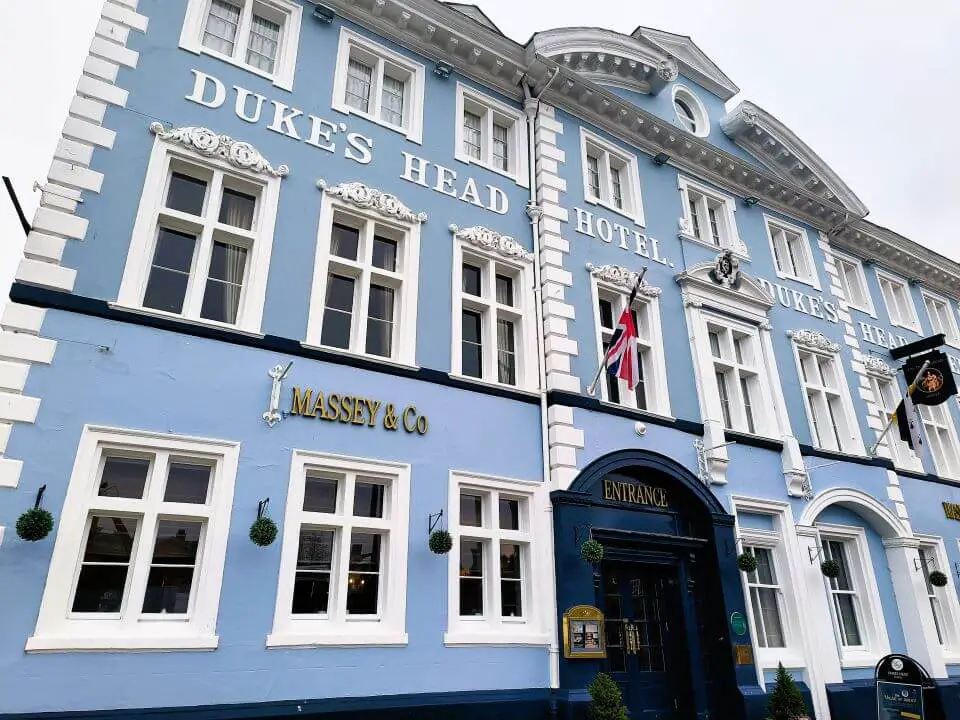 If planning a visit to King's Lynn, you must first decide where to stay. The town has many accommodation options, from budget-friendly B&Bs and guesthouses to luxury hotels. The Duke's Head Hotel is one of the best places to stay in King's Lynn. I stayed in this historic hotel, which did fantastic food, and was located in the heart of the town. The staff were friendly and accommodating, and I really enjoyed my stay.
Best things to do in Kings Lynn in Summary
If you've got to the summary, you'll have discovered the best things to do in Kings Lynn by now. If you're visiting this lovely historic port town, be sure to also factor in time to see the nearby beaches, farms and historical grounds. Most of all, enjoy your visit. 
Like this post, then take a look at the following:
---
Looking for a UK break that ticks all the boxes?
Do you like to travel but hate spending hours online researching holidays and trying to find the best deals? Here's why I come in. VeggTravel is an independent travel agent that does the hard work for you. I do the research, compare the prices and build the itinerary for your dream holiday, cruise, city break, or activity. Plus, my agent connections often mean exclusive offers on hotels and flights that you can't find anywhere else.
Rest assured that any holiday booked through me will give you the relevant ABTA, CILA or ATOL protection you need. Not only that, but I'll provide you with bespoke service tailored to your needs, and I'll be there every step of the way, ensuring that things go smoothly or being your single point of contact if things don't.
Ready to take your vacation to the next level? I don't charge a fee, so if you're based in the UK, drop me a mail and see what I can do for you.

---
Pin Things to do in King's Lynn for Later
Sharing is caring. Please share this post on social media and if you have any feedback or questions, leave me a comment below.