Things to do in Portmeirion North Wales, An Italian Inspired village
Visiting Portmeirion in North Wales is like stepping into another realm. Nestled within the grandeur of Snowdonia National Park, a few moments of driving will transport you to a colourful Mediterranean paradise. This award-winning picturesque tourist village is on a private peninsula and is worth exploring for a day or weekend. Read on to discover all the best things to do in Portmeirion village for a beautiful escape.
Things To Do in Portmeirion Contents
This post contains affiliate links which means I may earn a small commission if you choose to buy anything from them. This is at no extra cost to you and In doing so you help to keep this site running, so thank you in advance.
Where is Portmeirion
Portmeirion is within Snowdonia National Park, close by Porthmadog and Bets'y'Coed, making brilliant locations to stay when you visit Wales. They conveniently also have train stations, making it easier to get around without a car. Be sure to check out Transport for Wales to discover the best train routes around the country.
However, If a visiting Portmeirion isn't enough, you can stay in the various luxury self-catering cottages in the village. There are many stunning rooms with equally beautiful views, so if you want a unique stay make sure you've pre-booked.
About Portmeirion
You may be wondering, "what is Portmeirion". Portmeirion in North Wales was designed by Sir William Clough Ellis (also known as Sir Clough William Ellis), who was knighted for his impressive services to British architecture.
If you're arranging a visit, please note that Portmeirion is not dog friendly, and unfortunately, you will need to leave your fur babies at home. There is ample car parking so getting Portmeirion is easiest by car.
Weather in Portmeirion is typical of North Wales according to whatever season you visit. Summer is peak time and there will be more crowds but the shoulder seasons of Spring and Autumn are great to visit too. Pack for all weathers and you won't be disappointed.
The 10 Best Things to do in Portmeirion in North Wales
Once you have gotten over your initial awe as you first step into the iconic Italian village, you will realise there are many more things to do in Portmeirion than you would first expect.
1)     Explore the beautiful Portmeirion Village
Portmeirion village has a unique picture-perfect architecture that you need to take a moment to enjoy. Why not grab a coffee or an ice cream at one of the quaint little shops and relax in the central piazza? You can also enjoy old architecture such as the Bristol Colonnade, an old traditional bathhouse imported from England in 1957 or the town hall.
2)     Feel the sand on your feet at the Dwyryd Estuary
When you arrive at Portmeirion village, it isn't easy to imagine that there's a stunning sandy beach behind all the Mediterranean splendour! Wander along the private coastline of the Dwyryd Estuary, Portmeirion's beach. Paddle in the sea and discover the hidden caves' many nooks and crannies or just take in the breathtaking views of the Portmeirion coast.
3)     Share your respects at the pet cemetery
No, this isn't a Steven King book; one of the more unusual things to do in Portmeirion is to visit the pet cemetery. With a statue of a once-beloved dog at its helm, you can wander the graves of the pets that have been loved and lost over the years. As sombre as it is, the pet cemetery is a pleasant reminder of how much pets enrich our lives, and it's a lovely tribute to them.
4)      Play pirates on the stone boat Amis Reunis
Sir William Clough Ellis owned a houseboat that was stranded off the coast of Portmeirion Village. While some boats were salvaged and used for decoration in the Italian village, their remains can still be seen at low tide across the shore. The stone boat replica is an excellent tribute to the original Amis Reunis, and adults and kids will enjoy exploring it.
5)     Dine or pamper yourself at Castell Deudraeth
Castell Deudraeth is a brilliant place to visit in Portmeirion in North Wales. Grab a delicious meal or afternoon tea from the restaurant, or pamper yourself with one of the many spa treatments available. The gothic-looking Castell Deudraeth is a 4-star hotel, so you can even stay here. Conveniently located next to the car park, it's worth stopping by before you head home. 
6)     Take one of the Garden Trails
One of the most enjoyable things to do in Portmeirion is to lose yourself in the gardens, surrounded by colourful flora and fauna. Stumble across magnificent ancient trees and cherry blossoms in spring and inhale the flowery scents of nature.
Find the Japanese pagodas, the Chinese lake, ponds and hidden caves. The woodland areas and gardens are a must-do, and you can easily spend hours enjoying them.
7)     Take in your surroundings at the Gwylea view point
If you're deciding what to do at Portmeirion, then be sure to visit the Gwynlea viewpoint. This viewpoint is one of the most stunning spots to view the Portmeirion coast and the mountains beyond. Grab one of the benches and enjoy the views of the coast below and the welsh countrywide and mountainside right ahead. Follow the signs from the pet cemetery and ghost garden to the viewpoint to see the picturesque scenery of Portmeirion beach.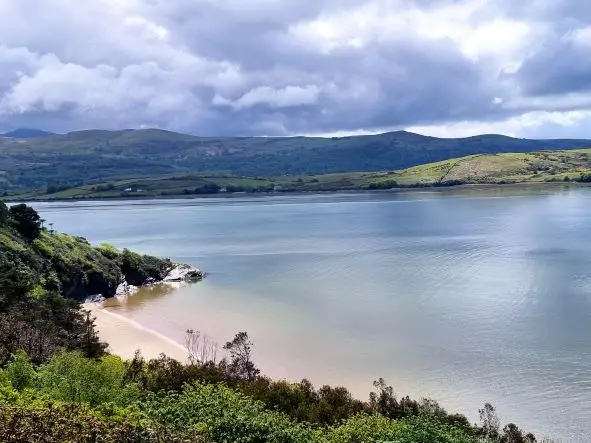 8)     Grab a drink at the Hotel Portmeirion
The early Victorian Hotel Portmeirion is a superb place to grab a drink or a meal and watch the world pass by. Take a seat on the outdoor terrace bar and gaze at the sweeping views of the Welsh mountains. Even transparent igloos will keep you cosy and warm if it's chilly. You will be comfortable here if you're looking for things to do in Portmeirion when it rains. 
9)     Relax by the pool overlooking the Portmeirion coast
If the weather is warm, make sure you've packed a swimsuit as there are a pool and sun loungers you can enjoy in unique surroundings. Just a short walk from the Portmeirion hotel, you can unwind at the outdoor pool overlooking the coast below. The Welsh countryside is certainly not your typical pool view but one of the top things to do in Portmeirion.
10)  Explore the coastal trails
Like the garden route, some trails take you along the coast of Portmeirion Village. The best time to do this is when the tide is slightly out as it exposes the rocks and crags you can step across, which makes some great photos.
There are also lovely gardens you will walk through and small pieces of colourful architecture. The Y Goleudy lighthouse, in particular, is a sight that stands out. If this walk wasn't interesting enough, it also takes you to the Hotel Portmeirion. What a way to round off a memorable day.
Things to Do in Portmeirion in North Wales, Final Thoughts
The Italian village in Wales nestled into Snowdonia national park certainly makes for a luxurious escape. It can be relaxing, but there are also many adventurous things to do near Portmeirion. I took the opportunity to visit here after a ride on the world's fastest zip line, Penrhyn zip wire and the quarry karts. Not only does it refresh and recharge your batteries, it does feel like you've been transported to a whole new country.
If you're an eco-conscious traveller, check these tips to make your UK staycation more eco-friendly. 
---
Looking for someone to take the stress away from planning your next holiday?
Do you like to travel but hate spending hours online researching holidays and trying to find the best deals? Here's why I come in. VeggTravel is an independent travel agent that does the hard work for you. I do the research, compare the prices and build the itinerary for your dream holiday, cruise, city break, or activity. Plus, my agent connections often mean exclusive offers on hotels and flights that you can't find anywhere else.
Rest assured that any holiday booked through me will give you the relevant ABTA, CILA or ATOL protection you need. Not only that, but I'll provide you with bespoke service tailored to your needs, and I'll be there every step of the way, ensuring that things go smoothly or being your single point of contact if things don't.
Ready to take your vacation to the next level? I don't charge a fee, so if you're based in the UK, drop me a mail and see what I can do for you.

---
Pin The Things To Do In Portmeirion For Later
Sharing is caring. Please share this post on social media and if you have any feedback or questions, leave me a comment below.