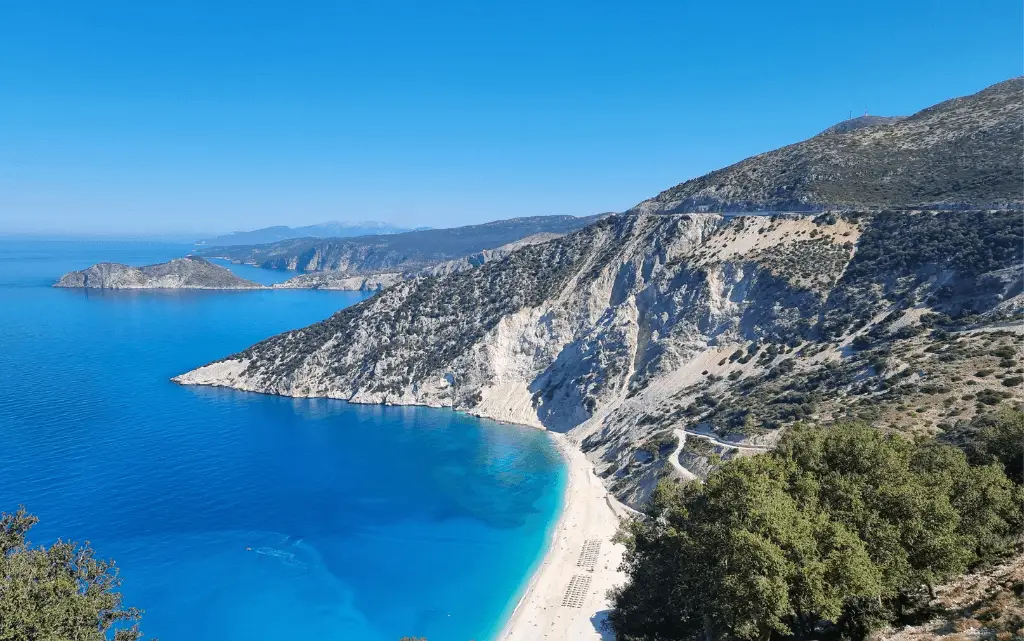 The Top 10 Things to do in Kefalonia Greece, for Adventure Lovers
Kefalonia (also spelt Cephalonia) is Greece's biggest island that spans the Ionian ocean. Picture sweeping mountainous landscapes, giant limestone cliffs, and stunning beaches with turquoise seas. This description only scratches the surface of this wonderful destination. The good news is that such a big island means that you will be spoilt for choice for things to do in Kefalonia. This Kefalonia guide will help you discover beautiful beaches and varied activities to create your ultimate travel itinerary. 
Things to do in Kefalonia, Greece – Contents
This post contains affiliate links which means I may earn a small commission if you choose to buy anything from them. This is at no extra cost to you and In doing so you help to keep this site running, so thank you in advance.
List of What to Do in Kefalonia
1) Paragliding in Myrtos Beach
Myrtos Beach is the most iconic beach in Kefalonia and one of the most recognisable across the Ionian islands. The chances are that you have already seen an aerial photo of the azure waters, white cliffs and what looks to be white sands (it is actually pebble).
This incredible beach covers three great things to do in Kefalonia.
Firstly, stop off at the viewpoint above the beach and take scenic photos.
Secondly, swim to the secluded cave entrance at the left of the beach.
Finally, for the adrenaline junkies among you, consider paragliding from the top off the cliffs, landing onto the beach. You can organise Myrtos Beach Paragliding directly with the noborders team on the beach and after a short drive you'll be on the top of a cliff ready for the experience of a lifetime.
2) Grab lunch with a view in the Assos Village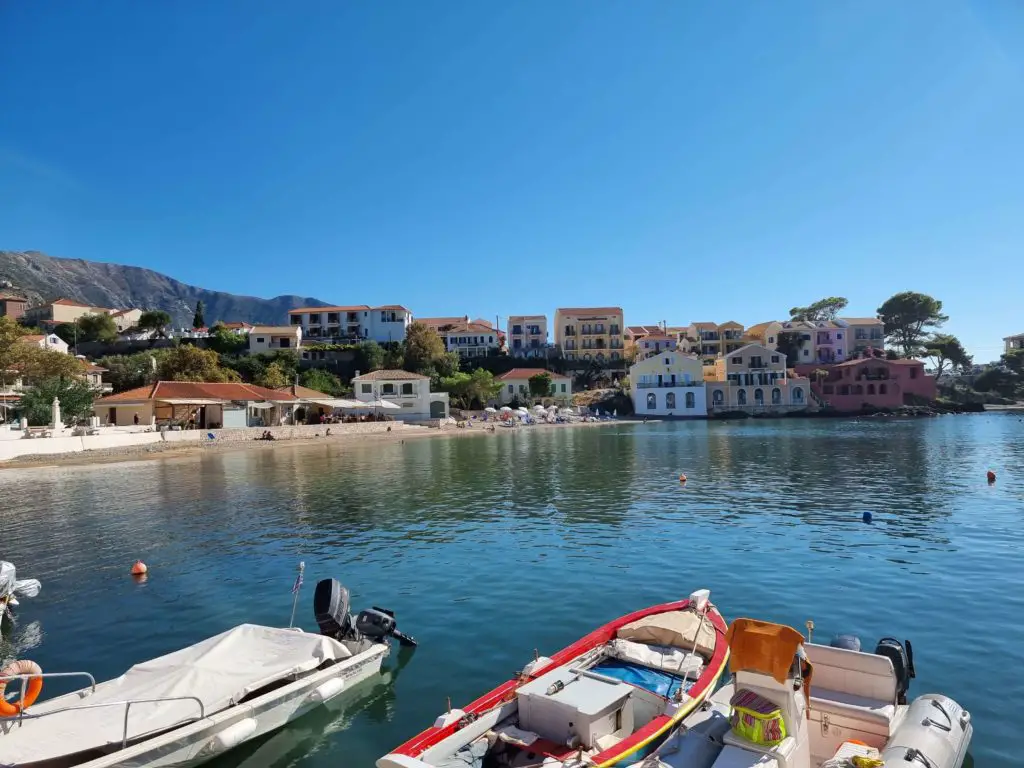 As you approach the postcard-perfect village of Assos, you can't help but be captivated by its unique and striking structure. You'll love the pastel-coloured houses that line the crystal clear waters, begging you to take a dip or just lounge around on the pebble beach. Finish off your day with a meal at one of the many restaurants boasting unbeatable views of the bay.
If you're wondering what to do in Kefalonia, Assos offers more than just a picturesque setting – it also provides an unforgettable sunset experience. Climb up to the top of Assos Castle and be rewarded with breathtaking views of the bay, not to mention a front-row seat to one of nature's most spectacular shows. Built in the 14th century, this Venetian Castle is a must-see for those visiting Kefalonia and will be remembered long after your return home.
3) Visit the Melissani Cave & River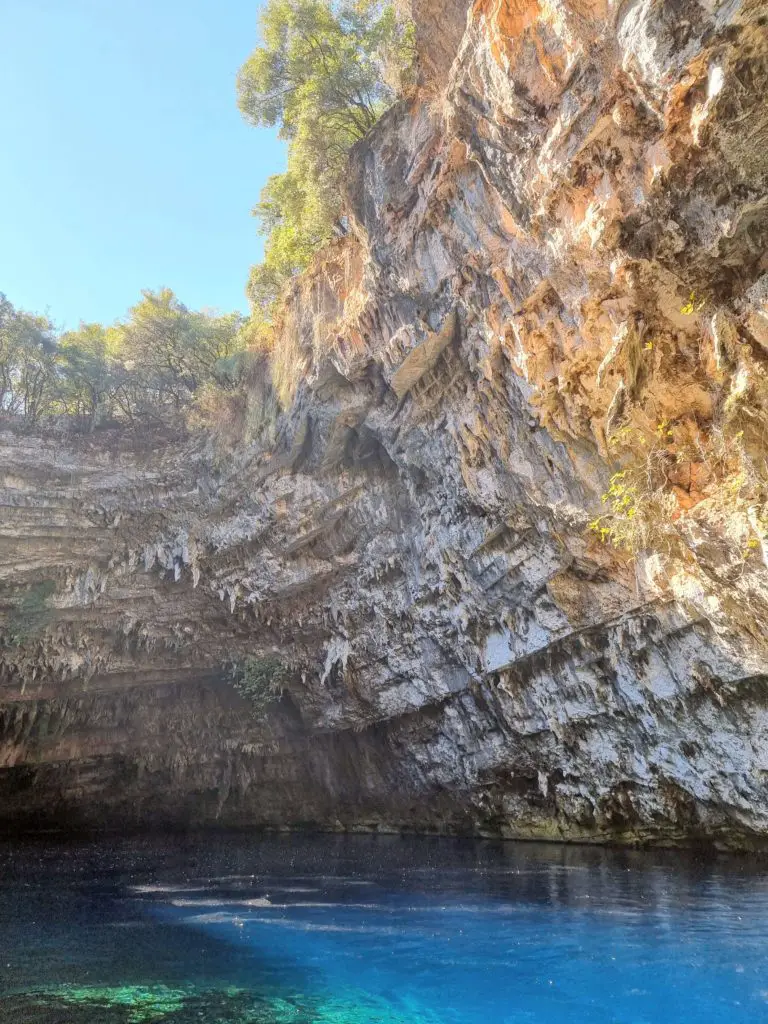 One of the best things to do in Kefalonia is a visit to the beautiful Melissani Lake. A wooden boat will take you into the mouth of the cave that was once an underground lake, and between 1100-1400 hours you can witness the stunning effect created by the sun passing through the opening of the cave and lighting up its clear blue waters. For only 6 euros, this natural wonder is truly worth it.
Tip: try to ensure you're the last on board as you'll be in prime position for taking photos without any other people getting in your shot!
4) Explore Drogarati Cave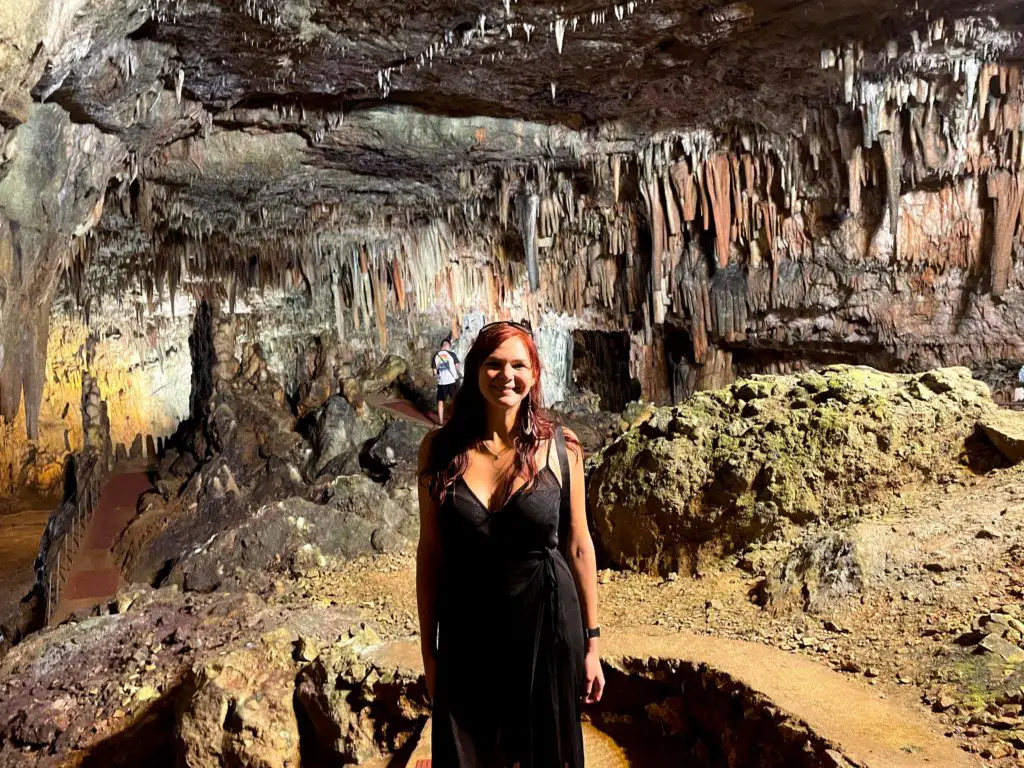 If you're looking for something a bit different during your visit to Kefalonia, then make sure to check out the Drogarati Cave. As soon as you enter, the cool air will hit your skin and you'll be struck by the intricate beauty of this natural wonder. If you're an Assassin's Creed fan, you may recognize it from the Odyssey series. It's well worth paying the 5 euro entrance fee to experience it for yourself!
Top Tip: For a more private visit, try to plan this into your itinerary early or late in the day. Just remember that there are several steep steps down and back up, so consider if you have any mobility issues before going.
5) Spot the Loggerhead Sea turtles in Argostini Harbour
Have you ever seen a sea turtle in the wild? If you have, I bet you haven't seen one come right up to the harbour? Like clockwork, the Loggerhead turtles of Kefalonia island come to the shore to scavenge fish guts and scraps from the local fishing boats. It's a perfect way to see such beautiful creates in a completely natural way. Head to the harbour for breakfast, and you'll be sure to have a turtle encounter; it's a genuinely one of the best things to do in Kefalonia.
While you're in the area, another one of the popular thing to do is to pose with the I love Kefalonia sign. Continue up the Argostoli harbour towards the central square and you cannot miss it.
Top Tip: head to the Kefalonia sign in the late morning when many boats will have left the harbour, so they don't clog the background of your photos with advertisements.
6) Skala to Ithaki Island
Explore the picturesque port of Skala, which boasts sandy beaches, great amenities and tranquil, shallow waters. From here, you can take a journey to the legendary island of Ithaca – birthplace to the iconic Greek hero Odysseus (also known as Ulysses), who fought in the Trojan War. If you're keen to learn more about him and his story, be sure to visit the Ithaca Folklore and Nautical Museum in Vathy, the capital of Ithaca. To experience even more stunning beaches and breathtaking views, head to Gidaki beach for an unforgettable experience.
7) Rent a private boat in Fiskardo harbour
From its picturesque harbour lined with traditional Greek architecture, to its cozy restaurants and ample shopping opportunities, Fiskardo on the northern tip of Kefalonia is a lively holiday destination for yacht and boating enthusiasts alike. Whether you're new to boating or have lots of experience, renting a boat in Fiskardo is one of the best things you can do in Kefalonia. Many places along the harbour offer boat rental from around 70 euros per day (plus fuel) – prices vary depending on the season.
Fiskardo village was miraculously spared from a devastating earthquake in the past, which has left it with an abundance of historical structures to explore. And if that wasn't enough, visitors can also take advantage of its pretty pebble beach.
8) Take a ferry to Lixouri and visit the blue flag beaches
Travelling from Argostoli to Lixouri is easy, affordable and convenient for both those in rental cars and public transport. Ferries run frequently – with a ferry departing every half hour from morning to evening (hourly from 7 pm) – making it an ideal part of your Kefalonia itinerary. The cost is around 8 euros each way (for a car with 2 people) and the journey takes 20 minutes port to port.
For those seeking an unforgettable beach experience, a trip to Xi Beach is a must. Located just a short drive away, this stunning destination offers the opportunity to enjoy swimming, lazing in the sunshine and indulging in the variety of beach bars and water sports available. The red beach is one of Kefalonia's most popular attractions – don't miss out!
Heading north for around forty minutes brings you to Petani Beach, another stunning blue flag beach offering ample dining options as well as a mix of sand and white pebbles. Snorkellers will particularly appreciate the rocky cove to the right-hand side of this idyllic spot – be sure to make time for this during your day trip.
9) Go Snorkelling at Antisamos Beach
Kefalonia has some of the best places to snorkel of the Greek Islands, and Antisamos beach is fantastic for marine life. It is not typical for sandy beaches in Greece to offer free sunloungers and parasols, but in Antisamos, these are included when you order food or drink from the beach bars.
When you're not relaxing in the sun, step into the stunning turquoise waters to see an abundance of fish and explore the rocky cliffs on either side of the beach.
Located only 3km from the famous port town of Sami and close by the Melissani Cave, this popular beach is a perfect way to relax after a busy day. 
10) Take a trip to Zakynthos and explore the shipwreck island 
Zakynthos island is approximately an hour ferry ride from Kefalonia island. The easiest way to do this is by organised a boat tour which includes a visit to the shipwreck beach (Navagio) and the stunning blue caves. Not only is Zaknthos a stunning Ionian Island, but it has the striking postcard beauty and turquoise waters that you cannot miss.
Summary of the best things to do in Kefalonia
There are so many wonderful things to do in Kefalonia it is challenging to know where to start. Do you explore the beautiful beaches and beach towns, or the incredible views of the mountains, lush vegetation and pine trees? Wherever you turn, you will discover amazing views, blue water and beautiful villages. 
If you're planning a trip to Kefalonia, or just to Greece more generally, you will love the following posts: 
Which of the best things to do in Kefalonia appeals to you most, or which did you enjoy? I'd love to know about your trip or help to answer any questions you may have. So let me know in the comments, and please like and share on social media. 
---
Want to take the stress out of planning your dream holiday?
Do you like to travel but hate spending hours online researching holidays and trying to find the best deals? Here's why I come in. VeggTravel is an independent travel agent that does the hard work for you. I do the research, compare the prices and build the itinerary for your dream holiday, cruise, city break, or activity. Plus, my agent connections often mean exclusive offers on hotels and flights that you can't find anywhere else.
Rest assured that any holiday booked through me will give you the relevant ABTA, CILA or ATOL protection you need. Not only that, but I'll provide you with bespoke service tailored to your needs, and I'll be there every step of the way, ensuring that things go smoothly or being your single point of contact if things don't.
Ready to take your vacation to the next level? I don't charge a fee, so if you're based in the UK, drop me a mail and see what I can do for you.
---

---
---
Pin The Best Things to do in Kefalonia for Later