Santorini Sunset Kayak Tour – Unique Kayaking in Greece
Santorini is a stunning volcanic Greek Island that attracts millions of visitors annually. However, visiting this beautiful island shouldn't just stop at the Caldera or the quaint white Domus buildings. Instead, take your trip to the next level with an adventurous Santorini sunset kayak tour. Discover what kayaking in Santorini, Greece entails and prepare for a thrill-seeking adventure on the ocean.
This post contains affiliate links which means I may earn a small commission if you choose to buy anything from them. This is at no extra cost to you and In doing so you help to keep this site running, so thank you in advance.
Why go Kayaking in Santorini?
Kayaking in Santorini should be on anyone's bucket list when they visit the island. Not only do you get the beauty of the cliffs from the ocean waves, but you also get to add a stunning sunset to the mix.
When people think of a Santorini sunset, they think of the picturesque town of Oia, famous for its blue dome churches and viewpoints. However, the reality is that Oia is extremely busy at sunset and only enjoyable if you've pre-booked a restaurant or have the privilege of a private balcony.
Taking a Santorini sea kayak tour will help you avoid the chaos around Oia while enjoying the peaceful sunset in a unique and memorable way. Not only that, but you'll also get to explore the island from the comfort of your kayak.
Where to book the Santorini Sunset Kayak experience
Trekking Helias Cyclades Santorini runs the sunset kayak experience. This fun and adventurous activity start on the island's south coast on Black Beach (Mesa Pigadia Beach). Your tour will include a round trip transfer with hotel pick up and drop off and a dinner at the local taverna.
To book, check out the price and availability of the tour below:
What does the Santorini Sunset Kayak experience include? 
The Santorini kayak tour uses comfortable double kayaks with the added benefit of steering pedals! Kayaking with steering pedals makes it much easier, especially if you're not in the best physical condition or have beginner / low experience levels.
You will be given safety equipment and shown how to kayak by two extremely experienced and hilarious local guides who make the activity fun and informative.
Santorini Kayak Itinerary 
1) Kayak to the white beach
View the secluded white beach set within dramatic cliffs that can only be reached by boat or kayak.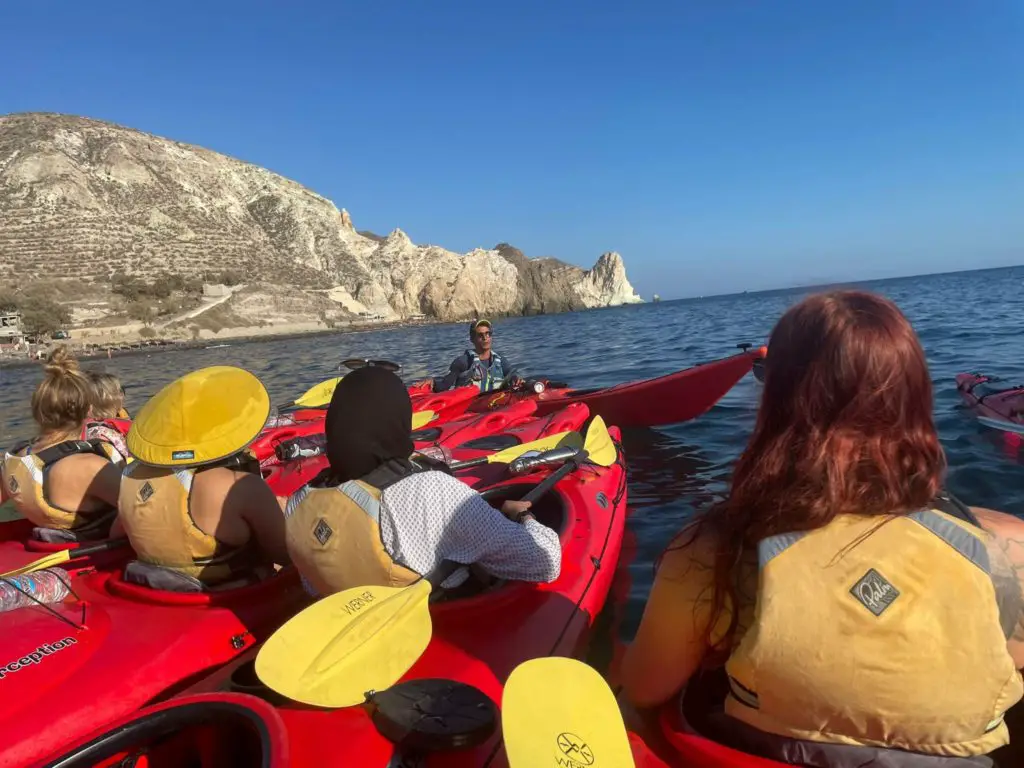 2) Kayak to the Red Beach 
The Red Beach is unique in that it has dangerous red cliffs – making viewing the beach and sea rocks all the more comfortable from the seat of your kayak.
3) Cave kayaking in Santorini 
Enter the Dragon's mouth, a magnificent sea cave that makes the roaring sound of a dragon as the waves crash inside. This unique location is perfect for cave kayaking in Santorini. 
4) Snorkel around Kampia beach 
Use the snorkeling equipment provided (or take your own) to spend time snorkeling into a sea cave and chasing marine life. Then, take a moment to enjoy cold bottled water and fresh fruit salad on a sun lounger and recoup your energy for the sunset ahead.
Related Read: Best Places to Snorkel in Europe, featuring Santorini
5) Enjoy epic views of the sunset from your Santorini sea kayak
The ultimate finale is the beautiful sunset views between the spectacular rock formations as you head back towards the white cliffs of the black sand beach. The panoramic views of the southern coast from the glistening ocean will forever be etched in your memories.
6) Enjoy a Greek dinner with the tour group at the Mesa Pigadia traditional taverna
There is no better way to end an exciting day Kayaking in Santorini than with a delicious Greek meal with the friends you've made on tour. Once you've finished your meal, you'll be dropped off at your hotel.
---
What you should take on your Santorini kayaking tour:
Dry clothes, towel and sun cream
Water shoes. Whether you go on a Santorini sea kayak tour or not, invest in water shoes! The volcanic beaches are stony, and you won't regret it. 
Optional – I took my full-face snorkel mask as I find them more comfortable, but you don't need to as you get the standard snorkels included. 
---
What equipment is included in your kayak adventure: 
Dry bag for your essentials 
Dry cover for taking photos on your mobile phone 
---
A Summary of Kayaking in Santorini, Greece
If you're looking for an epic sunset, beautiful beaches, incredible rock formations, and an outdoor activity that will give you a scenic ride, look no further! Take a Santorini sea kayak & snorkeling tour to experience the Caldera in a serene setting.
My personal experience of the Santorini sea kayak activity was both fun and romantic, but I'd love to know your experiences or questions in the comments. 
If you liked this post, you might also like to read:
Want the pleasure of travel without the stress and hassle?
Do you like to travel but hate spending hours online researching holidays and trying to find the best deals? Here's why I come in. VeggTravel is an independent travel agent that does the hard work for you. I do the research, compare the prices and build the itinerary for your dream holiday, cruise, city break, or activity. Plus, my agent connections often mean exclusive offers on hotels and flights that you can't find anywhere else.
Rest assured that any holiday booked through me will give you the relevant ABTA, CILA or ATOL protection you need. Not only that, but I'll provide you with bespoke service tailored to your needs, and I'll be there every step of the way, ensuring that things go smoothly or being your single point of contact if things don't.
Ready to take your vacation to the next level? I don't charge a fee, so if you're based in the UK, drop me a mail and see what I can do for you.

Pin the Santorini Sunset Kayak Tour for Later