4 Days in Santorini Itinerary: The Ultimate Break in Greece
Santorini, Greece, is an idyllic location in the Aegon Sea that is world-famous for its beautiful sunsets. From the picturesque white houses, blue-domed churches and the unique and beautiful Caldera, you'll lose yourself in this stunning Greek Island. This Santorini travel guide will help you plan a fun and memorable 4 days that covers all the key locations and things to do so that you don't miss a thing (except maybe the crowds!). Read on for the ultimate Santorini itinerary 4 days, it makes an epic road trip!
Santorini Greece Itinerary Contents
This post contains affiliate links which means I may earn a small commission if you choose to buy anything from them. This is at no extra cost to you and In doing so you help to keep this site running, so thank you in advance.
---
Getting around Santorini 
It costs approximately 30 euros to get to your hotel from Santorini Airport. Either book a car rental or organise your hotel transfer in advance. It will work out cheaper, if not the same price as getting a taxi from the airport, but it is much more convenient.
Public transport in Santorini is good, and you can easily get to the main tourist locations by public bus. However, the timetables aren't that frequent, so the best way is to drive if you can. 
It is best to rent a quad bike to complete your Santorini road trip Itinerary because of the rocky terrain, particularly when driving to the beaches. You will likely only need a standard driver's licence to hire one. However, this option isn't recommended if you're travelling to Santorini in Winter.
---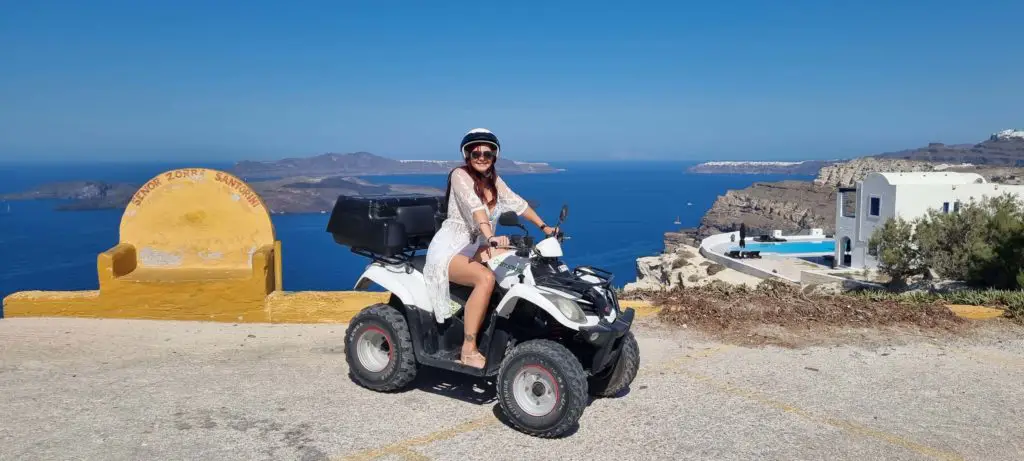 How many days to spend in Santorini
Santorini, how many days? That's the first question many ask when looking at vacations to this beautiful Greek Isle. Most people will visit Santorini for a long weekend as the island is small, and you can see a lot within that time. However, you can also stretch your time to a week if you like beach time and relaxation. Is that just enough, or too long? The sweet spot is 4 days in Santorini, and you'll soon see why.
Where to Stay in Santorini 
When deciding where to stay in Santorini, there are several things to consider:
1) Cost
Avoid Oia if you're looking for somewhere to stay on a budget. Some cheaper locations still have things to do nearby are near the beaches. Unfortunately, hotels with a view have a hefty price tag, but you can avoid this by staying inland or in places that don't include a pool.
2) Location 
Are you looking for nightlife and an ample selection of bars, restaurants and evening entertainment? Then look for the best hotels in Fira. There are some Caldera views in Fira, but most hotels are inland, so there are also affordable options.
3) Beach
Santorini isn't well-known for its beaches, so purposely basing yourself near one typically saves costs. The best beaches in Santorini are Perissa beach and Perivolos (technically the same area), so stay near these if you want quality beach time.
4) Views 
Oia is the epitome of what people see when they envisage Santorini. The sunset and the sunrise are both beautiful from this location, and there are many boutique hotels and places to stay. However, it is the most expensive, and you will have to shuffle past hoards of people trying to take their perfect photos. So, unless you're dying to stay here, try nearby Imerovigli for amazing Caldera sunset views and cheaper but still luxurious hotels.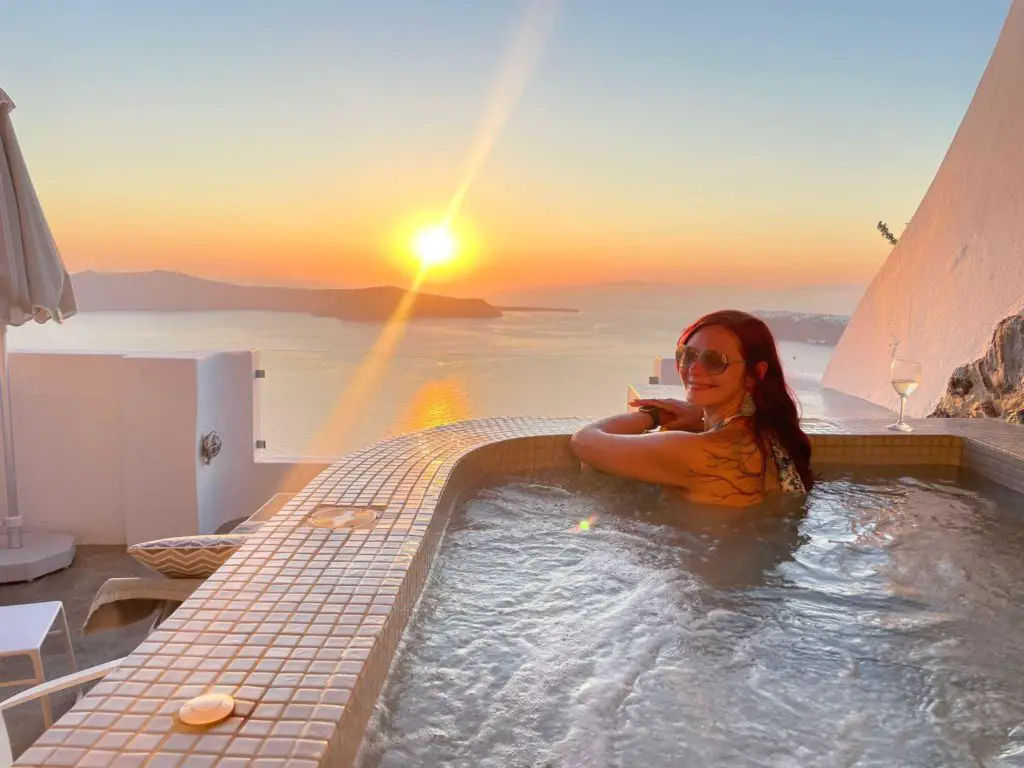 If you're planning a trip to Santorini, I recommend staying in Imerovigli, the highest point. I stayed at the Regina Mare Hotel, which provides fantastic Caldera views at an affordable price. The rooms are modern and spacious, the breakfast is plentiful and delicious (even for vegetarians!), and the staff are some of the most hospitable I've ever experienced. I don't tend to revisit places I've stayed before, but I would make an exception for this beautiful adult-only hotel!
This area is centrally located, which provides an excellent base for the best things to do in Santorini.
---
---
 Looking for other areas to stay for your Santorini trip, then check out the map below:
---
Day One of Your Santorini 4 Day Break:
Depending on when you arrive on your first day, you should take it easy and explore the local area and pick up supplies from the local mini-marts.
If you have the time, take a light hike to Skaros rock, a unique rock formation previously used for defensive fortifications. If you're short on time, you can take in the scenic views from the edge of the Imerovigli main square.
---
If you're staying in Imerovigli, head for dinner at Avocado for Mediterranean cuisine or Anogi for authentic Greek food.
If you want to dine with a perfect view of the Santorini sunset, book a table at either the White Lounge or Le Moustache. On the other hand, if you want to make an afternoon of it, Le Moustache has a pool and beautiful sunbeds that you can rent.
4 Days in Santorini, Day Two 
The second day of this Santorini 4 day Itinerary explores the different South Coast beaches and the beautiful views from the Akrotiri lighthouse.
As the roads are mountainous and winding, there is no specific order to take them. However, I found it easiest to work east from the lighthouse as it is located at Santorini island's most southern tip.
Akrotiri lighthouse 
Akrotiri lighthouse was built in the 19th century and is one of the oldest in Greece. Venture over the rocks to explore it up close and gaze at the blue waters. Then, grab a smoothie or a coffee at the small cafe nearby and enjoy a seat at the 'lighthouse' table, enjoying the stunning views.
White Beach & Black Beach 
Misleadingly, these beaches are side by side and look dramatically similar. Both have black sands and white/yellow cliffs. There are also beach bars to grab a drink or food at. This beach is lovely to swim, but ensure you take water shoes and avoid the waves.
Kampia Beach 
Kampia beach is good for snorkelling and swimming as there are small sea caves you can get to from the shore. There are sun loungers you can use as well as a small café. Get there by early afternoon before the sun goes behind the rocks.
Red Beach
Red Beach is famous for its unique red cliffs and the danger of landslides. The views are beautiful, but the beach itself is like walking on a carpet of seagrass. If you go in the sea, you will come out dirty, and the only place you can sunbathe comfortably is behind the ropes, which are meant to keep people out. However, you can rent sun loungers in a safe area if you plan to spend some of your Santorini 4 day break here.
Read also: Santorini Sunset Kayak tour, a unique and adventurous kayaking activity that provides one of the most fun things to do in Santorini. Plus, you will see all these beaches to avoid driving treacherous roads down. 
Perissa Beach 
Perissa beach is a little further up the southeast coast but is one of the most popular beaches on the island. This black sand beach is the sandiest place in Santorini and has an array of sunbeds and breathtaking views. If you want something other than Calederra views, then this is a popular choice for people to stay. If you're staying in the livelier areas, build some time into your Santorini itinerary to enjoy the relaxation of this location.
Also nearby are the ruins of Ancient Thera, which provide an exciting and historical view of the old town.
Day 2 Evening
If you're heading back to base, another night in Imerovigli would be a good option that only involves a little more travel.
Otherwise, enjoy an evening in Pyrgos with many different restaurants and bars. Although there is still tourism in this area, it feels more traditional and much cheaper than the other places I've mentioned.
Finally, walk to Pyrgos Castle and discover some great shopping stalls where you can buy gifts and souvenirs at a fraction of the price.
Santorini Itinerary 4 Days: Day Three 
The day you've been waiting for from your 4 days in Santorini is to explore the incredible Oia views. However, you have two choices here. First, visit the infamous Oia sunset, when the streets are incredibly crowded. Or get up early and explore Oia at sunrise.
I am not a morning person, but I hate crowds (particularly on narrow streets), so I opted for sunrise and recommend it.
Oia Castle 
The sky will start turning orange when you're driving towards Oia, but if you head to Oia castle, you get the sun peeking above the mountains in the distance. Best of all, it is relatively quiet. That being said, there were still a dozen people there at 6:30 am, so can you imagine what it's like at peak cruise ship time? Crazy!
You can explore many tourist hot spots from the castle and take those amazing photos as the town begins to illuminate with sunlight.
If you want a snap with the famous blue-domed church and bells in the background, then even at sunrise, there will be a queue! It didn't take too long when I visited, but you will need to wait for people to take several (hundred?) photos before your turn, and it's slow! But it's much better to do this in the morning than at dusk!
You can easily spend hours discovering quirky alleys and interesting buildings and immersing yourself in the beautiful surroundings. Shops and cafes start opening from around 9 am for you to grab breakfast and plan the rest of the morning.
Amoudi Bay
After a busy (and early) morning watching the sunrise in Oia, head to Amoudi bay for some of the best snorkelling in Europe.
At first glance, you might think Amoudi bay is just a place on the harbour with many lovely seafood restaurants. However, if you continue walking along the rocks, you will get to a small cove where you can swim in the ocean.
The water is clear, calm and perfect for swimming. The benefit of getting here early in the morning is that it will be quiet, which is great for leaving your belongings. If you're feeling adventurous, swim to the rock and climb up to the platform to dive into the sea.
You can also book a diving experience nearby, taking you into the ocean's depths to explore the hidden shipwreck. After swimming, grab a drink or lunch at one of the nearby taverns.
The north of the island has many other beaches to explore, and as they've got impressive rock formations, several of them are great for snorkelling.
Related Read: Discover the Best Places to Snorkel in Greece
Day Three – Evening 
This evening of your Santorini itinerary is to discover the capital of Fira, which has a great selection of bars, restaurants and clubs, many of which are open-air. Head to the main square and start outwards from there. My favourite was the bar in front of Murphey's Pub; cheap drinks, friendly staff and nice decor.
If you want to add culture and fun to your evening, then book tickets for the Greek Wedding Show, an immersive and entertaining experience that you certainly won't get at home! 
---
---
Santorini Itinerary 4 days: Day Four
Hike the Volcano and Immerse yourself in the Sulphur rich hot springs 
You can't visit Santorini without taking a day trip to explore the volcano that created such a magnificent island. 
There are two main tours you can take of the volcanic island: 
1) Catamaran tour, with the option of shared or private experiences. 
2) Traditional wooden ship tour with mast
---
---
The benefit of the catamaran tours is that they have smaller groups, many of which choose from. However, I did the boat tour as I'd never been on a pirate-style boat before.
---
This tour also included visiting the Nea Kameni, the volcano crater national park (an additional 5euro). It takes about 30 minutes to hike to the top, but you will see beautiful panoramic views and even small releases of sulphur gases from the active volcano.
Next, you will swim from the boat to Palia Kameni, the sulphur-rich hot springs. The water turns a clay colour from the volcanic rocks and does stain, so wear a dark swimsuit!
Another stop for a swimming break, and it will soon be a buffet dinner. As a vegetarian, this was the part I was most concerned about, but the food was plentiful and good. I even got an extra free glass of wine. However, note that there are no tables, so you will eat wherever you first sit on the boat. It wasn't an issue for me, but the marketing photos could be more accurate!
---
The ultimate finale is the sail to Oia to watch the sunset. The mast is released for the journey, and it is truly impressive to sail around the cliffs as the sun sets across the sea. 
This boat tour is pitched as a 6-hour experience, but with the transport to and from your hotel, it will take approximately 8 hours. While being a long day, this tour is something you should consider during your 4 days in Santorini. 
---
---
Day Four Evening: 
After a long day exploring, hiking, swimming, and travelling, your final night is to explore your local area or relax in your room. 
Day 5 (departure day)
The final day of your 4 days in Santorini is ending, and what you can do on this day will depend on the time of your flight or ferry.
If you haven't got long, take some much-needed relaxation at the side of the pool or on your balcony or do some last-minute shopping in Fira.
If you have time for lunch, a drive to Megalochori, another traditional feeling square, is where you can enjoy some local wineries.
Santorini 4 Nights in Summary 
If you only have 4 nights in Santorini and 3 days, you can cut out some of the beaches and focus on experiencing the different towns and villages. This travel guide and trip planner is intended to give you ideas about your trip but is entirely flexible. You can do this Santorini itinerary in whatever order works best for you and tailor it to your own experiences.
You might also enjoy reading: 
I'd love to know how you found this Santorini Itinerary 4 days; let me know how you found it or if there are any other places you'd recommend once you've been.
Want to experience Santorini without the hassle of organising everything yourself?
Do you like to travel but hate spending hours online researching holidays and trying to find the best deals? Here's why I come in. VeggTravel is an independent travel agent that does the hard work for you. I do the research, compare the prices and build the itinerary for your dream holiday, cruise, city break, or activity. Plus, my agent connections often mean exclusive offers on hotels and flights that you can't find anywhere else.
Rest assured that any holiday booked through me will give you the relevant ABTA, CILA or ATOL protection you need. Not only that, but I'll provide you with bespoke service tailored to your needs, and I'll be there every step of the way, ensuring that things go smoothly or being your single point of contact if things don't.
Ready to take your vacation to the next level? I don't charge a fee, so if you're based in the UK, drop me a mail and see what I can do for you.

---
Pin this Santorini Road Trip Itinerary for Later