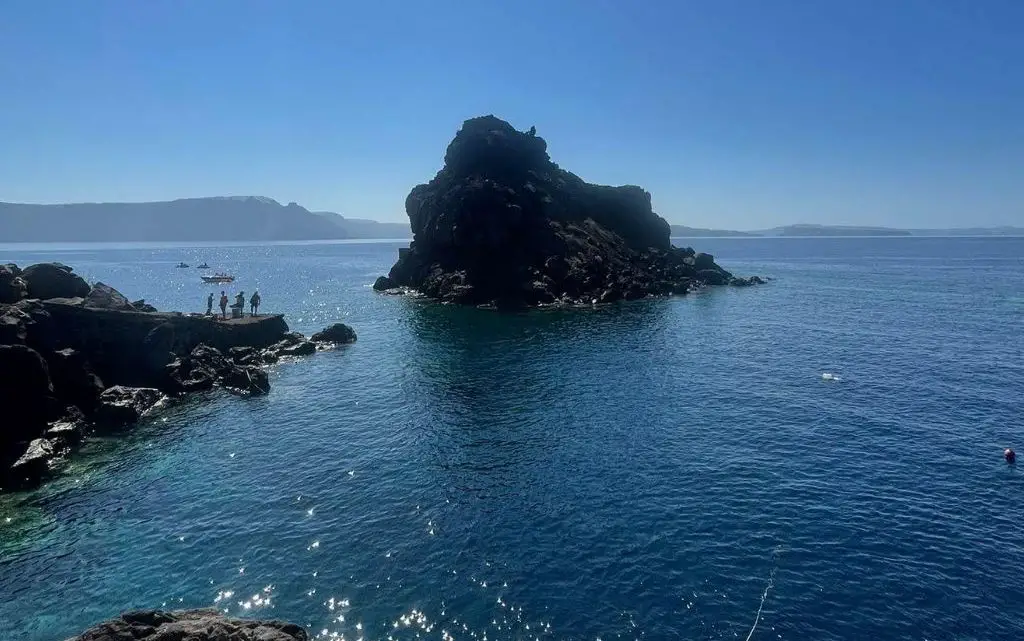 Discover the Best Places to Snorkel in Greece
Greece is a popular holiday destination, and its beautiful beaches attract tourists worldwide. Thousands of beautiful islands span the Aegon and Ionian Seas, and the waters rival even the most tropical destinations. With water that good, it would be a crime not to go snorkeling in Greece. But before you book, look at the best places to snorkel in Greece so you know where to book your next vacation.
Best Places to Snorkel in Greece Contents
This post contains affiliate links which means I may earn a small commission if you choose to buy anything from them. This is at no extra cost to you and In doing so you help to keep this site running, so thank you in advance.
1. Kallithea, Rhodes
By Nadine Maffre from Le Long Weekend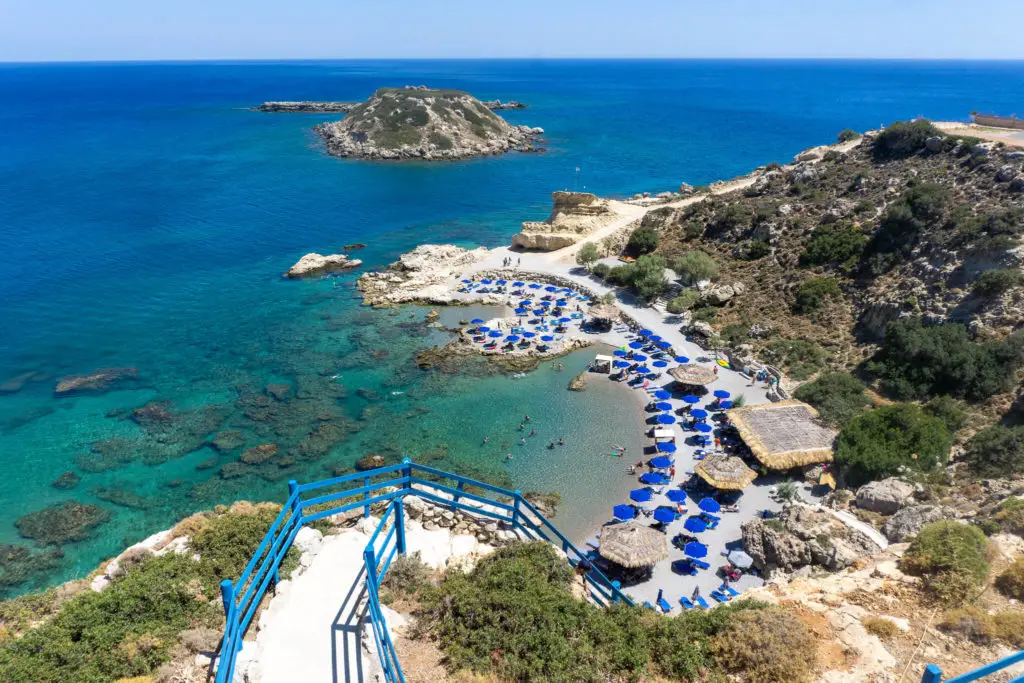 The family-friendly Island of Rhodes is considered by many as the best Greek Island for snorkeling – especially for beginners. The peaceful underwater world is easily explored from the Island's many beaches, and it's varied enough to keep things interesting. The water is crystalline and remarkably blue, so pack your snorkel and fins for a holiday on this Greek Island!
One of the best beaches in Rhodes for snorkeling is Kallithea, famous for its medicinal hot springs and Italian spa complex. The small cove here is rocky, and you'll spot scores of fish and marine life darting in and out of underwater caves. Kallithea is also the only legal dive site in Rhodes, so several diving tours bring guests here to try and spot fish, octopus, and turtles. But you don't need to take a tour to visit. Instead, bring your equipment and swim out into the bay from the beach.
If you're looking for where to go in Greece snorkeling, other interesting places include :
The stunning 'secret' stegna beach (Grande Blue – pictured).
The famous Anthony Quinn Bay.
Ladiko Bay.
Traganou beach. 
There are facilities at each beach, including places to eat, sunbeds, toilets, and parking. An excellent place to stay is Hotel Kalithea, just 1km from Kallithea Springs.
Check out the deals on hotel accommodation & tours below: 
2. Amoudi Bay, Santorini  
Santorini, Greece, is well known for its beautiful villages, breathtaking views, cliffs, and unforgettable sunsets. However, as a volcanic island, most beaches have black sand and volcanic rock. The sea, in most parts, is also relatively choppy, which deters potential snorkellers. That being said, the rock formations and cliff structures make for some excellent snorkeling in Santorini, and one of the best places to snorkel in Greece is Amoudi Bay.
When arriving at Amoudi bay, you will first see the many seafood restaurants. However, walk a little further and find calm, deep, and inviting waters. The best time to visit is early morning when few people are around, as the portion of the bay to keep your belongings is small. There is a large flat rock in this area where you can sunbathe and jump into the sea, so if this is free when you get there, take it! 
Snorkel around the large rock in the centre of the ocean to see different fish. Then, swim up to the elevated platform, where you can dive into the sea. Unbeknown to many people, there is a sunken shipwreck nearby. Amoudi Bay is one of the most adventurous scuba diving spots, offering a unique experience. If you'd like to explore the shipwreck, a dive shop nearby will organise a dive to explore it.
If you're staying in Santorini, consider staying at the Regina Mare in Imerigovli. This area is the island's highest peak, with spectacular sunset views at a much more affordable price than Oia. It's also relatively central, making it a great exploration base.
If you'd prefer a beach location, look for accommodation near Perissa beach, the best beach in Santorini and another excellent spot for snorkeling in Greece. 
Check out the deals on hotel accommodation and tours below: 
Related Reads:
Santorini Sunset Kayak Experience
3. Nissaki Bay, Corfu 
By Monique from Trip Anthropologist
One of the largest, most popular, and most diverse Greek Islands is the island of Corfu, located off the northwest coast of Greece. Corfu is among the best Greek islands for couples because of the many outdoor activities and water sports, including snorkeling.
Corfu island is in the Ionian Sea and is surrounded by clear azure waters that can reach 77 degrees in summer. The water clarity can be as much as 20 meters, providing excellent visibility. 
There are very different kinds of shorelines – from coves to shingle and pebble beaches to sandy sloped. Snorkeling in coves and around the rocky edges of pebbly beaches will allow you to see lots of marine life.
Nissaki Bay on the northeastern coast is a small and excellent snorkelling bay. The bay is only 20 minutes from Corfu Town and a little less from Kassiopi.
The beach is small and pebbly. There is a bluff just above the bay and a fish taverna on it. People throw scraps into the water from above, bringing whole shoals of fry close to shore.
This beach provides some of the best snorkeling in Greece. Spot the beautiful and unusual fish on the right side of the bay near the rocky platforms, such as Damselfish, Ornate Wrasse, and Sargo.
Check out the deals on hotel accommodation and tours below: 
4. Navagio Beach, Zakynthos
Zakynthos is a world-famous Greek Ionian island known for its iconic Shipwreck beach with stunning limestone cliffs, white pebble sands, and turquoise waters. The crystal clear water means that you don't need snorkeling gear to see marine life when swimming around Smugglers cove, but taking one is a bonus.
However, if you're wondering where to go in Greece snorkeling, take a day trip to the dreamy blue caves aptly named for their alluring glow. The only way you can do this is either by private boat trip or on a Navagio Beach tour that includes the blue caves as part of the visit. You won't need to take your masks this way, so that's a bonus if you're travelling light.
x
Zakynthos Greece is also known for its sea turtles, and you can also plan a boat trip to Marathonisi Island and the Keri caves. Most of these boat trips will be on glass-bottom boats, but often they have swimming stops included and don't provide snorkelling equipment, so you will need to take your own.
If you're staying in Zakynthos and want to stay near the main nightlife in Laganas, consider staying at Lahore luxury apartments. This hotel is close enough to the main action while being set back enough so you can relax in luxury.
Check out the deals on hotel accommodation and tours below: 
Also Read: Best Zakynthos Beaches
5. Rethymnon, Crete
By Gabi Ancarola from The Tiny Book Crete Travel Blog
Crete is a safe bet when looking for a place to go snorkeling in Greece. Although most organized snorkeling and diving sites are found on the island's northern coasts, the most impressive sites are in the lonely south.
The region of Rethymnon is home to some beautiful shores where Greece snorkeling and scuba diving are commonly practised from early April until well into November. The southern coast hosts some of the most stunning beaches in Rethymnon, and its seabed features a wide variety of marine life, including moray eels, octopus, and blackfish. Snorkeling enthusiasts can head to Plakias Beach and swim beside these mysterious creatures.
The place is known for its perfect crystal waters, abundant sea life, and excellent visibility. There are several diving schools in the area as well.
If you plan to explore Plakias, you can also enjoy the quiet lifestyle of the village, eat delicious fresh fish and spend the night in a comfortable studio by the sea. Ailanthus Beach Hotel is an affordable place to stay in the area, and it's only a few meters from the sea.
Check out the deals on hotel accommodation and tours below: 
6. Antisamos Beach, Kefalonia
Kefalonia, Greece, is the largest of the islands, which means one thing, plenty of beautiful beaches and some of the best snorkeling in Greece. I snorkelled on several different beaches, and each had its charm. Atalias Beach is a beautiful secluded spot with many rock formations to discover and abundant fish. Visit here late in the day to finish your visit with a front-row seat on the rocks to a beautiful, unobstructed sunset.
Antisamos beach stands out as there are hundreds or even thousands of fish you can see as soon as you step into the turquoise waters. The water gets deep very quickly, attracting the fish so close to the shore that you don't even need to swim to the rocks at either side, although these are also great to explore. There is fantastic snorkeling on this beach, and the beach bars and sun loungers are also free if you buy food or drink. You can easily spend the entire day here and still return for more, proving why it is one of Kefalonia's best beaches. 
There are so many things to do in Kefalonia if you get bored of snorkelling. Explore the unique underground caves and lakes, or even try the various water sports. If you're looking for somewhere to relax, grab a ferry to nearby Ithaca, a quiet Greek island with mythical significance and beautiful villages.
If you're staying in Kefalonia, there are many places to choose from, but Lassi has the sandiest beaches, is centrally located, and has a great selection of bars and nightlife.
Check out the deals on hotel accommodation and tours below: 
Tips for Snorkeling in Greece
Water shoes. There are some rocky beaches and they are usually the best places to snorkel so invest in water shoes! You won't regret it. 
Full face snorkel mask – I find these masks much more comfortable. Say goodbye to ingesting salt water!
If you're looking for flights, hotels and everything in between, check out the best travel resources online for links and recommendations, all in one place.
The Best Places to Snorkel in Greece Summary 
Now you have an insight into where to go in Greece snorkeling. All of these locations have fantastic scenery and beautiful natural rock formations. Water-focused holidays are getting increasingly popular, and it is clear why many people travel snorkeling in Greece.
If you want more snorkeling adventures, check out my related post: Discover the 10 Best Places to Snorkel in Europe. Otherwise, read the Best Water Parks in Europe (which includes some of these fabulous locations).
I'd love to know which is the best Greek Island for snorkeling. Or if you've been to any of these places, how did you find it? Let me know in the comments, or connect with me on social media.
---
Need a helping hand with your travel planning?
Do you like to travel but hate spending hours online researching holidays and trying to find the best deals? Here's why I come in. VeggTravel is an independent travel agent that does the hard work for you. I do the research, compare the prices and build the itinerary for your dream holiday, cruise, city break, or activity. Plus, my agent connections often mean exclusive offers on hotels and flights that you can't find anywhere else.
Rest assured that any holiday booked through me will give you the relevant ABTA, CILA or ATOL protection you need. Not only that, but I'll provide you with bespoke service tailored to your needs, and I'll be there every step of the way, ensuring that things go smoothly or being your single point of contact if things don't.
Ready to take your vacation to the next level? I don't charge a fee, so if you're based in the UK, drop me a mail and see what I can do for you.

---
Pin the Best Places to Snorkel in Greece for Later
Sharing is caring. Please share this post on social media and if you have any feedback or questions, leave me a comment below.