Pros and Cons of Group Tours vs Solo Travel
Travelling as part of a group tour allows you to open up and connect with new people or friends. Our daily routine is adjacent and comfortable, especially when hanging out with the same group of people or friends. But is it for everyone? There are pros and cons of group tours versus travelling solo. This article will help you weigh the advantages and disadvantages of group travel so you can make the best choice.
Pros and cons of group tours | Quick links
---
Why should you even consider group travel?
When you travel in groups of friends, you leave all your objectives at home. Everyone accepts the fact that you're in this together. Suddenly, a new friendship has blossomed to the point where it feels like years when really, it's just been a few many weeks or months!
You also create this sense of friendship with people you would never expect; plus, you always have someone there to get that impertinent install pic. Travel is no exception. For all the ups and downs, Group travelling binds and brings people together within the experience in fantastic trip ways. Furthermore, having a fellow traveller there to pick you up when times are tough can be helpful.
This often is only the case when you're travelling solo if you're lucky enough to have met some like-minded people on your travels. However, not everything is all sunshine and rainbows; you will find out all the pros and cons of group travel below.
This post contains affiliate links which means I may earn a small commission if you choose to buy anything from them. This is at no extra cost to you and In doing so you help to keep this site running, so thank you in advance.
---
Advantages of Group Travel
There are several advantages of group travel versus going solo, which is listed below.
1) Saving Money
One of the key advantages of group travel is that travelling solo can be costly. One of the major pros of group tours is that group travelling is generally inexpensive. You can get group rates on the following:
Accommodation. You've probably seen brochures that say single, double, triple, and so on. The price goes down for each Traveller sharing a room, making it much more affordable.
Partner rates for specific modes of transportation (particularly Car and Taxi)
Group people rates into attractions (amusement parks, museums, etc.)
There are tons of other things you can break costs on. If you can decrease your expenses, you'll have extra money to spend, see and do more.
The biggest pro of group travelling is that you can cover a longer distance quickly since transport is pre-arranged. There are several advantages of group travel versus going solo, which is listed below. 
"Oh, I so wish my Travelling trip could be more Costly,"

Said no-one, ever.
Here's the simple fact of the problem – group tours are more inexpensive because of a small economic principle called 'buying power'. Group travel companies have a lot of clout with arrangement and activity providers because they bring plenty of travellers their way.
As such, they can arrange nicely discounted rates that you'd never be able to get by yourself. The same goes for restaurants, tourist attractions, Travelling destinations and more. When you travel with a group, you're going to save a lot of money.
---
---
2) You create life-long friendships
Group travel introduces you to some of the best kinds of visitors. Most travellers you meet on group tours will have similar interests, giving you the ultimate reason to connect.
For all the ups and downs you will experience on tour, anything you go through while group travelling will make you stronger and complete. Everyone will have good and poor days, and it's comforting knowing you have someone to talk to about it.
Living in the New generation age can be a double-edged sword. On the one hand, we can now book Great Summer holidays online or order food without having to rise off the couch, but on the other hand, we're more remote than ever before. In fact, many countries have classified isolation as a severe public health problem.
So, while getting on a coach with a group of unknown people to go on an adventure can seem outlandish, it's a great way to meet new people or travellers you would not necessarily encounter throughout your life. Who knows? You might go home with a bunch of new comrades from worldwide.
---
---
3) Tour Guide
With every Trip comes a journey guide! Someone to organise your tour to maximise safety, take heed of all the boring bits and ensure everything runs as smoothly as possible. Someone else having this responsibility is one of the advantages of group travel as it gives you valuable time to focus on the important parts, like yourself!
The Best guide will be your dance partner, teacher, friends, family and shoulder to cry on. Your group guide often makes the tour unique and goes the extra mile. Someone you can ask all the questions you want and has an inside understanding of the area you are in, maximising your trip experience.
A Trip guide is the best way to enjoy an organised journey. When you travel to a place unknown, you might need people who already know about the Destination. This provides a safer and more secure trip, and there is a lesser chance of getting tricked by locals.
During group travelling, everything is well-organised with safety measures. If you ever get lost or feel lonely, your journey guide always has your back. Also, you will get additional information about a destination you might not know during a solo tour.
---
---
4) There is safety in numbers
The journey alone can be discouraging. Many people feel the pull of last-minute solo trips but don't feel safe going on holiday alone – mostly single holidays abroad.
The younger generation is taking longer to get married, so even though they are starting to travel the world, they may not always have a confidant handy to take along. In cases like these, group travelling is ideal. You simply book your spot, get in the car with a bunch of other friends and enjoy the safety of numbers while you tour.
Have you ever caught that old saying? It's especially true when travelling to unknown destinations. Every town, city or state in every country has problems, even small ones. When you Tour with a companion or within a group, you have someone to watch your back.
Do you remember when you were small, and your parents or teachers implemented the buddy system? There's a reason for that, and it doesn't only apply to children. The security of travelling as a group and looking out for each other is excellent for first-time travellers.
---
---
Disadvantages of Group Travel
While there are advantages of group travel, there are also disadvantages, which may make you think twice.
1) Less freedom
One of the disadvantages of group travel is that you're on a compressed schedule at all times. The time you spend travelling on a group tour is mapped out from start to finish. It's often a tight squeeze fitting in everything you've signed up for. It can be both a blessing and a malediction, especially when you fall in love with an unquestionable city and wish you had an extra day or two.
If you value personal privacy, group travel may not be for you. There could be a minimal chance of having time to yourself when you're within a group travelling, especially if you're sharing a rent a car or staying in a hostel. The more of you there are, the more wants and desires to consider.
---
---
Who wins? Travelling in a group is a definite exercise in compromise and understanding. You can't do everything you want to do all of the time. This reality can be hard to swallow when you have particular ideas in mind for your Destination trip'.
Thus, it can be helpful to start defining things as 'our Destination trip' rather than 'my Destination trip' and to know that even if it wasn't your first choice, whatever you end up doing is likely to be a fantastic trip.
---
---
2) You may dislike someone in the group
In larger tour groups, it's almost unavoidable there will be someone you don't see eye to eye with at times. If this happens, it can make things difficult, uncomfortable, and un-enjoyable. If you're lucky, there can be another resolution: to stay or go, but being forced to make this choice is one of the disadvantages of group travel. Remember, if someone you're travelling with hurts your trip, you could always make the daunting call to go your separate ways.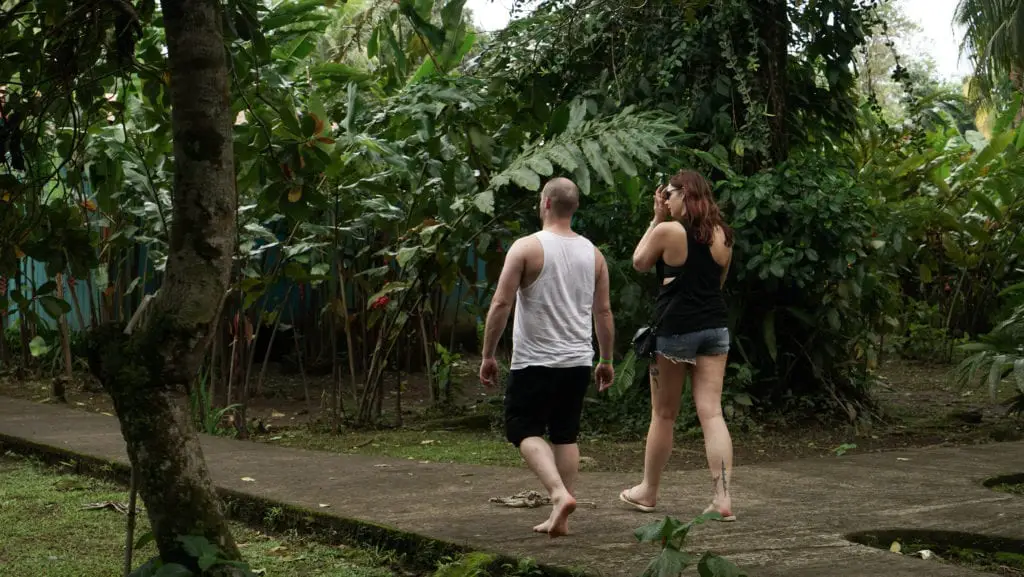 If possible, spend an extended period in your Travelling group before you go to the destination. If you're planning on travelling with many of your mates, take an extended vacation somewhere closer to home first. This experience will test the waters, expose any possible friction and clarify absolutely whether this is the best group to go with to your end travel destination.
However, you might be able to connect online in advance to get an idea of the kinds of people you'll be with and who you might want to spend your time with. I cannot highlight the importance of getting on with the people you're travelling with. If there's anything you can do to ensure you're the best match before you go, it won't be wasted time.
---
---
---
3) Decisions get more complicated
One of the reasons to weigh up the pros and cons of group tours is that decisions can get complex. More travellers and more opinions equal more complicated accountability.
Make sure you make your beliefs and voice heard. All too often, someone with a big personality takes charge of the situation, and before you know it, a conclusion has been made for you. As important as it is to be a Group player and make an agreement, sometimes you need to stick to your guns and, if needs be, do your own thing.
It's unavoidable that disagreements happen in groups. You're tired, and things get demanding. It's a great experience, but you spend a lot of time and money with each other. This closeness is a perfect recipe for disagreement to happen.
Again, getting some personal space can be hugely helpful in protecting from disagreement! If they happen, try clearing the air as quickly as possible. There's nothing worse than travelling with a group of people where the airspace feels tense and toxic.
As I mentioned, the conclusion to travel to a destination solo or in a group is a very personal one. Knowing how you operate is a helpful starting point for making the final call. So think about the disadvantages of group travel and the advantages of making the right choice.
---
Pros and Cons of Group Tours | Author Bio:
Hello, I am Manish Ambaliya from Ridetransferdirect.com. I have started writing articles on topics like car rental, trip planning, travelling and so on. I believe that sharing is caring and that's the reason I am writing something new every day.
Pin 'Pros and cons of group tours' for Later
---
---
Weighed up the Pros and Cons of Group Tours and now looking for inspiration?
If you've thought about the pros and cons of group tours and decided that the advantages of group travel outweigh the disadvantages, then look at the following destinations for inspiration.
Or if you're leaning towards travelling solo, check out some of my posts below for inspiration:
---
Want to take the leap and organise a group tour but want to take the hassle out of it?
VeggTravel is an accredited independent travel agent</strong> specialising in honeymoon destinations, luxurious holidays, and adventurous experiences for various budgets. As a travel specialist, I know how to make your dreams of a perfect holiday come true. I have many options available, from tropical getaways to stunning ski resorts. I can help you find the ideal spot for your holiday, whether you're looking for a romantic escape or an adrenaline-pumping adventure.
I do not charge a fee, and you have no obligation to go ahead with my quotes, so if you're travelling from the UK why not contact me today? I'm ABTA, CILA and ATOL protected, so you can rest assured knowing your travel plans are in safe hands. What's more, is that I'll provide excellent service from booking to you returning home.