Ultimate Maldives Packing List | Essential Items for your holiday
If you're planning a Maldives getaway, then one of the things to consider is what to pack. You might have got your wardrobe sorted, but have you considered all of the extras you will need? Unfortunately, the Maldives islands are secluded, and there are limited options at the resort shop to purchase items when you're out there (or they come with a hefty price tag!), so read on for your ultimate Maldives packing list. 
This post contains affiliate links which means I may earn a small commission if you choose to buy anything from them. This is at no extra cost to you and In doing so you help to keep this site running, so thank you in advance.
---
What should I pack for the Maldives – 6 Essential Items 
The chances are, if you're heading to the Maldives, you're going to an all-inclusive resort. All-inclusive means that food, drink and many activities are included within the cost of your holiday. So aside from your typical travel luggage, how do you know what to pack for Maldives holiday? 
Let's start with your Maldives packing list essentials:
Dive Shoes / reef shoes
Full face snorkel mask
High Factor Sun Lotion 
Underwater Camera 
Torch
Dry Bag
---
1) Dive Shoes / Reef Shoes
The Maldives is known for its stunning white-sand beaches, and you certainly don't need dive shoes on the shore. You're most probably going to spend most of your time barefoot. However, you can accidentally step on sharp coral pieces when you're in the ocean, and it hurts! So take the pain away from swimming in the sea and protect your feet with reef shoes.
---
---
---
2) Snorkel Mask
Snorkelling gear is often provided for free in your Maldives resort. However, there may be limitations to when and where you can use it, which will heavily restrict your experience. I've always struggled with snorkelling, so I invested in the masks that cover your entire face. What an invention!
These snorkel masks are perfect for water activities and enable you to swim the coral for hours, with crystal clear visibility and without choking on saltwater! Of course, if you prefer a traditional snorkel, there are some great options that enable deep free diving. Many of them also are action camera enabled, helping you capture vibrant underwater memories.
---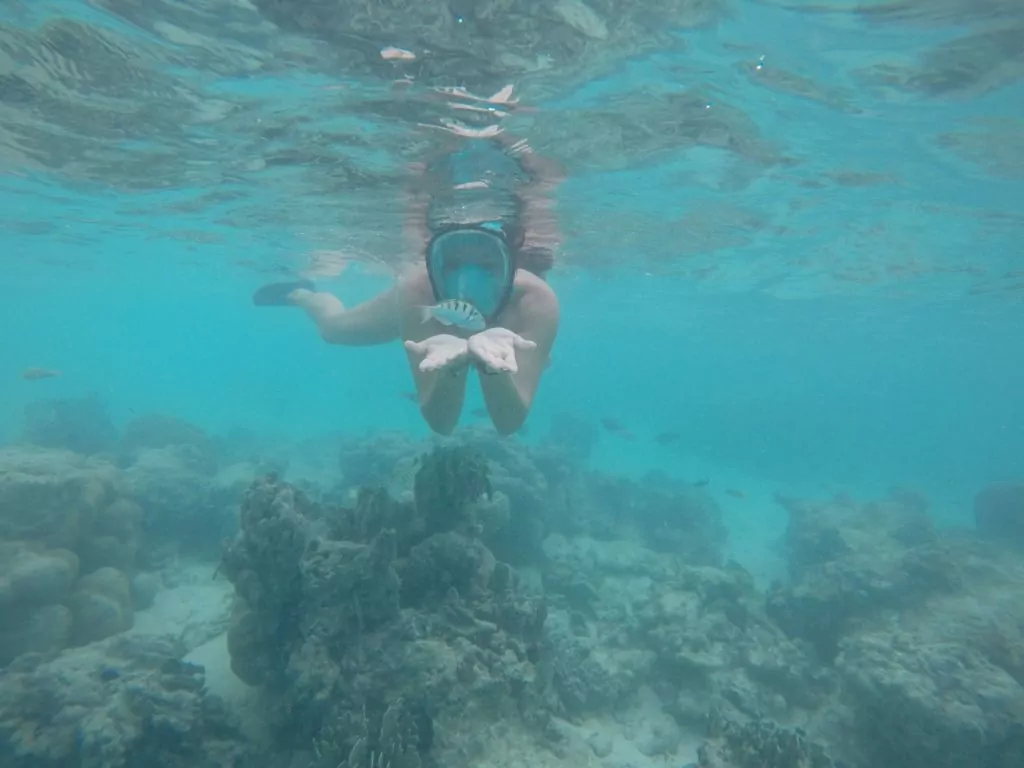 ---
---
3) High Factor Sun Lotion
Taking high factor sun lotion sounds obvious, but the heat is intense and relentless. I wouldn't recommend anything less than factor 30 sun cream in your Maldives packing list. You will find yourself reapplying more than you perhaps would in milder climates. 
Water activities are one of the main things you will do in the Maldives, so it is important to buy waterproof sun lotion and safe for coral / marine life. It is costly to buy sun lotion at the island shop, so pack enough to ensure your skin is well protected!
I use Sun Bum; it smells delicious, is coral safe and helps avoid the burn! 
---
---
---
4) Underwater Camera
You will regret not having an underwater action camera on your Maldives packing list! Sea turtles, string rays, reef sharks and all of the fish in between are just a few of the species you can see around your house reef. More so if you venture further into the Indian Ocean.
I recently replaced my trusty Go-Pro with an Insta 360 Camera, which is excellent for capturing those adventurous moments. If you just want to capture some shots and more price conscious, then you can also get much cheaper action cameras. I've tried these before, and the quality and battery life are good enough for you to get some snaps, but consider investing in a better tool if you will use it a lot.
---
If quality photos mean a lot to you then consider whether the Go Pro Hero 10 is worth the upgrade.
---
---
5) Torch
A slightly obscure island packing list essential is a torch. The resorts are usually well lit with soft lighting that sets the ambience perfectly. However, lighting is typically around the pathways, restaurants and bars, not along the beach. A romantic walk along the beach at night is something not to be missed. However, many crabs come out at night so you will need to see where you are going.
You can also find yourself a romantic, secluded spot to lay back and enjoy the stars. I have never seen a clearer sky at night than what I have in the Maldives.
---
---
---
6) Dry Bag
Generally, your belongings are safe to be left on the beach in the Maldives, but there is always a risk. Suppose you're planning on taking advantage of the all-inclusive offerings such as paddle boarding, kayaking or sailing around on a pedalo.
In that case, it's worth taking your essentials or more expensive items with you. A dry bag is particularly handy if you use your phone or a digital camera for photos or want to keep your wallet safe. Make sure you invest in a good one as you don't want to find your stuff ruined!
---
---
Which types of clothes to wear in the Maldives
The peak season in the Maldives is from December and March when the weather is at its most extreme. On the other hand, May to October is the wet season, and therefore your Maldives packing list might need to include long sleeve tops or light jackets. However, your resort will likely have umbrellas that you can borrow, so you shouldn't need to pack these especially. 
Depending on your resort, there may be a dress code that you need to adhere to. Think smart casual, or in some cases just smart. Pack a casual pair of shoes as well as an elegant pair or several. For women, take flowy or maxi dresses for the evening and for men, take a sleeved shirt and sleeveless shirt options. 
What to wear in Male, the Maldives capital 
If you're stopping in Male, or even just when you're making your transfers at the Male International airport, make sure add some conservative clothing to your Maldives packing list. The Maldives is a Muslim nation, and therefore you should cover your shoulders and knees (women only) in public areas. This rule doesn't apply to the private resorts, but if you're visiting local inhabited areas, you will want to avoid being disrespectful (and also being uncomfortably stared at!). 
A shawl or sarong is perfect if you just want to cover up when necessary without carrying layers or extra clothing.
Maldives Packing List Tips
If you have a lot of luggage, consider using vacuum bags to make the most out of your suitcase space. 
Take your snorkelling equipment, so you're not restricted with renting/using the snorkelling gear provided by your resort. 
Thoroughly check your luggage before you go through security/bag drop at the domestic airports – security is very strict, and it can hold you up. For example, alcohol and lighters in your checked luggage are prohibited, so don't include these. 
Take plenty of high protection, reef-friendly sun cream/lotion and make sure you regularly apply. You will be grateful for the overcast days!
Your travel days are likely to be extremely long – make sure you pack enough in your carry-on bag to keep you entertained and comfortable. 
What do you think of my Ultimate Island Packing List? 
This ultimate packing list should have you well prepared for an unforgettable trip. However, before you go, check out my Maldives Travel Guide & Review of Rui Hotel & Resort for more information on what you can expect from your Maldives holiday, resort and travel arrangements. You will also find all the links you need to plan, book and enjoy your vacation with my best travel resources online.
Please subscribe to my blogs or connect with me on social media if you like what you see. I'd also love to hear from you in my comments, especially if you have additional recommendations.
---
Want the enjoyment of travel without the stress of research and planning? Well I can help
Do you like to travel but hate spending hours online researching holidays and trying to find the best deals? Here's why I come in. VeggTravel is an independent travel agent that does the hard work for you. I do the research, compare the prices and build the itinerary for your dream holiday, cruise, city break, or activity. Plus, my agent connections often mean exclusive offers on hotels and flights that you can't find anywhere else.
Rest assured that any holiday booked through me will give you the relevant ABTA, CILA or ATOL protection you need. Not only that, but I'll provide you with bespoke service tailored to your needs, and I'll be there every step of the way, ensuring that things go smoothly or being your single point of contact if things don't.
Ready to take your vacation to the next level? I don't charge a fee, so if you're based in the UK, drop me a mail and see what I can do for you.

---
---
Pin the Maldives Packing List for Later