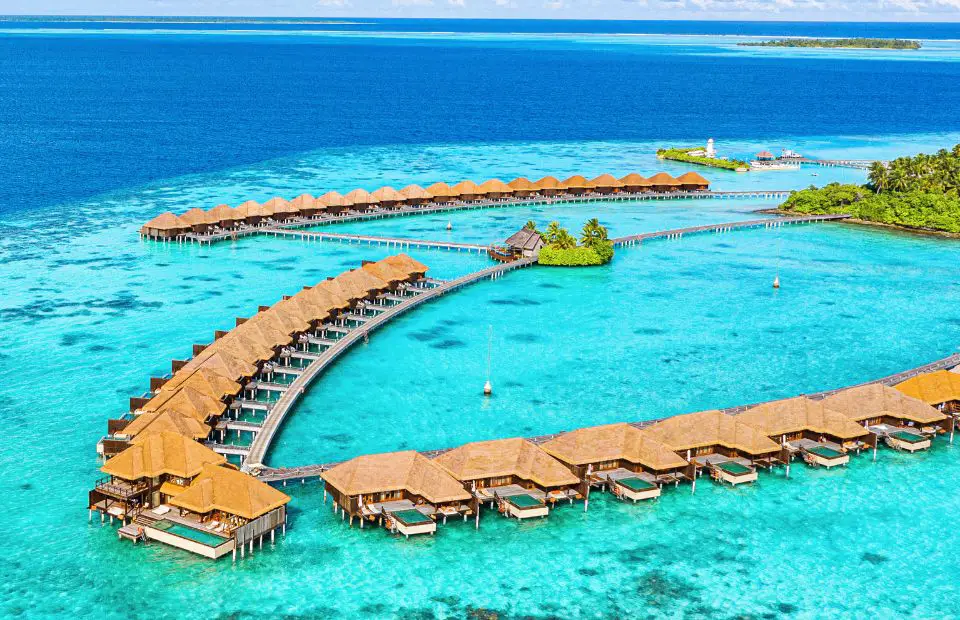 Ultimate Maldives Travel Guide (Planning, Tips & Advice)
Maldives is a beautiful country located in South Asia. The Maldives has become famous because of its unique culture, friendly locals, and amazing beaches. Travellers, holidaymakers, and those just seeking a luxury escape will often dream of a trip to the Maldives. However, paradise is calling, and it can be surprisingly affordable. This Maldives Travel Guide will give you everything you need to know about taking your dream holiday in the Indian Ocean.
Maldives Travel Guide Contents
This post contains affiliate links which means I may earn a small commission if you purchase anything through those links. Thank you for supporting my site.
Where is the Maldives located?
The Maldives lies in the Indian Ocean, approximately halfway between India and Sri Lanka. This spectacular destination contains over 1000 tropical islands, formed within 26 natural atolls, each containing a slice of paradise. Atolls are coral formations that typically have a reef that fringes a central lagoon and houses a handful of small coral islands. Only about a quarter of the islands are habited, with approximately 90 of them home to tourist resorts.
The Maldives' capital, Malé, is a bustling port town, but many smaller islands are nearby, all connected by bridges and causeways. These include Gan, Hulhulé, Lhaviyani, Nolhu, Thulusdhoo, Utheemu, Villingili and Vaigai.
How do you get to the Maldives?
Two main ways to reach the Maldives are via sea or air. Air travel is the most common as it connects travellers internationally through Male International Airport. Your flight will usually with a stopover in the United Arab Emirates or countries like Singapore or Malaysia.
Sea travel is typically only available through cruise ships visiting numerous places along the Indian Ocean. For example, Maldives cruises usually are only available during certain times of the year. They either include a short stop before they move on or visit numerous atolls throughout your visit.
Contact me for further information if you're interested in these types of trips.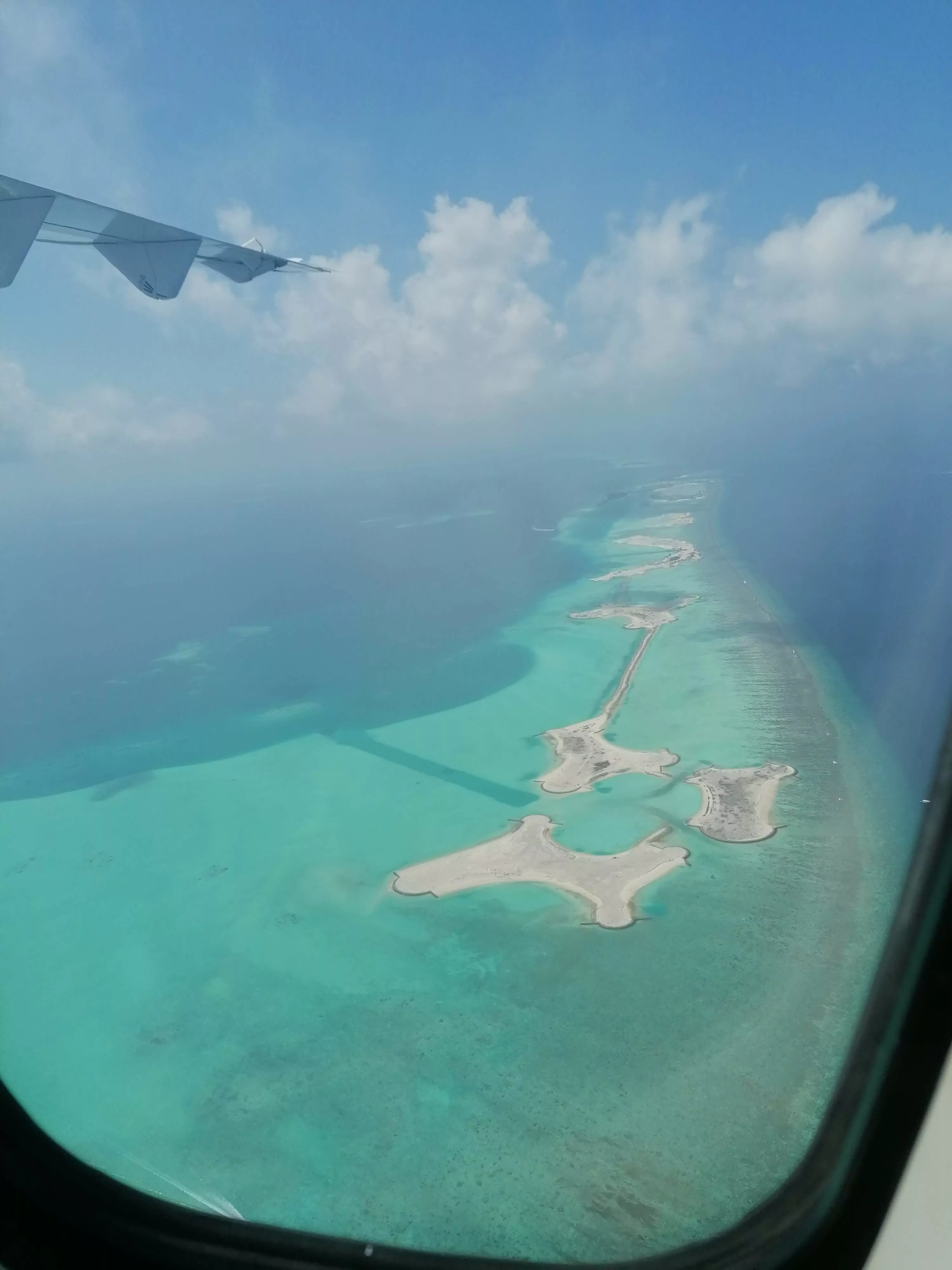 Because of the structure of the Maldives, when you arrive in Male, your travel is far from over. Depending on which atoll you're visiting, you might have a boat, bus or domestic flight to catch (or all three) to get to your end destination.
Domestic Flights
If your onward travel requires a domestic flight, the travel time will not be long. However, plan this carefully, as the timing of your international flight may mean you have hours to wait at the airport until your next flight. Domestic airlines, like Manta, could easily rival the quality you expect from your local travel providers. However, they run a somewhat irregular schedule for such a popular holiday destination.
If you're booking a package holiday, you're unlikely to be given the time of your domestic flight until much nearer the time. In my experience with Tui, I waited 5 hours for our flight to Dhaalu airport when staying at the Rui Resort. There is an airport lounge that you can book to have somewhere comfortable to stay during your wait.
A more popular route would be to travel by seaplane and this Maldives travel guide strongly encourages it! These small planes can take off and land on water, which means door-to-door service to your resort. Because a seaplane often reduces other transport needs such as a bus or boat, and because of the unique experience, these flights can cost a few hundred pounds more. The schedule is also minimal; they typically only run in the morning and early afternoon.
Related read: Riu Palace Maldives Reviews – What to Expect
---
---
5 Tips for Domestic flight travel
1) Check the domestic scheduled flight time before you book. While the schedule might change, it will give you an idea of how long you might have to wait if this information isn't provided.
2) Splurge for the seaplane transfer. If you book your flight separately, pay a little extra for the seaplane, which will land on the sea!
3) Avoid late international flights home. While you might think you get an entire extra day on vacation, this is not the reality. If other tourists catch flights much earlier than you, you will need to leave your resort simultaneously, resulting in a long wait at the airport. 
4) Don't underestimate airport security. The local airports are really strict about what you can pack. For example, I had small nail scissors confiscated from my hand luggage, and several people got their hold bags searched because they had packed lighters or cans of beer.
---
Where to go in the Maldives and where to stay
Each of the 29 atolls has its unique character, with some boasting luxury resorts while others are more casual. Here is a list of the best places to go in the Maldives:
Male North & South Atolls
Located in the South of the Male atoll is the capital, where you will be most immersed in local people's culture and daily lives. While you can stay in the inner city, many luxury resorts or beach bungalows are also available. The main islands in the north, close to the airport, are Dhiffushi, Gaafaru, Thulusdhoo, Eriyadhoo, Funadhoo, Hulhumalé, Bandos and Hulhulé.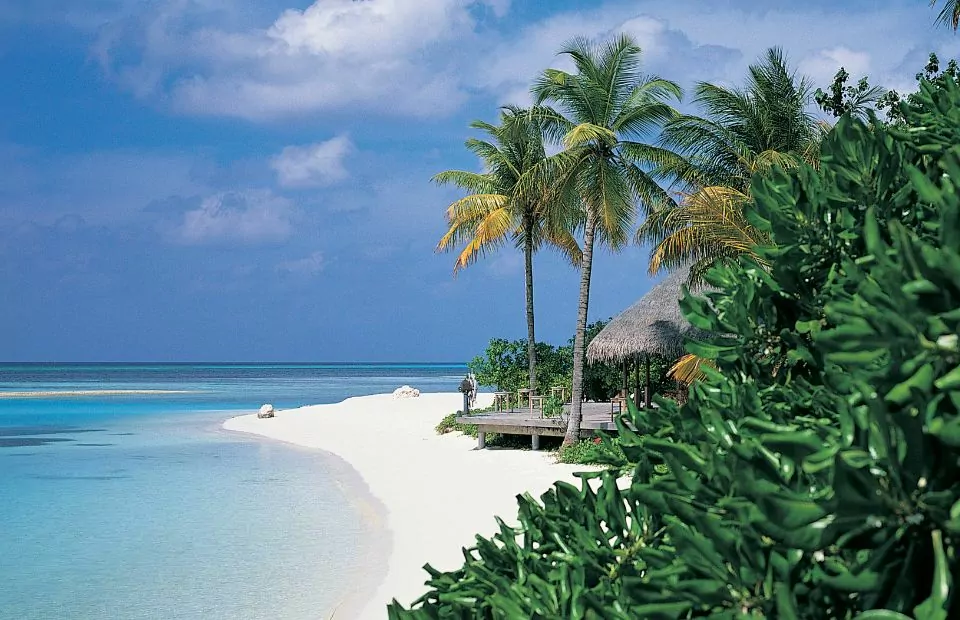 If you're a scuba diving enthusiast, you will find the Maldives Victory wreck, amongst many other stunning dive sites. Most resorts in the Male Atoll will be reached by boat from the harbour outside the airport.
Best Hotels on Male Atoll
Affordable Luxury: Adaaran Club Rannalhi
Ultra Luxury: The One & Only Reethi Rah resort
Ari Atoll
If you're looking for one of the biggest atolls of the Maldives archipelago, head to the Ari Atoll in the West. Home to 105 islands spanning over 100km, you'll find a luxurious escape on one of the 15 inhabited islands. The main island in Ari Atoll is Rasdhoo which has over 1000 inhabitants and many resorts. Alifu Daalu in the South is famous for Whale Sharks, whereas Alifu Alifu in the north has hammerhead sharks deep in its waters.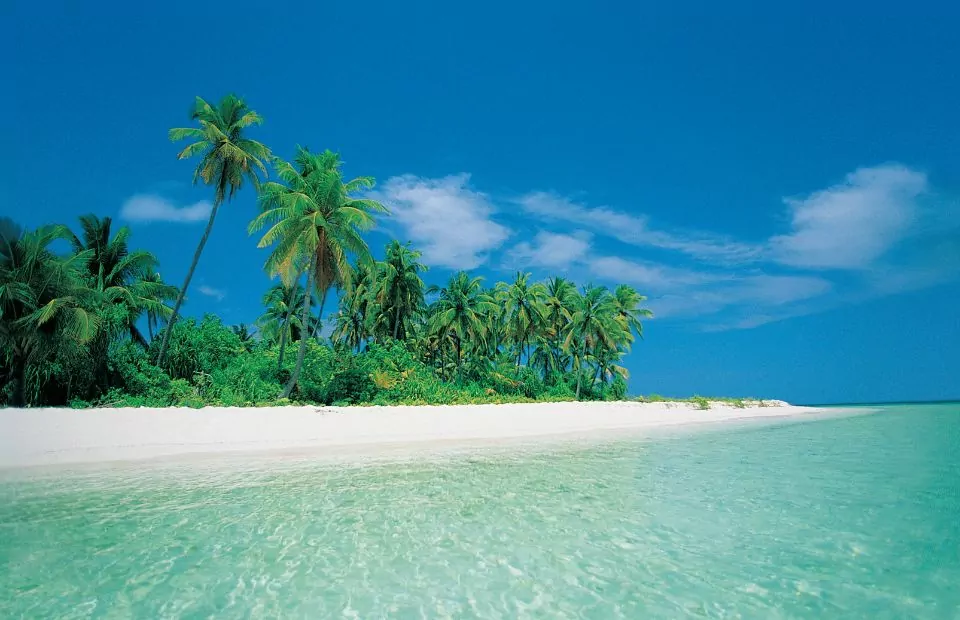 Best Hotels on Ari Atoll
Ultra Luxury: Conrad Maldives Rangali Island. If you can't afford to stay here, consider dining at the iconic underwater restaurant Ithaa, set 16 feet beneath the ocean. 
Affordable Luxury: Sun Island Resort & Spa
Baa Atoll
Baa Atoll has been a UNESCO World Biosphere Reserve for over a decade. The marine life here is impressive, with mating sharks among the many unique creatures you may discover. However, if Manta Rays are more your thing, then the spectacular Hanifaru Huraa Bay, where the mass feeding of the reef Mantas draws spectators worldwide. The Baa Atoll surely makes a spectacular destination when you visit the Maldives.
When you're not exploring the tropical waters, you can ride the waves with lively activities such as windsurfing, jet-skiing, kayaking or paddleboarding.
Best Hotels on Baa Atoll
Ultra Luxury: The Westin Maldives Miriandhoo Resort
Affordable Luxury: Reethi Beach Resort
What can you do in the Maldives?
As you will have already come across in this Maldives travel guide, there are plenty of activities to keep you busy throughout your vacation.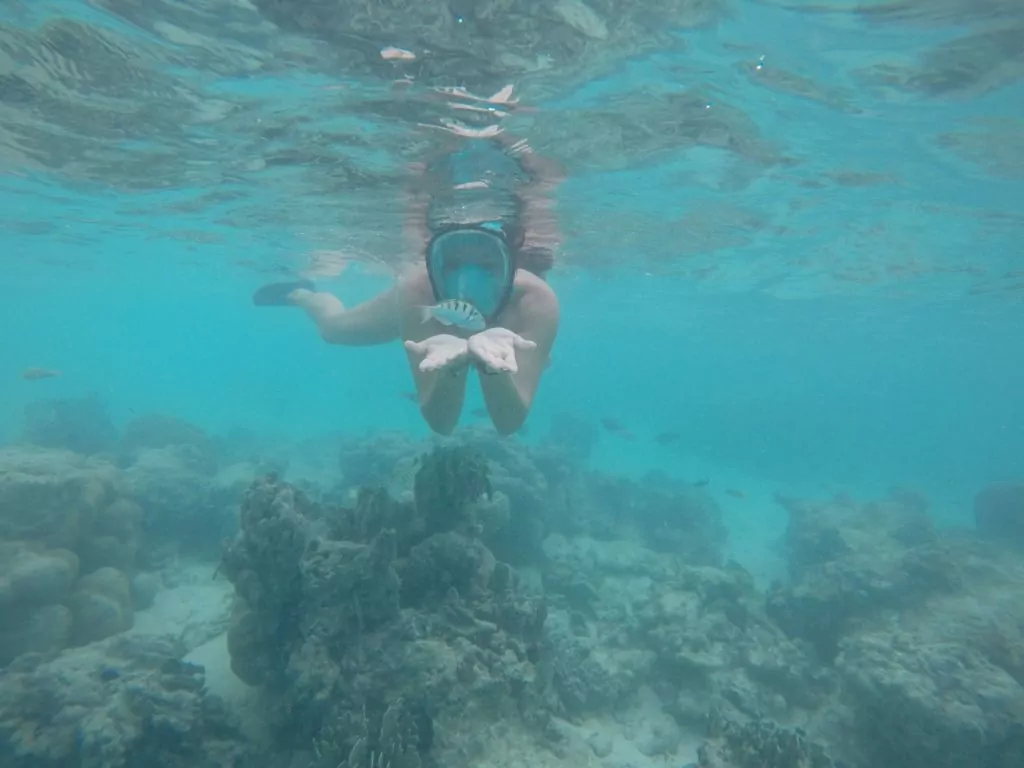 Firstly, you will never tire of the abundance of water sports and activities, whether taking a paddleboard out to sea or snorkelling along the magnificent house reefs. If PADI qualified, take a deep sea dive to discover the underwater shipwrecks and coral reefs and dive with sharks, manta rays and sea turtles. If you'd like to stay dry, take a boat trip to a private island or a dolphin-watching or whale-watching experience. 
Dine at the fabulous restaurants at your resort, or opt for a unique dining experience at an underwater restaurant. Even underwater spas are available, or you can elect for pampering spa treatments at your resort. 
Is the Maldives expensive?
Most people will be surprised at how little you can go to the Maldives for. Sure, luxurious resorts don't come cheap, and many are out of reach for most people, but there are also several ways to travel the Maldives affordably. 
The tips in this Maldives travel guide to save costs are: 
Book a resort in the Male Atoll or one that is reachable by boat transfer from Velana International Airport, as this will reduce additional travel time and costs. 
Stay in a room or beach villa rather than a water bungalow. You still get the luxuries of the resort without the significantly higher price of a sea chalet. 
Pack properly in advance. If you leave things behind or run out of essentials then it is very expensive to buy them at the resort.
Related read: Ultimate Maldives Packing List | Essential Items for your holiday
Is the Maldives Safe? 
As most visitors in the Maldives stay in tourist resorts, crime levels are low, and security is abundant. However, if you venture into the city, crime levels will increase, but no more so than in an average town. In addition, statistics like traffic-related fatalities are much lower than in other countries in Asia, given that many islands are only travelled by foot or golf buggy. 
A key thing to remember is that the Maldives is a Muslim country, so be mindful and respectful of the culture and don't bring unnecessary attention to yourself. But generally speaking, the Maldives is safe to travel alone, in couples or groups. 
When is the best time to visit the Maldives?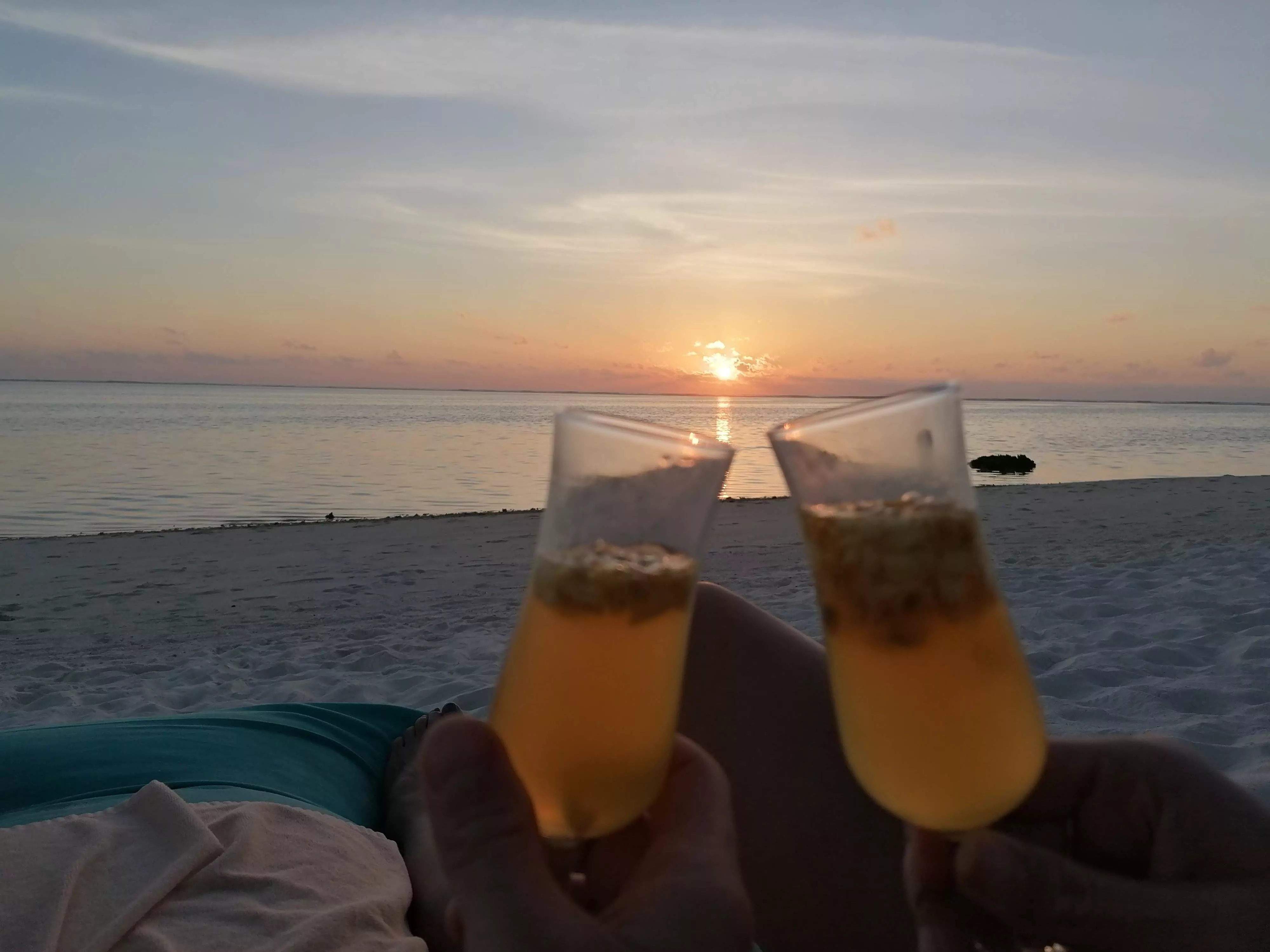 If you're heading to the Maldivian islands for sun and dry weather, the best time to visit is from December to March. Due to the tropical climate, the weather will be hot all year round so that you can avoid peak season, but other times of the year are more likely to rain or have strong winds.
However, not all Maldives travel guides are just focused on sun! if you're interested in Marine life and seeing the Manta Rays or Whale Sharks at the optimal time, you'll travel during monsoon season. The Hanifaru lagoon on the Baa Atoll fills with plankton from June to September, making this a feasting paradise and natural spectacle. This time is the shoulder of the rainy season, which typically occurs between May and October, but this is also when you're best able to get a deal. 
Maldives Travel Guide In Summary
If you're planning a trip to one of the Maldivian Islands, then we hope our Maldives Travel Guide helps! The coral atolls, blue water, tropical fish and resort islands are calling your name. However, don't be deterred about the extent of time or travel that may be required; this fades away as soon as you set afoot on the white sand beaches.
That being said, the Maldives can be stressful to plan on your own, and that's where I can help.
Do you like to travel but hate spending hours online researching holidays and trying to find the best deals? Here's why I come in. VeggTravel is an independent travel agent that does the hard work for you. I do the research, compare the prices and build the itinerary for your dream holiday, cruise, city break, or activity. Plus, my agent connections often mean exclusive offers on hotels and flights that you can't find anywhere else.
Rest assured that any holiday booked through me will give you the relevant ABTA, CILA or ATOL protection you need. Not only that, but I'll provide you with bespoke service tailored to your needs, and I'll be there every step of the way, ensuring that things go smoothly or being your single point of contact if things don't.
Ready to take your vacation to the next level? I don't charge a fee, so if you're based in the UK, drop me a mail and see what I can do for you.

---
Pin the Maldives Travel Guide for Later
Sharing is caring, so please save this post for later or share on social media.
We'd love to hear your feedback, so feel free to leave us a comment below.