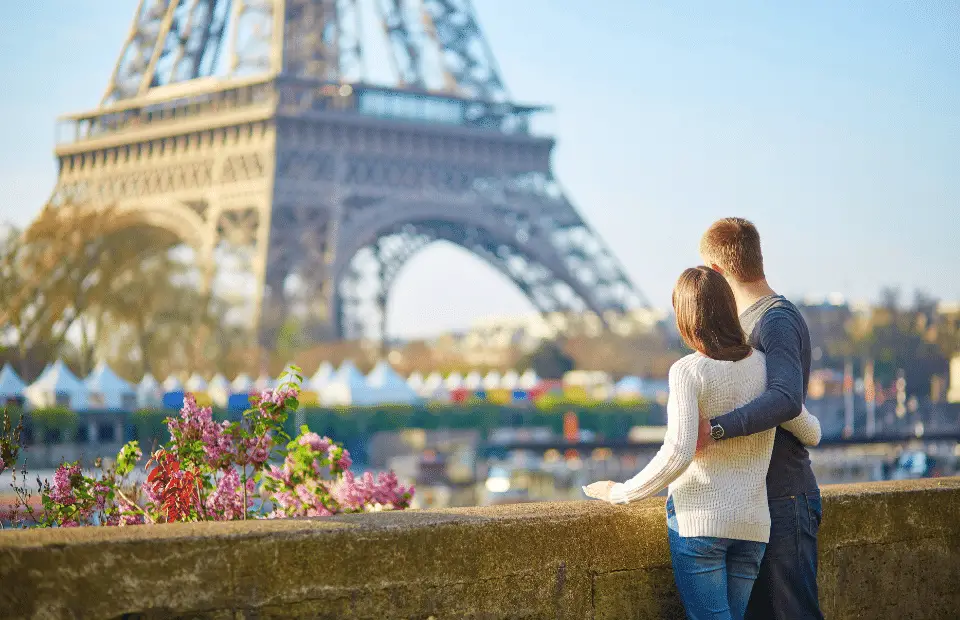 Honeymoon in France, The Best Romantic Destinations for Couples
France provides a dream honeymoon destination for couples looking for an adventure and plenty of attractions to see. The country is home to many picturesque villages, stunning landscapes, and abundant wildlife. There are also many great places to stay in France if you're looking for a traditional honeymoon experience complete with romance, luxury, and fun. Some of the best places to honeymoon in France include Paris, Lyon and the French Riviera. Read on for romantic ideas for your honeymoon in France. 
This post contains affiliate links which means I may earn a small commission if you choose to buy anything from them. This is at no extra cost to you and In doing so you help to keep this site running, so thank you in advance.
Best Honeymoon Places in France Contents
Fontainebleau  
By Knycx Journeying  
Fontainebleau is one of France's best places to honeymoon because of its location, natural resources, and historical value. Fontainebleau has been a beloved getaway destination among locals in Paris, and the city has a heritage and Palace that rivals the magnificent Versailles. The city's just about 45-minute away by train from the centre of Paris. If you want to have more flexibility, rent a car to explore the beautiful fields and forests at your own pace.   
Fontainebleau was developed around the UNESCO World Heritage Château de Fontainebleau, housing an abundance of magnificent works of art and a beautifully crafted Italian Renaissance garden of Château de Versailles. The Palace served as a residence for many French monarchs from Louis VII to Napoleon III; today, it is also a popular spot for couples to take their wedding photos. 
Take a romantic stroll in the natural forest in Fontainebleau, or hop on a hot air balloon ride. Soak in the festive vibe at night where you could have some good food and wine in a local joint, dance, and see performances on different stages set up in the city's streets.   
Recommended accommodation: L'Aigle Noir Hôtel Fontainebleau is a charming vintage boutique hotel in the city center within walking distance to the Château de Fontainebleau. 
Annecy
By Kat from France Voyager 
Annecy is one of France's most romantic little cities, making it perfect for a honeymoon. For starters, it is in the Auvergne-Rhône-Alpes region, meaning you'll have breathtaking views of the Alps as you wander the city, especially as you explore Lake Annecy. 
This city is known as the "Venice of the Alps" with its charming canals in the Old City (Vielle Ville). It is utterly romantic to wander along the flower-lined canals, spotting ducks and swans on the water. 
The Old City itself is very charming with its Medieval architecture and the beautiful Palais de L'Ile in the middle of the Thiou canal. This building, a former prison, is now a small art and history museum. 
Also, as you wander the Old City, be sure to stop by the Old Town Market. It occurs on Tuesday, Friday, and Sunday from 7 am-1 pm throughout the year and has the best produce, cheeses, and more. A romantic honeymoon in Annecy includes stopping by this market for supplies to make a picnic to enjoy by Lake Annecy. 
Then, you have to get out on the lake itself. Rent a paddleboat and take some wine to enjoy together as you paddle around the lake, admiring the mountains and crystal clear water. 
To get to Annecy, you can take a 1.5-hour train from Geneva or a 4-hour train from Paris.
For a romantic place to stay in Annecy, Les Loges Annecy Vielle Ville is located in the Old City and has charming rooms and beautiful views of the town. 
Bordeaux
By Jakub Juszyński from tymrazem.pl
How many marriages, so many characters! So how do you choose the perfect place for your honeymoon? Imagine the beautiful architecture of the old city listed on the UNESCO world heritage list, the proximity to the ocean and exciting cuisine and the most famous wines in the world … You have just imagined Bordeaux, and this is the city I recommend for your honeymoon in France.
It is a city with a fascinating history that you can get to know together, but the wine's the most interesting aspect for which the region is famous. First, go to the Cite du Vin – a sensational centre where you will learn everything about wine, and finish your tour with a tasting on the observation deck. Then, plan a trip to Arcachon – one of the most famous French resorts where you will taste the best oysters straight from the ocean! There is another delicacy that you should try together – canele – small sweets from Bordeaux known all over the country!
Bordeaux is beautiful, but you can also choose one of the nearby vineyards for your honeymoon. Many of them also offer accommodation and attractions during their stay. Of course, wine tasting is a must-see when visiting a place like this! From the beautiful vineyards located just outside the city, we recommend Chateau Saint Ahon – an extraordinary place where exceptional wines are made!
Gordes
By Leyla of Offbeat France
It's hard to think of a more romantic setting than waking up in the morning to a vista of undulating lavender fields and beautiful hilltop villages as far as the eye can see.
Yet as you settle in for your croissants and coffee on your balcony, this is what your eyes will fall upon every day, in the villages of the Luberon, that unique region of France made so famous by Peter Mayle in his best-selling book, A Year in Provence.
This region is a place of meandering roads, with stops around every corner. In the valleys, the violet-coloured fields surrounded by hills will guarantee those memorable photographs are the envy of everyone once you return home. In the villages, you'll stroll through the weekly markets hunting for fresh produce or the occasional antique, hike from village to village for breathtaking views, or sit for an hour or two at the local café, sipping your French apéritif watching the town go on with its life.
The Luberon has dozens of villages worth visiting, but some of the most beautiful include Gordes, Ansouis, Lourmarin, Roussillon, and Ménerbes, of Peter Mayle fame. This region is best seen while driving, and you can rent a car in Avignon – the Luberon is a half-hour drive away.
A delightful place to stay for your honeymoon in France is the picturesque village of Gordes and its impossibly romantic Airelles Gordes, La Bastide Hotel.
Corsica Island
By Mary from Be Right Back By Mary
Located off the Southern coast of France, Corsica Island is one of France's gems. It is perfect for couples looking for a dreamy beach destination and a fantastic honeymoon in France. 
Romantic things to do on the island include visiting some of the best beaches in Corsica, such as Palombaggia, Santa Gjuhlia and Tower beach, and wandering around the beautiful Citadelle towns of Bonifacio and Calvi. Spending a day at the Lavezzi Island and cruising along the coast is also one of the best couple activities to do on the island. In Corsica, expect "farniente" and long sunny days! 
To reach Corsica, you will need to fly in or take a ferry from France or Italy. There are daily flights from Paris in the summer and several ferries from Nice, Toulon, Marseilles, Genoa and Livorno per day. 
Corsica in the summer is not a cheap destination. Although flights and ferries can be reasonably priced, accommodations are usually rented for at least €100 per night. Accommodations with a pool are typically rented for at least €120 per night. Prea Bianca is a great place to stay near Bonifacio. Renting a car or bringing your own is essential in Corsica as the offer of trains and buses is extremely limited. Additionally, renting a car during the high season costs around €700 for seven days. However, most things to do in Corsica are free, such as going to the beach, visiting towns and the island parks. 
Baie de Somme
By Nesrine from Kevmrc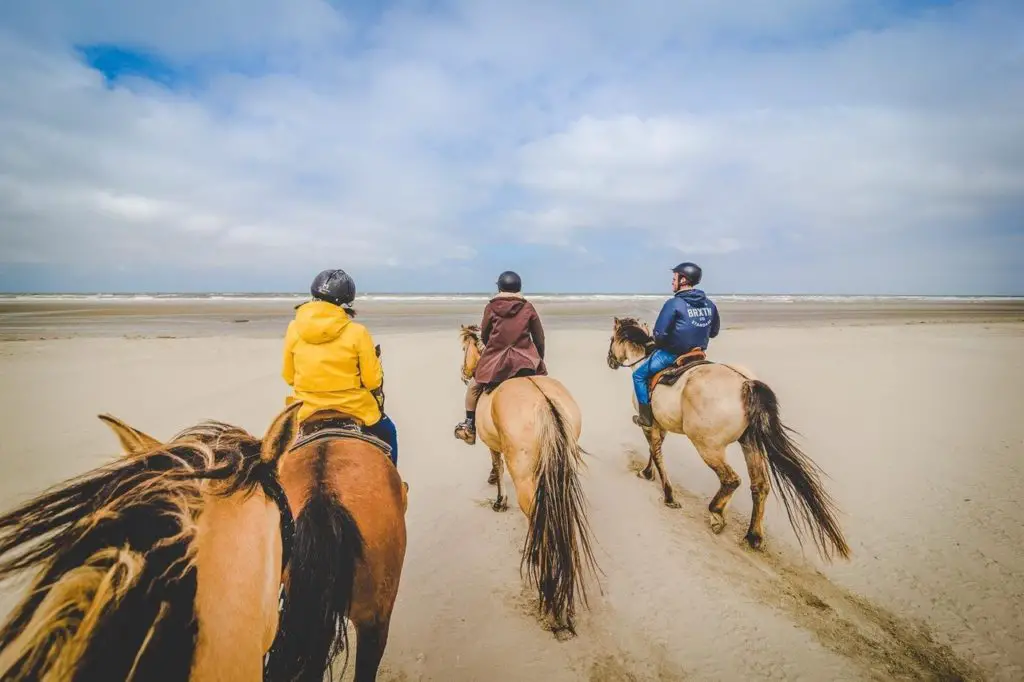 Located in the north of the country on the Picardy coast, the Baie de Somme is one of France's most famous natural landmarks and is an ideal destination for a romantic honeymoon in France. The endless beaches and the unique nature you can discover there will undoubtedly seduce you during a romantic getaway or an off-the-beaten-path trip.
This birdwatcher's paradise offers great ecological diversity with unique animal species and vast expanses between land and sea. Seals, birds and many other species live together along the coastal area for the greatest pleasure of the visitors.
Discovering the seals at low tide is a must-do in the area. Le Hourdel offers an exceptional panorama of one of the most beautiful bays in the world: like a sandy desert, this place is home to nearly 300 calf seals and 50 grey seals during the summer. But the most romantic activities you can do are certainly a horseback ride from the Domaine du Marquenterre to the bay or a ULM ride to see the bay from the air, the best way to contemplate the landscape. 
For a very romantic stay, I recommend staying at La Villa du Clos, located only a few meters from the beach of Cayeux-sur-Mer, where you'll enjoy a night bath in the jacuzzi with your lover.
Paris
By Dymphe from Dymabroad
One of the best places for a honeymoon in France is Paris. Paris is one of the most romantic places globally, and many couples travel there. As such, there are many romantic date ideas in Paris. For example, you can see the Eiffel Tower with your partner, and you can even have dinner at a restaurant inside. Also, you can explore the streets of Montmartre, where you can see lovely Parisian architecture.
Another romantic activity is going on a cruise on the Seine River. During such a cruise, you can see many of the city's sights, such as the Notre Dame and the Eiffel Tower, from the water, and there are dinner cruises as well. Also, if you both love art, you can explore the Louvre Museum together and see famous works such as the Mona Lisa.
Another fun activity if you love to shop with your partner is going to the Champs-Élysées. This area has a large avenue with luxury shops with the iconic Arc de Triomphe on one end. Getting to Paris is easy as several airports and good international train connections.
One of the most romantic places to stay in Paris is Pullman Paris Tour Eiffel, an excellent 4-star hotel with a view of the Eiffel Tower."
Versailles
By Elisa from World in Paris 
Versailles is a great place to spend a honeymoon in France. Most people visit Versailles on a day trip from Paris, but the former home to the French Kings deserves much more than a few hours! In addition, the Palace and the Gardens are incredibly romantic, especially during the fountain shows (from April to October). 
Versailles is much more than the Royal Domain. The city is beautiful, clean, and with wide avenues. A stroll around the Quartier Saint Louis and the Quartier de Notre Dame or a night at the opera are some of the romantic things to do in Versailles. 
Inside the Versailles State, you will want to explore the Grand Canal on a boat ride or tour the forest by bike, with a picnic on the grass. Le Hameau de la Reine, Queen Marie-Antoinette's playground far from the royal etiquette, is super romantic. 
For your stay in the city, book one of the hotels near the Palace of Versailles. They are super central and convenient if you watch the fireworks until midnight. Amongst these hotels, we recommend Hotel Le Versailles; an excellent four-star hotel located a 1-minute walk to the Palace. 
Nice
By Elisa from France Bucket List 
Nice on the French Riviera is one of the best places to honeymoon in France. The city is beautiful and glamorous, the food is excellent, and it has a fascinating cultural agenda and some of the best beaches in Southern France. So if you want to indulge yourself during your honeymoon, Nice is the place to go! 
A stroll around the Old Town early in the morning is super romantic. Admire Nice's baroque architecture and Italian-style piazzas before the tourists arrive. Walking through the famous Promenade des Anglais and an early aperitif on one of the private beaches are also a must in Nice. The view over the Baie des Anges from Castle Hill is terrific. 
With more time, explore the towns nearby on day trips from Nice. For example, the hilltop village of Èze and the coastal city of Menton are incredibly romantic! 
Nice is not a place to visit on a budget, especially for a honeymoon. Aim at 200€ /250€ for a comfortable holiday and much more for a luxury holiday.  
The Hotel La Pérouse Nice Baie des Anges is an excellent place for honeymooners. It is located on Castle Hill and has spacious rooms, a private pool, and great views over the Baie des Anges. 
St Tropez
By Nadine Maffre from Le Long Weekend
While it may be known as the playground of the rich and famous, you don't have to be either rich or famous to visit the charming seaside town of St Tropez. While celebs and wealthy financiers may prefer to cruise into the port on their superyachts, St Tropez can easily be accessed via a rental car and is less than a two-hour drive from the international airports at Nice and Marseille.
Spend your days roaming hand in hand among the impossibly perfect pastel coloured streets, dining in bistros made famous by Brigitte Bardot, and sunbathing on St Tropez's blissful beaches. Those who want a little more culture can hit up the various museums showcasing art, history, and even butterflies scattered throughout the picturesque town. And of course, there's plenty of shopping to be done (either window or otherwise) in St Tropez's tempting and rather up-market boutiques.
If you want to find a quiet spot away from the crowds, walk along the Sentier du littoral until you find a quiet cove for two, where you can settle into honeymoon bliss. 
You'll want to stay in a romantic hotel in St Tropez for your honeymoon in France. Consider the seaside Cheval Blanc with its Michelin starred restaurant or the slightly more budget-friendly Pan Dei Palais.
Lyon
Lyon, a historical city in the south of France, is a great place to honeymoon. The city has a rich history and culture, making it an interesting destination for tourists. Lyon also has many attractions for couples looking to enjoy themselves during their honeymoon. Some of these attractions include the Palace of Versailles, the Parc du Lyonnais, and the Musée d'Art et d'Histoire.
The city has many beautiful locations for couples to enjoy their time together. Lyon has hundreds of years of history and culture to offer and plenty of activities and attractions for tourists to enjoy. The city is also very cosmopolitan, with a diverse population that makes it a great place to explore. The array of restaurants and bars provides a wonderful backdrop for couples to have a great time together. Lyon is also home to some fantastic wineries, where couples can sample the local wines while enjoying the natural scenery.
When you're not enjoying a tipple, wander the free Zoo de Lyon in the city's centre or paddle in the river Fleuve Rhône. A romantic hotel to stay in for an unforgettable honeymoon is the InterContinental Lyon-Hotel Dieu. Another option is the Mercure Lyon Centre Beaux-Arts which is more affordable but still a top-range hotel.
Best Honeymoon Places in France in Summary
France has long been a popular honeymoon destination, and there are plenty of options if you're looking for a romantic getaway. France has something for everyone, from legendary destinations like Paris and the French Riviera to stunning coastal towns and countryside villages.
If you're on a quest for the perfect honeymoon destination, read the following posts for more inspiration.
---
Want to enjoy your honeymoon and not have the hassle of planning it?
Do you like to travel but hate spending hours online researching holidays and trying to find the best deals? Here's why I come in. VeggTravel is an independent travel agent that does the hard work for you. I do the research, compare the prices and build the itinerary for your dream holiday, cruise, city break, or activity. Plus, my agent connections often mean exclusive offers on hotels and flights that you can't find anywhere else.
Rest assured that any holiday booked through me will give you the relevant ABTA, CILA or ATOL protection you need. Not only that, but I'll provide you with bespoke service tailored to your needs, and I'll be there every step of the way, ensuring that things go smoothly or being your single point of contact if things don't.
Ready to take your vacation to the next level? I don't charge a fee, so if you're based in the UK, drop me a mail and see what I can do for you.
---
---
Pin The Best Honeymoons in France for Later
Sharing is caring. Please share this post on social media and if you have any feedback or questions, leave me a comment below.