3 Days in Malta – The Perfect Weekend Itinerary
Malta, Gozo, and Comino are situated in the Mediterranean Sea south of Sicily, Italy. Many travellers visit Malta for a summer retreat due to its sizzling Mediterranean climate, stunning beaches and ocean brimming with aquatic life. Best of all, you can explore some of Malta's most exceptional qualities within a long weekend break. Therefore, read on to discover what to do for 3 days in Malta in an action-packed weekend itinerary.
3 Days in Malta Contents
This post contains affiliate links which means I may earn a small commission if you choose to buy anything from them. This is at no extra cost to you and In doing so you help to keep this site running, so thank you in advance.
3 Days in Malta – is that enough? 
People often ask how many days you need in Malta. Of course, this depends on what you want to get out of your holiday. As a central archipelago between Italy and North Africa, Malta and the surrounding islands are steeped in culture. Malta's exciting history and traditions stem from the many different historical rulers, making Malta and Gozo Islands great destinations to discover and explore. So while a weekend trip will mean you have to prioritise how you spend 3 days in Malta, you can still see the key sights and things to do.
This Malta weekend itinerary will give you everything you need to know to make the most of your travel.
Getting to Malta
The Malta international airport connects Malta with many European destinations. As it isn't a large Island, driving around Malta is easy, and taxis are affordable. It is also possible to catch a ferry to Malta from other ports.
If you still need to book your travel, check out my pick of the best travel resources online for quick and easy links you will need for your trip. 
Do you need to rent a car for this Malta Weekend Itinerary?  
You can travel around Malta easily on public transport, but having your own vehicle will give you much more freedom. It is effortless to hire a car and explore Malta but be sure to book your car rental in advance so you can easily pick it up from Malta airport.
If you choose to drive around Malta, consider booking additional car insurance. It is often cheaper or requires a lower deposit/excess if you take out the rental company's policy. Thoroughly check the car in advance and photograph and report any damage before driving away.
The map of the route covered in this Malta Weekend Itinerary is below: 
This map was made with
Wanderlog
, a trip planner app
Where to Stay in Malta
There are many popular areas to stay in for your weekend break in Malta, and where to stay depends on whether you prefer to be closer to the best beaches, the old cultural towns or the nightlife. 
This guide to 3 days in Malta is based around St Julian's, an area close to the best restaurants, bars and nightlife. However, other options are below: 
Buġibba, Qawra and St. Paul's Bay – best for beach lovers 
Mellieħa – Best for a family beach holiday 
Sliema – Best for budget travellers getting around on public transport 
Valetta – the Maltese capital; best for people looking for culture 
Depending on where you're staying, you should swap this Malta weekend itinerary around to create the best journey for your route.
---
3 Days in Malta | Day 1
The first part of your Malta weekend itinerary will give you beach time with a bit of culture.
Malta Highlights in a day:
Golden Bay Beach
Golden Bay Beach is a famous sandy beach located on the Northwest coast of Malta. Most of the beaches and the surroundings provide lovely views and a relaxing place. This beach is easily accessible via public transport if you don't have a car. Parking is available, and a short walk from the beach. You can rent a sun lounger and parasol and buy food, snacks and drinks while you're on the beach.
Mdina, the Silent City of Malta
The Mdina cathedral formed the centre of the medieval city of Malta. If you're into your history, this is a brilliant example of an ancient walled city. You can book guided tours or self-guided audio tours from the Old Town to learn about Mdina's history, making a brilliant Malta day trip.
The Old Town is simply beautiful, making either a peaceful end to your day or if you prefer, an inspiring way to start your morning before heading to the beach. In addition, guided walking tours are available so you can take in all of the histories of this impressive architecture. Additionally, you can opt for a full-day Game of Thrones tour. Discover King's Landing and the Red Keep, amongst so many other fabulous locations (not to mention all the showbiz gossip!).
---
The First Night of your Malta Weekend Break
If staying in St Julian's, you should get your bearings for the first night. Choose one of the many lovely restaurants around Spinola Bay. The pretty fairy lights of the restaurants light up the bay with a soft, inviting glow. There are many cuisines to choose from, and as it is a bustling area, it is excellent for people-watching.
You will also find the upside-down love monument in this location, which you must take a photo of! If you want to head to a few bars, locals particularly enjoy a few to the right of the Love monument. Finally, if you head to the left, you can lead to the heart of St Julian's. Find more about this later in this Malta travel guide.
Day 2 of your Malta Weekend Itinerary – Historical Sights in the Capital City
If you're a history buff interested in discovering more about Maltese culture, then a visit to Valletta day trip is one of the best malta day trips. This fortified city is a UNESCO World Heritage Site, described as one of the most concentrated historical areas of the world and a brilliant example of Maltese architecture.
Valletta has a fascinating and gruesome history as many nations battled to rule the country. However, from the Romans to the Knights of Saints John, the city is rich in culture.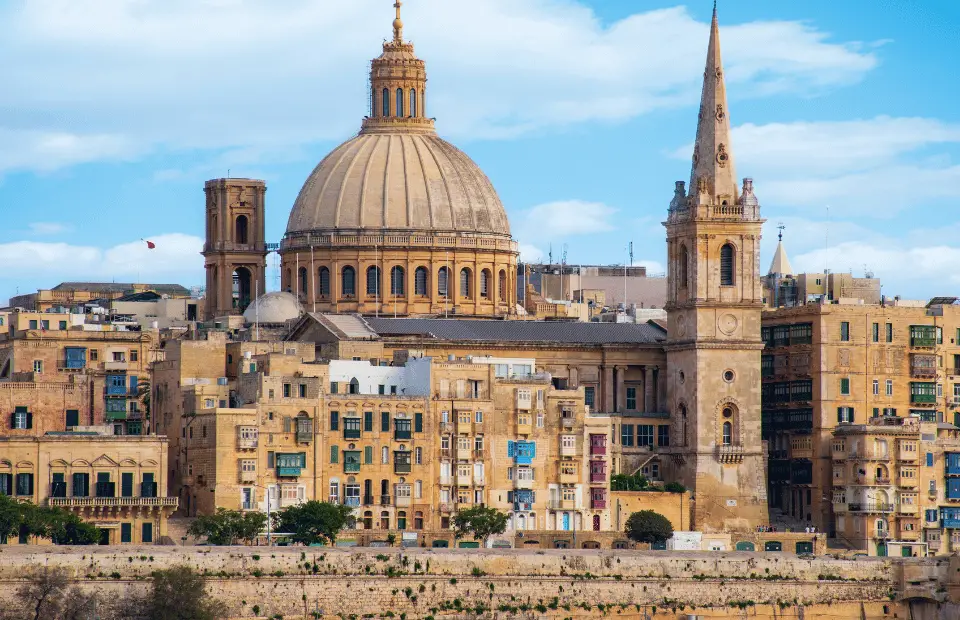 Valletta, Malta highlights in a day.
Upper Barrakka Gardens– walk along the city walls to discover the best viewpoint in Valetta, providing panoramic views of the harbour.
Grand Masters Palace. This impressive building from the 1500s is the historic seat of government and is very beautiful and ornate.
Auberge de Castille. Linked to the rule by the Knights of St John, this 15th-century castle is located at the highest point in Valletta.
The National Museum of Archaeology. Located down Republic Street, you can see ancient artefacts and piece together ancient history.
St John's Co-Cathedral. Roman Catholic cathedral from the 1500s.
Valletta is known as the 'fortified city'; unsurprisingly, you will also find old fortifications such as the historic Manoel Theatre and the Grand Harbour. A guided walking tour is the best way to discover Valletta in a day. That way, you can take advantage of the capital's fascinating hidden history. If museums aren't for you, Valletta is still worth a stopover for a few hours, even if to grab a bite to eat from the capital.
---
Guide to the beaches close to Valletta
St Peters Pool
Despite not being an actual beach, St Peters Pool is one of my favourites. Stop here if you like to jump into clear turquoise waters from beautiful rocks! You need to pay 3 euros for parking, but after a short walk, you will arrive at a fantastic rocky bay. It is relatively quiet, and aside from jumping into the sea, you can easily sunbathe here.
Pretty Bay Beach
You can grab something to eat and sunbathe at Pretty Bay if you want to kill some time. The beach is lovely and quiet, and you will be able to relax. The view, however, is spoilt by the sight of Malta's freeport.
Blue Lagoon – Comino Island
If you can't get enough beautiful beaches, you must explore the Maltese islands. First, take a boat tour to the Blue Lagoon, on the cusp of Comino Island, with stunning azure waters.
The Blue Lagoon and Comino Island are a must-do on your Malta Weekend Itinerary. The Blue Grotto is a day trip in itself, and you will typically also get to see what is left of the Azure Window, an iconic stone ridge in the ocean.
The Blue Lagoon is sheltered from the winds you might have in other places in Malta. That being said, strong winds will prevent the boat tours from operating, so pay attention to the weather forecast and plan this accordingly.
---
Second Night of your Malta Weekend Itinerary 
For your second night in Malta, exploring the more lively area of St Julians will be fun. So why not have an evening meal at the Portomaso Marina?
The Portomaso Marina is chic and sophisticated, framed beautifully by soft lighting and the view of sailboats in the harbour. You will walk down some steps with several bustling restaurants on either side.
If you put 'Paceville' into your GPS, you will find many other restaurants and bars within a short walk. The more you walk towards it, the more bars/clubs you will find. The nightlife isn't as crazy as other European holiday destinations, but you're likely to encounter many people on a pub crawl on Friday and Saturday nights.
We found a quirky cocktail bar called 'The Thirsty Barber' with an excellent live rock band. The décor was stylish and relaxed, and we spent most of the night sipping delicious cocktails and enjoying the music. I recommend this bar when you visit Malta.
If you want to party and experience Malta's nightlife, there are many more bars and clubs around the area. Many of them are cheap and cheerful, enticing you with cheap shots.
Malta Weekend Itinerary | Day 3 – Explore Gozo Island
Gozo is Malta's sister island and is a popular destination on a travel itinerary. Gozo holidays are particularly desirable for travellers who enjoy diving, as Gozo island is one of the best places in Europe for it.
Take an early ferry ride if you're only planning a day trip to Gozo Island. There is a lot to see and do, which makes a beautiful road trip within itself! Signage for the Gozo ferry terminal is prominent and tells you the next departure time. The ferries typically run every 45 minutes and take 25 minutes to get to Gozo Island.
As you wait, you will need to buy your ticket from the Gozo Mgarr Terminal (15.70 euro return for car/drivers). Just join the back of one of the rows of traffic, and once you've paid, you'll be ready to board. Once you're on and parked, you can leave your vehicle to find a seat or visit the store. You'll be notified when to return to your car, so wait for the signal, and away you go. The best thing about the ticket is that you don't have a specific time to return, and they run until after 11 pm.
Malta Highlights on Gozo Island
Hondoq Bay. This pretty little beach is perfect for snorkelling and has sand and pebbles. There are a few small caves at the water level, which is one of the reasons this place is popular. You can get drinks and snacks from a nearby cafe.
Tal-Mizta Cave. This cave is high up in the hills, providing incredible views of Ramla Beach below. The cave acts as a beautiful natural window to the beach; you can drive there directly, and the entrance is free. You also can walk up some very steep stairs from the beach.
Ramla Bay beach. A sandy golden beach on the East of Gozo Island. If you visit Tal-Mizta Cave, you'll already be familiar with the stunning views of the golden yellow sands and significant marble monuments. Parking is free, and you can grab snacks and drinks from a nearby stall.
Scuba Diving. If you're a diver or want a taster session, then Gozo is the perfect place to try! You will find dive shops along the harbour, but it is best to book in advance as the times can be rigid. 
Related Read – Top 10 Best Gozo Beaches
---
Where to go for lunch on Gozo Island
Marsalforn Bay is a stunning location that provides an ample selection of restaurants. Most of them will have beautiful views of the ocean.
I recommend Otters Bistro as it is on the shore and makes a great place to watch the waves, particularly on a windy day. This restaurant is excellent for vegetarian/vegan food with exceptional service.
Where to spend your afternoon on Gozo Island
Citadel
Located in Ir-Rabat (Victoria), the capital of Gozo Island, you can't help but see the Citadel high in the distance. You can enjoy a free walk around the Citadel or pay to enter the museum. Victoria is home to 'Independence square' known locally as 'It-Tokk'. Perfect for a wander and a quick coffee.
Paradise Bay – Back on Malta Island
Paradise Bay is a pretty beach close to the ferry terminal in Malta. If the tide is in when you visit or it is windy, it might be best to give it a miss. That said, Paradise Bay is very picturesque and would make a lovely stop-off for a few hours.
Alternative options to explore Gozo
If you're only going to Gozo for a day, this Malta weekend itinerary will cover a lot of stops while still giving you some relaxing beach time. However, should you have 4 nights in Malta, you can spread this itinerary out and stay at one of the wonderful boutique hotels in Gozo. 
There are even option's to explore Gozo Island in some quirky, fun ways:
---
Final Night of your Malta Weekend Itinerary
If you enjoyed Portomaso Marina in St Julian's, I highly recommend the Blue Elephant Thai restaurant within the Hilton Hotel. It will need pre-booking, and you will see why due to the stunning décor resembling a beautiful Thai village. The food is superb too.
I do not recommend the Sahara Shisha Bar in Paceville. The traditional Moroccan-inspired décor is attractive from a distance, but it's shabby, dirty, and terrible service.
Malta Weekend Itinerary | Final Thoughts
By now, you will have a good idea of what you can do in three days in Malta. Swap and change things up in this Malta weekend Itinerary to suit your style and take as long or as little as you want. 
Related Reads:
I'd love to know which parts of this Malta Itinerary you like best. So, please let me know about your plans or adventures in the comments.
Want to travel but overwhelmed with the amount of research and planning involved?
Do you like to travel but hate spending hours online researching holidays and trying to find the best deals? Here's why I come in. VeggTravel is an independent travel agent that does the hard work for you. I do the research, compare the prices and build the itinerary for your dream holiday, cruise, city break, or activity. Plus, my agent connections often mean exclusive offers on hotels and flights that you can't find anywhere else.
Rest assured that any holiday booked through me will give you the relevant ABTA, CILA or ATOL protection you need. Not only that, but I'll provide you with bespoke service tailored to your needs, and I'll be there every step of the way, ensuring that things go smoothly or being your single point of contact if things don't.
Ready to take your vacation to the next level? I don't charge a fee, so if you're based in the UK, drop me a mail and see what I can do for you.

---
---
Pin This Guide to Three Nights in Malta for Later
Sharing is caring. Please share this post on social media and if you have any feedback or questions, leave me a comment below.