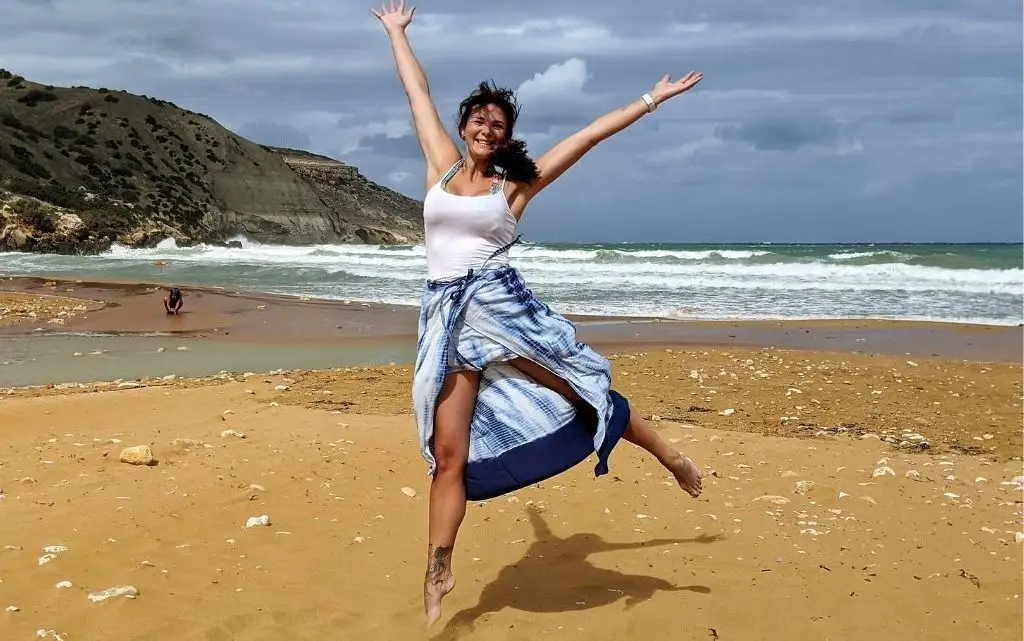 The 10 Best Gozo Beaches for a Beautiful Sun Filled Holiday
Soak up the Mediterranean sun at some of the best beaches in Gozo! This beautiful island forms part of the Maltese archipelago and makes a perfect destination for those hot summer months. With various activities ranging from swimming and snorkeling to fishing and diving, you'll be spoilt for choice regarding beach experiences. Relax, unwind, and truly immerse yourself in this idyllic setting – come explore the best Gozo beaches on offer!
Top 10 Best Beaches in Gozo
This post contains affiliate links. This means I may earn a small commission should you choose to make a purchase using my link, but this is at no extra cost to you. I love all of these companies and only recommend things I would use/do myself. Thanks for your support .
List of the Top 10 Gozo Beaches 
Are you considering taking a road trip around the Maltese Islands and dreaming of finding the perfect sandy beach in Gozo? If so, then you're in luck! Though less plentiful than pebbly or rocky beaches, Gozo has its fair share of breathtaking sandy shores. So why not hire a car and explore all the best beaches in Gozo! Here's everything you need to know about planning an unforgettable beach holiday in this beautiful corner of the Mediterranean.
Related Read: Malta Itinerary & Travel Guide & 3 Days in Malta – The Perfect Weekend Itinerary
1) Ramla Bay Beach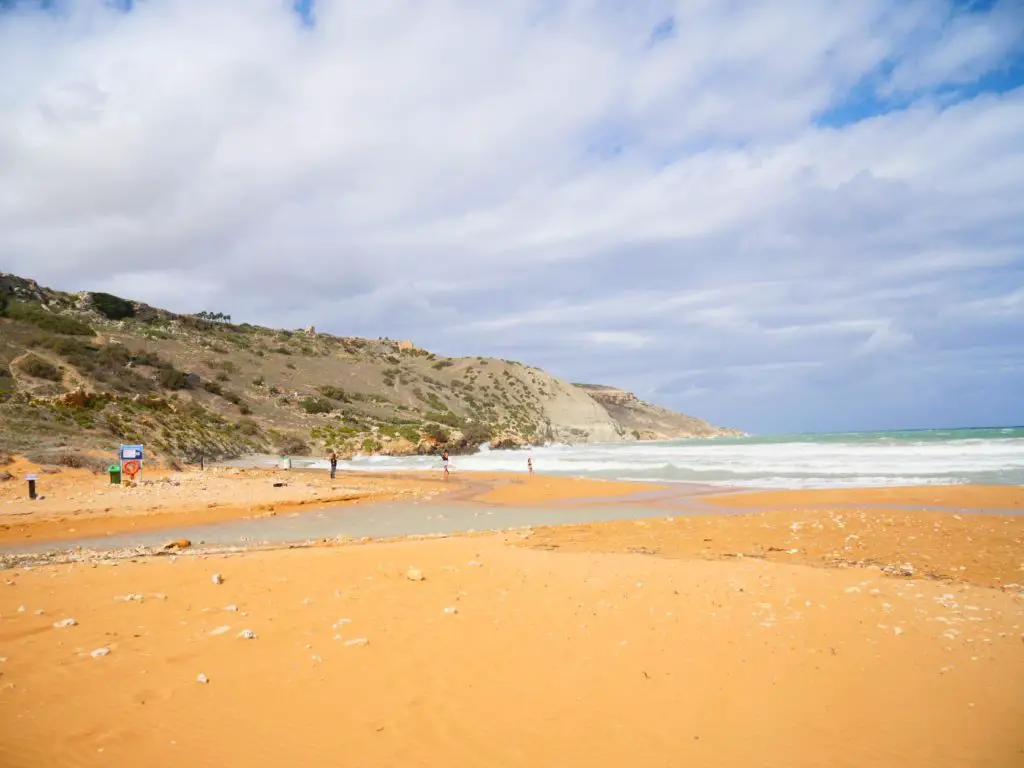 How to get to Ramla Bay Beach: In the North West of the Island, Ramla Bay is 8.5km from the ferry terminal, which takes 15 minutes to drive. 
Tip: make a slight detour to the Azure Window at the Tal-Mixta Cave for spectacular ocean views framed by natural rock. 
Ramla Beach Gozo has a free parking lot, a vendor selling drinks and snacks, and golden sand. It also has an iconic marble statue that takes center stage on the bay. However, it can get windy in this area, kicking up the waves, which makes paddling pleasant but not the best spot to swim. 
2) Ghar Qawqla Bay
How to get to Ghar Qawqla Bay: Located slightly further West than Ramla Bay, this beach is on the tip of Marsalforn Bay. 
Somewhat hidden from the hustle and bustle of Marsalforn Bay, Ghar Qawqla bay is a hidden gem of natural beauty. There is no sand, but the beach is built around an exciting limestone formation. This area is popular for adventurers wanting to jump off the rocky cliffs into the deep blue waters of the sea. 
There are also facilities on Ghar Qawqla Bay to rent sun loungers, a beach umbrella, and a place to buy food and drinks. However, check the weather beforehand, as strong winds will create rough sea currents that are dangerous to swim in. 
3) San Blas Bay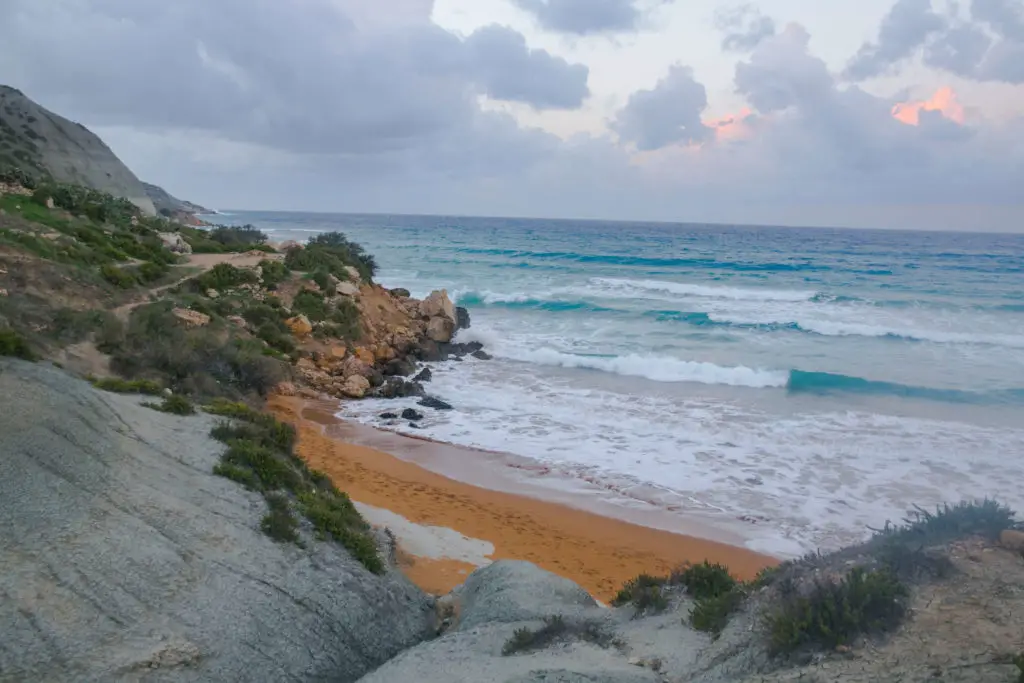 How to get to San Blas Bay: down a steep, narrow road; this sandy beach has a car park halfway down, but it is not easy to access. Alternatively, Bus 303 also stops near the area.
San Blas Bay is a beautiful Gozo beach in a very picturesque bay framed with golden sand. However, the steep incline can make walking difficult for anyone with challenges, particularly uphill. Often, a small jeep will give you a lift up the hill for a few euros. 
There is a restaurant, sunbeds, and parasols to rent, so you have everything you need while enjoying San Blas beach. 
4) Qolla l-Bajda
How to get to Qolla l-Bajda: take a short drive east of Marsalforn bay, and you will arrive at the old artillery battery beach.
Qolla l-Bajda has brilliant views of the sea and harbour and has salt pans from which you can even harvest sea salt! As one of the only remaining batteries on Gozo Island, this is a picturesque spot for history buffs.
Sadly, this Gozo beach could be better maintained and has limited amenities, so expect to stay only a short time. 
5) Hondoq ir-Rummien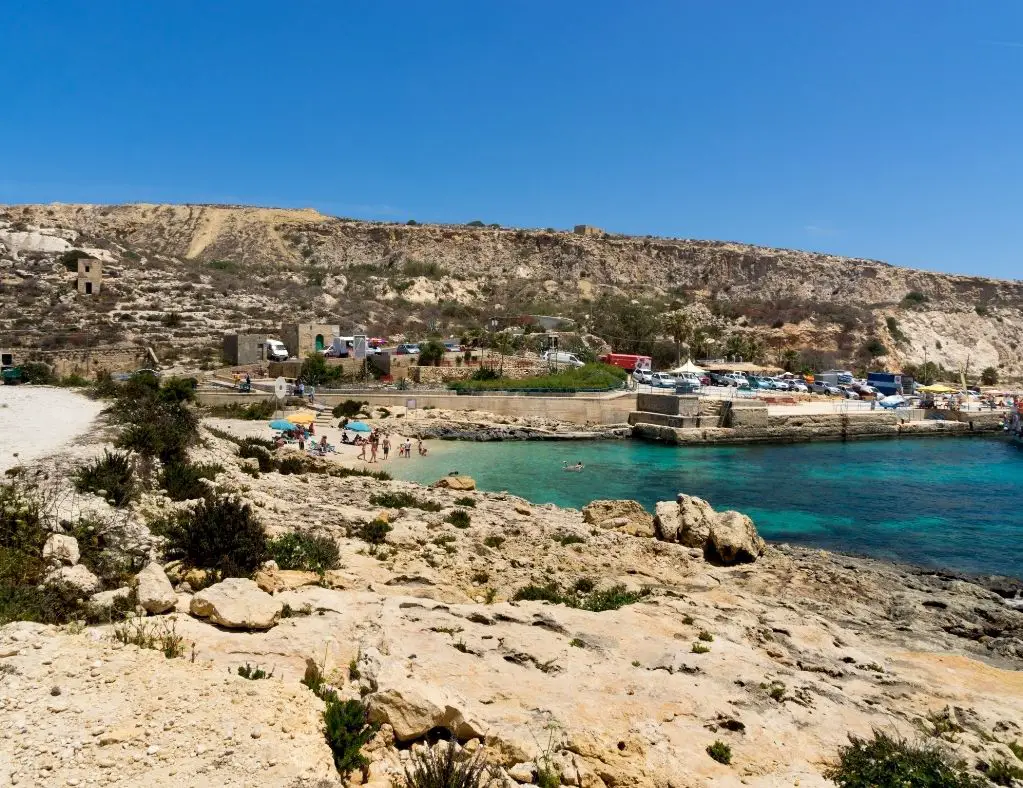 How to get to Hondoq ir-Rummien: located in the village of Qala, in the south, the only way to get to this beach is by car, but free parking is available.
Hondoq ir-Rummien (meaning pomegranate moat) is a slightly pebbly beach with a mixture of white sand and rocks. The draw for this particular beach is the underwater caves that are great for swimming and snorkelling. Additionally, water sports such as kayaking are also possible.
There are two beach bars serving food and drinks and public toilets. This pretty bay is also well situated for a boat trip to Blue Lagoon, off Comino Island, which is only a short ride away.
6) Xlendi Beach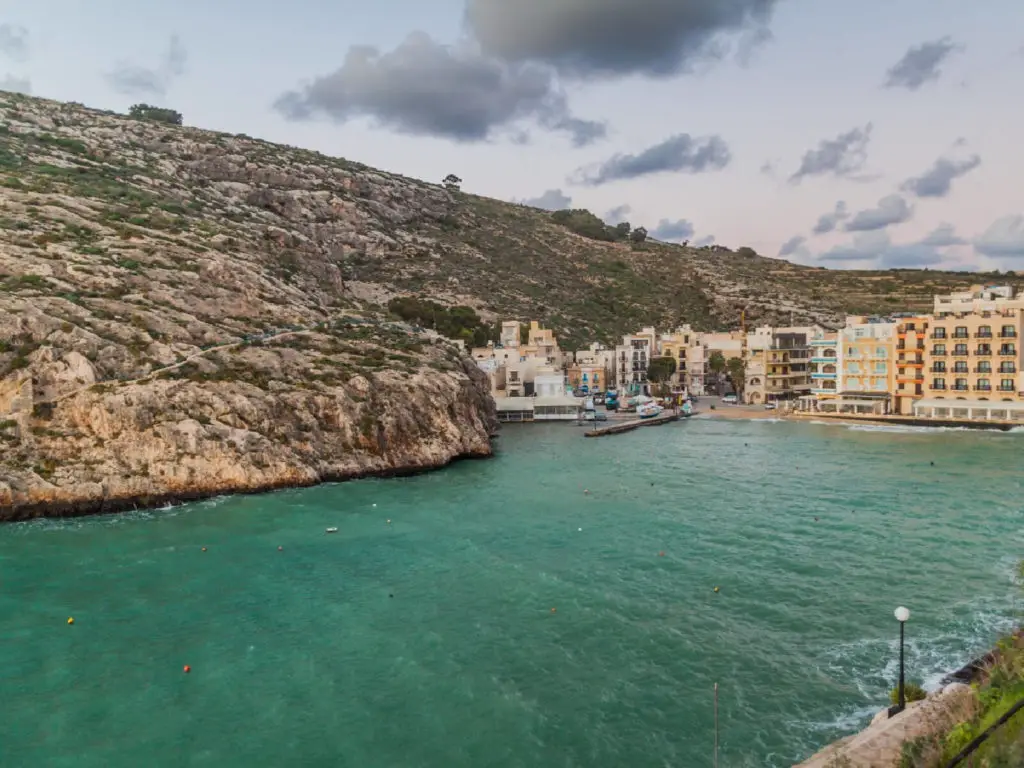 How to get to Xlendi Beach: Take a 20-minute stroll along the coast path from Siggiewi village.
Xlendi Beach is one of the best beaches in Gozo due to the crystal clear water and soft white sand. The view over the island towards Comino is also stunning and perfect for sunrise and sunset. 
The impressive cliffs are a sight to behold, and you have the bonus of beautiful caves to explore. In addition, there are several bars and restaurants to enjoy along the bay of this attractive beach.
6) Mgarr ix-Xinyi
How to get to Mgarr ix-Xinyi: located south of Gozo island, the best way is to drive as the nearest bus stop (Cilja, served by buses 301 & 323) still involves a 20-minute walk. If driving, be prepared for a steep and narrow drive down to the beach, with limited parking, so avoid arriving at busy times. It is also possible to get to Mgarr ix-Xinyi by boat ride. 
The amazing Mgarr Ix-Xinyi is one of the secluded Gozo beaches making it a fantastic spot to swim, snorkel, or rent a kayak/canoe. The clear waters and sea life around this coast make it a beautiful dive spot for scuba diving.
This beach can get windy, so one to be avoided in temperamental weather. Additionally, there is only one restaurant (with very mixed reviews), so choices are limited. 
 8) Dwejra Bay
How to get to Dwejra Bay: The easiest way is to drive in the North West San Lawrenz area. However, go down from the North as the roads from the South are terrible and are often closed due to a working quarry nearby.
Dwejra Bay was put on the map due to its proximity to the famous Azure window, which has since collapsed. However, this is still one of the top Gozo beaches and is a favourite for watching the sunset. If you're a scuba diver or want to try it out, the blue hole is an excellent spot to experience the ocean's depths. You can also take a 15-minute boat ride here to see the beauty of the blue hole without even getting wet.
Several restaurants are nearby, so when you're finished on the rocks, you can continue exploring San Lawrenz.
9) Dahlet Qorrot
How to get to Dahlet Qorrot: Follow signs from Nadur centre towards San Blas and then take a right as you head out of the village. Alternatively, take a stroll. 
Dahlet Qorrot is one of the best Gozo beaches as it offers spectacular views and is a hidden gem along a leisurely coastal walk from the Gozo ferry terminal. The quaint natural sandstone bay is mostly a rocky beach and is a great swimming spot. 
10) Wied il-Ghasri
How to get to Wied il-Ghasri: this bay is slightly off the beaten track and needs to be reached by car, albeit the road to the car park is narrow and steep.
To get to the Wied il-Ghasri beach, walk the steep path down. This location has minimal facilities, but the stunning, picturesque bay is one of the must-see Gozo beaches. The unique bends and landscape of the rocks along this coast make this amazing landscape one of the Gozo Islands' hidden gems.
Gozo Beaches in Summary
If you're looking for a truly memorable beach experience, Gozo is the perfect place to be. From Bugibba Perched Beach, with its artificial 'sand' shoreline that's great for strolling along, to the pristine and untouched beauty of the beaches accessible by Gozo ferry, there is something for everyone. And if you're staying longer, you can take advantage of all that the islands have to offer! So why not explore the best beaches in Gozo and decide which one is your favorite? Share your experience in the comments below – we'd love to hear from you!
---
Looking for an amazing holiday with worldclass service and expertise throughout your journey?
Do you like to travel but hate spending hours online researching holidays and trying to find the best deals? Here's why I come in. VeggTravel is an independent travel agent that does the hard work for you. I do the research, compare the prices and build the itinerary for your dream holiday, cruise, city break, or activity. Plus, my agent connections often mean exclusive offers on hotels and flights that you can't find anywhere else.
Rest assured that any holiday booked through me will give you the relevant ABTA, CILA or ATOL protection you need. Not only that, but I'll provide you with bespoke service tailored to your needs, and I'll be there every step of the way, ensuring that things go smoothly or being your single point of contact if things don't.
Ready to take your vacation to the next level? I don't charge a fee, so if you're based in the UK, drop me a mail and see what I can do for you.

Pin The Best Gozo Beaches for Later
Sharing is caring. Please share this post on social media and if you have any feedback or questions, leave me a comment below.