Incredible Tortuguero Tours from San Jose
If you love nature and want to get up close and personal with some of Costa Rica's most amazing animals, then a Tortuguero tour is the perfect way to experience it all! Located in the Limón Province on the Caribbean coast, Tortugeruo is a natural paradise, full of wildlife.  From close encounters with green turtles to discovering the local culture, these Tortuguero tours from San Jose are sure to be an unforgettable experience.
This post contains affiliate links which means I may earn a small commission if you choose to buy anything from them. This is at no extra cost to you and In doing so you help to keep this site running, so thank you in advance.
What Tortugeuro Tours from San Jose are Available?
If you're looking to see more of the beautiful scenery that Costa Rica has to offer, consider the tours to Tortuguero from San Jose. There are several reputable companies that offer day tours or multi-day trips. You can also customize your trip by choosing which areas of the park you want to visit.
Tortuguero national park tours are included in all options, but sometimes entrance is at an additional cost. No matter which company you choose, be sure to book your trip in advance; these tours fill up quickly!
How long does it take to get from San Jose to Tortuguero
An important consideration when booking Tortuguero tours from San Jose is how much time you will spend travelling. If you're driving, on a public bus or coach, the journey will take approximately 2 hours 30, plus an hour long boat ride to the village centre.
There are many tours to Tortuguero from San Jose available. Some include two to three days within the area, whereas others are extensive day trips. Different tour companies offer different itineraries, so it is important to choose one that fits your interests.
Extended Tortuguero tours from San Jose
All inclusive package 2 nights 3 days in Tortuguero from San José
Inclusions: This multi-day trip includes all transport, accommodation and meals and a naturalist guide. 
Exclusions: National park fee ($16), a donation to the museum ($2), alcoholic drinks and gratuities.
Highlights: Collecting you from your hotel in San Jose, you will soon be admiring the beautiful surroundings of the Tortuguero canals during the comfort of a boat trip. Hike along the lodge's private trail and learn about the native Green Turtles at the Sea Turtle museum. Stroll along the black sand beach and spend some free time exploring the picturesque village. 
You can also buy this package on Viator so be sure to check availability and cost of both deals. 
---
---
Special Package – 2 days, 1 night
Inclusions: This guided multi-day trip includes all transport, dinner, breakfast (2), lunch (2).  
Exclusions: Beverages, park entrance fee, turtle conservation ticket and gratuities.
Highlights: Stay at a 5 star hotel lodge in the jungle and spend time exploring Tortuguero national park, beach and Tortuguero village. Enjoy a guided boat tour along the beautiful canals at sunrise.
Check out the price and availability of this tour here
Day trips from San Jose to Tortugero
A day trip to from San Jose to Tortuguero will take at least 12 hours, so expect an early start and a late finish. However, you don't need that long in Tortugero for it to make a lasting impression. Below are some of the best day tours available:
Tortuguero Park Day Tour with Breakfast & Lunch
Inclusions: This guided tour includes all transport, park fees, traditional breakfast and buffet lunch
Exclusions: Gratuities.
Highlights: Picking you up from your hotel in San Jose, you stop for a traditional Costa Rican breakfast and visit a banana plantation to learn about the process of growing and harvesting delicious fruit. Sail down the lush rainforest canals of Tortuguero National Park and enjoy learning about the history and town of Tortuguero town.   
Tortuguero National Park Eco Adventure Walking & Canoe Tour from San Jose
Inclusions: This guided multi-day trip includes all transport, park fee, breakfast, lunch and bottled water.
Exclusions: Alcoholic drinks and gratuities.
Highlights: Enjoy getting a bit more active on this tour with a 2 hour guided hike and canoe trip around the beautiful coastal forest. Savour tropical fruits on Tortuguero beach and explore the jungle canals of the national park by canoe.
How to get to Tortuguero National Park from San Jose without a tour
If you'd prefer to have more flexibility with your travel itinerary, consider travelling to Tortuguero directly and booking tours or independent operators there.
If you're planning your own trip, be sure to research different transportation options and choose one that fits your budget and schedule. The San Jose to Tortuguero shuttle is an easy option that covers both road and boat transport. 
---
---
If you're flying, you can take domestic flights with either Sansa or Aerobell from San Jose to Liberia or Puerto Limon and take a taxi or bus from there to Tortuguero National Park.
Alternatively, you can rent a car in San José and drive yourself. The drive is long but well worth it for the beautiful scenery and the chance to see some of Costa Rica's most important wildlife. Just park up at La Pavona and grab the public boat taxi for a ride to the village. The boat journey will take about an hour. 
Where to stay in Tortuguero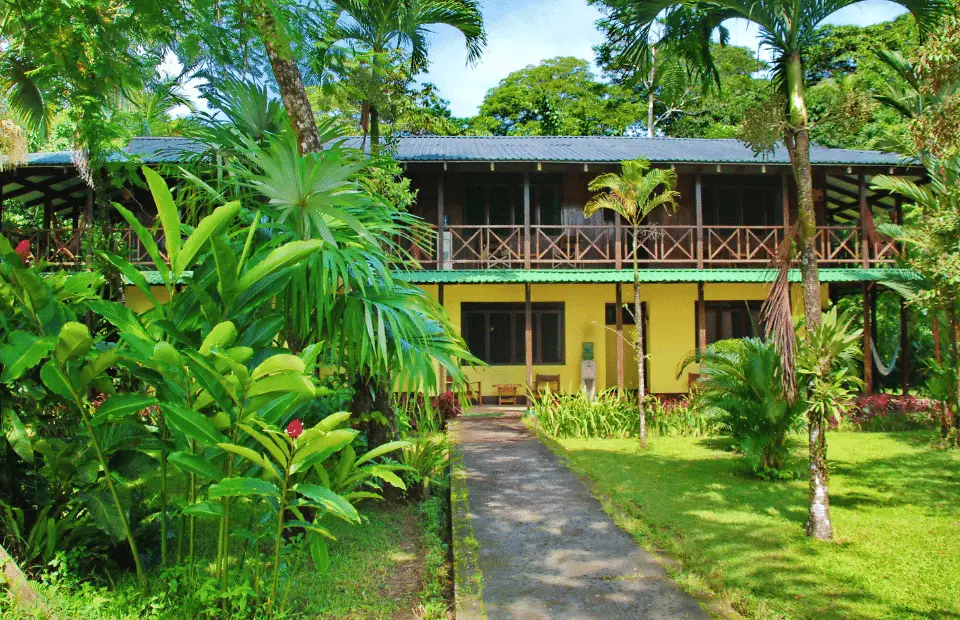 If you choose to travel to the area yourself, you will want to stay in one of the many nature lodges available. Some of the most popular are the Evergreen Lodge Tortuguero, the hotel el Icaco, the Laguna Lodge or the Tortuguero lodge.
I personally stayed at Tortuguero lodge which was quirky, colourful and great fun, as well as being set amongst the most beautiful natural surroundings.
Tortuguero tours from San Jose in Summary
The details of these tours is accurate at the time of the last update, but please always check the itinerary of the tour you choose to ensure that you fully understand what it does/doesn't include and whether it is right for you. If your visit is centred around spotting sea turtles nesting or spawning then make sure you visit during the turtle season; July to October, although it is possible to see individual turtles at any time of year.
You should also consider booking an organised tour to discover much more of Costa Rica. There are pros and cons of group tours, but they usually offer fantastic value for money. G Adventures or Contiki offer some brilliant packages.
Whatever tours to Tortuguero from San Jose you choose, be sure to pack plenty of sunscreen, water bottles, snacks, and insect repellent because Tortuguero is known for its biting insects!
If you like this post, you should also check out:
---
Want an exciting holiday like this but want to take the stress out of organising it all?
Do you like to travel but hate spending hours online researching holidays and trying to find the best deals? Here's why I come in. VeggTravel is an independent travel agent that does the hard work for you. I do the research, compare the prices and build the itinerary for your dream holiday, cruise, city break, or activity. Plus, my agent connections often mean exclusive offers on hotels and flights that you can't find anywhere else.
Rest assured that any holiday booked through me will give you the relevant ABTA, CILA or ATOL protection you need. Not only that, but I'll provide you with bespoke service tailored to your needs, and I'll be there every step of the way, ensuring that things go smoothly or being your single point of contact if things don't.
Ready to take your vacation to the next level? I don't charge a fee, so if you're based in the UK, drop me a mail and see what I can do for you.

---
---
Pin this post for later
Sharing is caring; please pin this post for later or share on social media. If you have any questions or feedback, please leave a comment below.