Virgin Voyages Virgin Valiant Lady Reviews
Virgin Voyages is a luxury cruise line recently launching its newest ship, the Valiant Lady. The ship features a variety of fitness classes, spa treatments, and dining options. In addition to these perks, guests receive complimentary meals and soft drinks, free wifi and gratuities. Virgin Voyages offers luxurious cruising experiences at affordable prices. Their goal is to provide guests with unforgettable vacations of great value. But how much of this is a marketing ploy versus reality? Find out by reading this honest account of Virgin Voyages' valiant lady reviews. 
Voyages on the Valiant Lady
Virgin Voyages was founded in 1995 and currently operates four ships, Valiant Lady, Scarlet Lady, Resilient Lady, and the Brilliant Lady. Owned by Royal Caribbean International (RCI), one of the major cruise lines in the world, Virgin enters the cruise industry with decades of experience. The differentiator of Virgin, above all others, is that it is the only adults-only cruise liner in the world. 
The Valiant Lady's home dock is in Barcelona, Spain, with five different voyages from here. 
Irresistible Med; Barcelona, Toulon (France), Marina di Carrara (Italy), Ajaccio (Corsica), Olbia (France), Ibiza (Spain), Barcelona. 
French Daze & Ibiza Nights; Barcelona, Marseille, Cannes, Palma de Mallorca, Ibiza, Barcelona. 
Greek Island Glow; Piraeus (Athens), Santorini, Rhodes, Bodrum, Mykonos, Piraeus (Athens). 
Adriatic Sea & Greek Gems; Piraeus (Athens), Split (Croatia), Dubrovnik (Croatia), Kotor (Montenegro), Corfu (Greece), Piraeus (Athens). 
This Virgin Voyages Valiant Lady Review is based on my experience on the Irresistible Med sailing. Still, while the itinerary may differ, the cruise ship is the same for all sailings.
On board the Valiant Lady
Many unique selling points for Virgin cruises set them apart from its competitors.
Firstly, when you set sail, guests receive complimentary free-flowing champagne for an entire hour as everyone celebrates the start of their holiday. If you have booked the Romance package, you get special access to Richard's rooftop during this 'happy hour,' a luxurious area of the vessel, which is reserved for people with 'Rockstar rooms.' 
If you can splurge for a Rockstar room between 4:30 – 6:00 daily, guests can visit Richard's rooftop for free-flowing Monet! This perk alone makes the upgrade extremely tempting. Other benefits include large day beds, two hot tubs, an upscale bar, and a menu for daytime snacks. My only criticism of this area is it needs a bigger pool.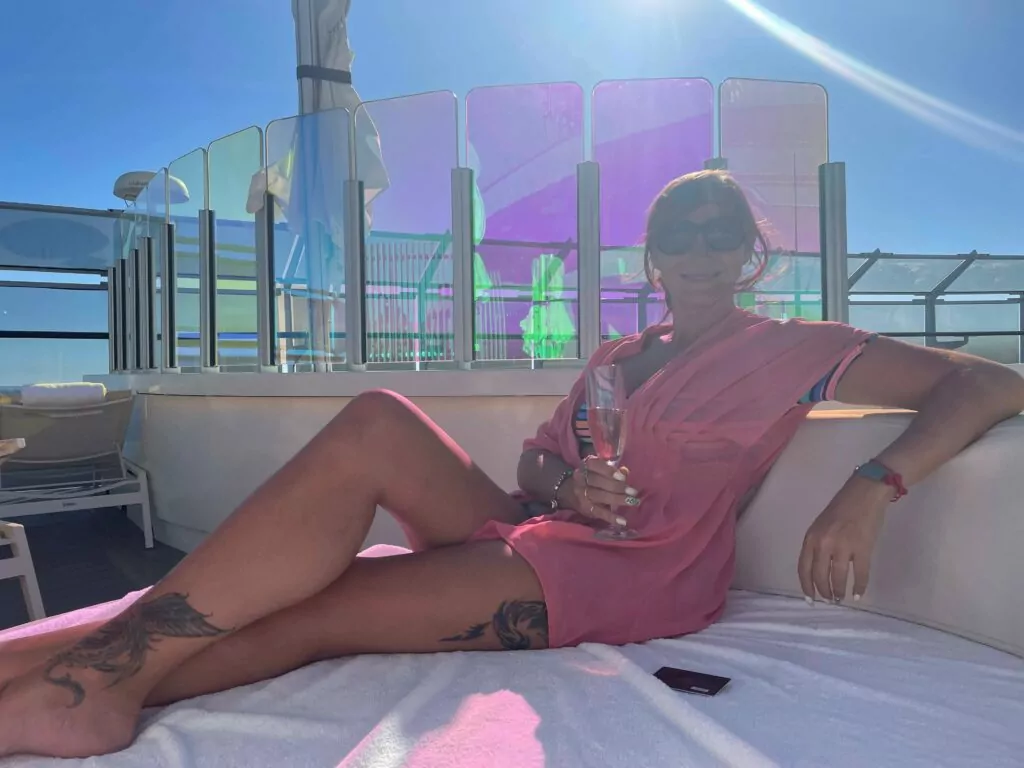 One of the most unique experiences is scarlet night. Paint the town red, with the entertainment taken to a new level. Every corner of the ship has an interesting twist. I don't want to give too much away, as seeing is believing, but this is by far the wildest night on board, and you'll be thankful for the lay-in on a day at sea the following morning. Try not to get too much of a hangover, though, as you'll arrive in Ibiza the following evening! 
Virgin Voyages Valiant Lady Reviews By Category
Food and Drink 
Put simply, the food onboard the Valiant Lady is incredible! We met many cruise ship veterans during our experience who all shared the same view. The culinary delights on this vessel are 5-star, prepared by quality chefs, and with some specialty restaurants providing Michelin-star quality cuisine. 
My personal favourites were
The Test Kitchen provides incredible concoctions you'd never have dreamed of, but that taste unbelievable.
Gunbae, the lively Korean BBQ restaurant, specialising in group dining with fun games and shots with your host chef.
The Dock House provides delicious mezze if you're in the mood for a light snack. Most of this can be collected from the stands, which is even better if you're in a hurry.
Bento Baby provides great take-out boxes if you fancy a little sushi to take away.
The Galley is the main food hall where you can order from a variety of stands from a central server, and it's available most of the day. Great take-out options, like cheese boxes, fresh fruit, sushi or yoghurt and granola, are also available.
If you have dietary requirements such as gluten-free, vegetarian or vegan, you will find more than enough options on board. Many dishes on the menu can be tailored to your needs, and the staff are incredibly knowledgeable about the food they serve. Even steak and seafood restaurants like 'The Wake' have options that would fill up non-meat-eaters.
Valiant Lady Reviews on Food
Shopping
Do you want to return home with an unforgettable souvenir? Then stop by the tattoo parlour for a permanent memento of your trip. Looking for something stylish, then head by the many boutiques and shops. Dreaming of your next cruise, stop by the sales office and get heavily discounted incentives to sail again.
You must have Sailor Loot topped up on your account to purchase at any of these places. Otherwise, payment will default to whatever card you've added as a backup.
Overall, the shopping experience is excellent, although it's expensive. If you want to splurge, you will love it, but if you're trying to save your dollars, shop at the ports you visit.
Valiant Lady Reviews on Shopping
Excursions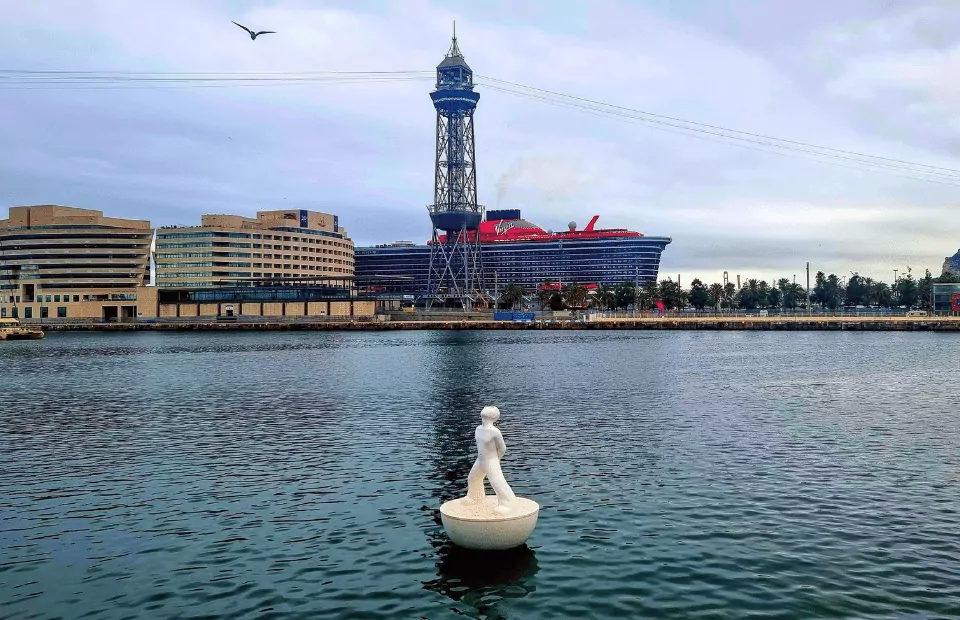 Like all luxurious cruises, guests are offered a wide range of activities to book at each port they stop at. Examples can include snorkelling trips, guided city tours, boat trips and unique experiences offered by the destination you're visiting.  
The pros of booking an excursion with Virgin Voyages are that they are timed perfectly around the times you will dock and depart, and if things go wrong, you will never miss the cruise. They also cover much broader areas than the port, and your transport is included, giving you more variety than venturing out yourself.
However, the cons are that these excursions are costly, and some get booked quickly. Look at the app as soon as you have access, and if you want to book a tour, don't hesitate, as it might be gone the next time you look. You can also visit Sailor Services for additional information and advice or book directly on board with them.
Valiant Lady Reviews on Excursions
Entertainment
You will never be bored with the Virgin Voyagers' Valiant Lady! Firstly, the busy itinerary and constant discovery of new places will mean you're not on board that often. You might even find yourself longing for more time to enjoy everything the vessel offers.
Some of the entertainment highlights are:
The Manor
The Manor is the place to be if you're looking for late-night entertainment. Not only are there specific shows to look out for, but there are often late-night DJ parties as the Manor turns into a nightclub.
Casino
A large casino is on board with many different slot machines and croupiers hosting games 24/7. Look at the app for the dates and times when special events happen. For example, seahorse betting occurs on the back of the deck with real people or slot master classes. Located next to the Red Room, the casino is often a bustling area and is great to people watch or have a flutter yourself.
The Loose Cannon
Play your friends at some classic board games, air hockey or draughts. During the daytime, you can also grab hotdogs, other stacks from the diner, and bags of treats that you can indulge in or take to your room later.
The Arcade
Fancy some retro arcade action? From Pacman to streetfighter and racing games to Tetris, the arcade has a great collection of nostalgic classics to get your competitive juices flowing.
Karaoke
There are two Karaoke options aboard the Valiant Lady. The first option is to look out for karaoke nights around the Loose Cannon. This show is for the showmen and women who love to have fun with an audience. The Groupie, on the other hand, is a private booth that can be booked for an hour so you can have fun with your nearest and dearest as you belt out karaoke classics.
Red Room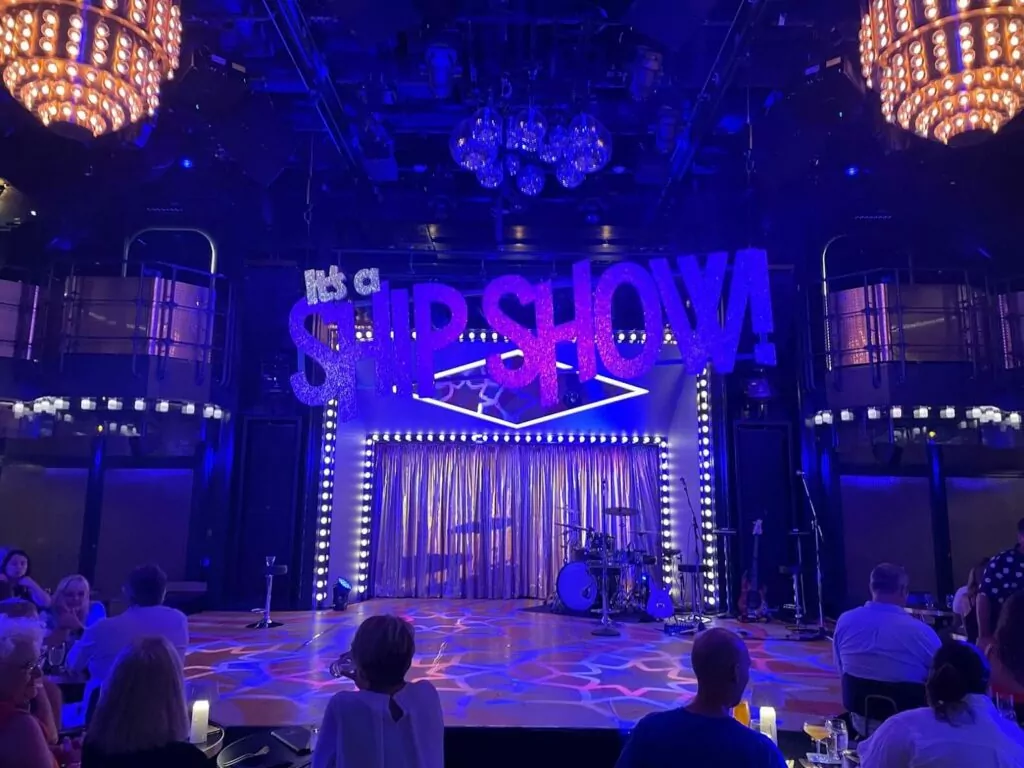 The Red Room is the ultimate performance venue with various acts. Every time you visit, you'll experience something different. There is something for everyone here, from comedy shows to drag performances to acrobats and dances.
Other forms of entertainment throughout the ship include live bands, singers, and themed event nights like the Pyjama Party or the infamous Scarlet night. There are also draughts, chess and other fun areas to find amongst the upper decks.
Valiant Lady Reviews on Entertainment
Health & Leisure
Regarding relaxation, there are plenty of spaces to enjoy on board.
Pools and hot tubs:
You will find the Aquatic Club, a large pool with plenty of sun loungers on the top decks. The pool has a very shallow area where you can lay slightly submerged in the refreshing water or head to the deeper depths for a swim. This area is also where pool parties and the infamous scarlet night take off!
The other side of the pool has a few hot tubs that fit 6-8 adults and a much larger group hot tub open to many more.
You will also find a few more hot tubs in the exclusive Richard Rooftops VIP area.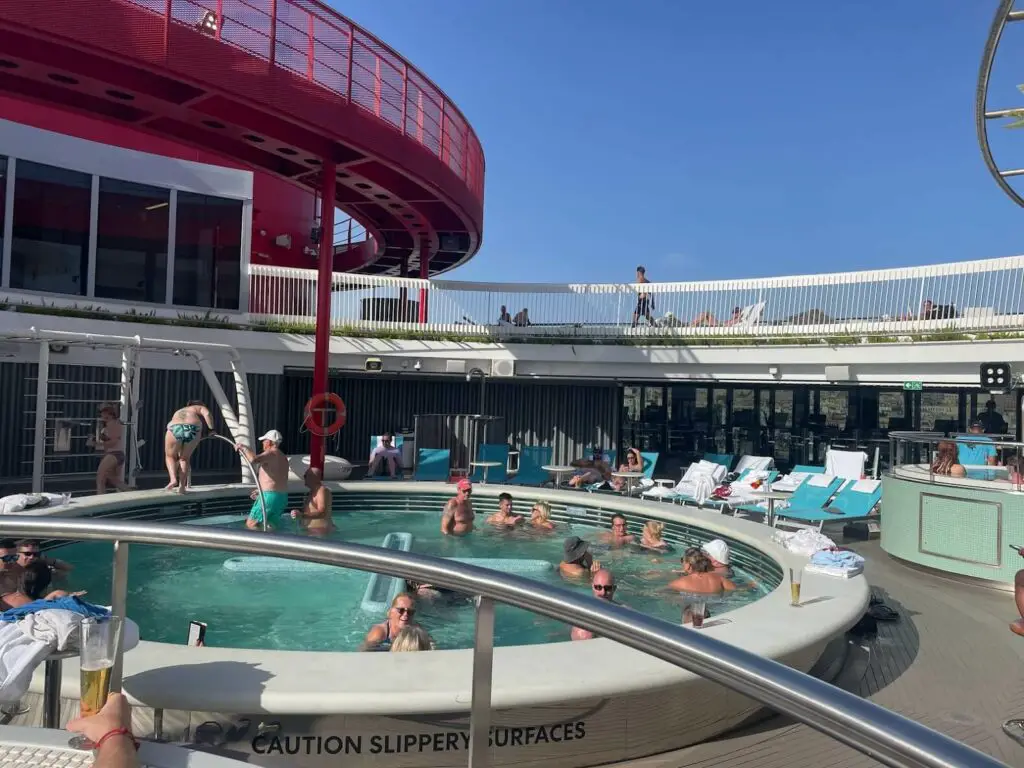 Cabanas
If you want ocean views and the privacy of your day bed with service, drinks and snacks, consider splurging for a Cabana rental. However, these are costly and usually fetch a couple of hundred dollars.
Fitness
At the ship's top deck, you have an entire running track where you can enjoy your daily job with ever-changing views. Additionally, there are basketball courts, a weight lifting/bodybuilding gym and another specifically for cardio. There are also benches and punching bags on the deck itself. In short, you will stay fit and healthy on the Valiant Lady if you're a fitness fanatic.
Look on the Virgin Voyages app for details about the guided classes you can take on board. However, book these quickly. On my cruise, the yoga options were fully booked for the entire week from the first day (or perhaps before). However, other fun classes, like the 80s-themed dodgeball, were available to reserve easily.  
Spa
If you're looking for something extra, splurge on a spa day.
While you can book most of the typical spa treatments and experiences, you can enjoy the spa facilities for a few hours.
There are two price ranges; one while you're at sea (this is about $30 more expensive) and a cheaper option when you're docked. The experience lasts up to 3 hours and starts/ends at specific slots.
Grab your mud upon entry, secure your items in a locker and away you go. Enjoy the mud bath (similar to a stream room but requiring a hose down afterwards), sauna, steam room, ice bath, hot tub and general pool. Or you can relax on the heated marble with views of the ocean.
Water is available, and you're given flip-flops and a robe when you enter. The guidance from the staff around the best order to enjoy the facilities to get the most out of the treatments could be better, but you can generally figure it out.
Valiant Lady Reviews on Health & Leisure Facilities
Shopping
Rooms
In general, there are three primary standards of accommodation on board, with additional variations that can upgrade the class slightly.
Indoor Cabins; there are few of these compared to all other rooms, but this is the budget option with no windows and located on the inside decks of the ship. You can upgrade to a partial sea view or sea view cabin, which provides a window seat, a porthole window, and slightly larger quarters.
Sea Terrace: these quarters are by far the most popular, and for a good reason. They come with all the mod cons, are spacious, and have a balcony with a table, chairs and hammock. They're approximately double the size of the indoor cabins and beautifully decorated.
Suites: many suite types are available, but the standard rock star suites are bigger, more luxuriously decorated, and come with an in-room bar and champagne table. Alternatively, Suppose you upgrade to the mega rock star quarters. In that case, you can experience the ocean version of a penthouse suite with all its notoriety and amenities, such as its outdoor peek-a-view shower and bottomless in-room bar.
Valiant Lady Reviews on Accommodation
Virgin Voyages Tips
Virgin Voyages Tips to make your cruise the most enjoyable experience it can be
You can select your embarkment time 24 hours before your voyage. The earlier you board, the more you can enjoy the vessel. The entertainment can only be booked when you're on board, and if you embark late, a lot of the fun stuff has been booked up for the entire week! 
If you're near the port, you can drop off your luggage in the morning and enjoy Barcelona hands-free before your voyage. 
As soon as you receive a notification that restaurants are open to book, get on the app and book them! The good slots go quickly. 
The currency on board is US Dollars; if you hook up one of your cards to your room, use a topped-up currency card to avoid conversion costs. I swear by the Revolut card, as the exchange rate is good, and the app is straightforward. 
The excursions onboard are expensive; read the port guides ahead to plan your activities and then look to book shore excursions with your travel agent instead. Get Your Guide and Viator are great for variety at a great price. If you want to book the tours, do this beforehand, as they sell out quickly or cost more on board.
If you have any other questions, then read the FAQs.
Virgin Voyages Valiant Lady Reviews in Summary 
Richard Branson has done a superb job catering to a diverse crowd and bringing fun back to cruises. Expect a cruise experience with as many LGBTW couples as straight couples, multiple nationalities (although primarily British and American) and a broad age range.
Valiant Lady Reviews Overall
To sum up my Virgin Voyages Valiant Lady reviews, the food is world-class, and it is unsurprising why Virgin Voyages recently won a 'Wave award' for best cruise cuisine. The beautiful Valiant Lady even won an award herself with the best new ship launch in 2022, and the modern features, entertainment options and ports of call all make this a cruise ship to remember. The areas that could be improved are the app, the WIFI and better accessibility to the shows and leisure facilities on board. However, there is only one way to know how good the Virgin Cruise lines are: to experience them yourself.
---
Want access to some of the best Virgin Voyages deals and expert support every step of the way?
VeggTravel is an active Virgin Voyages First Mate, meaning I get access to the best deals, packages and offers for all Virgin Voyages cruises on the market. If you book with me, your booking is ABTA and CILA protected, and you'll receive first-class personalised service from enquiry to the day you return home.
Sound interesting? Please send me a message below for a free, no-obligation quote.

---
---
Pin Virgin Voyages Valiant Lady Reviews for Later
Sharing is caring. Please share this post on social media and if you have any feedback or questions, leave me a comment below.