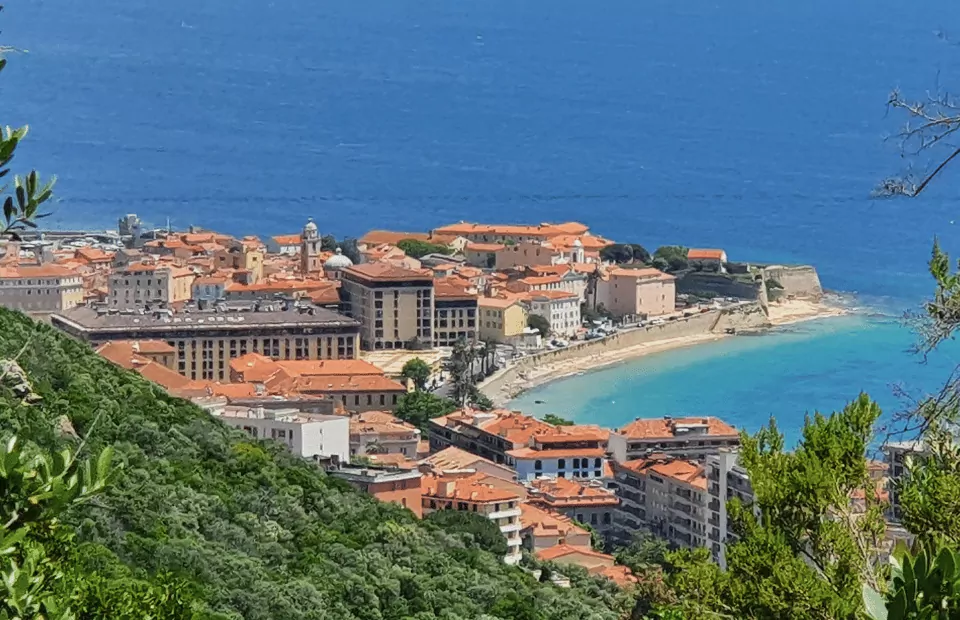 Your Guide to the Best Things To Do in Ajaccio from the Cruise Port 
You've just arrived at the Ajaccio cruise port and have one day to explore the city. But with so much to do, where should you start?
Ajaccio is the capital of Corsica, an island in the Mediterranean Sea known for its pristine beaches, stunningly serene mountain ranges, and delicious local cuisine. With plenty of historical sights, natural wonders, and lively activities within easy reach of your ship, it's easy to fill an entire day without ever running out of things.
Look no further if you're looking for the perfect way to spend a fun day exploring this beautiful destination. Here's our list of the top 10 things to do from Ajaccio cruise port that will make your visit memorable.
10 Best Things to do in Ajaccio 
For those looking for an unforgettable experience, plenty of tours and activities are available from the Ajaccio cruise port. No matter your interests, there is something for everyone when it comes to things to do in Ajaccio!
1) Explore Ajaccio Old Town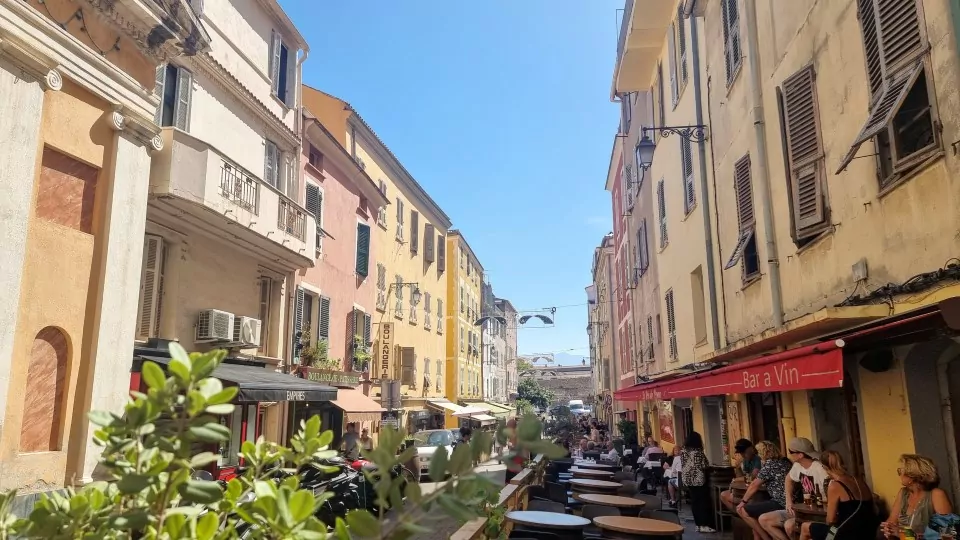 The old town of Ajaccio is a beautiful and historic area that is a must-see. Located in the heart of the city, it is full of winding cobblestone streets, picturesque buildings, and stunning views. The Cathedrale Notre-Dame-de-l'Assomption is one of the most impressive landmarks in the old town, with its towering spires and intricate stonework. Visitors can also explore the narrow alleyways and discover hidden gems such as small cafes and boutiques.
The old town is also home to many historical sites, such as the Palais Fesch, which was once the residence of Napoleon Bonaparte's uncle. Several museums are also dedicated to Corsican culture and history, including the Musée des Beaux-Arts and Musée de la Corse. Visitors can also stroll along the waterfront promenade or relax in one of the many parks throughout the city. No matter your interests, Ajaccio's old town has something for everyone!
2) Discover the life of Napoleon
Maison Bonaparte is the Bonaparte family's ancestral home and Napoleon's birthplace. The historic building is now a national museum dedicated to the life and legacy of one of history's most influential figures and one of the top things to do in Ajaccio. Visitors to Maison Bonaparte can explore the house where Napoleon was born and learn about his early life, rise to power, and eventual downfall.
The street here is bustling, with tourists trying to take a snap of the legendary home. However, if you go inside, you will find an impressive collection of artifacts from Napoleon's life, including letters he wrote as a young man, military uniforms he wore during his campaigns, and portraits of him painted by some of Europe's greatest artists. There are also interactive exhibits that allow visitors to explore Napoleon's battles in detail and gain insight into his strategies for victory, as well as guided tours that provide an interesting way to discover more about him. 
3. Relax on Cupabia Beach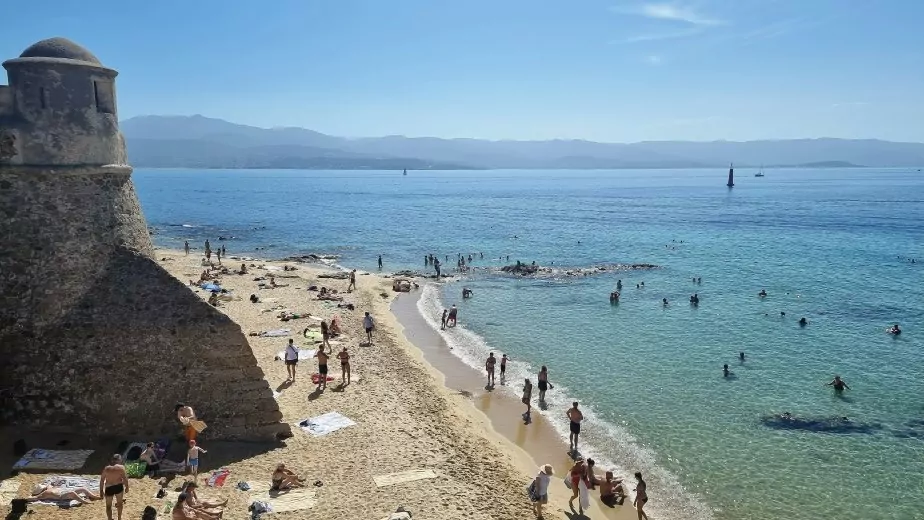 Cupabia Beach is a stunning beach located south of Ajaccio and west of Olmeto in Corsica. It is renowned for its soft white sand and crystal clear turquoise waters, making it an ideal spot to relax and unwind. The beach is surrounded by lush green hills, providing a picturesque backdrop for visitors to enjoy.
The beach has plenty of space for swimming, sunbathing, or simply relaxing on the shoreline. There are also several restaurants nearby where you can enjoy some delicious local cuisine while enjoying the views. If you're on a cruise, you can expect this beach to get busy very quickly, but the further you walk down the stairs, the more space and privacy you will enjoy. 
4. Browse the Ajaccio Market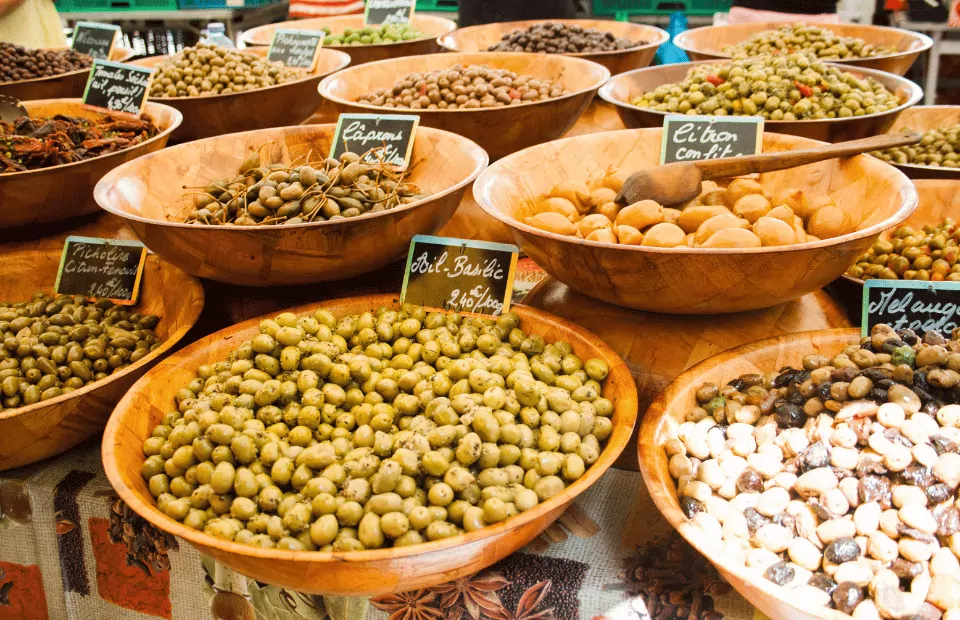 The Ajaccio market is a must-visit destination for anyone visiting Corsica. It is located in Foch square and offers a wide selection of local specialties and products to make your holiday more enjoyable. From April to October, you can find all the best regional delicatessen, cheeses, wines, and jams in the morning. It's perfect for preparing a delicious picnic or finding souvenirs to bring home from your trip.
Whether you are looking for something special or want to explore the local culture, this market has something for everyone. So remember to head off your cruise ship early to experience one of the best things to see in Ajaccio. 
5. Discover the Ajaccio Cathedral 
The Ajaccio Cathedral is a great place to visit if you are in the area. Although it is small compared to other cathedrals around Europe, it still offers plenty. The building is unique with its bright orange facade, and interior decorations are worth seeing. 
It was built at the end of the 16th century and is dedicated to Our-Lady-of-the-Assumption, Ajaccio's patron saint, who saved the town from a plague epidemic. Visitors can admire beautiful frescoes and an impressive painting by Eugène Delacroix called "Vierge du Sacré-Coeur" (The Virgin of the Sacred Heart). If you have time, make sure to take some time to explore this fantastic piece of history!
Address: Rue Forcioli Conti, 20000 Ajaccio, France
Opening Hours: 07:30 – 19:30 
6. Venture to Porticcio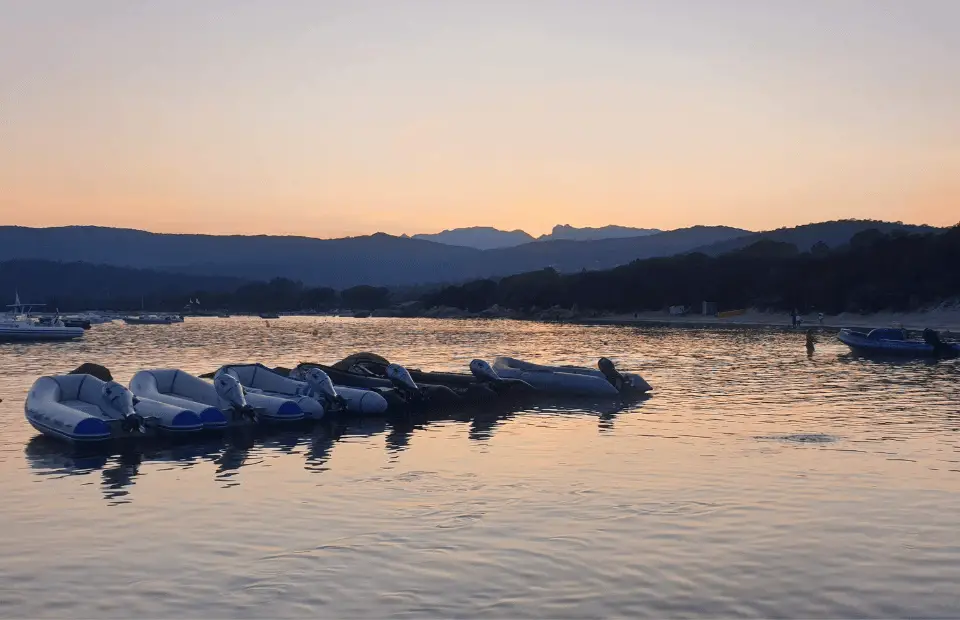 Porticcio is a stunning resort located south of Ajaccio on the beautiful Mediterranean coast. With its picturesque views and inviting atmosphere, it's no wonder why so many visitors opt for this area over Cupabia Beach. 
The waterfront in Porticcio is exceptionally breathtaking, with its crystal clear waters and sandy beaches. Whether you're looking for a relaxing day in the sun or a refreshing swim in the sea, there are plenty of options here. There are also plenty of activities available such as kayaking or sailing. For those who prefer to stay on land, plenty of walking trails offer spectacular views of the coastline.
If you're visiting Ajjacio due to a stop at the Corsica cruise port, you will need to head here early to make the most of your visit. 
How to get there: 
Ferry shuttle service: the ferry trip only takes 20 minutes, but the service hours vary (hourly or longer). 
Boat Tour: various boat tours are available and typically include visits to the Scandola nature reserve, the archipelago of Poets, and Bonafico, the 'city cliffe'. 
Be sure to plan these trips with enough time to return to Ajaccio cruise port before disembarkment. 
7. Take a boat trip from Ajaccio Harbour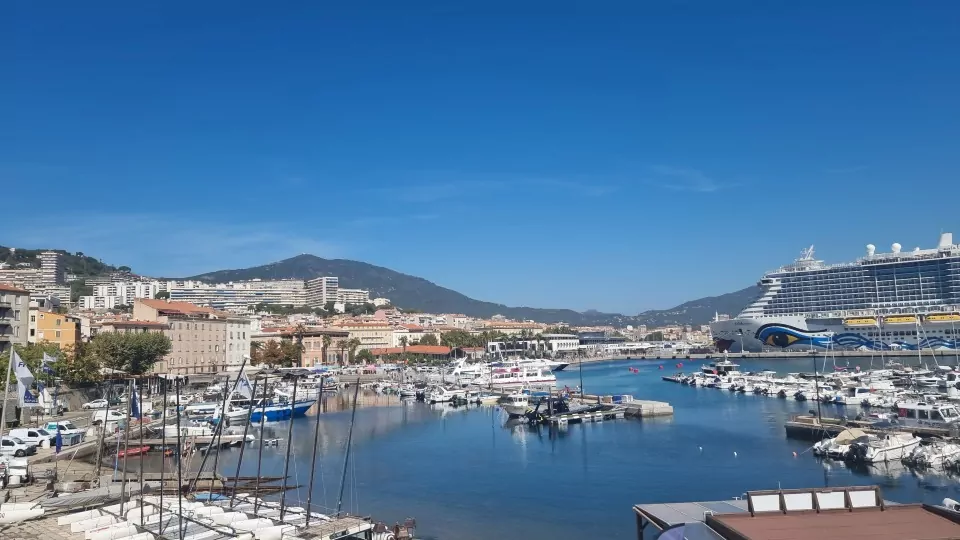 A tour of the harbour in Ajaccio is a must-see for anyone visiting the Corsican capital. The gentle sound of boats knocking together creates an idyllic atmosphere that will captivate any visitor. Walk up the steps to see a beautiful viewpoint of the ocean, harbour, and surrounding beach.
If you're seeking adventure and are a PADI-qualified scuba diver, you can take a boat trip out to exciting diving spots. Otherwise, several boat tours are available from various vendors along the harbour. Many of these boat tours leave in the afternoon, which would not suit a short cruise stop. However, there are usually morning cruises available, so be sure to head out early if you want to take up this opportunity. 
8. Visit the Turtle Town in Cupulatta 
Cupulatta is a unique turtle town located near Ajaccio in the Gravona valley. It stretches across 2.5 hectares and is home to over three thousand turtles from 170 species of Chelonia. At the entrance, a gigantic bronze turtle welcomes visitors to explore the various habitats and species within the park. Visitors can observe Seychelles turtles, Hermann turtles, and water turtles in their natural environment along the stone footpaths.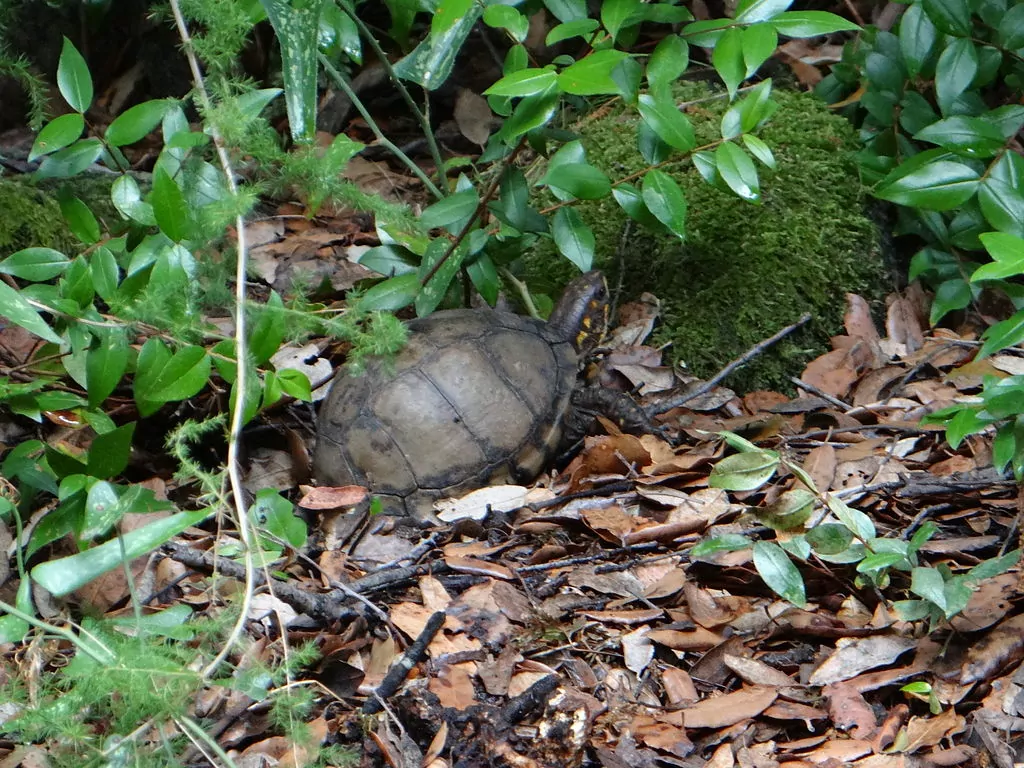 The purpose of Cupulatta is to safeguard and encourage the reproduction of these endangered species. The centre provides educational programs for children and adults alike to learn more about these creatures and how they can help protect them from extinction. Visitors can also participate in activities such as feeding the turtles or helping with conservation efforts. With its unique setting, Cupulatta offers an unforgettable experience that will stay with you long after your visit has ended.
How to get there: get the LC01 train from Ajaccio train station to Carbuccia and walk 5 minutes to the turtle sanctuary. Check the train timetable in advance.
A taxi is also possible, and the journey will only be 20 minutes but expect to pay at least 50 euros each way. 
9. Discover fine art at Musee Fesch
Musée Fesch is a fine art museum located in Ajaccio, France. It was once the home of Napoleon's uncle, Cardinal Fesch, and it packs an enormous punch for a gallery in a relatively small city. The museum holds an impressive array of Italian masterpieces—the largest French-owned collection outside the Louvre. Visitors to Musée Fesch will be able to feast their eyes on paintings by some of the most renowned artists in history, including Titian, Michelangelo, Botticelli, Fra Bartolomeo, and Vasari.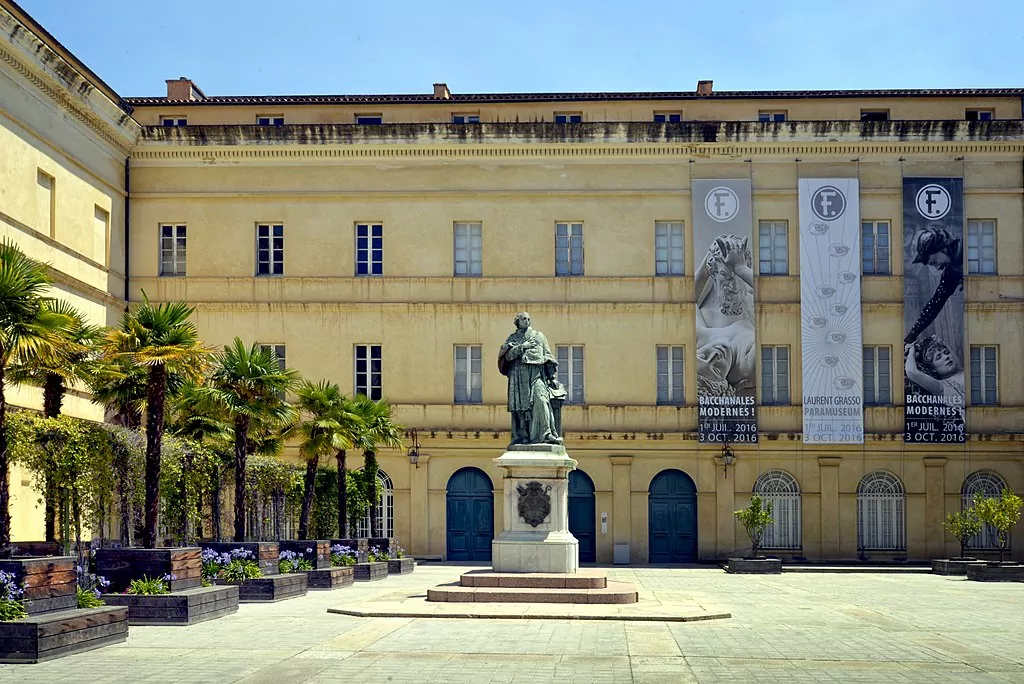 The museum also features sculptures from the Renaissance and works from other European countries such as Spain and Germany. In addition to its permanent collection, Musée Fesch hosts temporary exhibitions throughout the year focusing on specific themes or artists. Whether you're an art enthusiast or just looking for something interesting during your visit to Ajaccio, Musée Fesch is definitely worth an hour or two of your time.
10. Take a Petit Train tour 
Ajaccio's Petit Train is a great way to explore the city in a short amount of time. For over 25 years, tourists have been able to enjoy the sights of Ajaccio from the comfort of their seats.
When you leave Ajaccio port, you will see the train, and two routes are available. A longer route of 1 hour 40 minutes that includes a stop just outside the town with a visit to the Sanguinaires islands from Pointe de la Parata, providing visitors with a fantastic panoramic view and plenty of photo opportunities. Or a  more rapid route of 45 minutes that ventures as far as the beaches.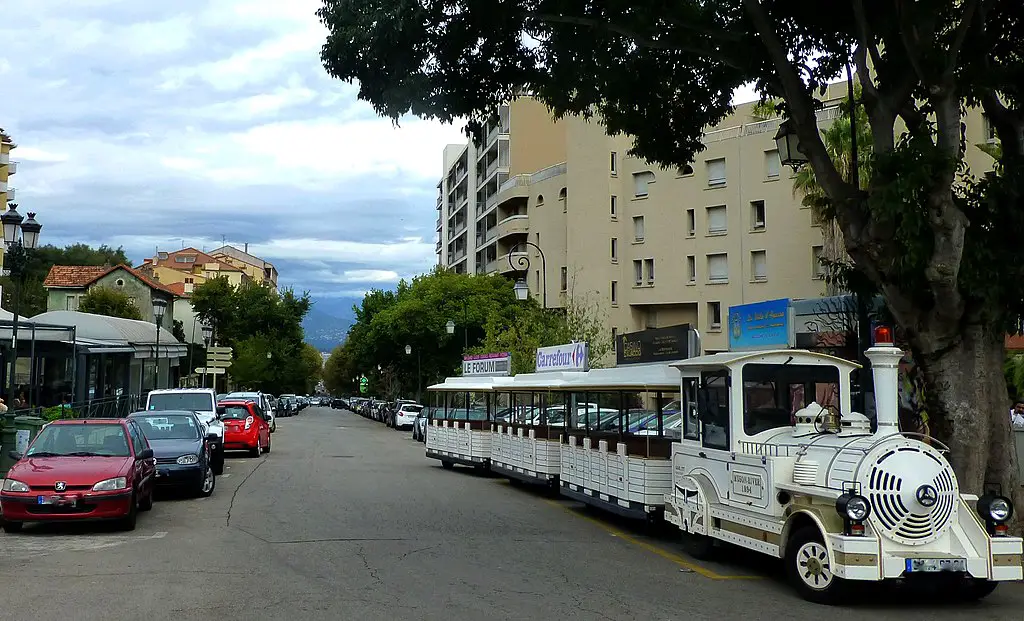 The Petit Train also takes passengers through the old Genoese quarter, which is full of history and culture and includes a 15-minute stop at the Napoleon Cave. The train ride provides an excellent opportunity for taking photos and enjoying a panoramic view of Ajaccio's beautiful landscape. Whether you're looking for a quick tour or want to spend more time exploring, the Petit Train provides many of the best things to see in Ajaccio. 
Where to get the train; Outside Ajaccio Town Hall between 10:00 – 19:00 between March and November. 
Things to see in Ajaccio in Summary 
In conclusion, Ajaccio is a great place to visit on a cruise. Whether you're looking to explore the historic city center, sample some of French Corsica's delicious cuisine, or lay on one of the beautiful beaches and soak up the sun – there are many things to do in Ajaccio during your short visit. The small streets and beach can feel somewhat crowded during a cruise stop, so head out early to make the most of your time.
You might also like to read the following posts:
Want a hassle free cruise trip with all your experiences planned?
Do you like to travel but hate spending hours online researching holidays and trying to find the best deals? Here's why I come in. VeggTravel is an independent travel agent that does the hard work for you. I do the research, compare the prices and build the itinerary for your dream holiday, cruise, city break, or activity. Plus, my agent connections often mean exclusive offers on hotels and flights that you can't find anywhere else.
Rest assured that any holiday booked through me will give you the relevant ABTA, CILA or ATOL protection you need. Not only that, but I'll provide you with bespoke service tailored to your needs, and I'll be there every step of the way, ensuring that things go smoothly or being your single point of contact if things don't.
Ready to take your vacation to the next level? I don't charge a fee, so if you're based in the UK, drop me a mail and see what I can do for you.

Pin the Things to do in Ajaccio for Later
Sharing is caring. Please share this post on social media and if you have any feedback or questions, leave me a comment below.