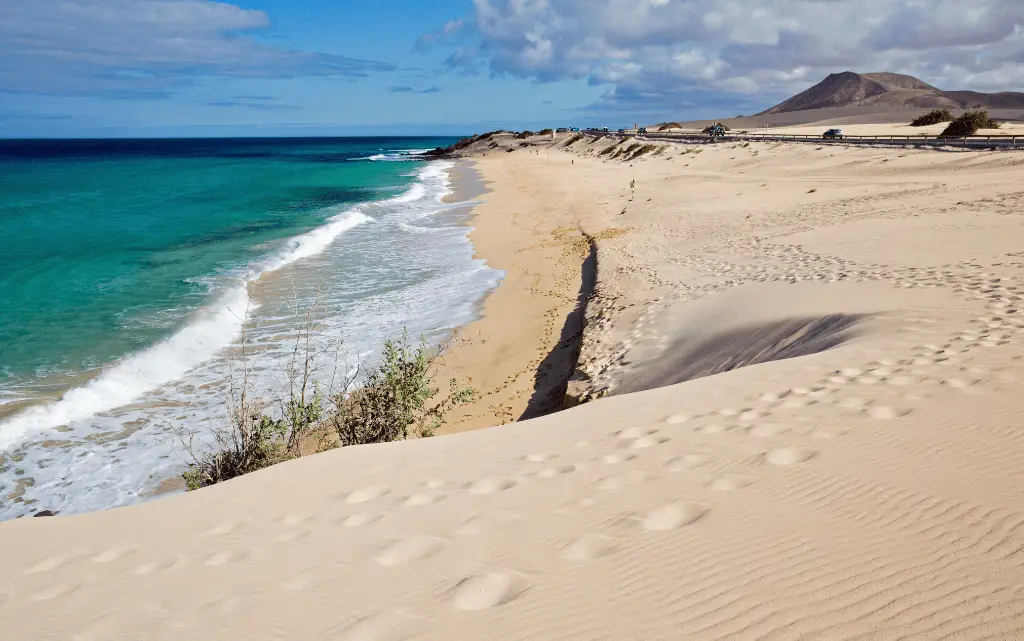 10 Best Things to do in Corralejo, Fuerteventura
Fuerteventura is the second biggest Canary Island, located within the Atlantic Ocean between Spain and North Africa. This prime location means that Fuerteventura is perfect all year round due to its warm and sunny climate. So whether you're visiting Fuerteventura in winter or summer, one of the best places to stay is in Corralejo, a surf town on the Northern Coast. This travel guide will give you fantastic ideas on all the must-see places and things to do in Corralejo all year round.
List of Things to do in Corralejo
This post contains affiliate links which means I may earn a small commission if you choose to buy anything from them. This is at no extra cost to you and In doing so you help to keep this site running, so thank you in advance.
1) Take a Ferry to Isla de Lobos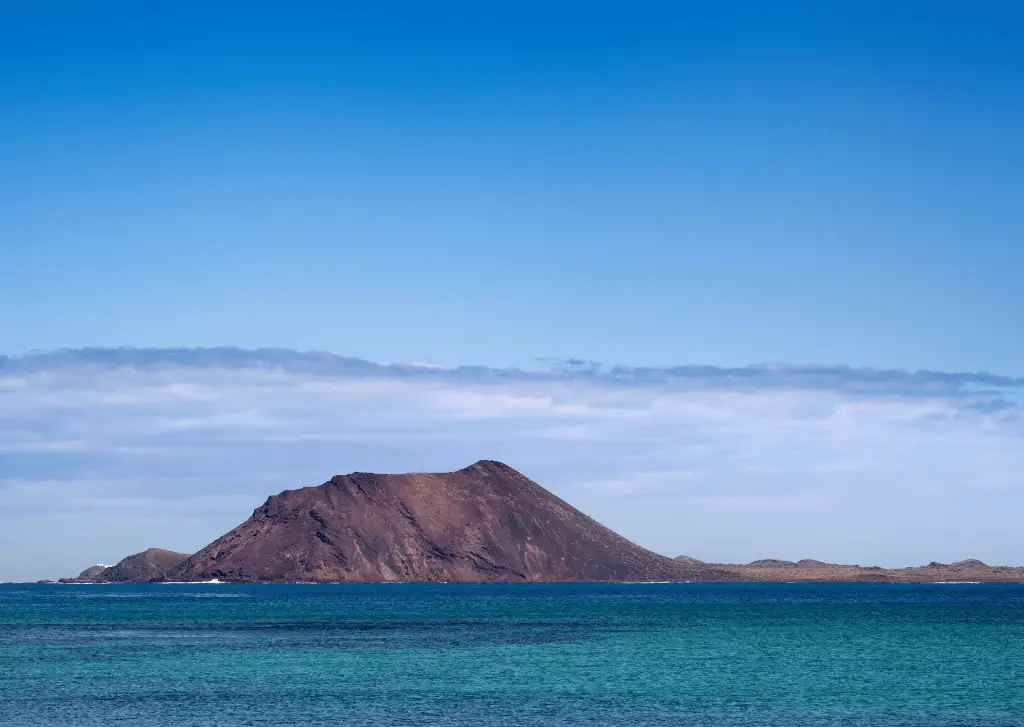 Isla de Lobos is the island you can see in the distance of Corralejo, and it makes a brilliant day trip from Fuerteventura. The ferry trip will only take 10 minutes, and you'll soon arrive at Lobos island ready to explore. There are also many tours available where you will discover every corner of this beautiful uninhabited island. Discover the turquoise waters that are stunningly clear and enjoy the nature reserve full of fauna and flora. An excursion to Lobos island is undoubtedly one of the top things to do in Corralejo. 
---
2) Make a Splash at Aqua Water Park
There is only one water park in Fuerteventura, and it is in Corralejo. So take to the slides, swimming pool, and lounge areas of the Aqua water park and enjoy a fun day away from your resort. Some of the notable attractions at the park are the wave pool, the Dark Cave, and the Rapid River. So, if you're wondering what to do in Corralejo, making a splash at this park is a great day out for adults and children alike. 
3) Fly a Kite on Corralejo Beach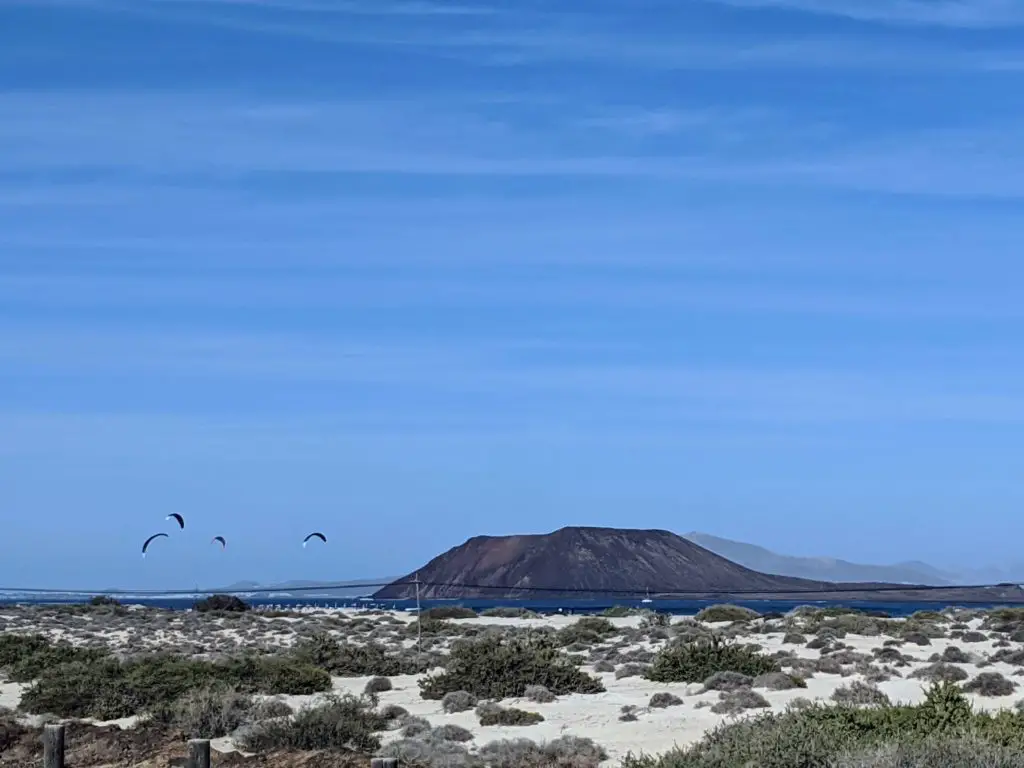 One of the best Corralejo things to do is enjoying the local beaches and beach bars. Corralejo beach has soft white sand on one side and views of the sculptured dunes on the other. The wind in this area is perfect for kite flyers, and you can rent one or buy your own from a local shop. Don't worry though, the wind is refreshing, and there are great manmade rock windbreakers that you can relax in. Corralejo beach is also one of the best places to see the sunrise so consider planning this into your Fuerteventura itinerary. 
4) Learn How to Surf at a Surf Camp 
Flag beach in the Corralejo National Park has over 7 kilometers of white sand and spectacular views of the volcanoes. The ocean is so transparent that it makes a beautiful spot for surfing. Surfing is one of the best things to do in Fuerteventura in winter as the conditions are perfect for water sports, kitesurfing, windsurfing, and surfing. The surf camps provide surf packages for beginners or more advanced adventurers so you can learn a new skill or enjoy practicing what you do best. 
5) Explore the Corralejo Dunes Natural Park
Corralejo natural park (Parque Natural de Corralejo) is one of the best places to spend time in Corralejo. With over 2,600 hectares of land and 5 miles of beaches, this park truly is a beautiful place to explore. The national park is most well known for its impressive golden sand dunes. So make sand angels, roll around, hike the dunes, or even sail down the dunes on a sand slide. Whatever you do, you will undoubtedly enjoy the best sand dunes in all of the Canary Islands. 
6) Shop at the Mercado de Los Tradiciones Market 
The Mercado de Los Tradiciones Market is fantastic for grabbing fresh vegetables, fruits, or handmade arts and crafts souvenirs. Located in the town of La Oliva, this artisan hub is a great place to visit, chat and support the local tradespeople. You might even grab yourself some great bargains. This traditional market is only open on Tuesdays and Fridays between 10 am – 2 pm, so be sure to factor this into your Fuerteventura Itinerary. The shaded canopies could also be one of the best things to do in Corralejo when it rains. 
7) Take a Day Trip to Nearby Lanzarote 
Lanzarote is only a 35-minute ferry ride away from Fuerteventura, which makes it a great day trip or even an extension to your Canary Island holiday. Arrive in Playa Blanca, a town on the southern coast, and explore the villages or venture to Puerto del Carmen beach. You can also take a bus to visit Timanfaya National park, a volcanic landscape with a few walking or driving trails awarded with UNESECO status. While a trip to Lanzarote is technically outside of Fuerteventura , it is still one of the best things to do in Corralejo.
8) Explore the Island by Sand Buggy
Take a half-day tour to explore the island in fun and adventurous way behind the wheel of an off-road buggy. You will take to the roads and see many great sites and stop off at remote beaches and the Corralejo Dunes Natural Park along the route. You will then climb the winding, dusty, mountainous dirt tracks before you reach a beautiful viewpoint across the beach. Driving a sand buggy is a fantastic day out, and it was one of my favourite Corralejo things to do.
Make sure you take a jacket and clothes you don't mind getting dirty, as well as a bandana, so you don't breathe in the dust (or flies!). 
9) Take a Boat Tour 
It would be a shame to go all the way to the Canary Islands and not take a trip out to the blue waters of the Atlantic ocean. So whether you're spending a lazy afternoon on a catamaran or going full-blown scuba diving, immerse yourself in open water deep at sea. If getting into the ocean doesn't appeal, then an alternative would be to take a boat trip dolphin watching. The warm waters provide the perfect conditions for marine life and this is one of the most fun things to do in Corralejo.
10) Go Shopping at Las Palmeras 
Whether you're shopping for souvenirs or practical items, shopping is worth at least some of your time in Corralejo. You will find many health and beauty products, particularly aloe vera and a vast collection of cacti grown on the island. Las Palmeras is the main shopping centre with a wide variety of shops, supermarkets, cafes, and restaurants. On Thursdays and Sundays, at the nearby El Companario shopping centre, you have an additional choice from the popup markets. If the weather isn't great, shopping is one of the best things to do in Corralejo when it rains!
What to Do in Corralejo in Summary 
Corralejo is a popular part of Fuerteventura for a good reason. Whether you're looking for a relaxing holiday or something more adventurous, there is something for everyone. Winter in Corralejo is one of the most popular times to visit, so take advantage of some winter sun.
Which of the things to do in Corralejo did you think sounded the most fun? Let me know in the comments. 
You might also enjoy the following posts: 
---
Want to travel but want to take the stress and planning out of it?
Do you like to travel but hate spending hours online researching holidays and trying to find the best deals? Here's why I come in. VeggTravel is an independent travel agent that does the hard work for you. I do the research, compare the prices and build the itinerary for your dream holiday, cruise, city break, or activity. Plus, my agent connections often mean exclusive offers on hotels and flights that you can't find anywhere else.
Rest assured that any holiday booked through me will give you the relevant ABTA, CILA or ATOL protection you need. Not only that, but I'll provide you with bespoke service tailored to your needs, and I'll be there every step of the way, ensuring that things go smoothly or being your single point of contact if things don't.
Ready to take your vacation to the next level? I don't charge a fee, so if you're based in the UK, drop me a mail and see what I can do for you.

---
Pin The Best Things to do in Corralejo for Later
Sharing is caring. Please share this post on social media and if you have any feedback or questions, leave me a comment below.