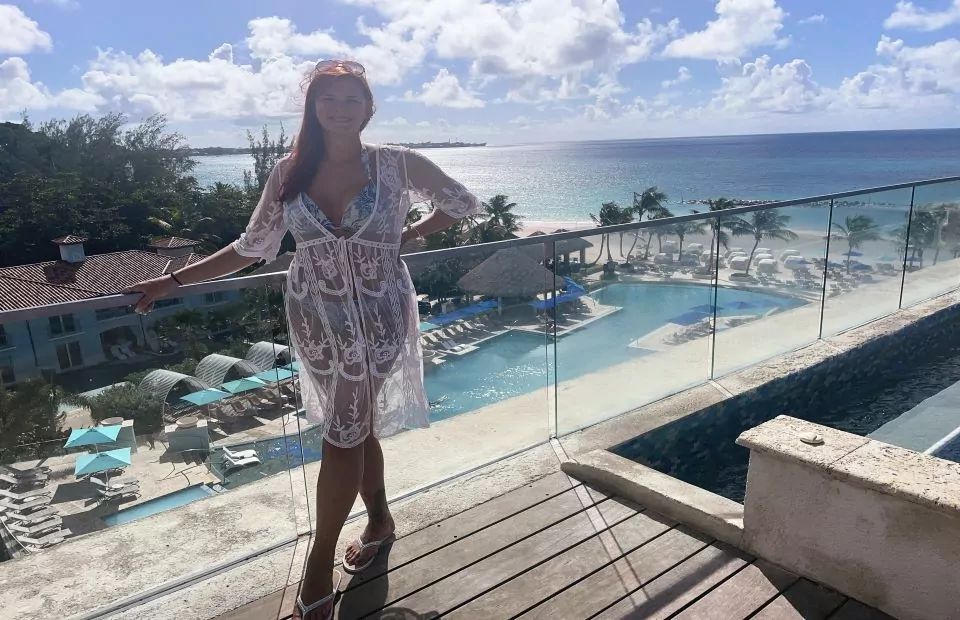 Honest Sandals Barbados Reviews
If you're picturing a luxurious, adults-only all-inclusive resort in the heart of the Caribbean, then the chances are you're thinking of Sandals. With several top-end resorts across the Caribbean islands, the hardest decision might be which one to choose for a romantic getaway. Whether you're looking for adventure, relaxation, a special honeymoon, or a luxurious getaway, Barbados could be your destination. Read on for my open and honest Sandals Barbados reviews to determine whether the Sandals Royal Barbados resort is for you.
Sandals Barbados Reviews Content
This post contains affiliate links which means I may earn a small commission if you choose to buy anything from them. This is at no extra cost to you and In doing so you help to keep this site running, so thank you in advance.
Where is Sandals Barbados? 
First, you probably want to know what city Sandals Barbados is in, right? The resort is in the Parish of Saint Lawrence on the South Coast, with St Lawrence Gap just a short walk away.
Arriving at Sandals Royal Barbados
After you collect your bags at Barbados International airport, you will easily find the Sandals desks, where you will wait for your free transport to the hotel. This process was smooth and reasonably prompt, and the transfer to the resort typically takes about 30 minutes, depending on the traffic and time of day you leave.
Which Sandals Barbados Resort is Better?
There are two Sandals hotels in Barbados, and many ask which is better. Sandals Royal Barbados rooms are better equipped, each having a tranquil tub on the balcony, and the rooms are more spacious. However, Sandals Barbados still provides high-quality rooms at a cheaper price. Considering you can walk between the two resorts, the price is the real difference. I stayed at the Royal, but if I were to return, I would stay at Sandals Barbados to enjoy the resort at a more affordable price.
Sandals Barbados Rooms
At the Sandals Royal Barbados, there are a few different room types; 
Rondovals provide top-class accommodation within the resort and are only available on the Royal side. These rooms include a private plunge pool, patio, elite butler service, and private Rolls Royce pick-up from the airport. 
Swim-up suites on the ground floor have the option to submerge your sun lounger into the water and enter the pool from your balcony. These also include butler service, a daily cooler, assistance booking restaurants, ordering drinks, etc.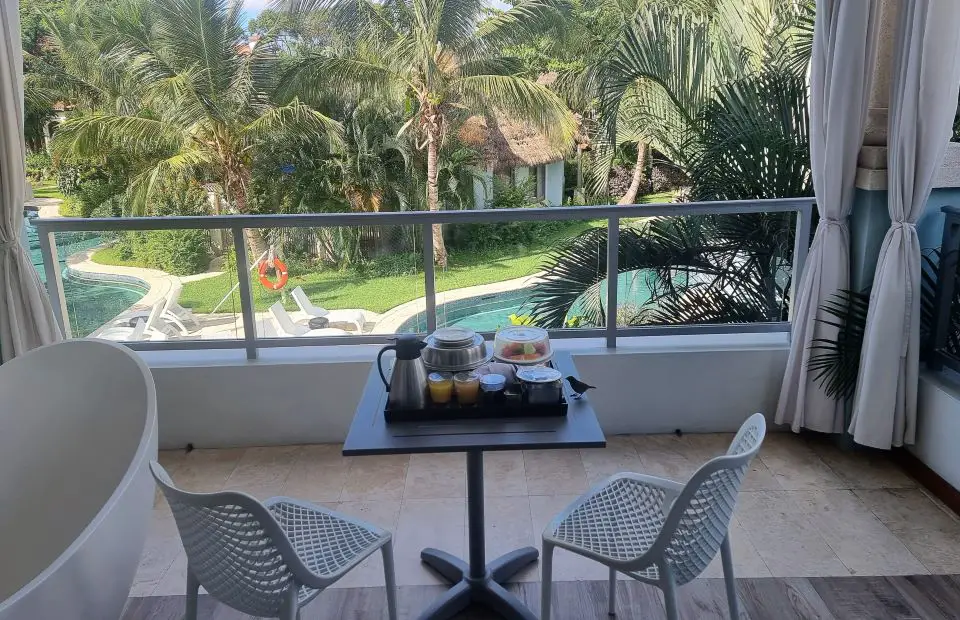 Other rooms aren't butler level but have a similar specifications inside, but mainly differ in views. You will pay more for a sea view or close to the infinity pool. Lagoon pool views are commonplace in all rooms, but some are better than others. Don't be afraid to complain to the concierge if the room standard doesn't meet your expectations. 
The Sandals Barbados room offerings are similar but more affordable. Each room has luxurious amenities such as toiletries, sparkling wine, a fully stocked mini-bar, and optics filled with liquor. You can also expect modern amenities such as waterfall showers, flat screen TV, radio alarm clock with Bluetooth, and all other items you'd expect for a comfortable stay. 
Sandals Barbados reviews of the room:
---
What is included at Sandals Barbados?
There are many unique selling points for Sandals, and the extent of the all-inclusive facilities is a big part of that. However, as you'll see from these Sandals Barbados reviews, there are some things and
Food and Drink
Put simply, the food within the entire resort is incredible! There are 20 dining options to choose from, and every restaurant has ample vegetarian or vegan options or will adapt dishes for dietary requirements. The only expectation I found to this was the Jerk Shack which disappointingly didn't have any good veggie alternatives. 
There are many options for breakfast, and you'll be pleased to know the first meal of the day never requires a reservation. The American Tavern is the most popular, as it has an extensive breakfast buffet. 
Some of the best restaurants include French, Italian, and Indian or Japanese cuisine. There is something for everyone, with many varied world food delicacies. 
However, one of the negatives I found about Sandals resorts is that evening availability at the restaurants is booked quickly, meaning you either get the very early or late slots. There is walk-in buffet-style dining available, but if you're looking for a luxurious experience, you will want this only a few times a week. Another issue that affects the review of Sandals Barbados is that the restaurant wait can sometimes be very long. The Italian al-a-carte was the worst for this when I visited, and I found the later the reservation, the longer the wait.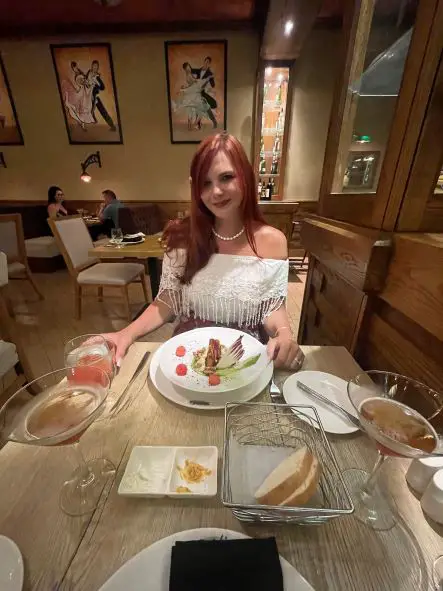 While there are 14 specific bars throughout the resort, they also have long, and the service can be hit and miss. However, if you're lounging around the infinity pool, you will often get someone taking your drink order; don't expect it to come too quickly.
Some of the most popular bars include the Oyster Bar, British Pub and the Bowling Alley as these offer late night entertainment and activities such as pool, table tennis and foosball.
Tip: head to the concierge on your first day and book the restaurants for the week.
Sandals Royal Barbados reviews of the food:
Entertainment
The entertainment at the resort is one of the poorest areas of these Sandals Barbados reviews.
Every night at 8 pm, there was an hour of entertainment on the main stage, but this was mostly singers, and while they were usually good, it felt repetitive and needed more variety.
Some of the more 'fun' entertainment events were the 'white party' DJ battle silent disco. Cocktails on demand, a cloud of people (mostly) in white clothing, and a headset you can switch between as the DJs battle for your attention.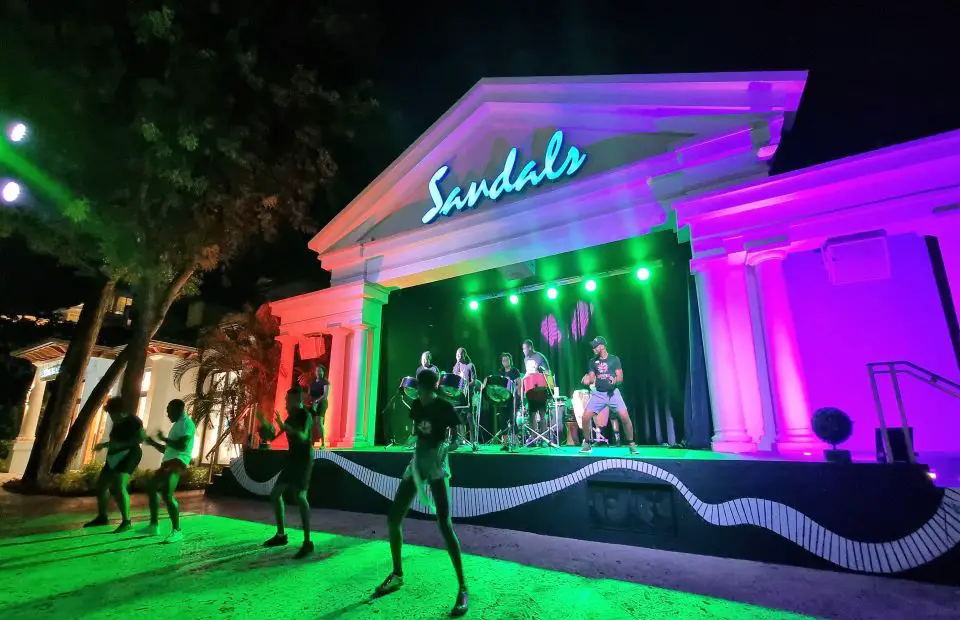 There is also a weekly foam party in the infinity pool; however, if there happens to be a wedding in the vicinity, then the music will be so quiet that it affects the atmosphere and enjoyment of the event.
Otherwise, there are pool games in the day, DJ entertainment, piano duels, bowling, and live bands that also help to add to the entertainment line-up. If you're looking for something subtle and relaxing, then Sandals Royal Barbados can provide that comfort, but if you want to party hard, you might want to stay elsewhere.
Sandals Royal Barbados reviews of the entertainment:
Fitness
If keeping up with your fitness routine is important to you, then you'll enjoy the on-site gym facilities that are fully equipped with everything you would expect. As most people put on weight during an all-inclusive vacation, spending some time in the gym or taking yoga or pool aerobics classes is a good thing. There isn't as many fitness related options as you'd expect though with a resort this size and the gym isn't that big, affecting the overall score.
Sandals Barbados reviews of the fitness facilities:
Complimentary Watersports
As part of your all-inclusive stay, you can enjoy a selection of complimentary watersports. Take a paddleboard, boogie board, or kayak into the ocean within a designated area. You can also take a catamaran (Hobie Cats sailboat) trip with one of the guides outside the hotel boundary, but it needs to go further or last for long enough to be anything too exciting.
To take these out, you must take one of the life jackets and provide your room number.
Unfortunately, there are no motorized water sports. However, if you would like to rent a jet-ski, a seller does visit the beach daily, and you can pay to rent one for an hour.
Sandals Royal review of the watersports
Excursions
One of the best things about Sandals Barbados is the inclusive activities you can enjoy. If you have a PADI qualification and have scuba-dived within the past year, you could go diving every day if you wish to. There are two times; early morning (8 am) and afternoon (1 pm). The excursions include two dives that depart from Bridgetown and include all transport and equipment. If you still need to get your diving certification, you can pay to qualify at the Sandals dive shop, but this isn't cheap. Do it in advance if you can and enjoy the free diving.
If you're not a diver, you'll be able to join a free snorkel trip around the coral bay, where there is a high chance that you will see sea turtles and some of the famous underwater shipwrecks.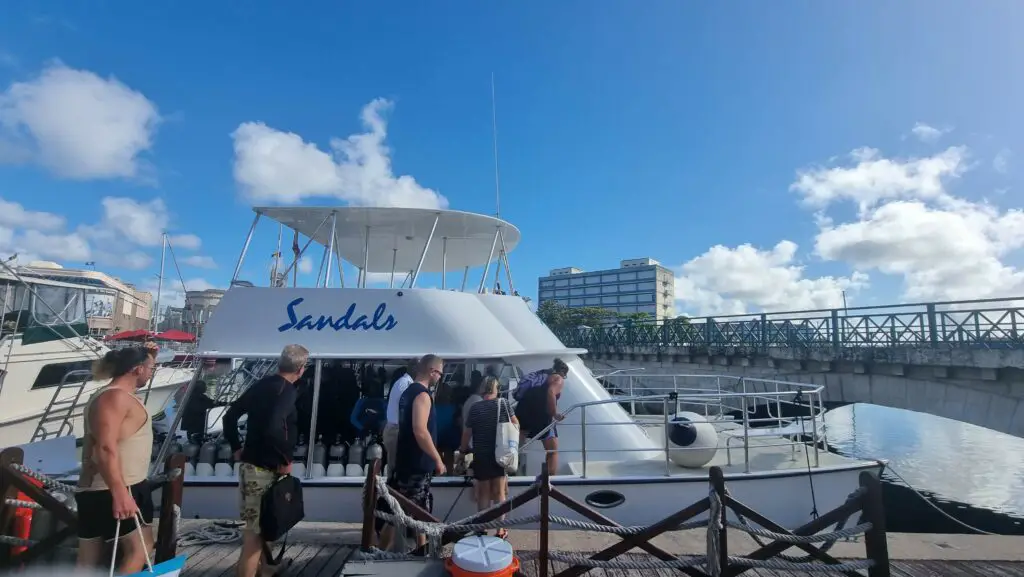 You can book other excursions, but these are payable locally and are more expensive to book through the resort than independently. Popular choices are island tours, trips to the flower cave, or the childhood home of Rhianna, to name a few. See below for what you can do in Barbados if you book outside of the resort.
Related read: Best Caribbean Island for Adventure Seekers in 2022
Sandals Royal review of the excursions
---
Pool and Beachside Facilities at the Barbados Sandals
Pools and Whirlpools
There are 5 whirlpools and 11 pools (3 freshwater pools) throughout both Sandals resorts. The most active pool is the glass infinity pool next to the beach. This pool has ample sun loungers, but not all have umbrellas, and people often reserve them (especially the butlers) early morning. This is where a lot of the day's entertainment happens, and there are also lilos, submerged sun loungers, and two large hot tubs.
Other popular pools include the rooftop infinity pool. This one is often much quieter and gives spectacular views across the beautiful island. However, only a few loungers have parasols. But if you frequently visit the bar, you'll appreciate how quiet this one is.
There are quiet pools with pinstripe cabanas, large pools with enormous hot tubs and day beds, and everything in between. My Sandals Barbados reviews of the pools are positive; they're clean, and there are many options so that you can change the scenery every day.
Sandals Royal Barbados reviews of the pool facilities:
---
Dover Beach
The 10-acre Dover beach is stunningly beautiful, with picture-perfect white sands, turquoise waters, and palm trees. There are ample loungers, hammocks, and parasols, so you won't have trouble finding space. You can also watch the sunset as it disappears around the side of the hotel.
However, all Barbados' beaches are private, meaning that people are trying to sell you things (mostly illegal) day and night. They will not come up to you at your lounger, but they will shout towards you and chat with you if you walk to the ocean. Security is on patrol, so this is harmless but can be uncomfortable or disruptive to your enjoyment of the beach. However, this will not just happen at Sandals; it will occur in most tourist locations.
Don't expect any beach parties at this resort, although romantic beach dining options are available at $199 extra, and this is a splurge. 
Sandals in Barbados reviews of the beach:
---
Other Facilities at the Sandals Royal
While Sandals is an all-inclusive adults-only resort, not everything is included in the cost. However, all of these things are optional extras that you can choose at your leisure.
Spa
Like everywhere with a spa, treatments, including massages or beauty routines, are an additional cost. You can buy luxurious personal care products or book a treatment and enjoy the exclusive relaxation rooms that are only available to paying customers.
I had a pedicure done, which I enjoyed and was done to a high standard. This treatment costs $60 + tax and is one of the cheaper treatments available. A couples massage, for example, will typically set you back $199 or more.
Barbados Sandals reviews of the spa:
---
Shopping
Do you want to return home with an unforgettable souvenir? Several shops provide a variety of services. From buying snacks for the room to expensive jewelry or island-vibe clothing, there are many stores for you to peruse. If you take your passport (or a copy), you will also get a tax discount, making the prices reasonable for convenience.
You can also stock up from the nearby convenience store and bring drinks or snacks back into the resort.
Stop by Club Sandals to register for discounts and promotions for future stays. Many people we met were repeating visitors, some to the same place, others with Sandals resorts more generally. So, it can't hurt to look. 
Professional Photography
If you're visiting Sandals Royal Barbados for a special occasion or want the perfect shot for your Instagram, then take advantage of professional photography on-site. Pop into one of the photo stores to arrange a time for your shoot, and away you go.
A photographer will take you to the beautiful hotspots within the grounds and along the beach and direct the photos. All of this is free; the photos are uploaded later that day, and you can view them in the photo shop.
The cost of buying a single digital photo is $20, and the more you buy, the (slightly) cheaper the cost per image. You can also buy standard prints or key chains etc.
You will also see roaming photographers asking to take your photo out and about, capturing some great shots.
Sandals Barbados Reviews of the Shopping/Photography:
---
Sandals Royal Barbados Reviews in Summary
Sandals Barbados Reviews Overall:
In conclusion, my Sandals Barbados reviews are positive, but there are areas of improvement. The service from some people was fantastic, but only from some, and the time it takes to get food or drinks needs improvement. The entertainment is good quality but lacks variety, but it will suit the laid-back island vibes you can expect from the Caribbean.
The fact that you can go diving every day for free is amazing and makes Sandals the best in its class. The other water sports on offer are fun but less than you'd get in some of the other Sandals resorts. Luxury is the name of the game, and with lots of activities on offer, Sandals Barbados makes a wonderful honeymoon, anniversary, or other relaxing vacation. 
Intrigued, then you can visit Sandals directly to find out more and to check live availability and prices.
Otherwise, I can do all of the hard work for you and be your dedicated travel agent to ensure your trip runs smoothly
Do you like to travel but hate spending hours online researching holidays and trying to find the best deals? Here's why I come in. VeggTravel is an independent travel agent that does the hard work for you. I do the research, compare the prices and build the itinerary for your dream holiday, cruise, city break, or activity. Plus, my agent connections often mean exclusive offers on hotels and flights that you can't find anywhere else.
Rest assured that any holiday booked through me will give you the relevant ABTA, CILA or ATOL protection you need. Not only that, but I'll provide you with bespoke service tailored to your needs, and I'll be there every step of the way, ensuring that things go smoothly or being your single point of contact if things don't.
Ready to take your vacation to the next level? I don't charge a fee, so if you're based in the UK, drop me a mail and see what I can do for you.

---
---
You might also be interested in the following posts:
Pin for Later
Sharing is caring and I appreciate every share, comment and engagement on my posts. If you have any questions or would like to provide your own feedback, please reach out to me in the comments below.