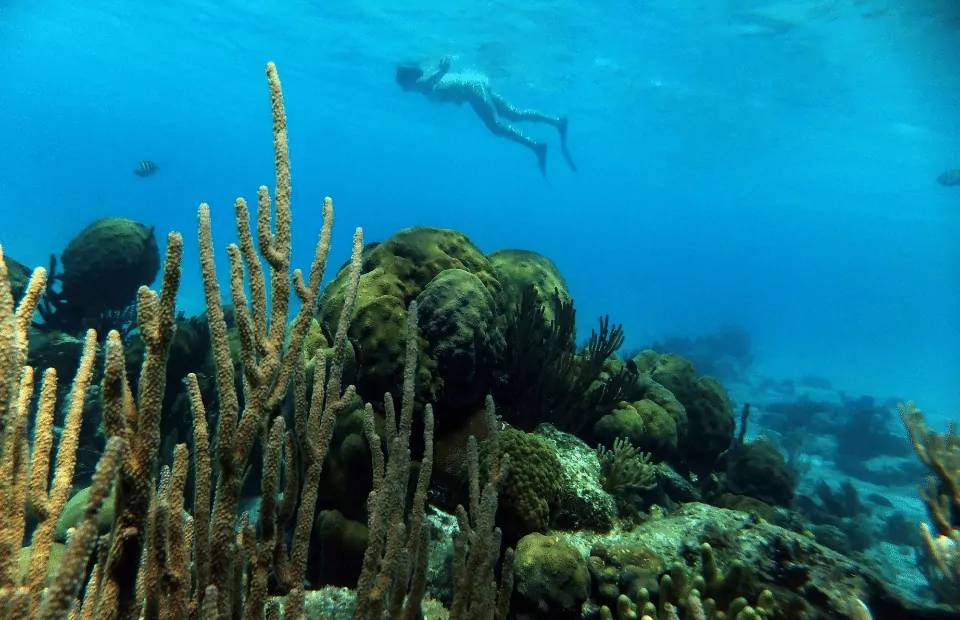 Best Caribbean Island for Adventure Seekers in 2022
Wondering what the best Caribbean islands for adventure seekers are? These little slices of paradise offer big adventures, from stunningly clear waters to lush rainforests. So whether you're looking for a quiet place to relax or an action-packed vacation, this island has something for everyone. From ziplining through the jungle to swimming with dolphins, there's no shortage of activities to keep you busy.
So what are you waiting for? Pack your bags and get ready to explore! Scroll down for a list of the best Caribbean Islands for adventure and the best ways to make your trip action-packed and unforgettable.
Best Caribbean Islands for Adventure – Contents
This post contains affiliate links which means I may earn a small commission if you choose to buy anything from them. This is at no extra cost to you and In doing so you help to keep this site running, so thank you in advance.
Why are these the Best Caribbean Islands for Adventurers?
Read on to find out…
1. Dominican Republic
Island adventurers and thrill seekers will find plenty to do in the Dominican Republic, which comprises about 100 small islands.
For sea lovers, there are incredible mountains to trails to hike. For adventurers who love to stay on dry land, there are plenty of zip lines and ATV trails to explore. In other words, there's something for everyone in the Dominican Republic. If you're up for a great challenge, Dominican Republic has one for you!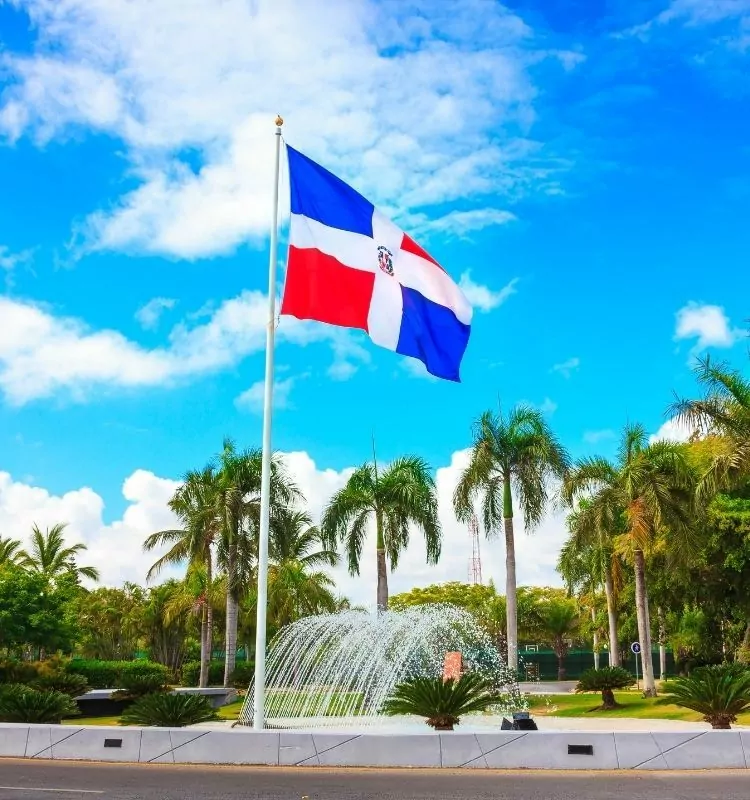 Adventure Things to Do in the Dominican Republic
Pico Duarte is the highest mountain peak in the Caribbean, at 10,125 feet, making it a popular destination for hikers. The island is also home to some of the best snorkeling and scuba diving spots in the world.
Because of the vast size of the Dominican, it's also a great place to hop around to all your favorite DR spots, like jungle tours in Punta Cana, day trips to Isla Catalina, and snorkeling in Cayo Arena.
Where to Stay: Iberostar 5-Star Grand Bavaro
---
2. Nevis
Nevis is a small Caribbean island that packs a huge adventure! So what makes it on the list of the best Caribbean islands for adventure? From hiking volcanos to soaking under waterfalls in the rainforest, Nevis is a perfect Caribbean island to scratch your exploring itch.
Adventurous Things to Do in Nevis 🌏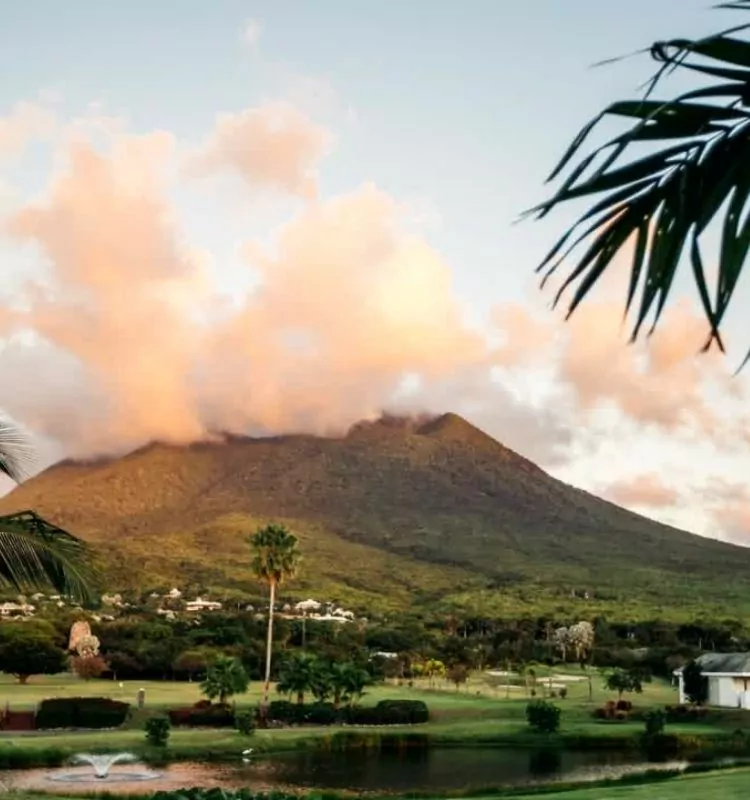 Nevis Peak is a dormant volcano you can hike and also provides the warm waters of the Nevis Hot Springs.
Nevis Peak is 3,232 feet and considering one of the most challenging hikes in the Caribbean. However, the view at the top will be worth the climb!
Nevis is a great mountain biking spot if you like big mountain riding. You can even take the one-of-a-kind gondola up the mountain and bike down.
Where to Stay: Golden Rock Inn Nevis – Boutique Hotel
---
3. Cuba
Head to the largest island in the Caribbean for all-you-can-get excitement.
Cuba is for you if you enjoy hopping underwater with 50 pounds of equipment on your back. I'm talking about scuba diving, of course!
Cuba is known for its clear water and diverse ecosystem for scuba diving and snorkeling. It also has an extensive list of caves, history, and Cuban cigars!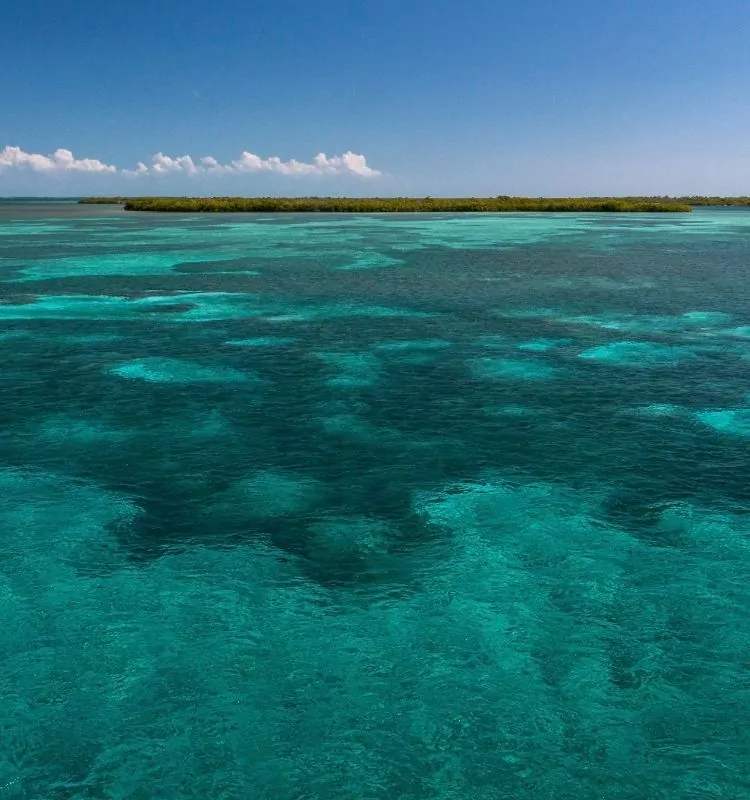 Adventurous Things to Do in Cuba
Jardines de la Reina is a world-famous diving location. It is so protected that the number of people that can dive there each year is capped to maintain the ecosystem. It's also a guaranteed shark-spotting spot, making Cuba the perfect location for underwater thrill seekers. Take a dip in those shark-infested waters and see for yourself what makes Cuba one of the best Caribbean islands for adventure.
4. Cayman Islands
If you're vision of the best Caribbean islands for adventure involves the sea, there's no better place for watersports than on the famous "Seven Mile Beach" of Grand Cayman.
Dive, kayak, and explore the Cayman islands' crystal clear beaches, hike the nature preserves, and relax at the end of the day at some of the most beautiful resorts in the Caribbean!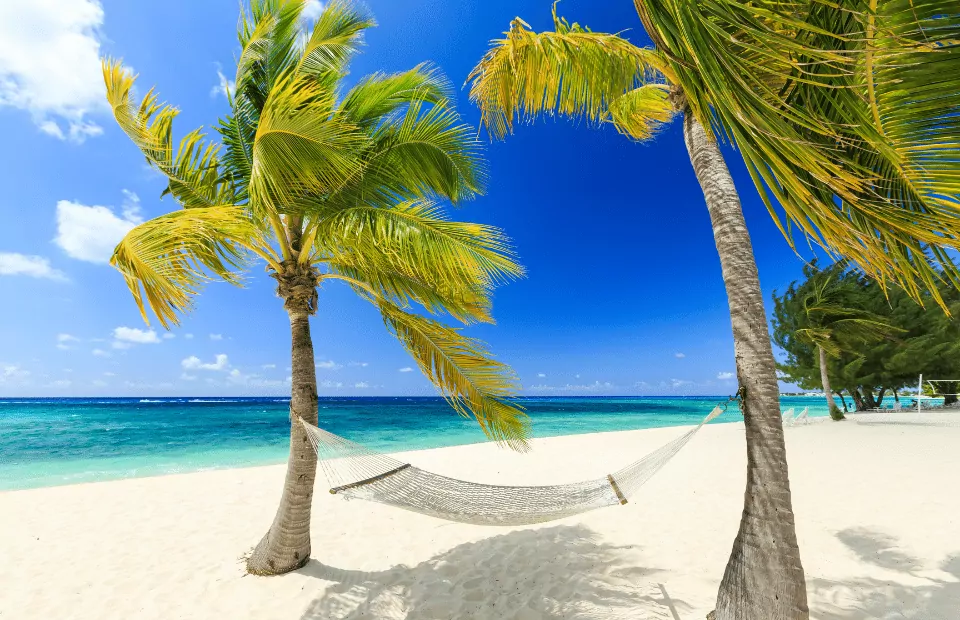 Adventurous Things to Do in Cayman Islands
Over 100 caves are resting on the Cayman Islands. Some of the most popular to explore are the Crystal Caves, Bat Cave, and Devil's Grotta, a popular diving spot on the islands.
When diving around Grand Cayman, you'll run into shipwrecks, underwater statues, and a wide array of marine life throughout the island's coral reefs.
You can stop by Stingray City, an area of shallow waters where you can swim with and interact with Stingrays north of Grand Cayman.
Where to Stay: Ritz Carton, Grand Cayman, located on Seven Mile Beach
5. US Virgin Islands
The US Virgin Islands are a group of three main islands – St Thomas, St Croix, and St John, all US territories (no passport required!), making travel for US citizens smooth and easy.
With three islands to choose from, there's plenty to do for all kinds of adventure seekers. For true adventures, you'll want to choose between St Thomas or St John or travel by ferry.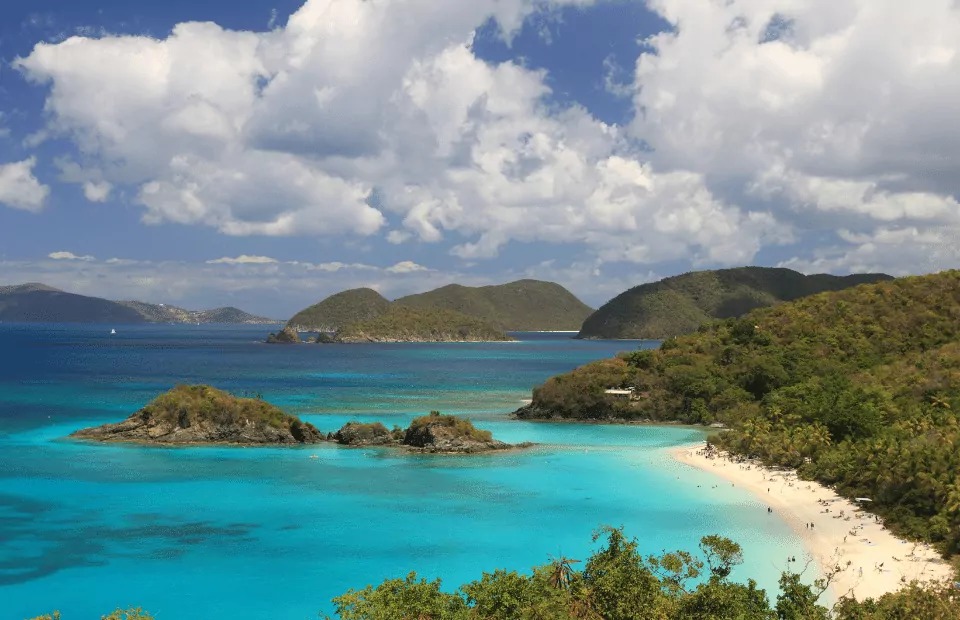 Adventurous Things to Do in US Virgin Islands
St John is home to Virgin Islands National Park, filled with some of the best hiking, secluded beaches, and hidden USVI gems. You can also find off-the-beaten-path hikes in St Thomas that will lead you to stunning white sand and 50-shades-of-blue beaches.
Any of the three islands is excellent for parasailing or skydiving on a clear day. Above, you'll get unbeatable views of neighboring islands, including the British Virgin Islands. Kayak to Cas Cay for a day trip of floating through lagoons, hiking on untouched land, and snorkeling in off-coast coral reefs! Or, head to Buck Island National Reef, home to Turtle Beach, one of the most beautiful beaches on the island, right next to a national protected coral reef for some of the most colorful and beautiful snorkeling or diving you'll find in the Caribbean.
Where to Stay: Green Iguana Hotel, Charlotte Amalie
6. Saba
Saba a small island in the Caribbean Netherlands that offers a unique twist for adventurous souls.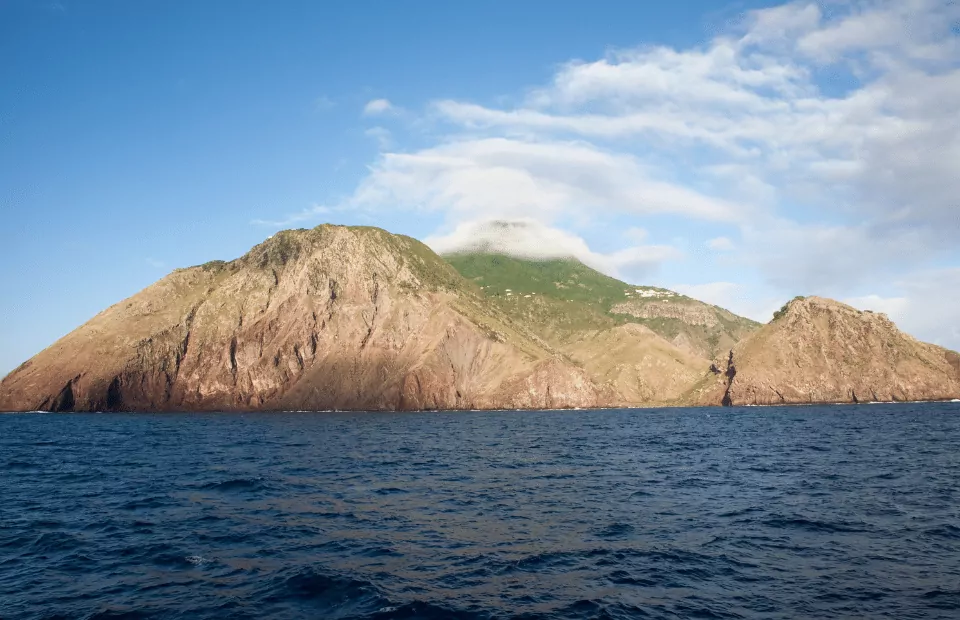 Adventurous Things to Do in Saba
Travel 3,000 feet above sea level with a hike through the rainforest of an active volcano. Mt. Scenery is known as the "Unspoiled Queen of the Caribbean." Depending on your trail, this strenuous mountain can take up to 4 hours round-trip.
Saba's unique twist is that you can boulder on some islands' mountains. Saba is top of it's game when it comes to the Best Caribbean Island for outdoor adventure. The Caribbean isn't known for rock climbing, so this is a must-do for mountain and island lovers!
7. Jamaica
Jamaica is one of the best Caribbean islands for adventure lovers. Being the third largest island in the Caribbean, you can experience a little bit of everything. Enjoy ziplining through the rainforest and swimming through the island's beautiful turquoise waters.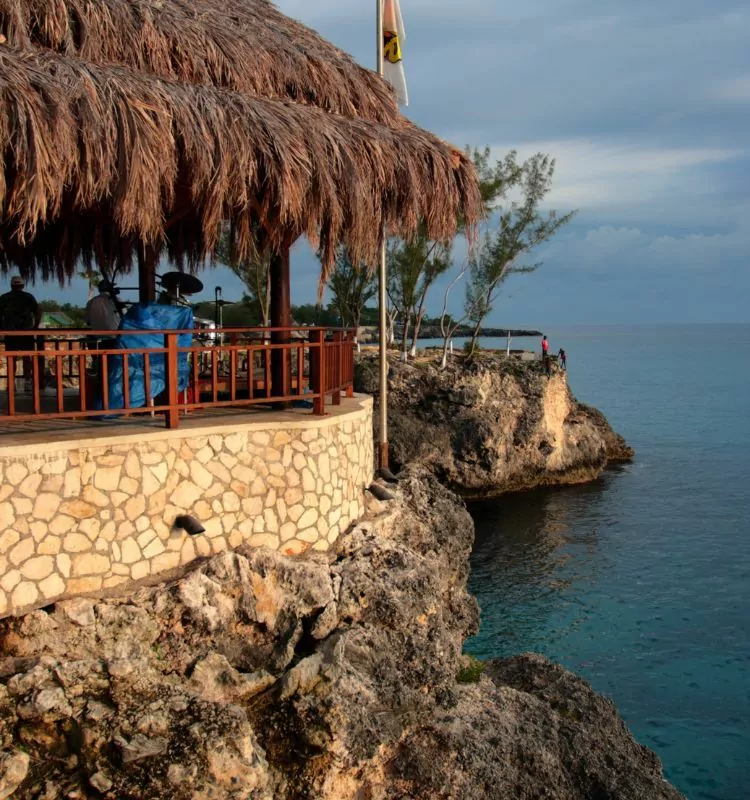 Adventurous Things to Do in Jamaica
Any traveler looking for excitement in Jamaica will hear about Rick's Café Cliff Jumping in Negril.
The highest peak you can jump from is 40 feet up, making it one of the best cliff jumping spots in the Caribbean! Not only that, but you can enjoy food, music, and drinks right on the cliff afterward. 
The tallest mountain in Jamaica, Blue Mountain, also allows you to backpack and camp through the Caribbean. The longest trip is 25 miles one way! You can enjoy waterfalls with natural pools, campsites, and nature on the way!
Where to Stay: The Caves Hotel
8. Puerto Rico
Puerto Rico is a beautiful and somewhat developed island in the Caribbean. Unfortunately, the small US territory is still rebuilding from Hurricane Maria. However, as it recovers, it's still an excellent place for tourism and adventure.
With just over 3 million residents, you'll find Puerto Rico an exciting island to visit and explore.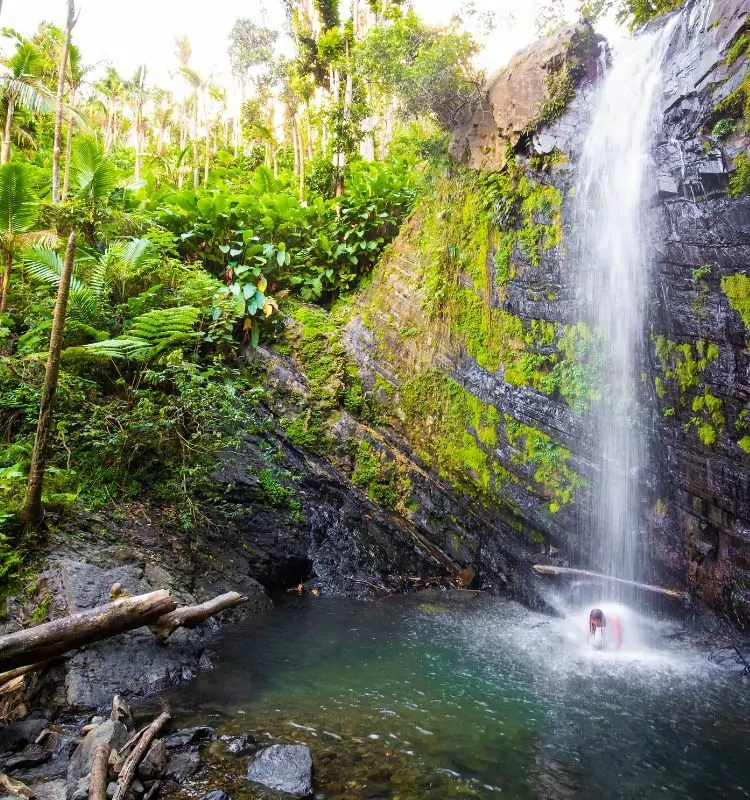 Adventurous Things to Do in Puerto Rico
The El Yunque National Forest is one of the most extensive forests in the Caribbean. This tropical rainforest covers 29,000 acres of mountains, waters, and scenery.
You'll find waterfalls in El Yunque, unlike any others. La Mina Falls is one of the most popular. If the water pressure isn't too heavy, you can enjoy a relaxing dip in the falls pool after a long hike through some of the 14 hiking trails in the rainforest. Be sure to bring your rain jacket!
Where to Stay: Condado Vanderbilt Hotel
9. Belize
Ok, so technically Belize isn't a Caribbean island but it is still worth a shout out! Belize might seem like a laid-back, sleepy vacation spot, but that couldn't be further from the truth! Instead, Belize is a mecca for thrill seekers and adventure lovers from all over the world.
The diverse landscape and natural attractions, from dense jungles to pristine beaches, offer something for everyone, whether you're an adrenaline junkie or a nature explorer.
Adventurous Things to Do in Belize
The Great Blue Hole is a popular destination for thrill seekers and scuba divers. Located off the coast of Belize, this gigantic sinkhole is more than 400 feet deep and nearly 1,000 feet wide.
It is one of the world's largest underwater caverns and is home to various marine life and sharks! The Great Blue Hole is a popular spot for diving and snorkeling, and many visitors come here to experience the unique underwater ecosystem.
Ziplining is an exciting way to get a bird's-eye view of the jungle, and there's no better place to zipline than the jungles of Belize. The ziplines in Belize are some of the longest and fastest in the world, offering breathtaking rainforest views. Zipping through the jungle is an incredible experience and a great way to get your adrenaline pumping.
Where to Stay: Royal Belize
Best Caribbean Islands for Snorkeling and Hiking
Dominican Republic, Saba, St Lucia, and St John and the best Caribbean islands for snorkeling and hiking. They all have incredibly beautiful, and many protected coral reefs off the coast and mountains with views you can only dream of from your bedroom!
Summary of Best Caribbean Islands for Adventure Seekers
If you're looking for an unforgettable Caribbean adventure with your heart racing, these are the islands for you. With stunning landscapes and plenty of activities to keep you busy, each destination has something special to offer visitors looking for excitement.
Start planning your next Caribbean getaway today – we promise you won't be disappointed!
Guest post by Rachel at Caribbean Uncovered. As a lover of all things beaches and freedom, she helps people discover the best gems in the Caribbean to experience their freedom and happiness. IG: @rachgren
If you liked this post, you might also like:
Want an epic adventure but need help planning it?
Do you like to travel but hate spending hours online researching holidays and trying to find the best deals? Here's why I come in. VeggTravel is an independent travel agent that does the hard work for you. I do the research, compare the prices and build the itinerary for your dream holiday, cruise, city break, or activity. Plus, my agent connections often mean exclusive offers on hotels and flights that you can't find anywhere else.
Rest assured that any holiday booked through me will give you the relevant ABTA, CILA or ATOL protection you need. Not only that, but I'll provide you with bespoke service tailored to your needs, and I'll be there every step of the way, ensuring that things go smoothly or being your single point of contact if things don't.
Ready to take your vacation to the next level? I don't charge a fee, so if you're based in the UK, drop me a mail and see what I can do for you.

---
---
Pin The Best Caribbean Islands for Adventure for Later
Sharing is caring, please pin this post or share on social media so more people can discover it.