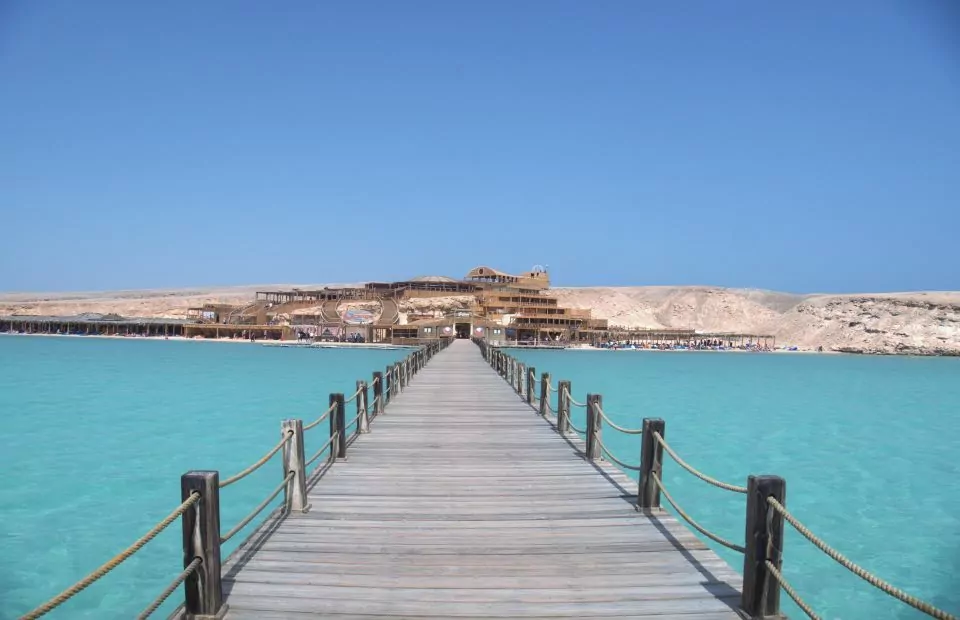 Orange Bay Egypt, A Day Trip To Paradise
Are you looking for a cheap holiday destination? Or maybe you want to explore the islands of Egypt? If yes, then look no further! Orange Bay is located at the southern tip of the Red Sea and has become a very popular tourist spot. Orange Bay Island is a great place to relax and unwind. Read on to discover what to expect on a boat trip to Orange Bay, Egypt. 
Orange Bay Hurghada Table of Contents
This post may contain affiliate links which means I may earn a commission if you buy something through them. Thank you in advance for supporting the work and time that goes into providing this content.
Where is Orange Bay Egypt?
Orange Bay is a private beach located on Giftun Island, an hour or two away from Hurghada and can only be reached by boat. The island is most famous for its picture-perfect sandy beaches, shallow turquoise waters and intricate wooden viewing platforms. It has even been dubbed Egypt's Paradise Beach and likened to the Maldives. 
Be mindful of the weather forecast. If the weather is too windy/rainy, all boat trips will be cancelled. In fact, you won't be able to do any motorised water sports in poor weather, even at your resort!
How to get to Orange Bay Island? 
The easiest and most common way to get to Orange Bay, Egypt, is to take an organised day trip.
The boat tour will typically include: 
Pick-up/drop-off from your hotel (some areas outside of Hurghada centres such as Makadi Bay, Sahl Hasheesh and Safaga) will normally cost an additional £5 or so for the extra journey)
Return Boat-trip with lunch and snorkelling opportunities at 2 different reefs, including fins and snorkel
Entrance into Orange Bay (classed as a national park, so check with your tour provider that this cost is included; otherwise, it will cost approx. £10
Some tour providers also include fun activities like banana boats etc.
Your boat trip to Orange Island doesn't include: 
Gratuities for the staff (and they were great in my experience) 
Food and drink on Orange Island; for example, a beer will cost approximately £4
Professional photographs. These are optional but expect to budget £50 or so for a DVD or Cloud share with them and be prepared to negotiate. 
I personally did this tour with Bluefish, which you will find at most sunrise resorts. The boat was to a high standard, and despite being vegetarian, the food was plentiful and delicious. 
What is there to do on Orange Island? 
Depending on your tour, you will usually get 1-2 hours to enjoy the island. You can spend your time relaxing on the sandy beach on a comfortable bean bag or go exploring. Some of my favourite Instagram photo opportunities include: 
Climb up to the top of the viewing platform to see the panoramic views of the ocean
Swim out to one of the various submerged swings in the water. 
Have a beer at the submerged picnic tables 
Snap some pictures in the love heart frame  
Take a cuddle on the swing seat 
Grab some souvenirs from the traditional Bedouin designed stalls 
How long does a boat trip to Orange Bay Egypt Take? 
The end-to-end experience will take the best part of a day, although it is usually advertised as a half-day boat trip. However, it is certainly a low-budget trip and usually costs less than £50. There are also options to further explore the Giftun islands, which are more natural and less touristy. This is a good option if you've opted for a private boat or chartered. 
Orange Bay Egypt in Summary 
If you're taking a holiday to Hurghada, a visit to Orange Bay is a welcomed break from the regularity of your resort or the chaos of the city. There are plenty of activities to choose from, so whether you fancy diving or relaxing on the white sand beach, consider one of the following tours. Whatever you do, don't forget to bring along your camera!
Here are a few of my top tips for your trip: 
The water swings are very slippery, and the waterbed near one of them is particularly slimy; if you have water shoes, consider taking them. 
Pull your beanbag out of the shade for added relaxation. 
The red sea is famous for its coral and reefs, and your snorkelling trip will be no different. Pack an action camera so you can re-live the memories. 
If you see people queuing for photo spots, this comes in peaks and troths and usually, when a boat comes in, everyone does it at once. Go back to it later, you will get the shot, but it will be more enjoyable not having people queue after you. 
If you like orange bay island, check out other related articles:
---
Do you like the sound of this trip but think you would benefit from professional service and support?
Do you like to travel but hate spending hours online researching holidays and trying to find the best deals? Here's why I come in. VeggTravel is an independent travel agent that does the hard work for you. I do the research, compare the prices and build the itinerary for your dream holiday, cruise, city break, or activity. Plus, my agent connections often mean exclusive offers on hotels and flights that you can't find anywhere else.
Rest assured that any holiday booked through me will give you the relevant ABTA, CILA or ATOL protection you need. Not only that, but I'll provide you with bespoke service tailored to your needs, and I'll be there every step of the way, ensuring that things go smoothly or being your single point of contact if things don't.
Ready to take your vacation to the next level? I don't charge a fee, so if you're based in the UK, drop me a mail and see what I can do for you.

---
---
Pin for Later