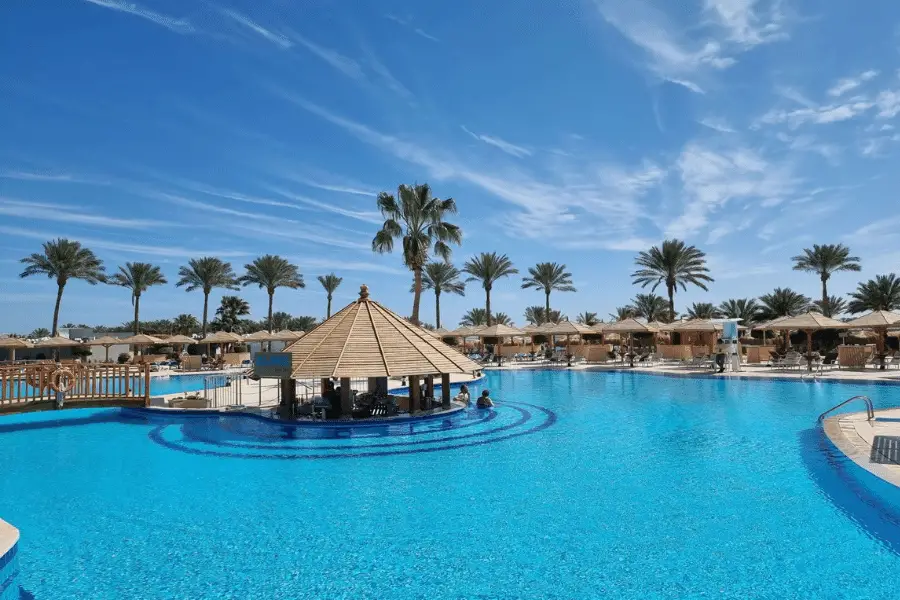 Honest Sunrise Royal Makadi Reviews | Hurghada, Egypt
Hurghada, Egypt may not be as well known as nearby Sharm el Sheik, but it's a wonderful destination in its own right. From the beautiful coral reef and vibrant marine life of the red sea to the stretches of sandy beaches, desert, and culture. Whatever your reason for visiting Egypt, you need to be sure you're picking the right accommodation. Read on for my honest Sunrise Royal Makadi reviews, pros & cons, and overall ratings. 
Sunrise Royal Makadi Reviews | Content
This post provides honest Sunrise Royal Makadi Reviews based on my experiences and are in way sponsored by the hotel. However, there may be some affiliate links throughout this post which mean that I may earn a commission if you purchase through these links.
Where is the Sunrise Royal Makadi Resort? 
When you're googling hotels or resorts in Hurghada, it is important also to understand where they are and whether the location is convenient for what you want to do. The Sunrise Royal Makadi Resort is in Makadi Bay, approximately a 30-minute drive from Hurghada International Airport and away from the old town and tourist centre. 
Makadi Bay is perfect if you want to escape to a tourist location and spend the majority of time in your resort or enjoying water activities. However, if you want to explore further afield on day trips or excursions, a hotel pick-up will normally cost an additional $5 (or more) per person within this area. It will likely add additional time to your transfers, depending on your direction of travel. 
The Sunrise Royal resort has a mix of older people, families, and couples of all ages from various countries. The aqua facilities make it particularly good for children, which may make it less relaxing for adult-only travellers. There is, however, adult-only areas for you to escape to. 
Accommodation at the Sunrise Royal Makadi Resort
The Sunrise Royal Makadi has two main types of accommodation. 
Standard rooms include double rooms, aqua rooms (close to pool), and family rooms, including bunk beds and accessible special needs rooms. 
Suites provide larger family rooms or executive rooms with multiple rooms and additional facilities such as robes, slippers, and fresh fruit.
A popular block is 11 or 12 as they are generally better rooms and close to reception and both main pools. 
While you can try and provide additional requests in advance, I tried emailing Sunrise resorts multiple times and received no response. When we arrived, my fiancé and I were given a family room with twin beds, but they promptly changed us to a king suite when we complained. 
Pros: 
Clean and well equipped with complimentary toiletries 
Large beds
Cons: 
Having seen three different rooms, they were all relatively outdated and not finished to a good standard 
The balcony/terrace are mostly shaded / small, and the outdoor furniture is not comfortable
Sunrise Royal Makadi reviews of the accommodation:
---
Restaurants at the Sunrise Royal Makadi
There are seven al a carte all-inclusive restaurants at Sunrise Royal Makadi. However, not all will be open every day. Disappointingly when we stayed, the Roots restaurant, which specializes in vegetarian and healthy cuisine, was closed for the entire duration of our holiday.
There is a good food selection in all restaurants, including the standard buffets. There are also snack bars that make Pizzas or BBQ dishes throughout the day. 
Other ala carte options include a traditionally decorated Bedouin restaurant, Mediterranean, Mexican, Steak House, Asian and a seafood restaurant (charged extra). 
Pros:
The chefs were very accommodating and happy to create specific meals to meet dietary requirements.
Cons: 
Poor signage on food will require you to double-check visually and verbally that something meets your dietary requirements. On three occasions, I found meat in food that should have been vegetarian!
Bars
In addition to the pool bars and the drinks, you get in the restaurants, two specific adult-only bars open in the evenings; the lobby bar and the Victoria pub, where you can play darts and use the pool table. 
The main bar area in the evening is the Splash bar; however, it is outdoor, and in the colder months, you will need to wear warm clothes.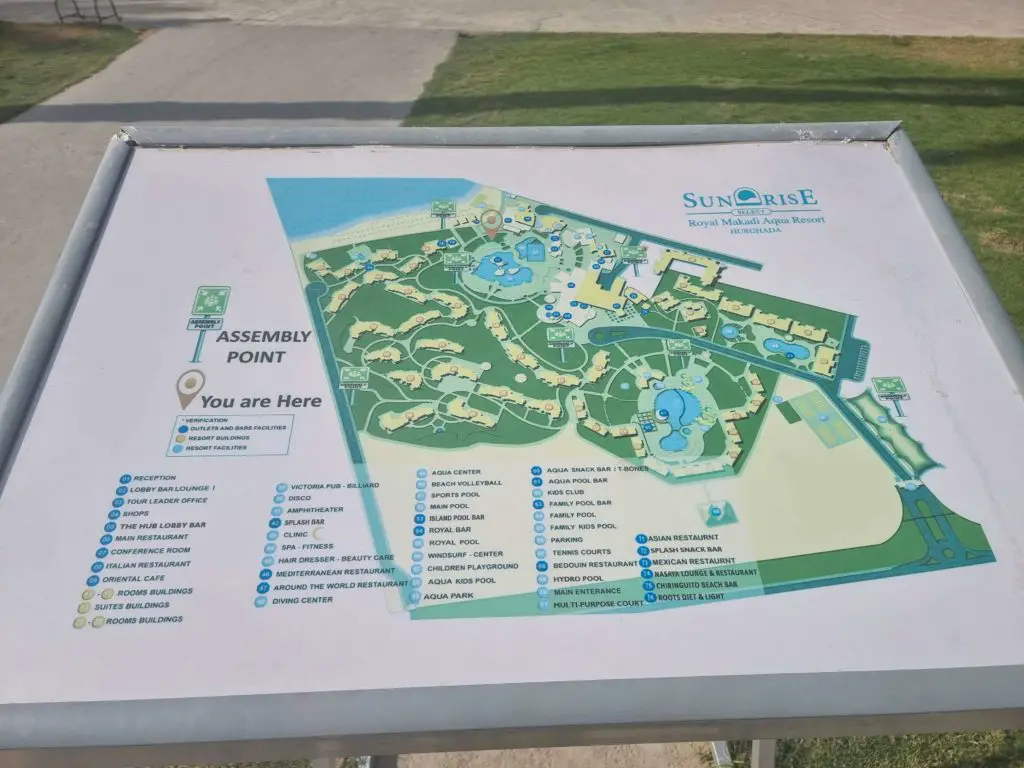 Pros:
There are several outdoor heaters, but those tables get taken up very quickly. 
The service and hospitality of the bar staff are amongst the best I have ever seen. 
Cons: 
There is also a night club called Aquarius, but this didn't open in the two weeks I was here. 
The local spirits and wine are not very nice, but the measures are usually good enough to make a decent cocktail. 
Sunrise Royal Makadi reviews of the bars and restaurants:
Pool and Beachside Facilities at the Sunrise Royal Makadi
Outdoor Pool Areas:
Three main outdoor pool areas contain smaller pools within them. 
The main pool area is Aqua, home to the in-house Aquapark. The slides are open between 1000 – 1200 and 1400 – 1600 every day. The pool connected to the slides is heated, but the other is not. There is also a bar area to get refreshments.
The other main pool area contains the Splash and Aqua pools. These are good places to relax if you like to participate in or watch the daily pool activities such as water polo. 
Additionally, there is a smaller family pool area at the far end of the resort. 
Pros: 
There are several bars near the pools, but the staff is very attentive and friendly, and you barely need to go to the pool bar to get a drink. 
Cons: 
Not many pools are heated, and very few people use them in colder months. 
Private Beach
The Sunrise Royal Makadi Resort has an ample stretch of well-maintained golden sand beach with many comfortable sun loungers, grass umbrellas, tables, and windbreakers. 
There are beach activities in the day, such as yoga, Zumba, volleyball, and water aerobics. You can grab a camel ride or arrange diving, snorkelling, or many thrill water activities such as banana boats, super twister, wind sailing, and paddle boarding with Fam Watersports at the right side of the pool. 
Be sure to pack your full-face snorkel and explore the ocean. In a short swim, you will discover the colourful coral and a wonderful variety of tropical fish of the red sea. Egypt is also a brilliant place to dive, and you can gain your PADI license much cheaper than other worldwide locations. 
Pros:
There are several bars near the pools, but the staff is very attentive and friendly, and you barely need to get up to get a drink. 
Cons: 
It would be best to go down early to get a lounger on the front strip. There are many loungers available, but they are often shaded. 
Sunrise Royal Makadi reviews of the pool and beach:
---
Entertainment at the Sunrise Royal Makadi Resort
The quality of evening entertainment at the Sunrise Royal Makadi Resort is very subjective and depends on what you like. The Entertainment staff (animation team) are friendly and talented and will try and make your stay as enjoyable as possible. 
There is a large indoor "theatre" which hosts a kids club from 8 pm and the main show from 9 pm every night. The entertainment differs, and you will not see the same thing twice in 2 weeks. Not all of it is the most spectacular, but it also includes shows by the local animation team, which is good to see. 
Additionally, there is live music from 8 pm until late, which is usually good quality. 
Pros:
The entertainment team does a great job of getting people up dancing or playing games with you at your seat. 
Cons: 
You may not want to sit outside in the wind to watch live music in the colder months, which will leave you with very limited entertainment options. 
The timing of the latest evening meal means that you will usually miss the start of the theatre show or feel rushed to make it on time. 
If you're a young group of friends or a lively couple, you may find the entertainment lacklustre. However, if you're travelling with your family or looking for a relatively relaxing or laid back holiday, it may be everything you could want. 
Ocean Maya Royale review of entertainment:
---
---
Other points about the Sunrise Royal Makadi Aqua Resort 
You can use all major currencies at the resort, including tips. Don't tip in coins if you can help it as the staff have difficulty changing them. Euro is the most commonly quoted for excursions. 
The staff at the Sunrise Royal Makadi are very attentive and open to feedback. If you have any requests, speak to them about it, and they will do what they can to satisfy you. 
There are other facilities such as mini-golf, gym and children's play area free of charge. You can also pay an additional charge for the use of the spa, laundry facilities etc. 
The resort has a mini-market and a wide range of shops that provide traditional souvenirs, clothing, and necessities you can need during your stay. Make sure you haggle and never pay the first price – even at the pharmacy. 
Like all Egyptian resorts, you will be approached by the pool or beach by many different resort sellers. However, they are much more respectful than I've seen in other resorts, and you can ask for a red flag when you collect your towel, which will prevent them from approaching you. 
---
Sunrise Royal Makadi Reviews in Summary 
Sunrise Royal Makadi Reviews Overall:
I would recommend staying at the Sunrise Royal Makadi Egypt, particularly if you're with your family. Not only is the hospitality world-class, but the staff do go out of their way to make your stay enjoyable. Many plus points outweigh the cons I have listed, and these points have been fed back to the resort already so that your visit may have even addressed them. 
Check out the latest package deals with TUI below if you're keen on staying:
If you'd prefer something more luxurious, consider staying at the nearby hotels below. These are more modern and stylish but also carry a larger price tag. 
You might also be interested in the following posts:
Pin These Sunrise Royal Makadi Reviews for Later
Sharing is caring and I appreciate every share, comment and engagement on my posts. If you have any questions or would like to provide your own feedback, please reach out to me in the comments below.